Hyde, Jekyll, Me: Episode 4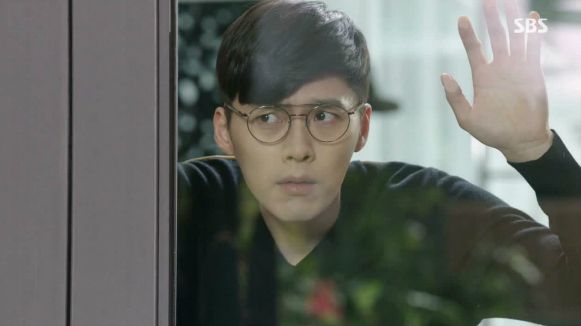 This show is pretty ridiculous, but it's also fun, especially when our hero's alter ego starts actively messing with his life. Some would call it "fixing" his life, but good luck convincing an uptight control-freak that adding complications is a good thing. But even the bossypants with a stick up his butt has his moments—they aren't many, but he just might have a few feelings in there that aren't fear and recrimination.

SONG OF THE DAY
Moonshine – "내가 아니야" (I'm Not Me) [ Download ]
Audio clip: Adobe Flash Player (version 9 or above) is required to play this audio clip. Download the latest version here. You also need to have JavaScript enabled in your browser.

EPISODE 4 RECAP
Seo-jin wakes up in the morning and discovers the mess that Robin has left in his wake. Everything from Robin's Protect Hana Plan to empty beer cans and bags of chips makes Seo-jin irate, and he fumes knowing that once Robin surfaces, he can come and go without any connection to Seo-jin's vital signs.
Hana tells her bestie Jin-ju all about Robin, and how he's her hero from Angel's Bridge and also Seo-jin's twin brother. Hana wonders why nobody else knows about Seo-jin having a twin, and Jin-ju suggests a chaebol rivalry for the inheritance, where Robin is the outcast, driven away by force and made to live quietly.
Strangely, that's not too unbelievable given the excessive force she saw with the bodyguards last night, and Hana thinks it a decent explanation. She swoons to get a text from Robin (that he pre-sent last night) asking how she's doing.
While it's all rainbows over at her place, Seo-jin barks at Secretary Kwon to get rid of Hana once and for all. Seo-jin says that if Robin were anyone else, he'd have killed him by now: "But I can't kill him! There's no way, other than suicide. Because he's me! Because I'm him! And THAT makes me crazy!"
Secretary Kwon reaches out with a sympathetic hand, but can't make contact. Seo-jin brings up the incident five years ago (the last time Robin was around), and says gravely that something like that—where someone else gets hurt because of him—can never happen again. He adds cryptically that Robin has no idea what happened back then, and that fact scares Seo-jin more than anything.
As he steps out to begin his day, Seo-jin gets a text from Hana saying that she's well and asking Robin how he is. Oh LOL, he sent the text from Seo-jin's phone? He angrily deletes her contact info and tells Secretary Kwon to send her back to Las Vegas—even if they have to send a hypnotist to her, she's never to set foot in this country again.
Then he notices head bodyguard Seok-won and asks why he's hurting all over like he got beaten up. Seok-won shifts his gaze nervously. Seo-jin: "Did you hit me?"
Haha, I suddenly feel very sorry for the badass bodyguard. Damned if you do, damned if you don't. Secretary Kwon interrupts shakily to say that the soreness is probably because of the zip-lining, and Seo-jin sputters.
Across town, we meet Robin's friends from the photographs he had on his desk. It's a father-daughter pair: Editor Min, a man who runs a tiny publishing company out of his book café, and his daughter MIN WOO-JUNG (Hyeri). Her room is littered with pictures of Robin, and she talks to the photographs as if he's there.
She stops to grab some food in the café before heading out the door, and tells Dad about the snake dream she had last night. He tells her it's meaningless, though once he's alone, he wonders if she'll reconnect with someone today. He looks down at the text he got from Robin, saying that he's back and will see them soon.
Cousin Seung-yeon gets called to Chairman Dad's office, and he's ecstatic when Chairman Dad tells him to take some of Seo-jin's work to help him out, because Dr. Kang's disappearance is stressing him out. He leaves the office and tells his girlfriend (who turns out to be the chairman's secretary) to dig into Dr. Kang's case and find out more.
He gloats about taking on more responsibility when he runs into Seo-jin, and he asks if the rumor is true that he rescued an employee last night. Seo-jin says it's not in his character to save people or fight with guards or zip-line, and he did NOT do any of those things, but Seung-yeon doesn't believe him.
When Seo-jin goes in to see Chairman Dad, he's told to get on the first plane out of the country. That sucks. Also, kinda serves you right, since you were about to do the exact same thing to Hana. Seo-jin asks what about Dr. Kang then, and Chairman Dad says he'll look for her. Seo-jin knows that's a lie and calls him on it: "You're going to give up. Just like you gave up on your son."
Chairman Dad doesn't defend himself, and agrees that as of this moment, he's giving up on his son: "Because you're my sole weakness." Geez, what a prince. Seo-jin argues that he's tried his whole life to be better, knowing he had to be better to be enough for Dad, but all it ever did was make him blame himself.
Chairman Dad just wants to know that Seo-jin is safe somewhere, but Seo-jin rightly points out that what he really wants is for his son to be out of sight so that he can stop feeling guilty. He calls his father pathetic and decides he can be the same, and threatens to tell the world about his shameful condition if Dad doesn't leave him alone.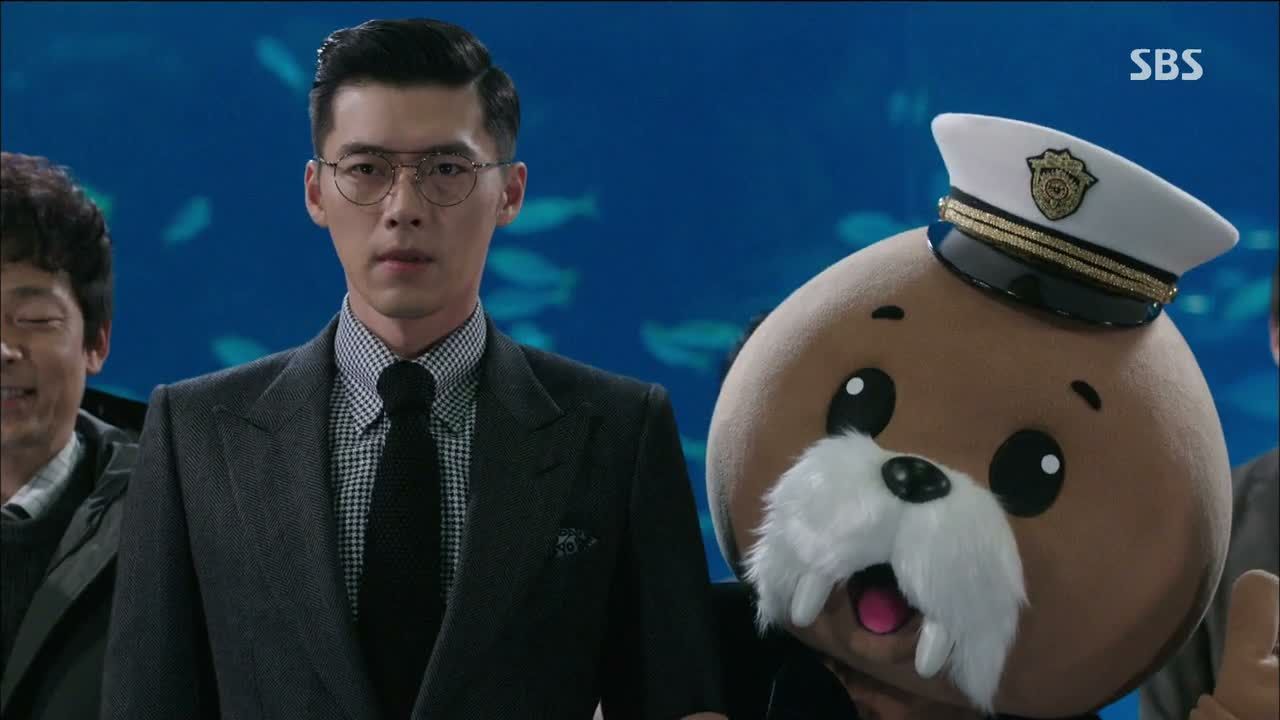 Of course Seo-jin fails to see the fault in his own methods with Hana, and he cancels the circus contract without batting an eyelash. When Hana gets shut out by Seo-jin's bodyguards, circus maknae Eun-chang finds her a mascot costume to sneak her into the aquarium opening ceremony where Seo-jin will be.
So she sneaks in wearing a cute Captain Walrus costume, and in the middle of the group picture, she taps Seo-jin on the shoulder and tells him to make good on the contract or she'll declare a lawsuit right here in front of all these cameras. She adds that she is extremely serious right now, despite the smiling walrus face she's wearing, ha.
They get a chance to talk alone, and Hana says that if this is about the accident yesterday, she's sorry for causing trouble. But Seo-jin scoffs that that's not even close. Of course, he's thinking about her being the reason that Robin first appeared.
He says icily that the type of person he hates most in the world is someone who doesn't even know what they did wrong in the first place, and so repeats that mistake over and over again, without knowing that it's too late to fix things now. Naturally she has no idea what he's talking about.
The only explanation he offers is that she gives him a bad feeling, so he plans not to get entangled with her any further. She throws the walrus head at his feet and shouts at the absurdity of his reasoning, and asks how he can end people's livelihoods so easily. He counters that it isn't easy, but the things that have happened in his life because of her have become too big.
She chases him down, and that's when he notices his necklace around her neck, and demands to know why she has it. She says it's Robin's, not his, and he growls back that everything of Robin's is his, and was always his to begin with. He tells her never to speak of Robin again and snaps the necklace right off of her.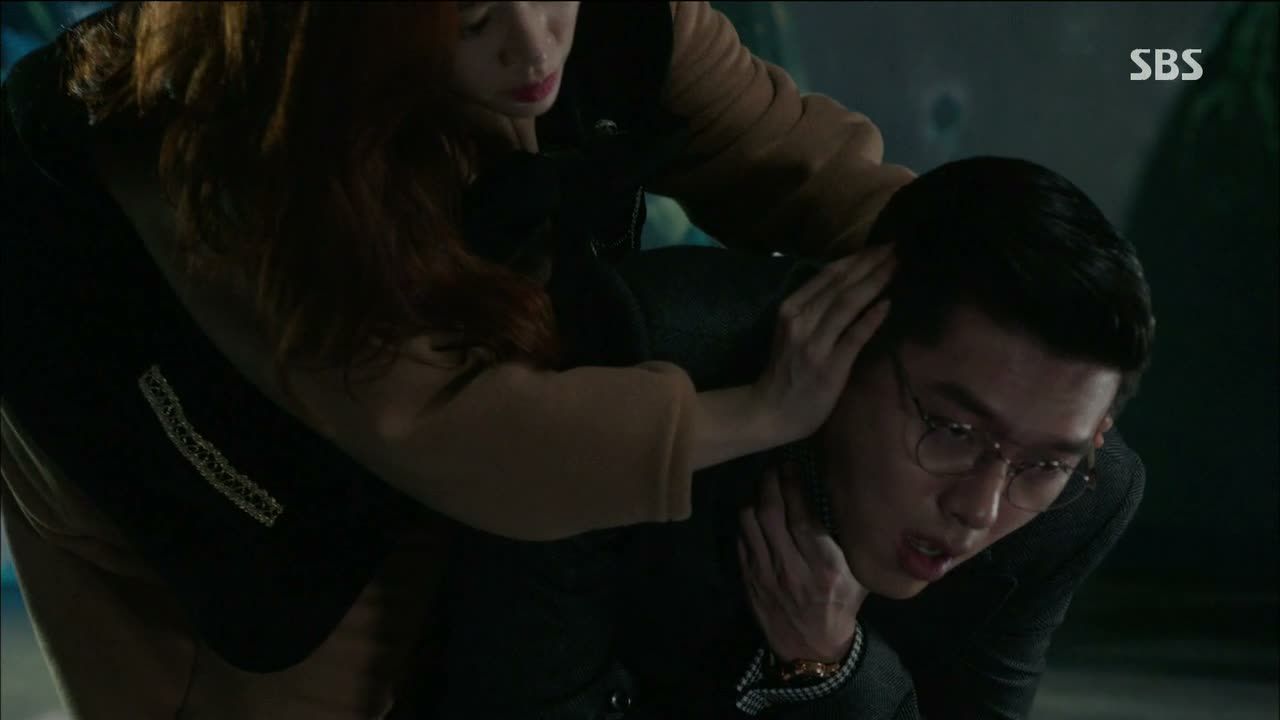 As he turns to go, she tells him that Robin was there on that day, when Dr. Kang went missing and Seo-jin ran away—Robin stayed. He slams her against the wall (again, really?) and yells at her not to mention Robin, but that triggers his heart rate alarm and he starts choking and convulsing. Oh no, you can't change in front of her!
He falls to the floor choking and gasping, close to losing control. But then Hana covers his ears and tells him to close his eyes, and it calms him down. The moment passes like a panic attack, and Seo-jin maintains control.
Hana looks worried, but as soon as he's back to normal, he shoves her away and stalks off, not caring that he pushed her so hard she's on the ground. The funny part is that she's raging mad, but can't get up in her chubby walrus costume, and just kicks and flails helplessly.
Thankfully Secretary Kwon finds her. He apologizes for Seo-jin, because he's sensitive to begin with and more on edge because of Dr. Kang. She asks if her hypnosis treatment is no longer needed, and he tells her that while it's no longer part of the deal, they'd of course accept her help gratefully. She leaves feeling deflated, but decides to call Dr. Tae-joo to see him later that day. Tae-joo tells her to come by and turns back to his current patient, Glasses Strangler.
It turns out that Woo-jung is the president of Robin's fan club, and she yells at the table of fangirls who have drifted away to new webtoon authors in the intervening five years. At the same time and the same café, Seung-yeon meets Detective Na at the next table over, and Seung-yeon offers a bribe for info on Dr. Kang's case.
Detective Na and Woo-jung go back forth demanding attention from their party, but the real purpose of the run-in is so that she accidentally drops a photo of herself with Robin, which Seung-yeon picks up. He guesses that Seo-jin's been living a double life and keeping a young girlfriend on the side, which now gives him the ammunition he needs.
Hana goes to see Dr. Tae-joo, unwittingly walking right past Glasses Strangler on her way in. She's nervous about undergoing hypnosis again, and Tae-joo very gently names all of the conflicting feelings she must be having right now, from fear to self-blame to guilt. He tells her it's all normal, which makes her feel better.
Seo-jin tells Secretary Kwon to get his necklace fixed, and Secretary Kwon passive-aggressively sighs at the burden Hana must be feeling, since she's responsible for all those circus troupe members and all their families. I love that he's on her side. But Seo-jin stops listening the second they get a call from Detective Na, saying that they recovered Dr. Kang's laptop.
Under hypnosis, Hana goes back to the most recent accident at Wonderland, and sees the same Glasses Strangler up in the rafters just before the mirror ball drops. She also sees Seo-jin there, which confuses her all the more.
After the session, she apologizes to Tae-joo that she still can't get a good look at the culprit's face, when she knows that he's desperate to get a lead on Dr. Kang. He thanks her for trying, since he didn't expect her to ever come back. He says that most witnesses don't go this far to help when it's not a personal case, and hands her the cat's cradle rope to take with her in case she ever has trouble sleeping.
Seo-jin just misses seeing her as he enters the building, and they both miss the fact that Glasses Strangler is lurking in the shadows, waiting for Hana to leave. Seo-jin asks Tae-joo for any of Dr. Kang's files on his treatment, but Tae-joo shows him that the laptop is filled with hundreds of thousands of files, only organized by number. And inside, they're filled with images, likely the ones she used during treatment, and not much else.
Seeing Seo-jin's disappointment, Tae-joo offers to treat him, but Seo-jin quickly says it's just insomnia. He notices Hana's scarf sitting on the desk, and Tae-joo says she was just here.
Seo-jin leaves with the scarf, and he's still thinking about her when his car catches up to her walking down the street in the snow. He's totally fixated on her, though he glares at Secretary Kwon for suggesting that they give her a ride.
Hana seems lost in thought too, because she doesn't notice a motorcycle gunning right for her in the crosswalk. Thankfully, the guys see it first, and Seo-jin runs over to yank her out of the way just in time. And you say you never save people.
He tells her breathlessly not to get herself into danger, and leaves her with the scarf. She admits that she tried to remember the culprit but failed, and he says that he's breaking the contract no matter what she does.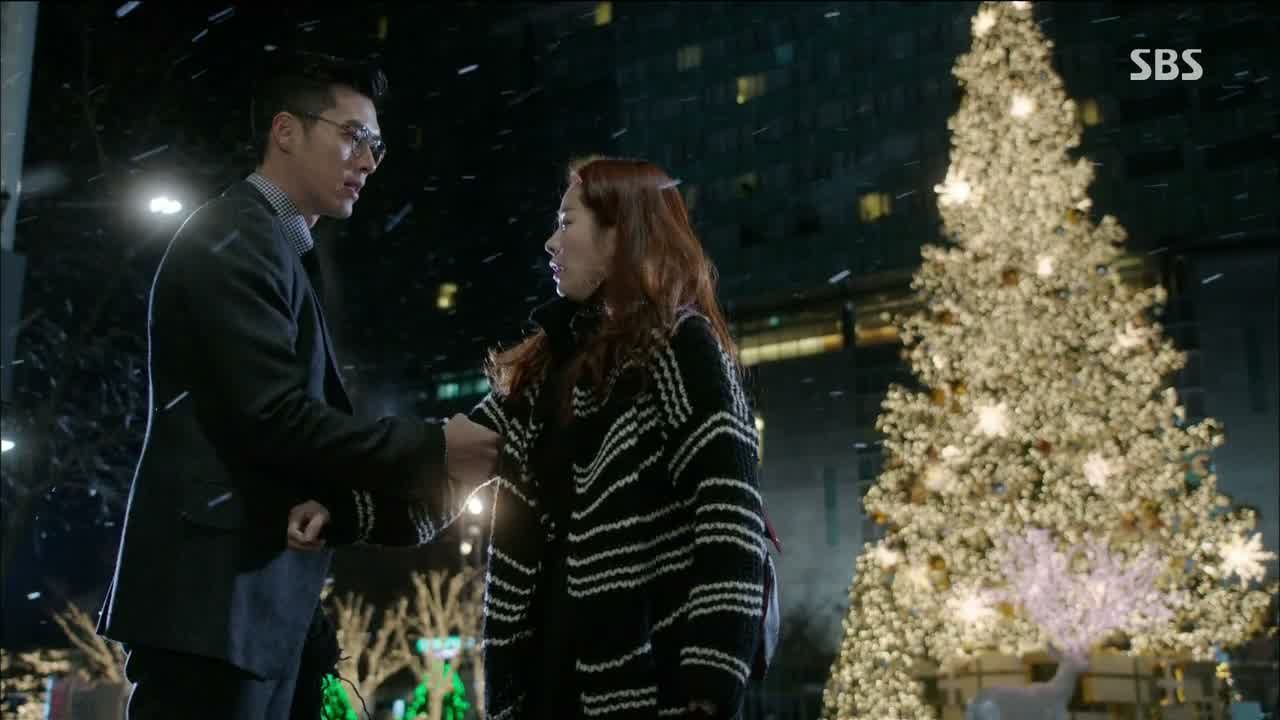 She decides that he must have his reasons for wanting her out, and agrees to go, as long as he promises to employ the rest of her circus troupe somewhere in the theme park. He readily agrees to that, and she's grateful.
She plans to continue hypnosis treatment, not for him but for herself, because she doesn't think she'll be able to sleep with a clear conscience if she doesn't do what she can to help find Dr. Kang. She uses Robin's line and says that he needn't thank her, because this is just her personality.
Seo-jin scoffs without the usual edge to his tone that it must suck to have that kind of personality, and she doesn't disagree. She even takes back the thing she said about him always running away, and turns to go.
She gets half a block away when suddenly Seo-jin reappears behind her, holding an umbrella overhead. Aw, you totally CAN be swoony when you want to be. He tells her to take it, and once she gets over the initial shock, she takes the umbrella and watches him walk away.
Glasses Strangler gets home after his latest attempted murder and messages a mystery person that he failed yet again because "he" showed up. The other person responds: "Gu…Seo…jin?"
Hana goes to the circus theater to have a few beers and say goodbye to the place that was her childhood home. She remembers being a little girl and watching from the packed bleachers as Dad wheeled around on a unicycle, and cries at the thought of leaving it all behind.
Seo-jin tosses and turns in bed, disturbed by almost losing control earlier that day and Hana, of all people, coming to his rescue. He finally drifts off to sleep, and sometime later, Hana gets a call from Robin asking where she is.
He lights up Wonderland and finds her at the circus, and worries when he notices her crying. He cheers her up with funny glasses and asks about the giant trampoline in the room, which she says her father built for her when she was too scared to learn wire tricks. Dad had told her to think of the net like Dad's hands, always there to catch her when she falls.
She asks if Robin wants to try it, and they laugh and jump like little kids, having a great time. They land pretty close together and there's this charged moment when they turn and hold each other's gazes. But Robin breaks first and rolls away.
Hana asks if it's okay for him to be out like this, and he wonders if Seo-jin said anything about him, since there aren't many people who know him. He figures that she's curious about his bizarre family situation, but she lets him off the hook, and Robin says he'll tell her someday.
She realizes that there won't really be a later because she's leaving, not right away, but once she wraps up a few things. She's vague about it, but Robin guesses that Seo-jin told her to get out.
She admits that Seo-jin said some terrible things about the circus act (she notably keeps the conversation on the circus, not about Seo-jin's dislike for her personally), and Robin gapes: "You let him get away with that?!"
He tells her she should've dished out a comeback like, "My circus sucks? Well, your personality sucks!" Of course that's what your split-personality would say to you as an insult, hur.
Robin argues that even though Seo-jin's face is fine ("Well, he does look like me"), it's his personality that's the problem. He eggs her on to insult Seo-jin some more, promising to pass the message along. Hee. They get all worked up, bouncing on the trampoline and spouting more insults Seo-jin's way.
In the morning, Seo-jin wakes up all sore again, and this time he finds a cheeky "Sorry" note on his nightstand from Robin. He looks around the house, looking extra paranoid and waiting for the other shoe to drop.
He doesn't find anything out of the ordinary, and calls Secretary Kwon to find out what Robin did last night. Whatever it is, he knows it's something big, because Robin isn't one for apologies.
Suddenly he looks up at his security monitor when he sees Hana arriving at his front door with two circus troupe members and some suitcases. Ohmygah, please tell me that's what I think it is.
Seo-jin tears out of the house to ask what Hana is doing here, and she greets him with a big smile and a thank-you for the new contract. He grabs the giant document out of her hands and flips through it to find his thumbprint on it. Horrified, he looks down at his thumb, which is still red from the ink. Ha.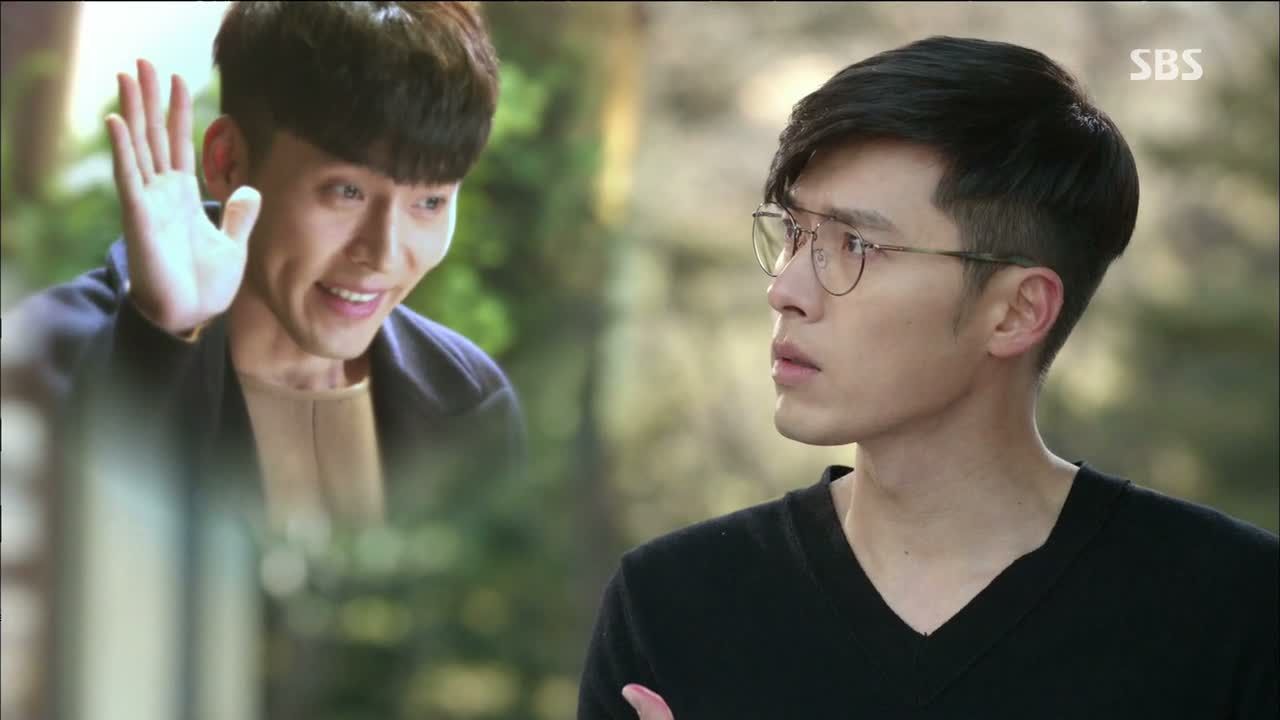 He looks up at Imaginary Robin waving down at him: "Sorry [not-sorry]!" Hana says she was surprised to find such a new detailed contract on her desk this morning when she went in to pack up her things, and Seo-jin's eyes pop open to see that it includes blueprints for new facilities.
She adds that staying in this house (included in the contract as "witness protection") does put her mind at ease since it's extra secure, and Seo-jin just stares at her like she's speaking gibberish. Her friend Jin-ju thanks him, and Eun-chang eyes him warily before muttering a request to take good care of his noona.
All Seo-jin can do is stand there and curse Robin in his head: "You son of a bitch!" Closing caption: Sometimes life is filled with things outside your control.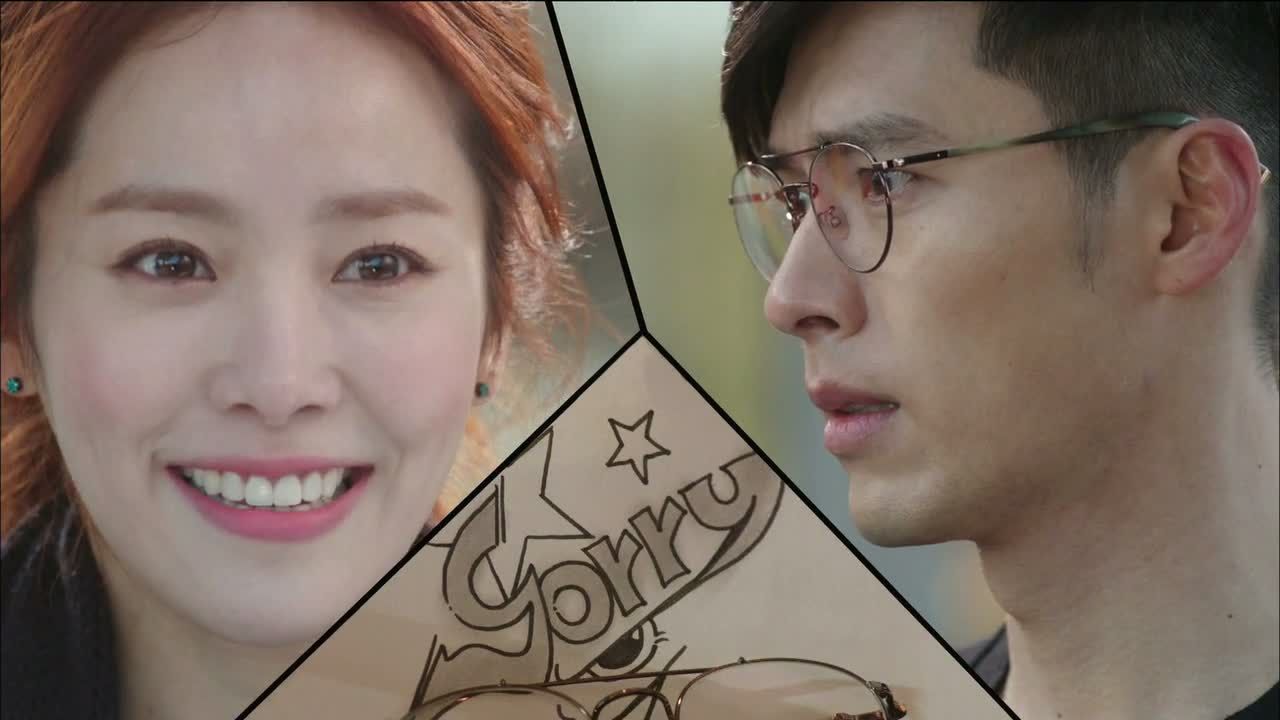 COMMENTS
You could say that again. Too bad for Seo-jin that watching things spiral out of his control is so much more enjoyable than letting him get his way. I've developed a liking for his morning-after scenes, where he has to assess the damage that Robin has done and stew impotently. It cracks me up that Seo-jin spent all that energy on getting rid of Hana just to have Robin bring her closer than ever. I don't know how he's going to manage the twin act with her living in the same house, but I can't wait to see him juggle it. Obviously it's as flimsy an excuse as anything that forces two leads in a rom-com to live under one roof, but now it's actually starting to feel like a rom-com.
It's too bad that it took four episodes just to rev up to this point in the story—couldn't we have gotten here the first time Seo-jin threatened to break the circus contract? But hey, I'm not gonna look a cohabitation hijinks horse in the mouth. If the constant threat of danger from Glasses Strangler is going to give Robin the excuse he needs to force Seo-jin's hand, then by all means, let's shack up. Never mind that Glasses Strangler is probably the most inept hitman ever; I mean, his failure rate is kind of astounding, right? But if he's just a hired henchman, it makes the mystery more interesting, since I thought he might just be a disgruntled crazy patient who had a psychotic break or something. I like that we're opening up the possibility that anyone could be the mastermind, and I hope that Dr. Tae-joo will take a more active role in putting the puzzle pieces together, because he needs a bigger role in the story, stat.
Now that both Robin and Seo-jin know about Hana being Robin's trigger, it sets up an interesting dynamic that I like better than the one we established at the outset. Because now Robin has a vested interest in her, and Seo-jin has good reason to hate her, even though he knows perfectly well that she has no idea what she did to him. It's unfair to her, but I get it—she set off a chain of events that caused him a lifetime of grief, and now he lives like a monk and hates himself. It's a pretty good reason to resent her, whereas before he was just being persnickety because that's his character.
Even though Robin is the one that Hana is falling for, it's her connection to Seo-jin that interests me most, tiny crumblets of emotion that they are. I know, an umbrella in the snow doesn't really erase an entire day spent being rude and ungrateful, but then he seemed genuinely moved by her when she promised to continue hypnosis for Dr. Kang's sake. She obviously doesn't owe him anything (other than a kick to the shins, maybe), but he seems to be more aware and more guilt-ridden than he lets on. And now, thanks to Robin the sneaky trickster, he'll have to work out his issues with Hana under one roof. It's going to drive him crazy! Why does that make me happy?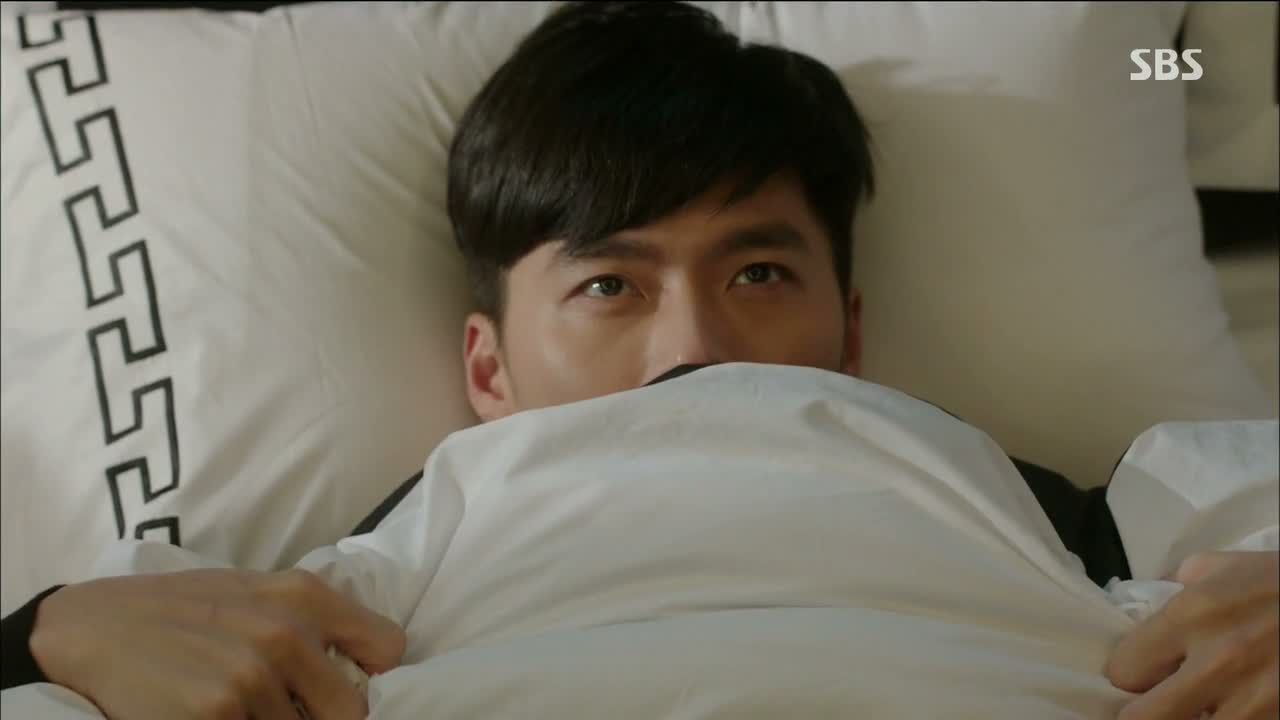 RELATED POSTS
Tags: featured, Han Ji-min, Hyde Jekyll Me, Hyun Bin, Sung Joon