Spy: Episode 10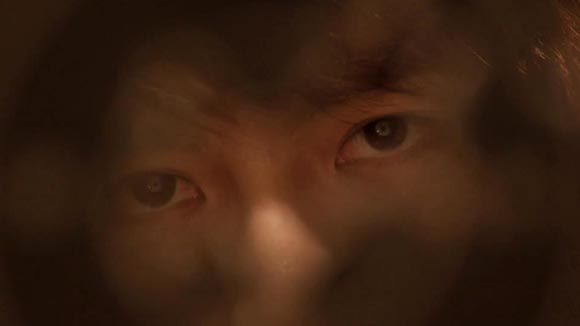 Our hero's in store for some sobering revelations this hour that'll make him rethink the way he's been acting around Mom, and all for the better—it's about time Spy kicked into gear. Now that all the pieces are in place and we've got a baddie to make Ki-chul look sympathetic (which really does work), there's much more at stake than what's on a mysteriously convenient hard drive. Being a spy comes with some tough choices, and we get to see that play out not only with Sun-woo, but with Mom and Yoon-jin as well. If this hour is a positive sign of what to expect in the weeks to come, I'll take it.
SONG OF THE DAY
Mamamoo – "내 눈 속엔 너 (My Everything)" from the OST [ Download ]
Audio clip: Adobe Flash Player (version 9 or above) is required to play this audio clip. Download the latest version here. You also need to have JavaScript enabled in your browser.

EPISODE 10 RECAP
Sun-woo wastes no time in tossing Ki-chul a pair of handcuffs, demanding that he put them on at gunpoint.
Ki-chul, of course, would rather have a nice, genteel conversation about what would happen if he were to spill what he knows about Sun-woo's family. With a former North Korean spy for a mother, a father who worked at the Ministry of Defense, and now him as an NIS agent, the public would naturally assume all three of them were spies.
Sun-woo wavers ever so slightly, but keeps his gun pointed right at Ki-chul as the man tells him his mother's former name and rank. Sun-woo could care less, and spits that Ki-chul should tell him something he doesn't know.
So he does: Sun-woo may think he knows about the 1988 explosion in Shenyang, but did he know Mom threw away her homeland, her friends, and even her lover (aka Ki-chul) for his sake? "Be good to your mother, because she did all of that to protect you."
Ki-chul advances, taking advantage of Sun-woo's hesitation to pull the trigger until he's standing right in front of his gun. He grabs the barrel and presses it into his own forehead, daring Sun-woo to shoot.
He can kill him right now and reveal everything to the NIS, even if it would mean losing his family, who'd be tried as spies and/or traitors. Or, he can come over to the North. "What we want is you, not your mother," Ki-chul admits.
It must come as a sobering shock to Sun-woo when Ki-chul reveals that all the spying Mom has been doing was to protect him, because she couldn't stand the thought of her son becoming a spy for the North. But Sun-woo can end his family's misery by giving himself up and following Ki-chul's orders.
Sun-woo's eyes glisten as he grits out that Ki-chul must not know him very well, and plus, he knows that this is the kind of trickery the North loves to pull. Ki-chul doesn't deny it, but asks if Sun-woo knows another way out of this predicament—Mom is sure to get arrested with the way she's going now.
As long as Sun-woo gives himself over, Ki-chul promises to leave his family alone and erase all the data he's collected through the bugs he's planted. As for the handcuffs, Ki-chul says he won't put them on, because he's had metaphorical ones on for far too long.
He leaves the decision to Sun-woo, who struggles to keep him there and seem threatening even though his finger shakes on the trigger…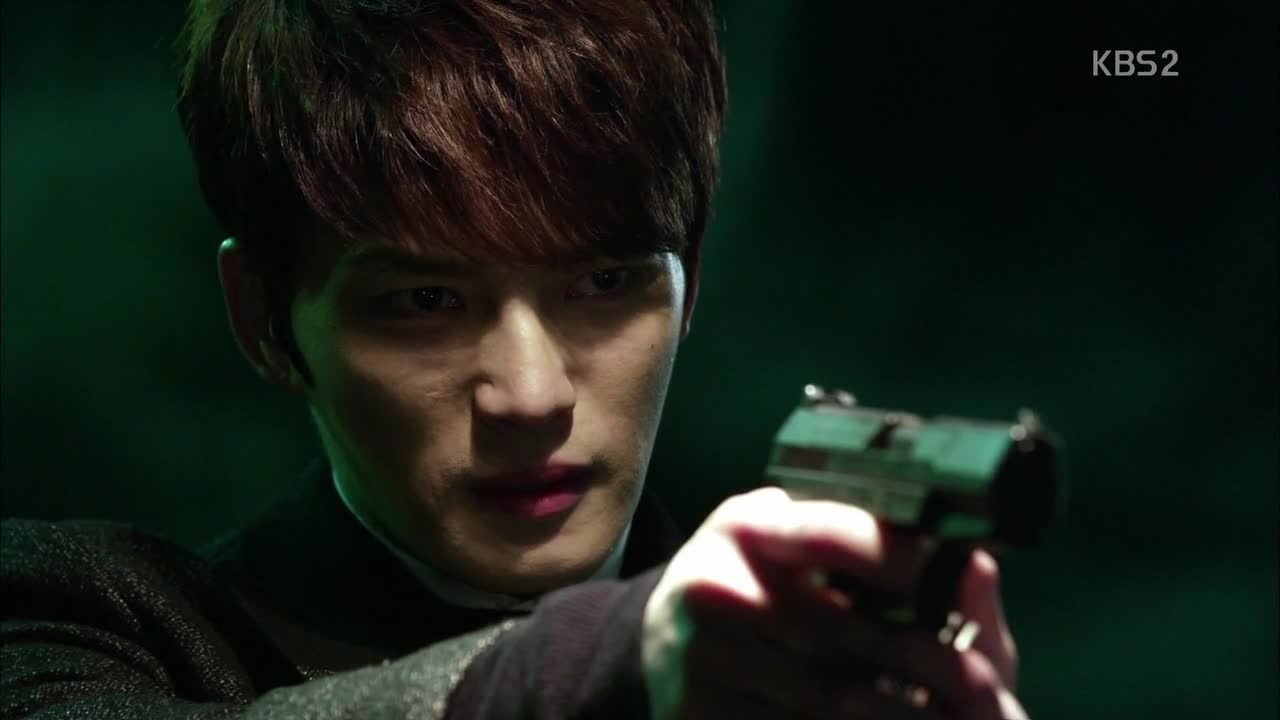 …Until finally, he shoots. There's a moment of stillness as we wonder whether Ki-chul was hit, but he smirks and walks away unharmed. Did Sun-woo miss on purpose?
Dad's worried sick by the time Mom gets home, even though it's cute how they share new intel between them: Mom tells him about the new superior who's taken over Ki-chul's spot, while Dad tells her about Chief Song revealing he works for the NIS in an attempt to use his software.
Comrade Oh can't help but be maliciously condescending when it comes to rubbing in how ineffective Ki-chul has been, blaming it on weakness and sentimentality. Did he really think the NIS would just walk out of their HQ with the hard drive? They'll have to be more inventive if they want to get their hands on it.
Apparently, Ki-chul's mission was to capture Sun-woo, which should've been a simple task by Comrade Oh's estimation—unless he was too busy flirting with Mom, that is. Ki-chul tells him that he needs one more day to convince Sun-woo, which has Comrade Oh laughing like a lunatic. (Which I'm fairly sure he is.)
Either way, Ki-chul has twelve hours. Or else.
Yoon-jin gets a surprise visit from Sun-woo, who calls her from right outside her door. He doesn't say a word and just looks vulnerable as he grips onto her hand and asks if he can sleep at her house tonight.
When she asks if something's wrong, Sun-woo says in a lost voice, "I don't know what to do anymore. I have nowhere to go." She pulls him into a comforting embrace, and Sun-woo just seems to melt in her arms. Poor guy.
Meanwhile, Comrade Oh confides in his fellow agent, HONG-RAN (Choi Yoo-ra) that he doesn't trust Ki-chul to finish the job. She's to keep an eye on him and report anything suspicious back to Comrade Oh.
Dad finds Mom unable to sleep since Sun-woo hasn't come home, and attempts to assuage her anxieties about her son's whereabouts. Mom asks if he finds her constant nervousness tiring, to which he shakes his head—he just feels bad that she worries over Sun-woo so much that she hasn't been able to sleep well since the day he was born.
Mom stays up to write a note we don't see, which she slips into a photo album compiled with pictures of Sun-woo from when he was in utero onward.
Yoon-jin wakes up the next morning and panics when she hears Sun-woo rummaging around in the bathroom, since she's hidden her secret spy phone in the medicine cabinet with her soaps.
She manages to steer him away and to the door, with Sun-woo none the wiser. He thanks her for not asking him about his emotional rut from the night before, and she gently replies that she knows he'll tell her when he's ready.
There's a knock at the door shortly after Sun-woo leaves, and Yoon-jin opens it thinking it's him. But it's Comrade Oh, there to tell her there's been a change in plans.
Sun-woo takes out his pent up frustrations about Ki-chul's offer at the shooting range, scoring perfect marks. He can't help but think over how Ki-chul offered to spare his family if he just gave himself up…
Chief Song calls Hyun-tae in to address his suspicions regarding his activities directly, but when he does reveal that they confiscated something from "the Supervisor" (aka Ki-chul), Hyun-tae loses his temper.
He feels lied to, because Chief Song had tried to convince him the Supervisor was likely dead, only to find out Song has been following him around all this time. Song says it's because Hyun-tae loses his cool every time the Supervisor is mentioned, but he'll trust him with some information this time as a test.
He reveals that the Supervisor is known to be in South Korea now, and while they couldn't catch him, they got ahold of the hard drive he's been wanting to crack. According to Chief Song now, the hard drive contains intel on every working North Korean agent, though it's unclear how true that is considering the story we heard last episode.
It's very possible that he could be lying to Hyun-tae to get him to help, as he claims that the Supervisor has ties to their higher-ups, enough to get him a new identity if he wants. If they want to stop him from living a life of ease (and if Hyun-tae wants the revenge he so desperately seeks), they have to crack the information on that hard drive.
While Sun-woo tracks down the van he saw Ki-chul driving, Eun-ah reports her findings on Mom's pill: it's a tranquilizer. But, if the user has developed a sort of immunity to it and has a reason to stay strong, it's possible for them to fully function while taking it.
Mom is tracking down the same van as her son, though she's much closer to it than he is. As in, she can see Comrade Oh and his cronies get into it from her vantage point.
She's caught spying by Ki-chul, who seems to mostly be worried about her getting caught. "You don't have anyone on your side but me in this place," he stresses. "Don't ever listen to what anyone else says, and just do as I ask you. Nothing will happen that way."
Mom shoots back that if he would've died back then like he was supposed to, then nothing would have happened. She peels out on the street, leaving Ki-chul to stare after her concernedly.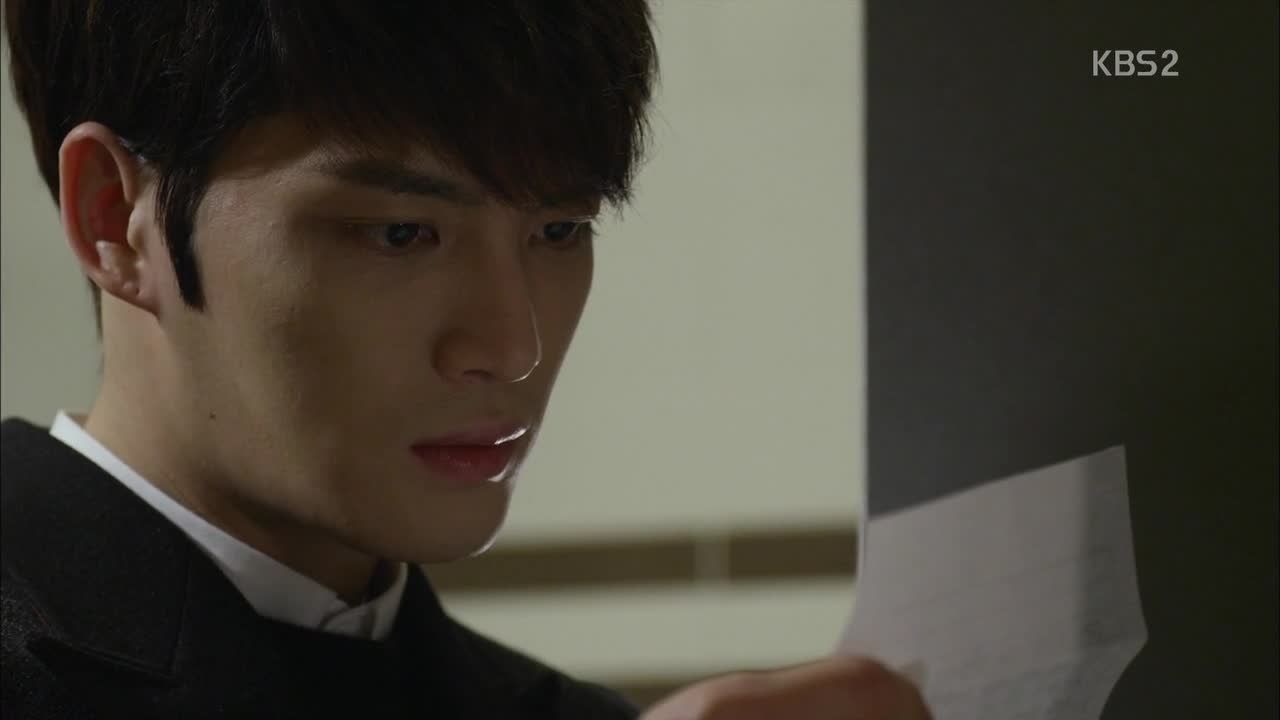 Sun-woo discovers the hidden cabinet where Mom keeps her drugs, spare cash, and other remnants of her spy days. But it's there he also finds the photo album and the note she wrote, which is her confession: In it, she reveals her real name and that she was a spy.
She tells the story of meeting her husband in 1988, and how she was initially supposed to turn him over to the North but instead fled with him to the South to raise their family.
The confession is due in part to threats from her old comrades in the North to reveal the truth of her identity to her son, who she's been deceiving his whole life. As a way of turning herself in, she's also saved recordings of all her conversations with her Northern comrades on a USB, which Sun-woo also finds.
We find Yoon-jin hovering nervously outside Young-seo's high school as she flashes back to her surprise meeting with Comrade Oh. He knew Sun-woo wouldn't come to their side without a good reason, so he gave Yoon-jin the mission of kidnapping his sister in order to give him one.
When Yoon-jin asked what would happen to Young-seo if Sun-woo refused, Comrade Oh had said with a smile, "We'll have to do as we usually do."
While Yoon-jin finds an excuse for Young-seo to just so happen to see her, Sun-woo takes an angsty drive after listening to Mom's USB. Tears stream down his cheeks as flashes of the conversation he just heard come back to him, all of them containing Mom's desperate pleas to do anything just so her precious son wouldn't be harmed.
Both he and Mom are unaware when they pass each other on the street, both lost in their own worlds. But Mom is looking like she might be feeling the effects of those tranquilizers…
Yoon-jin's instructions are to delay Young-seo from going home until her comrades can pick her up, so she takes her out for dessert. Young-seo thinks their meeting was all a funny coincidence, but confides that she knows her brother slept over at Yoon-jin's last night.
It doesn't bother her, but she admits that it bothered her mother so much she couldn't sleep. I love how Young-seo's solution is to rush them to get married, because Young-seo is easy like that and Yoon-jin bought her sweets.
Comrade Oh calls to tell her to take Young-seo outside, so Yoon-jin lies that it was her brother who called to take them out. Yoon-jin momentarily panics when Young-seo says she has to call Mom first for permission to skip her after school class, but Young-seo is all too happy to make her brother and Yoon-jin take the blame. Hah.
Sun-woo rushes to do some backpedaling on all the tails he'd put out on Mom, and cancels the order to find the van(?) before he deletes the old photos of Mom in the North Korean army.
If Hyun-tae was suspicious of Chief Song's request and thought that going to Director Jung would clear it up, he's in for the wrong kind of surprise. Maybe there's a chance he suspects both Song and Jung when he interrupts their meeting for a sudden bathroom break.
Or maybe not, since the reason Chief Song told him about the hard drive was to blame everything on him later—it'd be easy with Hyun-tae's past ties to the Supervisor. Luckily, Hyun-tae gets to listen to them conspiring since he left his phone on in his pocket. Yay, someone's doing some spying!
Meanwhile, Sun-woo shreds the old documents he'd found with Hyun-tae relating to the 1988 Shenyang Explosion Case, in order to erase any incriminating ties it may have to Mom.
As Comrade Oh and his cronies head toward the place Yoon-jin is to bring Young-seo with hidden weapons, Ki-chul hesitates to call Mom. In the end he doesn't, but does this mean he knows what's about to happen to her daughter?
Chief Song spots Sun-woo in the hallway and asks if he's heard anything from his father regarding their meeting the day after tomorrow, adding that he revealed Sun-woo's position in the NIS almost as an afterthought.
This comes as a shock to Sun-woo, who for all intents and purposes doesn't know his father knows where he works. Chief Song is all cavalier about it, thinking that he's done Sun-woo a favor—now he doesn't have to keep secrets from his family anymore.
Hyun-tae shares a look with him afterward, but doesn't tell Sun-woo that something fishy's going on. Hopefully it's just because he didn't have the chance.
En route to the trap, Yoon-jin is barraged with flashbacks and feelings of guilt as she thinks of how doing this would affect Sun-woo, even though she can't help but think of her family's safety too.
But she makes the decision to save Young-seo by telling her that their meeting has been cancelled—and Young-seo, thinking her brother bailed, sighs exasperatingly.
Mom notices something amiss in her hidden cabinet and finds her written confession missing, while Sun-woo arrives at the North's hangout with unshed tears in his eyes and a gun. Oh no. Don't do anything foolish, Sun-woo!
But he does, and calls out for Ki-chul upon entering the almost-empty office. Ki-chul ushers him near, asking if he's decided on his answer.
Sun-woo reaches for the gun tucked in his waistband, just as Ki-chul turns toward the sound…

COMMENTS
It may have finally taken a specifically written confession from Mom to get Sun-woo to believe she was a spy, but I'm not going to be picky on this one—at least Spy finally got the ball rolling, and picked up the slack left by the previous weeks with this one. And just in time, too.
One of the prevailing mysteries in this show, and one they seem hell-bent on withholding, is why the North wants Sun-woo so darn badly. It's been a question hanging over our heads for multiple episodes, only now it's an even bigger issue than before since Comrade Oh has thrown his hat into the "We need Sun-woo and we need him NOW!" ring. Why? I could sort of get it if Sun-woo was the only good spy in the NIS or if he had a skill set the North desperately needed, but so far the show hasn't seen fit to reveal those attributes that make Sun-woo so irresistible to his communist enemies.
If it weren't literally the driving force behind the North's actions, it could be ignored a little easier, but that task is difficult when Ki-chul and Comrade Oh are constantly mentioning how much of a priority capturing Sun-woo is. And if it were just Ki-chul harping on this issue I'd be able to buy it, since Ki-chul's soft underside has been showing a lot more lately and it wouldn't be such a stretch to accept that his lingering affections for Mom have somehow morphed into the need to corrupt her most precious possession. Or that he's Sun-woo's actual father, an idea which the show made sure to plant in our heads.
I really liked seeing Sun-woo go through his phases of realization when it came to Mom, even though I wish he had even one confidant to talk out his feelings with—Mom's note made it a point to clear her family of any possible blame, so he doesn't know that his father already knows everything. How awful it must be to deal with the weight of the information he learned was written all over his face, and the conclusions he came to were made clear and decisive through his expressions even though the poor guy wasn't able to say anything about the 1890283902 things that must have been running through his mind.
But what redeemed Sun-woo from spending so much time being suspicious of his own mother as opposed to his girlfriend was how he didn't even waver when it came to doing what he felt he had to in order to protect her. Shredding those documents and deleting photographic evidence linking her to the North might not be the wisest thing he could have done as an employee of the NIS—but then again, this is Spy's version of the NIS. What're his superiors (sans Hyun-tae) going to do, outsmart him? Hah. Tell me another one.

RELATED POSTS
Tags: Bae Jong-ok, featured, Go Sung-hee, Jaejoong, Spy