Spy: Episode 15
Nothing is ever easy when it comes to Sun-woo and keeping his family safe from those who would more than happily use them as pawns. Even in its finale week, Spy continues to hammer in the idea that the one with the hard drive in his hands gets to hold the cards to this game. Bullets fly in this penultimate episode and tears are shed, and if there's a small ray of hope left in this battle, it's that Sun-woo has more than one person who has his back.
SONG OF THE DAY
Xia Junsu (feat. YDG) – "Out of Control" [ Download ]
Audio clip: Adobe Flash Player (version 9 or above) is required to play this audio clip. Download the latest version here. You also need to have JavaScript enabled in your browser.
EPISODE 15 RECAP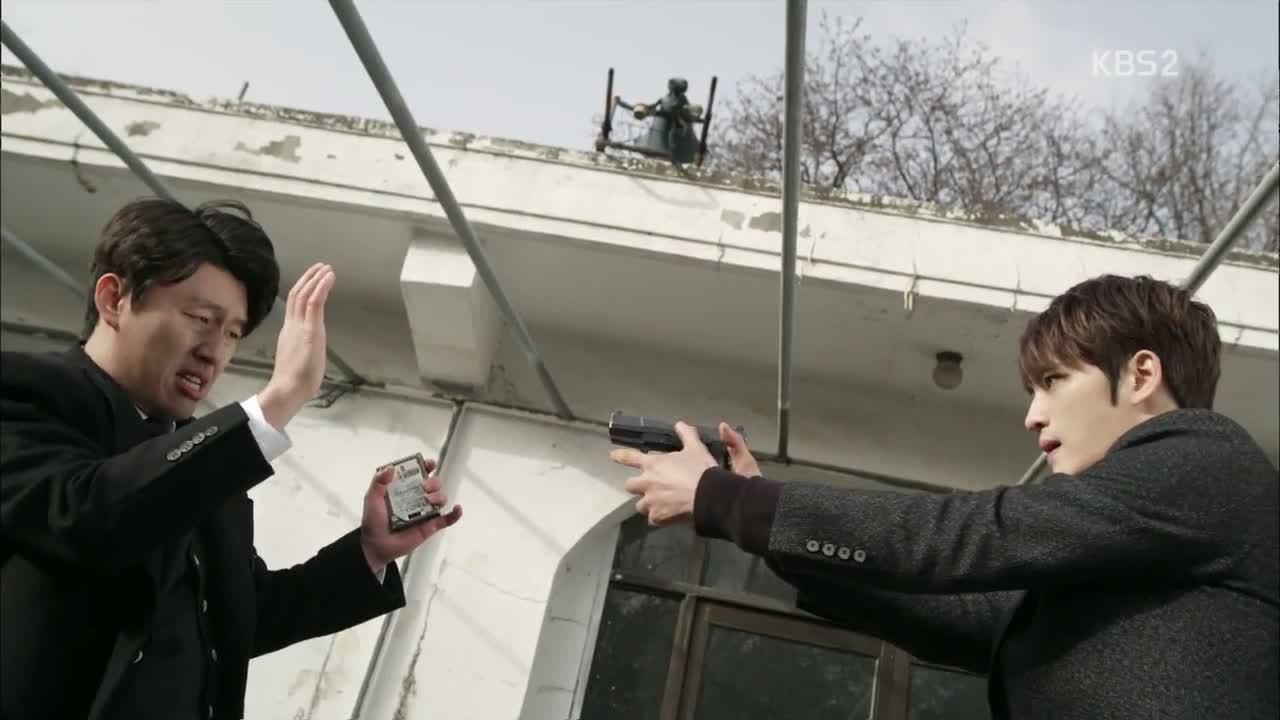 Upon Ki-chul and his lackeys' arrival to the hard drive standoff, Chief Song pulls his gun on Sun-woo, who easily disarms him and takes back the hard drive. Ki-chul gives the order to shoot everyone except Sun-woo, and a barrage of bullets take down the agents.
Sun-woo fires a few warning shots to call off the gunfire, and like the true coward he is, Chief Song makes a run for it. Sun-woo gives Hyun-tae the green light to give chase, reassuring his worried sunbae that he can take care of things here—he has the hard drive, after all.
After telling him that the NIS will arrive soon enough, Hyun-tae tells him a quick "don't die," then takes off in pursuit.
Ki-chul has a card to trade of his own—Mom—and he fires another shot at a wounded agent before demanding the hard drive. Sun-woo threatens to destroy the hard drive unless they hand Mom over first, but Ki-chul calls him on that bluff and sends a bullet into Mom's arm.
An angry tear falls from Sun-woo's eyes, and he growls to Ki-chul that time is ticking down. And it really is, as we see a group of NIS agents (on Director Jung's orders) racing down the road.
Our other chase continues through the woods as Hyun-tae pursues Chief Song. When the latter screams for help, Hyun-tae fires his gun into the air and tells his ex-buddy that it's all over.
But Chief Song still clings to the notion that it ain't over 'til it's over, and it's only when he picks up Director Jung's phone call does he realize who was listening on the other end of Hyun-tae's bug. Director Jung says he's on his way to meet the assemblyman, since it looks like Chief Song won't be able to make it, what with him taking the fall for the Supervisor's death and the supervisor.
In a crazed voice, Chief Song declares that he won't go down alone, but that threat hardly fazes Director Jung. Click.. Desperate now, Chief Song turns to Hyun-tae and claims to do anything that's told of him.
It's sort of pathetic how Chief Song pleads with Hyun-tae to steal that hard drive together and live in a lap of luxury with that money. But that's when the other NIS agents arrive to apprehend Chief Song…
… only to put a bullet in him instead. Whoa. Hyun-tae approaches in disbelief as Chief Song falls to the ground. The fallen man's phone rings, its owner unable to pick up his precious daughter's call.
Meanwhile, Ki-chul and Sun-woo hear the warning shot, which Ki-chul takes as their signal to expedite this exchange. He points his gun at Mom's heart, and that's enough for Sun-woo to stand down.
Satisfied, Ki-chul plucks the hard drive from his hand, then shoots Sun-woo. Mom screams as her son falls and hollers that Ki-chul had promised not to hurt Sun-woo. C'mon Mom, when does any villain, former lover or not, ever keep his promise?
Mom's vision starts to blur just then, and she pleads with Ki-chul not to kill Sun-woo, promising to uphold her end of the bargain by leaving with him. Ki-chul agrees and tells Sun-woo not to forget that he let him live twice now before kicking him down and dragging Mom away.
Either Yoon-jin was too pre-occupied with planting the one tracking device in Ki-chul's van all this time or she decided to stay out of this entire exchange (despite yunno, having a gun). She's just about to approach a wounded Sun-woo when the other NIS agents pull up, and Sun-woo urges her to take off lest she be captured.
So Yoon-jin decides to pursue the van, where Ki-chul breaks into a smile at seeing the amount of the illegal funds. Looking over at a struggling Mom, he notes that she's gotten much weaker over the years and reassures her that Sun-woo's wound isn't fatal.
But no matter how much she's struggling, Ki-chul won't lose his bargaining chip by killing her. He makes sure to keep his eye on the hard drive, but judging from his lackeys' line of sight, he isn't the only one with his eye on it.
Yoon-jin stops and contemplates whether to continue purusing Ki-chul's van. Thanks to a call from her own mother, she learns that her family has safely crossed the border. After taking another moment to think about meeting up with her family, Yoon-jin says she has one last job to do first.
Back at the scene, Hyun-tae watches as Chief Song's body is taken away. He picks up a call from Director Jung, who says they'll continue with the plan to pin Sun-woo's family for espionage. The deceased Chief Song gets to keep his honor as the agent who died in the line of fire trying to apprehend the spies.
When Hyun-tae protests, Director Jung tells him to think of it as an opportunity—Chief Song's position is open now, after all. After sending a team to chase Ki-chul's van, Hyun-tae rides with a fainted Sun-woo in the ambulance.
We enter Sun-woo's mind, where he recalls when Mom had scolded him for mimicking her speech patterns. Mom had told the young Sun-woo that it would break her heart if Sun-woo was ever hurt because of her, then gathered her son into her arms. "I'm doing all of this for your sake," she'd explained.
The vision slowly changes as the young Sun-woo turns into the adult we know and Mom ages as well. Dream Mom tells him that she constantly wrestled with herself about whether telling him the truth would be the better choice or not. "I'm sorry, Mom," he tells her.
His vision changes once more to the recent past, with Mom clutching her son, screaming that she'll do anything if Sun-woo's life is spared. Just as he turns back, Sun-woo wakes, to Hyun-tae's relief.
Hyun-tae tries to be careful with his words about the current situation, but Sun-woo picks up on the fact that his family will be arrested whether or not they nab Ki-chul because the NIS needs someone to take the fall, now that Chief Song is dead.
Sun-woo struggles to get up after getting Yoon-jin's text that she's chasing Ki-chul's van. Stopping the ambulance, Hyun-tae gives Sun-woo his jacket and gun, telling him to get that hard drive back by any means necessary.
There's nothing left for him to lose, Hyun-tae says, and Sun-woo needs to save his family. He has to insist to Sun-woo that he's fine, assuring him that the NIS can't get rid of him that easily since he knows too much already.
Sun-woo says he's sorry, but Hyun-tae replies that if he's really that sorry, then he'll make it through this because they haven't taken Sun-woo's funeral portrait yet. Then Sun-woo calls Yoon-jin for a pick up, and luckily (or conveniently) for them, Ki-chul's van isn't too far away.
Eun-ah falls silent after being updated by Hyun-tae, and Dad is taken outside to meet with Director Jung in his car. Dad is told that Sun-woo can get off with on a lighter charge if Dad confesses about Mom's past spy activities, but he looks hopeful when he overhears that Sun-woo got away.
Over at the NIS headquarters Hyun-tae smirks behind Director Jung's back when he's scolded for losing Sun-woo en route. But then Hyun-tae asks what they'll do if Sun-woo successfully nabs Ki-chul and retrieves the hard drive—will the director clear Sun-woo's name?
Director Jung gives them twelve hours to finish the job.
Sun-woo and Yoon-jin track down the van and approach, only to find it empty. Sun-woo is determined to find Mom as soon as possible, lest he and his entire family are forsaken, but Yoon-jin argues that they need to take a moment and think of a plan.
She points out that he's wounded right now, but Sun-woo cuts her off, saying that Mom is too. It's then he recalls that one of Ki-chul's lackeys was injured too, and if the group abandoned the van here, it must mean that they went somewhere nearby to treat their injured.
He enlists Eun-ah's help in looking up veterinary clinics in the neighboring area, along with those who would provide medical treatment illegally. He's definitely on the right track, because that's exactly where Ki-chul and his crew have stopped to tend to Mom and the lackey's wounds.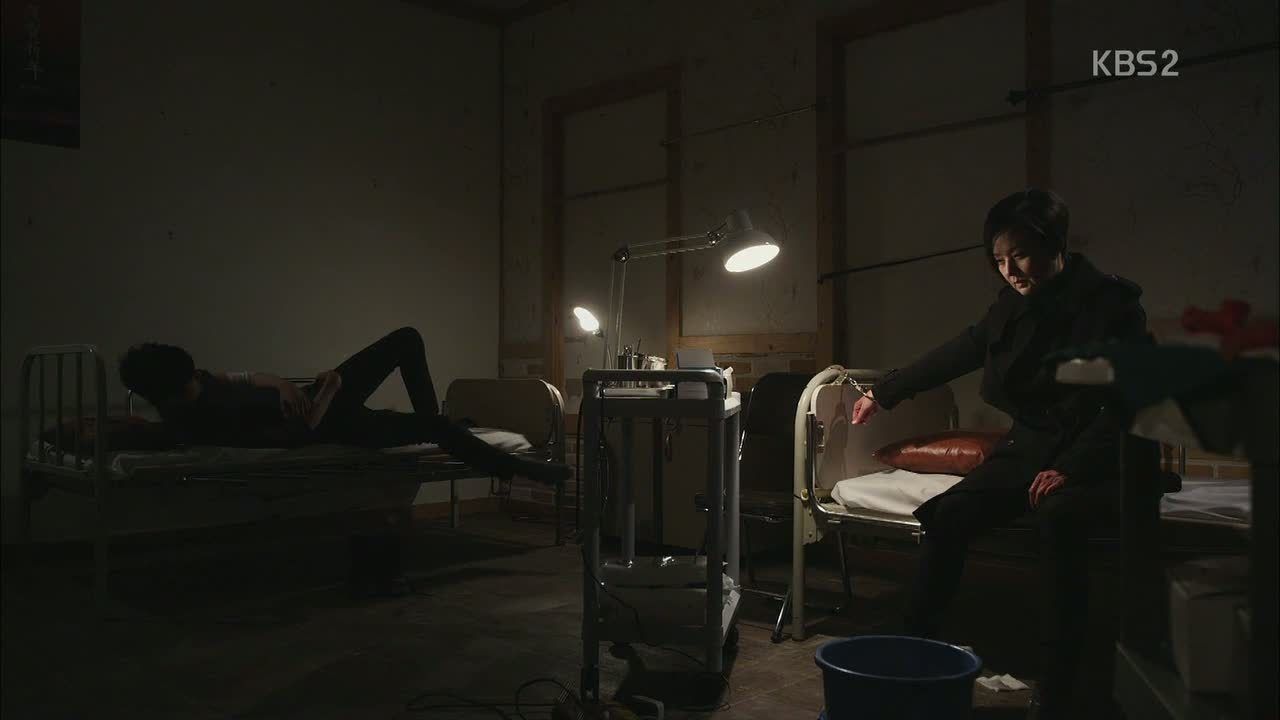 His female lackey says they don't have time to waste, to which Ki-chul counters that they can't leave their comrade behind. He makes sure to cuff Mom to the bed before telling her to get some rest.
Yoon-jin returns to the car after picking up snacks to find Sun-woo fast asleep. Reminded of the times she worried about Sun-woo's health and dangerous line of work, she says that she'd hoped that Sun-woo would be the only one who wouldn't get hurt.
Back at the clinic, Mom tells the injured lackey that he should be grateful towards her or else his crew would have already abandoned him. The wounded are always extra baggage, she continues, and advises him to stay alert or else he might before getting his share.
Ki-chul walks in and sends the lackey out before pulling up a chair for another nostalgic chat. He's reminded of that day when she'd planted the bomb in Shenyang, and he'd woken up in a hospital.
He thought he had seen Mom visit his room with a gun, but she'd failed in shooting him dead. He'd wondered if it was truly her that day, because there was no reason why she'd let him live. But his growing curiosity to that question was what kept him alive, and he poses that question to her now: "Was it you? Was that you at the hospital that day?"
Mom denies it, and Ki-chul explains that the reason why he won't put Mom out of her misery is because she chose to spare his life that day. Again, he tells her to get some rest because they've got a long journey ahead of them.
Once Ki-chul leaves, Mom agrees with the idea that it's all her fault. She vows to do what she needs to do and tries to reach for a fallen scalpel on the floor.
Meanwhile, Sun-woo grows frustrated when the clinics on the list look like dead ends for one reason or another. Yoon-jin says they still have time, and they decide to check another one.
Ki-chul's lackeys decide that now is a good a time as any to attack their leader (and steal the drive). They lock the doors and lord over Ki-chul… and then the phone rings. It's Sun-woo, trying to call the clinic, hoping that somebody, anybody will pick up.

COMMENTS
Given his track record of surviving life-threatening situations in the past, I'd say that the odds are Ki-chul's favor right now. Even if his words that money can buy loyalty are true, it's also true that unclaimed money encourages betrayal and weakness in authority breeds distrust.
Now that we're in finale week, I'd been hoping that everyone's motivations would become a bit clearer, and yet the explanations and behavior only serve muddied answers and even more questions. One would think that Director Jung would do anything to get that hard drive back, especially from a group of North Korean spies who plan to leave the country any day now. But then he appeared to lose interest upon Chief Song's death, save face instead, and give up on that mountain of money (specific amount TBD).
Even stranger is Ki-chul, whose weakness when it comes to Mom is no secret. His previous show of shooting at Mom's feet only serves to reinforce his residual feelings for her, and it would be hard for anyone in his company to ignore all those late-night chats about the past and running away together. And somehow Mom had continued to trust the idea that the man who has betrayed her time and time again that he'd uphold his promise. It would be great if Mom comes out as the big heroine in this, who somehow overpowers her captors and saves her family, but then again her track record suggests otherwise.
So then it's up to Sun-woo, with a grazed bullet wound and thiiiiis close from going into shock to save the day. His interactions with Hyun-tae continue to be one of the highlights of this series, and a pity that there weren't enough of those moments. I love that Hyun-tae has Sun-woo's back and willing to take responsibility for him in case something goes wrong and refuses to see corrupt authority destroy Sun-woo's family. A part of me wishes that he'd gone with Sun-woo to look for Ki-chul instead of Yoon-jin, but it makes sense that he needs to keep the NIS from trying to hunt Sun-woo down every five minutes.
It was pitiful to watch Chief Song unravel so quickly from an enemy who boasted about his backers to a desperate man losing a shoe and refusing to believe that this was the end of the road for him. It is pretty frightening to think that Director Jung holds enough power to do away with any NIS agent at will, but instead of focusing on the idea that any employee who defies him can easily end up dead, everyone's eyes are turned to that hard drive for one reason or another.

RELATED POSTS
Tags: Bae Jong-ok, featured, Go Sung-hee, Jaejoong, Spy