Hidden camera teasers: Producer meta, or Meta Producer?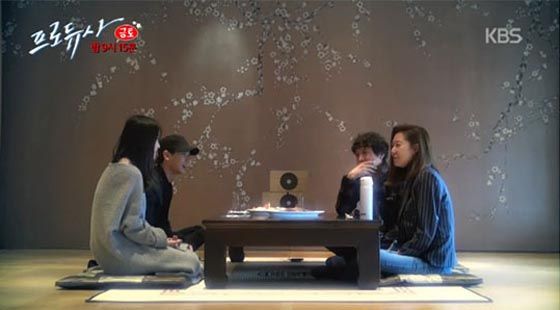 girlfriday: Uh, do you understand these teaser-non-teasers for Producer? This is the third one of these "hidden camera" ones that show different combinations of cast members meeting awkwardly.
javabeans: On one hand, these teasers clarify my confusion over the show calling itself a "variety drama," but on the other, they make me more confused about what the drama is actually doing. Because okay, you show the cast members in a seemingly unscripted moment, chatting as though they're not on camera, and the variety-style editing makes it seem like they're really shooting a reality show.
girlfriday: Like Kim Soo-hyun rocking back and forth nervously, gulping water and then picking up his empty glass over and over.
javabeans: Yes, and the long silent shot of IU and Gong Hyo-jin sitting still, and the captions assuring us that the camera wasn't frozen — they were just that awkward. The humor comes from the "real-life" awkwardness — in fact they're not really funny. It's only amusing since we all know the meta behind these actors. It's an interesting approach to a behind-the-scenes moment, and if this is what the whole show is going to be, I'm intrigued and find it refreshing. But also I have no idea what they're doing.
girlfriday: That would be amazing, if they managed to pull off an entire drama mockumentary-style, with scripted scenes that feel totally unscripted. I can kind of see how the teasers could be that… but then also, I feel like the likelier answer is that they just turned on four cameras and told them to meet there.
javabeans: I think that's the real answer, actually. The teasers remind me a whole lot of all of Na PD's teasers, where you film the pre-show planning meetings, then build a whole meta narrative to accompany the show proper, and use that stuff as your promotional material.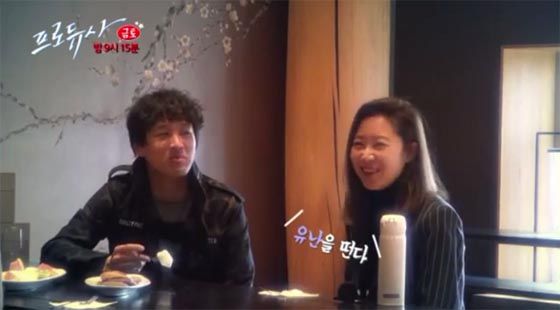 girlfriday: You know, now that you mention it, what I felt like the Producer teasers were missing was that metanarrative. That one extra step to frame what's going on (and poke fun at something).
javabeans: That's it, because Na PD teasers are short and funny and easy to understand, whereas I'm still wondering what Producer is about. I don't have trouble believing that the drama is scripted like a normal drama, and I also don't have any problems with variety-style teasers. What I don't know is why the drama is supposedly variety-esque, and why there's a separate drama PD (Pyo Min-soo) filming the "drama portions," and a variety PD who has no scripted experience (Seo Soo-min) handling all the "variety scenes."
girlfriday: Wouldn't it be epic if they just kept the cast in the dark (as they clearly are in these teasers) for weeks and weeks, pretending to make a drama, and then THAT is the drama?
javabeans: Actually, now I just want Meta-Producer: The Making of Producer and the heck with actual Producer.
girlfriday: OOH, like Actresses! I love that movie!
javabeans: That movie hit the perfect balance between "Haha, see them making fun of their images" and "Wait, do they actually hate each other?" and "I don't care, it's funny both ways!"
girlfriday: IU and Gong Hyo-jin's teaser (showing their tense first meeting) seemed to be going for that. I wonder if it really was scripted to play it up.
javabeans: I hope it was real. But it would be smart to script it too. And it was amusing to hear Gong Hyo-jin show up for their secret script reading (which was the source of the teaser footage) and wonder at the extent of experimentation in their show, then adding as an afterthought, "We will be acting, right?"
girlfriday: And of course Cha Tae-hyun answers, "Eh, they'll figure it out."
javabeans: I should hope so! It's premiering in two weeks! I hope we have a drama by then!
girlfriday: On the upside, if we don't, they can salvage a variety show about making a failed drama out of it.
javabeans: Heck, these days variety programs get more than double the ratings of regular ol' dramas anyway.
girlfriday: Wah waaaaaah.
Via Hankyung
RELATED POSTS
Tags: conversation post, The Producers