Hidden Identity: Episode 7
Is a monster born, or is he made? And once a monster is created, is he wholly responsible for his evil deeds, or does the real blame lie with the one who created him? As the team gets closer to the Ghost (and to each other), it becomes clear that some hard questions will have to be asked and answered if they have any hopes of catching the monster. But even if they do, will that be the end of it?
EPISODE 7 RECAP
Prosecutor Park shows the team the video of Team Leader Jang apparently tipping off a drug dealer to an upcoming sting, and informs Jang that he's under arrest. The rest of the team look on in disbelief as Jang is handcuffed and led away, but the irrefutable evidence seems to be right there on video. On his way out, Jang quietly asks Tae-pyung to continue with their plan, and to have faith in him. Oof.
They're still in shock, but the team get ready for their operation involving Chairman Lee that evening. Gun-woo asks Min-joo tentatively if Jang can get out of this situation, but she doesn't have any answers, either.
That night Chairman Lee prepares the payment for his new "bodyguards," and waits in the dark with his shotgun when he starts to hear banging noises in the house. He calls out when the noises stop, but there's no answer, and he nearly stumbles over Gun-woo lying on the floor (supposedly) bleeding from the head. Suddenly, Chairman Lee is knocked out from behind by a masked man.
Prosecutor Park interrogates Team Leader Jang about his supposed drug deal with Yoo Dong-jun, the dealer he was caught tipping off on tape, and he casually confesses his guilt. She asks if the drugs were the same ones he confiscated from his investigation, but we don't hear his answer.
Chairman Lee wakes, blindfolded and tied, with Tae-pyung whispering ominously in his ear. He asks if he remembers Park Yun-soo, the girl he raped (and who he claims seduced him at the ripe old age of thirteen for settlement money, gag) and says that he's her uncle.
Whatever Jang's answer to Prosecutor Park was, it surprises her enough that she asks him again: The drug that he sold to Yoo Dong-jun, he sold for his own personal benefit, is that right? He says he did not — that the drug deal was part of a larger police investigation at that time.
Ha, Gun-woo casually wipes the fake blood off his face now that his part in the act is over, as Tae-pyung terrorizes Chairman Lee. Lee swears he'll turn himself in, or pay him, or whatever it takes to save his weaselly life. Tae-pyung growls that he'll just pay another lawyer to get himself free again, since there's no evidence proving his guilt. Ah, but there is the tape, and Chairman Lee happily tells them where to find it in return for his life.
Team Leader Jang says that the operation didn't end with letting Yoo Dong-jun escape to the Philippines — the drug dealers in that country were their ultimate targets. Yoo Dong-jun even became a member of their team while working in the Phillippines. Oh snap.
Prosecutor Park's thoughts spin as she realizes that all the evidence supports Jang's claims. Jang even knows exactly how and from whom she got her information, and he chides her on not being careful enough while gathering evidence. Park's face falls as she realizes Jang has been one step ahead of her all this time. She tells her assistant to check up on Jang's claims, but her expression says that even she knows it's a lost cause.
Prosecutor Park isn't ready to let go of her anger though, and demands to know why Team Leader Jang went to such lengths without telling anyone. Jang says he was buying time, that it all needed to appear real until Yoo was finished with his operation. He simply says it's how their team works.
Chairman Lee wakes up again to find Min-joo calling his name and the police combing his house. She pouts that he must not remember calling them himself and asking for backup. We see that he'd given Tae-pyung his safe passcode, and they'd found a cache of videos just before knocking him out again and calling the police with his phone.
Min-joo says that since he called them claiming a crime occurred here, they don't need a search warrant to look over a crime scene. Brilliant. Duk-hoo brings the bag that Chairman Lee was stuffing full of money, but now there's only one item in it — the videotape.
Min-joo plays it on the VHS machine while Chairman Lee has to be restrained, and her gasps of horror tell us all we need to know. It's not even the only tape in the safe, and Chairman Lee is arrested.
The whole team comes out to greet Team Leader Jang when he's released, but Prosecutor Park wants a word with him before he goes. It seems that, after Chairman Lee was arrested, an anonymous donor provided the money needed for Yun-soo's heart surgery. Coincidentally, it's the exact same amount that Chairman Lee just withdrew from his account.
Park says that depending on his answer to her next question, she'll decide whether or not to continue examining his team. Jang says that whatever involvement his team may or may not have had, it would not have included illegal methods, or Chairmen Lee would be set free. Park figures her cooperation is needed if Lee is to be held in custody, and Jang is just all, "Oh, is that what it sounded like I said? Hmmm."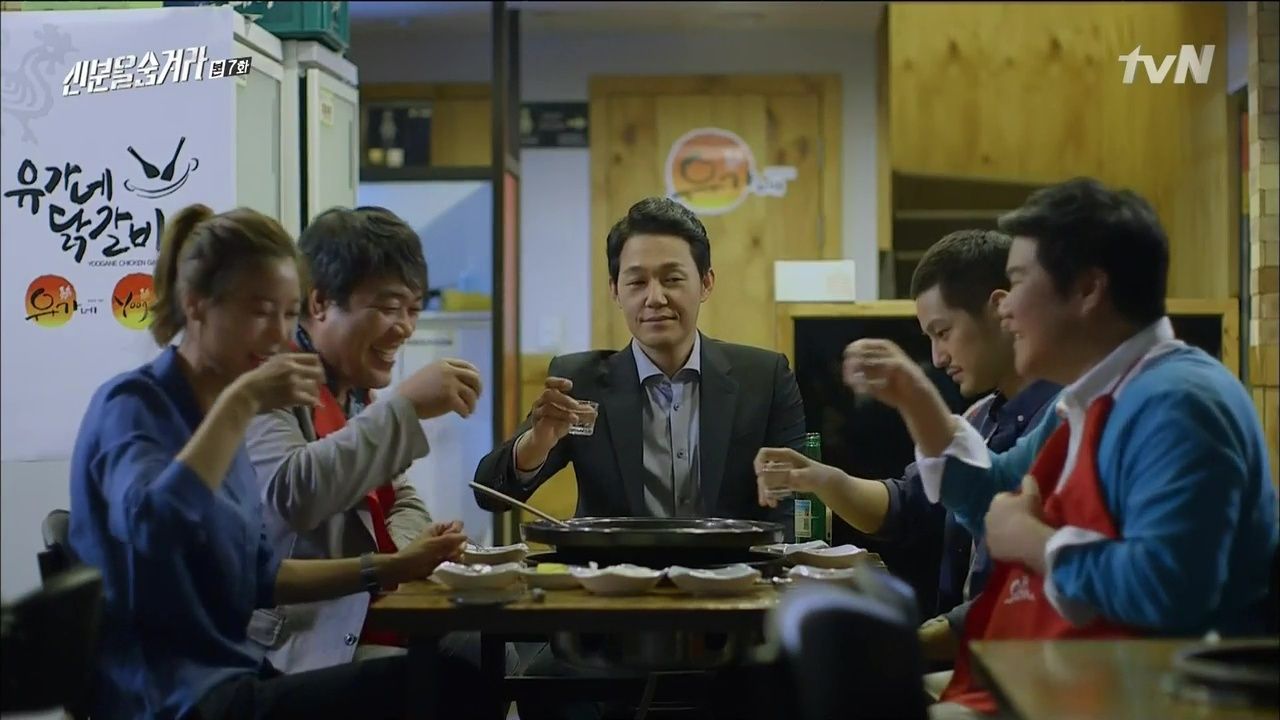 The team goes out to eat and HAHA, the boys gripe that Min-joo eats too much and costs too much to feed. Jang thanks them all sincerely for trusting him, and Tae-pyung grumbles that of course, it's because he's worthy of their trust. They all raise a toast and take a group selca, even waiting for grouchy Gun-woo to join in.
Alone in a warehouse, a man who looks suspiciously similar to the police sketch seen in the previous episode answers a call from someone he calls "Chairman". We don't hear what the call is about, but he mentions Nam In-ho's name.
Tae-in is at his new post working for Director Choi, and he gets a text from Gun-woo letting him know that Jang's case was resolved. Choi is briefed that, at the same time as the other two men were smuggled into the country by Moo-sung, a third man was brought in. His whereabouts are currently unknown.
They show a picture of the man — Tae-in suffers a flashback of his sister Tae-hee's death, and this time we see the face of the man who killed her. He breathes a "yes" when Choi asks if this was the third man who was smuggled in. It's Nam In-ho, and he's in prison.
We see him in his prison life, now with a large scar on the left side of his face, and he appears oblivious as several other inmates exchange loaded glances. One of them approaches In-ho and stabs him in the gut, and In-ho pulls the man's head near and bites. His. Ear. Off. Holy shit.
A second inmate tries to garrote In-ho, only to receive a brutal hammer to the temple. Several times. Even the guards are too scared to go near as he casually smashes the man's head to a pulp, but a third inmate is stupid enough to go after In-ho with a wrench. He's choked then stabbed with the shiv that In-ho pulls out of his own stomach, but the guards eventually get In-ho under control.
Team Leader Jang discusses Nam In-ho with Director Choi, who's confirmed that In-ho works for the Ghost. Jang wonders if he'll talk now after eight years of silence, but Choi tells him about the attack in the prison. They think the Ghost tried to get rid of In-ho, which means In-ho might be in the way of something the Ghost is trying to do.
In-ho has information he's willing to share, and Director Choi wants Jang to talk to him. In fact, it's Nam In-ho's condition for telling what he knows about the Ghost, that he speak to Team Leader Jang first.
Tae-in asks Jang on his way out what he plans to do, telling him that he doesn't want Gun-woo to hear about this. Jang says he can't keep it from his team, but that he's willing to refuse to talk with In-ho if Tae-in requests it. Tae-in says to do it, but that he wants be the one to tell Gun-woo.
He goes to Gun-woo right away, and tells him not to live like he's been living. They look over the city and Tae-in says to live like those people, laughing and living their lives. Gun-woo asks in turn if Tae-in could do it — he knows he can't. Both of them are stuck, and can only live like this. Gun-woo changes the subject and asks if there's more information on the Ghost.
The team is briefed on Nam In-ho, and the guy is one seriously scary dude. He's participated in every war since the 1990s, and was kicked out of the Navy Seals for insubordination and assaulting a senior officer. He has a reputation for overkill with enemies and even killing civilians.
Tae-pyung states the obvious — the guy is a psycho. Nam In-ho worked as the Ghost's hitman, and this is the first the Investigative 5 Unit is hearing that he's the man who killed Tae-in's sister, Tae-hee. Up on the roof, Tae-in must have told Gun-woo that Jang will be speaking with In-ho, because Gun-woo looks simultaneously angry and shocked. He refuses the comforting hand that Tae-in offers.
So Jang meets with In-ho, who instantly chastises him for capturing him then never bothering to visit. Jang won't promise a deal without knowing whether In-ho even has any useful information and just asks what In-ho wants, and In-ho asks him to hear him out.
But the first thing he says is that he doesn't know what the Ghost is up to right now. Jang gets up to leave, but In-ho gives him a tip — it's not easy to carry out such huge plans as the Ghost does, alone. People, weapons, and information all cost money. He's not saying the Ghost has a financial backer — more like a partner. And In-ho knows who that partner is.
In return, he wants protection until the Ghost is captured. He knows the Ghost is up to something big, since he's suddenly trying to get rid of In-ho. Jang says he'll think on it and turns to go, but stops again for only a moment when In-ho asks after Gun-woo by name.
Tae-in asks Director Choi to let him continue to communicate with Team Leader Jang, and Choi actually says he never expected him to stop. He gives him blanket permission to talk with Jang about anything, so long as he shares any information he gathers with the NIS.
Jang decides to cooperate with In-ho, and In-ho is scheduled to be transferred to a new facility, escorted by Jang and a few NIS agents. Gun-woo offers to help but he's given an assignment with Tae-pyung involving Jung Pil-sung, the man who orchestrated the attack on In-ho.
They know Pil-sung must be connected with the Ghost, and Jang wants them to find that connection. Upset, Gun-woo says that Jang knows what Nam In-ho means to him, and expresses his anger to be left out of his transfer. He assumes Jang doesn't trust him to behave, and suspects too that there's more than just a transfer happening.
Gun-woo wants to know what Jang isn't telling him about this deal with In-ho, but Jang only says that the transfer and the investigation into Jung Pil-sung are equally important, and he's simply doing his job by equally delegating responsibilities. Gun-woo isn't mollified, comparing himself to a lowly knight on a chessboard, but he reluctantly follows orders.
In-ho is trussed up like a Christmas goose for the transfer, and appears to enjoy Min-joo's patdown a little too much, offering to let her see more if she wants. Ick. When they check his personal belongings and see that all he owns are a toothbrush and a copy of "Frankenstein," he quotes the creature from the book (regarding not being able to understand why men should do only good and no evil, since he didn't have a soul).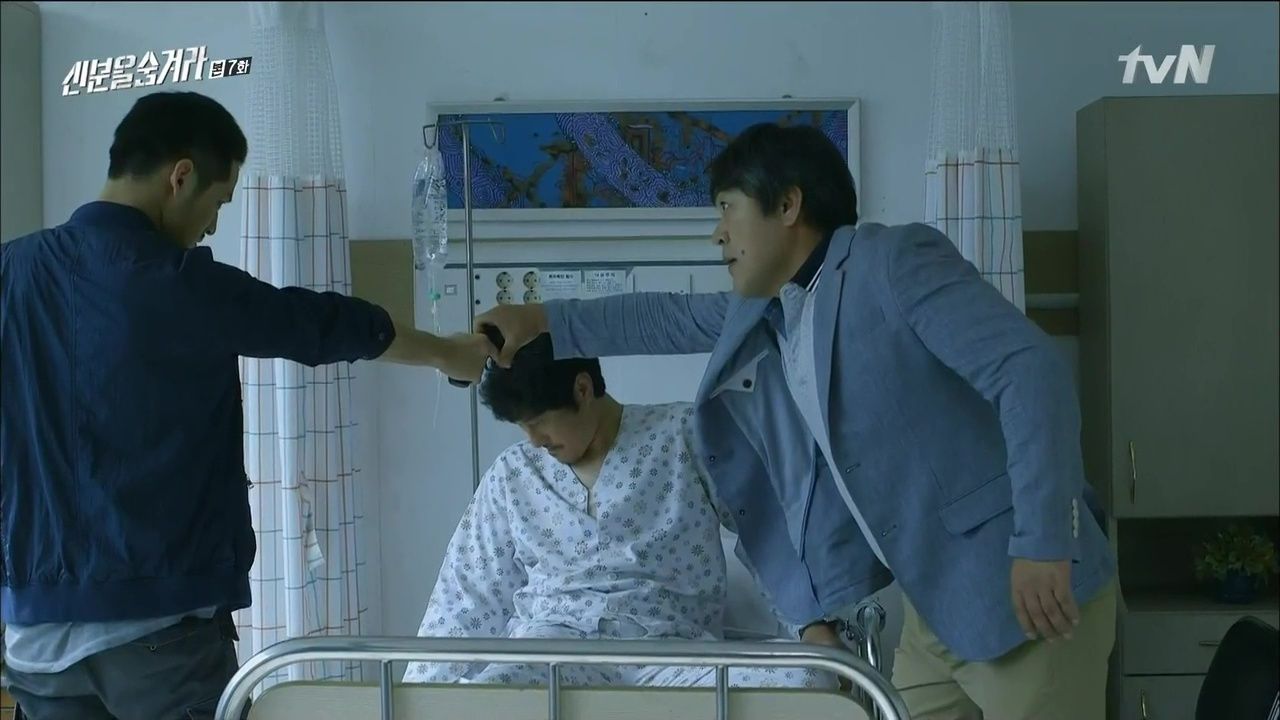 In-ho points out that many people mistakenly think the monster is named Frankenstein, but that's actually the name of the creature's creator. Jang asks if that makes him the creature and the Ghost, Frankenstein, but In-ho answers his question with a question: when did the monster become the monster?
Tae-pyung and Gun-woo visit Pil-sung where he's recuperating in the hospital from his backfired attack on In-ho, and Gun-woo gets right to the point. Who ordered the hit on In-ho? Pil-sung maintains that he works alone, and Gun-woo actually starts to pull his gun on the guy. He takes out all but one bullet, and offers to play a friendly game of Bullet Chicken with Pil-sung.
Gun-woo pulls the trigger once… no bullet. Pil-sung still refuses to answer, but just as Gun-woo is beginning to pull the trigger a second time, Tae-pyung grabs the gun and stops him. Tae-pyung calls him out for wanting to kill someone when the problem is that he can't control his own emotions, and says this is the real reason Jang left him out of In-ho's transfer.
After everyone leaves the room, Pil-sung breaks his own hand and slips out of his handcuffs. He sneaks out while his guards are busy by grabbing a white lab coat, but Tae-pyung and Gun-woo are actually watching him from their car. HAHA, it was all an act to get him to escape and follow him to his boss, though Gun-woo seems a bit cranky at the things Tae-pyung said in there.
Tae-pyung sweetly says that no matter what Jang says, he's on Gun-woo's side, but asks Gun-woo seriously if he can control his emotions. Gun-woo responds that he wouldn't blow his chance to find the Ghost for a smaller criminal like Pil-sung, and Tae-pyung agrees to trust him.
During the transport, In-ho tells Jang that the Ghost smuggled some "special plan" and nearly got killed, and says that when he was caught before, it was because of a woman. The government destroyed all information about her, but In-ho laughs that even the Ghost had a true love.
Jang guesses that they used the woman, but In-ho says it was worse than that. We see a young woman being dunked repeatedly under water, and In-ho narrates that they tortured her to lure the Ghost out. We see a faceless man dodging bullets and finally facing off with federal men who are holding his love hostage, and he's shot in the shoulder.
In-ho says their mistake was in thinking they'd killed the Ghost, but we see that he'd fallen into the bay and escaped later. In-ho asks, "When did the monster become the monster?" He thinks that's the day the Ghost became a monster. And again, he asks, who made the monster?
The van they're in has some engine trouble, and they all pull off the road to check things out. But suddenly the cops are exchanging nods, and one of the cops in the escort car shoots the other dead. It's the same guy who was on Teacher Jung's payroll. Min-joo detects a funny odor, reporting to Jang in the van that she smells gunpowder.
Gun-woo follows Pil-sung from his taxi to a warehouse, and finds himself surrounded by thugs. He makes a call to Tae-pyung ("I think this is a trap." YA THINK??) but Tae-pyung has been knocked unconscious. Pil-sung laughs that he's got the upper hand, and Gun-woo swiftly sizes up his opponents.
They all rush him at once but he manages to fend them off, taking a pipe from one of them to beat the rest of them down. Meanwhile Tae-pyung is dragged unconscious into another car, and two thugs drive off with him. Pil-sung looks mighty nervous by the time Gun-woo takes out his last thug and turns his intense gaze on him.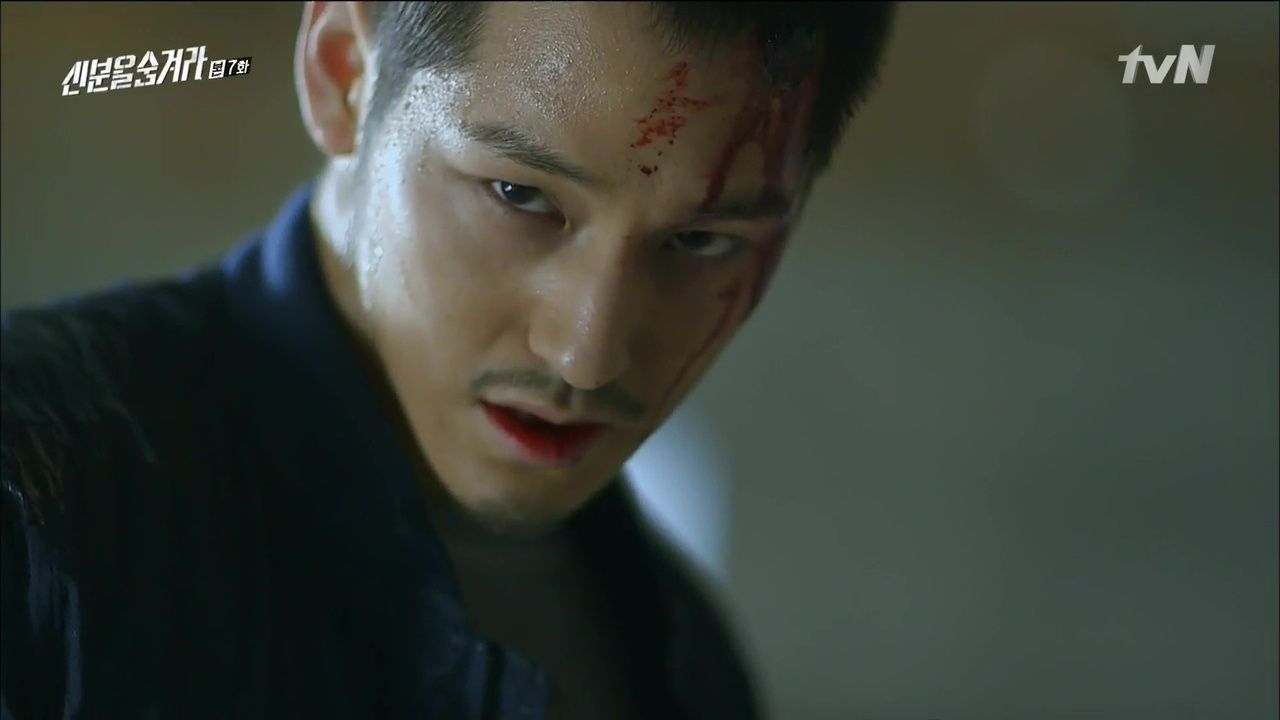 COMMENTS
This show sure does love it's cliffhangers! Luckily, it's something the show does well, and at least the cliffhangers feel part of the story and not just a hook to keep us entranced until the next episode. Not that that's a bad thing, but I much prefer when my dramas treat their viewers like the intelligent people that we are!
The show is also doing a great job of making each subsequent criminal bigger, badder, and scarier than the last. In-ho had my heart pounding and my pulse racing with his display of brutality in his prison fight, and if this is what we're getting and we're not even halfway through… ain't gonna lie, I don't want to meet the Ghost. Our bad guys are already terrifying, and they're only getting worse! I appreciate that the show managed to even start us off with someone as cruel and heartless as Teacher Jung, and is still able to ratchet up the fright-factor with each bad guy the closer we get to the Ghost. It's making me legitimately worry for the team and their safety as they face ever-increasing levels of, as Tae-pyung so succinctly put it, "psycho."
I'm impressed that Hidden Identity seems to move swiftly but never feels rushed, taking us from bad guy to bad guy with smooth transitions and enough explanation that we don't get lost in a sea of villains. Considering how many people the Ghost seems to have working for him, I was worried I'd get confused about who was doing what and why, and would lose interest. But I actually find it to be the opposite — the more complex the web of villains becomes, the more interested I am in getting to the center and discovering the spider plucking all the strings. Especially now that we're learning a bit about the Ghost himself, and exploring the central question in this whole plot — was the monster born, or made? I'm still a bit fuzzy on the details, but it seems as though, while he was already a bigwig in the crime arena, the incident with the woman he loved somehow flipped a switch and made him go from your run-of-the-mill bad dude to something quite evil. I'm looking forward to learning more about that.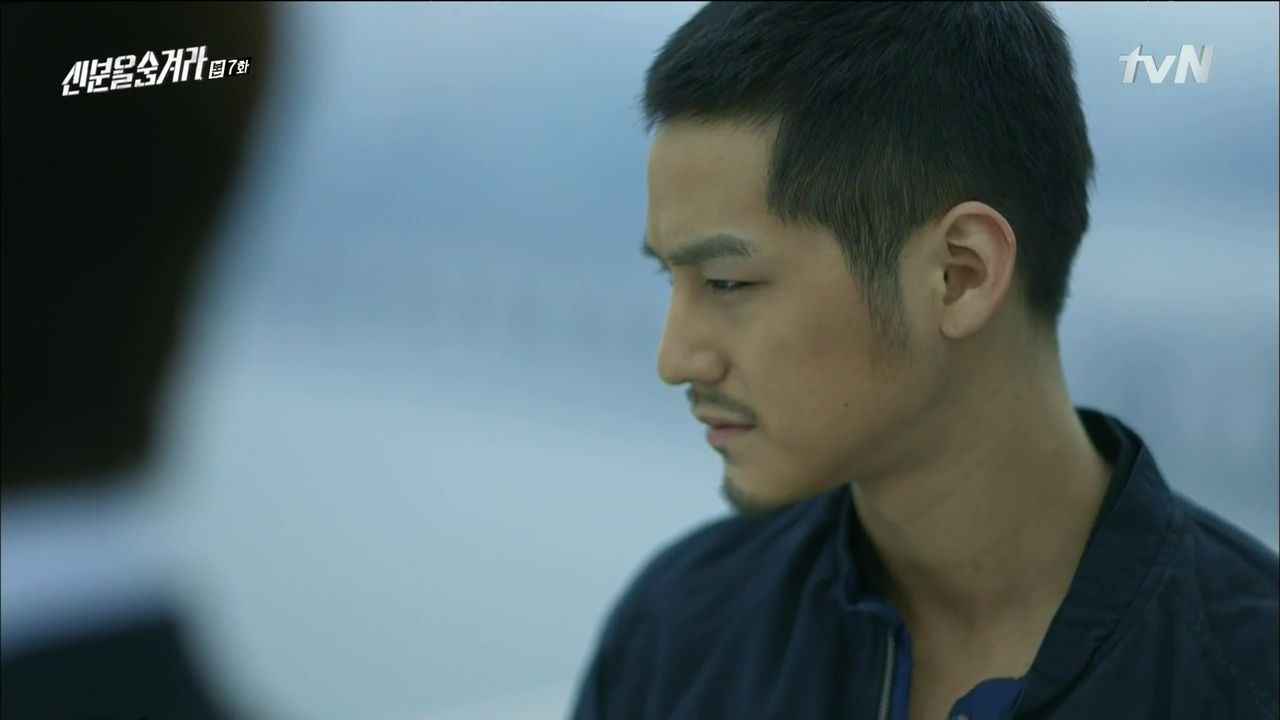 I do feel as though Gun-woo and Tae-in's relationship took a backseat in this episode, and I'll admit that I wanted a little more conflict before they started to reconcile. We still don't know why they haven't spoken in eight years, or why that seemed to be mostly Tae-in's decision. He's hinted that he feels as though he should bear the weight of Tae-hee's murder and that Gun-woo should move on, but I want to know why. It's got to be something beyond his family tie to her, since the three of them seemed so tight in the flashbacks we've seen. They looked like a family, ALL of them. And I'm curious to death about that comment Tae-in made to Gun-woo, that Tae-hee had said she was tired of both of them lately. Did she truly say that, or was he just trying to get Gun-woo to let her go?
But I appreciate that each episode poses more questions than answers, and it's quickly changing from a show I was only mildly interested in to a show that I look forward to each week. I attribute that to the characters, and every single one, from the Investigative 5 Unit to the baddies, are so compelling that I need to know more. It's the one criticism I have, that the bad guys seem to be dropping like flies just when we get to know them, and I wouldn't mind if the show slowed down a bit and savored the mini-arcs a bit more. And that's not even really a criticism, just a thing I would like to see, because the pacing is just fine the way it is. That seems to contradict what I just said about the show not feeling rushed — it's not that it feels rushed, I just wouldn't mind if each villain got a bit more time in the spotlight.
So, is a monster born, or is he made? Argument could be made for either side, and I tend to fall somewhere in the middle (and it's interesting that this show is raising the same question as I Remember You, so this is something I've thought a lot about lately). I believe that a monster must be both born AND made, and without the one, you can't have the other. A person with an innate goodness will not be turned into a monster no matter what they experience — they may not be a healthy person mentally or emotionally, but they won't turn into a true monster. But a person with a core of evil in them can be easily twisted into a monster, with just the slightest push. I believe that the inborn evil is necessary to create a true monster, but that even a person who possesses that evil may not turn into a monster without something happening to create a shift. So the Ghost may have been a bad man before he was lured and shot, but he hadn't been pushed yet into the monster he became. As for whether he was born a monster or made, we'll have to meet him to find out.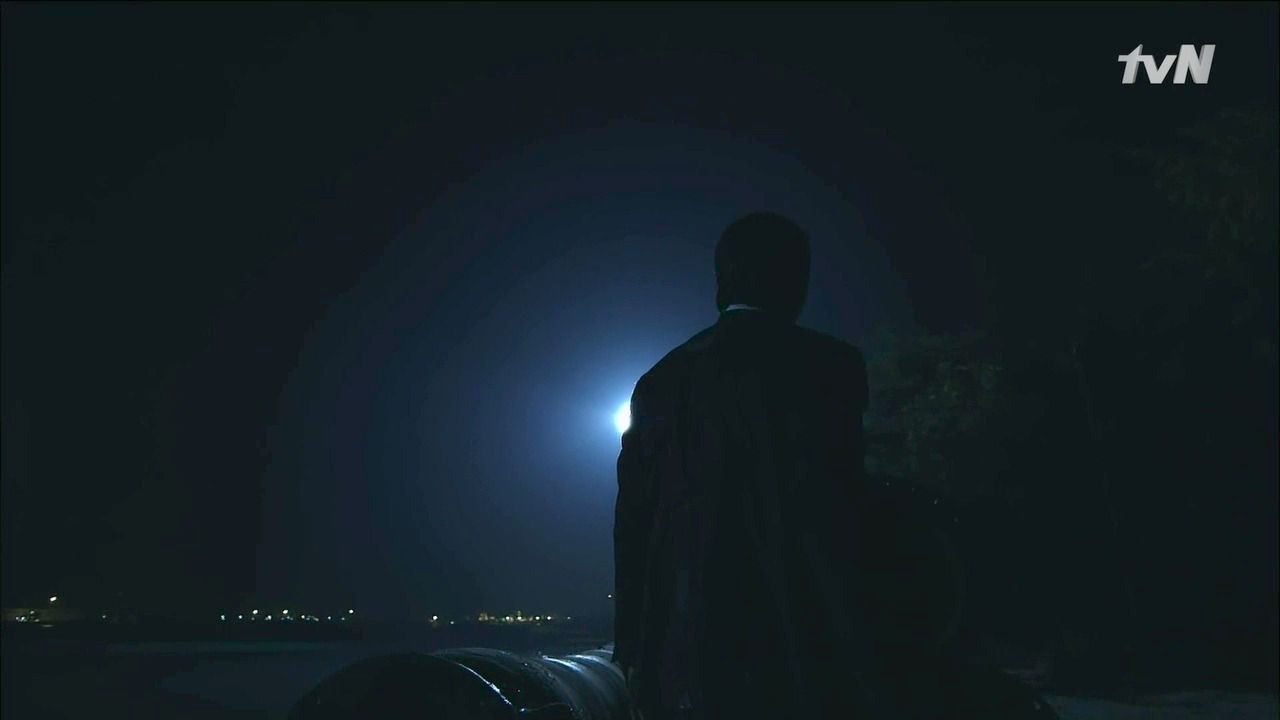 RELATED POSTS
Tags: featured, Hidden Identity, Kim Bum, Lee Won-jong, Park Sung-woong, Yoon So-yi