Mask: Episode 17
These two lovesick dorks, I can't even. But Min-woo and Ji-sook haven't much time to enjoy their newfound romance, as they both have business to take care of, namely clearing Ji-sook's name and making sure Seok-hoon gets punished. But their adversaries aren't finished with their plans yet, and things will undoubtedly get worse before they get better.
EPISODE 17: "Family"
Finally, finally, Ji-sook sits down with Min-woo and tells him everything. She apologizes for lying to him, and I love that his first reaction is to worry about how hard all this was on her. "You must have felt so lonely, Byun Ji-sook-sshi." Ji-sook asks him to say her name again, and he does, and they both smile.
Ji-sook says they still need to get a divorce, because she can't keep living like this. Min-woo says he'll take care of Seok-hoon, and talk to his father, and they can discuss divorce later. He wants to stay like things are, and Ji-sook is so moved she just grins at him.
Mi-yeon is furious, as she confronts her husband for trying to shoot her brother dead in the woods. Seok-hoon insists he was shooting at a deer — "I was hunting an animal." Mi-yeon screams and throws a vase at him, but Seok-hoon doesn't even flinch and repeats that he's not lying. Mi-yeon kicks him out of the house.
On their way to talk to Papa Choi, Min-woo and Ji-sook are stopped by Mi-yeon. They invite her to come listen, since she needs to know what Seok-hoon tried to do, but Mi-yeon says she already knows everything. She says she can't forgive Seok-hoon, but telling Papa won't change anything since there's no proof. She asks them to wait and she'll figure a way to make Seok-hoon confess.
They don't get a chance to respond, as Seok-hoon has made the first move and called a family meeting. He announces that he's leaving the family, making himself look a martyr in front of Mi-yeon's parents. He walks out right then and there, looking furious that nobody stops him.
Ji-sook promises Min-woo to find proof that Seok-hoon tried to kill him, and he in turn promises to clear her false charges and give her name back. So sweet, this boy.
Min-woo wakes the next morning with Ji-sook cuddled in his arms, and he cutely tugs her ear to wake her up. It doesn't work, but his whispered, "I love you" does the trick, and an attack of shyness has him pretending she dreamed it. They argue over who likes the other more until Min-woo gets goosebumps, and on his way to shower he says this is the first time he's seen her face so relaxed.
Later, Min-woo walks into Seok-hoon's office, and wordlessly gifts him with a hard right hook. He demands to know what he's been doing to Ji-sook all this time — did he really think to run the company by threatening her and killing Min-woo? He promises to pay Seok-hoon back for all the pain he caused to Ji-sook.
Seok-hoon asks if he's here to declare war, sneering that the dog with the loudest bark is the one most afraid. He says that Ji-sook made the decision to take over Eun-ha's life, not him, conveniently leaving out the part where he arranged it so she had no other choice.
Mi-yeon stops Ji-sook on her way to work and accuses her of destroying her family. Ji-sook calmly counters that Min-woo would be dead if she weren't here. Mi-yeon thinks she would have protected him, but Ji-sook says that she can't, because she loves Seok-hoon. She's been living with her eyes and ears closed.
Ji-sook sits with Eun-ha's father for an interview, where he mentions that the embezzlement charges have been dropped. When asks for her statement, Ji-sook says she has nothing to say right now.
Mi-yeon finds Ji-sook's family at their coffee shop, angry that they're happy while her family has been destroyed. Dad hires a cute little kid to get a cup of coffee at Ji-sook's shop, made by Ji-sook herself, and he drinks it while watching her work. She spots him through the window and runs outside, and calls out to him.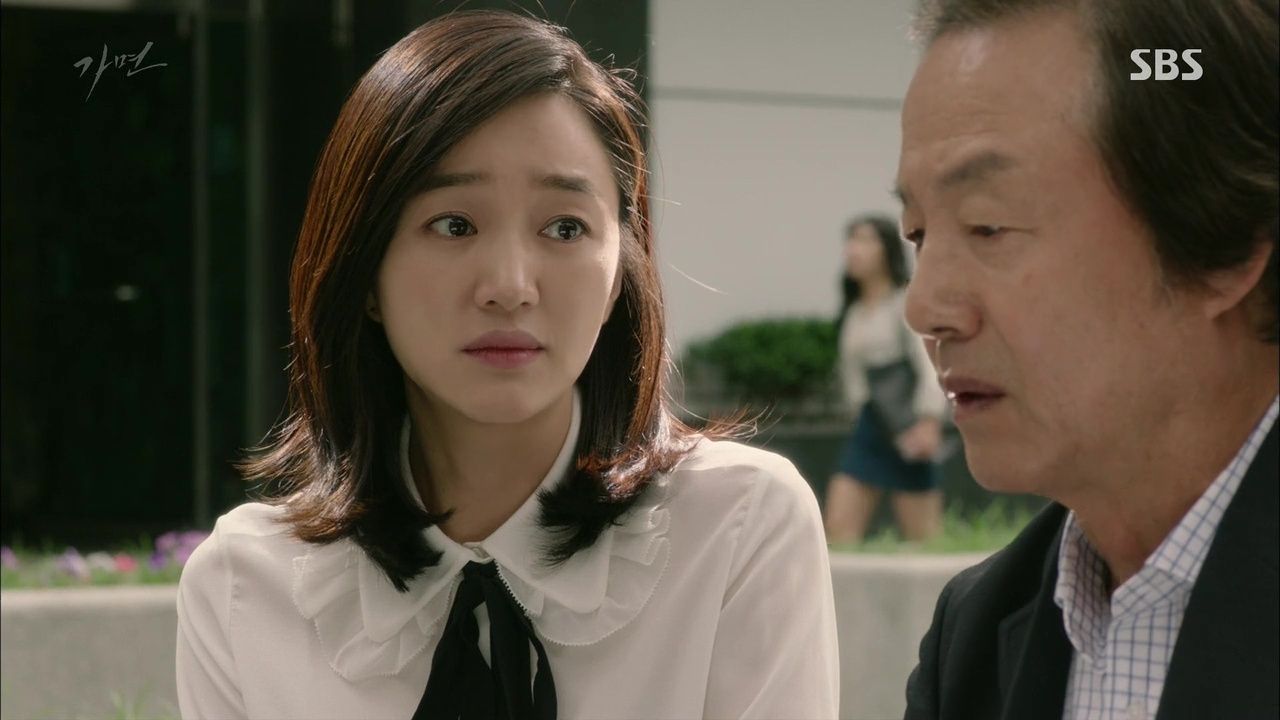 He can barely answer when she asks how he's been, and apologizes for disappearing. They cry and hug each other right there in the street, and she assures him that there's no more need for her to hide. She promises to come home soon, but she wants to see Mom now.
Dad is worried that seeing Ji-sook could be too much of a shock, and tells Ji-sook that the date for her surgery is set. This is news to Ji-sook, but the shop needs her and Dad says he'll explain later. He heads back to his shop and runs into Mi-yeon, who says she's not okay when he asks.
Ji-sook barks at Ji-hyuk for not telling her that Mom needed surgery, and he admits that he's going to be her liver donor. He also asks her not to see Mom until after the surgery, in case it upsets her too much.
Min-woo gets all snazzed up to go to see Ji-sook's family at their coffee shop, and nervously asks Chang-soo to be honest about how he looks ("Not too honest. Be moderately honest." HA). Chang-soo pronounces him perfect, like the great wingman he is.
Mom and Dad greet him as their boss, and get nervous when he offers to help carry bosses, trying to impress them. Mom's is so befuddled when he compliments her, then goes on to compliment the daughter he shouldn't even know she has. Ji-hyuk is annoyed, since he's unaware that Min-woo knows who he is now, and he's perplexed when Min-woo is all brotherly towards him.
Ji-sook tracks down the hunter that Seok-hoon paid to shoot Min-woo, but he maintains that it was a mistake and he already talked to the cops. She warns him that he's a loose end now and in danger, and puts her card in the doorjamb when he slams the door in her face.
Next she gets a list of everyone who worked on the lighting in the hall where her speech was given, hoping to find out who caused the lights to fall. She gets a call from Min-woo, who's cranky that she never calls him, and she shoots back that he doesn't answer her texts. They sound like an old married couple already.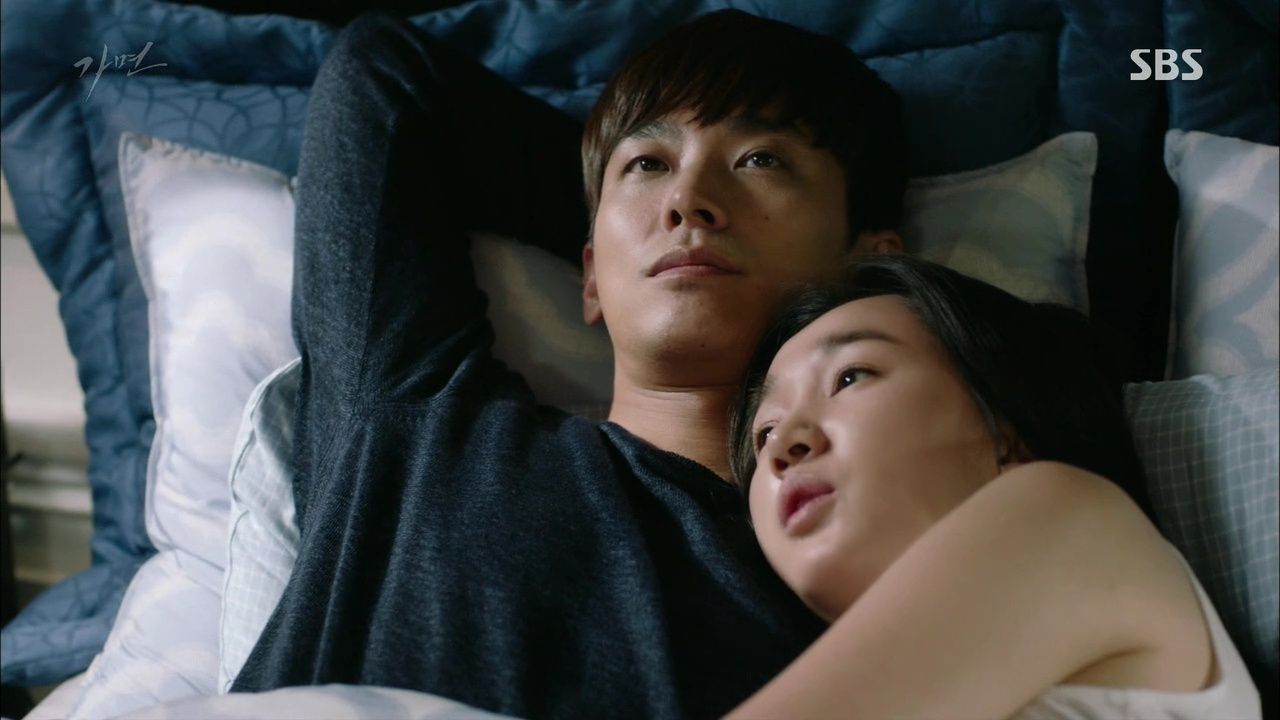 Min-woo talks to the doctor who did the autopsy on the dead loan shark, and he notes that there were several strange inconsistencies. First of all, there's no evidence it was murder — in fact, it's the doctor's opinion that it wasn't murder at all. Min-woo asks if he's willing to testify to that in court.
Min-woo takes all the information he's gathered to a lawyer friend, and tells him he wants to clear Ji-sook's name. He also wants to put the person who falsified the charges in jail — Seok-hoon.
That night, Min-woo and Ji-sook are snuggled up in bed again, but Min-woo is whining that she's playing hard to get. He orders her grouchily to call him every hour starting tomorrow, and she says that then he's got to answer her texts. His hand gets twitchy, but he insists his arm isn't falling asleep, but suddenly sits up and dumps her head on the bed when she gets comfy.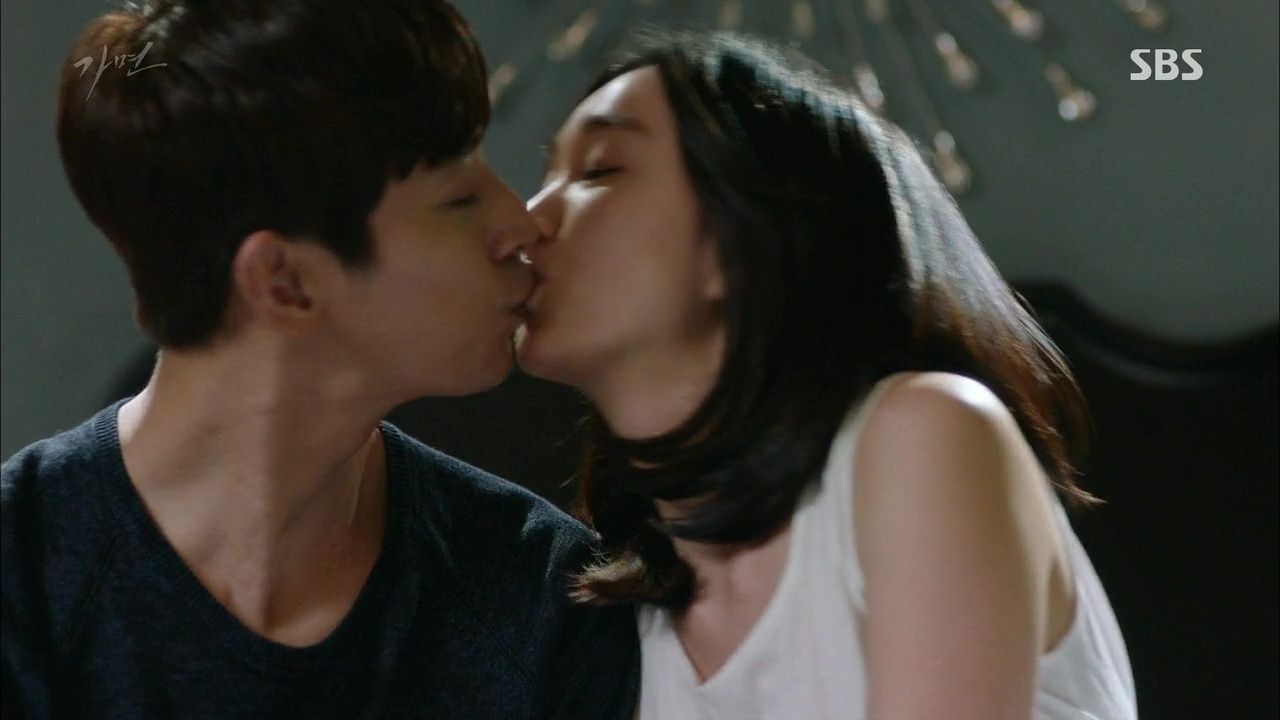 Ji-sook just smiles at him, and tells him that she needs to get ready to leave the house. She wants to go home as Byun Ji-sook, and love him as herself. Min-woo surprisingly agrees that she can go — but he's going with her. They can live with her family and get married again.
He even promises to treat her family well and calls her self-centered when Ji-sook starts to ask if he'd really do all this for her, HAHA. He angles for a smooch if she's really that touched, offering his cheek, and turns his head so she kisses his lips when she obliges him. So adorkable, I can't stand it.
Alone in her room, Mi-yeon puts on Seok-hoon's glasses and wonders how he sees the world. Angry, she smashes their wedding photo, and tells the maid to clean up anything that could possibly remind her of him. She even takes off her wedding ring and throws it down among the glass shards.
Seok-hoon sits alone too, looking at his photos of Eun-ha and Ji-sook. He starts to rip them both up but stops, frustrated.
Ji-sook lies awake in bed, thinking of having a wedding with Min-woo the way she always dreamed, with the man she loves. In her mind she sees him at the altar, this time smiling at her with love in his eyes, and her family there to celebrate. She falls asleep smiling.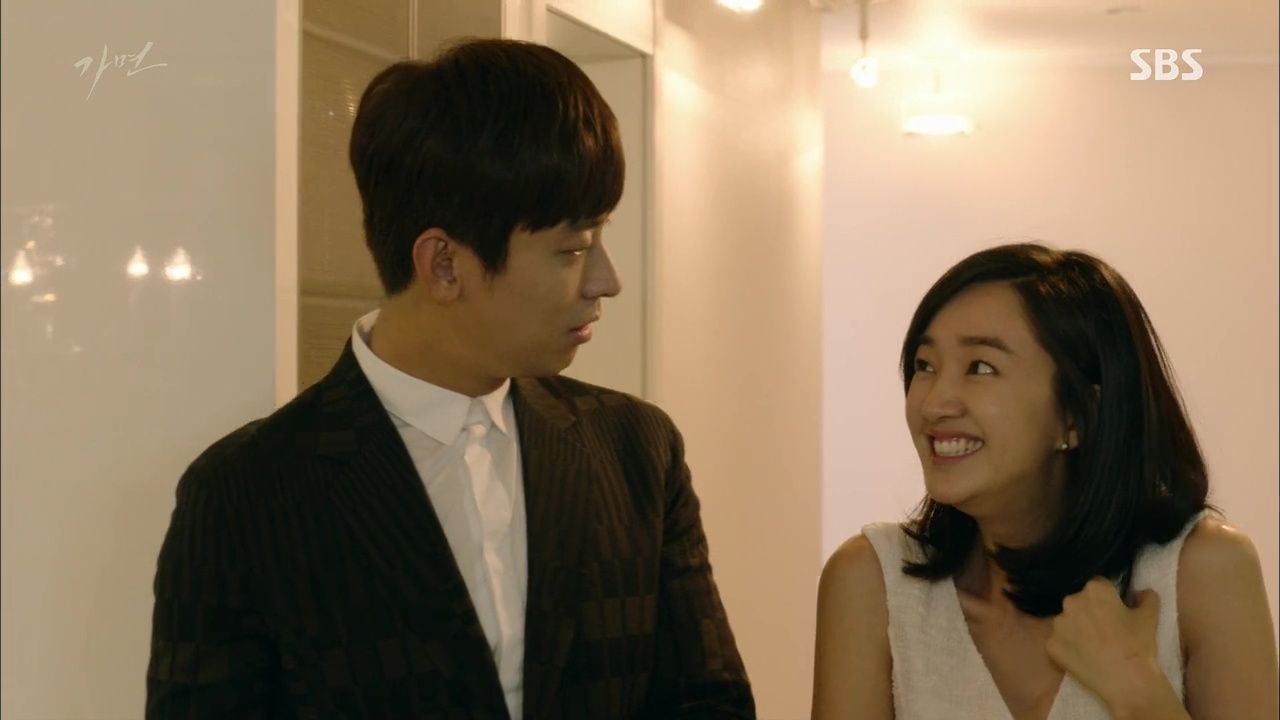 Director Shim gets his hands on the hunter, and Mi-yeon looks on as he gives him the same treatment they gave the man who rigged the lighting to fall. The hunter confesses easily, and promises Mi-yeon that he'll tell the police everything. But Mi-yeon tells Shim to kill him if he tells the police the truth, refusing to explain why.
Min-woo and Ji-sook check out a place for her family to live, and Min-woo deadpans that he'll be living here too so it can't be too small. Ji-sook gets a little naughty, saying that small is good so they'll be skin-to-skin, and Min-woo gapes at her sassy mouth but dryly supposes he can get used to it, ha.
Min-woo tries out the bed and Ji-sook lays down with him, but Min-woo says it feels weird. They bounce around and end up face-to-face, and Ji-sook starts to nuzzle up on him while Min-woo complains that he's not emotionally ready yet. Wait, have they still not…
They go shopping for a ring for Ji-sook's mother, to give her after her surgery. Ji-sook picks out a pretty gold ring, and Min-woo proceeds to buy the entire display case. Whoa, he really wants to impress his future mother-in-law!
The hunter approaches Min-woo and Ji-sook to apologize for his actions and ask for their protection from Mi-yeon. He wants to run, but Ji-sook says they'll just chase him forever. She deflates when the hunter says he doesn't have any evidence that Seok-hoon hired him, but then she gets an idea.
Mi-yeon lingers outside Seok-hoon's office, and spots him in a meeting — he sees her too, but doesn't react. He has evidence that Papa Choi didn't pay inheritance tax when he transferred his shares to Min-woo (easy, since he prepared the transfer), and plans to use the information to scare him.
Scar brings Seok-hoon to talk with the hunter, who says that he wants twice what he was paid or he'll go to the police. Seok-hoon growls that he wasn't even the one who shot Min-woo, that he himself did it. He tells Scar to kill the man if he tries this again — but says to give him the money this time.
… and Ji-sook got it all on film. Brilliant, now they have the evidence they need that Seok-hoon shot Min-woo. She gives Min-woo the USB with the recording on it, saying that he should be the one to turn Seok-hoon in.
Mi-yeon gets up her nerve to talk to Seok-hoon, and she tells him that she hates him. She calls him the worse kind of devil, and he just responds that he loves her. She scoffs at that, since he would have tried to kill her brother if he loved her, and he swears it was a misunderstanding. Again he says he loves her, and she starts to cry that its a lie and hit him, but he pulls her into a hug.
She whimpers that he left so easily just because she said to go, and asks him to come home. He says he can't, and that she knows why. He ushers her out of his office, telling her to come by whenever she misses him.
Director Shim briefs Mi-yeon later on Ji-sook's mother's surgery, and that Ji-hyuk is the donor. Mi-yeon muses that if Ji-hyuk couldn't donate his liver, Ji-sook would have to do it, and that she'd like to see Ji-sook in a sticky situation.
She finds Ji-hyuk on a walk with Myung-hwa (and looking awfully date-y I might add) and aims her car right at him as he crosses the street. At the last second she slams on the brakes, narrowly missing him. She gets out, and tells him they need to talk.
She says that she's upset because his noona stirred up her life, instead of laying low like she should have done. Ji-hyuk tells her that Ji-sook is moving out soon, but that doesn't mollify Mi-yeon at all. She wants Ji-sook to pay for the damage she caused.
I love how everything is a competition with Min-woo, and he crows that Mom will love his mountain of gifts more than the one little ring Ji-sook got her. I wouldn't count on that, dude. He teases that she'll probably say to him, "My best present is you," throwing Ji-sook's words back in her face with a self-satisfied smirk. They head out, Ji-sook to the hospital and Min-woo to the police station to turn in the USB video, as Mi-yeon frowns down from the balcony.
Dad promises Mom a surprise when her surgery is over, and both he and Ji-hyuk can barely hold in the secret. Mom only says she's sorry, then closes her eyes. Her monitor starts to beep and they can't wake her, and she's rushed into intensive care. The doctor says that the moment she wakes up, she needs the surgery. Then Ji-hyuk starts to look ill and pale, and red marks appear on his neck. What did Mi-yeon do??
Min-woo meets with his DA friend, but before he hands over the USB, he gets a call. He hears the recording of Ji-sook's voice promising to do everything Seok-hoon tells her, and Seok-hoon telling her she has to die first. Seok-hoon comes on the line to say "I told you so," that Ji-sook made the decision to deceive him of her own accord. Again, he leaves out the part where he dangled her off a cliff.
Now Min-woo has a decision to make, whether to turn in the evidence and see Ji-sook go to jail. When he hangs up, Min-woo palms the USB and tells his friend it's not a good time. Next the police go to the house to search for evidence against Papa Choi for tax evasion, and he calls Seok-hoon to tell him to move back in.
Mom's doctor denies Ji-hyuk as a donor now that he's sick, saying that both he and Mom could die if they do the surgery now. Mom wakes up and needs surgery right away, and Dad calls Ji-sook in a panic. They beg the doctor to save Mom, as Mi-yeon lurks around a corner. Turns out she'd slipped crushed peanuts into Ji-hyuk's drink when they talked, which he's allergic to.
Mom weakly says that she's out of hope, and Ji-hyuk begs her to hold on until Ji-sook comes. Still thinking she's dead, Mom smiles that she'll see her Ji-sook soon, and tells her husband that she'll go to their daughter and wait for him. No, that's not what they meant! Why don't they say that Ji-sook is alive??
Ji-sook finally arrives at the hospital room, only moments after her mother passes away. Disbelieving, she tells Mom that she's here, and she brought her husband, and with shaking hands she puts the ring she bought on Mom's finger. It starts to sink in that Mom is gone, and Ji-sook begs her not to go like this through sobs of grief.
COMMENTS
Well that just stinks. Why did Mom have to die? I guess it's to give Ji-sook the final push she needs to go all avenging-valkyrie on Seok-hoon, because the one thing you do not do is mess with her family. And I'm hoping this wakes up Mi-yeon to realize that her actions have very real and deadly consequences, now that she's indirectly killed TWO people with her attempts to screw with someone (and she's damn lucky her little peanut trick didn't kill Ji-hyuk — those allergies can be deadly). I still believe, in both cases, that her intent wasn't for anyone to die, but it's time to realize that her little plans to mess with people are getting them killed. That makes you a killer, whether or not you intended it.
And I don't know about you guys, but Seok-hoon actually scared me for the first time in this episode. Something about the way he came home and said, "I'll take it from here," was just chilling, like he wasn't just talking about the investigation. He's got Papa Choi, Stepmom, and Mi-yeon begging him to come back to the house and the family, and this gives him all the power now. He can pretty much do what he wants, and what he wants is for Min-woo to die. For some reason, that gave me a ripple down my spine when nothing else he's done has been able to make me that worried, and now he's got the whole family under his thumb.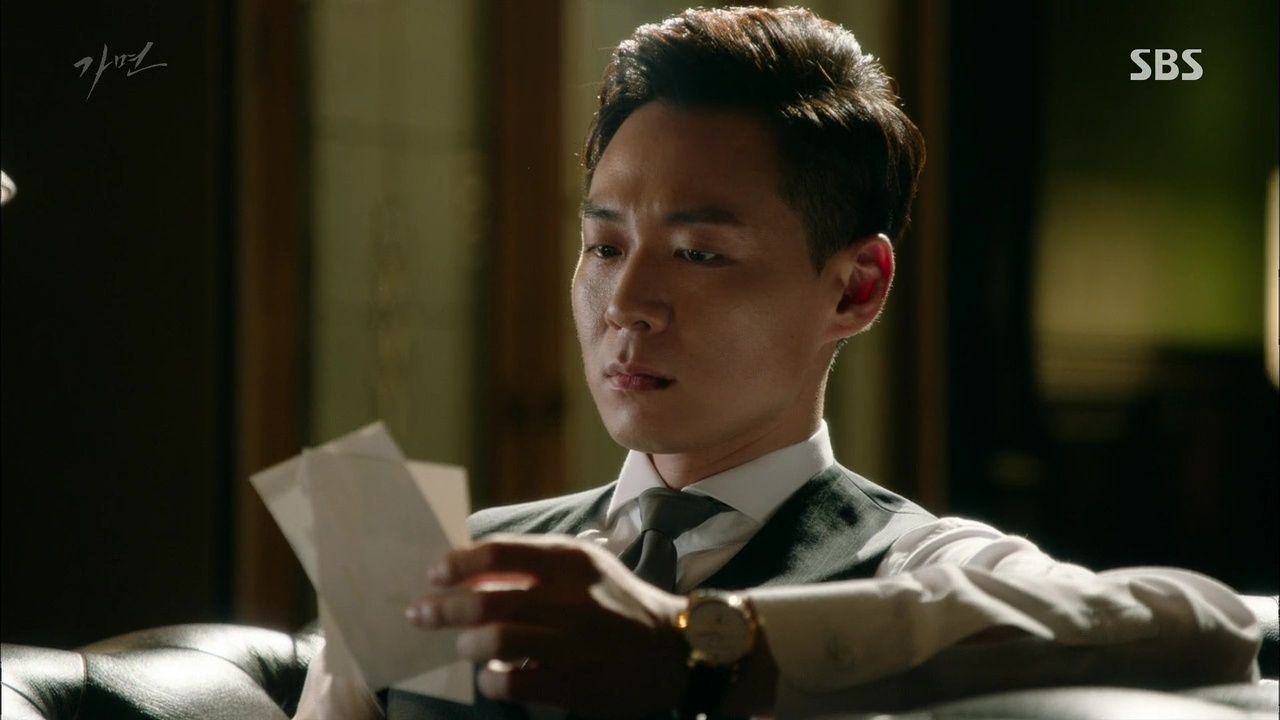 I still don't quite get why, though, unless there's some more backstory we haven't seen, that he's so invested in making sure Min-woo ends up dead. I've heard the speculations that he and Min-woo are half-brothers, and I wouldn't put it past this show to throw in a birth secret (or two, let's not forget that little hint way waaaay back, that Ji-sook and Eun-ha may have been twins) in the final hour. I have a feeling there's a lot more going on with Seok-hoon than "he's in the way of my money/power, so he's got to go," because having him declared insane would have done the trick just as handily, and with much less risk of backlash to Seok-hoon himself. No, there's a reason Seok-hoon wants Min-woo dead, and since Min-woo hasn't done one single thing to Seok-hoon personally in seventeen episodes, I'm guessing it's got more to do with who he is than anything he's done.
But there was a lot of cuteness in this episode too, and I have to squee over it! I love how Min-woo and Ji-sook's senses of humor compliment each other, and how much fun she was having poking him to watch him squirm. Their cuddle session were so adorable too, though I'm concerned that that's all they're doing, since Min-woo was claiming he "wasn't ready" when Ji-sook was teasing him. Come on guys, you're married!
But even better, I love how they're doing exactly what I knew they could do all along — teaming up and becoming stronger because of it. It says a lot that once Min-woo learned the truth about everything, he barely even gave a thought to all that Seok-hoon did to him. He was mostly furious over what he did to Ji-sook, and really only seemed to include the attempts on his own sanity and life as side-issues to his main concern of how he ruined Ji-sook's life. And of course, Ji-sook has always been more angry about the way Seok-hoon goes after Min-woo than about how he treated her — she's the ultimate Mama Bear, and woe betide the hunter who goes after her cubs. She wouldn't stand for Min-woo to be threatened, and now that her mother has died due to Mi-yeon's interference, it won't be long before she's roaring for Mi-yeon's blood, too.
RELATED POSTS
Tags: featured, Joo Ji-hoon, Mask, Su Ae, Yeon Jung-hoon, Yoo In-young