Mask: Episode 18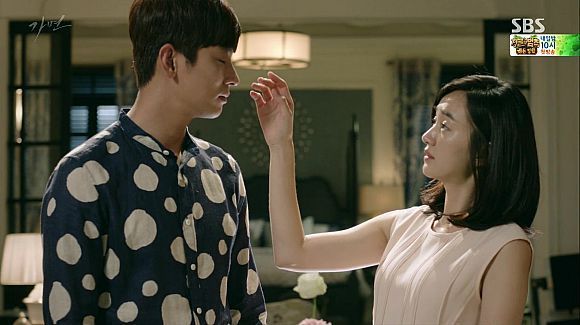 We know that Ji-sook will do anything to protect those she loves, and she sets out to beat her adversaries at their own game. But it's not easy to out-fox the fox, and her willingness to put herself in danger to win this dangerous game could land her in the hottest water yet.
EPISODE 18 RECAP: "Trap"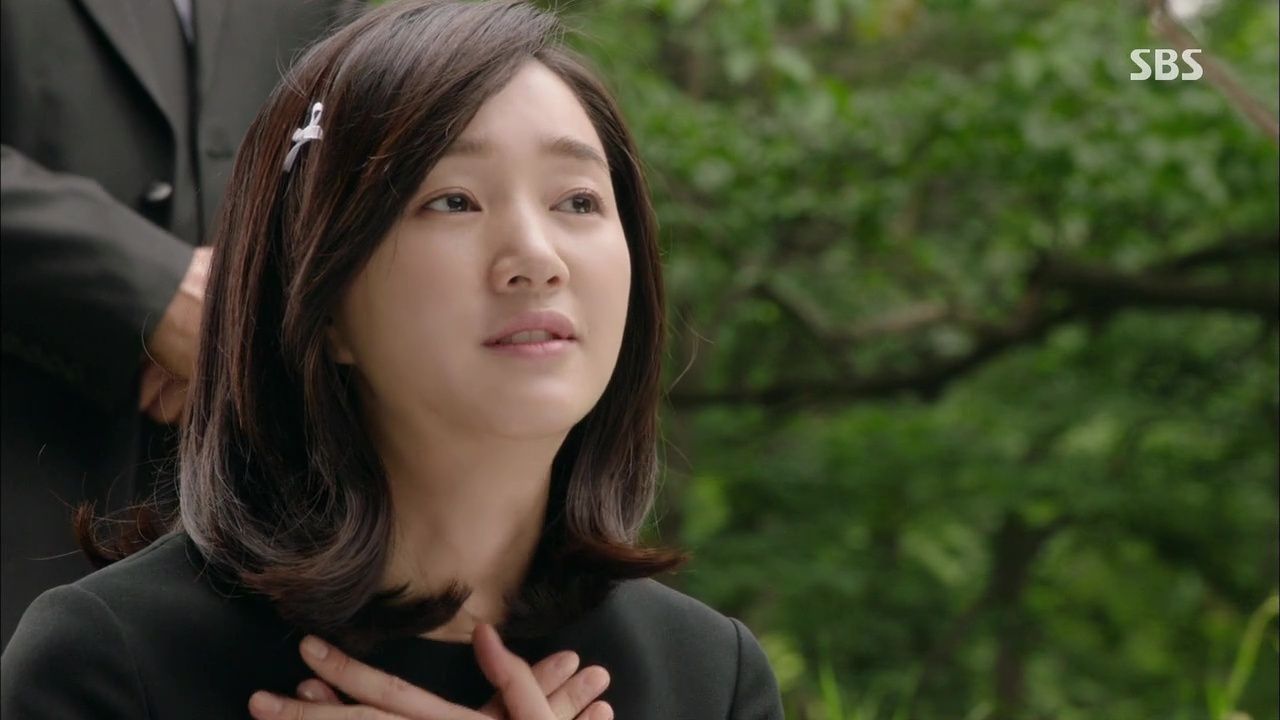 Ji-sook's family plants a tree for Mom in their special place, alongside the other trees in memories of lost family members. Ji-sook remembers being a child, and asking her mother where people go when they die, and Mom had said they go to the hearts of the people they loved. She tells her mother to be reborn as her daughter, and to make her worry as much as she wants. She leaves the diamond ring she bought for Mom at the base of the tree.
At the house, Ji-sook looks through her mother's worn possessions and notes that she never used any of the money Ji-sook sent. She tells Min-woo that she thought she did all this for her family, assuming money would make them happy, but it wasn't true — she did it for her own greed. Min-woo says she did the best she could, but Ji-sook gives in to guilty tears.
Drinking again, Mi-yeon asks Seok-hoon if it caused him pain when he did all those bad things. She's in pain, and she feels like she's going crazy. Seok-hoon asks what she's done, and Mi-yeon vaguely says that she only meant to interfere with the surgery, not for things to go this far.
She immediately starts justifying the situation by telling herself that Ji-sook's mother was probably going to die, anyway. Seok-hoon asks who's dead, but Mi-yeon doesn't hear him, and says that it's all that loan shark's fault.
Seok-hoon has to go to Director Shim for an explanation, who's only too happy to tell him how he told Mi-yeon about Ji-hyuk's peanut allergy. He demands more money to say why Mom died, and explains that she just had a turn for the worse. Nobody killed her.
Min-woo watches over Ji-sook while she sleeps, clutching her mother's apron. He looks at his remembrance from his own mother, her ruby necklace. He apologizes to her photo for having someone that he loves more than her, but he smiles as if he knows his mother would be happy to hear that.
Stepmom shoots barbs at Seok-hoon at breakfast for daring to eat with the family, and he offers to leave but Papa Choi tells him to stay. Next Stepmom goes after Ji-sook for picking at her food, asking if someone died or something. Surprisingly it's Mi-yeon who tells her mom to leave Ji-sook alone.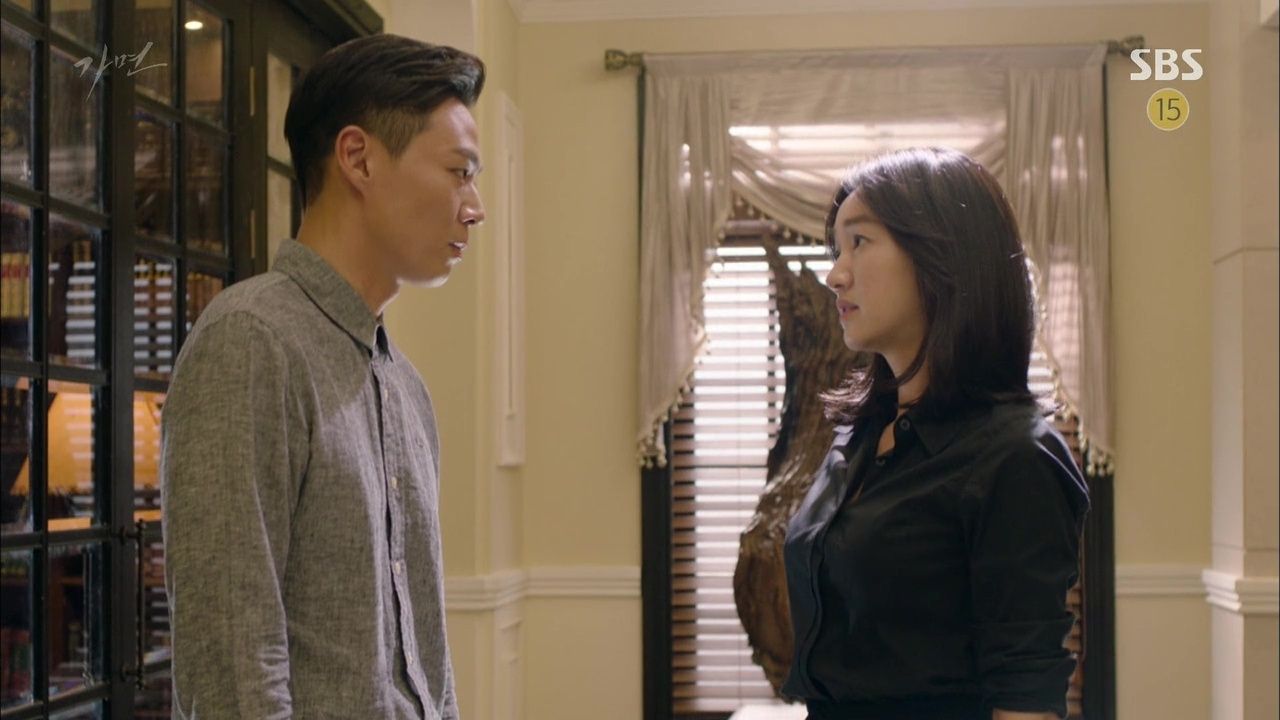 Ji-sook stands up to announce that she's been lying to the family, but Seok-hoon interrupts before she can tell them she's not Eun-ha. He asks to talk to her privately, and he actually has the nerve to play to her sympathy, saying that he'll be in trouble if she goes back to being Byun Ji-sook. She doesn't really care, because she has nothing left to lose, so he threatens her father and brother. He implies that he was responsible for her mother's death, and says her father and brother will die too, if she doesn't comply.
Seok-hoon goes back to breakfast alone, saying that Ji-sook had something important to do. Min-woo goes looking for her, but she's already gone, and when he calls her she tells him she'll explain later.
She talks with her mother's doctor, who says that her mother's sudden illness can happen that way sometimes, and that her brother was turned down as a donor because of his allergic reaction. Ji-sook knows he would never eat peanuts, which is the most suspicious part of all this.
She also talks to Ji-hyuk, who completely blames himself for Mom's death. Ji-sook asks what else happened that day, and he tells her he spoke to Mi-yeon the day before the surgery was scheduled. He doesn't know why she approached him, but she did say something odd about Ji-sook needing to be responsible for the mess she made of the Choi family.
Min-woo confronts Seok-hoon, who says to ask Ji-sook herself about their conversation this morning. Min-woo says he has proof that Seok-hoon tried to kill him, and Seok-hoon calls his bluff — if he turns that evidence in, he'll make sure something worse than jail time happens to Ji-sook. Min-woo thinks he's bluffing too, but Seok-hoon invites him to just ask Ji-sook.
Ji-sook confronts Mi-yeon out by the pool about her discussion with Ji-hyuk, and asks what she did to him and her mother. Mi-yeon pretends innocence, then acts offended when Ji-sook doesn't believe her. Ji-sook grabs Mi-yeon's arm and demands the truth, and Mi-yeon flings her hand off, which unbalances Ji-sook.
In an eerie re-enactment of Eun-ha's accident, Mi-yeon finds herself clutching Ji-sook's wrist as she tries not to fall in the pool. But this time, Mi-yeon yanks Ji-sook up, saving her from the fall, as Min-woo looks on from the staircase.
It triggers a memory for Min-woo, of drinking the wine that day and falling by the poolside, and he starts to get dizzy. Ji-sook rushes to him, but he can't see her, only a surfacing memory of Eun-ha falling into the pool as Mi-yeon walks away.
He passes out and wakes up in bed, with Mi-yeon and Ji-sook worrying over him. He orders Mi-yeon out, and Ji-sook says she didn't call his doctor, so Papa Choi won't find out. She asks if he turned in that video of Seok-hoon confessing, but he remembers Seok-hoon telling him to ask her about their conversation, so he does.
She tells him that Seok-hoon threatened her family if she goes back to her old life, and Min-woo sighs that the video won't be enough to put Seok-hoon away for long. He thinks they should wait for another opportunity to gather more evidence.
Seok-hoon has something up his sleeve, because he meets with Ji-sook's father and tells him that he'll help his daughter go back to her old life if that's what she wants. Dad asks if his whole family knows about her switch now, and Seok-hoon says that Papa Choi doesn't know yet, because he'll be too upset when he finds out. Seok-hoon takes Dad somewhere, saying it's a surprise.
Ji-hyuk is supposed to meet Dad at the coffee shop, but Dad isn't there and he left his phone behind. He calls Ji-sook, who instantly worries that Seok-hoon has done something with Dad.
Seok-hoon only takes him to buy a nice suit as a gift, and he takes a call from Ji-sook, making it look like they're close friends. He lets her talk to Dad, who raves about how nice Seok-hoon is, and Seok-hoon takes the phone back and tells Ji-sook he'll look after Dad and Ji-hyuk. He sounds friendly, but she hears it for the threat it is.
Before he hangs up, Ji-sook asks if he knows what Mi-yeon did to sabotage her mother's surgery. He says that Mi-yeon does what he tells her to do, taking the credit for that situation, and adds that Mi-yeon helped him get back into the Choi house. He warns Ji-sook again that she'd better go along with his plans, or else.
Ji-sook goes into a bit of a shock and asks Min-woo for time alone to think, and wanders downstairs. Mi-yeon watches Min-woo as he worries after Ji-sook, and the two go to talk alone. Min-woo gets nostalgic about the time when he entered the household, and Mi-yeon remembers how he was afraid of water. She had defended him when Papa Choi had scolded him, and even sung to him.
Min-woo asks how Eun-ha died, but Mi-yeon pretends she doesn't know. Min-woo tells her that he's remembered how Eun-ha died, and practically begs her to tell him she didn't do it. Mi-yeon says that it was only an accident.
He asks, if that's true, then why did Ji-sook ask Seok-hoon today if he knew what Mi-yeon had done? He reminds her of her promise to make Seok-hoon confess, but says that he now questions her sincerity. He tells Mi-yeon that he won't stand by if Seok-hoon continues threatening Ji-sook.
Ji-sook visits Eun-ha's ashes, promising her to return her name to her soon. She apologizes for not being able to stop Seok-hoon from becoming a murderer as Eun-ha had wished, because letting him become a murderer is the only way to stop him.
Ji-sook calls Seok-hoon to the wine cellar to tell him that because of him and Mi-yeon, she can't return to being Eun-ha. She asks him to kill her as Eun-ha, so that she can live a new life. She tells him that after her mother's death she ran out of will to fight, and that he's won. She'll write a will giving him her shares of SJ Group, and leave quietly. Seok-hoon seems skeptical, but agrees.
Yeon-soo and Chang-soo have a little lovers' spat about who is cuter (each thinks the other is cuter), and decide to make a competition of it, with the loser buying dinner. Min-woo storms through and tells them to knock it off, he's having a bad day. HA. Then Ji-sook calls all the staff to give them gifts, but denies it when they say it feels like she's going away.
Min-woo sees the tail-end of this and asks her if there's another reason for the gifts, and if she has one for him. Smiling, she says she'll get him something, but he doesn't miss the tears welling in her eyes.
She meets with Eun-ha's father to give him control of her charitable organization, which concerns him. He asks if she's still planning on divorcing Min-woo, and she says that she can't. She tells him all the things she's sure Eun-ha would have said to him if she'd had a chance — that she always thought of him, and wished she could spend more time with him, but she understood he was busy.
She cooks dinner for Min-woo that night and when he asks what's up, she smiles that this is the gift she promised him. At dinner, Min-woo calls Ji-sook out on her behavior, saying that she's acting like she won't be seeing him again. He asks for her honesty, and Ji-sook says that she's just been thinking about how she wants to live her life.
Mi-yeon is upset about a news article announcing her and Seok-hoon's divorce, but Seok-hoon says it's not entirely wrong. Her mom had come to his office today to ask him to divorce Mi-yeon, but he'd declined.
The family discusses whether to release another article to set the record straight, and Papa Choi suggests the siblings and their spouses go on a vacation together to show the reporters how happy they are. Min-woo thinks it's a terrible idea, but Seok-hoon plays the obedient son-in-law and agrees to go.
In private, Ji-sook says that before she goes back to her old life, she has things she needs to do. She promises to tell him everything when they get back from the trip. Min-woo says for her to only think of herself, knowing that she's threatened to leave him for his own good before, but she assures him that's exactly what she's doing.
Seok-hoon has arranged a new identity for Ji-sook, and tells her that there will be a fire at the vacation villa while she's there alone. She will disappear, while he's arranged for a corpse that will be identified as Seo Eun-ha. She takes her new ID information, and in return she gives Seok-hoon her will transferring her shares to him.
Seok-hoon says that if she had only followed his plan, they would both be happy right now, but Ji-sook says he's wrong — things would have turned out exactly like this either way. He seems genuinely sad, just a bit, but only wishes her luck on her third life.
But later when Scar asks if he should get another corpse ready, Seok-hoon tells him not to bother. He doesn't need a corpse — he needs sleeping pills. When the fire breaks out at the villa, Ji-sook will be deep asleep.
Ji-sook composes a goodbye letter to Min-woo, telling him that she won't actually be dead but living under her new identity. She promises to use this fake death to frame Seok-hoon for the murder of Eun-ha, and come back to him.
Ji-sook replants their flower in a larger pot, and Min-woo just knows she's planning something. Instead of answering, she asks him to close his eyes, and when he does, she gently traces the lines of his face with a fingertip. She says she wants to remember his face when she's not with him, and he says that will never happen.
The four arrive at the villa, and Mi-yeon suggests they have some wine so it looks like they're enjoying each other's company when the reporters arrive. But Mi-yeon's claws come out right away when she calls Ji-sook by name for the first time, and pretends concern that she must have had a hard time hiding her identity all this time.
Ji-sook doesn't back down, and says that it was hard, and asks challengingly if Mi-yeon hasn't had a hard time, too. She says that everyone will learn the truth of what she and Seok-hoon did, and asks if living in fear is difficult.
Ever the peacemaker, Min-woo sees an opportunity to get everything out in the open, and asks why Seok-hoon tried to kill him. Seok-hoon still denies it, and gets Mi-yeon to back him up. Min-woo says he even has video of him admitting it, but Mi-yeon insists it's not true.
Min-woo pulls Mi-yeon aside to speak privately, and asks if she's been brainwashed. He tells her that he remembered what happened the day Eun-ha died, and how Mi-yeon just watched it happen. He saw her grab Eun-ha's hand, and the look on her face when she let go.
Mi-yeon screams at him to stop, that it's not what happened, and she runs out of the house with Min-woo on her heels. Min-woo loses track of Mi-yeon at the edge of the woods, and as he calls for her, Scar comes out of nowhere and whacks him in the back of the neck with a board, knocking him out cold.
Ji-sook starts to follow them out, but Seok-hoon stops her — they also have something to discuss. She checks her watch and notes that the reporters are due to arrive in a few minutes. Seok-hoon says that her replacement corpse will be arriving soon, and asks if she's ready. She retorts that tomorrow, they'll all be living new lives.
But suddenly her vision goes blurry, and her muscles go slack. We see that Scar had laced her wineglass with a sleeping medication, and Ji-sook realizes that she's been drugged just as she loses consciousness.
Seok-hoon carries Ji-sook's limp body to the bedroom and lays her on the bed. He reaches down to touch her face, but pulls back and says that both she and Eun-ha are going back to where they belong. Scar splashes gasoline everywhere, and Seok-hoon lights the fire. The two men watch the fire blaze, then leave — and in the bedroom, Ji-sook sleeps while the fire creeps closer and closer to her bed.
Min-woo wakes to find himself on a boat in the middle of a lake, disoriented and unable to get to shore. He can see the villa, already engulfed in flames. Inside the villa, the fire rises higher and higher all around Ji-sook, and she wakes to find herself completely surrounded by fire and smoke.
Outside, Mi-yeon watches the fire, and we see that she had found Ji-sook's letter to Min-woo and already knew about Seok-hoon's plan to (she thought) fake Ji-sook's death. She'd ripped up the letter and called to stop the police and reporters from coming to the villa that night.
Ji-sook desperately searches for a way out of the fiery room, as Min-woo tries just as fruitlessly to start the engine on the boat. Ji-sook smothers the fire in front of the door with the bedspread, but the door handle burns her hand and she can't get out.
Fighting his extreme fear of water, Min-woo tries over and over to jump into the lake and swim to shore, but he can't bring himself to do it. He finally gets up his courage and jumps, just as Ji-sook passes out from the smoke. Min-woo starts to sink, then gets himself together and swims, frantic to get to Ji-sook in time.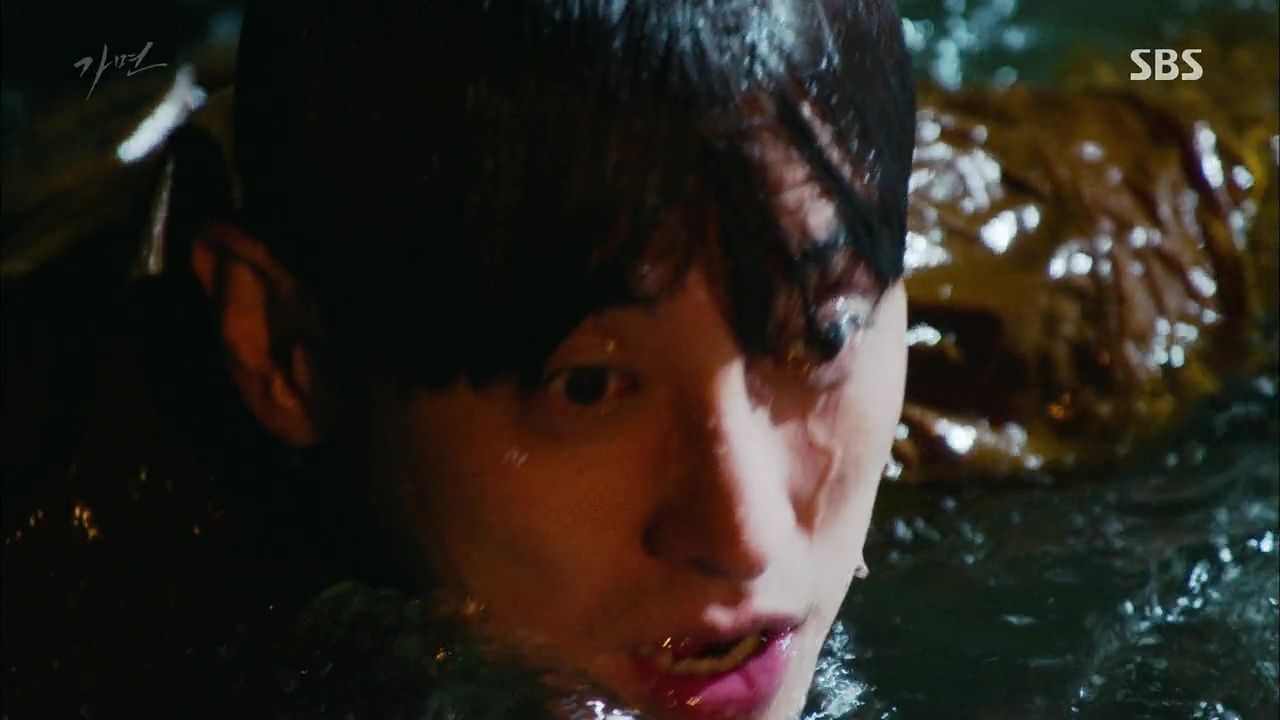 COMMENTS
Soooo many plot holes, but I won't get nitpicky this late in the game. I'm still loving this show, and how much I adore the characters — even if the plot doesn't make a whole lot of sense and has gaps you can drive a truck through. I honestly don't even care, because I'm so damn entertained, and it's a great ride even if it sometimes hurts my brain. I do hope that all of these unanswered questions get answered at some point in the final week (and we all know what those questions are, no need to go over them again), because I think we'd all like to know that there was a reason for withholding so much information until the last minute. I'll be very disappointed if the show just leaves us without explanations.
One thing I will bring up though, is the sense I get that I'm supposed to be picking up on a message here, and I'm just… not? I know the show is trying to say something about lies, but I'm just not picking up what it's putting down. Maybe you guys can help me. All this talk about lies, and how living a lie is like wearing a mask, and especially how Seok-hoon seems especially fixated on lies… it feels like there's a message in there somewhere. Or I should say, Seok-hoon's assertion that if he simply says something, it's true, whether or not it's actually true. I don't think he truly believes that, because he seems perfectly capable of understanding the difference between a lie and the truth. He's not mentally ill, apart from probably being a sociopath, but logic isn't one of his problems.
Now Mi-yeon, I think, very easily convinces herself that a lie is the truth. That's why it's so easy for Seok-hoon to manipulate her — he just tells her to believe him even when he lies, and she does. Sometimes she fights it, and I still see flashes of goodness in her when she seems to want to follow the truth. But she's too enmeshed with him, and too afraid of losing him. So she tells herself that the lie is the truth, and she truly comes to believe it.
At least Mi-yeon feels guilt when she inadvertently kills someone (and by "inadvertently" I don't mean she didn't know what she was doing, but that she didn't plan these deaths in advance – they happened as a result of her recklessness, but murder wasn't her intent), though it would be nice if she'd learned her lesson the first time. I get so frustrated with her, because something about her, a vulnerability, makes me want to like her so badly. And she has these moments when she's worried about Min-woo, or feeling badly for something she's done, and I just want her to snap out of it! Be the good person and good noona that I know she can be. But then she sees Seok-hoon, or just thinks of him, and she slides right back down into the mud. She talks herself back into being the bad guy, and it's so hard to understand why. Don't most people want to be a good person? Why this determination to do whatever it takes to make everyone else miserable, instead of searching for your own happiness? GAH.
But Seok-hoon is also pretty good at convincing himself of things that make no sense, like this belief that he must amass money in order to avenge the downtrodden poor of the world. No mention of what he plans to do with that money — he obviously doesn't want to fund a charity, because he had that chance with Ji-sook's organization and he was horrified at the idea. He never mentions wanting to help his ill father, so he doesn't need the money for that. But he also doesn't seem interested in material things… it really seems to be the power that money can bring that he desires. But what is he planning to do with that power? I want to believe that the writer knows the answer, but if so, then I feel that waiting this long to tell the audience is a grave mistake. I think he'd be a more convincing villain if we knew his motives. As it is, he seems to have a lot of bark and no bite, because the audience doesn't get that lovely shiver of impending doom when he gets a step closer to his goal. By not knowing his reasons, we feel no fear of him getting his wish. And when you're audience doesn't fear your villain, something needs to change — I just hope it's not too late.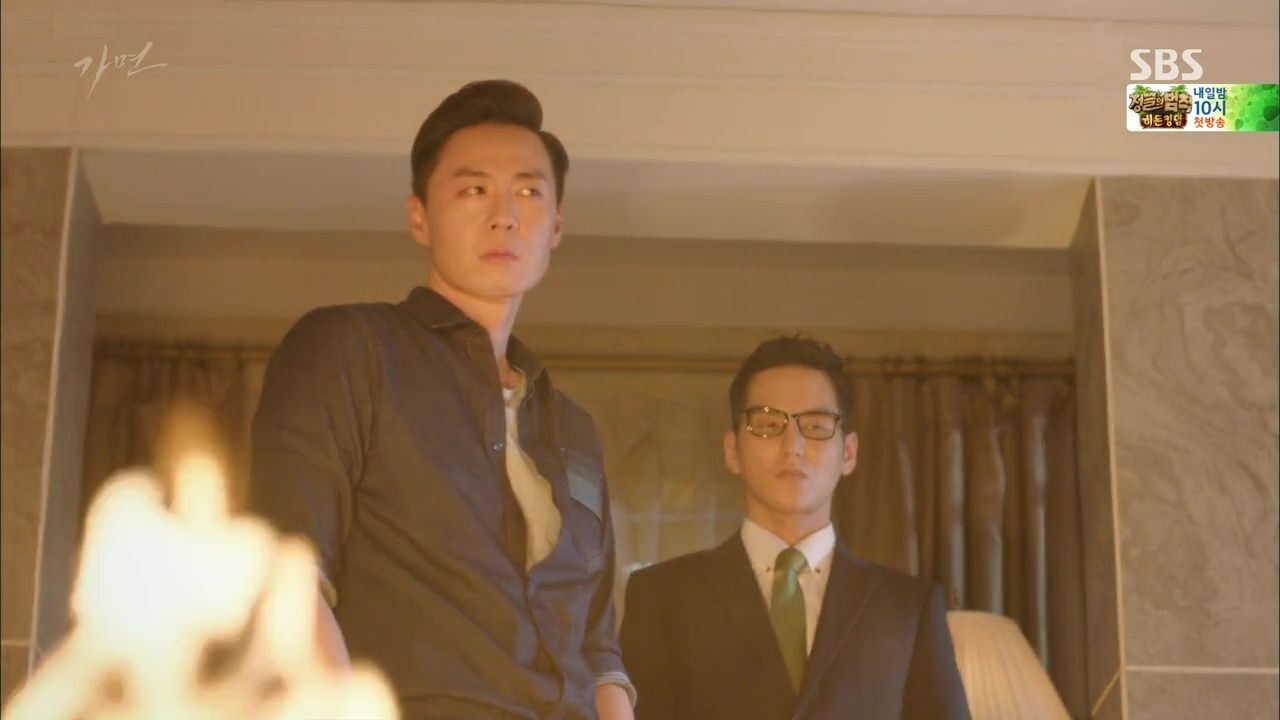 RELATED POSTS
Tags: featured, Joo Ji-hoon, Mask, Su Ae, Yeon Jung-hoon, Yoo In-young