Mask: Episode 19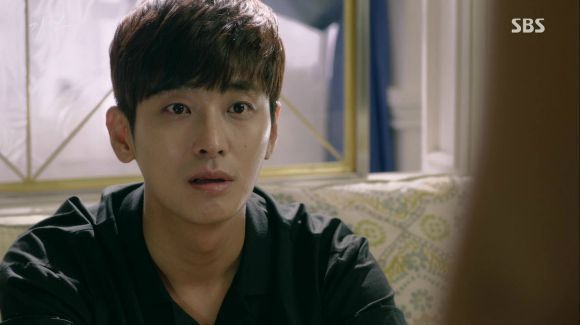 Our heroine's in danger, and everyone scrambles to simultaneously cover up the scandal and prevent the fallout. But secrets this big are hard to keep, especially when so many people are in on it, and time is running out. Everyone's masks are starting to crumble, and it won't be long before the full truth is discovered.
EPISODE 19: "Vacancy"
Ji-sook collapses from smoke inhalation inside the burning villa, as Min-woo wakes and finds himself trapped on a boat in the middle of the lake. He struggles against his phobia of water, then jumps in and swims to shore. He breaks a glass door to get inside the fiery building, and finds Ji-sook unconscious on the bedroom floor.
Min-woo carries her as far as the living room, where a chandelier explodes and falls on them. But Min-woo gets back up and manages to carry Ji-sook to the lawn, where they both collapse. As he lays in the grass holding Ji-sook's hand, he remembers their times together when they were happy. Eventually he passes out.
When Min-woo wakes, he's alone, and there's only a scrap of fabric from Ji-sook's dress to show that she was there. He definitely rescued her from the fire, because he's streaked with soot, but the piece of her dress is covered in blood.
Later, a dazed-looking Min-woo is questioned about Ji-sook's disappearance and the blood on the fabric, which has not yet been confirmed to be Ji-sook's. Seok-hoon acts as his lawyer, and Min-woo can only ask if his wife has been found and if she's alive. The cop says that they found blood on a rock near where she disappeared, and that if it turns out to be hers, then it's doubtful she's alive.
Stepmom wrings her hands, worried that Min-woo's "illness" is back and that he hurt Ji-sook (she still thinks she's Eun-ha, and that Min-woo was responsible for her near-drowning). Papa Choi and Mi-yeon deny the possibility, defending Min-woo's honor.
Mi-yeon talks to her brother where he's busy worrying in his room, and he asks if she knows anything — after all, Ji-sook did sound like she was planning to go away somewhere, and he clutches at the idea like a lifeline. Mi-yeon remembers reading and destroying the letter meant for Min-woo, and takes pity on Min-woo. She tells him that Ji-sook is alive, though she claims she just has a strong feeling about it.
Min-woo goes to Ji-sook's family's coffee shop, but they've sold it to a new owner. Next he checks with her old coworkers from the department store, who are just confused as to why he thinks Seo Eun-ha would contact them for any reason.
A body is found that matches Ji-sook's age and build, and Min-woo is called to come identify it. Thankfully, it's not her, and he nearly collapses with relief. On his way out, he calls the prosecutor and begs him to please find his wife and the person who set the villa on fire, breaking down in tears as he insists that she's not dead.
In a small hospital somewhere, Ji-sook wakes, calling out Min-woo's name. The doctor addresses her as her new identity, Kim Yu-jin, and tells her she almost drowned. But for some reason, when she asks him where she is and where her husband is, the doctor ignores her.
Butler Nam-chul, Maid Yeon-soo, and Chang-soo are all worried sick over Ji-sook, upset that they can't give Min-woo better news when he asks if she's called. Min-woo corners Seok-hoon to accuse him of starting the fire and locking Ji-sook in, but in a move that surprises exactly no one, Seok-hoon denies any involvement.
He actually accuses Min-woo himself, bringing up Eun-ha's accident and saying that she wouldn't have drowned if Min-woo hadn't been afraid of water. He screams that Min-woo did nothing while Eun-ha died, conveniently forgetting the part where he himself had drugged Min-woo into oblivion.
Seok-hoon snarls that if Min-woo had jumped into the water sooner the day of the fire, instead of being scared, Ji-sook could have been saved, too. Min-woo explodes and shoves Seok-hoon into the wall, saying that his only regret is not stopping Seok-hoon sooner. If anything happens to Ji-sook, he'll expose everything Seok-hoon has done.
Seok-hoon invites him to do just that, though he's sure Min-woo won't be able to. Even if Ji-sook is gone, there's still her family who could be in danger.
Ji-sook begs the nurse to let her make just one phone call, to find out if her husband is alive. The nurse deflects, saying that she'll find out once she's recovered. Ji-sook flees the room when the nurse's back is turned, and escapes down the hall just as Director Shim turns the corner.
Ji-sook gets out the the road, but the car she waves down turns out to be Director Shim and his lackey and they manhandle her into the car. We see that, as expected, it was Seok-hoon and Scar who took Ji-sook away the night of the fire, leaving an unconscious Min-woo with a bloody strip of her dress.
Stepmom makes a point to rattle Seok-hoon's cage, asking how he feels now that his lover has disappeared, wondering if he can eat or sleep. She asks what she has to do to make Seok-hoon let go of Mi-yeon, who's been miserable and done nothing but drink since they got married. She even offers him a chunk of her SJ Group shares to leave.
This infuriates Seok-hoon, who fires back at her: What does he have to do to be accepted? He refuses to leave Mi-yeon because, he says, he loves her.
Director Shim lies to Ji-sook that he saved her from drowning, but she's not buying it and knows Seok-hoon is behind this. She figures out that they're not heading back towards the hospital, and begs him to just tell her if Min-woo is alive, but he refuses.
He takes her to an abandoned warehouse where Mi-yeon is waiting, and Mi-yeon says that she's the one who saved her. She won't let Seok-hoon become a murderer because of someone so worthless — so Ji-sook can't die. Ever. She's to get on a flight to Australia and go away forever, and Mi-yeon promises to send Min-woo and her family after her.
Ji-sook can't fathom trusting her after what she did to Mom, but Mi-yeon counters that if she doesn't go, this will all just continue and who knows who could die next. Ji-sook won't leave unless she hears Min-woo's voice to confirm he's okay, so Mi-yeon offers her phone to call him. But there's no answer, because she'd had a maid take his phone.
Mi-yeon snatches her phone back, saying that any more calls could clue Seok-hoon in that she's alive and not dead as he thinks. She tells Ji-sook to decide now — stay and die, or leave and survive?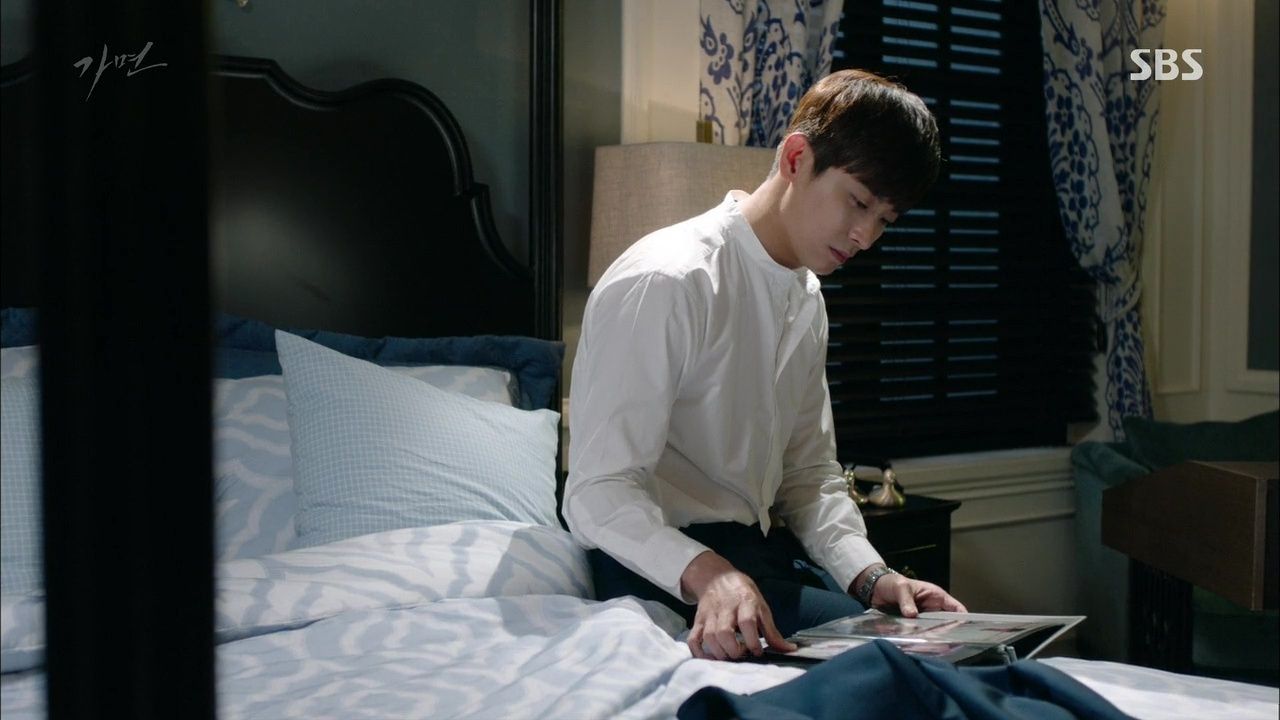 Min-woo sits on their bed, blaming himself in a million possible ways for causing harm to Ji-sook. He flips through their photo album, caressing Ji-sook's picture and remembering how she'd touched his face to remember him. He realizes his phone is missing and asks the staff, and the maid who took it says she found it turned off. He sees the call from Mi-yeon's phone, but she claims she was just checking on him.
Mi-yeon and Seok-hoon share a drink, and Mi-yeon asks if Seok-hoon really doesn't know anything about where Ji-sook disappeared to. He denies it, but she says she knows everything. She wonders what will happen to him if she tells, and if he could endure being vilified.
She says that she's done a lot of terrible things for him, and if he still can't see her after all that, then she should just die. She wonders if he would see her then. Seok-hoon actually grows emotional, and seems alarmed at the thought of Mi-yeon dying. He either really does care for her on some level, or he's a damn good actor.
Seok-hoon gets a call that the police have caught the person who started the fire at the villa, and Mi-yeon says pointedly that whoever it is, he must know the magnitude of his crime. Stepmom is concerned that Eun-ha's parents will find out she's gone missing, and Papa Choi worries that Min-woo might have done something to her (though he does at least think it's impossible).
Seok-hoon knows that Min-woo used to sleepwalk when he was younger, and Papa Choi says it was a long time ago, but Seok-hoon thinks the police could use that against him. Min-woo is on the phone with his prosecutor friend finding out about the arrest, and asks him to make sure the arsonist testifies in court.
The news gets out to the media, who report Ji-sook's disappearance as a possible murder by Min-woo — and unfortunately, Eun-ha's father finds out by seeing it on television. He starts to panic and orders his aide to do whatever it takes, call in all his contacts, to find her.
The only people who aren't worried are Ji-sook's father and brother, who knew of her plan to disappear. They're hiding in an apartment, and remind themselves to wait patiently for her to come back like she promised.
Ji-sook offers Director Shim everything she has to let her go, but he remembers that she gave away most of her money. Besides, he already took money from Mi-yeon to hold her here. He also refuses to let her call Min-woo, but accidentally lets slip that Min-woo's being framed.
A strange guy enters the room, and Ji-sook takes advantage of Director Shim's distraction to grab his phone. She manages to elude them and hide, but she struggles to find the unlock code for the phone.
The police report to the Choi family that the blood on the clothes, and the rock found near Min-woo, both match Ji-sook's DNA. Min-woo is arrested for murder (Can you do that without a body? And since when does a few tablespoons' worth of blood mean the person died?), and he turns down Seok-hoon's offer to be his lawyer.
Upset, Mi-yeon promises Min-woo that she knows he's innocent, and that she'll make sure to clear his name. Papa Choi and Stepmom also voice their support, and even Chang-soo, Yeon-soo, and Butler Nam-chul come to say they believe in him.
Ji-sook finally gets into Shim's phone and calls Min-woo, but by the time he answers, Shim and his lackeys have found her. Min-woo answers the phone to hear the men hollering Ji-sook's name, and he begs the police to track down the location of the phone and find her.
The police refuse, and Min-woo shakes them off and runs. He leads them on a car chase while he calls Chang-soo to trace the phone call, and reassures himself that at least now he knows Ji-sook is alive.
Seok-hoon meets with his SJ Group informant, who tells him that public opinion is very against Min-woo right now, due to his history of mental illness and now the reports that he killed his wife. Not to mention, the stocks are going down at an alarming rate. Seok-hoon basks in the glow of the bad news, and just tells his informant to buy up the stocks while they're cheap.
Chang-soo can't find the exact location of the phone Ji-sook called from, but gives Min-woo the general area. Ji-sook limps down an isolated road, and ohthankgod, Min-woo finds her. He runs to grab her in a relieved bear hug, breathing that he knew she was alive. They pepper each other with questions, and Min-woo just apologizes for taking so long to find her.
Ji-sook asks what it means that he was framed, and he says not to worry about it. She wants to go to the police right away and tell them everything from the beginning, even if it means having to pay for her crimes. But Min-woo convinces her to just think about themselves and be happy for one day.
Eun-ha's father storms into the Choi home demanding to know where Min-woo is, but the Choi family doesn't know, either. Mi-yeon says she's sorry for what happened, and they all ask if she knows something. She just says that "my sister-in-law" will come back soon, but she thinks to herself sadly that his daughter will never come back.
Min-woo takes Ji-sook to an isolated cabin, and she stops him from leaving to get medicine for her wounds because she doesn't want to be alone. He at least cleans up her stained hospital clothing, and fetches some medicine he has in his car.
While he's getting the medicine, they both take a moment to look at themselves in nearby mirrors, a little shy about being alone together. Min-woo doctors Ji-sook's scraped knee, and she apologizes with a smile for always putting him through so much trouble. He grouches at her to stop doing it, then.
Quietly, he asks why she would want to leave him (meaning, voluntarily go to jail), and Ji-sook says it's only temporary. Instead of answering, he just grumbles that she needs someone to take care of her since she ignores her own needs, so she cheerfully promises to take care of herself so he won't worry.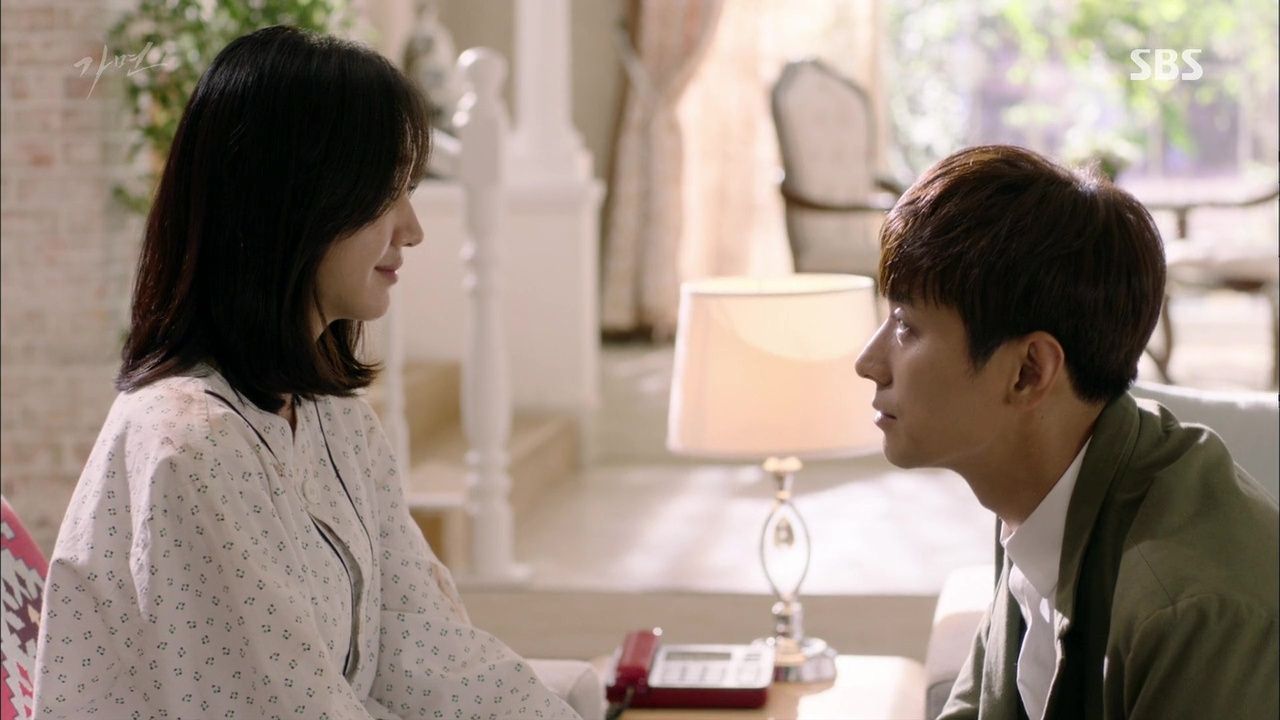 She says she has no choice if she wants to get her name back, and Min-woo apologizes for not being a better husband. Ji-sook strokes his hair and says he's a very good husband, and they smile at each other sadly.
Stepmom finds Mi-yeon drinking again, and assumes that Seok-hoon has done something. Mi-yeon just sighs that life is hard, and remembers confronting Ji-sook at the villa about how difficult it is to keep secrets. Ji-sook had said Mi-yeon will only live in fear while she and Seok-hoon keep secrets, which still eats at her.
She says to her mother that the truth will come out anyway, and promises to tell her mom all her secrets if she will promise to keep them. She reminds Stepmom how they discovered Eun-ha had had a doppelganger, and tells her that the doppelganger is her sister-in-law, and Seok-hoon is behind it all.
She even tells her mother that the fingerprint evidence is in her room, but Seok-hoon walks in as Stepmom is looking at it. For now, she just gives him an angry, "How could you?!" and leaves the room.
Mi-yeon staggers upstairs, and nearly pitches over the railing before Seok-hoon catches her. He asks what she told her mother, but Mi-yeon brushes him off and says to ask her himself. She suggests they turn themselves in, saying that she promised Min-woo she would get Seok-hoon to turn himself in and offering to join him.
Seok-hoon says he has no reason to turn himself in since he did nothing wrong. Mi-yeon offers to tell him exactly what he did wrong, and he just says she's drunk. But she's sobered up now, and tells him that Eun-ha was right — he's like this because she kept her eyes and ears closed all these years. They can pay for their crimes then start a new life. Seok-hoon just calmly says that they can never pay for the crime they've committed.
In the cabin, Ji-sook says this may be their last night together for a while. Min-woo asks her not to go, worried that they'll have to break up if they tell the whole story. Ji-sook promises she'll come back to him.
Min-woo silently traces Ji-sook's features with his fingertips, the same way she did with him, and says that he'll remember her face. He asks if they can be happy again, and Ji-sook smiles and says they deserve to be happy.
Too emotional to speak, Min-woo leans in, and tenderly kisses her.
COMMENTS
Aw, I can feel the separation coming. I understand, and even admire, that Ji-sook feels it necessary to pay for her crimes in this whole fiasco, since she's not the kind of person who would be happy living someone else's life. She wants to come to the man she loves as herself, free and unburdened, and live with him openly. She wants her own family to be involved in their life together, and she would never find real happiness if she kept living as Eun-ha. Not to mention, Eun-ha's family deserve to know of her death, and Seok-hoon and Mi-yeon need to be held responsible for their own crimes. So even though I hate it for the characters, this is actually one drama in which the forced separation won't bother me, because it makes narrative sense and is true to the characters and their situation. It's not just thrown in to create tension — it's necessary for them to move forward.
I still can't tell if Mi-yeon is really helping Ji-sook or not, though it would be interesting if Mi-yeon became an ally of Ji-sook's after all, though in an entirely roundabout way. Not because she's a good person, or because she's guided by any sort of moral compass whatsoever (because goodness knows that ain't the case!), but to protect another murderer. Ironically, the person she most wishes would die is the person she should protect at all costs, in order to shield Seok-hoon from being outed as a murderer. I find that pretty clever on the part of the writer, because it's certainly a lot more interesting then Mi-yeon having a sudden change of heart. Goodness knows, the only redeeming feature about Mi-yeon is her unfailing loyalty to her husband. It's a shame she got such a dud, because that loyalty, when directed at a good man, could have been a wonderful thing.
So if she was trying to help Ji-sook, then I tip my hat to the writer — but if she wasn't, and is really still trying to get rid of her, then my admiration all goes to Yoo In-young for playing Mi-yeon with such depth and skill that we still, even with only one episode left, can't tell what she's thinking. At least now, in the final hour, she realizes that allowing her husband to do these terrible things attributed to his madness, and she wants to do something about it. She's been a fascinatingly complex character throughout the run of the show, because I think we've all alternated between wanting her to be a good person, and marveling at the depths she will go to to get what she wants. She really could have been the villain of the drama all by herself, because the way she's wavered between her good side and her bad side all the way throughout has been my favorite character arc of the drama.
Not that Seok-hoon isn't a chilling villain himself, but he's predicable. He's bad, and he wants everyone dead, and that's that. I still wish we knew why, other than a vague wish for revenge, but his reasons and the object of his hatred are still unclear. I'm still hoping that that's planned, and that we'll learn his motives in the final episode, and not just that the writer hopes we accept "his dad got screwed over and so he's angry" as a motive for lifelong murderous intentions. He's scary enough without needing to know why, but if you set up this elaborate of a plan to get revenge on a family, we're gonna want to know exactly why.
Not to mention, he started out this cold-blooded killer — but by this point, he's full of threats but no follow-through. It's hard to maintain a sense of foreboding around a character who hasn't actually done anything (other than start a fire then manage to lose his hostage within a day) in several episodes. We need motive if we're to believe that he's the Big bad he's been built up to be, so I hope he's got something truly horrible up his sleeve for the finale. Which I realize sounds morbid, but I want a reason to be afraid of him again. Otherwise, what was the point of his whole elaborate plan? Don't hold back, Show, Min-woo and Ji-sook can take whatever you've got to dish out.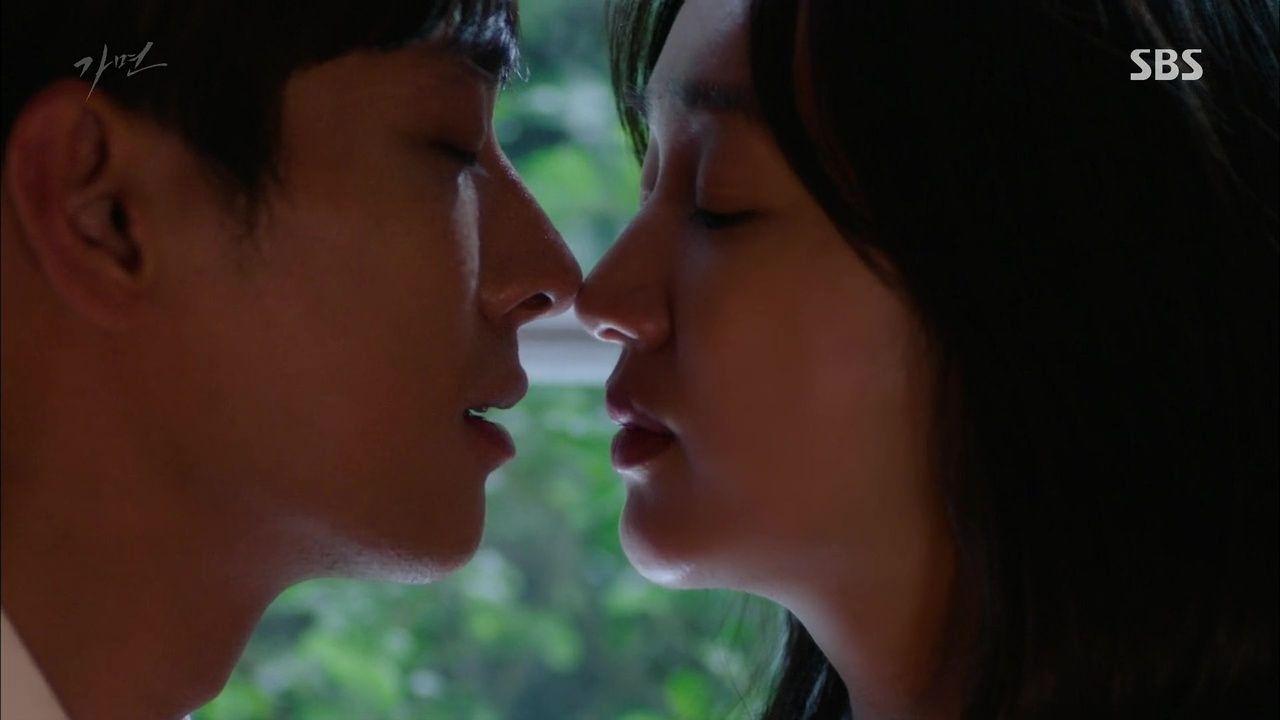 RELATED POSTS
Tags: featured, Joo Ji-hoon, Mask, Su Ae, Yeon Jung-hoon, Yoo In-young