Mask: Episode 20 (Final)
There's a lot of ground to cover in this final episode, and while I can say that all the loose ends are tied up, the bows aren't as neat as they could have been. But justice is a messy thing in the end, and sometimes punishment comes from a direction nobody expected. But there's always hope that, if you live honestly and without wearing a mask, you can find your happiness.
EPISODE 20: "Our House"
Min-woo and Ji-sook stay the night in the cabin, but in the morning, Min-woo panics when he wakes up in an empty bed. He gets ready to go out looking for Ji-sook, when she saunters in all chipper, and he grabs her in a relieved hug.
She only went out for toiletries, and sits to shave Min-woo's five-o-clock shadow. It's completely unnecessary for her to do it for him, but it's obvious they're both enjoying the intimacy. So cute.
Ji-sook's smile is starting to look forced by the time it's time for them to leave, and Min-woo stops her for a long minute just to look at her. The car ride is quiet, but Ji-sook takes Min-woo's hand, and I love that she's the one reassuring him. He asks her one last time if she can't stay with him, offering to run away with her if that's what it takes, but Ji-sook wants to pay their families back for all the pain they've endured on her behalf.
Seok-hoon promises the family to find Min-woo and convince him to confess, which has Mi-yeon gaping at his audacity. Seok-hoon says that Min-woo probably ran away because he remembered killing his wife, and says it doesn't matter whether he believes that's true — what's important is that the police believe it.
Remembering Mi-yeon's confession that Seok-hoon brought a doppelganger into the house to replace a dead Eun-ha, Stepmom says pointedly that she hopes he exposes everything soon. Later he asks Mi-yeon what her mother knows, but she just asks if he'll stop when she tells him, or make another plan to stop her mother talking. Will Mi-yeon herself be next? She's got a point — his plans are getting rather convoluted.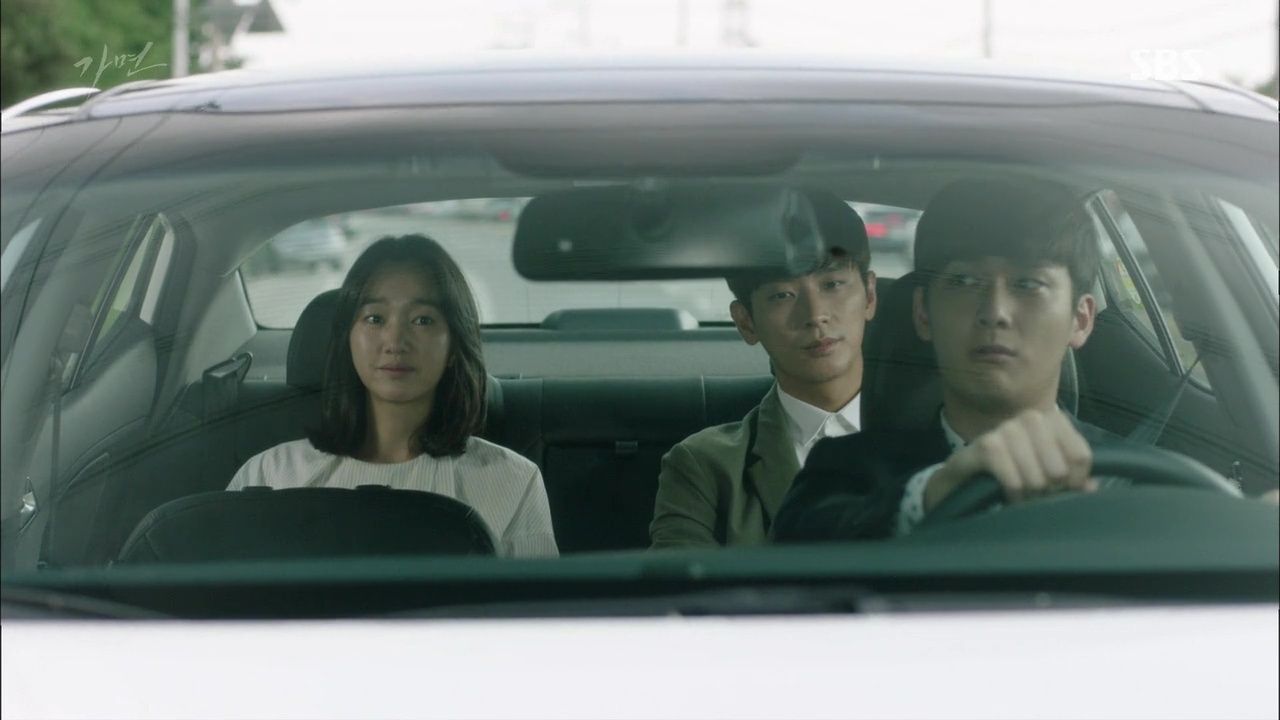 He gets upset when she suggests he would hurt her, but she says that Min-woo is her brother, and she can't stand by and watch him be framed. Seok-hoon insists there's proof Min-woo killed Ji-sook, but Mi-yeon just laughs, because she knows it's "proof" that he concocted. She warns him to stop it all or she'll expose everything. Or, he could always just kill her.
Min-woo's car is found by the police, empty — he and Ji-sook are being driven in a different car by trusty Chang-soo. Aww, he gripes at them the whole way for making him worry so much. Min-woo reminds him to keep this a secret, but Chang-soo isn't worried since they'll just tell the police everything and then Ji-sook can go home, right? Ji-sook just asks to see her family first, to say goodbye, and Min-woo says he has a plan to make sure that Seok-hoon can't get out of this.
Min-woo meets Seok-hoon in secret, saying that he wants to go home. He plays along with Seok-hoon's belief that ji-sook is dead, admitting that she died because he hesitated to jump into the water, but that he's not prepared to confess. He says that he wants Seok-hoon's help proving his innocence.
Seok-hoon says that the police think Min-woo took Ji-sook to that lake to kill her, but Min-woo says that Seok-hoon's defending him is the only way he can go home. He offers Seok-hoon everything — his shares, even the whole company — in return for his help. Seok-hoon says all he wants is for Min-woo to come home. Looking triumphant, he says he'll hold a press conference and prove Min-woo's innocence.
Ji-sook visits her father and Ji-hyuk and updates them on everything that's happened, but it's not time to resume her life yet. They're just happy to have her home for a while, and make her favorite seafood stew for her. While they're cooking, she watches her boys fondly and remembers eating the stew with them when her mother was alive.
As they eat, Ji-sook chatters happily about opening a restaurant together later, and tries to ignore the empty chair at the table. They send her off, and she promises to come back soon.
Ji-sook barely turns the corner before Director Shim and his goon grab her and drag her off to talk to Mi-yeon. Meanwhile Seok-hoon tells his SJ informant that at the press conference, he'll make Min-woo into a liar, and nobody will ever believe a word he says again.
Ji-sook asks Mi-yeon if anything was resolved while she was gone, as Mi-yeon said would happen — Min-woo was framed for murder and Seok-hoon is still scheming. Mi-yeon repeats that she'll stop Seok-hoon, but Ji-sook doesn't think she can. How many more people will be sacrificed?
Mi-yeon says she's right, that she can't stop him, and more people will probably die just like Eun-ha. Uh, didn't you kill Eun-ha? But I believe she's saying that if Seok-hoon isn't stopped, she'll keep killing to protect him.
Min-woo's family and Eun-ha's father attend the press conference, but when it's time for Min-woo to come out and start, Mi-yeon finds him and insists they talk first. She asks him what he was going to say at the press conference, but he just says he'll say what needs saying and asks her to tell everything, too.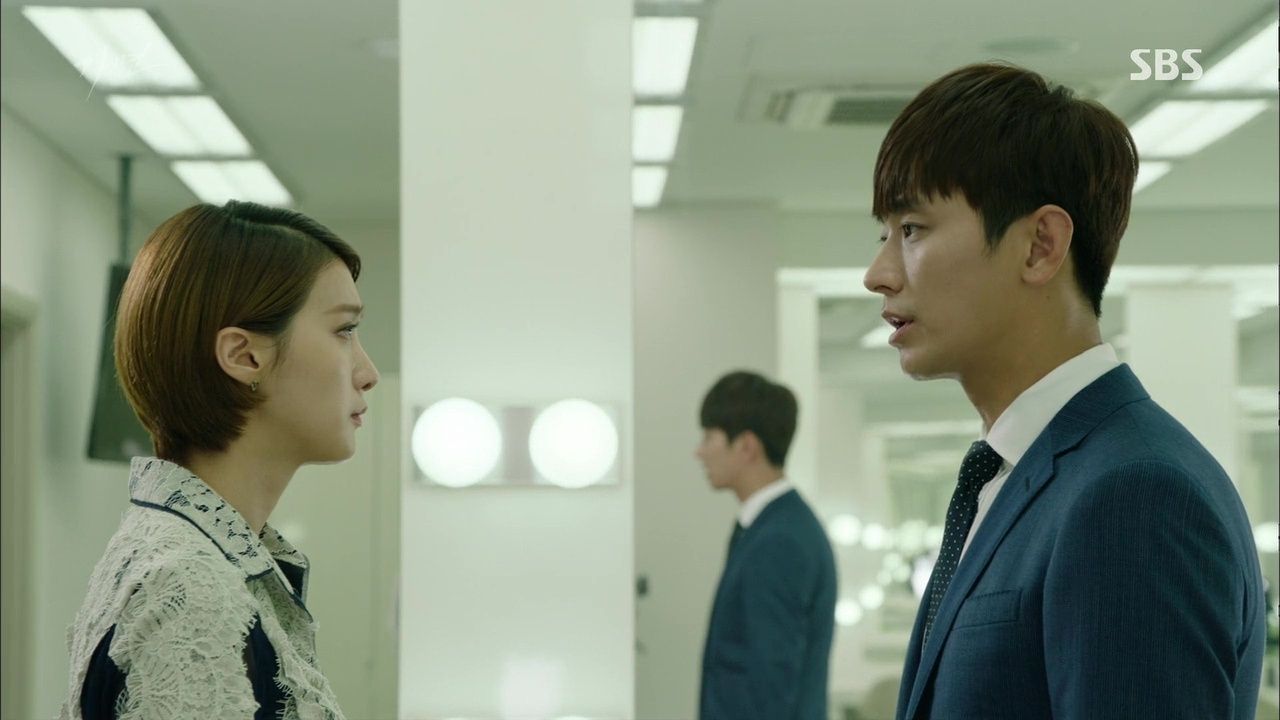 He knows she saved Ji-sook, and that she's a good person. She only did those bad things because of Seok-hoon. She can confess instead of waiting for the secrets to be exposed, and live unburdened. A peaceful look comes over her face and she apologizes for everything, and asks Min-woo to tell Ji-sook she's sorry.
She leaves, and the cops flanking Min-woo stop him from following her. Once she's alone, Mi-yeon makes a call, asking them to do something and saying she won't regret it.
Min-woo is brought into the press conference, and Seok-hoon gets started. He says that Min-woo didn't kill his wife on purpose, but that it was an accident while he was mentally unstable. He mentions Min-woo's childhood sleepwalking, and the time when he forgot that he nearly drowned his wife in the pool.
Seok-hoon goes on to talk about the DNA evidence linking the blood on the rock to the blood on the clothing found near Min-woo when he woke after the fire. But he says again that Min-woo's wife's murder was an accident, and that he belongs in a hospital, not a jail.
He leaves the podium and whispers to Min-woo that this was the best he could do for him, but Min-woo doesn't respond. He takes the podium himself , and starts off saying that on the day of the fire, he was indeed found with the bloody cloth. But his wife was taken away by someone, and driven to the lake to be drowned.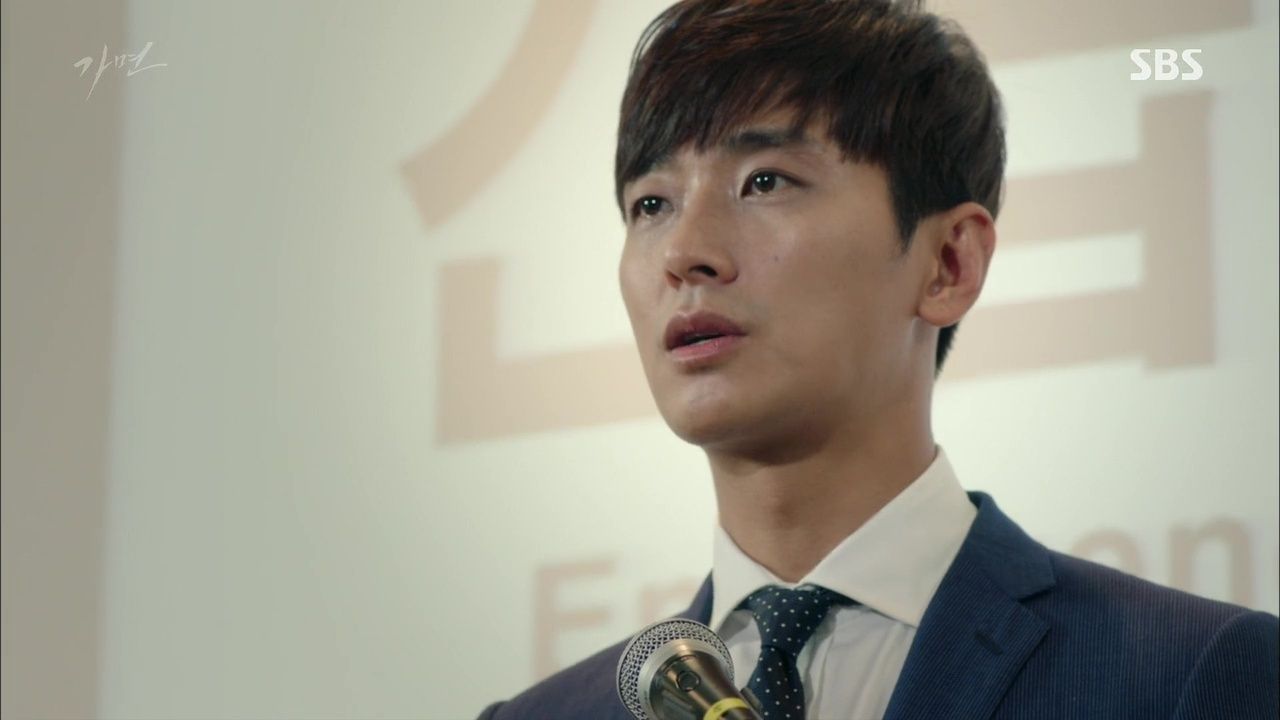 She'd probably spent hours being afraid of dying because of him, and he apologizes… for not finding her alive sooner. He's sorry for being unconscious while they were driven to that lake, and for not waking when the bloody cloth was put in his hand. He apologizes for everything, and names Seok-hoon as the person who did those things.
Furious, Seok-hoon storms the stage to grind out through his teeth that Min-woo will be sorry for this, since the evidence points to him. Min-woo laughs at the fake "evidence" and says he has his own proof. And here she is — Ji-sook walks right into the middle of the press conference and announces, "I'm Choi Min-woo's wife, Byun Ji-sook."
Eun-ha's father asks if she's alright, and Ji-sook bows to him and apologizes, confessing that she's not Eun-ha. She goes to the podium herself and Seok-hoon actually cringes away from her, which is so satisfying.
We see that Mi-yeon had told Ji-sook the entire story of Eun-ha's death, how she had intended to drug her hoping she would be in an accident while driving home. But instead she'd drowned in their pool. She tells Ji-sook to tell everyone the truth at the press conference.
Ji-sook does just that, and goes on to reveal that she's been posing as Eun-ha ever since. Papa Choi is horrified to think that his daughter killed someone, but the maid who drugged the wine is there to back up Ji-sook's story.
Ji-sook says that living as Eun-ha was difficult because she had to lie, even to the people she loved, and that she feels sorry towards Eun-ha's loved ones as well. She apologizes, and says that in order for all this to stop, she wants to report someone. She also points towards Seok-hoon as the guilty party, and tells the entire story in detail as Chang-soo passes out packets containing all the proof.
Min-woo's prosecutor friend enters the room, and Min-woo says he'll be turning all the evidence over to authorities. Seok-hoon finally starts to look nervous, and when the police move towards him, he and Scar make a run for it. Whoa, Scar actually sacrifices himself to buy Seok-hoon some time (I wish I knew why he's so loyal). Seok-hoon gets down to the parking garage, where Mi-yeon drives by and helps him escape.
In the car, Seok-hoon realizes that Mi-yeon is the one who saved Ji-sook when he tried to drown her, and she just says she couldn't let him become a murderer. She says she's got plane tickets and asks him to run away with her, but Seok-hoon isn't prepared to stop now.
Mi-yeon confesses that she told Ji-sook everything, and that they have no choice but to leave. She can't go home after this. Seok-hoon tells her to go then, but that he can't go with her. He says there's something she doesn't know about — the reason he married her.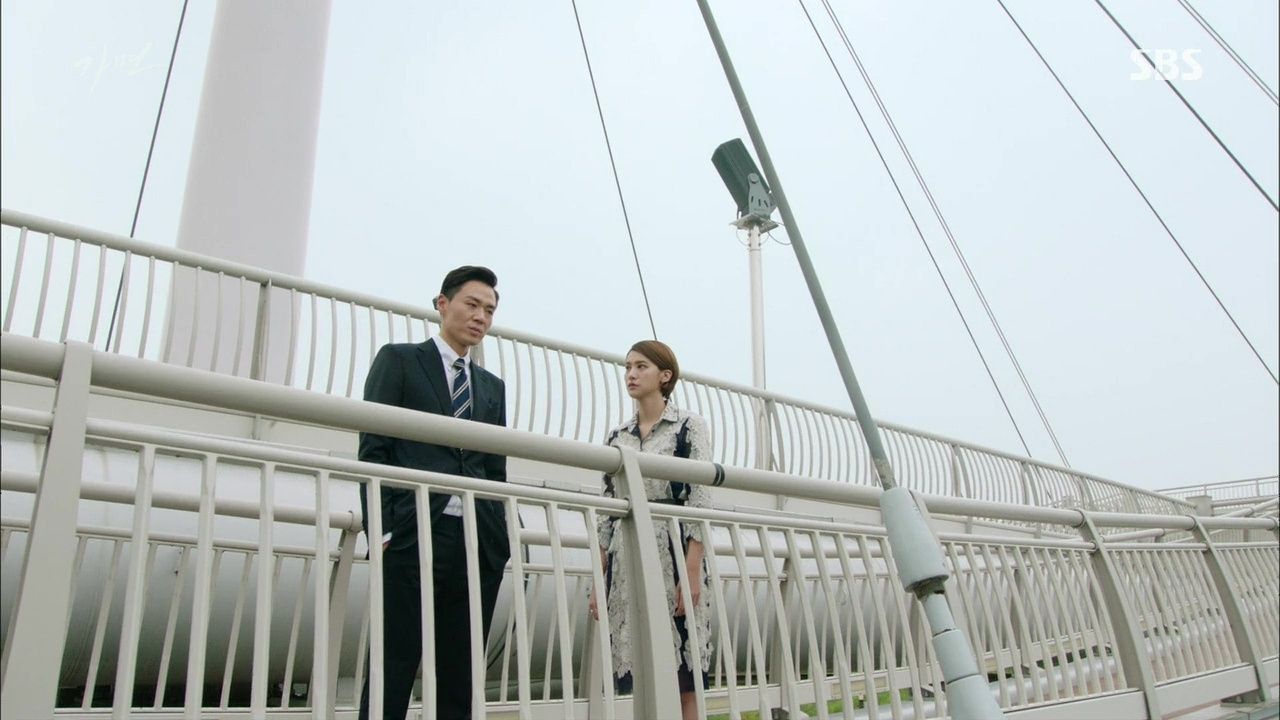 He finally tells her his father's story, how he worked for SJ Group very hard, even after his fingers were severed in the accident. His reward was to be fired since his productivity went down, and without his fingers, he never could get a good job. Then he fell during a protest and became paralyzed, and his mother passed away from the shock.
Her father came to his mother's funeral to give the family compensation money and get his picture taken for the papers, but then he'd smiled, as if Seok-hoon's family meant nothing. Mi-yeon apologizes on her father's behalf, and begs Seok-hoon again to disappear with her. He roughly pushes her hand away, and says that he promised he would get revenge on her father, and he'll never stop.
She finally relents and says that, if he won't stop, at least don't let her see him get caught and lose his pride. She says his plane ticket are in the car, and tells him to go and never come back.
Seok-hoon turns to walk away, and Mi-yeon calls after him. She asks him to say one last time that he loves her, even if it's a lie. For once, maybe for the first time ever, Seok-hoon is honest with Mi-yeon: "I do not love you. To get revenge on your father, I used you."
Min-woo and Ji-sook are allowed to talk together for a moment, and she smiles at him as she repeats Eun-ha's words from so long ago, "If you wear a mask, you can't be happy." She says Eun-ha was right, and they both admit how good they feel.
Seok-hoon waits for his flight at the airport, and finds a note from Mi-yeon with his ticket. She'd wondered if they would be on the plane when he read it, or already in Cuba, where they went for their honeymoon. She'd written happily about fishing and dancing together, and Seok-hoon starts to look as though he regrets his decision to leave without her.
As he reads the letter, Mi-yeon approaches a cliff high over the ocean, looking peaceful for the first time. She'd written that she'd always loved him, and always would, and Seok-hoon starts to cry. He folds the letter, then jumps up to call Mi-yeon. But someone else answers her phone, and he's speechless as they deliver the bad news.
Stepmom breaks down at Mi-yeon's funeral, screaming for her daughter, and a shocked and crying Seok-hoon stumbles into the room as Papa Choi and Min-woo try to support her. He bows deeply when she asks how he dares to show his face, and she takes out her grief on him, beating his chest and demanding he bring her daughter back.
Papa Choi bellows at Seok-hoon to get out, and Min-woo just punches him so hard he falls to the ground. Min-woo whispers that if Seok-hoon cared about Mi-yeon even a little, he'd go take responsibility for his crimes.
Papa Choi and Min-woo sit outside, where Papa Choi blames himself for pitting his children against each other and putting them in opposition. He brings up Min-woo's mother's death, saying that he never knew she'd had his child and when he found out, he'd wanted to come see him. His mother had misunderstood and thought Choi's men were going to take her son away, and that's why she ran with him. Min-woo says it doesn't change anything, and that he's different from his father — he'll spend his life protecting those he loves.
Some time later, Ji-sook gets a letter delivered to her jail cell, from Min-woo of course. They exchange letters during her jail sentence, chatting about nothing, passing the time until she's released. Min-woo spends his time learning to cook, hopefully better than before.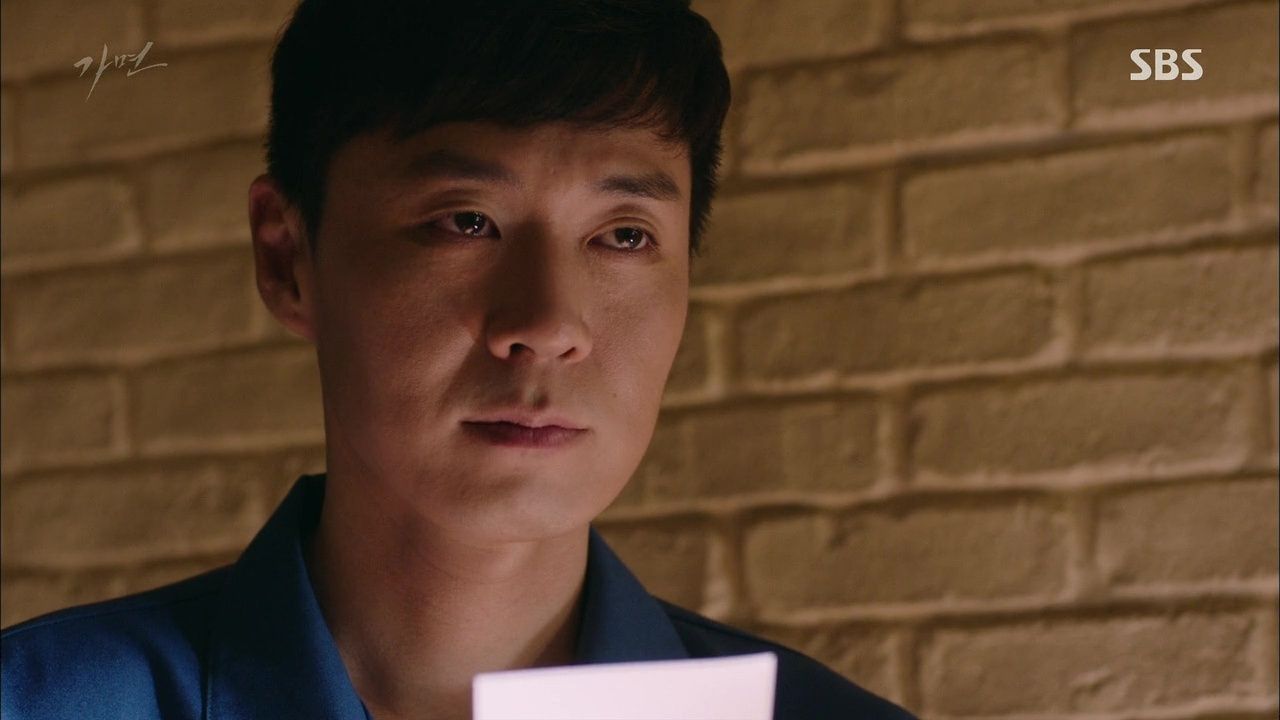 Chang-soo plays a song for Yeon-soo, asking how she likes it as their wedding song, which makes her eyes go wide. She squeals over the engagement ring, while Butler Nam-chul bursts into tears. Not much has changed, ha.
Seok-hoon's jail cell is searched, and in one of his books they find a photo of Mi-yeon, When asked who she is, he smiles serenely and says she's someone he'll be seeing soon.
Four years later, Ji-sook is out of jail and celebrating her birthday with her loved ones — all of them. Min-woo leads the birthday song, and she wishes that she'll always be as happy as she is now. The classy restaurant they're in belongs to her and her father, who seems to have finally turned his life around.
Later Min-woo and Ji-sook go on a picnic with their adorable curly-haired little girl (named Min-sook after her parents, awww), and of course Min-woo is worried that she'll get sick playing in the dirt. Ji-sook smears some dirt on his face, and little Min-sook copies her mama, earning her a kiss from her hovering daddy.
As the happy family enjoys their day, Ji-sook says in voiceover that people worry about getting to the top of the mountain in life, and always struggle for it. But if they turn to look at the flowers, they can discover how sweet they smell. Now she knows that happiness is enjoying the flowers with her loved ones, and she will live her life being happy like that.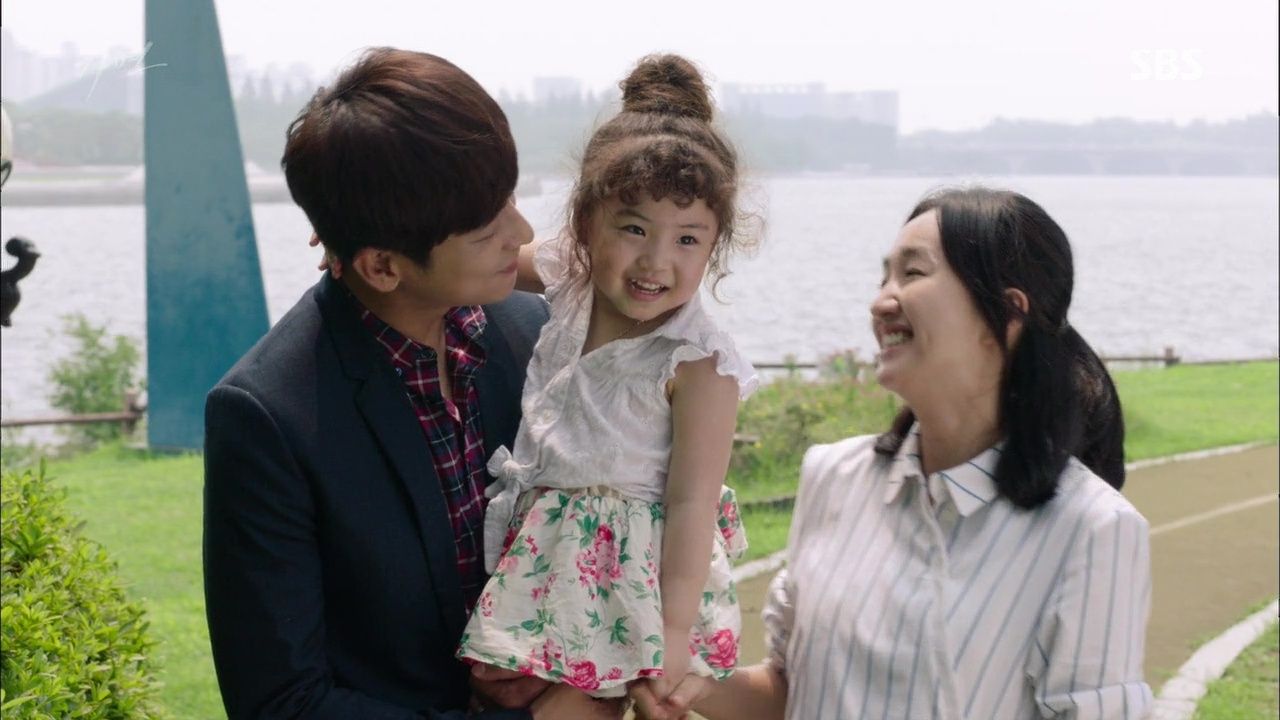 COMMENTS
It was a sweet ending, but I'm afraid this final episode Comments section isn't going to be very flattering, though I'll do my best to give the show the credit it's definitely due. I'm disappointed in how the show ended in several ways, not least of which being that Seok-hoon's Final Evil Plan was… to hold a press conference? I suppose his plan was framing Min-woo for Ji-sook's murder, but it loses its punch when we didn't even see him put it into action. If you're going to build up your villain as the ultimate evil for twenty episodes, then at least let us witness him attempt his final act of revenge. And really, he did all this, planned his entire life around getting revenge, because Papa Choi once smiled? I get it, that's a horrible insult at someone's funeral, but it also could have just been an innocent attempt to connect with young Seok-hoon. It doesn't explain Seok-hoon's intense need for justice, especially since it seems as though he was a good father-in-law once Seok-hoon became family.
But I have to give all the credit in the world to Yeon Jung-hoon, who played the character with a delightfully shivery menace and a sexy snarl we won't soon be forgetting. Though Seok-hoon's potential for mayhem was never brought to fruition, and it certainly wasn't for any lack on the actor's part. Without him, Seok-hoon wouldn't have been half as threatening as he was, and I was never less than incredibly impressed. Though the character let me down in the end, Yeon Jung-hoon's performance was the highlight of the drama, in my opinion.
On the other hand, Mi-yeon was a character that, in my opinion, was so wonderfully complex and heartbreaking, and I just loved watching her struggle through the show. This may be the first time that a villainous character was my favorite character in a drama (okay, maybe the second time ~cough~LiarGame~cough~). I adored that she wasn't just black or white — she was a thousand shades of moral grey, depending on the day and how strong she was feeling. She was so true-to-life in that most of us aren't entirely good or entirely bad… bad people often do good things, and good people certainly occasionally do bad things. I still maintain that, though she was responsible for at least two deaths, she was never intentionally murderous. I believe she thought Eun-ha would simply get a bad scare in the pool, but not actually drown, and that she only intended for Ji-sook's mother to have her surgery postponed. Mi-yeon's problem is that her "pranks" went too far, and in her defense, her reactions to the realization that she was responsible for those deaths, was horror at her actions. Both times, she questioned her worth as a person, and she was never under any illusions that she hadn't done a terrible thing.
So even though it's a familiar drama trope, I understand why Mi-yeon took her life. She knew there was no going back and that she would never live a happy, normal life with the man she loved. Seok-hoon said he didn't love her, and she always knew it, but she finally lost hope that he ever would. She knew her life would most certainly be spent in a jail cell, and she chose to go out on her own terms. I can actually respect that. It's a credit to both actors that we felt the tragedy keenly, when Seok-hoon had his change of heart only minutes too late to save her.
But though I loved Mask for its wonderful characters, I can't forgive its habit of dropping bread crumbs that led to nowhere. So much of what got me hooked and kept me fascinated was the anticipation of discovering the truths behind all the delicious hints, and I feel cheated that they were just never addressed. It's lazy storytelling, and it's not fair to your viewers. Were Ji-sook and Eun-ha somehow related (remember the dead sister?) or were they true doppelgangers? Why did Seok-hoon want Min-woo to die so badly if it was his father he wanted revenge on? Who the heck was Scar and why was he so devoted to Seok-hoon that he'd let himself be caught? And as for the hints we were given that were cleared up, I felt the answers were weak at best. For example, why did Papa Choi never once tell Min-woo about the night his mother died? You'd think he'd have wanted his son to know it was a mistake. And the missed opportunities for dramatic tension, such as the teasing that Seok-hoon might start to fall in love with Ji-sook (or at least confuse her with Eun-ha) and cause him to become conflicted about using her, then just never doing anything with that. What a wasted opportunity, when we could have seen Seok-hoon descend into the satisfying trap of madness that he tried to create in Min-woo. I still want to see that drama.
I think it's just that the show had so much potential, and we were all on the edges of our seats for weeks waiting for all that potential to blow up into some amazing, thrilling storytelling. But instead everything just fizzled out, and we were given a nice little happy ending in the hopes that we wouldn't notice that nobody was ever in much real danger. I do think that for sixteen episodes, the show was great, and there's no doubting that Min-woo and Ji-sook made for a great romance story. They were perfect bookends for each other, and I'll always love how Ji-sook got to be the knight in shining armor to Min-woo's damsel in distress. I'll try to remember how much I've loved them when I think back on Mask, and I will definitely have fond memories of the show, though I'll mourn the show that could have been.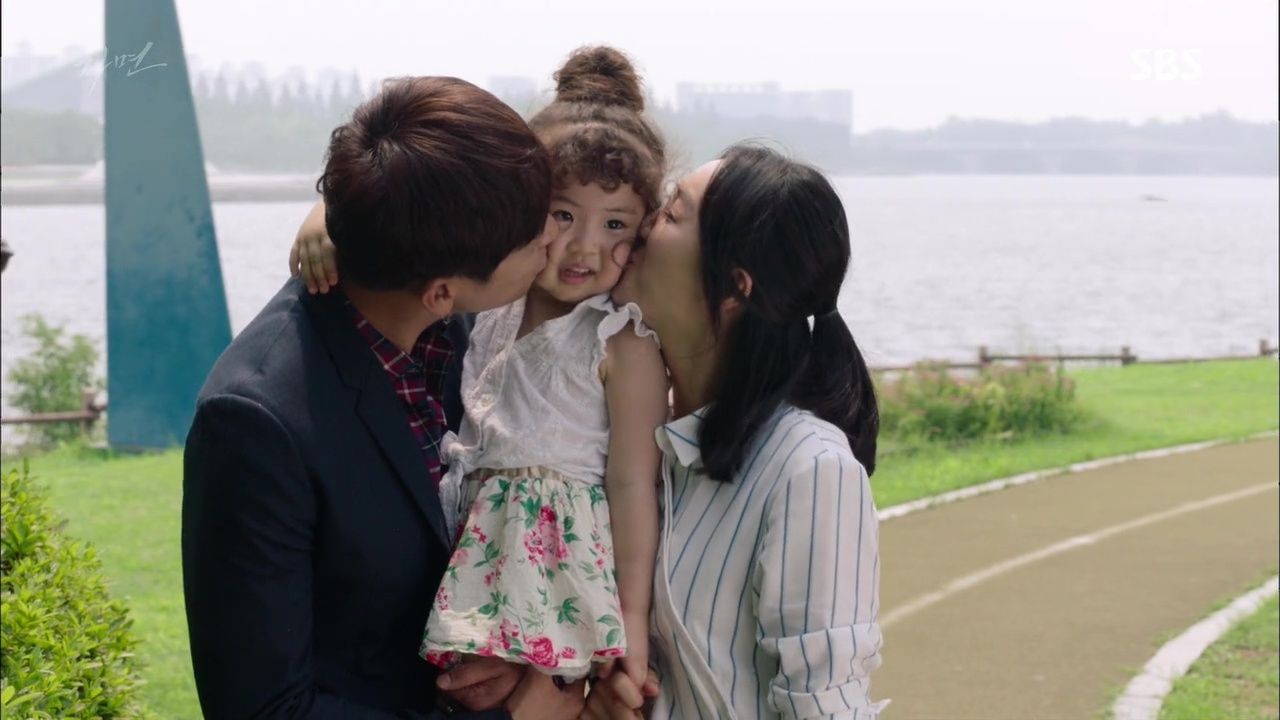 RELATED POSTS
Tags: featured, Joo Ji-hoon, Mask, Su Ae, Yeon Jung-hoon, Yoo In-young