Twenty Again: Episode 14
Oh, schoolyard romance hijinks, there you are! Cute makes a comeback (not that it ever really left) as our heroine struggles to hide her feelings… in the most obvious way possible. Not that I could blame her. She also gets some amazing support from the people around her when she really needs it, as she faces an unknown future and a new chapter in her life.

SONG OF THE DAY
Rocoberry – "괜찮아, 청춘" (It's Okay, Youth) [ Download ]
Audio clip: Adobe Flash Player (version 9 or above) is required to play this audio clip. Download the latest version here. You also need to have JavaScript enabled in your browser.

EPISODE 14 RECAP
Nora leaves the courthouse after finalizing her divorce and doesn't look back as she walks away from Woo-chul. She heads straight to Grandma's ddukboki place to eat a plate quietly on her own, while Woo-chul watches solemnly as Min-soo packs a suitcase into the car.
But it turns out that Woo-chul is the one leaving home. Min-soo holds the door open for Dad and tells him not to worry about him and Mom, and Woo-chul drives away slowly while gazing at his son's reflection in the mirror.
Nora goes home and takes out an old box of drawings, which are old notes passed between her and Grandma. They're of the same type that the ddukboki recipe was drawn in, like a series of cartoons that tell a story. This must've been their secret code with each other. She cries as she reads them one by one, thinking of Grandma and missing her.
Min-soo sits down next to her and tells her not to worry about him—he's going to study hard and take responsibility for his life, so she has to live well too. He throws a comforting arm around her, and suddenly seems so grown up. She fights back tears and says she's sorry and grateful.
Woo-chul takes his suitcase to a hotel, and the next day Yi-jin hears about him politicking his way into a rival university's psychology department. She can't believe he'd go that far, and gets on her phone to ask about the "people in that picture," pulling up the photo that led to the bribery scandal that got Woo-chul his job at Woocheon in the first place.
Yoon-young is surprised to see that Nora is already packing up the house, but she says that she wants to be prepared as soon as the place gets sold. Yoon-young asks if Woo-chul went to his mistress, but Nora never asked about that and doesn't care to know.
Once the house sells, they're each going to find smaller places to live, and the store they own will be transferred into her name. Yoon-young worries about them not doing that paperwork before the divorce, but Nora says he's not the type of person to break that kind of promise when it involves his son.
Yoon-young is still angry about Grandma's funeral, but decides that she's rather grateful to Woo-chul for at least ending things cleanly. You and me both.
Nora is happy to go to work at Hyun-seok's office today, hoping that it'll keep her mind off of things. But she's subdued all day, and Sang-ye worries that she's ill. Hyun-seok tries to get her to come out with them when their production crew heads out for drinks, but Nora says she's just tired and plans head home after cleaning up.
The other directors ask when Sang-ye is going to debut, and Hyun-seok says her production will be their next project after this one. She looks equal parts excited about debuting and sad about leaving Hyun-seok once her days as an assistant are over.
Hyun-seok forgot his phone at home and asks Sang-ye to call Nora so she can join them for dinner, and Sang-ye's face falls as she heads outside to make the call. She hesitates though, and comes back to say that Nora's already gone home. Oh no, Sang-ye, don't go dark side on us now!
Except she hasn't—Nora is still cleaning up at the office and looking much worse than before. She looks like she's running a fever and can barely stand.
When Hyun-seok gets back later that night, he finds Nora asleep on the couch and burning up from a fever. He runs around to get her a pillow and blanket, and makes her some porridge so that she doesn't take her medicine on an empty stomach.
He tries to nudge her awake to eat, but Nora calls out for Grandma over and over while crying sorrowfully. Hyun-seok doesn't want to wake her if she's meeting Grandma in her dreams, and tells her to see Grandma while she can.
Nora hears Grandma telling her to eat porridge so she can take her medicine, and complies like a little girl. But we see that it's Hyun-seok who's cradling her in his arms to spoon-feed her tenderly.
He feeds her medicine and tells her to sleep a little more, and then it's morning when Nora stirs awake, feeling much better. She's shocked to find Hyun-seok asleep on the couch next to her, and then looks around at all the sick supplies.
She realizes that it wasn't a dream after all, and it was Hyun-seok taking care of her the whole time. She looks over at him again, this time with a little smile on her face. She tentatively reaches out a hand to sweep his hair out of his eyes, and he smiles at her touch, though he seems to be asleep.
Nora suddenly realizes what she's doing and pulls away, and runs out of there like the building's on fire. The door slams behind her, waking Hyun-seok, and he races outside wondering where Nora ran off to.
He gets her on the phone just as he reaches the street and sees her getting into a taxi, and is confused when she lies that she's already at home, and that she left at three in the morning.
Nora says she's feeling better now and hurriedly hangs up, and then berates herself for losing her mind and touching Hyun-seok's hair like that. Heh. She clamps a hand over her thumping heart and decides she's really gone crazy.
Hyun-seok stands in the street wondering why on earth Nora would lie about something like that. But then he wonders if that touch he felt was real: "Could it be?" Eeee, he knows? He breaks into the best shit-eating grin ever: "Ha Nora, you…"
Sang-ye arrives at work in the morning and can tell from one look around that her lie totally backfired on her. She cringes as Hyun-seok comes back in, and though he ignores the issue altogether, she apologizes anyway. All he says is that once this production is done, they'll prepare for her debut.
Min-soo gets called away from studying by Hye-mi, who texts that something urgent has come up. But when he comes out, she suggests an overnight trip with another couple. He tells her that he has to focus on his studies right now, which he thought she'd understand since he told her about his parents.
She pouts that she planned this trip because she thought he needed to relieve some stress, but he says that going would actually give him more stress. Can they break up now?
For some odd reason, Woo-chul texts Hyun-seok to meet, and tells him right away that he and Nora are divorced. Well, thanks! That was mighty helpful of you.
Hyun-seok's shocked reaction proves to Woo-chul that Nora didn't say anything to him because she has no interest in him romantically, and Woo-chul makes his intentions clear: He gave Nora a divorce so that they could start over, and he intends to win her back.
Woo-chul tosses it out like a challenge, and says that they can make an actual love triangle now. That's a weird thing to be saying to your rival. Hyun-seok scoffs that love isn't a game, but Woo-chul is convinced that Hyun-seok is scared now.
Hyun-seok smiles to himself when he sees Nora standing on the bridge outside of class, pacing like she can't decide whether she wants to go in. He calls her name and marches ahead, making her step backwards as he nears.
She freezes up when he puts a hand on her forehead to check her temperature, and thanks him awkwardly for nursing her back to health last night. He asks if she had a hard time, now knowing what she went through yesterday, but she says he had it rougher because he took care of her.
She runs off to class, though he points out that it's his class she's running to. Hyun-seok gives out his final group project, which is a reenactment of one moment in your life. He tells them to think of a moment that changed the course of your life, that you might regret or just want to relive.
He says that everyone has those pivotal moments, and that his was a person, and looks right at Nora as he says it. He tells the class that there's a famous saying, that there are two types of people in the world: those who can recognize those pivotal moments, and those who can't.
Nora and her team sigh over their lack of ideas for their final project, and Soon-nam worries about managing this on top of his other finals. Nora asks why he's majoring in business when it has nothing to do with dance or civil service, and Soon-nam says it's just to raise his chances at getting a job. She thinks to herself that Min-soo is on a similar track.
Hye-mi sulks about Min-soo refusing to go on their trip, and her friend says she never expected him to go. They notice a posting on the student website warning people to beware of a certain Professor K who didn't rightfully earn his position at their school.
Nora wonders to herself what she's doing in school when she has no plans for her future, and is so lost in thought that she doesn't notice her shoelace is untied. Woo-chul stops her to point it out and stoops down to tie it for her.
Ha, he takes extra care to show her his broad back while doing it, because she mentioned that that's why she fell for him. She didn't mean it literally, dude. He tells her to call if she needs light bulbs changed or anything like that, though she points out that he doesn't know how to change them either.
She walks away, and Woo-chul stands there willing her to look back in his direction just once. In the end she does, though it's because she remembers that Woo-chul was the reason she came to college in the first place, which gives her food for thought.
Woo-chul thinks back to their blowout fight over Grandma, after which we see that he signed the divorce papers. He says that he doesn't have a leg to stand on after being found out for keeping her from Grandma's funeral, and knows that he has no right to hold her. He gives her the divorce as his self-proclaimed penance, and sighs at the necklace he bought but couldn't give her.
Back in the present, he watches Nora walk away and says to himself, "Love comes back," and cheers himself on. Um, I feel the need to point out that Hyun-seok loved her first. Just sayin'.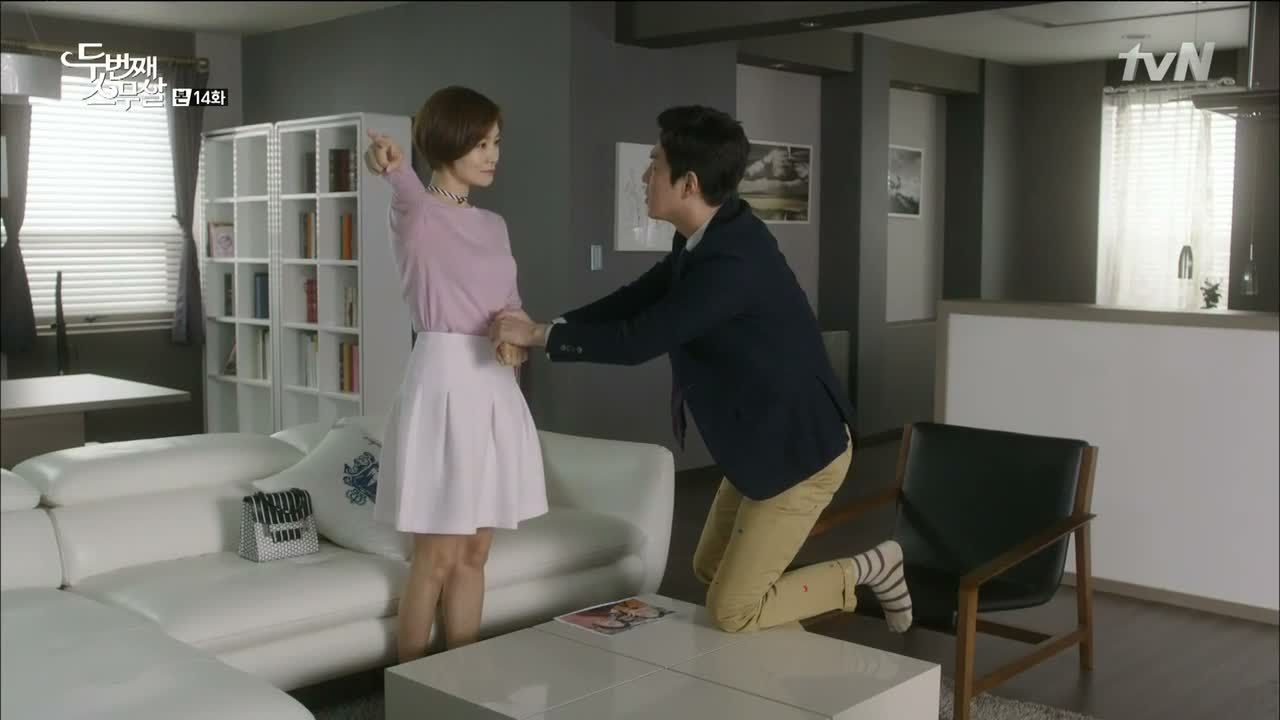 Woo-chul gets an email from someone blackmailing him with that bribery photo, accusing him of staging the previous Woocheon professor's bribe so that he could get him fired. He runs to Yi-jin to beg for her help, and she scoffs that he's nothing to her now. She tells him that she's throwing him away this time so Nora can have him, and Woo-chul begs on his knees.
But that turns out to be her imaginary revenge scenario, and in reality she sits there waiting and wondering why he's not showing up. Woo-chul is still frozen at his computer, reading the countless comments and theories that he's Professor K.
He didn't actually do what they're accusing him of, but he imagines the rumor escalating until it's headline news and the other university shuns him, and the prosecutor's office comes to investigate him.
Hyun-seok and Sang-ye are still struggling to find a title for their production, and Hyun-seok prods Nora for an idea citing all the meat she ate on their camping trip. Nora suggests "Finding Lost Time," and Hyun-seok beams to finally have a title he likes.
Nora is adorably jumpy around Hyun-seok all day, getting flustered when he leans in close to praise her. She runs away to the bathroom and fans her flushed face in the hall.
Hyun-seok is just having fun teasing her now, which is surprising to absolutely no one. He sees that she's avoiding eye contact and purposely gets in her way, asking if she's choosing not to look at him or can't look at him.
He points out her flushed face and asks tauntingly, "Why is your face red?" He suggests that maybe he's making her all crazy, and she snaps that that's not it at all. She tells him to go left on the count of three while she'll go right, but then of course they end up in each other's way again because they're facing each other. Their schoolyard flirting is so cute.
She finally pushes him out of the way, but he pulls her back to give her a book and tells her that she can read or study here because the office will be empty. She doesn't see why she'd stay here instead of going home, and he pouts, "Do you dislike being with me that much?" She blurts, "NO!" so quickly and vehemently that they're both caught off-guard, and Hyun-seok smiles.
Woo-chul goes to a real estate agent to put the store he and Nora own up for sale. Ugh, you mean the one that's supposed to go to Nora in the divorce? He urges the agent to sell it as quickly as possible, because he's in a big hurry. Yeah to save your own ass, assface!
Yi-jin paces and checks her phone for the millionth time, wondering why there's no word from Woo-chul. But then she gets a call alerting her that Woo-chul agreed to pay the email blackmailer, and she screams in frustration.
Hye-mi asks Min-soo to choose between her and studying, which he calls preposterous. He asks why she can't be more understanding, while she complains about always coming last in his priorities.
He doesn't see what kind of future she's going to have if she spends college partying, while she counters that doing everything for the sole goal of getting a job doesn't seem all that bright a future to her either. She asks what he's doing all this for and why he lives this way, and tells him to study if that's what he wants. They agree to break up and go their separate ways.
Min-soo drowns his sorrows in soju and hears his father's voice reminding him that he has to be more successful than everyone else. Hye-mi's questions linger too, and he wonders aloud why he lives this way.
Nora reads the book that Hyun-seok gave her, which opens on the thought that the past doesn't dictate one's future—it's the way we interpret the past that shapes it. She gets a call from Sang-ye's phone, and a man says that Sang-ye is drunk so he called the last number dialed.
Nora runs to the bar where Sang-ye is many bottles in, rambling on about how she did something really petty. She apologizes to Nora and says that she thought she could do it—like Hyun-seok on her own. She knew that he didn't think of her that way, but she thought she could just like him and hold onto her feelings.
But she cries that she's been found out, and that means she broke the unwritten rule that makes it possible for her to stay by his side. Nora just listens silently. She tries to get Sang-ye to wake up when Hyun-seok calls, but Sang-ye turns off her phone and says he's not worried about her in the way that Nora thinks.
In the morning, Sang-ye is horrified to wake up in Nora's bed. Nora sets the table with hangover soup and assures Sang-ye that she didn't say anything much last night. Min-soo joins them, also hungover from last night, and is very interested in why Sang-ye chose to become a theater director when it's such an unstable future.
Sang-ye says that all futures are unstable in their own way, so she just chose what she wanted to do, and what makes her happy today. Hyun-seok notices that Sang-ye is still wearing yesterday's clothes when she gets to work, but she doesn't offer an explanation.
Nora takes a walk contemplating Hyun-seok and all the things he's done for her, then Sang-ye's feelings, and her own reality as a mother with a twenty-year-old son. She tells herself to get it together, clearly thinking that she has no future with Hyun-seok.
Yi-jin has hired a background check on Woo-chul and fumes to find out that he's already divorced and never told her. Meanwhile, Woo-chul's plans to get hired at the other school are going well.
He decides that all he has to do is make this bribery rumor go away, and meets the blackmailer that night. He makes her sign a contract and hands her a cake box with the money inside, and doesn't notice that someone is taking photos of the exchange.
Nora goes back to the children's theater to apply for the part-time position, and asks to work on weekdays as well. It turns out to be the place that Hyun-seok's sunbae runs (so he totally bought that suit just to get her there, ha), and he gets a call about how great Nora is for what they need. He's surprised that she asked to work all week long though, and calls her to ask where she is.
Nora doesn't tell him, though he can hear Dong-chul in the background and can tell right away that she's at the ddukboki shop. She watched the store for the afternoon while Dong-chul went to an audition, and she cheerfully tells him that she'll cover for him if he ever needs her again.
Hyun-seok storms in and drags her out by the wrist without a word, which seems entirely unnecessary. He takes her to the playground nearby and asks angrily why she agreed to work all week at the children's theater when she's supposed to be working for him.
Nora asks if he took her there on purpose, but he tells her not to avoid the question and wants to know why she keeps wanting to quit. She says that she isn't really needed there, and he argues that he's the one who should determine that: "I need you."
He tells her to cancel her request to work weekdays at the children's theater, and she refuses, insisting that she can make up her own mind [and heart—the word is used both ways]. He asks if she really knows her own heart: "You're doing this because of me! You're avoiding me."
She denies it rather unconvincingly, and asks why she'd be avoiding him. Hyun-seok: "Because you like me." Omo you're just going to say it like that?
He argues that if she likes him, she should just like him and stop being avoidy. She sputters that he's talking nonsense, but he just continues, "Why didn't you have love on your list of things to do before dying? Why would you avoid an opportunity for that? You want to do everything else, but why do you avoid that?"
Nora can't even look him in the eye and spits back, "Love? What a preposterous thing to say!" So he counters, "And if I like you too?" Aaaaaaah! She looks up at him wide-eyed, and he takes a step closer: "If I like you too, is love still preposterous?" Nora hiccups twice as her answer, and clamps a hand over her mouth.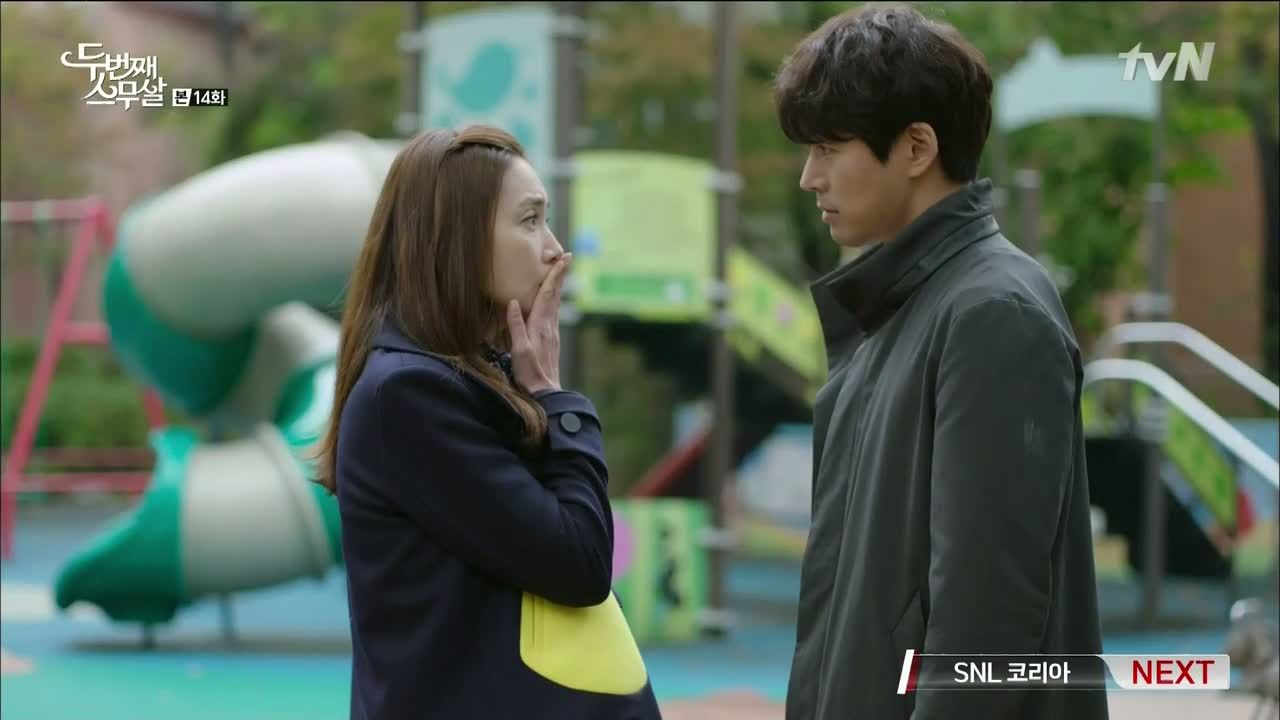 COMMENTS
That's adorable. It seems fitting that they'd get their feelings out on a playground, given their maturity level. I'm a little annoyed at Hyun-seok for trying to tell her what to do (she's free to make her own choices, no matter how much fairy-godmothering you do behind the scenes to help her along, buddy), but he redeems himself a little in this instance because he can see through her attempt to avoid him and calls her out on it. If she actually wanted to quit for a good reason, I don't think he'd fight her on it, but he already knows that she likes him and is trying to avoid the issue by running away.
I really enjoyed how quick he is on the uptake when he discovers Nora's feelings (or is she just that bad at hiding them?), and despite the teasing being really fun, it's nice to see someone being so direct about his feelings when it counts. Personally I think it's stranger that Nora never even considered that he still likes her, but I love the comedy we get from her confusion and flushed cheeks and flustered babbling. Part of me is a little sad that he didn't get to mess with her a little longer (she's just too cute), but for the sake of the romance it's nice to have everyone's feelings out there before the final week.
I fully expect Woo-chul to go down in flames thanks to Yi-jin, though I'm pissed about him selling the store that was promised to Nora. Just when I'm ready to give him credit for agreeing to an amicable divorce and feeling genuine remorse over Grandma, he goes and chooses the selfish thing again, at Nora's expense. How typical. I can't believe he thinks he still has a shot at winning Nora back on top of it all, though it's amusing to see how little Hyun-seok cares. I wonder if Dad's downfall will have an impact on Min-soo's struggle to decide his future, though honestly all I really care about is that he's being a better son to Nora. It was nice to see him offering genuine support and rooting for Mom to focus on her own life.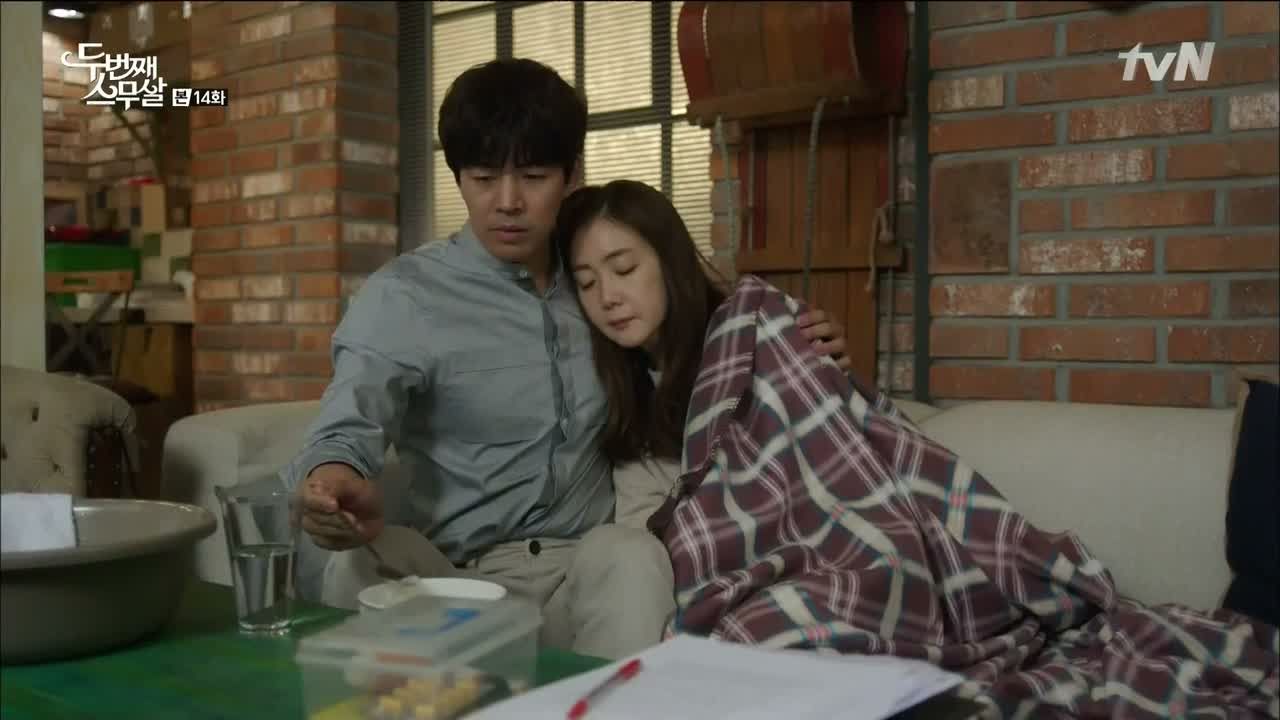 There's a nice setup in place for Nora to look to her past to discover the future that she wants for herself in the final two episodes. I'm curious about all aspects of her future—college, jobs, dreams, goals—and it's fitting that she falls in the same category as most college students who are still struggling to find themselves and reconcile big dreams with reality. I like that the original bucket list theme comes back around with Hyun-seok's approach to the confession at the end, when he asks why she didn't include love as one of the things she wants to try before dying.
Nora assumes that ship has sailed, of course, but I'm looking forward to all the ways that Hyun-seok will convince her that it's never too late. He was the one who pushed her to dance and not to let her age stop her from doing what she wants, and there's a nice parallel with her already having feelings for Hyun-seok, but just not believing that love is an option for her at this stage in life. It's what I've always appreciated about their relationship from the start. He never tries to change what it is that she wants—he gives her the confidence to go for it, be it dance, marriage, divorce, or otherwise. And now (hilariously), him. I suppose he could be jumping the gun in assuming that, but c'mon, she was a goner the second he spoon-fed her and nursed her back to health, right?

RELATED POSTS
Tags: Choi Ji-woo, Choi Won-young, featured, Kim Min-jae, Lee Sang-yoon, Twenty Again