Village: Secret of Achiara: Episode 13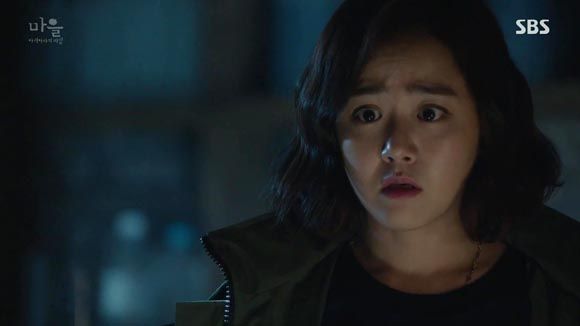 So-yoon persists in digging and digging, despite the fact that nearly the whole town is determined to stonewall her. She may not be the shrewdest investigator around (her tactics can be aggravatingly clumsy), but persistence does pay off, and anger fuels boldness. Watching her in action feels a little like throwing eggs to chip away at a boulder, but the cracks do start to form in the town's armor of silence, and the more dirt she uncovers, the closer we get to the truth.
SONG OF THE DAY
The Koxx – "Heart and Mind" [ Download ]
Audio clip: Adobe Flash Player (version 9 or above) is required to play this audio clip. Download the latest version here. You also need to have JavaScript enabled in your browser.

EPISODE 13: "Monsters"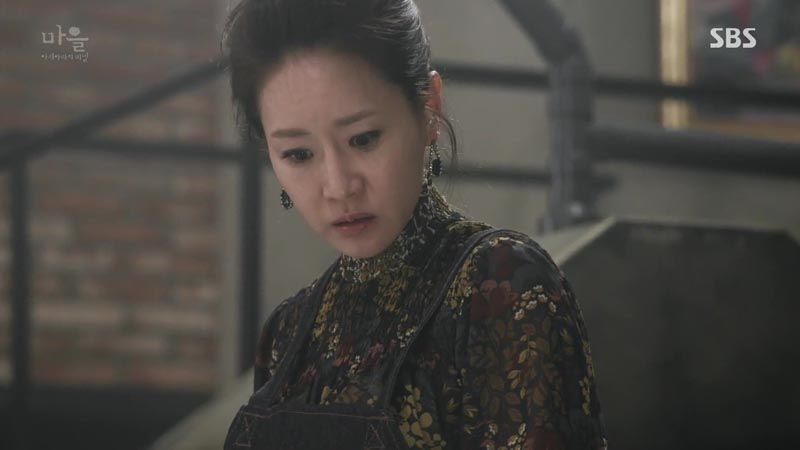 So-yoon asks Ji-sook if she's ever for a moment thought of Hye-jin as deserving of pity. Ji-sook thinks back to when Hye-jin had come to beg for her help, swearing not to tell a soul about it, asking only that Ji-sook save her life.
Ji-sook had cast off her pleas, asking blankly, "Why should I? Why do I have to save you?"
She tells So-yoon that a stranger came asking for an organ, scoffing at the absurdity of her request. So-yoon fires back that Hye-jin was her blood sister, coming her as a last resort to find her kin. She asks for the reason Hye-jin went to the lake right before dying, guessing that Ji-sook called her there, where she was then killed. If that's wrong, then tell her the truth.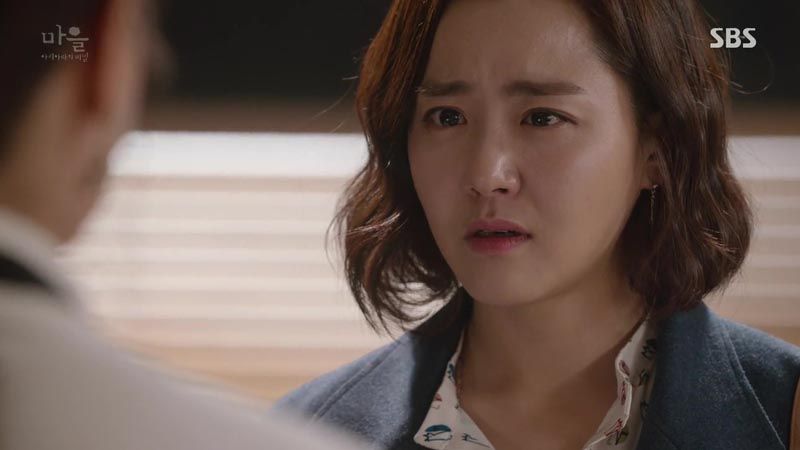 Ji-sook says that the only thing she's guilty of is being related to Hye-jin: "Because of that, she blackmailed me, stole my husband, and now gets me treated like a murderer."
So-yoon says she only wants to know the truth. That sets Ji-sook off as she notes how she's just like her sister. Her face twists as she screams, "What's important about the truth? What's so important about something that shatters the lives of people living calm lives?!" She says nobody cares, and nobody's curious—So-yoon's actions only cause trouble for others.
Ki-hyun picks Yoo-na up from her hospital escape and takes her to So-yoon's apartment, where she falls asleep. So-yoon joins them there and relates what Ji-sook said, saying that she's starting to understand how angry Hye-jin felt.
After stumbling on that Romance World website, Woo-jae shows it to Detective Choi, sure that the creepy page is related to the killer. Detective Choi, however, has found more pertinent information—namely, that the killer appears to be using an online cafe to write about his murders. The writer is "Sweet boy," and he's calling it his "SB Diary."
Nothing is explicit, of course; he writes in vague terms about things like "I have a feeling I'll have a thrilling meeting today." However, the police have been able to see how the postings' IP addresses and dates coincide with killings. They've figured out a way to communicate with Sweet Boy online via the used books sales, and we see that Agasshi is indeed Sweet Boy, always using a different computer in a different PC room to evade tracking.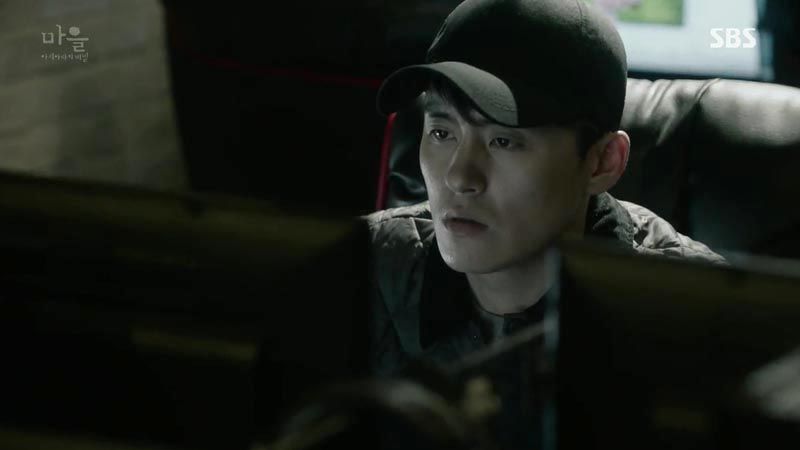 For instance, one of Sweet Boy's postings uses coded language to say, "The book is ready. Taking orders now." Detective Choi replies online, "This time should be fun, right? I'll place an order."
Woo-jae deflates to see how far the police investigation has progressed without him, and says his walnut tree clue isn't very significant in the scheme of things. But Detective Choi tells him that no clue is unimportant, and you never know when something you thought was small could turn up to be useful. Aw, he's totally taken Woo-jae under his wing.
So-yoon goes to the lumber mill to ask if anyone came by two years ago. The carpenter's wife explains that they moved here recently, and gasps in fright when So-yoon explains that she thinks the mill was Hye-jin's last destination before dying. So-yoon looks out the window and sees that the view is clear—if Hye-jin had been standing out in the field as Agasshi thought, wanting somebody to see her, someone standing in the mill would have certainly spotted her. The wife looks alarmed at the thought… though why do I find her suspicious?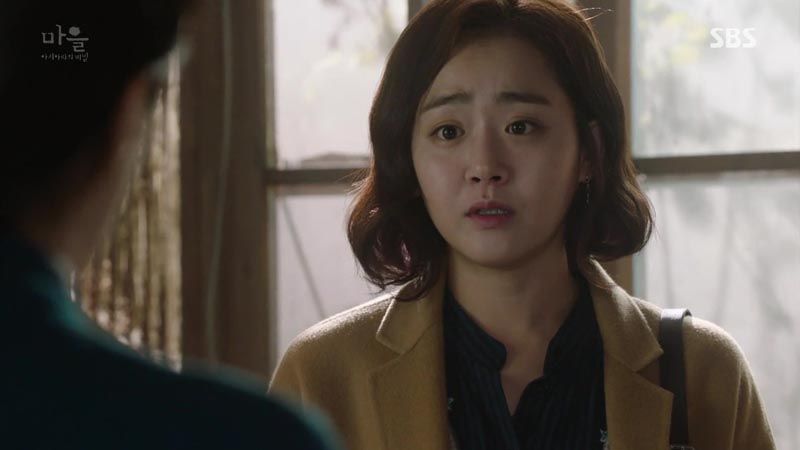 The wife tells the carpenter about So-yoon's visit, and his face darkens. She asks about his hospital visit, and if he's holding up, but he doesn't answer.
In the basement of his shack, Agasshi concocts what looks like homemade drugs in his personal laboratory. He heads up to let in So-yoon, who drops by to ask about the video he sent her, thinking he must know something. She's disappointed when he says he doesn't, that he only sent it because she might want to see her sister, and he clocks her glum reaction. Hye-jin was sad too, he says, sighing that she died before she could be made happy. He tells So-yoon he hopes she can become happier.
He insists that she stay for a drink, and as he prepares snacks, he pulls out a syringe and injects a beer can with its contents. Aw, Agasshi, I really don't want you to be evil.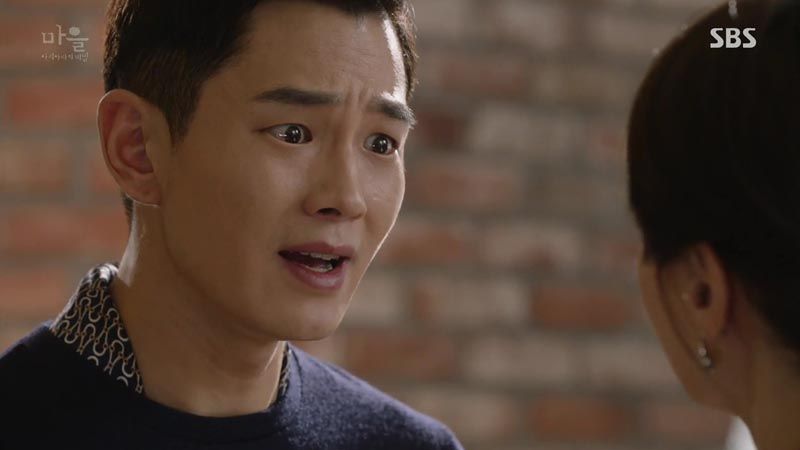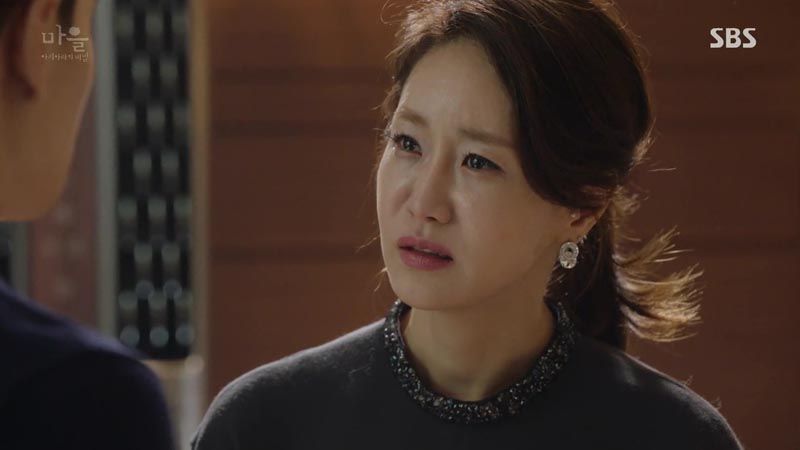 Ki-hyun takes Yoo-na home, then confronts Ji-sook about her locking up her own daughter. He threatens to tell everything he knows—about her, Hye-jin, all of it—to Grandma if she doesn't leave Yoo-na alone.
Ji-sook plays the victim, sounding wounded as she says he's jumped to scorn her without trying to understand. She says she was so terrified of being kicked out of the family when Hye-jin showed up that she was just trying to protect her family. Ki-hyun doesn't buy it, appalled at her lack of sympathy for her own sister. Ji-sook bristles, saying that a mere blood tie doesn't make Hye-jin her sister. After all, she isn't related to Ki-hyun but he's still her son.
But that doesn't work on him anymore, and he calls out her behavior as sheer selfishness.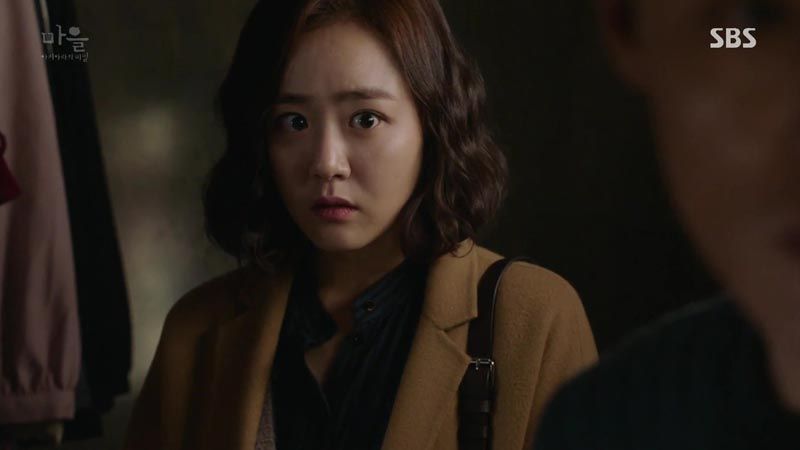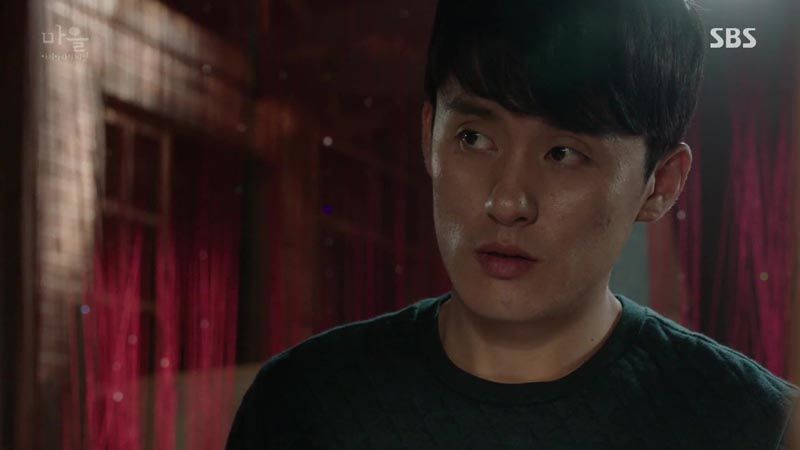 So-yoon looks around Agasshi's shack and notices the wall is bare now. He explains that he took the photos down because she didn't like them, and when he clocks her interest in the door, he tells her he's got a hobby laboratory. He even says that he likes to fiddle with medicines, and is working on a happiness drug.
He hands her the tainted beer can and waits in anticipation for her to open it, but the arrival of Woo-jae interrupts. He's here to ask about the walnut tree, and takes the opportunity to look around the bookshelf some more, asking if that used books website is Agasshi's.
Agasshi replies that he's just a frequent customer, and when So-yoon excuses herself, he tries to get Woo-jae to stay for a beer. He looks excited when Woo-jae pops the can open… then deflates when Woo-jae recalls he's on duty and sets the can down.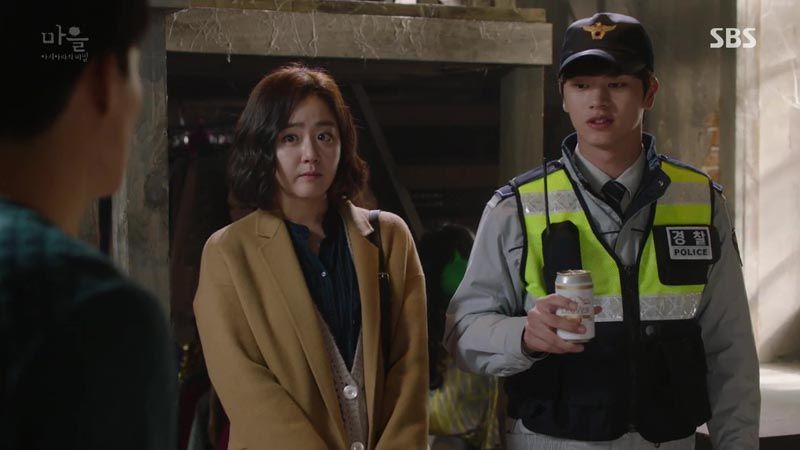 As they leave together, So-yoon tells Woo-jae about her curiosity about the lumber mill's former resident. She has a hunch that Hye-jin went there to see her father, the monster, and shares what she knows about the rapes dating back at least 30 years, and the possibility of more that they don't know about.
Both So-yoon and Woo-jae are unsure what to make of Agasshi, finding him suspicious but without a concrete reason to think so. He seems obsessed with Hye-jin and may know more than he's letting on, but is only teasing information in bits and pieces. So-yoon decides that her priority is to find out whom Hye-jin went to see at the mill, because he's sure to be connected to her death.
Gun-woo runs into the carpenter's wife and daughter in the park—and, ooh, he is in fact the carpenter's son. The wife tells him that his father's health isn't great and that he moved back to rest, and to get along better with Gun-woo. He says dutifully that he'll visit, but doesn't look thrilled about it.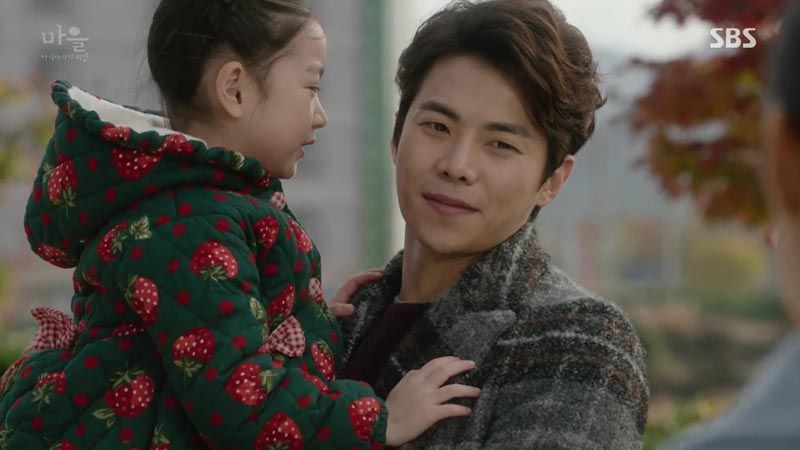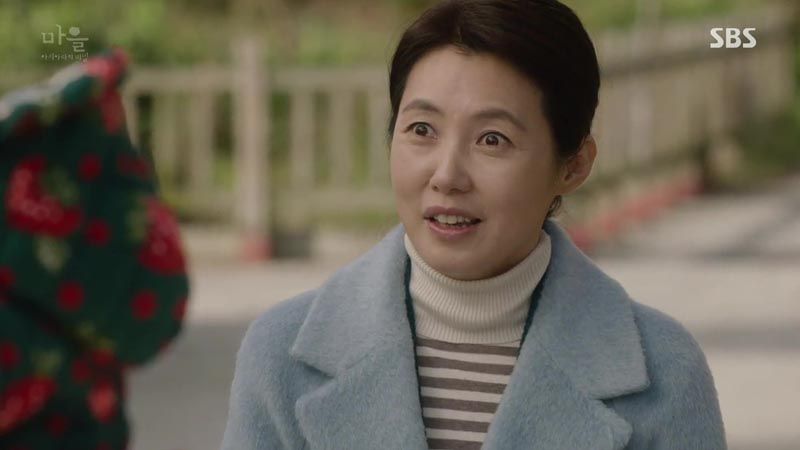 He goes to the hospital next to visit Ga-young, but hangs back when he sees So-yoon arriving ahead of him. So he's there to overhear the women's conversation as So-yoon asks about Hye-jin seeking out her father, wondering how she found him on such paltry information. Ga-young's mother says all she recalls is that song he whistled, and that Hye-jin heard that whistle at some kind of gathering. Hye-jin was able to find out that the man was from Achiara.
Sergeant Han continues staking out Chairman Noh, and watches him arrive at a building while talking to Woo-jae over the phone. The ambush comes so quickly that he doesn't have time to react as a team of gangsters rushes his car, drags him out, and pummels him in an empty warehouse.
Woo-jae arrives to meet Sergeant Han, and immediately knows from the abandoned car and dropped phone that something has happened. Thankfully, it doesn't take him long to find his battered sunbae.
So-yoon asks the medical researcher about gatherings of Fabry disease patients, and how she could find out who's involved. The researcher won't disclose the identity of the patients, but at So-yoon's earnest appeal, she agrees to check whether there is a man in his 50s or 60s with the disease. She points So-yoon to a hospital where such a patient is being treated, but won't give her any more information than that.
When she gets there, the carpenter's wife spots her in the lobby and ducks out of sight, looking nervous. So-yoon pretends to be a patient to see the doctor, then asks him for the man's contact information, saying that she knows a dying Fabry patient who needs to see her father. But the doctor has her escorted out.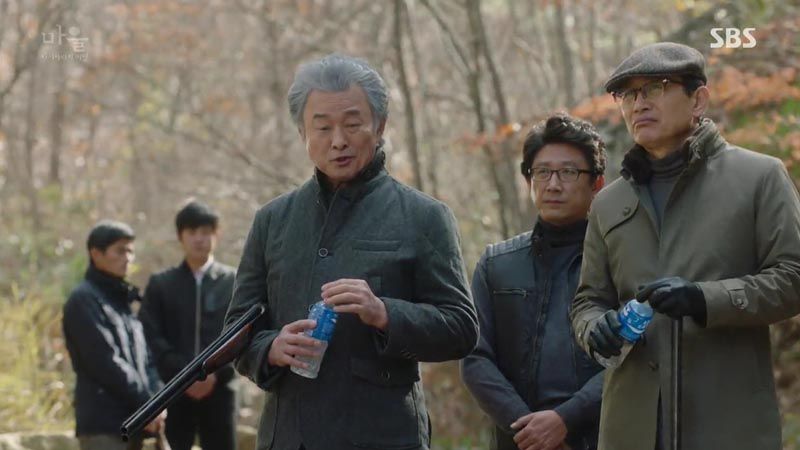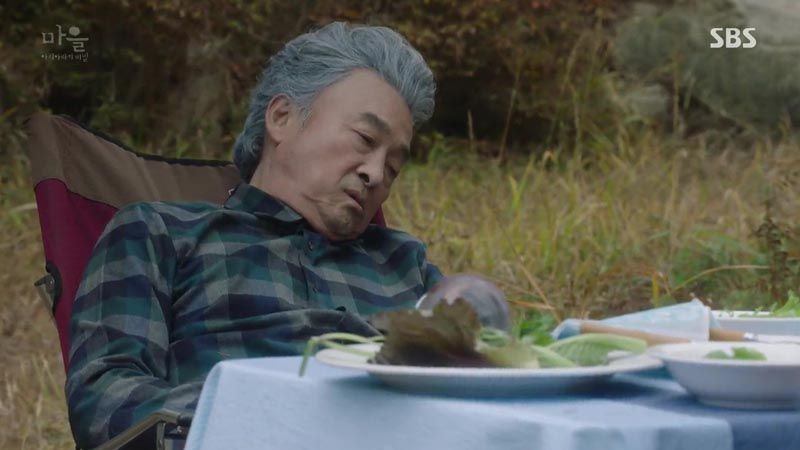 On a hunt with Assemblyman Seo, Chairman Noh chuckles over the cop he roughed up, saying that he only scared him to get him to back off—he doesn't like actually killing. That's why he didn't kill Hye-jin, he says, despite the assemblyman's requests.
Assemblyman Seo is shocked, having thought otherwise all this time. Chairman Noh clarifies that Hye-jin came to him two years ago to make a deal, promising to hand over the audio file (of Seo ordering the hit on her life) in exchange for locating her sister in Canada. He didn't see the need to kill a dying woman on her way out of the country, so he didn't. He reiterates that he doesn't like spilling blood, though the irony of saying that on a hunt is lost on him.
The chairman and assemblyman sit down to dine al fresco in the woods, and Assemblyman Seo has the other man's drink drugged. He and the chairman's secretary leave while the chairman sleeps it off, only to awaken a while later, abandoned in the woods.
Grandma sits down with her son to insist he cut Ji-sook loose now, arguing that it'll only get worse later. She says Ji-sook's nature is too cold-blooded, and despite the assemblyman countering that he's stuck with his wife fore the past twenty years, she advises that it's better to do it now than later.
Ki-hyun's investigator reports on his findings about Joo-hee being given ownership of the school, and then selling it off to a new owner. He confronts his parents with the information, and Assemblyman Seo seethes to hear Joo-hee's handed it off. Ki-hyun is angry that his father single-handedly gave away the school in an illegal deal, behind teh board's back, and shrewdly guesses that evidence of the kill order must exist for his father to cave to Joo-hee's blackmail.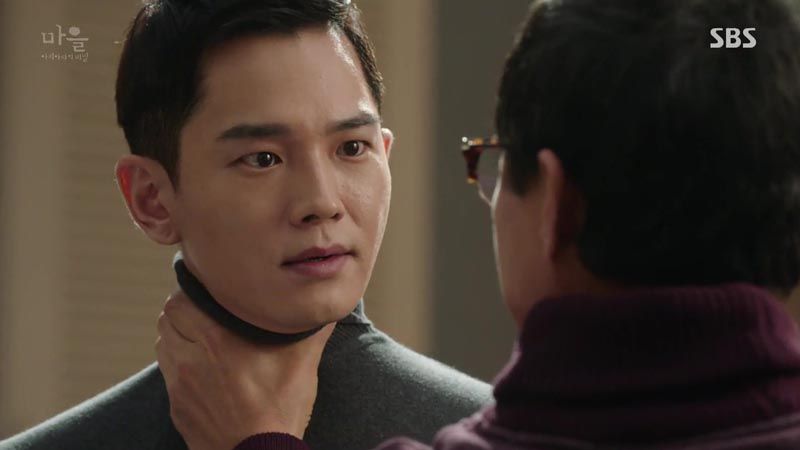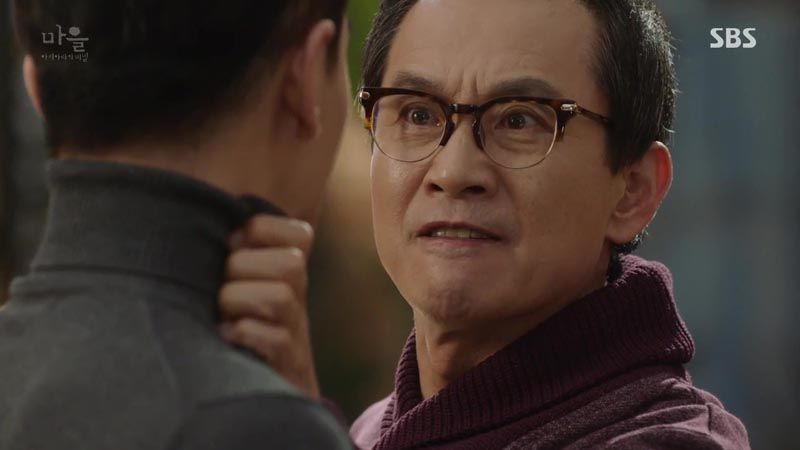 The assemblyman grabs Ki-hyun's throat and warns him to keep his mouth shut. Ji-sook, on the other hand, is more shocked that her husband knew about her being related to Hye-jin all this time.
She puts on her most contrite face and begs her husband to forgive her, crying that she was afraid he'd leave her, swearing to do anything he asks if he'll just let her stay. But he's seeing his mother's side now, and growls that he should have left Ji-sook two years ago as he wanted, if only for the election.
Ji-sook stiffens, turning it around on him, reminding him that he was the one messing with every woman in town. She vows not to be ousted, telling him that she's carrying his son.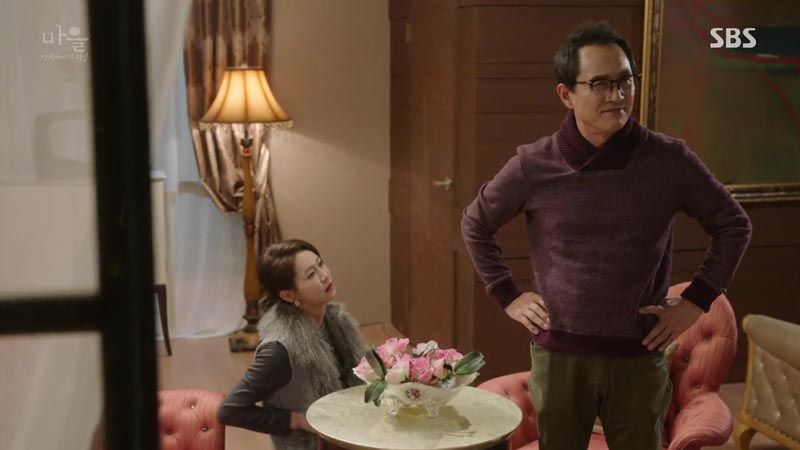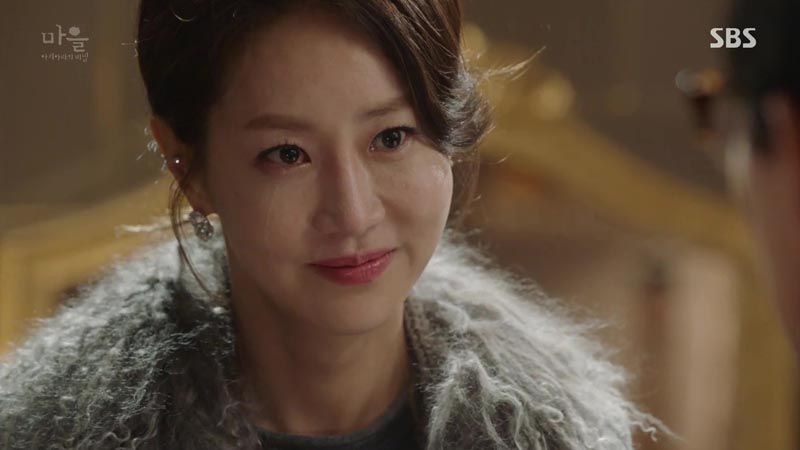 So-yoon seeks out Joo-hee for help, asking to see her mother. She appeals to her sympathy for her sister, saying she needs to track down Hye-jin's father.
It gets her to agree, and So-yoon then visits Joo-hee's mother to ask what she told Hye-jin to identify her father. As she presses her to share, Mom envisions that it's Hye-jin asking the questions, and starts to speak. But the only thing she says is "Yoo-na."
Yoo-na learns that Ba-woo is going away to a special school, and as they think back to the time capsule, he wonders where their belongings went. He doesn't think that was their capsule, pointing out that they'd put in their wishes—were the things in the box really Hye-jin's wishes?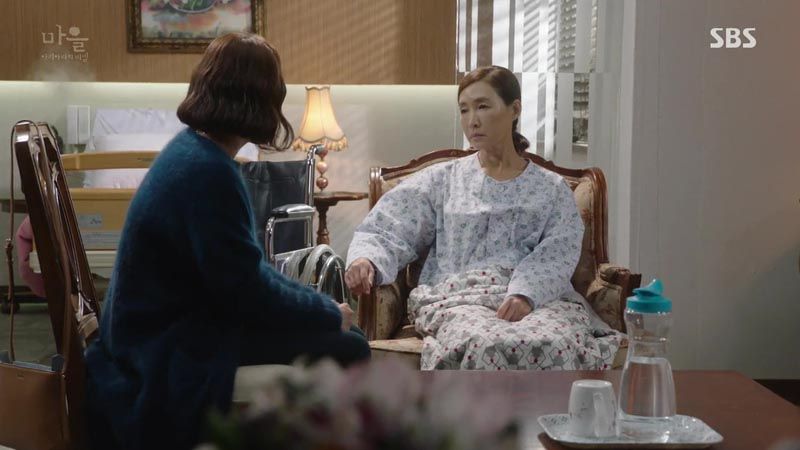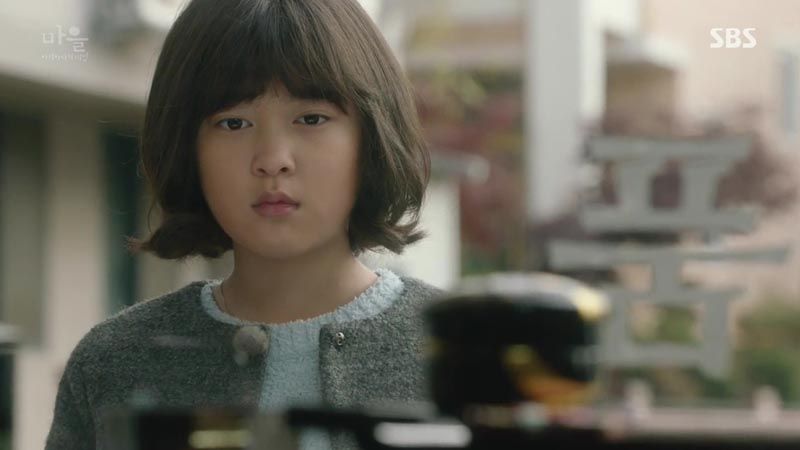 Yoo-na ponders that as she walks home, and comes across a storefront with various wooden objects in the window. It's the carpenter's new shop, and something about that box grabs her attention.
As Gun-woo sits with Ga-young in the hospital, she says ruefully that she should have listened to her mother about not being out at night. Mom had specifically warned her to be careful of a whistling man, and that's what she'd heard when she woke up. Gun-woo's face hardens as he puts two and two together.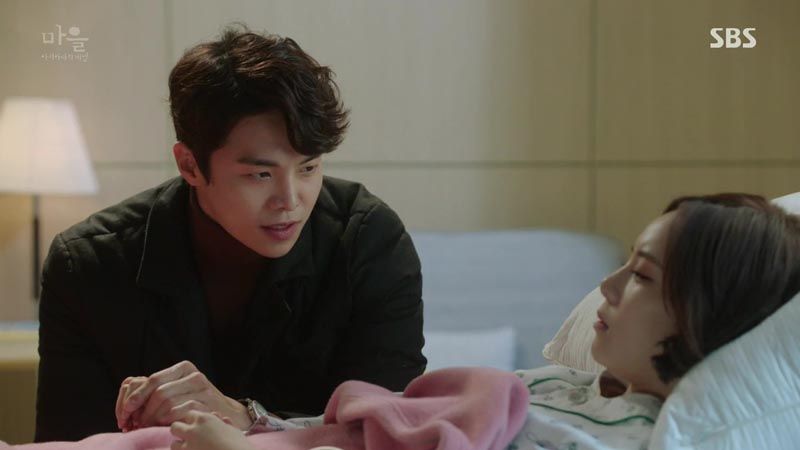 So that night when Joo-hee discusses her plans to move, he reiterates that he's not leaving. He explains that Ga-young has the same disease that Hye-jin did, and finally confirms for us that she's his sister. His father is responsible for everything, he says grimly: "I have to stop him."
Sergeant Han recovers from his beating, and tells his boss that the incident didn't have to do with the case and was a random fight. The boss has pulled some strings to lift his suspension, and chides him not to get in any more trouble.
Woo-jae informs him of a new complication, however: The chairman responsible for attacking him has died, after wandering the woods for two days. He wonders what they do now, and Sergeant Han sighs, "It's over."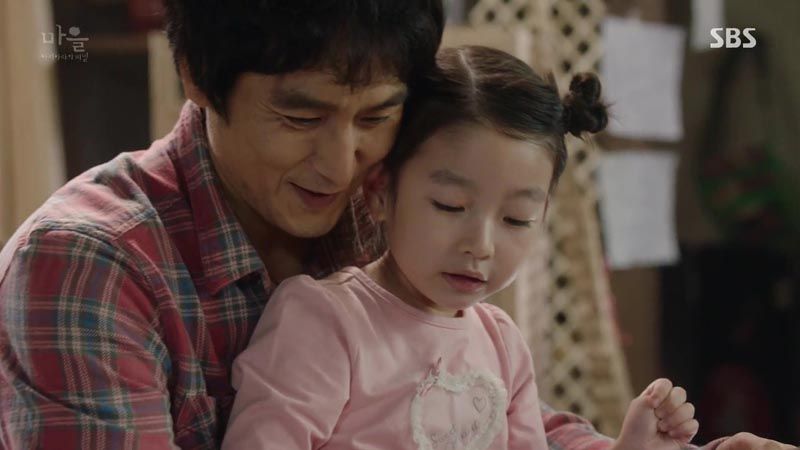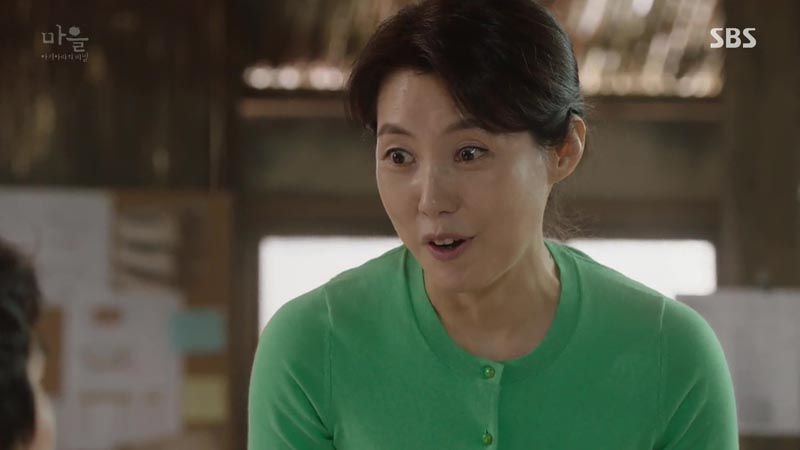 The carpenter's wife relays the good news that their daughter won't suffer too badly from her disease with proper attention, and when he apologizes for being responsible, she lovingly assures him not to think that way. But her face clouds as she wonders if "that person" will be okay, because they make her nervous.
That's when Agasshi arrives and asks the carpenter about his wife's lie—she'd told So-yoon the mill was empty two years ago, but he knows they were living here then. The carpenter asks what Agasshi wants from him, looking panicked and upset. Agasshi replies that he just wants to know what his relationship is to Hye-jin.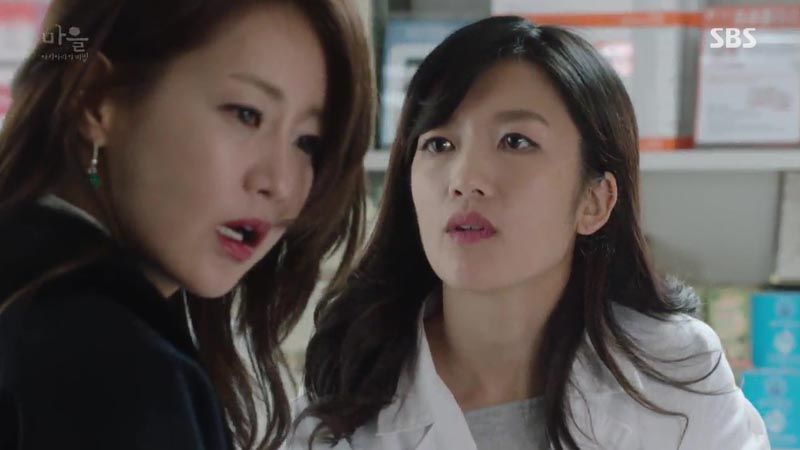 Ji-sook confronts her sister over her blackmail stunt and takeover of the school, particularly wanting to know how much her husband knows. Joo-hee scoffs at Ji-sook's absurd marriage where both sides know everything and pretend not to, then warns her big sister that there's something else she should worry about: So-yoon is out to find Hye-jin's father.
So Ji-sook goes to So-yoon, chastened this time, and begs her to stop digging. She says she's sorry to Hye-jin, but Hye-jin's already dead, and the living have to keep living. She offers to do whatever So-yoon wants, offering to set her up nicely in Canada or Seoul, which So-yoon flatly refuses. Once again, there's an echo of Hye-jin in So-yoon's determination, and that resemblance startles Ji-sook. "You're… just like a ghost," she sneers.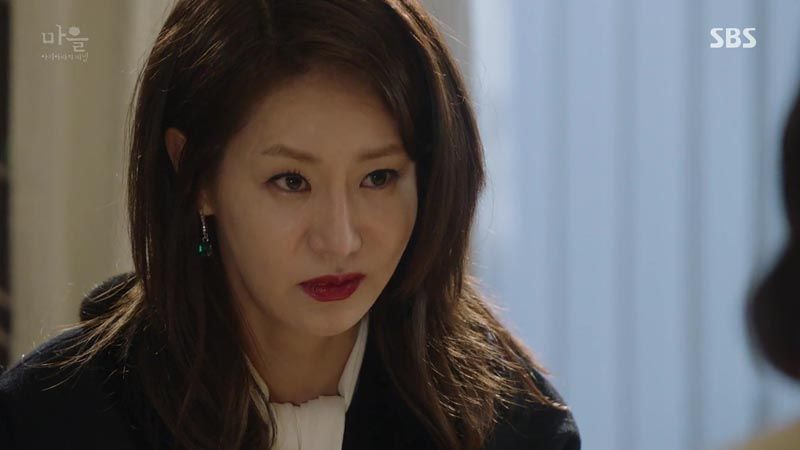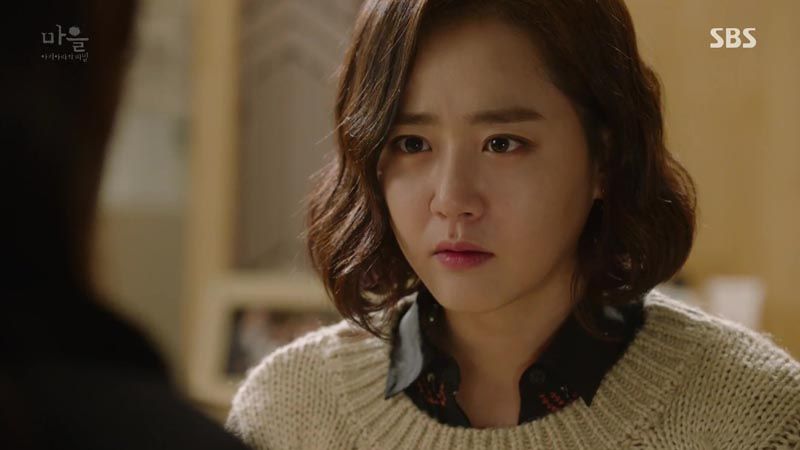 So-yoon asks Woo-jae for help tracking down the father, but he's unable to break the law to get that information for her. He promises to do his best to try, and goes to Detective Choi, who points out all the flaws in his argument. For one, there's no proof linking the hospital patient to the rapes or murders, so they can't just release his information on a suspicion.
The cops jump to alert when Agasshi responds to their bait regarding the book order they placed online. (We're operating under the assumption that the coded "order" is really a clue as to the next victim.) An IP address is traced to a certain city, and of the pattern holds, that means the next victim will be taken nearby. The cops move out, while we see Agasshi indeed fulfilling the book order. It's from "Sweet Boy," and as the clerk at the post office accepts the package, she sees the information and hits a silent alarm, having been forewarned.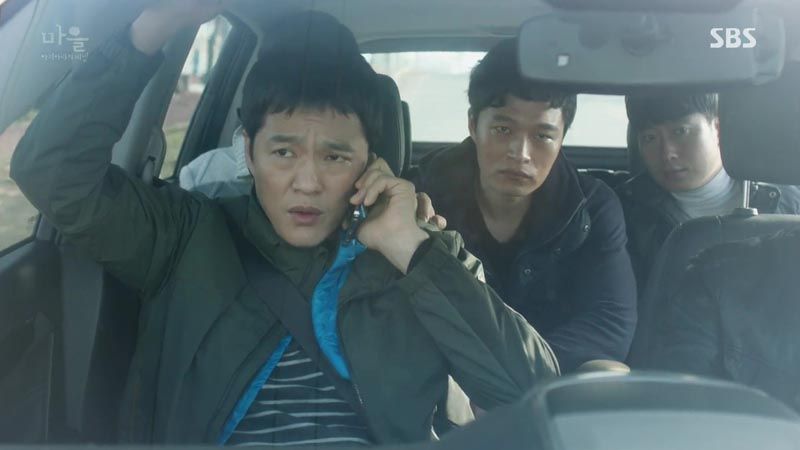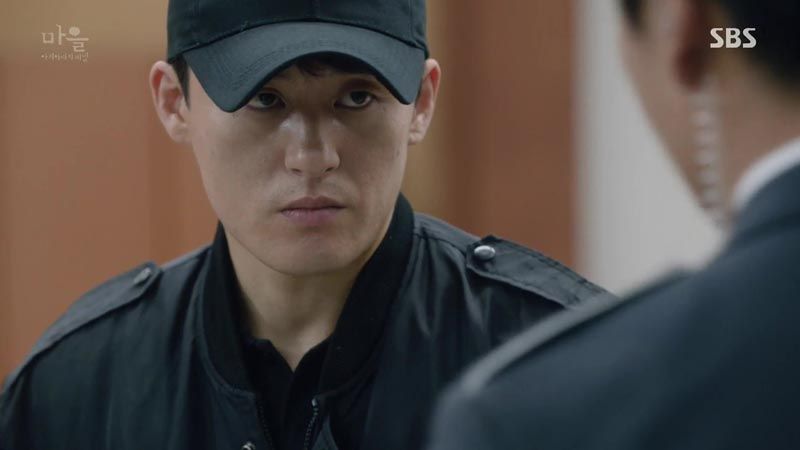 But she's jittery, and Agasshi clocks her nerves. He backs away just as a security guard attempts to hold him there, then fights the man off and bolts. He races away just before the police pull up, barely managing to get away.
Detective Choi pulls all the CCTV footage in the area and gets to work examining all the tapes. Agasshi has taken care to keep his face out of the camera's line of sight, but they do see that while waiting in line, he'd been drinking a can of coffee. Retrieving that can, they pull a fingerprint and run a scan in the database for a match.
Meanwhile, Agasshi returns to his basement laboratory safely. He sends So-yoon a text masquerading as Woo-jae and tells her he's unearthed a clue, asking her to meet him at Agasshi's house.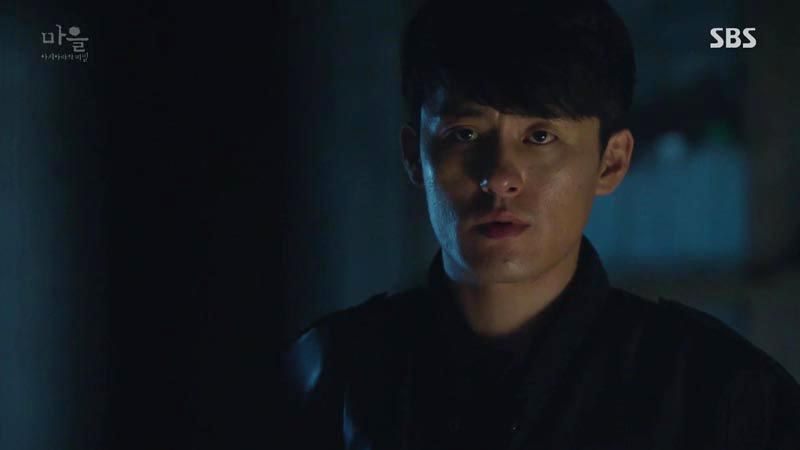 The real Woo-jae, meanwhile, was left behind when the serial killer team mobilized, and had seen the case file lying open. Something about the pictures of the victim strikes him as odd, and he takes the file with him and pores over the information, trying to figure out what's niggling at him.
He reads the details on the newest victim who died with a smile on her face, and the police theory that she was given a drug in some kind of experiment. He pulls up that Romance World website and compares the victim's face to the picture on that site, and recalls So-yoon mentioning a happiness drug Agasshi was working on.
He calls her right away, puzzled when she replies that she's almost there. Thinking she's about to see him, she hangs up the call as she pulls up to Agasshi's house.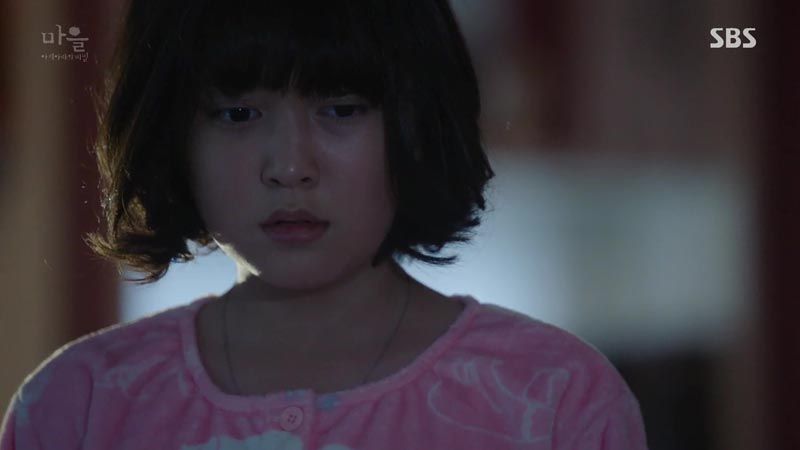 Yoo-na ends up buying that wooden box from the carpenter, which sits on her nightstand. She wakes up in the middle of the night, and starts in fright when she sees somebody in bed next to her—it's So-yoon.
Ack! But it can't be a ghost since she's not dead (yet), and heads into Agasshi's house eager to hear about Woo-jae's discovery. The house is empty, though, and she wanders to that back corner where the door to the basement is, and heads down to the lab.
The police database yields a fingerprint match, though we already know the result: It's Agasshi.
As So-yoon takes in the sight of another wall with Hye-jin's photos and news clippings posted on it, a voice sounds behind her. "The pictures came out quite well," Agasshi says. She turns. And BAM! He knocks her out cold.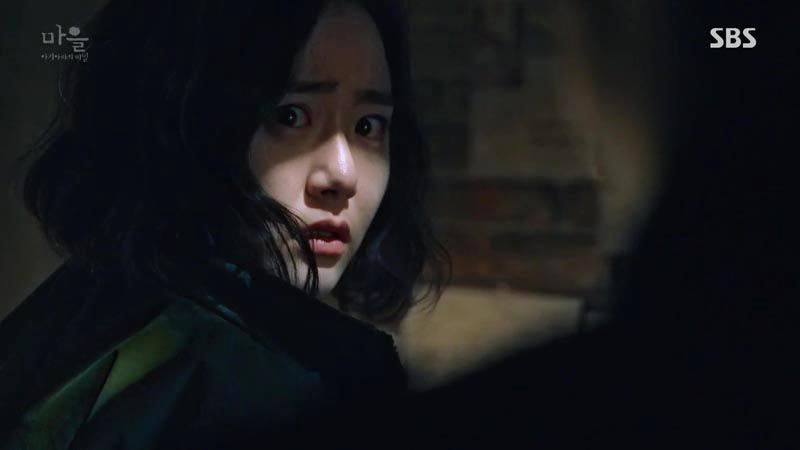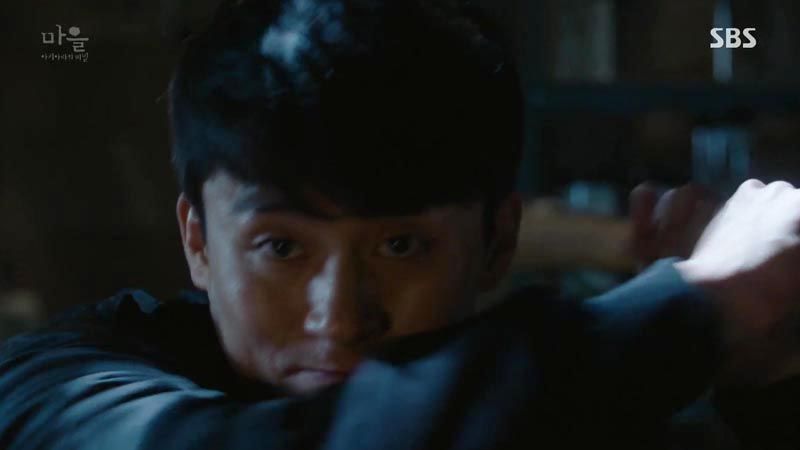 COMMENTS
I know it was long past futile in hoping for some kind of redemption—or at least mitigating factor—with Agasshi's criminal streak, because we'd seen too much of his activities for him to be innocent. But I'd liked him as a character (and the actor has been doing a wonderful job making him feel sympathetic), and hoped for some other explanation.
It feels like an odd choice to make Agasshi the killer after all, when he was portrayed as a falsely accused nice guy early on, because now we're just circling back to the initial point. It feels too obvious to make him our bad guy, when you go through all this effort to give us a red herring and then tell us that the red herring is actually the culprit.
I'll still withhold judgment until the full story comes out, because who knows, maybe we'll have a really compelling backstory or explanation, which would at least mitigate the obviousness of the killer's identity. It's starting to look like both Agasshi and the carpenter are operating under twisted logic. I find Agasshi particularly interesting because he seems so… calm and lacking maliciousness. Is has the unsettling effect of making him both seem innocent, like a child who doesn't understand why something is wrong, and extra-dangerous, because lacking a moral compass entirely is more frightening than someone who feels nerves or guilt over his actions.
The carpenter is the opposite of Agasshi, looking constantly scared and jumpy despite insisting he isn't guilty, even as everything points to Guilty As Hell. Does he really believe he didn't commit his crimes, or is that the guilt talking? I do have an inkling that his sweet-faced wife may not be as innocent as she seems—could she have offed Hye-jin to protect her husband?—but the fact remains that it's Mr. Carpenter who's raping and impregnating multiple women. So, hardly innocent.
At this point the remaining mystery is mostly about how Hye-jin died, since Chairman Noh is now dead and that whole side plot seems moot. It does suggest that Assemblyman Seo is unconnected to her death—at least in this specific instance, since he's far from blameless. He did order her killed—it's just that he made the fatal flaw of hiring incompetent hit men—but we can presume from his surprise that his hands are clean of her blood in this one case. Well, as clean as they can be given the circumstances. This is one dirty town.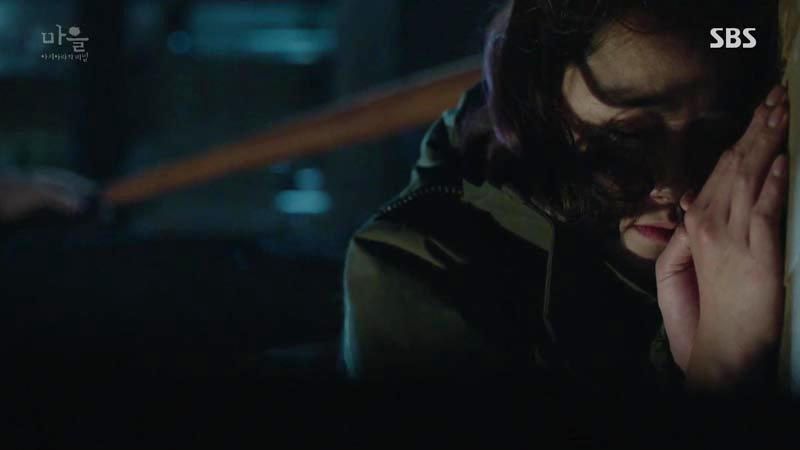 RELATED POSTS
Tags: featured, Moon Geun-young, Ohn Joo-wan, Shin Eun-kyung, Village: Secret of Achiara, Yook Sung-jae