Jin Gu and Kim Ji-won's tearful goodbye in Descended From the Sun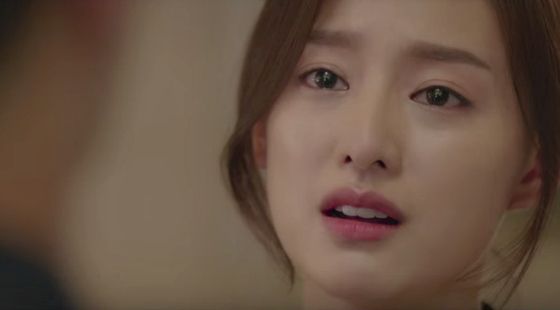 I was wondering when we'd get to the other characters in Descended From the Sun, the new "blockbuster human melodrama" about soldiers and doctors finding love during wartime. The drama is mostly known for its headliners Song Hye-gyo and Song Joong-ki, but it has a pair of strong actors in a second coupling: Jin Gu (Falling for Innocence) and Kim Ji-won (Gap-dong), who seem to have quite the dramatic loveline of their own.
The new drama from writer Kim Eun-sook (Heirs, A Gentleman's Dignity) takes place in a fictional country where our characters are stationed during a war. Song Joong-ki plays an elite special forces officer and Song Hye-gyo is a surgeon who finds herself swept up in one dangerous calamity after another when she's around Song Joong-ki. It is a war zone, but he does seem to court danger wherever he goes.
Jin Gu is a noncommissioned petty officer in the army, and Kim Ji-won is an army surgeon who out-ranks him. In the teaser, he tells her with a stoic expression on his face that he'd like for her not to jump to the wrong conclusion that he's leaving because of her: "My heart changed." She challenges tearfully: "I don't believe you."
She pleads with him, "Don't do this! Stop! Stop right there!" But he marches away from her without turning back. The only thing that makes him stop is when she pulls rank and asks him formally if he's walking away without a proper salute to his superior officer, at which he whirls around and gives one last silent salute. I actually think their loveline might be more interesting, if they have history and tension that informs the rest of their interactions; plus her being his superior officer should make for a good setup when they're thrown together in the war zone.
Descended From the Sun follows Master of Trade—Inn 2015 and premieres February 24 on KBS.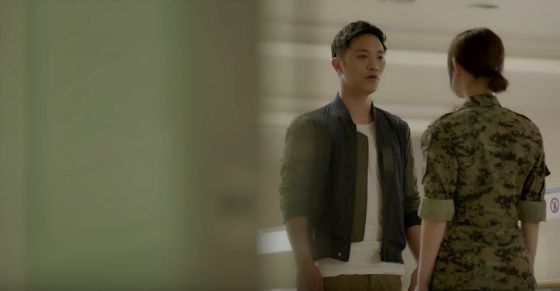 Via TV Report
RELATED POSTS
Tags: Jin Gu, Kim Ji-won