Running Man: Episode 279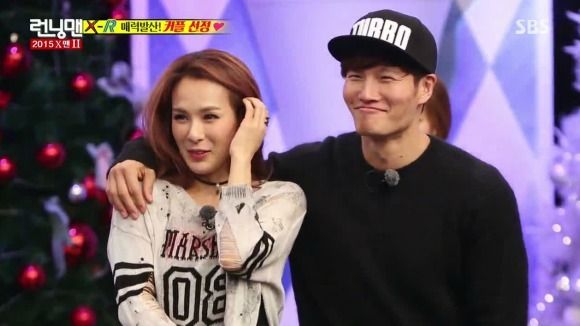 There's more hilarity and nostalgia in store for the second part of this X-Man and Running Man collaboration. Suspicion runs high for several people, but the truth may come as a surprise. Following the mystery surrounding the X-Man and R-Man, our cast will have their fortunes told in several different readings.
Will 2016 be a lucky year with exciting prospects or will it be yet another year full of disappointments?
EPISODE 279. Broadcast on December 27, 2015.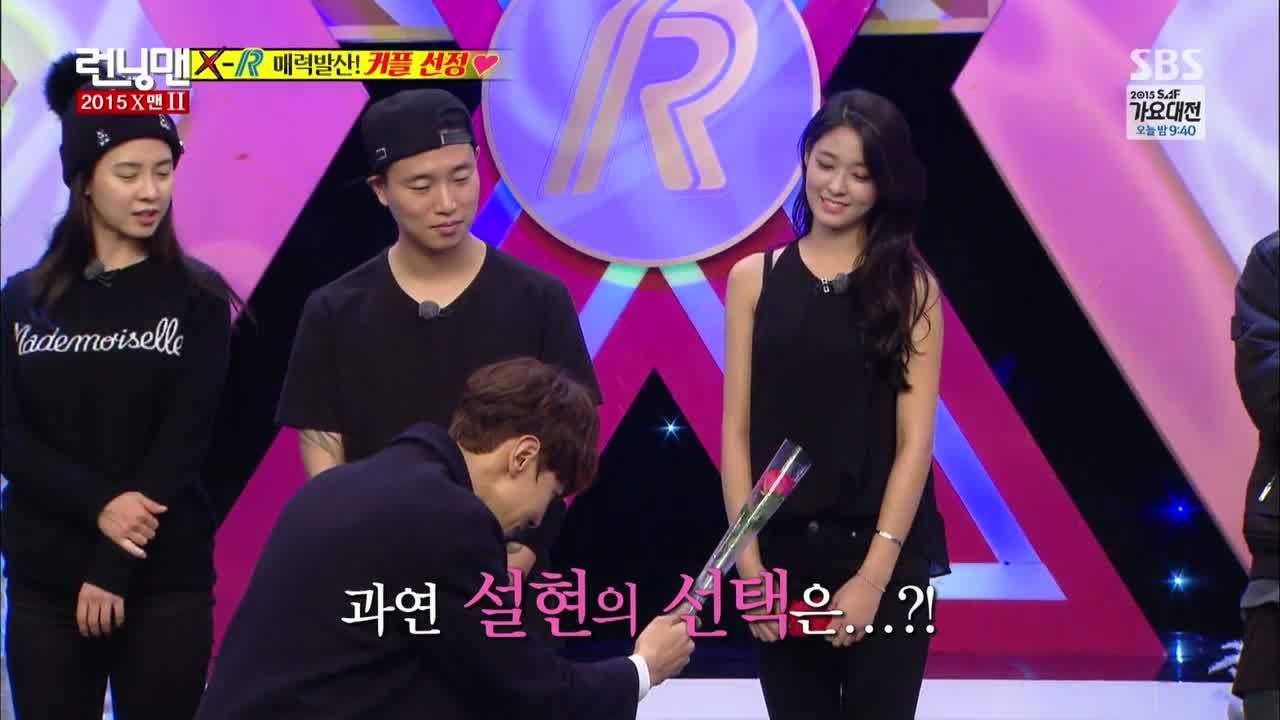 Going into this second half, our top three suspects are: Jong-kook, Seolhyun, and Andy. We pick right back up with Kwang-soo's heartfelt confession to Seolhyun despite knowing that she's already paired up with Gary. And she… accepts.
Then comes the next round of guys and ladies—the legendary X-Man folks here to show the young'uns how to turn on the charm. Asked who he has his eye on… Jong-kook says he's really in no position to be choosy. Lol.
He serenades Stephanie like old times though, and also like before, Chae-young steps in. Jae-suk and the others make sure to voice their complaints when it feels it's a bit too long, and Jae-suk jokes that if he'd only done all this a decade ago, X-Man would've gone on for another 100 episodes.
Andy says he'll be performing with the rookie group UP10TION (of his entertainment agency TOP Media), and assures the ladies that the idols will be coming with him if he's chosen. They give the cutest Christmas-themed performance there can be, which then transitions into Shinhwa's "Wild Eyes", and then a techno club where Andy shares his heart dance. All in all, it's pretty epic.
Jong-soo says his heart remains the same ten years ago and today. None of the ladies believe it's them, and then the Lovers In Paris OST comes on. Chae Yeon looks flabbergasted when he walks her out, and so is Jong-kook when he's brought to the stage too.
But that's all set up for Jong-soo to lip sync lines from Lovers In Paris: "Didn't I tell you to get your hands off of my woman?!" He starts singing again following that angry rant, which only makes the entire performance that much more hilarious.
There's another transition with Lee Dong-gun's character's confession, and oh no… please don't do the cheesy line that still makes me cringe to this day. GAH, too late. "You're in here."
Jung-nam performs with Animation Crew in an impressive pop and lock routine, and tops it off with a rose to Ji-hyun… who sends her hearts back to Andy. Aww.
Now it's the ladies' turn, and Ji-hyun only dances to Andy whereas Stephanie dances down the line to Jong-kook. Chae Yeon dances to AOA's "Heart Attack" and looks annoyed when Seolhyun joins her onstage. She too dances down the line, sending love bullets to Jong-kook as her grand finale.
When it's time to choose teammates, however, Jong-kook pairs up with Stephanie. Andy pairs up with Ji-hyun, and Haha goes ahead to call out Chae Yeon's name. The latter admits that in the old days, she probably would've refused and chosen Jong-kook, but she's going to move on…. and still say no. HAHAHA.
She immediately agrees to Jong-soo's offer, leaving Jung-nam and Haha paired up together. Now the couple games begin, the first of which where the teams will dress a Christmas tree by hanging ornaments without using their hands.
They're reminded that the X-Man and R-Man are still at large. Kwang-soo had received a message from the X-Man asking him to break the rules at least once and stir suspicion during the couple game so Kwang-soo can be identified.
That shouldn't be so hard for Kwang-soo, who keeps a sharp eye out during the game. Suk-jin and Gary seem to slip up early, and Kwang-soo makes sure to stir suspicion. Not long afterward, Jong-soo readily messes up. Hmm.
Everyone's suspicion radars are on high alert, especially when Kwang-soo and Seolhyun flub at the very last second. In terms of the score, the teams are tied at 6:6, and Jong-soo deliberately turns his face until the ornament slips out.
Third time's the charm for Kwang-soo and Seolhyun, and the game progresses with Jong-soo continuing to mess up. Team Ji ultimately wins the game 13 to 11.
Then it's time for the final vote, which takes a Running Man spin today. The teams gather at the SBS building and told the rules: There are 16 laptops hidden throughout the building that allows them to vote. In each round of voting (a total of three), everyone will have ten minutes to find and rip off the suspect's nametag, which will reveal their true identity.
Should the teams fail to identify the X-Man and R-Man, 17 million won will be donated under those two names. And just like the old rules, if they guess correctly, then the money will be donated in their names.
In the elevator, Kwang-soo hopes that the X-Man is Seolhyun, who's been busy trying to convince everyone else otherwise. He finds a laptop and inputs B.I's name, which Jae-suk is surprised by. But he also sees another vote for Seolhyun.
The votes start racking up for Seolhyun, but people suspect Kwang-soo too. Soon half the votes are for Seolhyun, whose name is announced as the first target. She quickly tries to find a hiding place, but she's soon found by Jong-soo.
She cries repeatedly that she's innocent, and though Jong-soo pities her a bit, Ji-min won't do anything of the sort. Jong-soo rips off the nametag, and now it's the moment of truth… and her nametag is clean.
Everyone is told of the news, and Kwang-soo seems just as happy to hear that Seolhyun is innocent. We then skip ahead to the third around after Andy's elimination (he wasn't the X-Man either), and we learn that Kwang-soo's plan was to input his own name and be eliminated on purpose.
The votes are split between Jong-soo and Kwang-soo, the latter of whom rushes towards Jung-nam to tell him that everyone suspects him. But as soon as he writes in his own name, Suk-jin knows that he must be the R-Man.
Kwang-soo's plan works anyway, even though a number of people are convinced that he can't possibly be the X-Man in question. Jae-suk heads up to keep commentating and asks outright if Kwang-soo is the X-Man or R-Man.
Kwang-soo thinks he's done such a good job this episode that he qualifies for a Nobel Prize, to which Jae-suk says, "Don't you know what a Nobel Prize is?"
But there's little time for chit-chat because Jong-kook is on his way. Before Jong-kook can charge at Kwang-soo though, Jae-suk tells him to think carefully—this is their final opportunity. But Jong-kook rips off that nametag anyway and finds out that Kwang-soo's the R-Man.
Which means that the X-Man and R-Man are the winners, and now everyone thinks it's Jong-kook. And whaddayknow, it is Spartakooks.
We learn that Jong-kook had tripped himself up in the first wrestling game, and had sent the R-Man that message and showed little "X"s throughout the filming. With that, Jong-kook and Kwang-soo celebrate their win.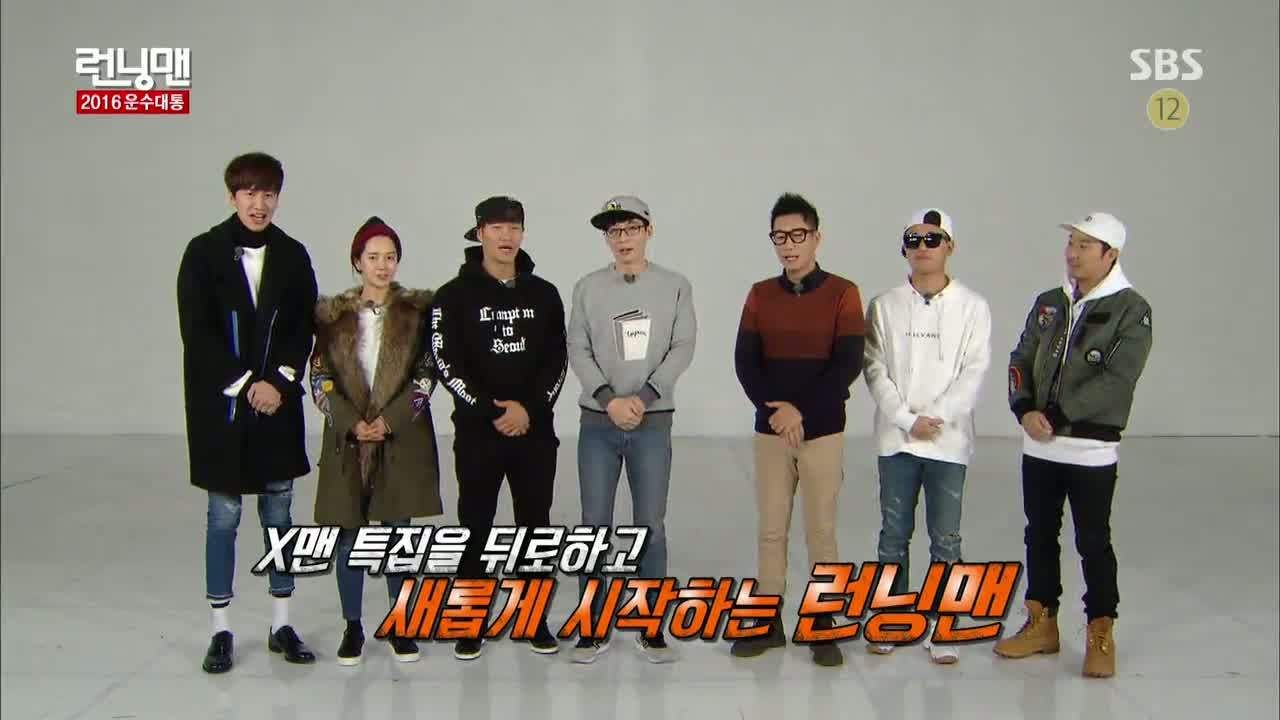 We jump ahead to the next filming on an empty soundstage. Like previous years, our cast will have their New Year's fortunes read to them for 2016, the Year of the Red Fire Monkey. But before that, they will play the ladder game (where one chooses a number and the "steps" are drawn in between the lines to randomize the outcome).
Their first fortune teller, Park Sung-joon, will follow the Tojeong Bigyeol (or "Secrets of Tojeong"). Suk-jin is up first, and everyone gapes to hear that one of the Betrayal Trio is a man of loyalty. But he's also easily persuaded by what people tell him and very stubborn.
He's told there there are probably a great many things he'd like to do in 2016, and he is advised to… just stay put and do nothing. AHAHAHA. In addition, his lucky colors are yellow and white, and Jae-suk gasps: "You have yellow underwear!"
His lucky numbers are 5 (oh) and 4 (sa) which creates this interesting new catchphrase: "Oh swa (five, four)!"
Gary is told that he's a free spirit, and doesn't like being under someone else's thumb. But there is someone here who could keep in in line. Omo, Ji-hyo? It's Jong-kook, which other others agree with because they know the two often have a heart to heart conversation.
He and Jong-kook's relationship looks fortuitous, especially on the financial end, but Gary is advised… to also stay put. LOL. His lucky numbers and colors are the same as Suk-jin's.
Ji-hyo's love fortune is looking up for this coming year, and she's told that she's surrounded by many men. She points to her male castmates, and is told that she's surrounded by weird men. Her lucky numbers are 6 and 3, and lucky colors are black and sky blue.
Haha has a kind spirit but is incredibly stubborn who must have things his way. Park Sung-joon tells him that he's got new prospects in his future, then deadpans that they won't pan out. HA. His lucky numbers and colors are 6, 3, black, and white.
2016 looks like a good for Jae-suk too, as he's told that he may have a second child. Suk-jin agrees that Jae-suk had been talking about having plans for a second baby. All he has to do is avoid Gary. That comment slays the room.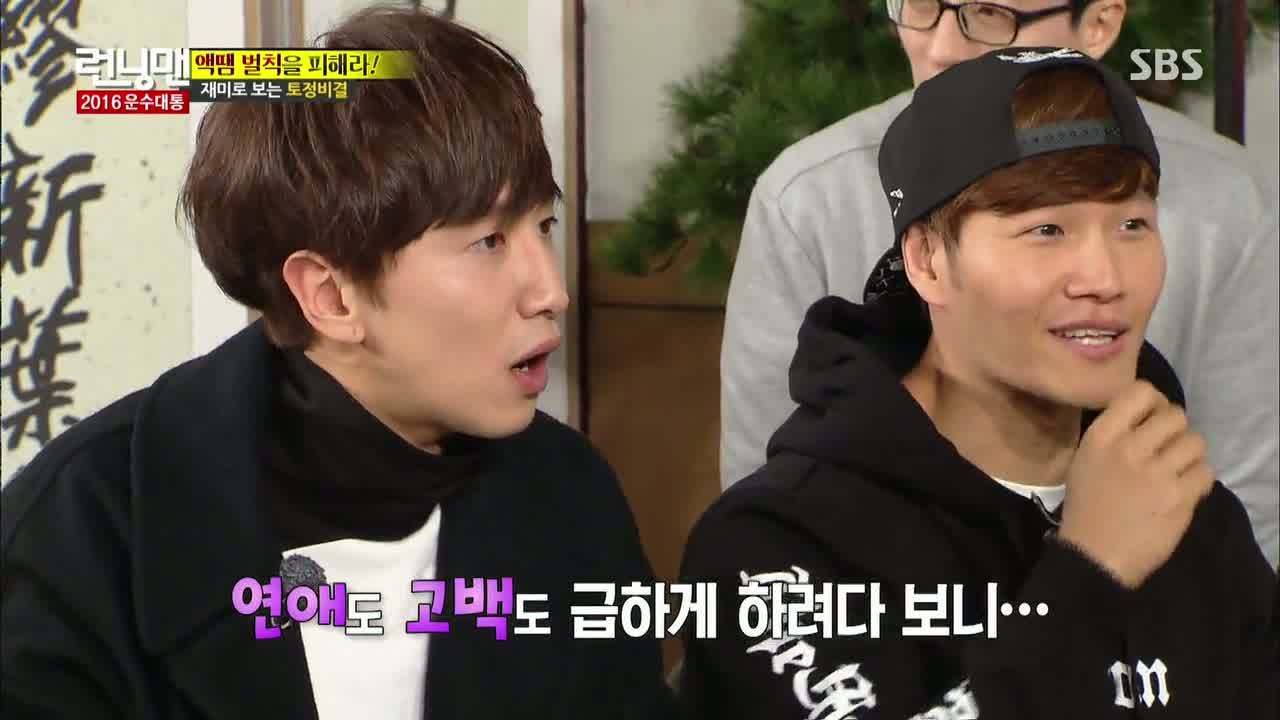 Kwang-soo will be the one who brings him luck this year, though Gary is quick to point out that he can easily put that flame out. However, Jae-suk's fortune is only second-best to someone else.
Jong-kook and Kwang-soo sit down to have their fortunes told together. Kwang-soo is told that he was born as a tall tree, and right now although he has plenty of water and his roots are growing in nicely… there is no sun to help it grow. Awww.
Everyone agrees that Kwang-soo tends to rush things, especially in the love department. Even Kwang-soo admits to this: "A lot of them tell me, 'What's with you?'"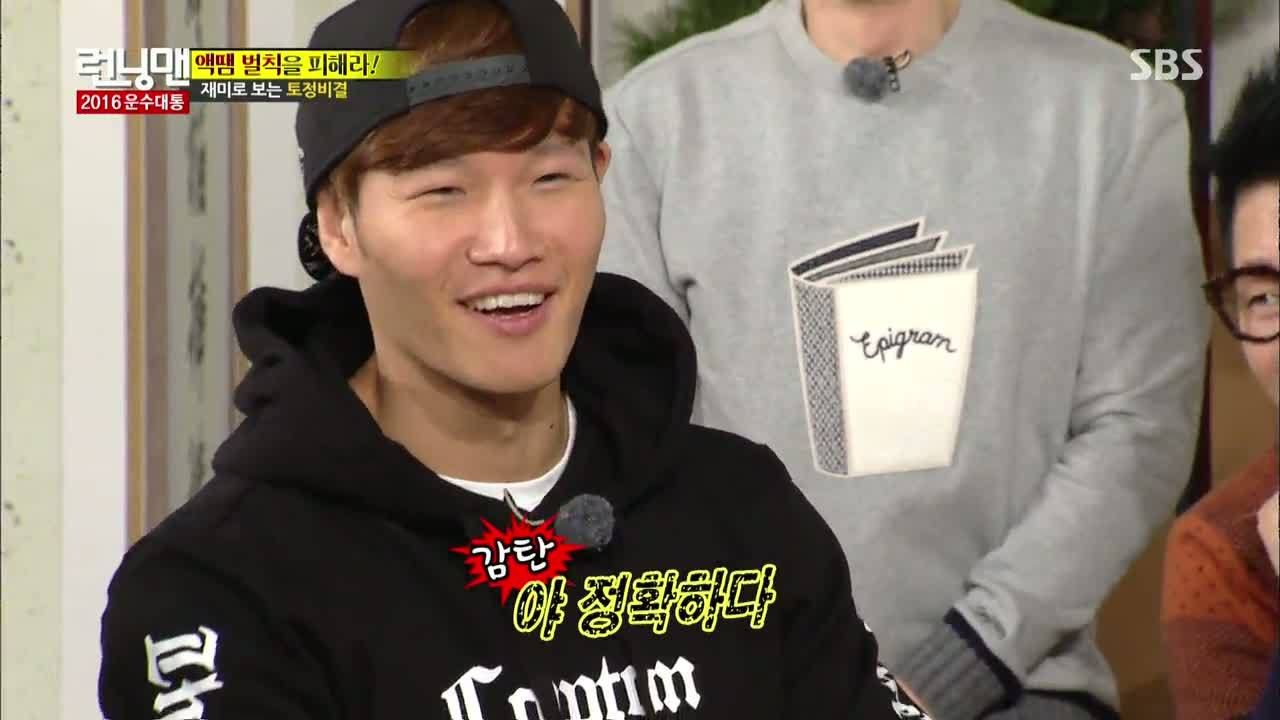 Park Sung-joon tells Jong-kook that his super analytical mind even extends to women, a statement everyone else agrees with. He's told to let his heart rather than his head rule his feelings, and Miss Right might enter his life sometime in 2017 or 2018.
Between Kwang-soo and Jong-kook, it's the former who will have a lucky year ahead of him. Aww, yay!
Afterward, the group is told to choose a color and number for the ladder game. In order, it's: 1) Haha (Gray) 2) Kwang-soo (Orange) 3) Jong-kook (Red) 4) Gary (White) 5) Suk-jin (Yellow) 6) Ji-hyo (Blue) and 7) Jae-suk (Green).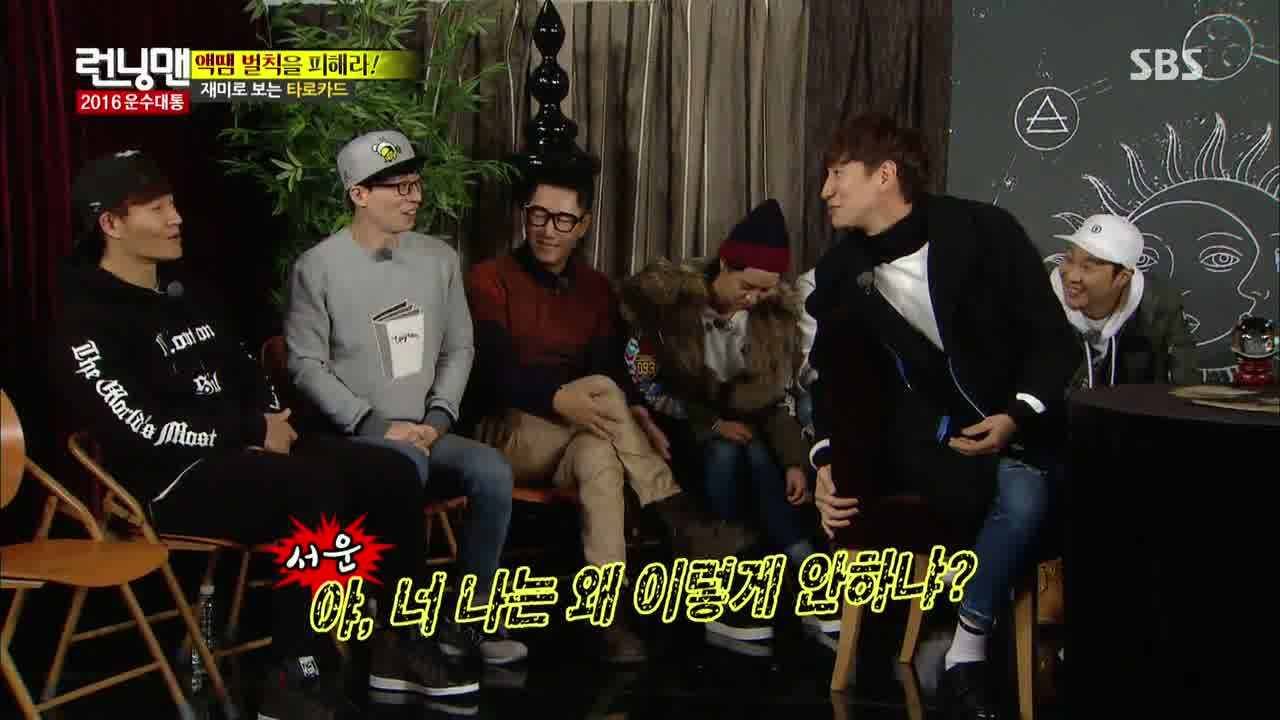 Next the cast will receive tarot card readings. Kwang-soo sits down first and thinks of someone before selecting three cards. He's told that the relationship between the person he's thinking about will start strong but it doesn't end well. Gary laughs that it must be Haha… and he's totally right.
When told that he could learn a lot from the second person, he says that's true of how he feels towards Jae-suk. Jong-kook gets upset that HE'S not someone Kwang-soo thinks of: "You call me late at night all the time!"
But the good news is that Jong-kook is someone who holds onto him tightly and is associated with happy and joyful thoughts. Aw.
Jong-kook is up next, and when told that this person always make him feel bad, he launches himself at Kwang-soo. HAHAHA. Haha makes sure to clarify that these readings are in the confines of the ladder game, and not for life.
The next person is a great match for him: Gary. Jae-suk knows that his fortune with Jong-kook is probably filled with misfortune, and the cards say as much: "Things will be very tough with this person." Not only that, he has to keep up appearances to make it seem like they're getting along. Hehe.
Jae-suk is told that his match with this person will change by the day. That person is Kwang-soo. Things do look good with Gary though, and Jae-suk is told that he seems to get along with mostly everyone.
And that's when Jae-suk says there is one person—Jong-kook—with whom he probably doesn't get along. Once the cards are dealt, he's told that he'll have something to lose in this relationship. Spot-on.
Gary is told that although this relationship might be difficult and stressful at times, it will prove rewarding. That's Jong-kook, and just like before, his fortune with Jae-suk is good as well.
When it comes time to choose partners, Gary pairs up with Jong-kook, Haha with Ji-hyo, and Jae-suk ends up with Kwang-soo. And finally Suk-jin pairs up with his VJ Yoo-seok. If there ever was a time to test their fortunes, this would be it.
They'll be playing a game of ping-pong using their heads as paddles. What's on the line are the actual lines used for the ladder, with the first place team getting three lines, and the subsequent teams get two, one, and zero.
Ji-hyo and Haha vs. Suk-jin and Yoo-seok are up first, and the score is 3:0 in favor of Ji-hyo and Haha until Haha flubs. But it isn't as funny as Suk-jin, who misses the ball altogether. Needless to say Ji-hyo and Haha secure third place.
Then it's Jong-kook and Gary vs. Jae-suk and Kwang-soo. It's a tight game, though Gary and Jong-kook seem to mess up more often, but soon the score is 3:3 until Kwang-soo misses the ball.
In the next serve, Gary saves the attack to score the winning point. The teams add in their "steps", but who knows what the outcome will be.
Lastly, the cast sits down for a physiognomy (face reading) session. Jae-suk is told that his prominent features (high cheekbones and a protruding mouth) makes him perfect for his line of work.
The cast bust a gut at hearing that Jong-kook having "snake eyes", but that isn't necessarily a bad thing. In fact, it just means he's more proactive. Kwang-soo brushes the hair out of his face so he can show off his "successful" eyebrows.
The cast is given more lines to add to the ladder depending on their physiognomy ranking, then led to a row of boxes where the unlucky one will be dumped with water to er, ring in the new year?
Apparently getting wet is a good thing because there's a bit of gold on the line. Everyone steps into their respective boxes, and Kwang-soo's name is the first to be called. He's in the clear, then it's Jong-kook's turn.
He clears it too, and then it's Jae-suk… who gets a muddy shower topped with feathers. Happy New Year, everyone!
RELATED POSTS
Tags: featured, Haha, Ji Suk-jin, Kang Gary, Kim Jong-kook, Lee Kwang-soo, Running Man, Song Ji-hyo, Yoo Jae-suk