Running Man: Episode 283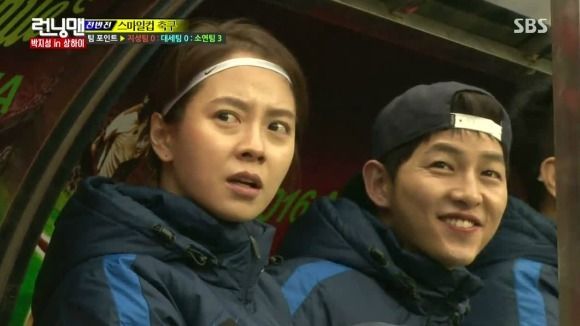 Oh captain, my captain, has it really been a year and a half since we've last seen Park Ji-sung? How time flies. Our cast will play alongside the lovable captain in a friendly soccer match in Shanghai whilst reconnecting with old friends and making new ones. And while the retired soccer player is among one of my favorite guests to grace varietyland, I love him even more for bringing more familiar faces with him. We've missed you, Joong-ki.
EPISODE 283. Broadcast on January 24, 2016.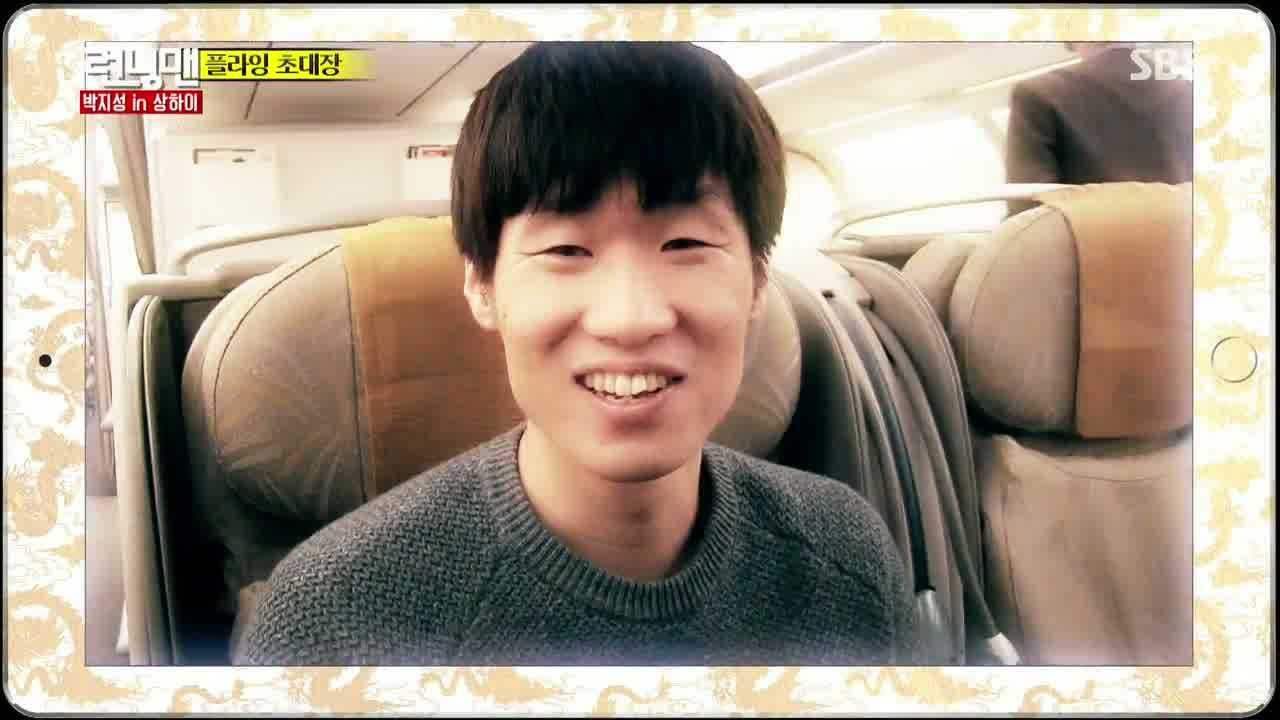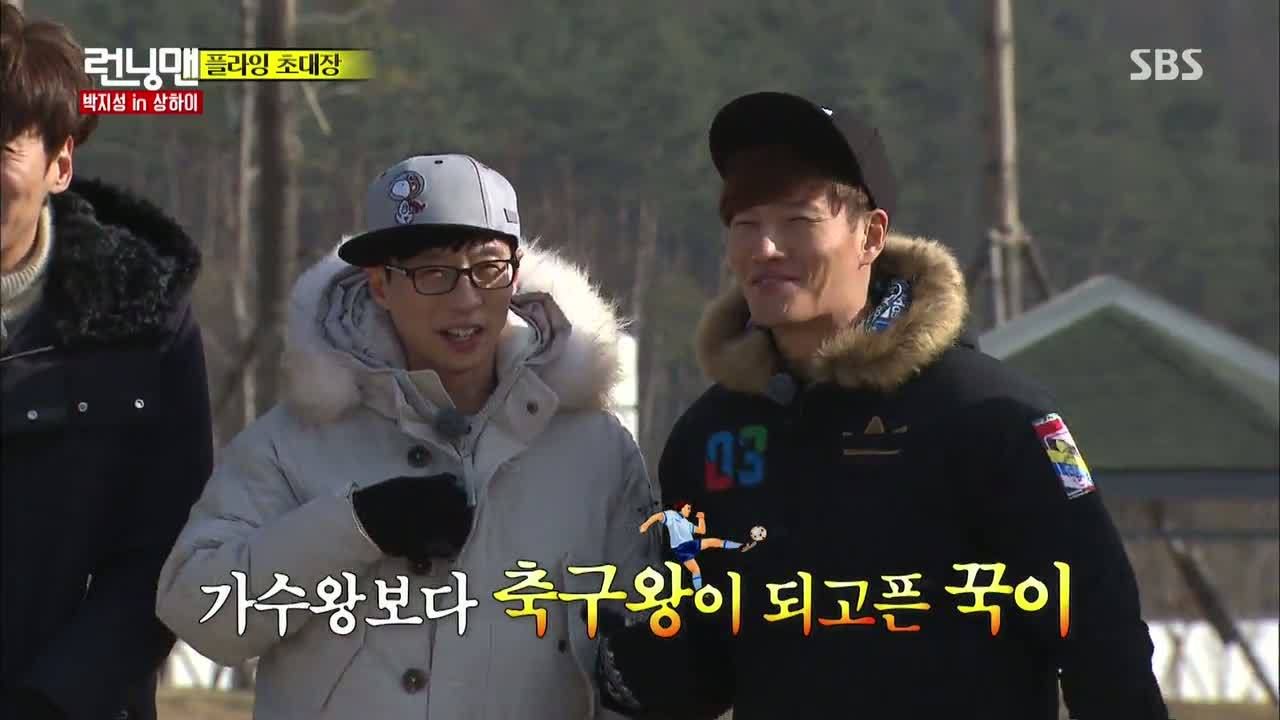 You guys all know how excited I am whenever Park Ji-sung comes to visit varietyland. Before we get to meet him and travel to Shanghai, however, we start in Korea, where our cast gapes at the drones carrying soccer balls.
But that's not all—another drone drops a tablet carrying a message from Ji-sung, the incredible athlete now a married man and a dad. He invites the cast to meet him and his charity soccer club members of FC Smile in China.
When the guys clamor over the idea that they need to make a goal this time, the clips from previous years show us why that's a pipe dream. For Jong-kook, getting teased about his poor hand-eye coordination hurts more than hearing that he can't sang.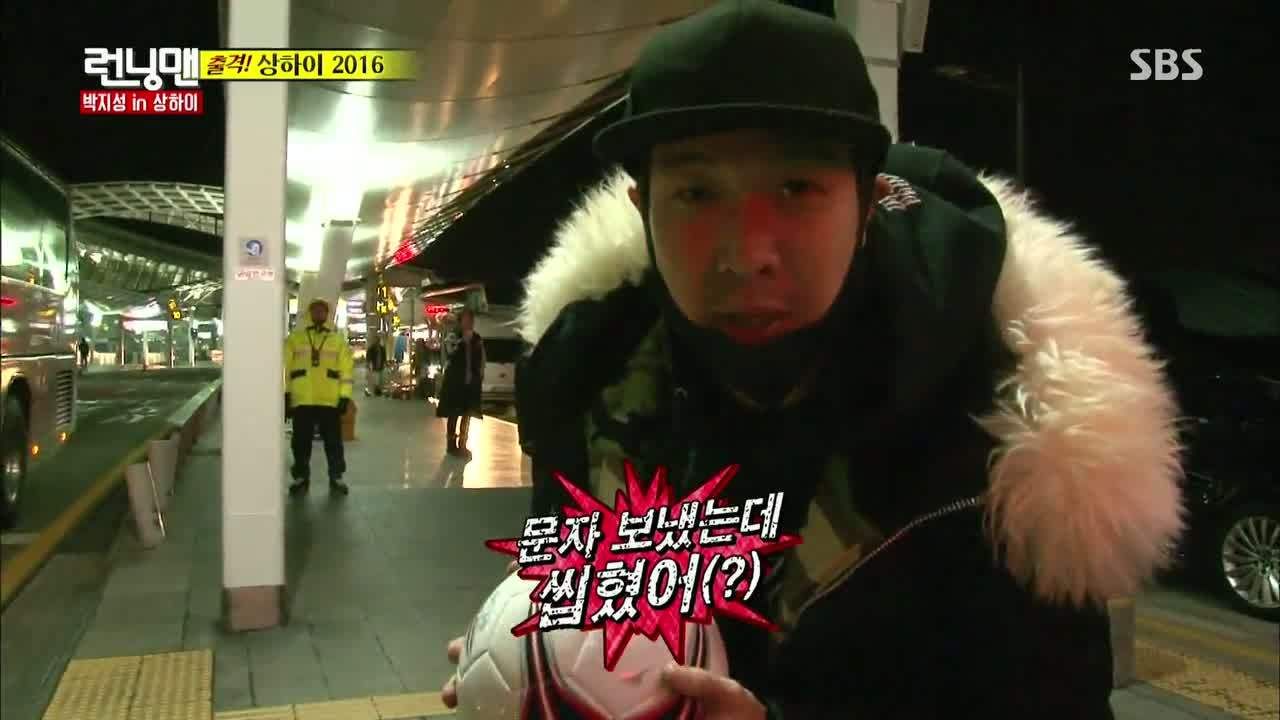 So it's off to the airport, as Haha states that Ji-sung ignored his text and Suk-jin claims that he's been practicing. Kwang-soo promises to score one goal this time.
Match Day. 7 AM. The camera crew silently enter our cast members' hotel rooms. Pfft, Jong-kook fell asleep with the TV on. I will laugh if Gary's naked under those covers.
So the cameras are present when they're awoken by a recorded message from Park Ji-sung explaining their morning mission: Steal your fellow cast members' balls and score a goal with those, but you cannot take your own ball out of your room.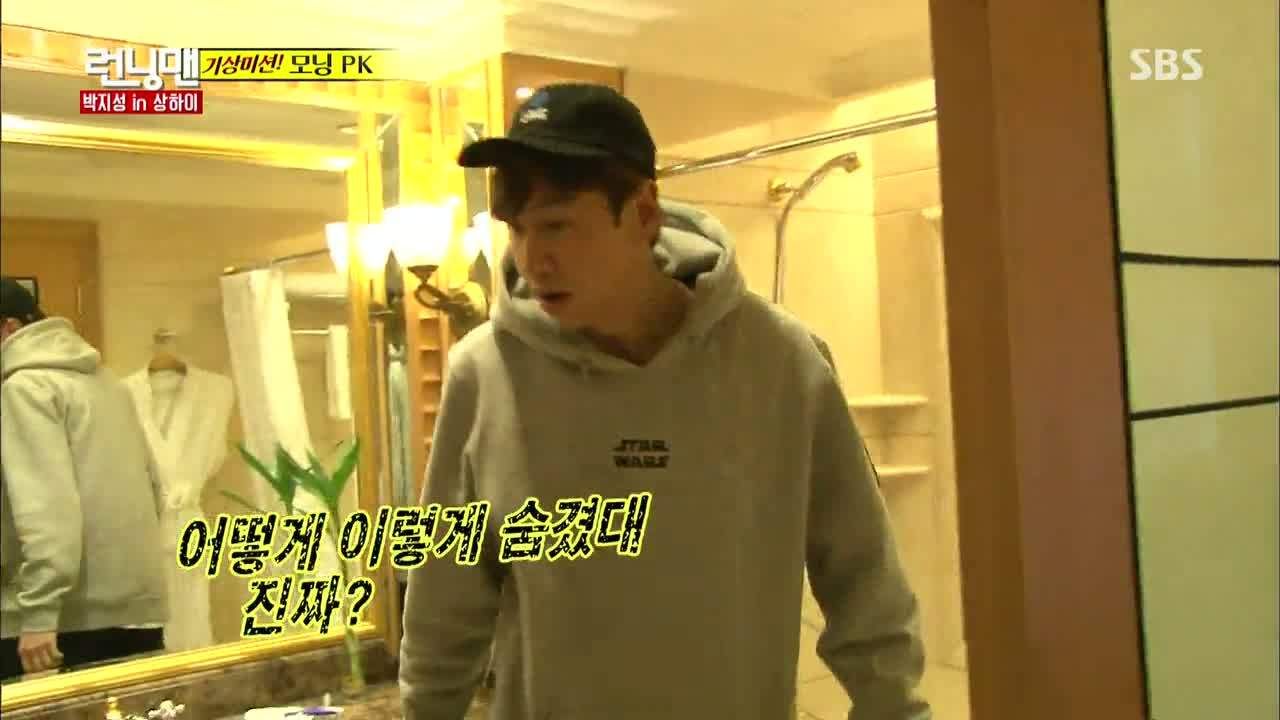 The only person who literally doesn't get the message? Suk-jin. The popular hiding spot seems to be behind the curtains, but Jae-suk hides his in his bathroom ceiling. Smart.
Next-door neighbor Kwang-soo comes in shortly afterwards and asks outright where the ball is. It doesn't take long for Jae-suk to find Kwang-soo's ball whereas Kwang-soo searches the room from top to bottom. No dice.
Jae-suk is the first one to find the goal set up back, but his first kick is too wide. His second attempt hits the goalpost, but eventually makes the goal to put Kwang-soo in last place. Gary joins him outside to kick Suk-jin into sixth place, and Haha follows it up by kicking Jong-kook's ball into fifth.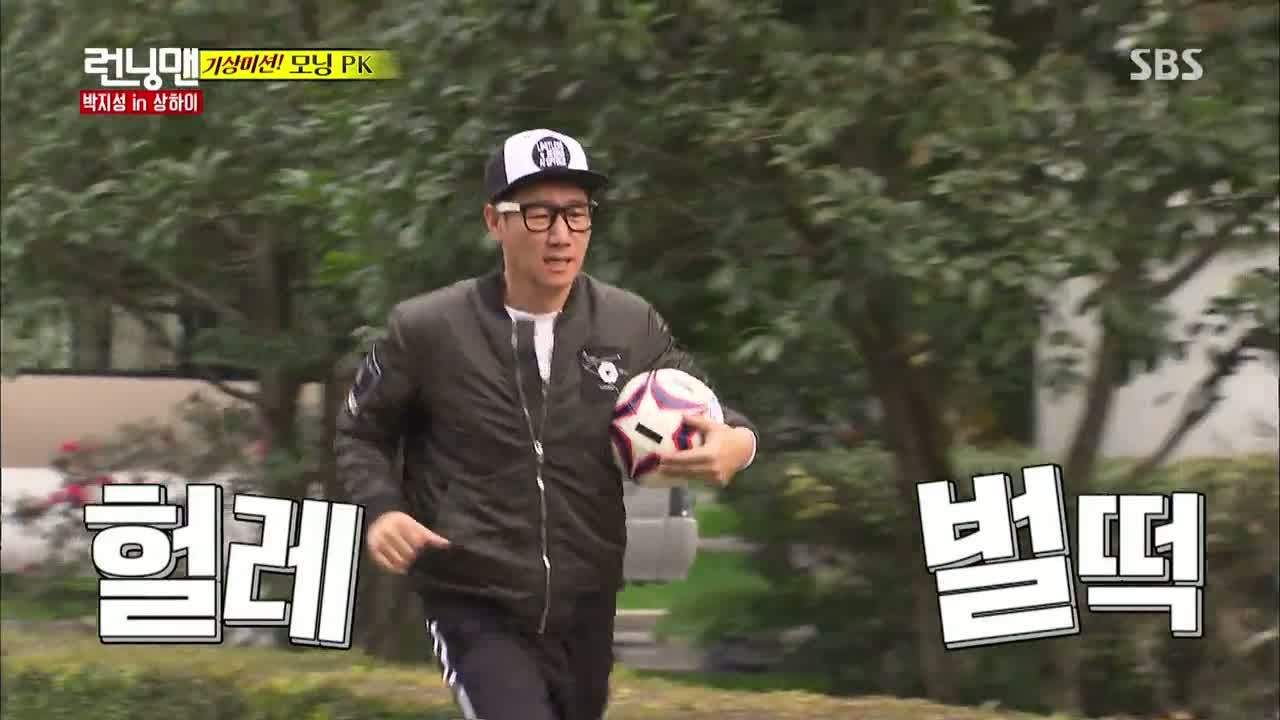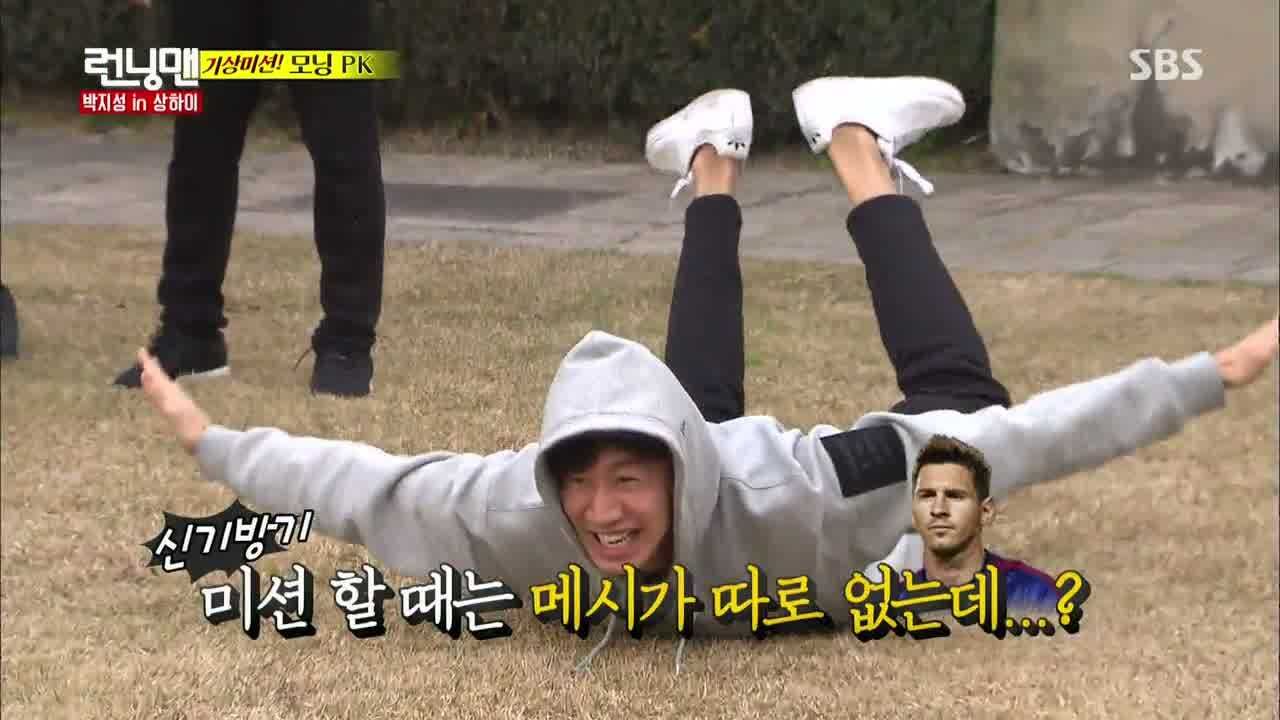 Having finally found Jae-suk's hidden soccer ball, Kwang-soo runs and manages to kick Jae-suk into fourth place. Jong-kook kicks Haha into second place, and when Suk-jin tries kicking Ji-hyo's ball… it's too wide.
Ji-hyo eventually arrives, and the both of them keep trying to make a goal until Suk-jin finally kicks Ji-hyo's ball in. That effectively puts Gary in first place, earning him the large exercise ball.
The other balls get progressively smaller with Kwang-soo picking up a baseball. The cast head to Hongkou Station where tonight's match will be held. It's also where they played the 2013 Asian Dream Cup and the birthplace of Toad Kwang-soo.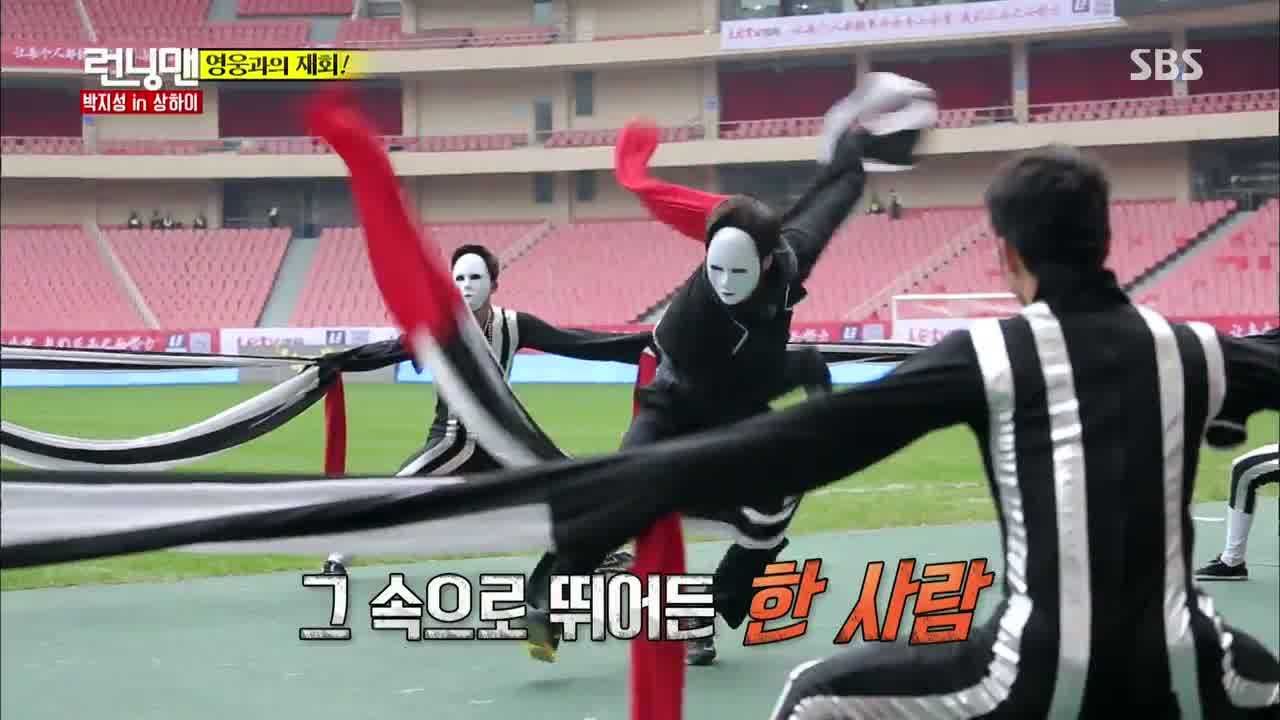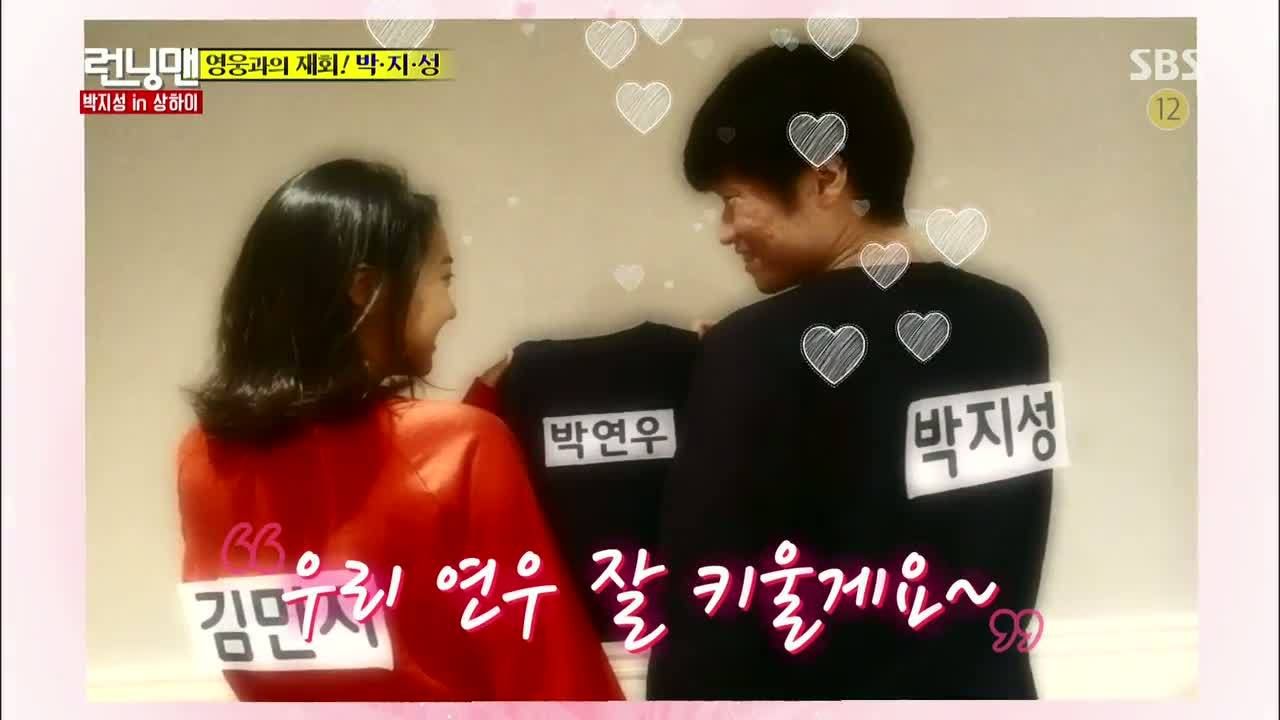 A group of masked performers come flying in, and among them is our everlasting captain Park Ji-sung. Now that's how you make an entrance. And then he adorably buries his face in his hands. LOL.
As a new father, it makes Ji-sung wonder whether he's really allowed to come out to play here with the cast. Of course he can, and so can the entire family it seems because they now have their own nametags. Aww.
Ji-sung has also brought two of his fellow FC SMILE members: midfielder Ji So-yun who plays for Chelsea LFC and Jung Dae-sae of Shimuzu S-Pulse. They're pleased to hear that So-yun is familiar with Running Man, and Dae-sae says that married life is treating him well despite being told otherwise. All fingers point at Suk-jin as the source.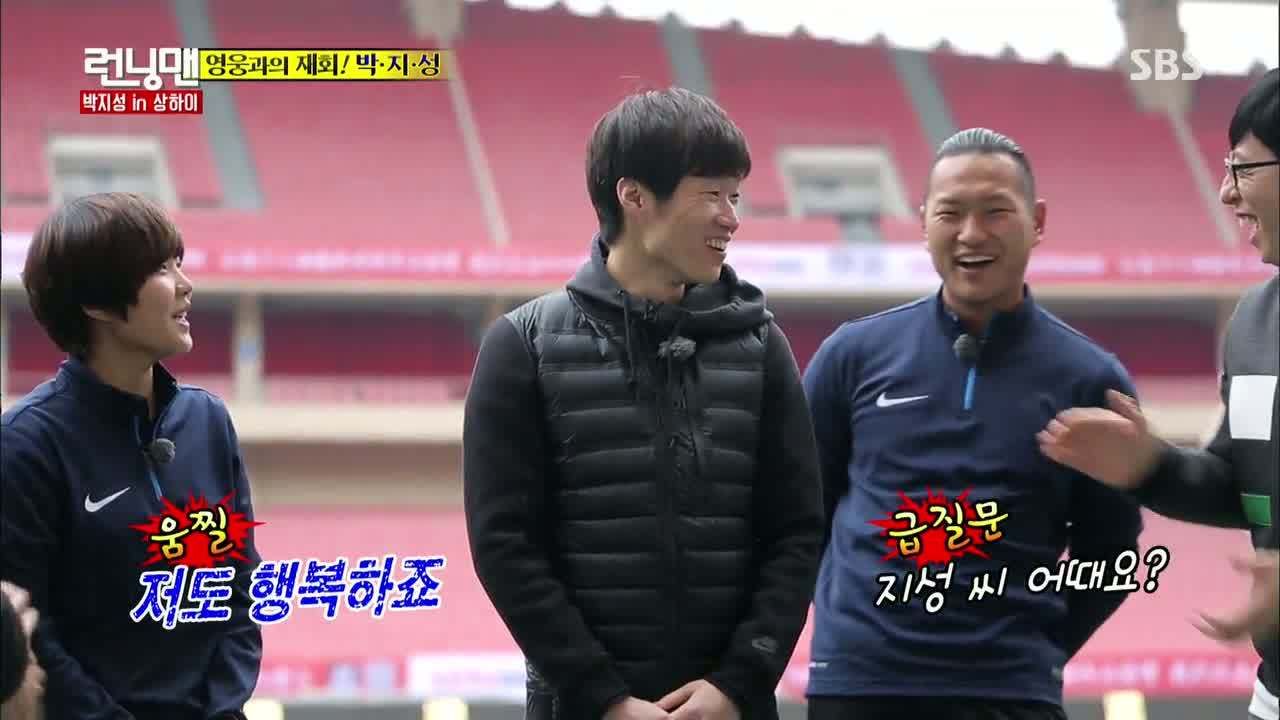 When Ji-sung gets asked the same question, he immediately answers that he's happy too. The three soccer players will be our team captains, who will choose two members each based upon the seven different-sized balls our members earned earlier.
Every time one of the team members score a goal or helps with an assist, their team will earn a point. Ji-sung hurls his shoe towards his first choice, Jae-suk. So-yun worries that she'll accidentally get Suk-jin when trying to go for Gary. Kwang-soo: "Don't think of the worst-case scenario!"
She gets Gary anyway, and when Dae-sae says he has his eye on Jong-kook, Ji-hyo worries that he'll get Suk-jin instead. "That'd be hell," he answers. LOL.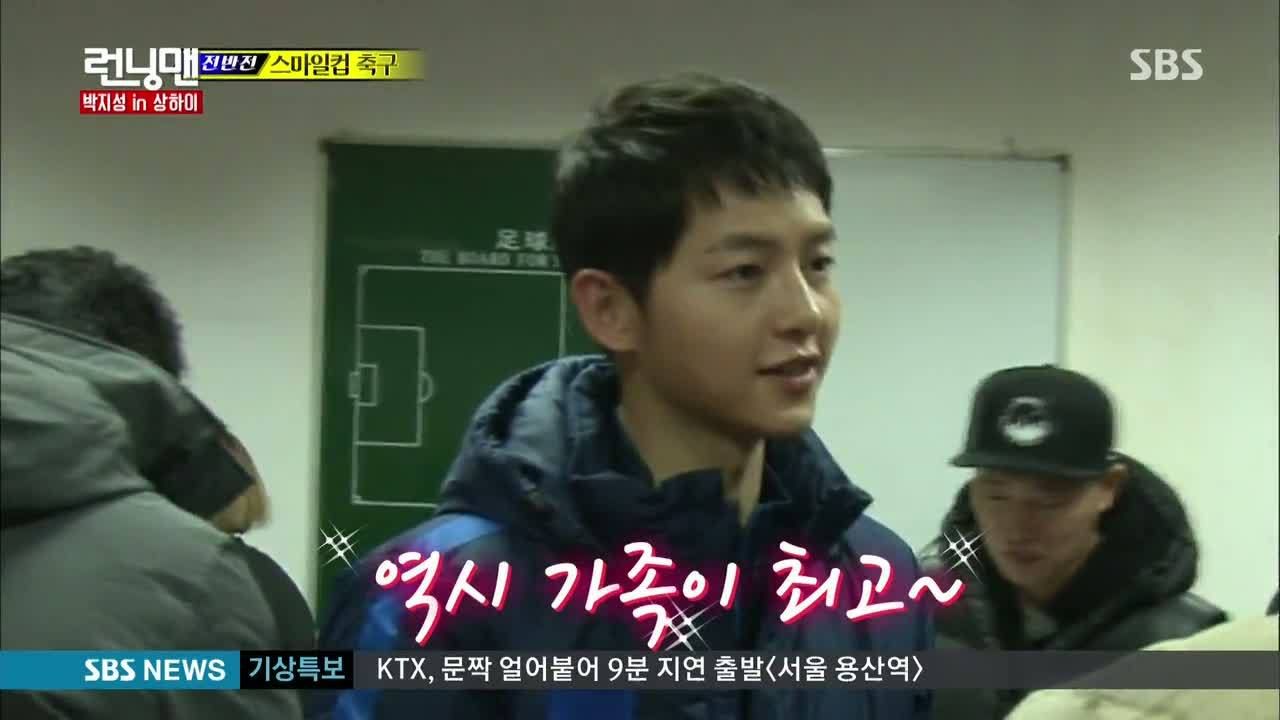 For his second choice, though Suk-jin may be his marriage sunbae, Dae-sae chooses Kwang-soo instead. Ji-sung also picks up Haha as a teammate, and Ji-hyo joins So-yun's team, so Suk-jin joins Dae-sae's team.
There's another surprise waiting for them in the locker room: eeeeeee, it's Song Joong-ki!
The guys cringe at Ji-hyo's number (7012), and their teams are filled out with soccer player (and a Return of Superman dad) Lee Dong-gook, other professional soccer players from Europe, and actor Jung Il-woo.
Coach Choi Kang-hee (who manages the Jeonbuk Hyundai Motors team, which Lee Dong-gook plays for) is their coach. The lineups are announced and the teams spend some bonding time together.
During the pre-game of the 2016 Asian Smile Cup in China, the sportscasters explain that there is a final mission following the match—the points earned during the game will prove advantageous then.
The first half begins, and Kwang-soo cheers Ji-sung on. The opposing team circles around the goal, but the pass is intercepted. Later the first shot on goal is foiled thanks to goalkeeper Kim Byung-ji, and Team So-yun gains one point.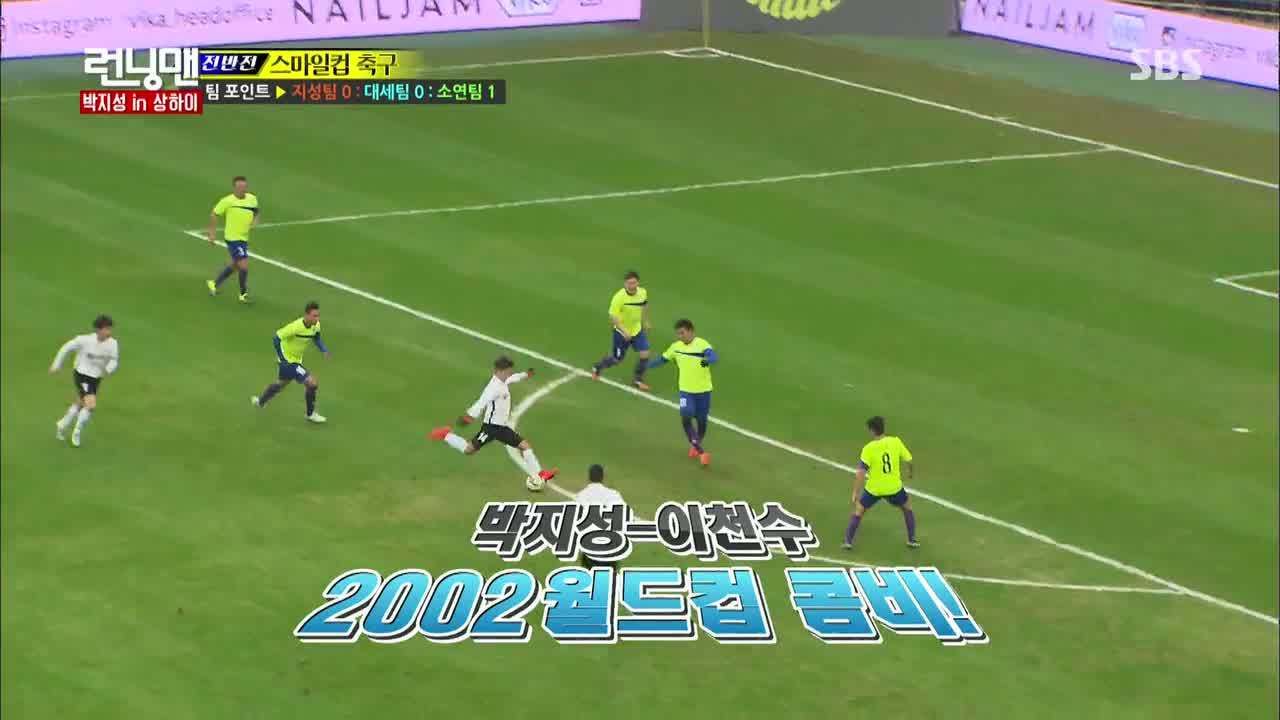 The sportscasters occasionally remark on how retirement has affected both Park Ji-sung's and Lee Chun-soo's game. For instance, he completely misses the heading and heads straight into the field.
He still has some fancy dribbling skills under his belt, and gets into a goal-scoring spot… but overshoots it. Retired Italian soccer player Gianluca Zambrotta and Dutch soccer player Patrick Kluivert work together for another shot on goal… but misses.
When Kwang-soo shouts, "You're my hero!" to Kluivert, Jae-suk tells him not to act like a sudden fanboy for a guy he never knew about until today. If anything, Dae-sae is the true fanboy because the one jersey he ever bought is of Kluivert's.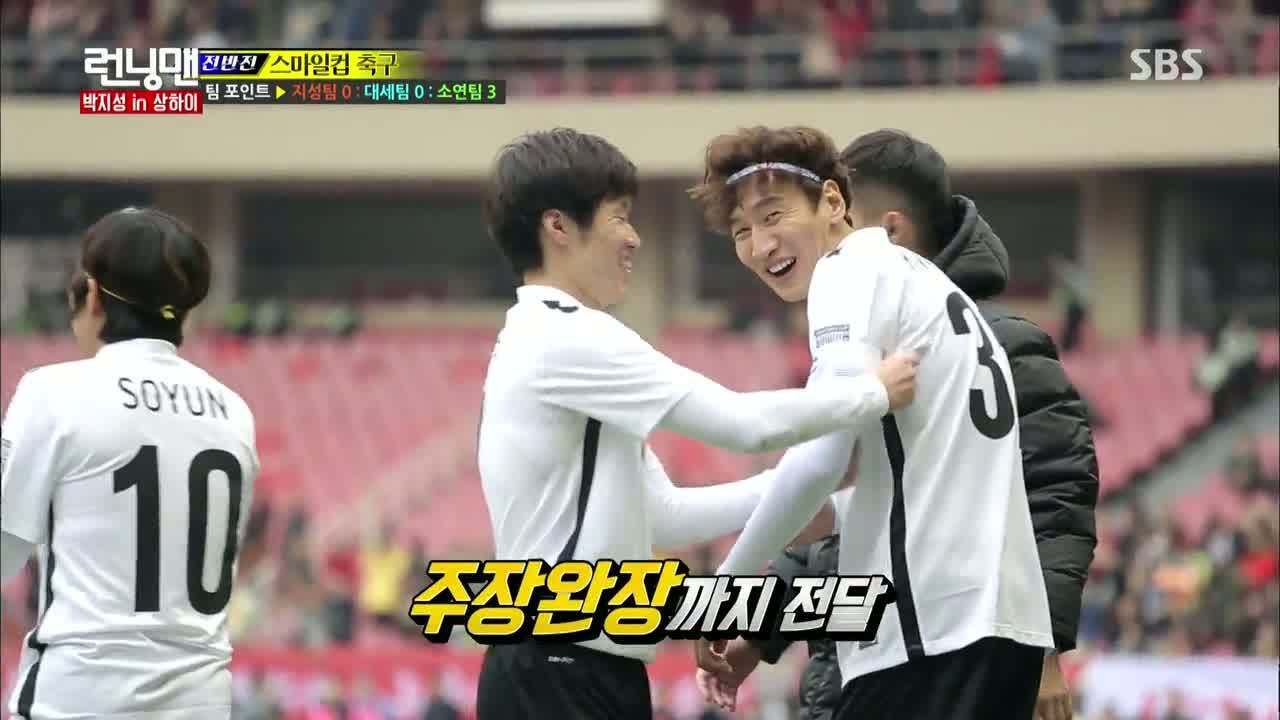 Not long after that, Kluivert shoots on goal and scores. He also helps get two points for Team So-yun. Il-woo gets subbed in as well as Dae-sae and player Park Chan-yong. So-yun, Jong-kook, and Kwang-soo are told to start warming up.
A prime opportunity for Ji-sung to score a goal is snatched, and then he passes on his captain band to Kwang-soo. 'Cause you know, no pressure or anything. Dae-sae passes to Kwang-soo, whose height is comparable to English soccer player Peter Crouch.
The ball comes flying towards him… and falls right into the goalkeeper's hands. Aww. To add insult to injury, the goalkeeper bumps into him and he falls to the ground. He slips some more and loses possession of the ball pretty easily.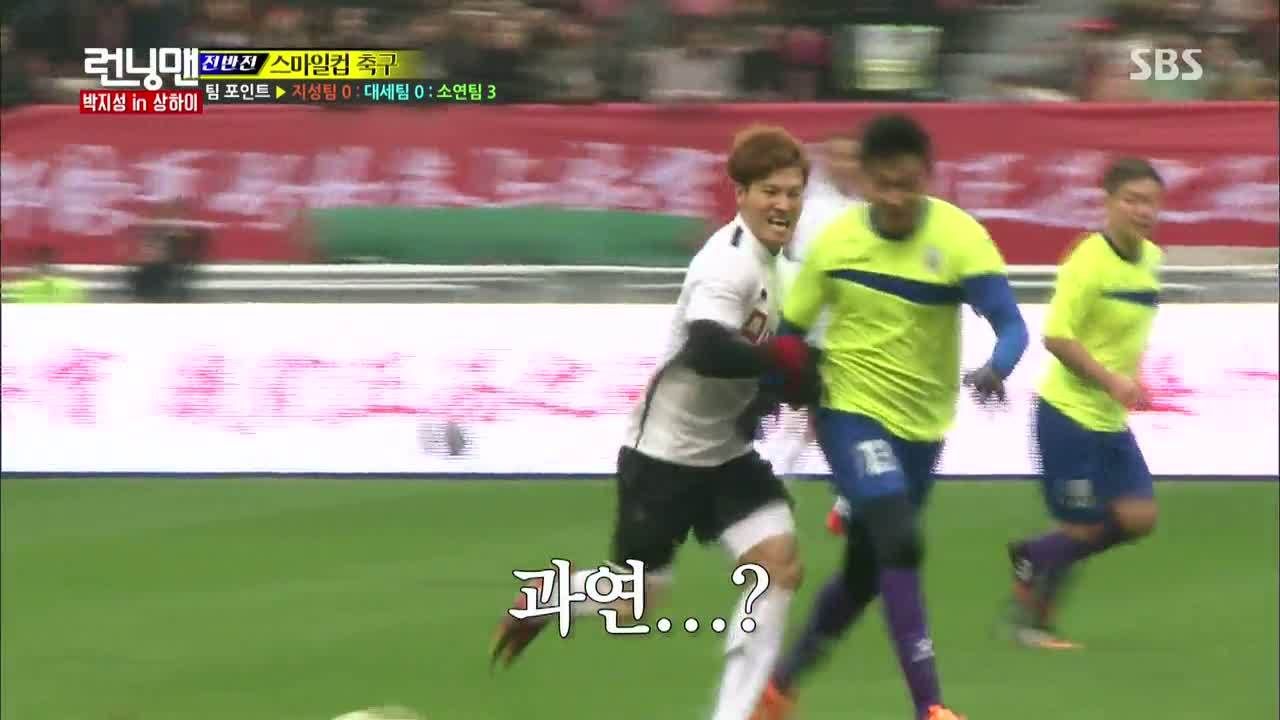 Finally, Kwang-soo gets another chance and kicks the ball… where the opposing team can easily intercept it. Our attention then turns to Jong-kook who rushes towards the ball, ready to shove the opposing team aside for it… only to get bounced back.
Paper Tiger Jong-kook loses possession of the ball again, and soon Il-woo is fighting to gain possession of it. Some time later, Dae-sae gets possession of the ball again and tries shooting it rather than passing it to Kwang-soo. Commentator Park laughs, "That's because he didn't trust [Kwang-soo]!"
While iKON performs the halftime show, Coach Choi appoints Jae-suk as a striker and Kwang-soo to assist him. As the second half begins, the cast worries about Joong-ki, who sustained a knee injury on the set of Descendents of the Sun back in November.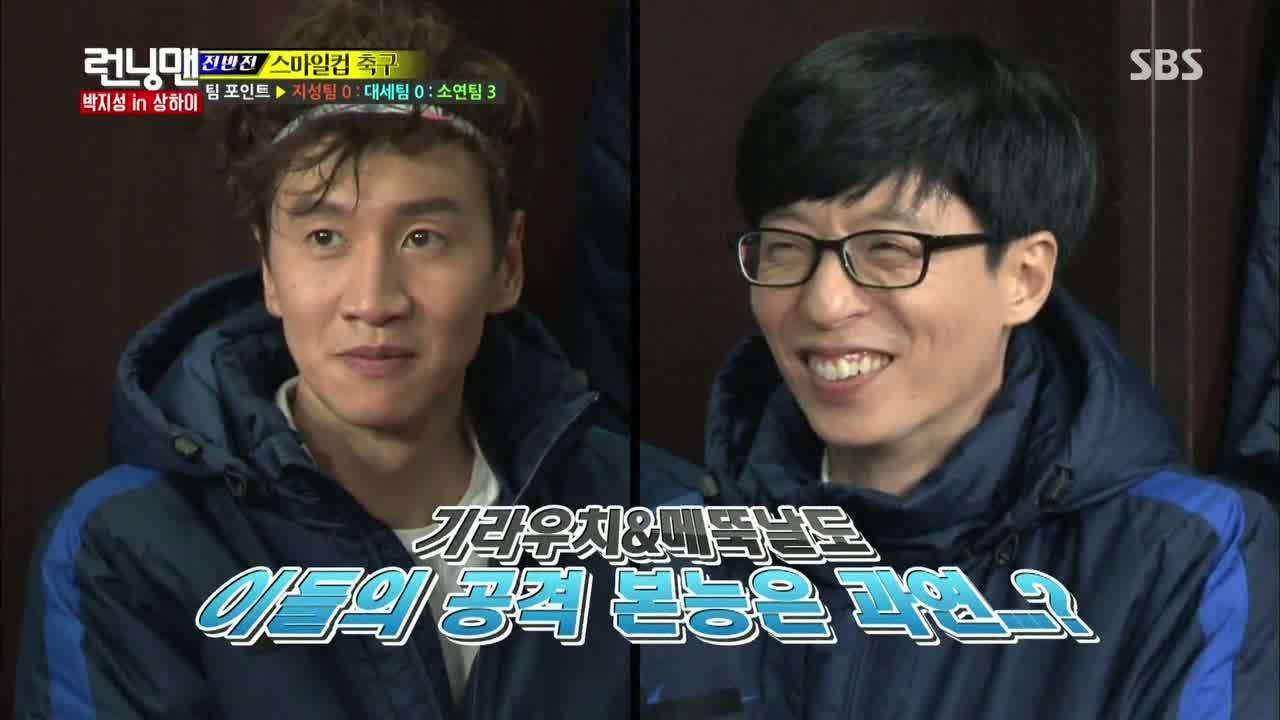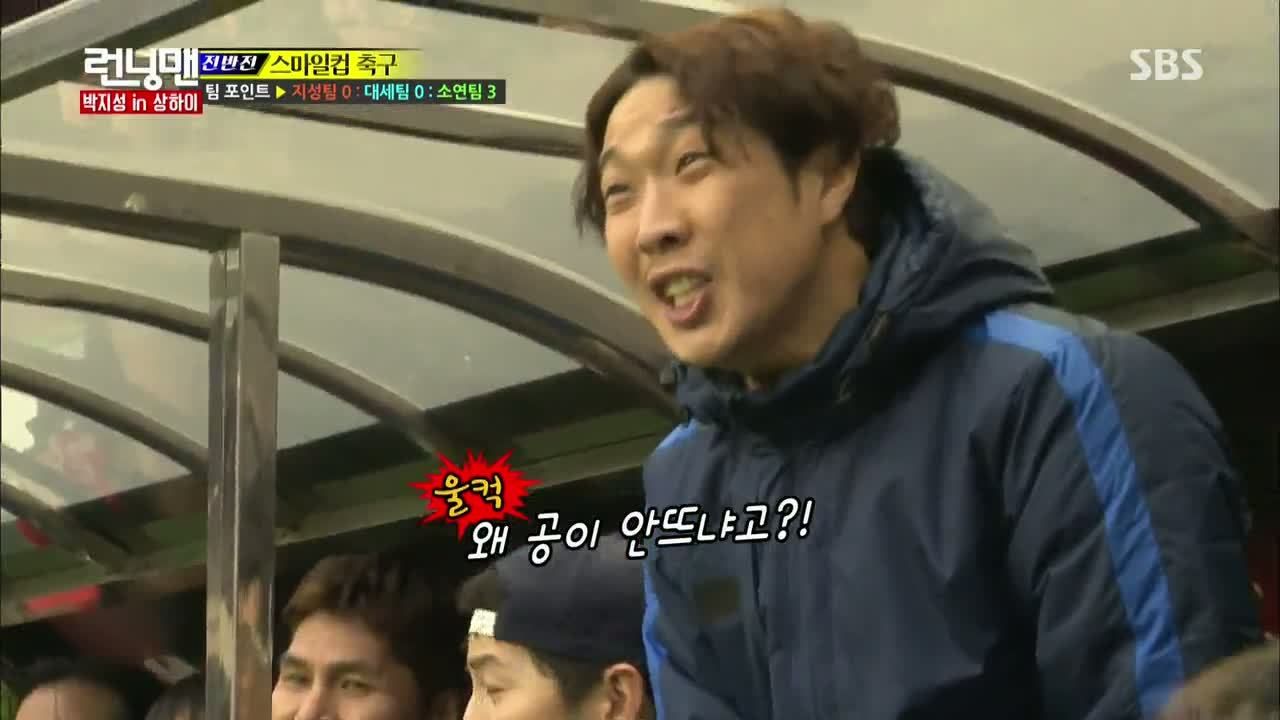 Jae-suk gets teased from the sidelines for having his jersey tucked into his pants, but bless his heart, he tries to grab any opportunity to get possession of the ball. Remembering to utilize Kwang-soo (and Dae-sae)'s help, Jae-suk waits until the ball comes to him… and then Kwang-soo goes for the tackle.
Watching Kwang-soo play frustrates everyone, and at one point Haha screams, "Why won't the ball get off the ground?!" Even when Dae-sae sets it up for his teammates, neither Jae-suk nor Kwang-soo can get to the ball fast enough.
A prime opportunity opens up for Jong-kook, who gets ready to kick… then tumbles on the field. Oh no! Haha: "This is a guy who's been exercising his entire life!"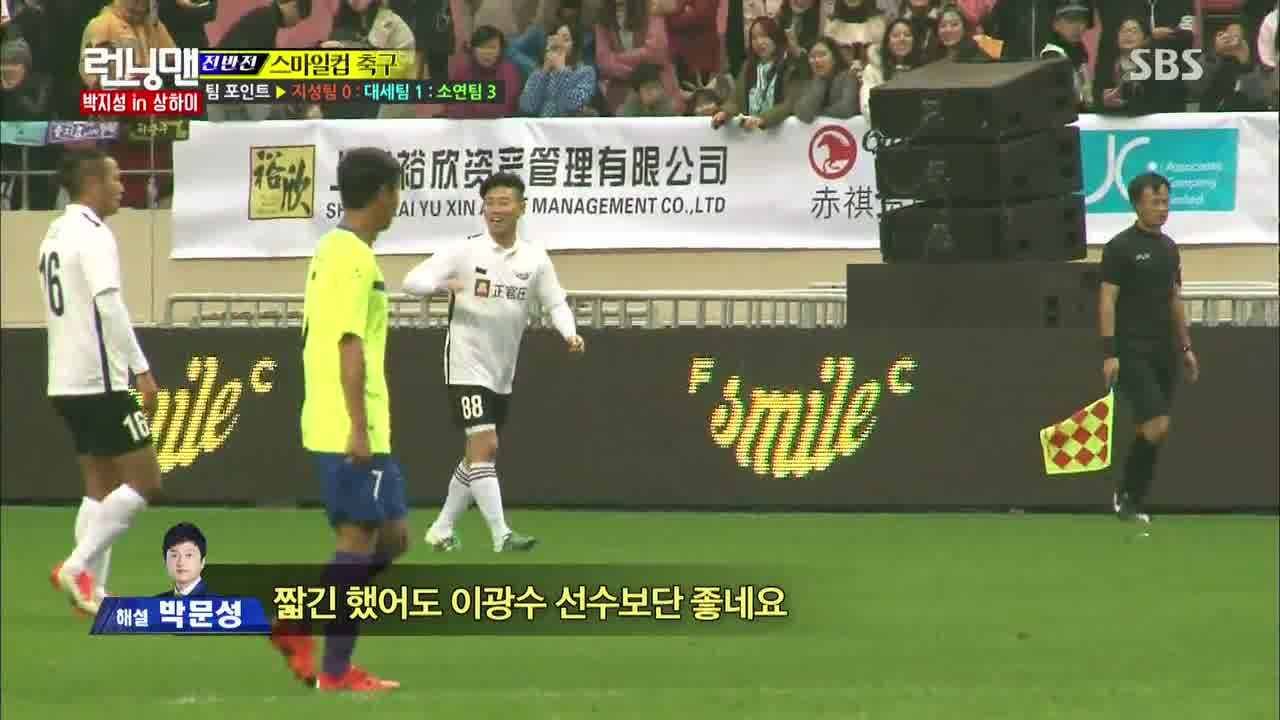 A little later, one of the Chinese All-Stars push So-yun away in order to get possession of the ball. Everyone is surprised by the ungentlemanly attack, and then Jae-suk sticks out his foot to trip him. LOL.
A shot on the Korean team's goal flies over the post, and a second shot is blocked by goalkeeper Park Hyung-min. That earns Team Dae-sae a point. Haha, Suk-jin, and Gary are called out to warm up, though the commentators point out that Suk-jin looks like he's going to hurt himself.
Jong-kook, Il-woo, Jae-suk, and Kwang-soo are called off the field. Suk-jin loses his first opportunity to dribble the ball from the very start, and Gary is noted to be shorter than Kwang-soo, but a better player.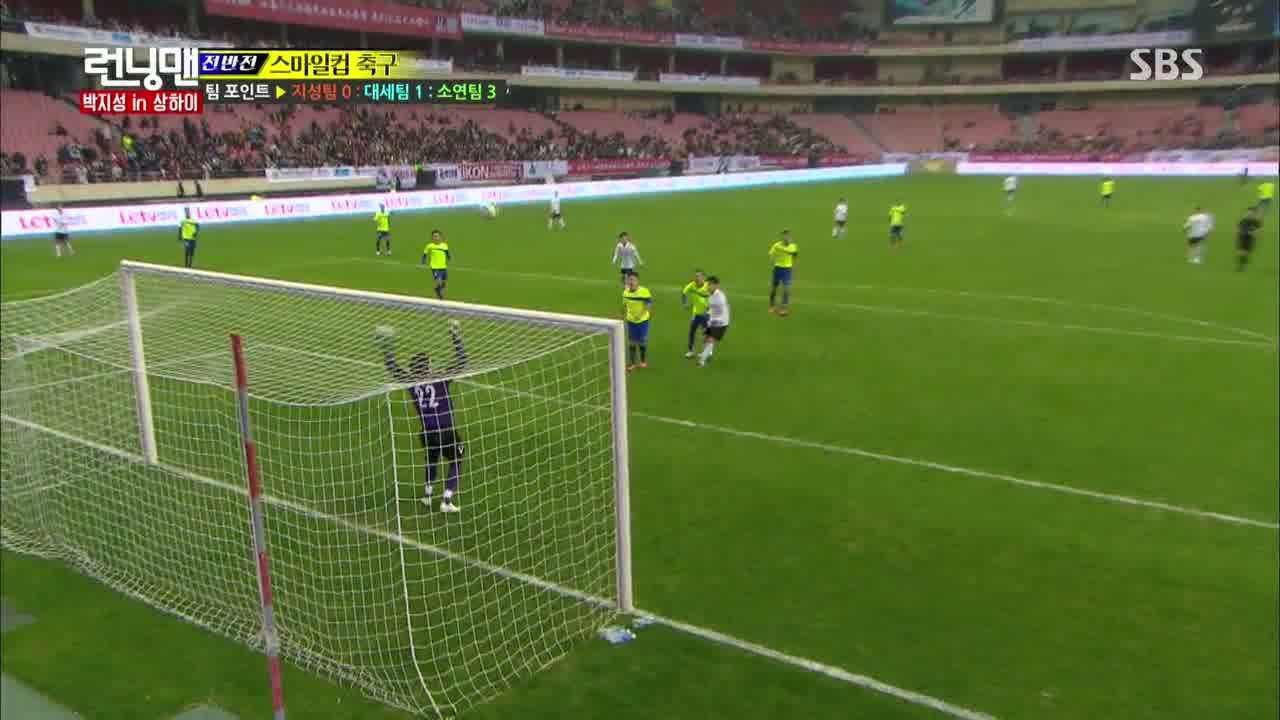 Haha passes to So-yun for a shot on goal, but that misses. Dae-sae passes the ball to the open, and Haha rushes towards it… only to tumble on the field instead. Ji-hyo subs in for Haha, and the boys on the field give her any opportunity to work with the ball.
A few passes later Dae-sae goes for the shot, which comes in contact with the goalkeeper's hands and hits the top post. There's another opportunity when he passes the ball to Suk-jin, who goes for the heading…
… and the goalkeeper punches it out at the last second. Oh man!
Goalkeeper Park Hyung-min earns another point for Team Dae-sae with a successful save and punches out another corner kick for another point. The game ends 1:0 in favor of the Korean All-Stars.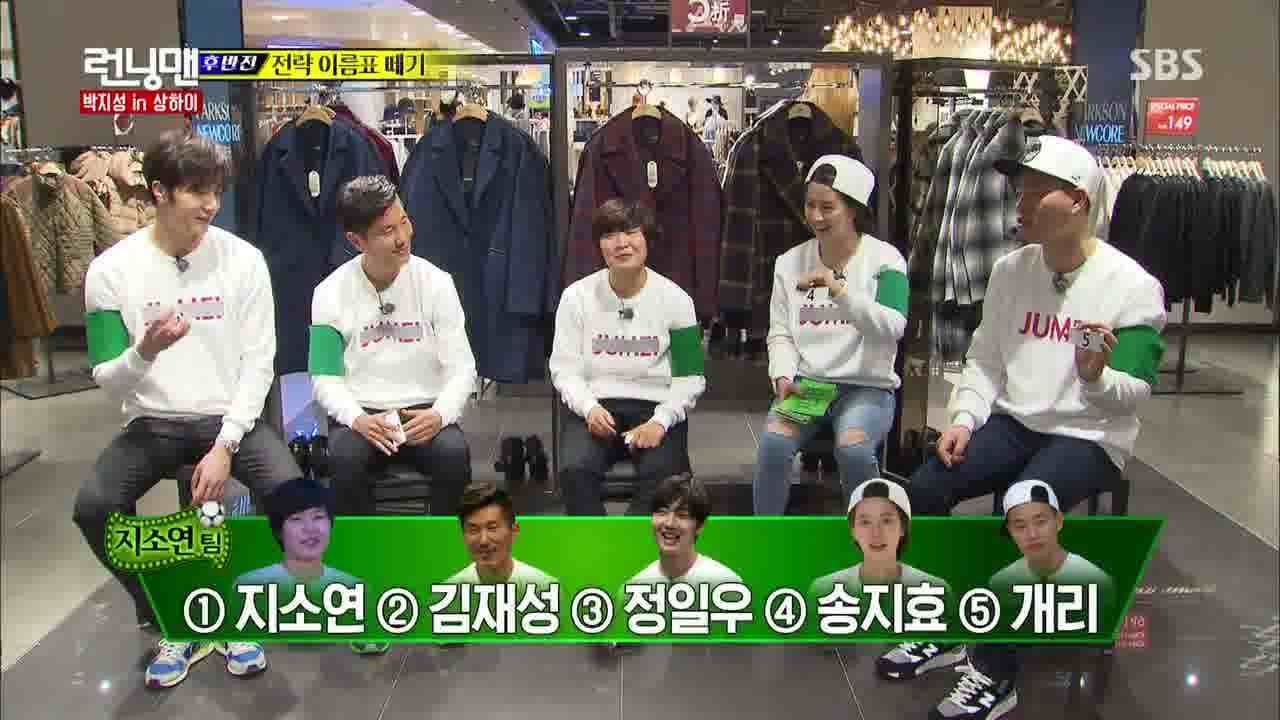 As the players exchange hugs and farewells, the sportscasters wonder if the covered sports or a variety show. "Socc-riety" is the answer. Il-woo, midfielders Kim Jae-sung and Han Gook-young, and defender Kim Dong-jin join in the second half of this Running Man Champion League game.
When asked who they were most disappointed in, Kim Dong-jin names Kwang-soo. The soccer players join the lineup (Il-woo and Jae-sung to Team So-yun, Gook-young and Dong-jin to Team Ji-sung, and Coach Kim Tae-young to Team Dae-sae) for a nametag mission.
Each of them will have a number between one to five, and must eliminate someone else from a different team with that number. But they better choose wisely because one error will earn them a yellow card and two will earn them a red card and get kicked out of the game.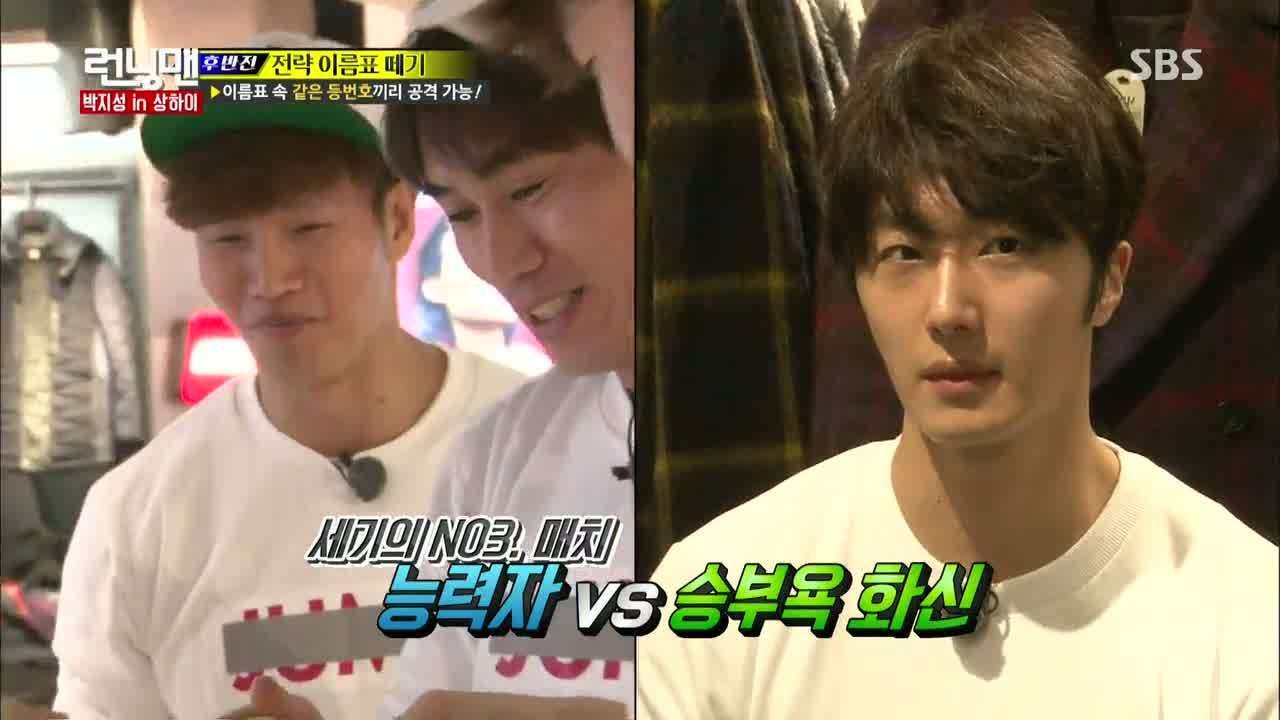 There are hints scattered throughout the department store, and while Teams So-yun and Dae-sae earn three hints, Team Ji-sung only gets one. And whose name do they get? Ji-sung cracks up, "Suk-jin hyung…" HAHAHA.
No. 3 Jong-kook is practically gleeful that he'll be going after Il-woo. No. 5. Kwang-soo feels confident about taking on Haha, and both Suk-jin and Jae-suk learn that they're a No. 4.
Il-woo gets scolded for picking the envelope with Suk-jin's number, then they learn that So-yun's targets are No. 1 Dae-sae and Dong-jin. Once the game begins, Ji-sung finds a hint, takes a picture of it, then promptly tears it up. Oooh, look who upped his variety game.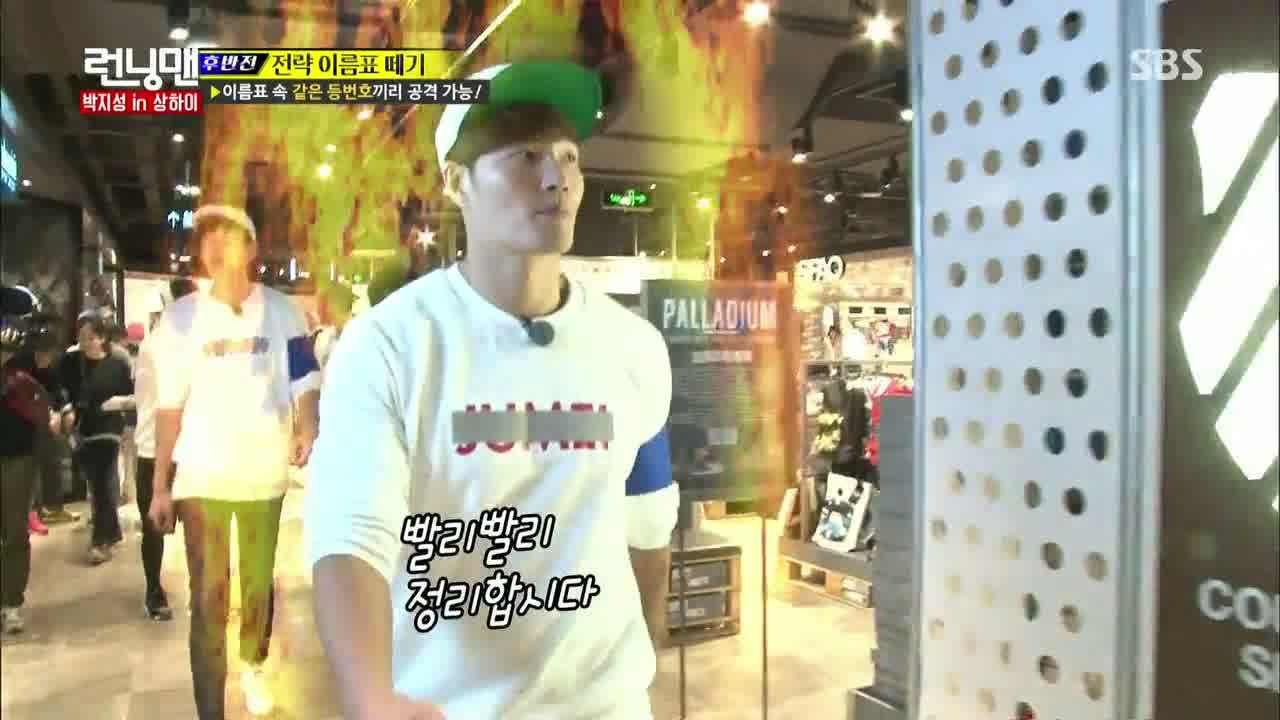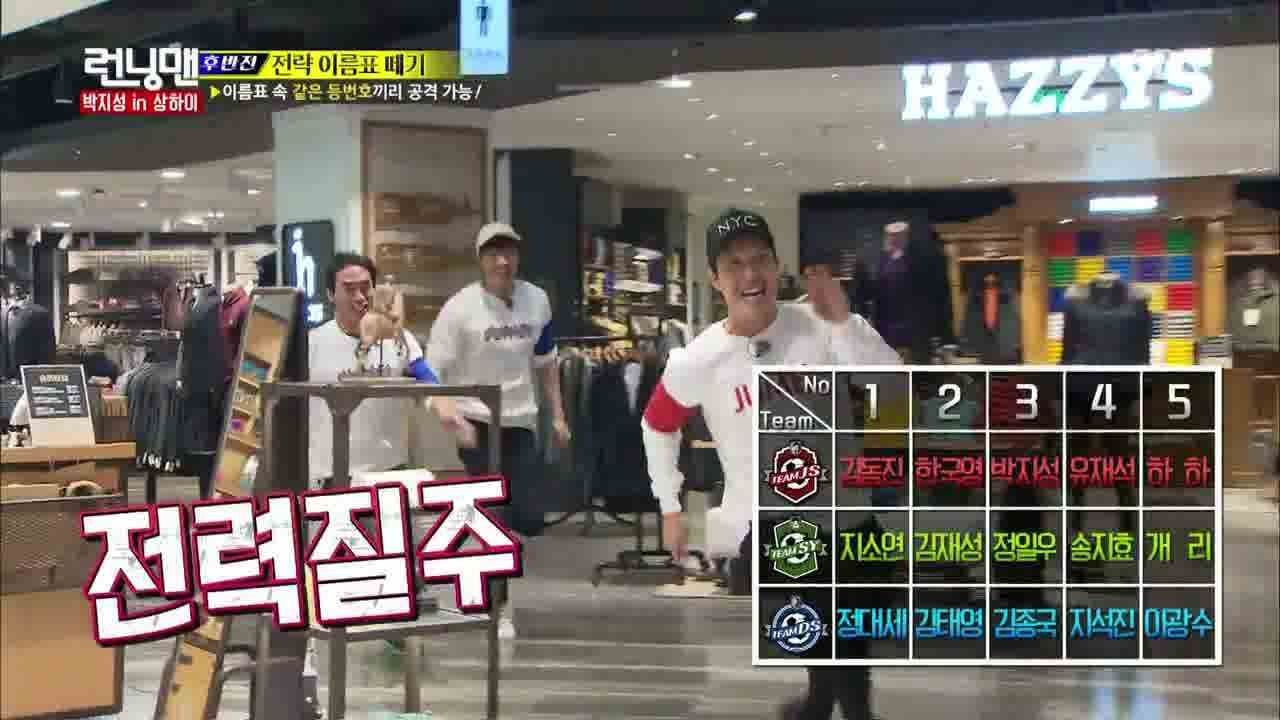 He and Jae-suk figure out that Jong-kook is a No. 3, and instead of searching for hints, Jong-kook and Dae-sae are out hunting for prey. Haha starts running when he catches wind that Kwang-soo and Tae-young are after him.
The soccer coach catches up to him though, and Kwang-soo rips off Haha's nametag. Team Ji-sung can hardly believe that they're already down a number, and Haha gripes that he barely went down a flight of stairs before he was eliminated.
Ji-hyo and Il-woo become allies with Ji-sung and Jae-suk and exchange intel about Kwang-soo and Dae-sae. Team Dae-sae shows up just then, and Tae-young lunges for Gary's nametag.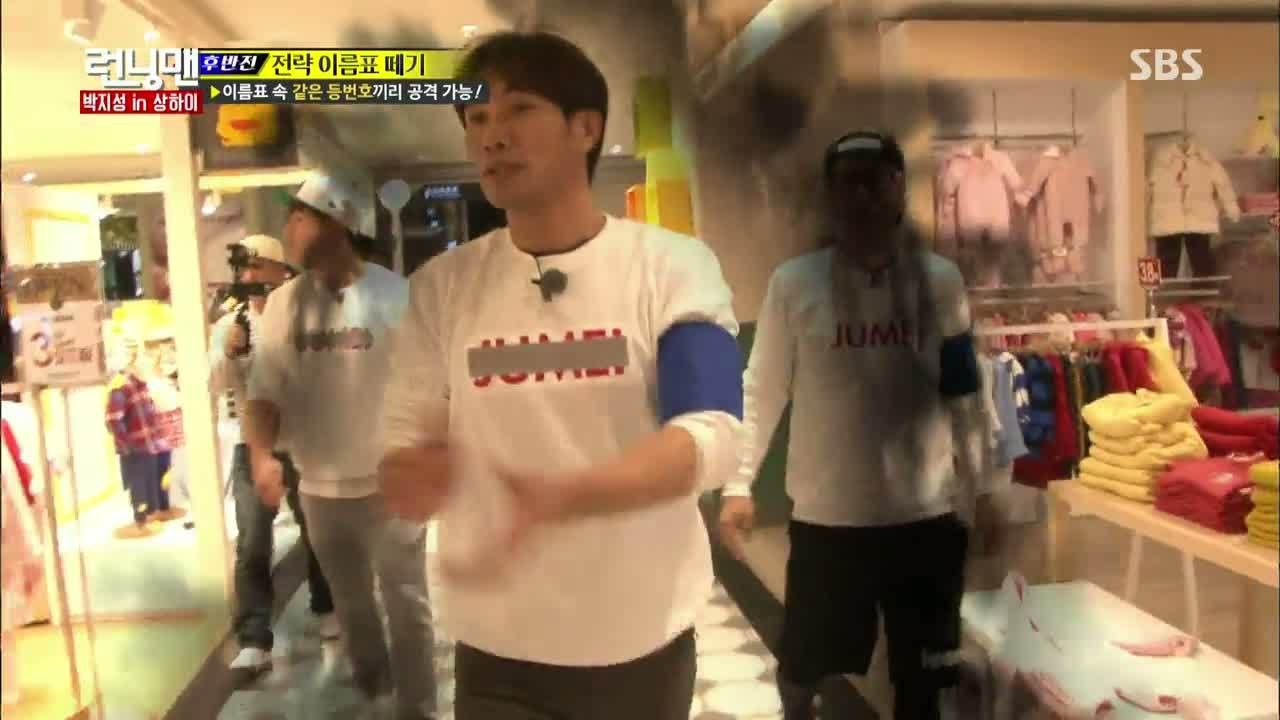 He doesn't get it, but it kicks everyone into gear: Dae-sae rips off Gary's nametag and Jae-suk targets Suk-jin. Haha's been expecting Suk-jin to join him, and he prides himself on his correct estimate.
Everyone is initially confused by Dae-sae's choice to attack Gary, but that was all part of the plan. It happens that Coach Tae-young wanted him to risk that yellow card so that they can learn another number. Nice strategy.
Il-woo is eager to go and eliminate Ji-sung right then and there when he learns of his number. But his team isn't the only one thinking—Jae-suk realizes that Ji-hyo attacking him means that she's his number twin and deduces that Coach Tae-young is No. 2.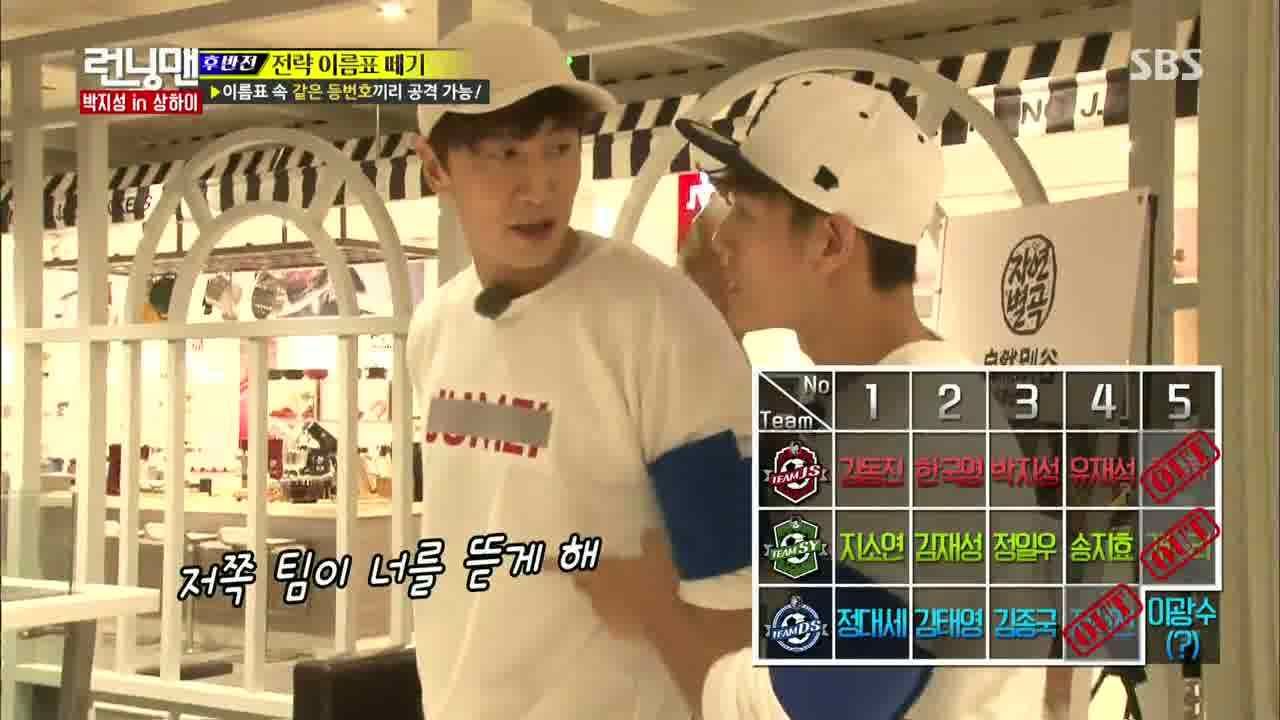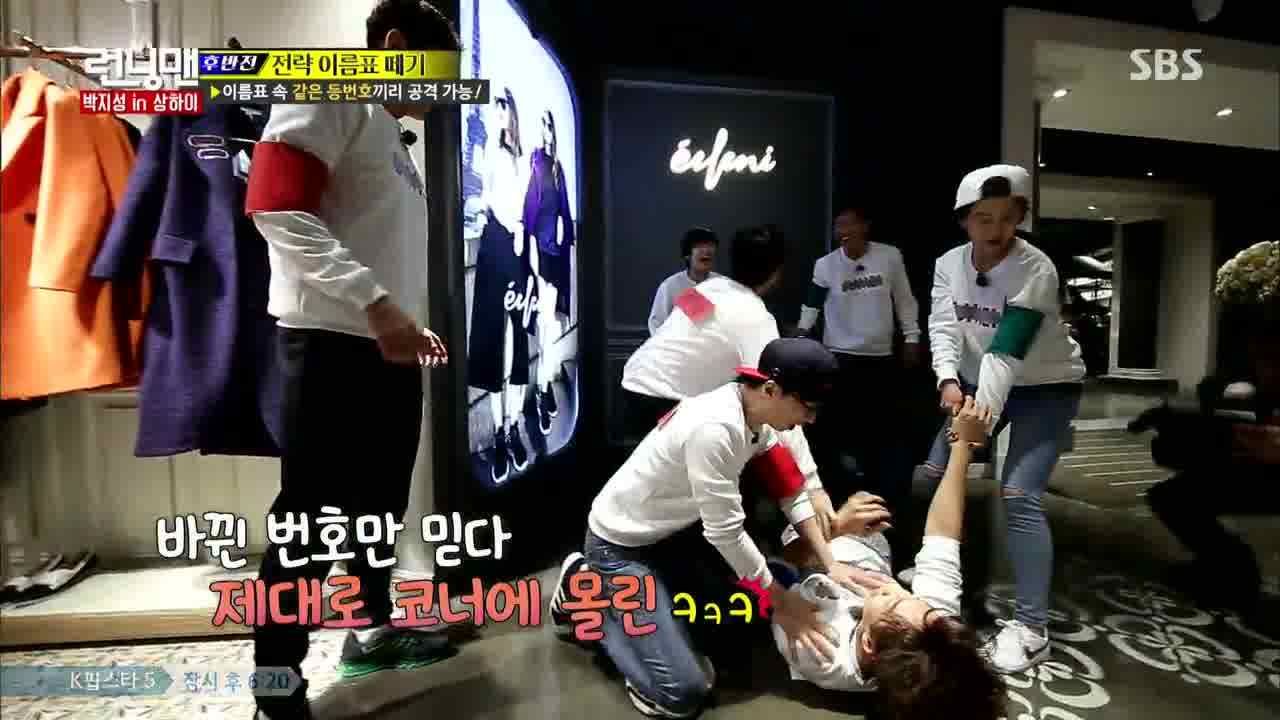 Kwang-soo targets Gary, which turns out to be a bad idea when he soon finds himself outnumbered. Reinforcements come to help, and in the end, Gary is eliminated. Since Kwang-soo no longer has any targets or predators, he's free to choose whatever number he likes.
He becomes the bait for any target whose number they have yet to figure out. The others initially fear him, but then figures they can take the risk and find out his number. Suffice it to say things so south pretty quickly and they don't believe him when he says he's still a No. 5.
Ji-sung steps up to take the risk and tears off Kwang-soo's nametag. Once he learns that Kwang-soo's a fellow No 3, it dawns on him that he's eliminated Kwang-soo. HA.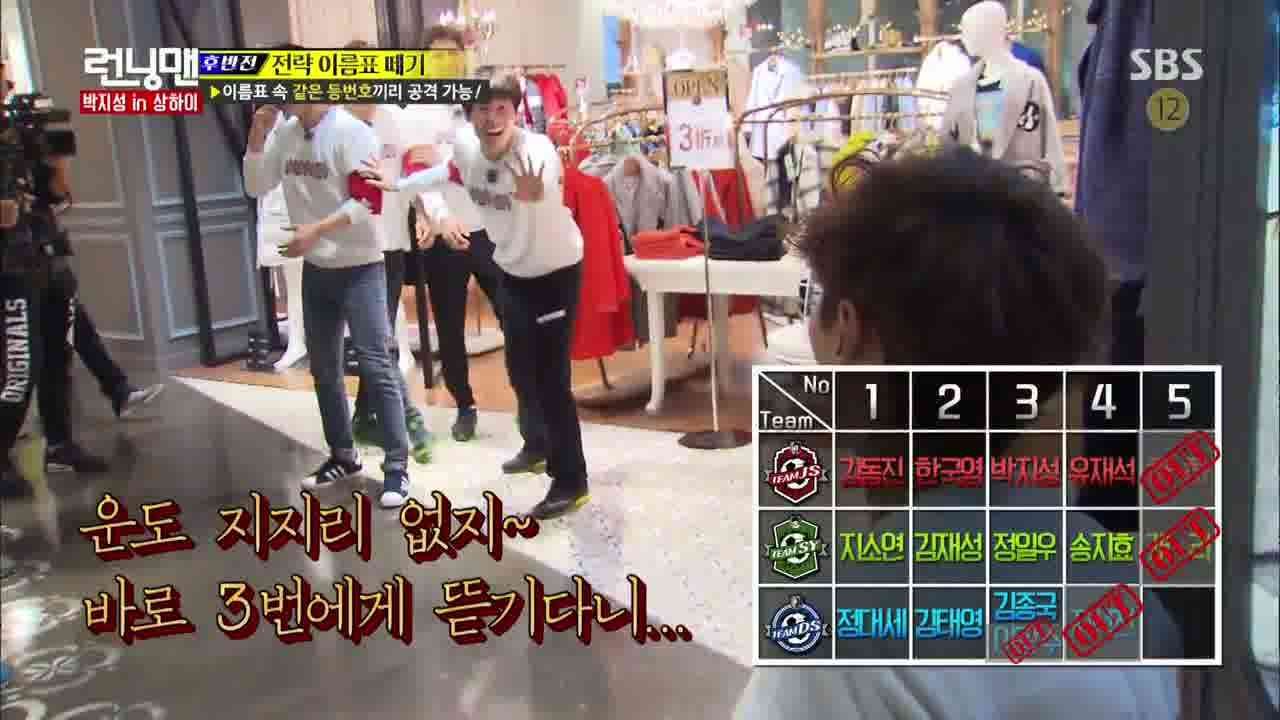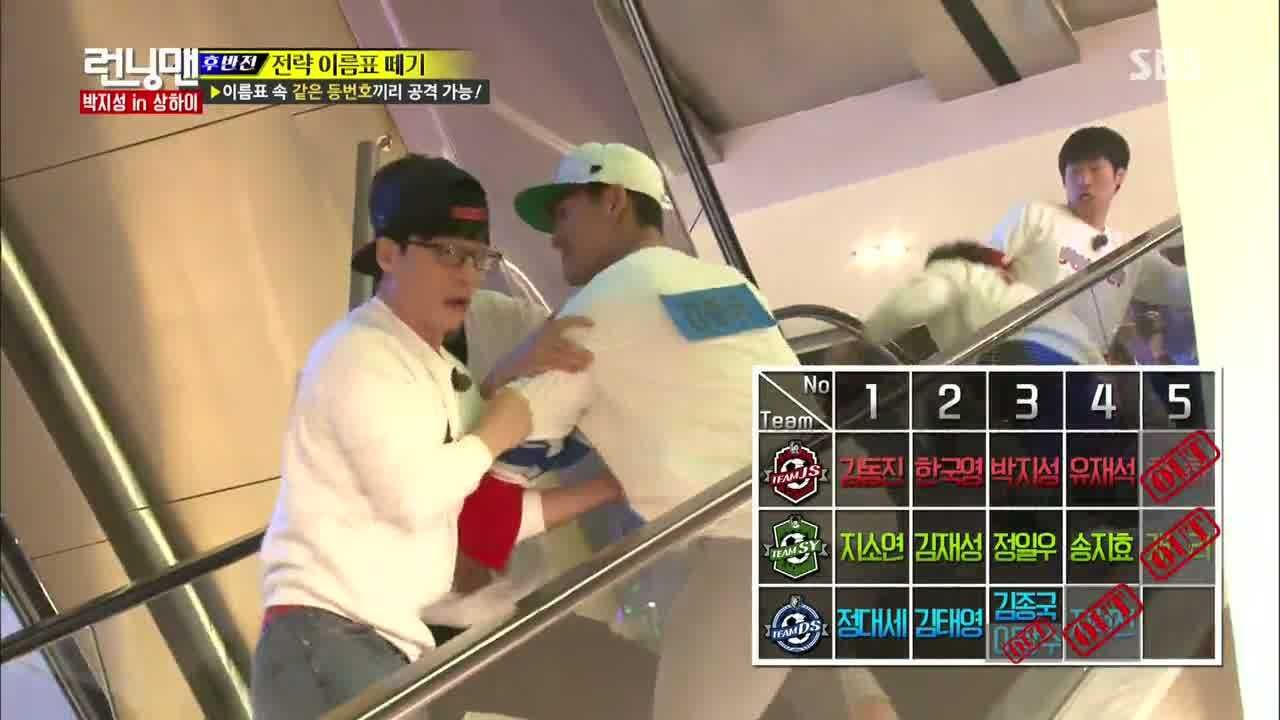 His hyungs learn of Ji-sung's number by asking Kwang-soo who eliminated him. No one dares to approach Jong-kook, who climbs up the escalator. Just as Dae-sae pops his head up from the other side, Ji-sung reaches over and tears of Jong-kook's nametag. Score.
Ji-sung overhears Jae-sung telling Il-woo that he'll help him. Now that he knows, Ji-sung launches himself at Dae-sae, and Il-woo tries to find an opportunity. In the ensuing chaos, it's So-yun who tears off Dong-jin's nametag.
Ji-sung runs for it and so does Jae-suk, but Ji-hyo takes care of him quick enough. Ji-sung and Il-woo face off, and it looks like they both tore each other's nametag around the same time. A replay proves that Il-woo was quicker and now Gook-young is only man left for his team.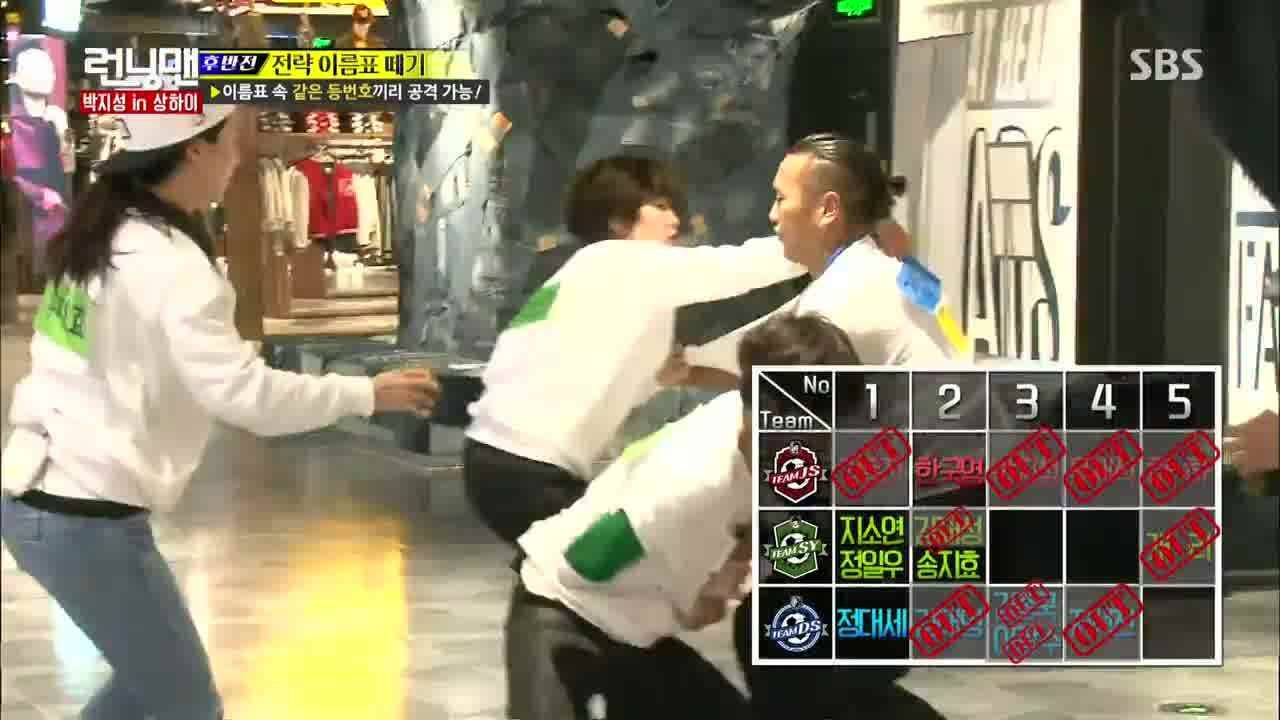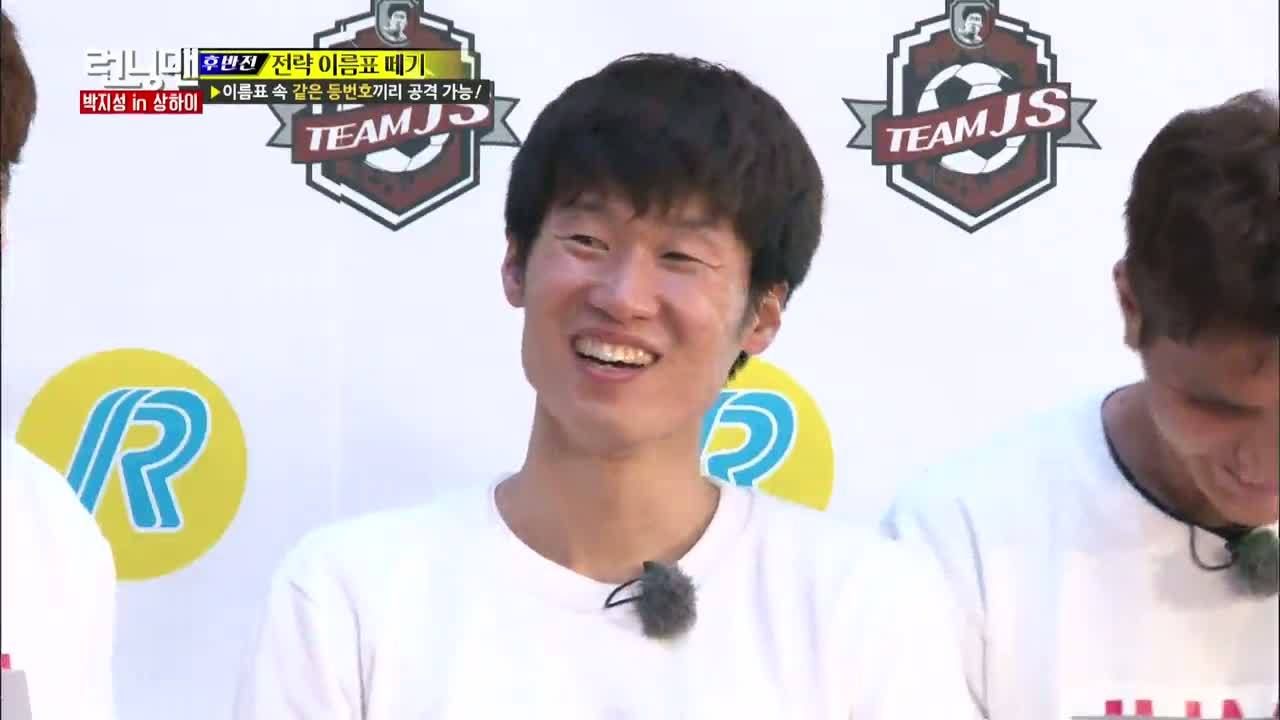 Both Il-woo and Ji-hyo change numbers to 1 and 2, respectively, and the guys in jail are bored out of their minds. Meanwhile, Coach Tae-young asks his VJ if he's ready to run, but no need because Team So-yun comes to him.
He immediately targets Gook-young, only to be whipped around allowing Gook-young to eliminate him. Dae-sae tries his best to keep three people at bay, but So-yun finally tears off his nametag.
Gook-young is outnumbered 3:1, and it's So-yun who takes him down to allow Ji-hyo to eliminate him. The victors are awarded with trophies, and Ji-sung couldn't be more pleased with today's games.
But it looks like it isn't over yet because next week holds all new kinds of adventure…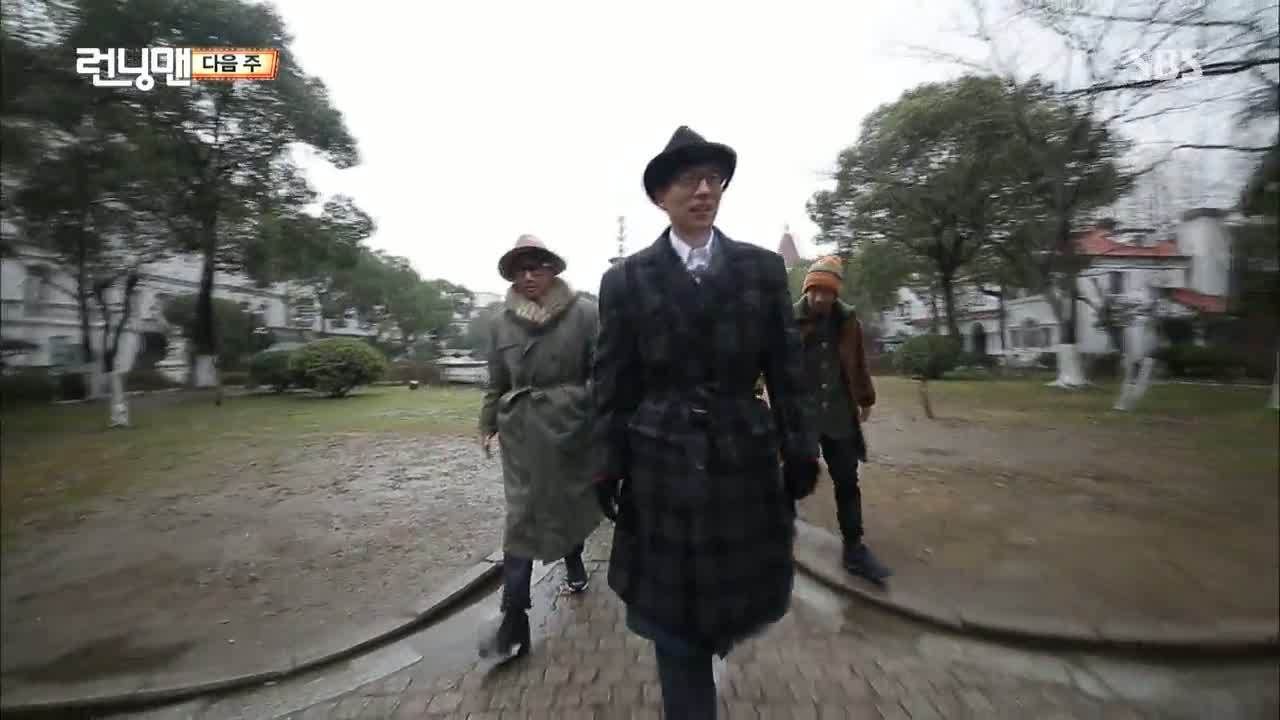 RELATED POSTS
Tags: featured, Haha, Ji Suk-jin, Kang Gary, Kim Jong-kook, Lee Kwang-soo, Running Man, Song Ji-hyo, Yoo Jae-suk