Cheese in the Trap: Episode 11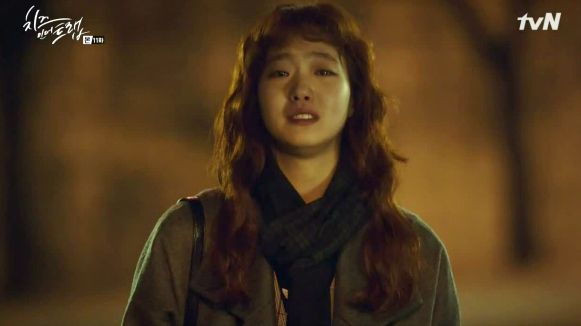 And we're back! Phew, that was a long two weeks, but I white-knuckled through it. I don't know if it was because the romance was in a cooling period that coincided with the break, but it seems like an extra long time since we've seen our couple together, let alone happy. I think we've earned some happy, don't you? This episode is a big one for our heroine, who faces some harsh truths about her family and begins to fight for the things she wants, in more ways than one.

SONG OF THE DAY
SALTNPAPER – "Go" for the Cheese in the Trap OST [ Download ]
Audio clip: Adobe Flash Player (version 9 or above) is required to play this audio clip. Download the latest version here. You also need to have JavaScript enabled in your browser.

EPISODE 11 RECAP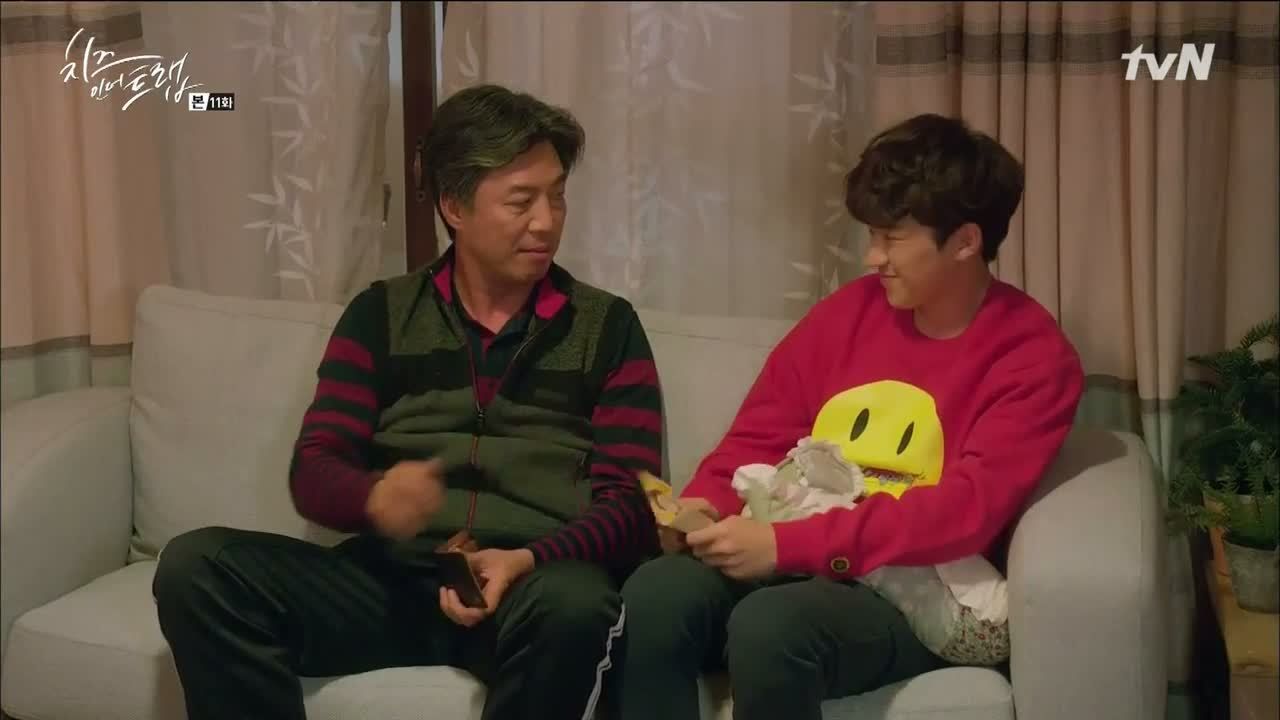 Seol can't help herself and stares at the picture of her boyfriend looking cozy next to In-ha, and has to convince herself not to attach any meaning to it. She puts it down and tries to focus on looking for a job, and happens to overhear Little Bro Joon whining for more allowance from Dad, and Dad just handing him more money so that he can "live like a man." While Seol gives up so much for them to get by? Ugh, the sexism in this house, I swear.
Stalker Boy Young-gon spends an entire class muttering to himself about how he's going to embarrass Jung with that photo of him and In-ha, after which he'll be the only guy left in Seol's life. You know, for a stalker, you know very little about how many guys are orbiting Seol.
Eun-taek can sense the stalker's stare and ushers Bora and Seol out of class as soon as it's over, but Seol pauses when she sees In-ha standing in the hall waiting for class to be let out.
Young-gon does his damnedest to catch up to Seol, brushing aside his girlfriend Da-young, who's already fed up. She demands to talk now, at which he raises his hand to strike her. He stops short, but it's enough for everyone to gasp.
Suddenly In-ha steps in and slaps Young-gon across the face and screams at him for being a cheating bastard. Muahaha. She pounds him over and over, crying that he said she was the only one. She stares Da-young up and down, calling her Young-gon's second girlfriend on the side and pitying her.
Da-young doesn't believe her at first and demands to know who In-ha is, but In-ha shows everyone the picture of shirtless Young-gon on her phone (ah, so that's what the naughty picture exchange was for). Young-gon tries to defend himself, but Da-young says the photo was sent from his phone number, and slaps him across the face.
Young-gon won't go down like this and takes out his phone to show everyone the photo of In-ha with Jung. He says that this girl is really Jung's girlfriend, not his. Seol has stood by this whole time without saying anything, just wondering curiously how In-ha would know Young-gon.
But now her anger bubbles up and she thinks to herself that it enraged her to see Jung dragged through the mud by a scumbag like Young-gon. Seol steps out from the crowd and says she's seen the picture and acts as cavalier about it as possible. She says she knows In-ha and is friendly with her brother, and that Jung grew up with them. Seol calls that amount of skinship in the photo no big deal for someone like In-ha, lying that she spent time abroad, and In-ha comes running to cry on Seol's shoulder.
Young-gon tells them to stop acting and screams that Seol couldn't possibly know In-ha, but he's the only one who looks like a liar now, and Da-young calls herself the crazy one for dating a lying bastard like him. He tries to calm her down and explain himself, but she cuts him off: "Get lost, you dirty bastard, and never call me again!" She slaps him one last time and stalks off, and In-ha gets in one last hair-grab too.
Young-gon scrambles up from the floor to plead his case with Seol, but she stares him right in the face and says, "Trash. You're trash without an answer." She pushes him away, and he deflates. He stands there in shock as everyone walks away from him.
Seol asks In-ha to sit down with her for a chat, and admits that she said that stuff back there to make In-ha's story more credible. Seol asks warily if In-ha really dated Young-gon, or if this has something to do with Jung. In-ha can tell what she's afraid of and says it has nothing to do with Jung this time, but wonders what Seol would do if it had.
In-ha says there's really only two types of girls around Jung—the kind who run away scared or cling because they know he's loaded—but this is the first time she's met someone like Seol, who's neither.
In-ha thinks Seol is just stringing Jung along and will leave anyway, and warns her to do it sooner rather than later before making things hard "for our Jung-ie." In-ha adds a warning that she'll make Seol leave if she has to, and then makes a big show of texting Jung.
Meanwhile Jung is busy being the work doormat. The assistant manager above him just continues to abuse his power and dump all the busywork on Jung, purposely excluding him from lunches with the boss and putting his name on all of Jung's work.
Jung is so frustrated that he slams his chair as he gets up from his desk, but he spots a few other co-workers staring curiously, and he remembers his father's warning that people will be watching his behavior.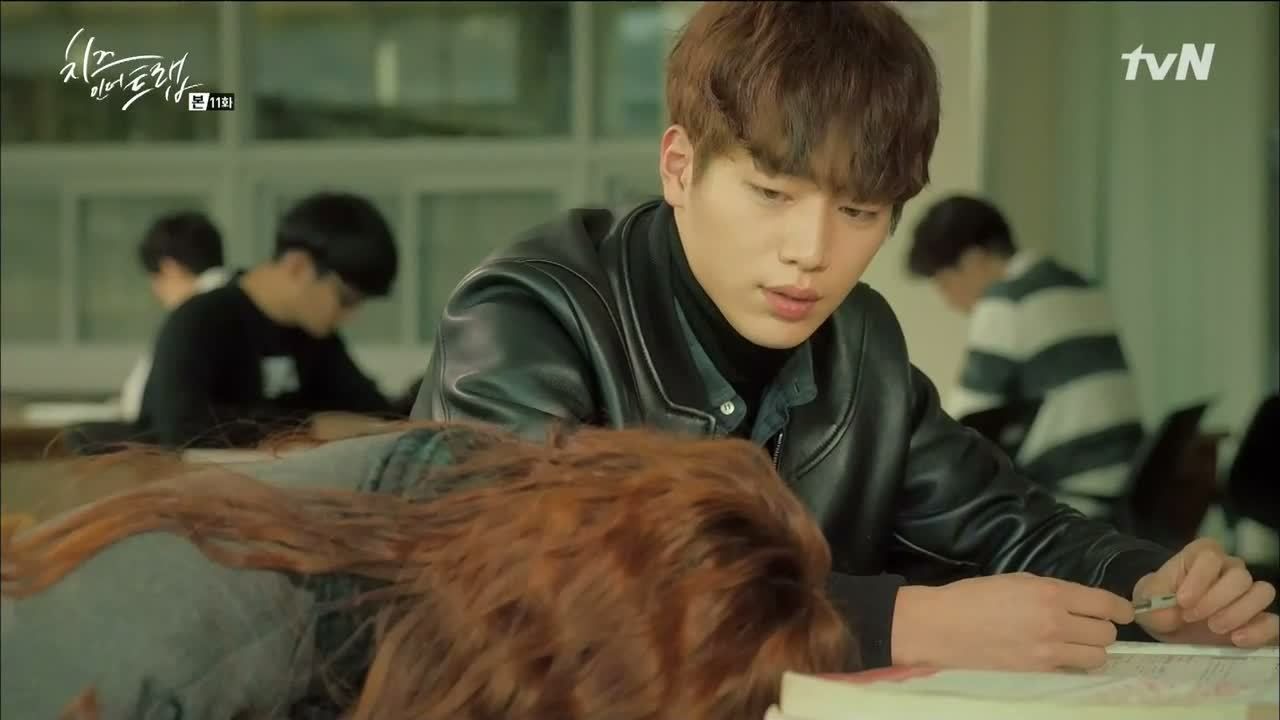 Seol tutors In-ho in the library, and he wonders if they're allowed to be in here when she got fired from her job. She points out that she wasn't banned from being in the library, and says she's got plenty of time to oversee his studies. She sets her timer for another practice test, and by the time it goes off, she's asleep.
In-ho scrambles to shut the alarm off and then watches her sleep, remembering his sister's accusation that he liked Seol. He stares at her and wonders aloud, "Do I…?" He starts to write in his textbook, and tears the corner of the page out to leave as a note next to Seol before heading off to piano practice.
She wakes up sometime later to read the note, which just says that he's sorry he didn't finish the practice test, and nags her to sleep at home, not at school. Adorably, she takes out a red pen and corrects his grammar in the note.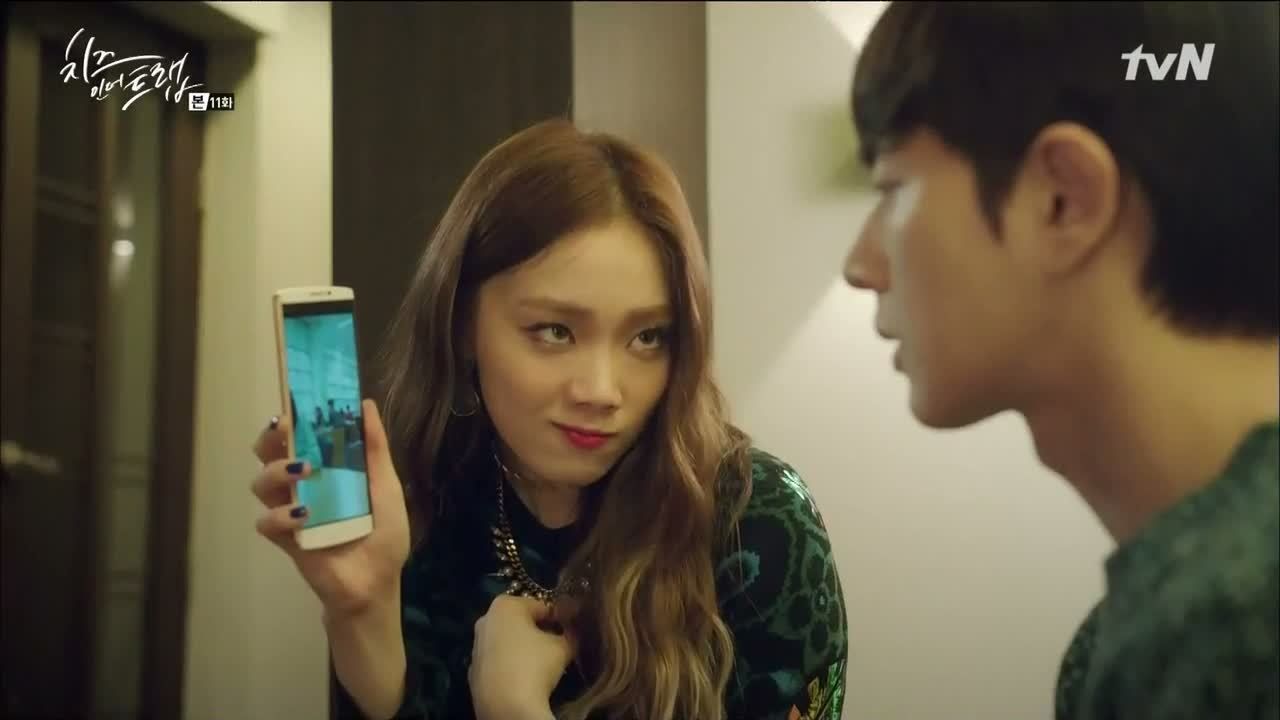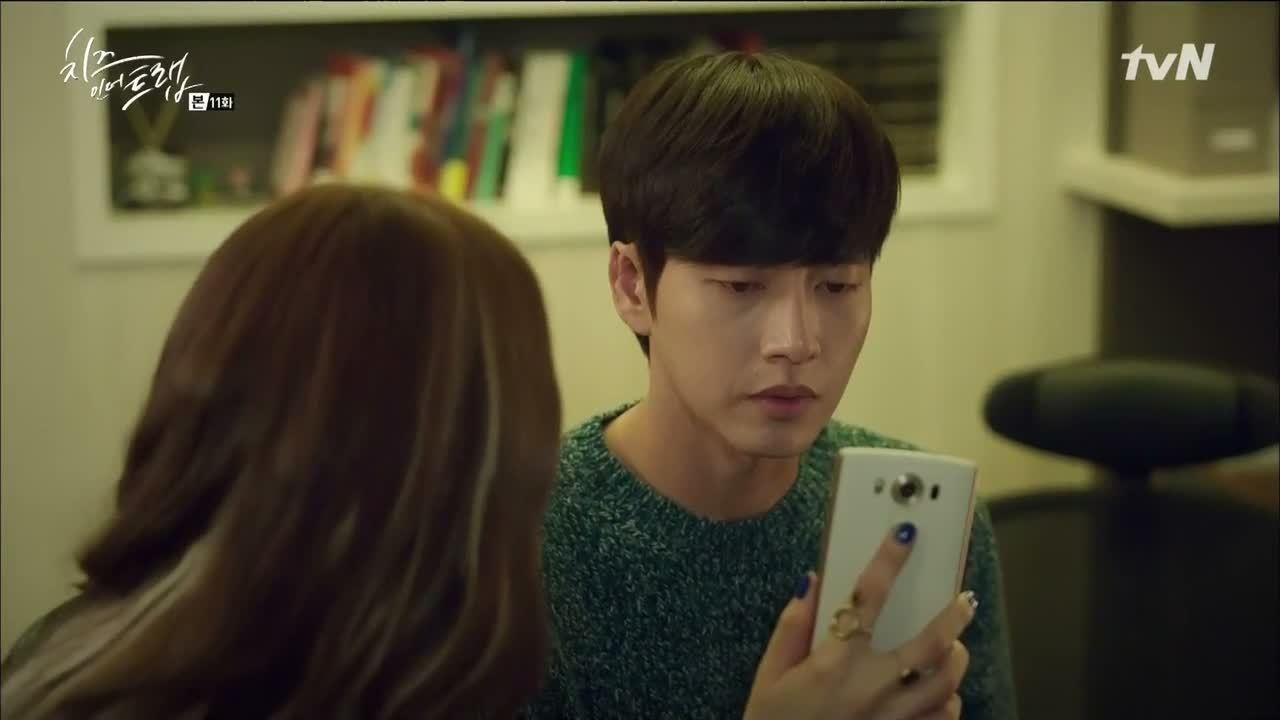 In-ho practices "Für Elise" and thinks of Seol as he plays, and his teacher listens from the hall with a smile, hearing the emotion in the way he's playing. He thinks that it sounds like a sad wind, and decides that In-ho is becoming In-ho again.
Jung tells In-ha that his one condition in accepting her deal was for her to stay away from Seol. I knew you put her up to this! He's upset that her idea of taking care of Stalker Boy was to make a public scene involving Seol, but In-ha says in her defense that Stalker Boy went wherever Seol went. So while stalking the stalker, In-ha ended up seeing a LOT of Seol… and In-ho by her side. And naturally she took a whole bunch of photos to prove it.
She shows them to Jung, feigning worry but obviously enjoying this, and Jung can't really hide his reaction to seeing them together all the time. In-ha offers to send the pictures to Jung and walks away with a brand new credit card.
Seol walks home and thinks over In-ha's accusation that she was stringing Jung along. She realizes that she's right about being non-committal: "I can't run away, I can't accept him. I can't commit. But then when things get hard, I wish Sunbae were by my side. And I miss him."
When she opens the front door, she's pulled out of her thoughts by Dad yelling at Joon and hitting him over and over. He's discovered that Joon dropped out of school and doesn't want to go back to the States, and Dad refuses to let that stand. He tells Joon that he's leaving right away and he'll put Seol on a break from school to pay for his tuition if he has to. What the ever living…
At that, Seol shows herself and finally speaks up. She asks why she should have to take time off of school for Joon, when last semester she had to give up her apartment and start doing a four-hour commute, on top of part-time jobs and maintaining her scholarship.
Dad says she might feel bad now, but he asks her to think of the future, because all she has to do is get married, while Joon has to take care of their family. BARF. Seriously?
Seol asks, "Am I not your child? Do I become a stranger when I get married? I work part-time jobs on my own, earn my own tuition. I worry about my grades slipping, that I won't be able to keep my scholarship. My head feels like it's going to crack because of money worries every single day! No matter how much I try, you've never once been satisfied. You've never once praised me. I want to be praised and comforted too."
Mom goes over to comfort her, but Seol says that Mom is no different—in the end she asks Seol to take on all the responsibility and just expects her to do it. Mom says it's because she can depend on Seol more, but Seol asks, "What about me then? Whom do I depend on?"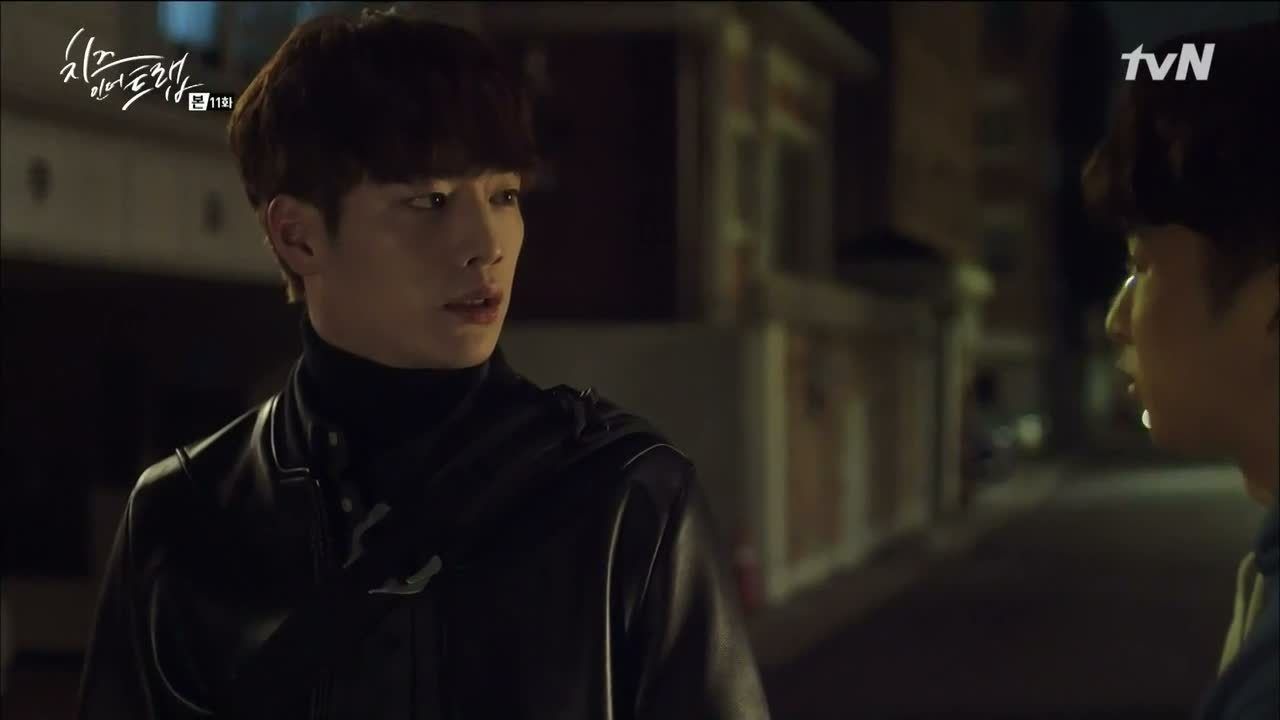 She runs out in tears, and Joon runs out after her. Out in the street, he finds In-ho instead, and panics that Seol ran away from home and isn't answering her phone. In-ho starts looking for her too, wondering what caused the sudden burst of teenage rebellion.
Seol calls Bora while she walks through the neighborhood, hoping to see her and Eun-taek. But when Bora says she's having dinner with her father, Seol acts like nothing's wrong and says they'll catch up next time.
She tells herself, "Nothing's changed. You've always done well on your own. But sometimes… sometimes I…"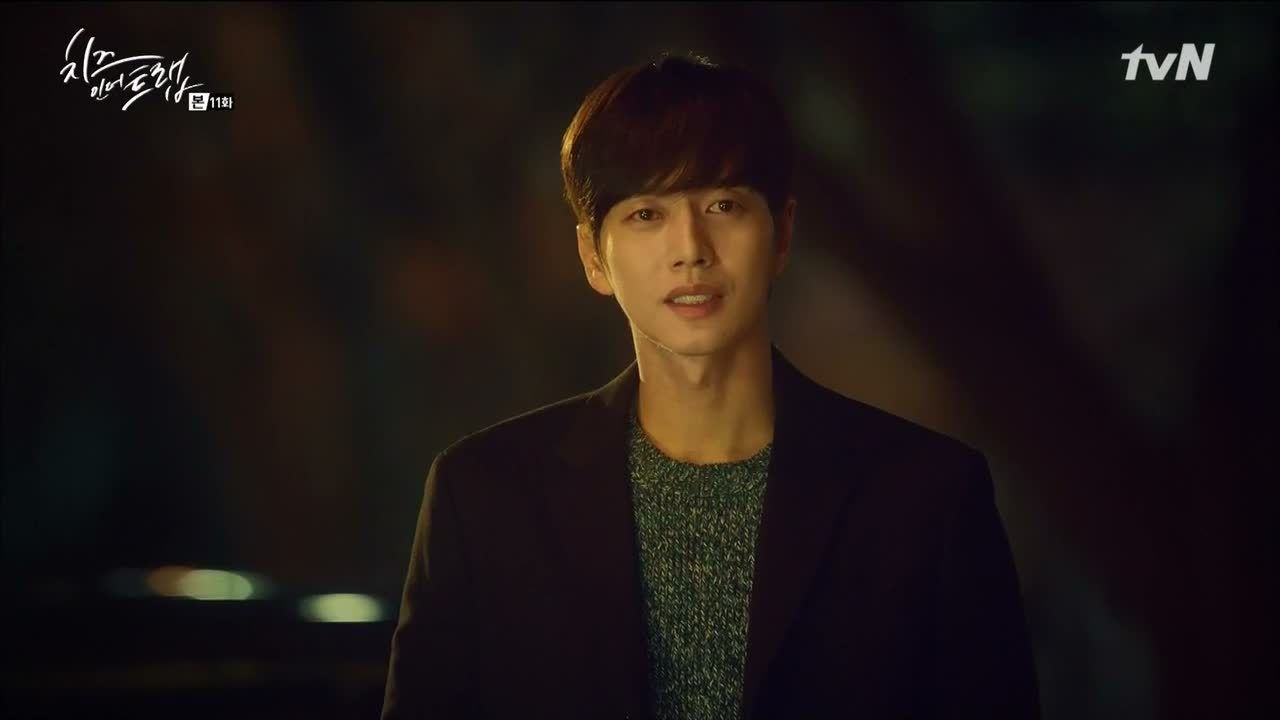 She looks up and her face suddenly changes. Off in the distance, Jung is standing by his car, smiling hesitantly at her. He doesn't approach, but the sight of him makes her burst into tears. He mouths silently, "Seol-ah, how have you been?"
At that she takes off in a run towards him, and he starts running to her too. She runs into his arms and sobs freely into his shoulder, and he just holds her silently, comforting her as she cries.
In the distance, In-ho finds them and hangs his head to see that she's already found solace in Jung. He turns around and walks off with a long sigh.
Jung and Seol sit in the car once her tears are dry, and Jung says, "I missed you. A lot." Seol answers, "I missed you too. Very much." He smiles and tentatively reaches out to hold her hand, and she puts her other hand on his.
Seol narrates, "There were so many things I wanted to ask Sunbae when I saw him again. But the fact that he was there by my side right then, that I could see his face and hear his voice and feel his warmth, that's reason enough why I can't break up with him."
When Seol gets a call from Mom, Jung offers to take her home so that they don't worry about her, but she doesn't want to go home yet. He suggests a drive and they pick up snacks on the way, and eventually Seol just falls asleep in the car.
The next morning, she wakes up in Jung's bed and it takes a long moment before she realizes that he's standing there smiling at her and saying good morning. He teases her for her bloated morning face and her loud sleeping habits, and says he couldn't sleep a wink. He says that her parents texted multiple times, and he asked Bora to call them so they wouldn't worry.
He confirms that she doesn't have school today and then hops into bed with her to catch a nap before work, insisting that it's her fault he couldn't sleep. He throws his arms and legs around her and says he's going to trap her so she can't run away.
Once he's got her there, he nuzzles up close and asks, "Can I call you now?" She doesn't answer, so he leans over and kisses her. Jung: "Can I come see you now?" Another kiss. Humona, please never answer him ever again.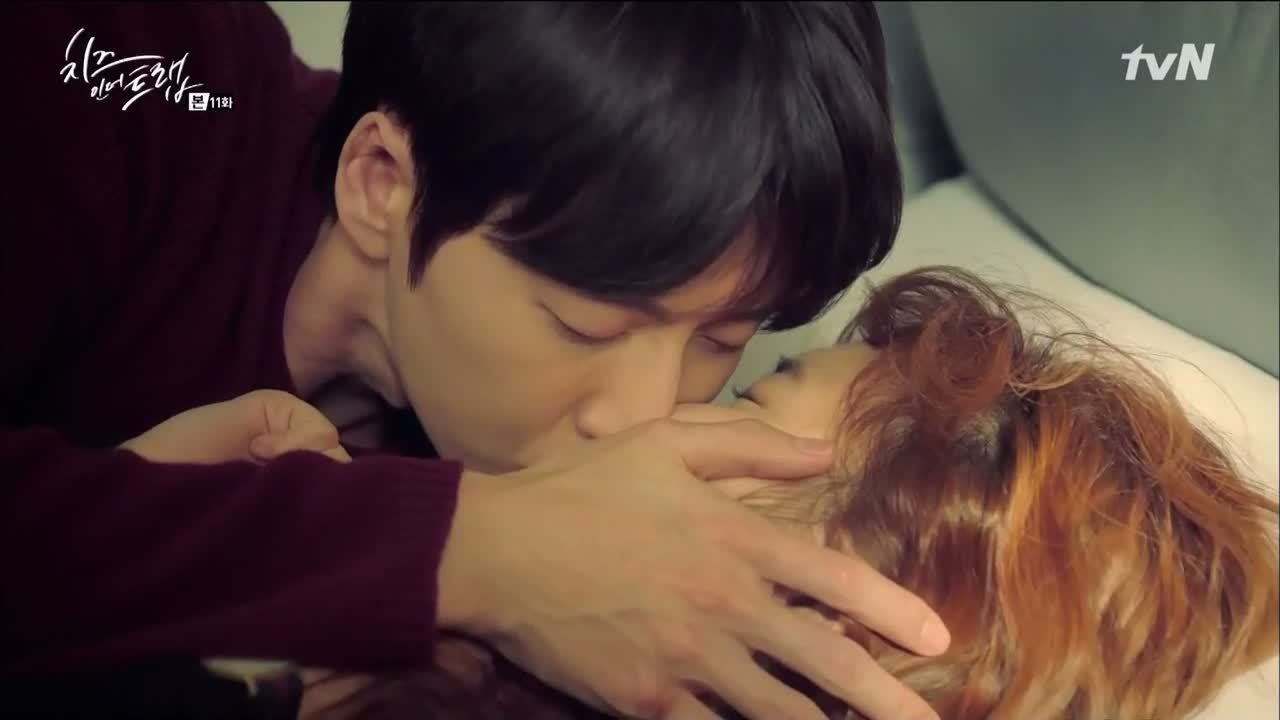 He stares into her eyes, and she finally gives a little nod. He beams and nuzzles her forehead this time, murmuring, "Thank you."
Seol walks up to her front door with a grim expression and expects the worst when she walks in. Mom is upset at her for staying out all night, but Dad seems slightly nicer in his gruff way, and Joon is eager to make her feel better. He whispers to her that Mom and Dad were really worried, and Mom insists on making her breakfast.
Mom sort of blurts that she's sorry and says she didn't even know one of Seol's friend's phone numbers to call last night, and that if Bora hadn't called, she was ready to call the police. Clearly Mom and Dad are still fighting though, and Mom says she's grown tired of nagging Dad to stop wasting his time on money-sucking ventures and start caring about their noodle shop.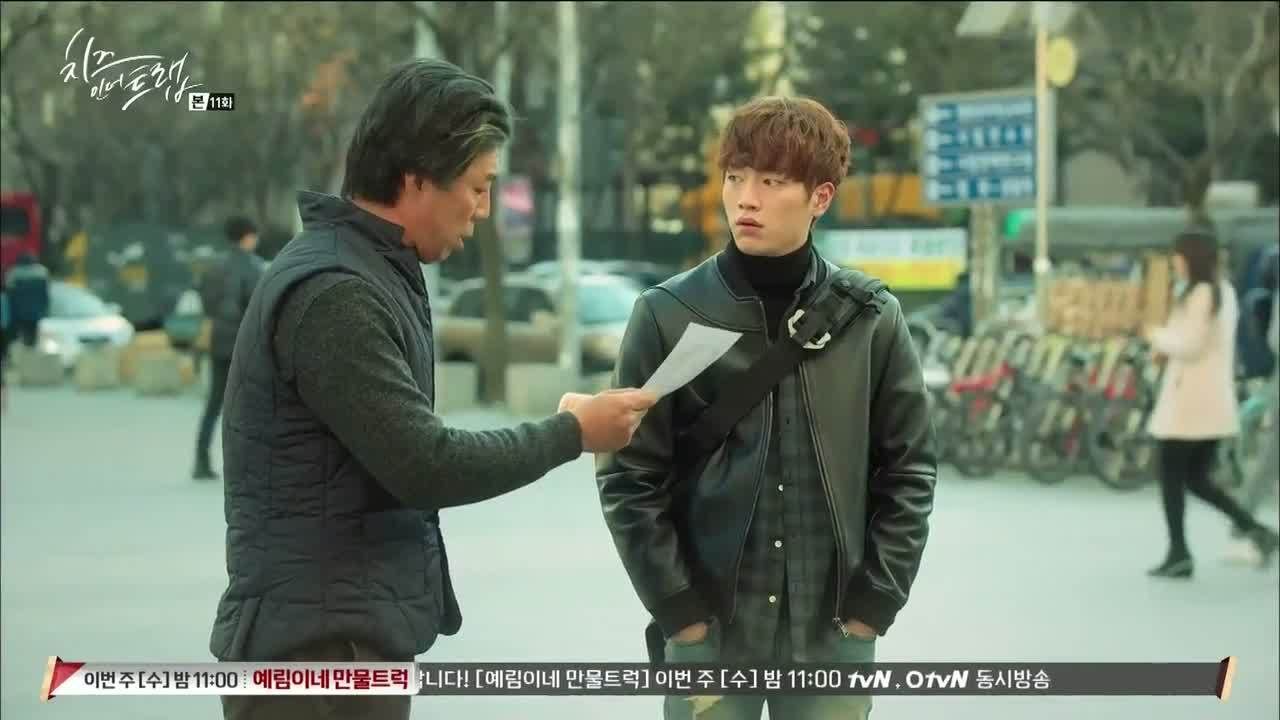 In-ho is still wearing last night's clothes in the morning, and he asks Joon if Seol came home okay. Joon says she just came in after spending the night at Bora's, and it dawns on In-ho that she must've spent the night with Jung.
Perhaps the fight with Seol was the wakeup call Dad needed, because he arrives to meet In-ho at a busy street corner to hand out flyers for the noodle shop. In-ho complains that he looks stupid in the picture, while Dad insists that he paid to use him as a model, so he has the right to use the picture. In-ho points out that payment was a bowl of jajangmyun, lol, so Dad offers to buy him another lunch today if he passes out flyers with him.
Seol texts Jung to tell him she got in trouble and calls him her accomplice, and he jokes about confessing to her parents. His shameless assistant manager comes by to ask how the report is coming along, and Jung says he found a few things to add, but will have it ready by tomorrow. He smiles to himself though, which means he's up to something.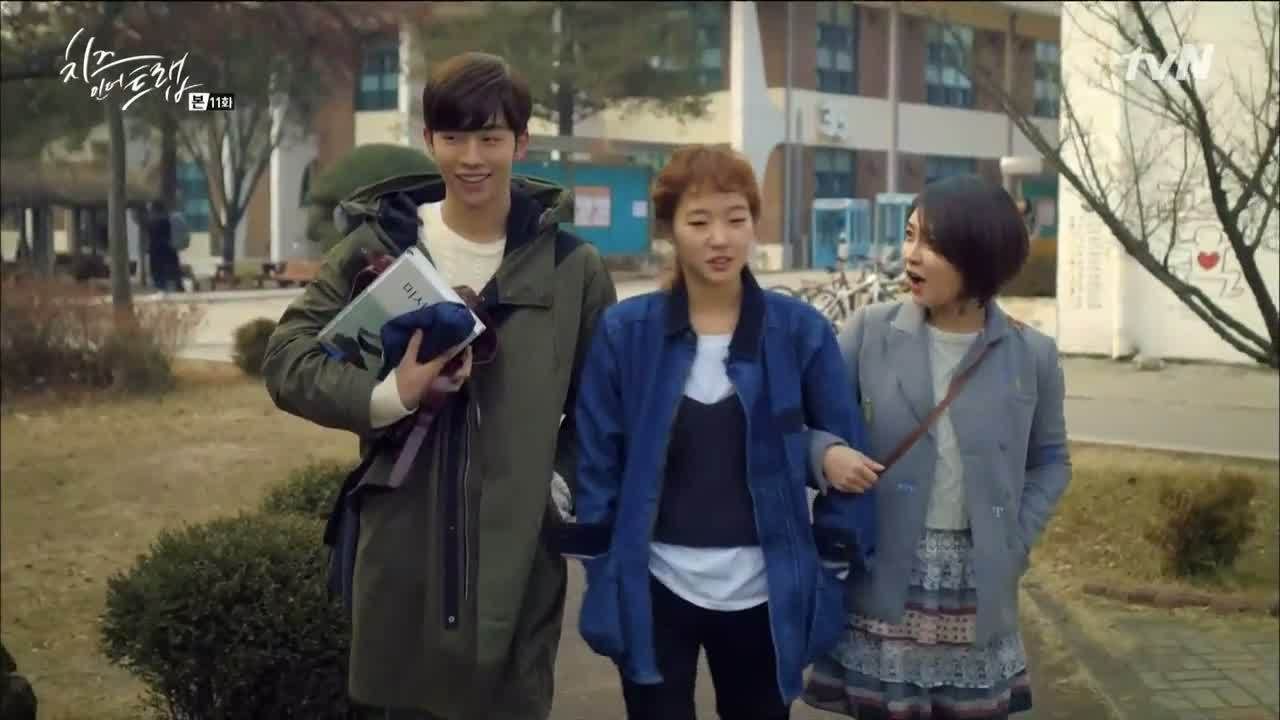 Young-gon sits in the dark like a creeper and keeps calling In-ha repeatedly, but she doesn't answer. His reputation is only getting worse by the day, because someone has uploaded pictures of him stalking Seol on the university message boards. You can't really see faces in the pictures, and he tries to argue that there's nothing to prove it's him in the photos.
At first he wonders if it's Jung or In-ha, but then he remembers In-ho chasing him out of the library and decides it must be him. Young-gon goes to school (thinking to hide his face with a tiny branch, pfft) and runs up to harass Seol about it. But Eun-taek and Bora see him coming and intercept Seol before he can get to her, and Seol ignores the text he sends her about getting In-ho to back off.
Bora asks what happened the other night, and is shocked to hear that Seol really did spend the night at Jung's place. Eun-taek: "In the same bed?" Seol insists they just slept, and Eun-taek counters that Jung should go to the hospital if that's the case.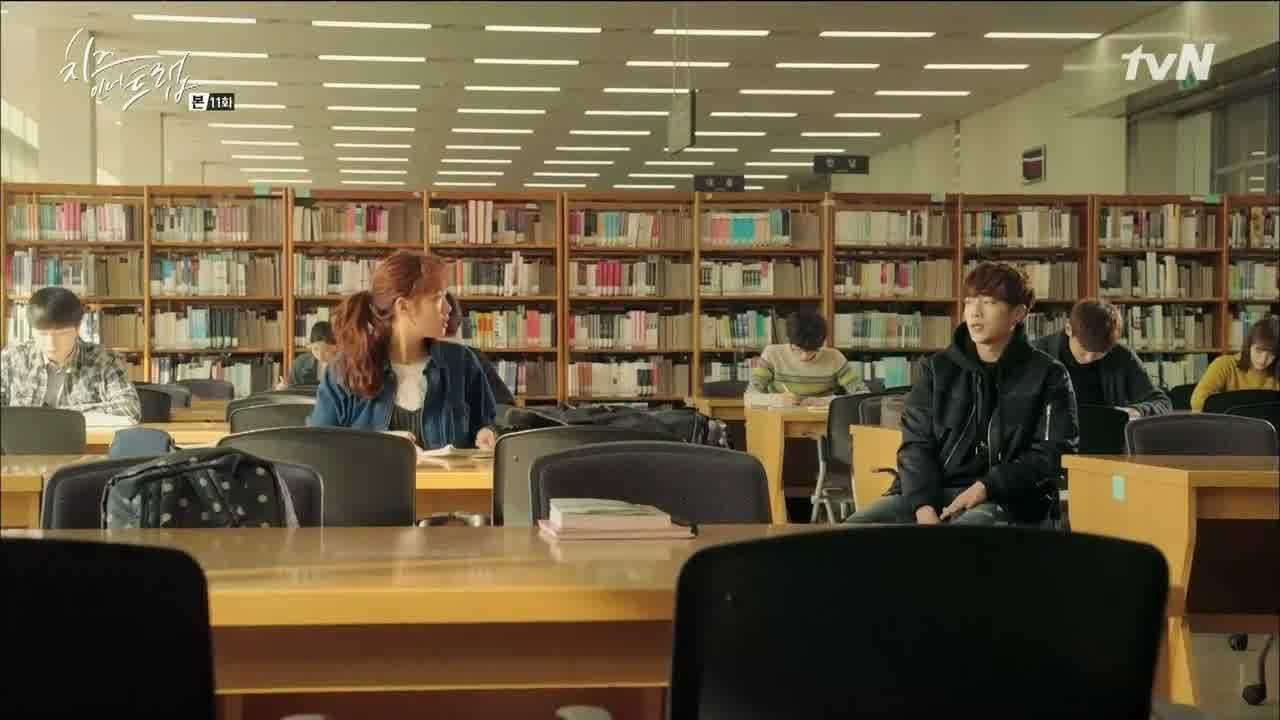 In-ho looks hesitant when he arrives for his tutoring session today, and instead of sitting next to Seol like normal, he sits two seats away. When she gets up to take the seat next to his, he scoots all the way into the aisle to keep his distance. Are you going to pull her pigtails next?
Seol starts packing up her things, so he finally inches slightly closer, and she uses that chance to yank his chair back so he's next to her. She starts correcting his homework and explaining what he did wrong, but he's so distracted by his racing heart that he can't focus, and just abruptly calls an end to their session today.
They ride the subway home together and Seol says that things must've been hard on Joon too for him to have dropped out of school like that. In-ho says that Joon isn't completely thoughtless, and says that he was running all over the neighborhood looking for her the other night. He catches himself and adds that that's what he heard, not letting on that he was running around all night too.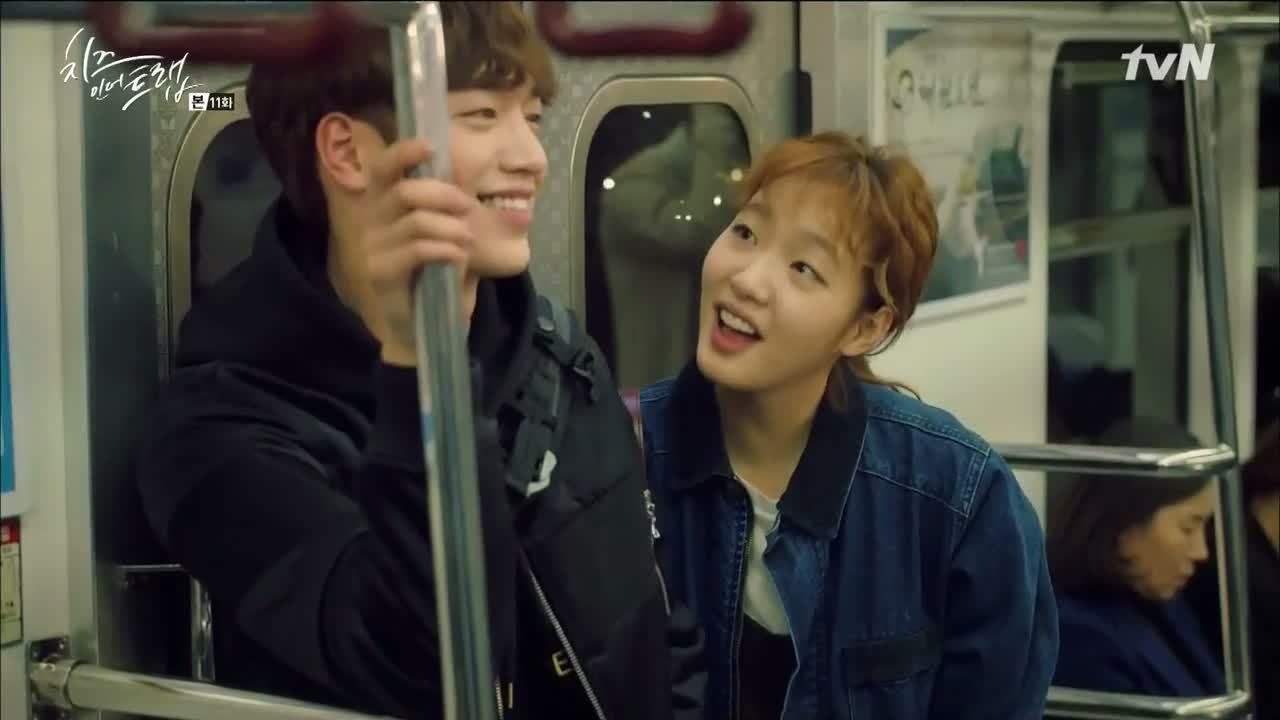 In-ho chides her for running away from home at this age, and tells her, "As your runaway sunbae," not to do it anymore. She says mockingly that he sounds like an adult, and he scoffs that he's technically her oppa.
Seol: "Then should I call you oppa?" LOL, the look on his face. He stammers, "O…oppa?" He tries to act like that's absurd and barks at her not to call him that, only he can't hide the grin on his face.
She starts having fun with it and coos, "Why not? Oppaaaaaa~! Ohp-pa! It's okay, Oppaaa!" Naturally, he's grinning like a loon.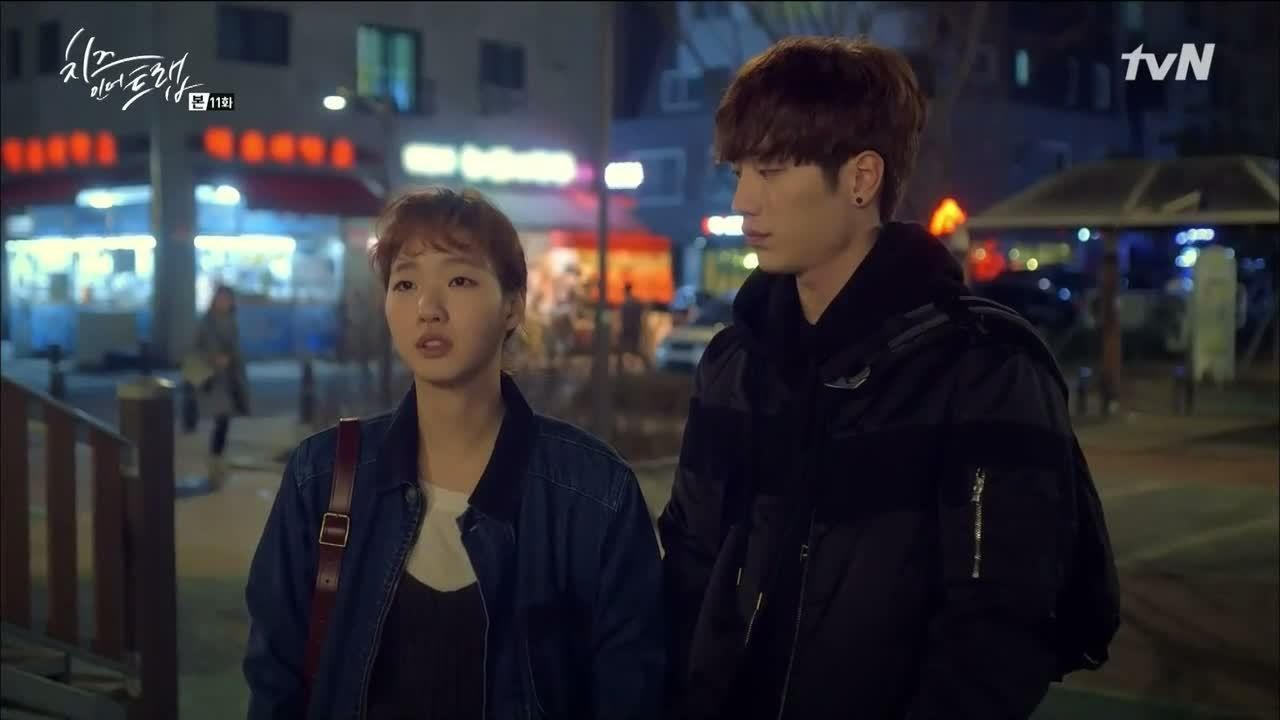 He suddenly gets all cutesy in return and says they should go somewhere to mark the occasion, and then returns to his tough guy act and tells her to stop with the oppa-ing. He keeps muttering it to himself though.
They get off at the next stop and Seol starts whining, wondering where he's taking her. When he doesn't tell her, she grins to herself and calls out, "Oppaaa~, In-ho oppa, where are we going?" I love how flustered he gets.
He just tells her to follow and takes her to the street corner where Dad is handing out flyers for the noodle shop, and tells Seol that he's been doing this by himself for a while now. Seol is shocked that this is what he's been doing when their family thinks he's wasting his time on some other money-making scheme, and she stops In-ho from approaching him.
Seol has a better idea and returns with Mom and Joon in tow, with the excuse that she's going to take them out to dinner because she feels bad about running away from home. They accidentally-on-purpose run into Dad and In-ho, and Mom is suddenly a little sweeter to him, still nagging but tying her scarf around Dad's neck so he won't catch cold.
They insist on going out to family dinner, and In-ho pushes Dad to go with them while he stays behind to hand out flyers. In-ho doesn't want to impose on a family dinner, but they refuse to go without him, which warms my heart.
Seol makes him swap places with her at the table because she knows he eats with his left hand, and In-ho is touched when Mom puts meat on his plate and Dad makes a lettuce wrap for him. They're surprised to hear that he's studying for his high school equivalency exam and encourage him sweetly, and Mom tells Seol to help In-ho. Can they adopt him?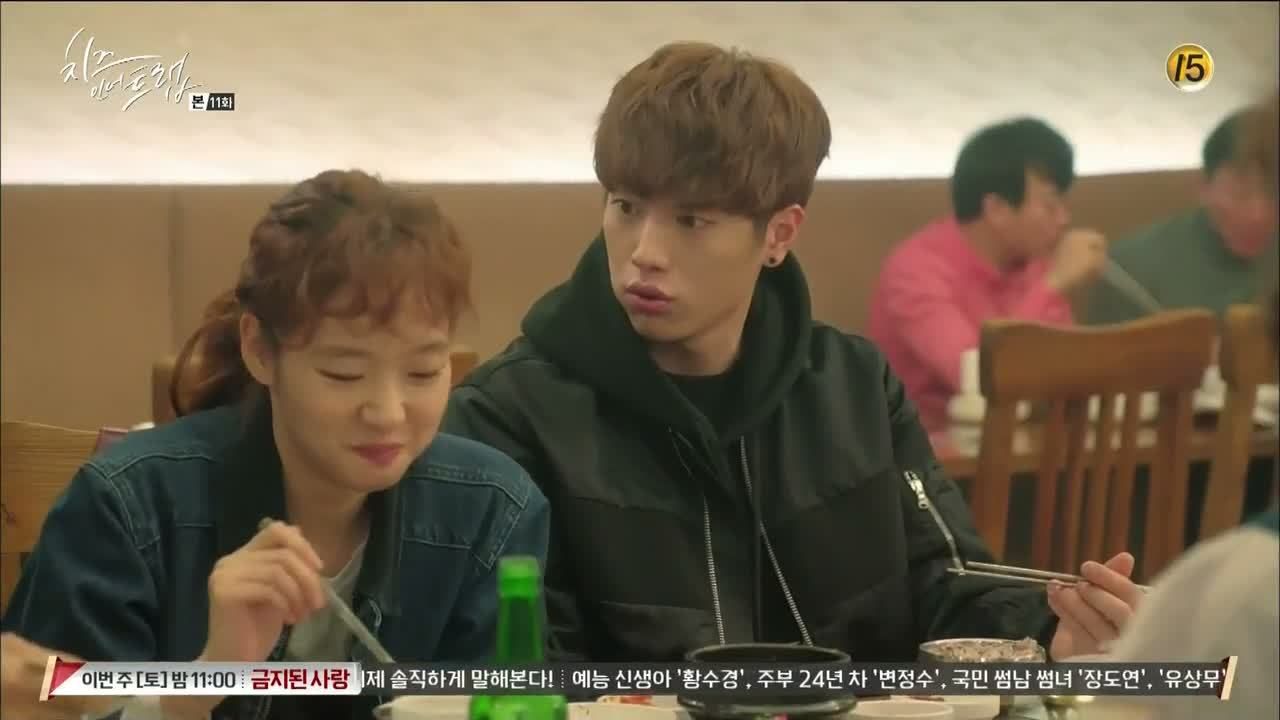 The next day, In-ho's rendition of " Für Elise" is sunshine and rainbows, and Teacher wonders why his emotions are so up and down lately. Teacher decides that they've already had their lesson for the day and suggests lunch instead.
Young-gon tries yet again to get to Seol right after class, but Bora and Eun-taek race over to her just in time. They discuss lunch plans, but when Seol gets a text from Jung saying that he's on campus, she runs off to have lunch with him.
Bora sighs, and Eun-taek asks if she's jealous and if she really intends to keep him as an underling forever. He's obviously angling for more, but she ignores it.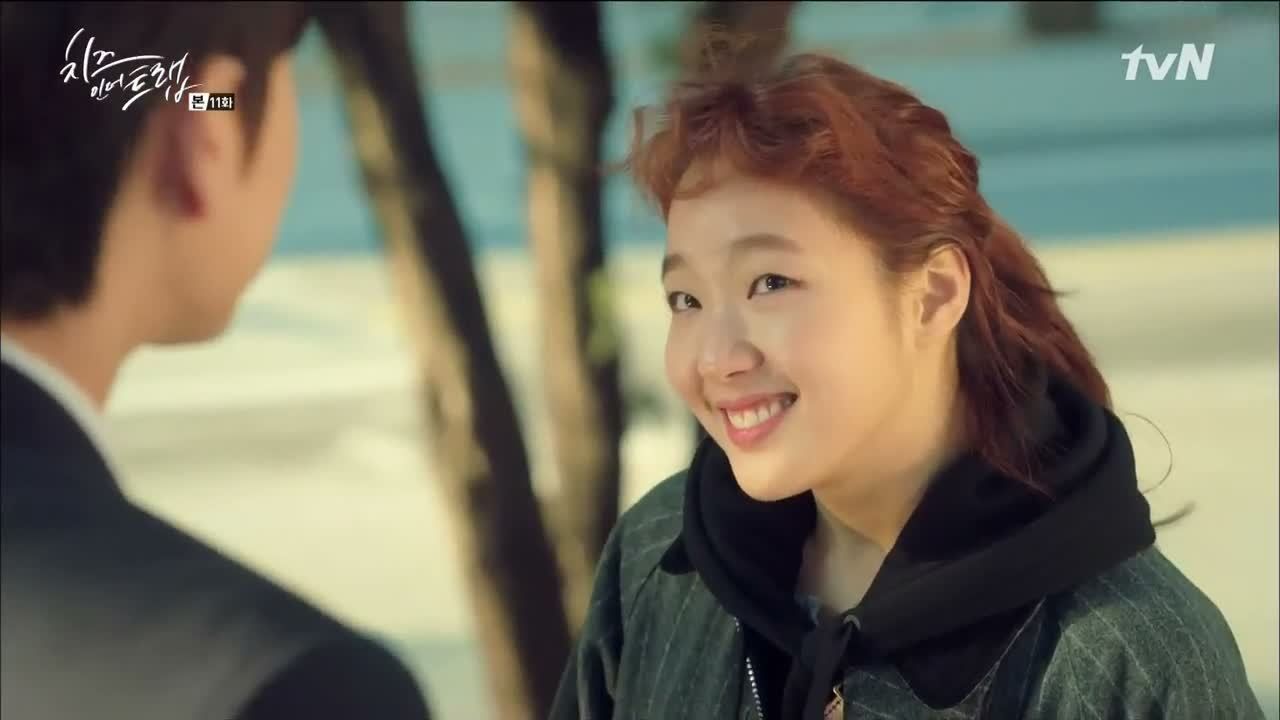 Seol bounds up to Jung with a huge smile and he offers her a hand as they skip off to lunch. They eat in the cafeteria, which reminds Jung of the time Seol skipped out on him to go on a blind date. She sheepishly tells him not to bring up such ancient history.
She asks how work is, and he in turn asks how school is going for her. She starts to answer honestly, and then catches herself, realizing she almost told him about Young-gon. She thinks to herself that she doesn't want to talk about Young-gon today, though she intends to tell Jung at some point.
She wonders if she ought to tell Jung about tutoring In-ho, and decides that it's just studying and she should tell him. But just then, In-ho and his piano teacher happen to walk up with trays of food.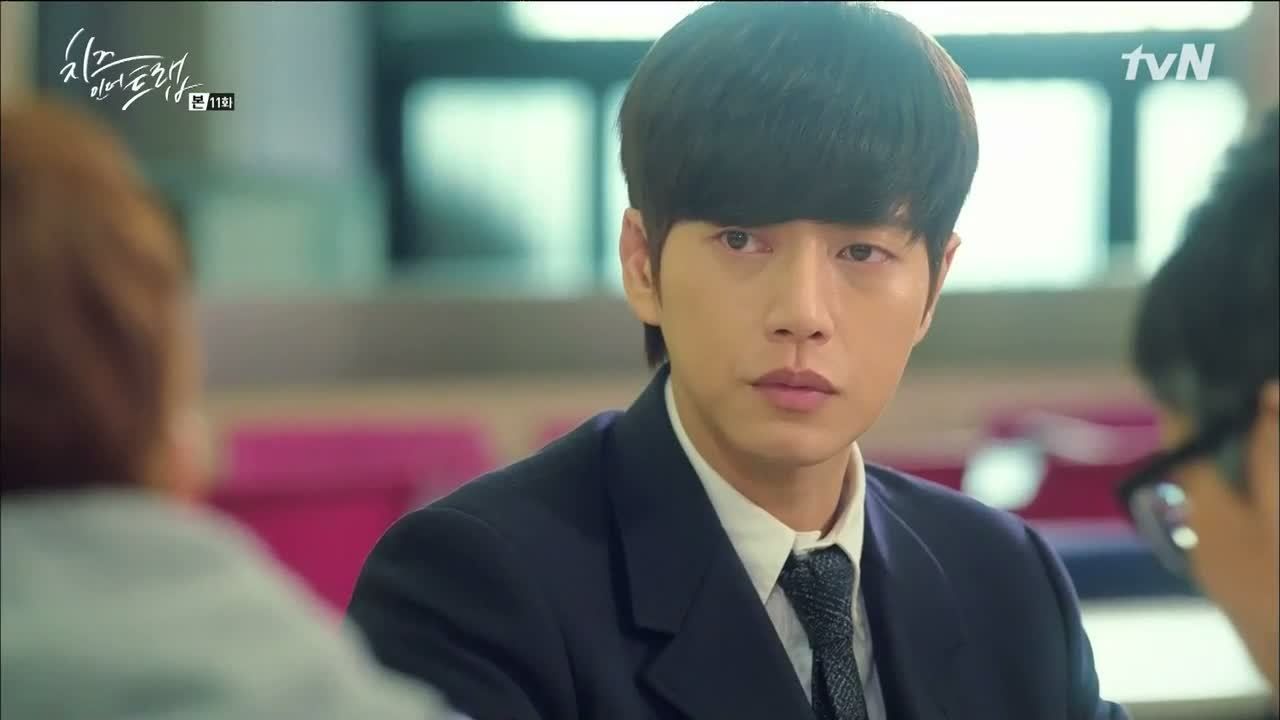 Teacher recognizes Seol and sits down next to her, and In-ho reluctantly sits down while exchanging cold glances with Jung. Teacher tells In-ho that he ought to thank Seol for passing along his card, and In-ho mock-thanks her, while Teacher sighs that he should've studied and come to school properly.
In-ho says that the studying is no big deal and prods Seol to agree that he's doing well, and she starts coughing violently to shut him up. She thinks, "I haven't told him yet," as she coughs long enough to break that chain of thought in the conversation.
Teacher asks if Jung is also In-ho's friend, and In-ho answers, "No," while Jung answers, "Yes." Jung introduces himself and asks if In-ho is playing piano well these days, and In-ho tells him to mind his own beeswax.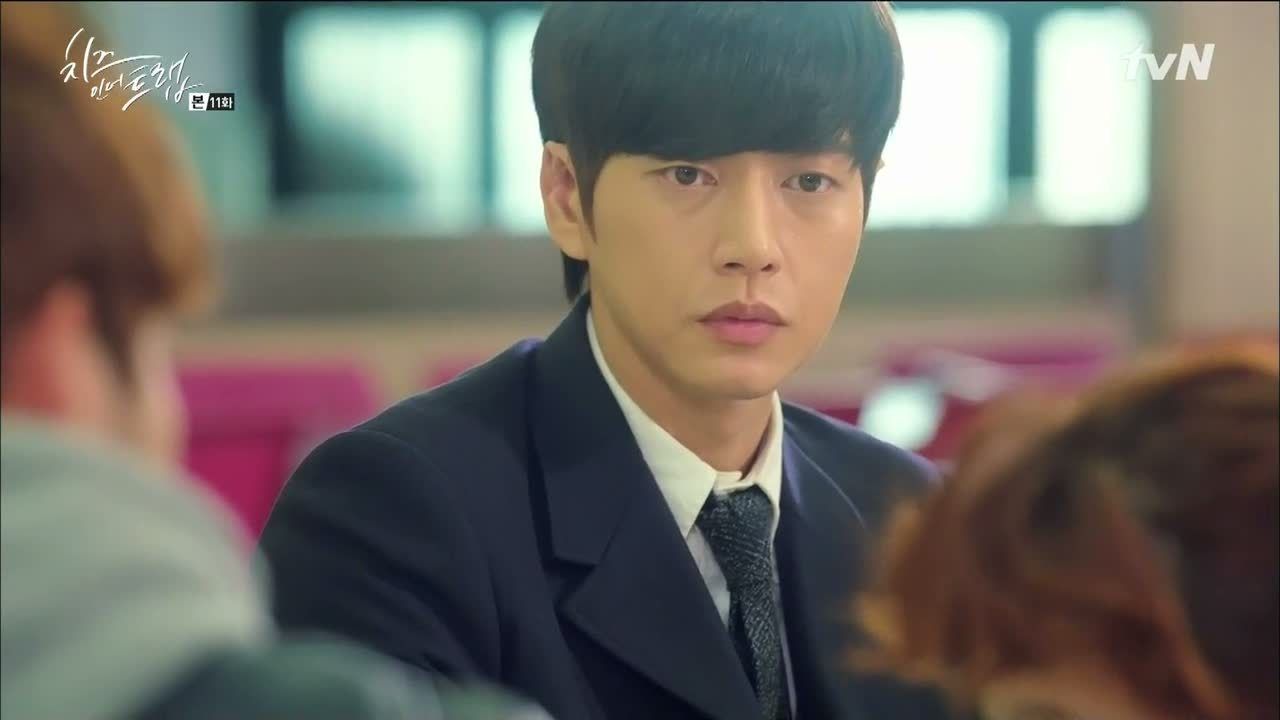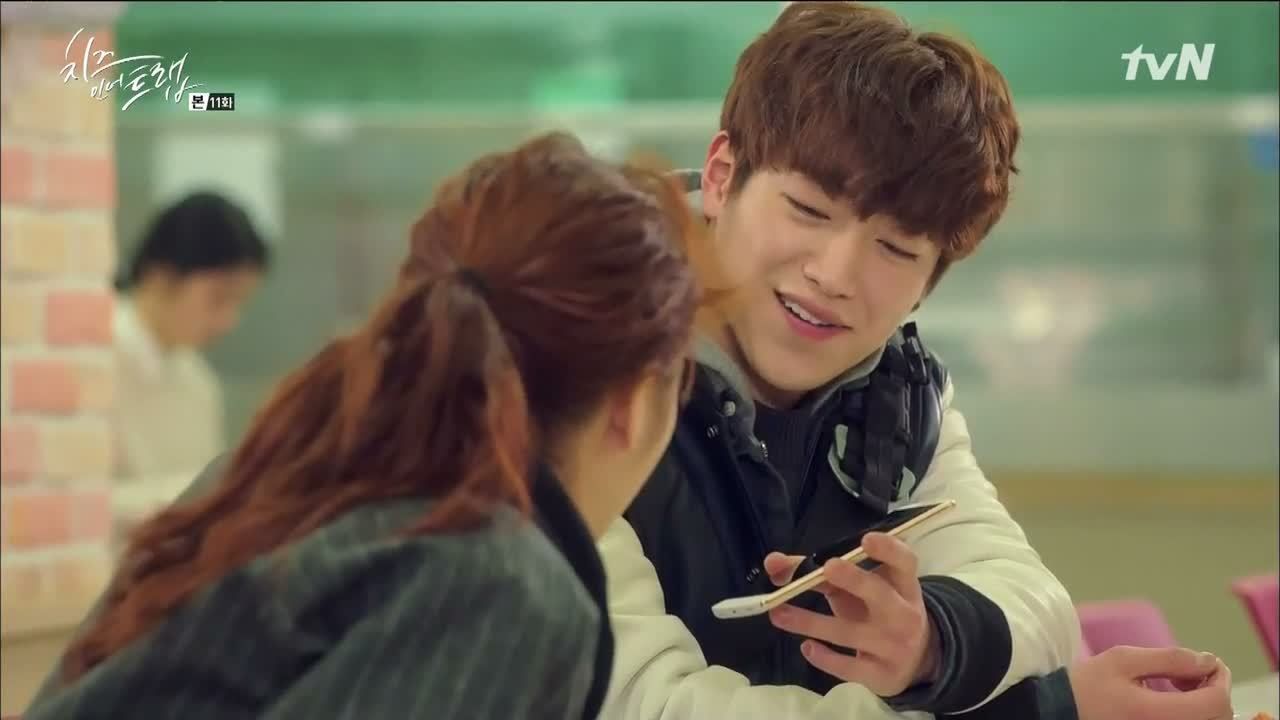 Teacher says he's doing really well, and that his playing is full of emotion that wasn't there before. Teacher turns to In-ho and asks, "Are you dating lately?" And now it's In-ho's turn to cough violently, a reaction that grabs Jung's attention.
In-ho insists that there's no girlfriend, but Jung already seems to catch on, and suddenly stops to take Seol's hand in the middle of lunch and peel a grain of rice from her sleeve. It's a tender gesture, but in the context, it feels a little like marking his territory.
Teacher finishes his lunch and gets up, and In-ho is about to get up too, when Joon calls. He asks In-ho to buy a bowl and kitchen towel on his way home, and In-ho asks Seol where it was that they bought stuff the last time. Seol says they can't shop there anymore and just leans over to shout into In-ho's phone that that store sells faulty merchandise, and In-ho says they'll go elsewhere.
He hears from Joon that Mom and Dad went out together, and both Seol and In-ho light up at the same time. She asks if they really went out together, and In-ho says they must've made up and that her buying dinner the other night must've really had an effect.
They're ecstatic, but Jung watches this whole exchange with a dark expression, growing ever darker as Seol and In-ho continue to finish each other's thoughts and speak about things he's never heard of. Their rapport is so easy, and Seol doesn't even realize that Jung doesn't know what they're talking about when she turns to him and repeats that Mom and Dad went out together.
Jung flashes back to high school, when he'd come home from school to find In-ho and In-ha sitting with Dad in the living room, chit-chatting easily about their day and laughing, while Dad just gave him a silent nod as he walked past them.
He can't shake the thought and gets up to walk out, and Seol runs after him to ask what's wrong. Jung stops and says, "It looks like you've gotten very friendly with Baek In-ho."
She hesitates and starts to explain that she's helping him study, on top of the fact that he works at her parent's shop, but at that Jung just starts to walk away again.
She tries to hold him back, but he pulls his arm free of her grasp and just walks away, leaving her stunned.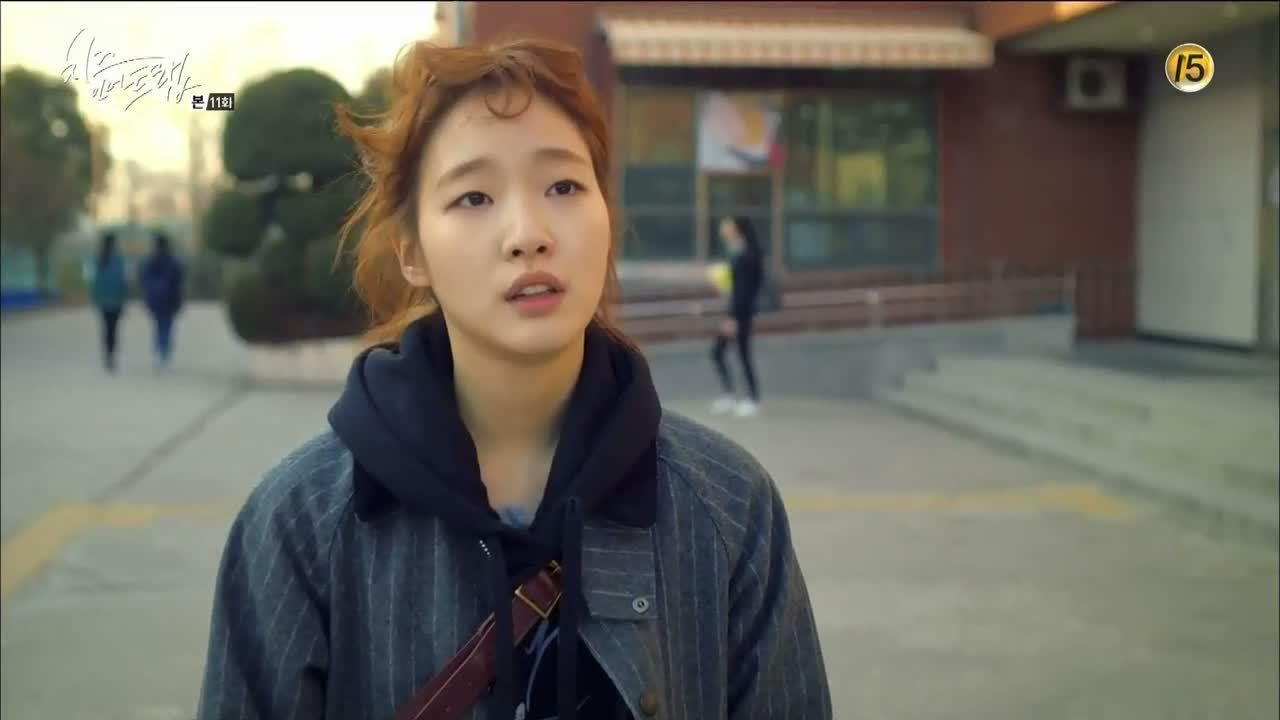 COMMENTS
This whole thing with In-ho is a much more interesting conflict than all the stalkers, because I like how it brings out old insecurities in Jung. He's pretty unruffled by most things, but it's clear that there's a long-running jealousy there in how easily In-ho makes friends and wins people over. Jung is just one of those people who doesn't know how to be that open and approachable, and it's likely been a thing he's envied in In-ho for a long time. He literally has the one thing Jung can never buy with all the money in the world. Perhaps he saw a shift in his father's attentions as a teenager, and that's what started the rift between the two boys. And if it's happening all over again with Seol, I can certainly see how frustrating it could be for Jung, who only ever sees In-ho coming in and receiving love from the people Jung loves most. Told a different way, In-ho could've been the evil stepbrother who takes everything that Jung loves.
Only In-ho isn't evil; he's just the kind of person who wears his sincerity on his sleeve, and happens to be lovable on top of it all. The wounded artist thing certainly doesn't hurt, but he's also just a good guy who works hard and genuinely cares about the people around him. The thing that upsets me the most is the idea that In-ho might be adrift again if he can't stay in Seol's life, and I want Seol to just tell Jung, I'm friends with him, so deal with it! That's probably insensitive though, considering all of Jung's issues with In-ho (not to mention the fact that In-ho likes her, which she doesn't know). I just need him to have a family, okay? (And no, In-ha doesn't count.) Is it too much to ask that Seol's family adopt him and Jung get over it? Probably. Sigh.
It still bothers me that Seol can't tell Jung what's going on in her life, and no matter how much I like them together in the moment, every time she holds back from him, I wince. She should be able to tell him about everything, but even that night when she ran to him and cried on his shoulder, in the end she said nothing about what made her cry or what she's going through. I know that In-ho knows most of this by default because he's around her family in the day-to-day, but she also just confides in him very freely, and I can't help but think that's how an ideal relationship should be.
It's her fault for overthinking things with Jung and always wanting to show him only the good parts and leave out the bad, but I understand why she didn't say anything about Young-gon, because then retaliation would be inevitable, and they'd be back to square one. I mean, even now he's lying to her about sending In-ha after Young-gon, no matter how much In-ha went off-book. I don't know, on paper, this relationship shouldn't work; but when they're running into each other's arms, I just think, Well of course they should be together. Duh. Honestly though, I don't know how it'll last if they continue like this.
I'm often enraged for Seol when watching this drama, but I was especially angry today, and I'm still miffed that they redeemed Dad so easily. I know he didn't have an abrupt change in personality or anything, but for me it wasn't nearly enough that he had been secretly working hard to make their noodle shop a success. What about the part where you valued your son over your daughter and thought her future amounted to the person she'd marry? Are you kidding me? It was maddening enough that they'd made her work so hard to pay her own tuition while they sent Joon abroad and paid the bill, but he actually expected Seol to quit school and start earning Joon's tuition too?
I'm still livid that a father of a daughter could think that way, and it informs a lot of Seol's personality—her meekness, her tendency to let others take advantage of her. It also makes me proud for how far she's come in standing up for herself and fighting her battles, especially standing up to Mom and Dad, which had to have been the toughest thing to do. Now, more than anything, I just want Seol to have someone she can lean on and tell everything to, someone who will always take her side. I think Jung could be that guy… but will she ever trust him enough to let him? And… should she?

RELATED POSTS
Tags: Cheese in the Trap, featured, Kim Go-eun, Park Hae-jin, Seo Kang-joon