Cheese in the Trap: Episode 13
Oof, In-ho, you break my heart. He's been breaking my heart all along, but the more I see of him, the more he gets me right in the gut. I have the unique experience watching Cheese in the Trap of pulling equally hard for both lead males, but that's because I'm not pulling for them in the same way. In fact, I almost find the love triangle incidental, because what I love about In-ho has very little to do with his romantic feelings, and that allows me to be both Team Jung and Team In-ho with very little angst. I want success for both of them; it's just that success means different things for both guys.
SONG OF THE DAY
The Stray – "Loving You" [ Download ]
Audio clip: Adobe Flash Player (version 9 or above) is required to play this audio clip. Download the latest version here. You also need to have JavaScript enabled in your browser.

EPISODE 13 RECAP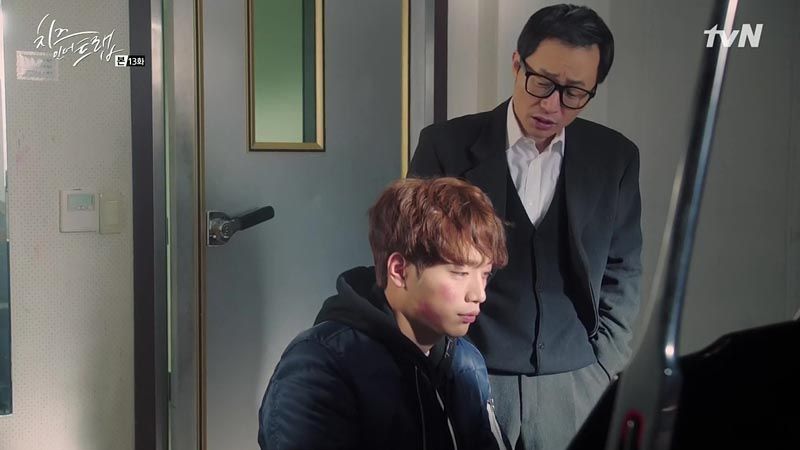 In a practice room, In-ho plays the piano furiously, his face still bearing the marks of his fight with Jung. His teacher takes one look at the bruises and starts scolding him for risking his hands by fighting, calling him thoughtless and pathetic with some exasperation.
In-ho asks in a subdued voice, "Do I seem pathetic in your eyes too?" His teacher says whoever called him pathetic was right on, and In-ho declares that he'll buckle down, work hard, and win the competition.
He's selected a Chopin sonata for his competition piece, which his teacher deems too difficult to get ready in a month. But In-ho insists on trying, and his teacher agrees to go with it.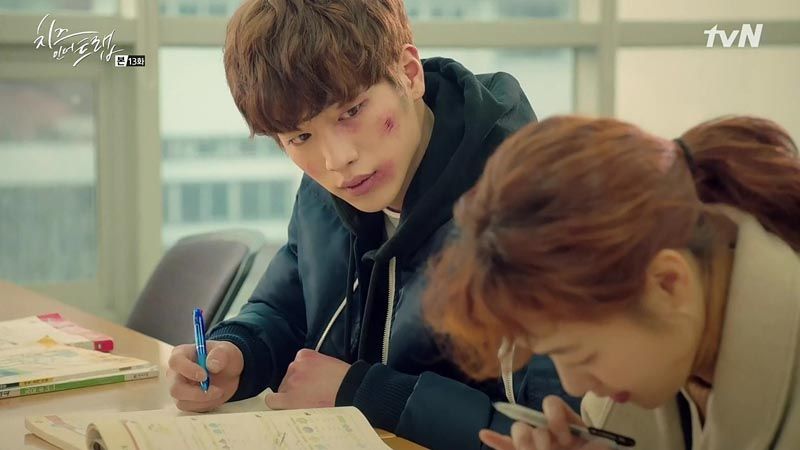 Seol hesitates outside the library, conflicted over whether to keep helping In-ho study. On one hand it clearly bothers Jung, but on the other, she's the one who encouraged In-ho to take the equivalency exam in the first place. In the end she doesn't have to make the choice, since she runs into In-ho outside the building anyway, and they head in together.
As they study, her phone buzzes with texts from Jung, which she replies to in between helping In-ho. It's not hard for him to guess who she's chatting with, and he clocks they way she brightens as she types away.
She does hesitate when Jung asks what she's doing, stepping aside to call him. She tells him she's helping In-ho study, asking hesitantly if Jung is okay with it.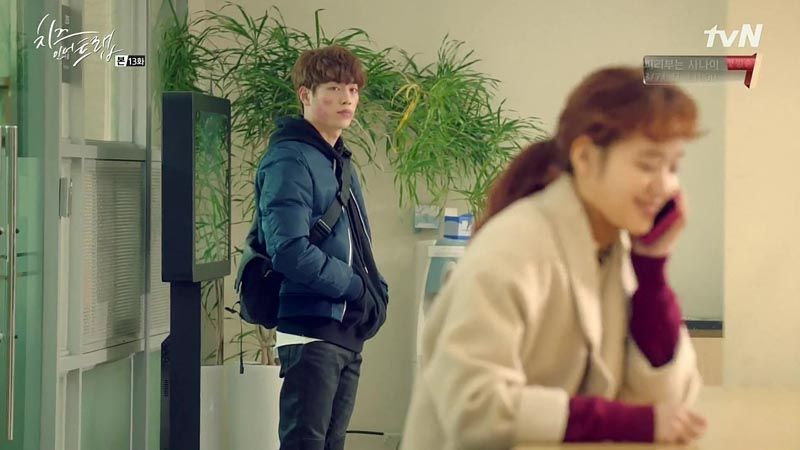 He first says that he's not, though his tone is light and he follows that by telling her it's fine because she's the type to honor her promises. Seol brightens and promises that she won't spend any time with In-ho outside of studying—just as In-ho steps out in time to overhear this. He quietly leaves the library, and Seol returns to her seat to find a scrap note saying that he's off.
Chatting with her friends, talk turns to the graduation exams that all the sunbaes are studying for. Seol considers taking her exam early, though it'll be tricky while juggling her regular studies. While the girls talk, Eun-taek surreptitiously takes video of Bora while pretending to text, and when she asks to see what he's doing, he hides his phone from her.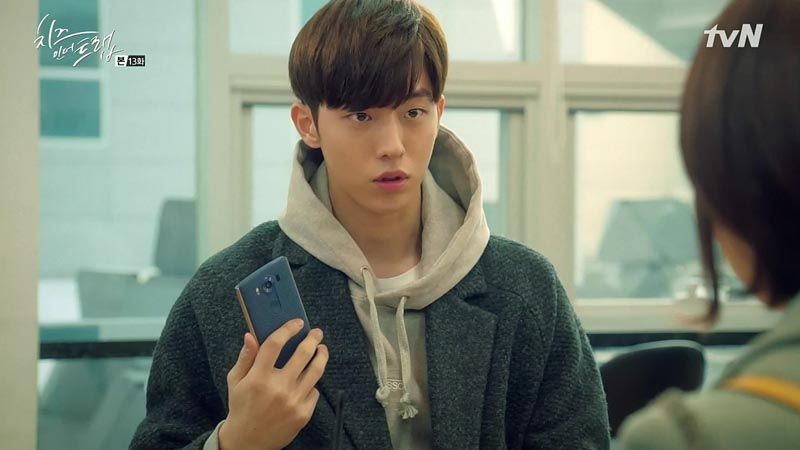 She points out that they always see each other's screens, and he says there are things he'd like to keep private. It's enough to make her puzzle at the change in Eun-taek's behavior lately—he's been doing things on his own and sometimes doesn't answer his phone.
Seol wonders if he's seeing a girl, and while Bora scoffs that he's a baby, Seol counters that he's tall and good-looking and would be popular with the girls. It seems like she's aware of Bora's jealousy flaring, though Bora isn't about to admit it.
Seol runs into In-ho at the subway station, but he stiffens to see her today, making the ride home awkward. In-ho tells her not to help him study anymore because he can handle it alone, and Seol wonders if his attitude shift comes because he's clued in to her unease about the tutoring situation.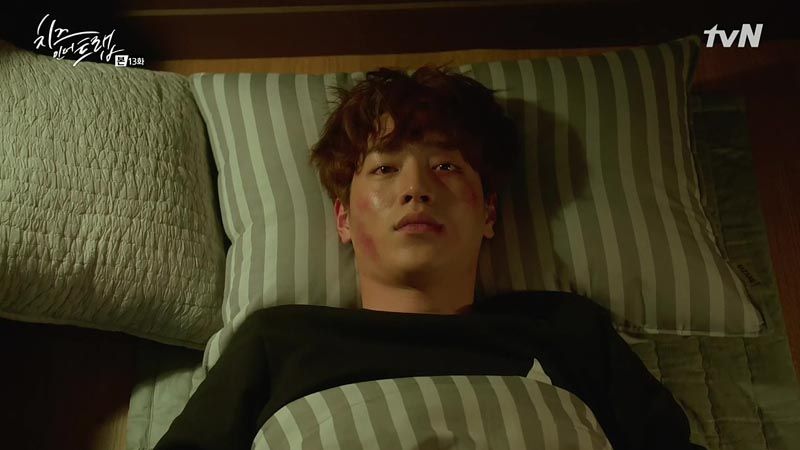 She asks if it's because of her, and he replies that he doesn't have time because he'll be preparing for a competition. Mention of the competition gets her excited on his behalf, which seems to strike him. He lays awake in bed that night, hearing her voice replay in his mind against his will, like when she'd called him oppa playfully. He tosses and turns fitfully, and resorts to push-ups to work out his frustrations.
In-ha complains that he's keeping her up, taunting that he's going to lose to Jung in everything—fighting, money, and love. She starts singing Big Bang's "Loser" at him and asks if Seol knows he likes her, and notes that he's not even denying it anymore.
On the weekend, In-ha catches Seol on her way to a date and carries on in her usual antagonistic way. Seol calls her on it, asking In-ha not to go around calling herself Jung's girlfriend, or to pick fights over Jung.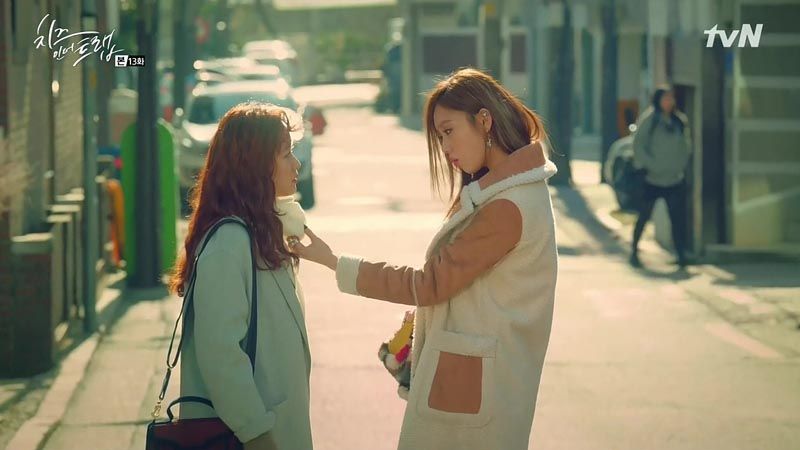 In-ha asks how long she thinks her relationships with Jung and In-ho will last—Seol is a flash in the pan next to In-ha's 15 years of history. She warns Seol not to think of herself as some kind of drama Cinderella.
The words strike a chord in Seol, who admits to herself that the three have a history she doesn't know. But she's the one with him now, and she stands up for herself, pointing out that a relationship that's long-standing doesn't automatically make it a good one—in fact, In-ha's relationship with Jung doesn't seem particularly positive.
In-ha threatens to beat Seol up for her impudence, bragging that she's done that to all the other girls who shot off their mouths in the past. Uncowed, Seol retorts that it's something kids could get away with but challenges her to try it now.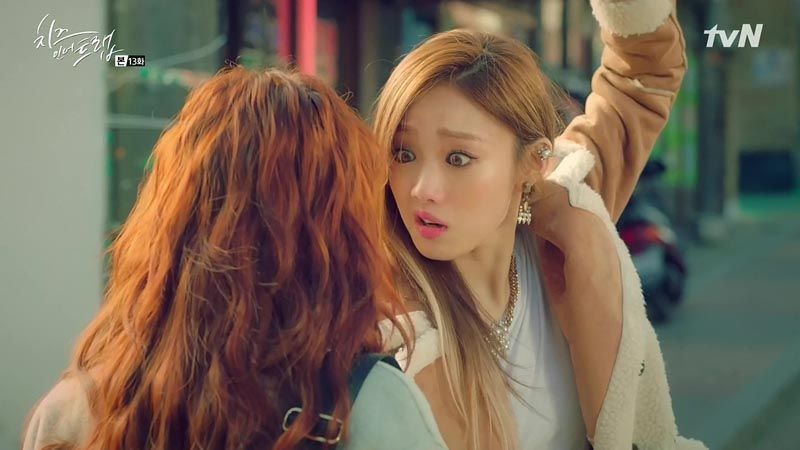 In-ha raises a fist threateningly to do just that, but freezes when a trickle of blood runs out Seol's nostril. Reminding her that she didn't touch her, In-ha backs off.
Seol's self-conscious about the tissue stuck in her nostril when she meets Jung, though he laughs and says it's funny-looking. She protests that it's not funny and points at his own bruised face, and he self-consciously pulls up his scarf to hide his scrapes.
She tells him about on not helping with In-ho's studies anymore and, thinking of their promise to be honest with each other, admits to running into In-ha and how she's been feeling harassed by her. Jung apologizes and says he'll talk to her about it, then smiles that it feels good to have her talk honestly with him. She admits to feeling like a tattletale, though he assures her that he likes it and prods for more sharing.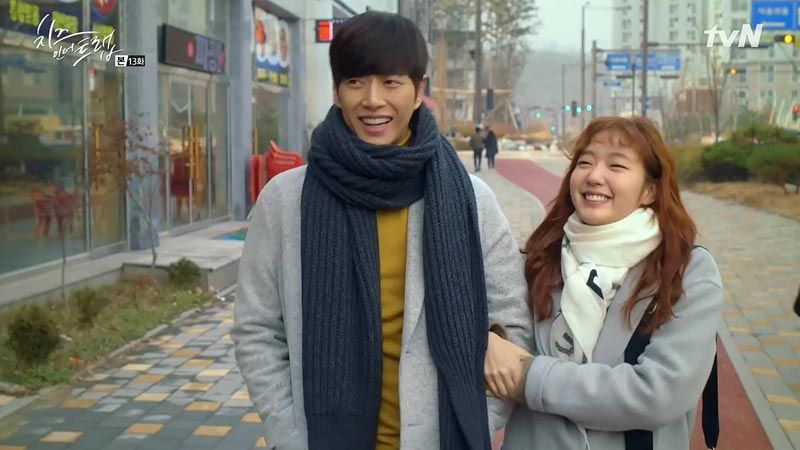 Seol shares about her thoughts to take her graduation exam early, and Jung offers his notes and sample questions. She grabs his arm so excitedly that he notes that she likes his notes more than him—and then his face falls and he says he won't give his notes after all.
Seol notes that Jung is easily peeved, and he retorts that she's just as bad, picking at faults and making him wait. They bicker back and forth before she smiles at the thought that Jung has changed—he's expressing his thoughts better now, and she finds it so much less frustrating than before. She sighs happily that she wants them to fight like this from now on.
That night, In-ho gets a call from his old buddy who warns him that the boss is in town looking for him again. This time he sounds extra scared, saying that the "Big Boss" has been pressuring their boss for In-ho's whereabouts, and mentioning Big Boss, apparently a nightclub owner, sparks In-ho's concern. He tries to tell himself that he's fine, but can't shake the unease.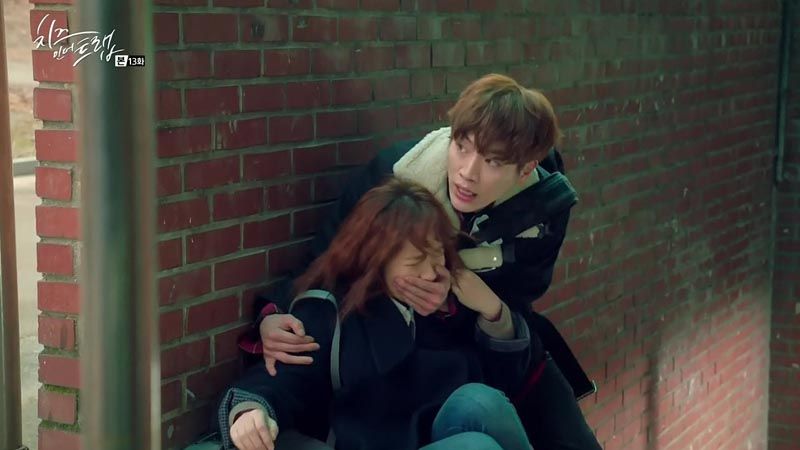 The next day on campus, In-ho is still awkward around Seol and backs away when she approaches. At his continued weirdness, she asks if he's upset with her, just as he sees someone in the distance. It's his old boss, asking students if they recognize In-ho from that school ad he shot.
Alarmed, In-ho grabs Seol and runs in the opposite direction, clapping a hand over her mouth to keep her quiet. Thankfully the boss doesn't get any leads, but he seems determined to keep asking until somebody recognizes In-ho.
In-ho relaxes and lets go of Seol… and only now realizes she's doubled over in pain, clutching her stomach. Stricken with worry, he carries her on his back all the way to the emergency room.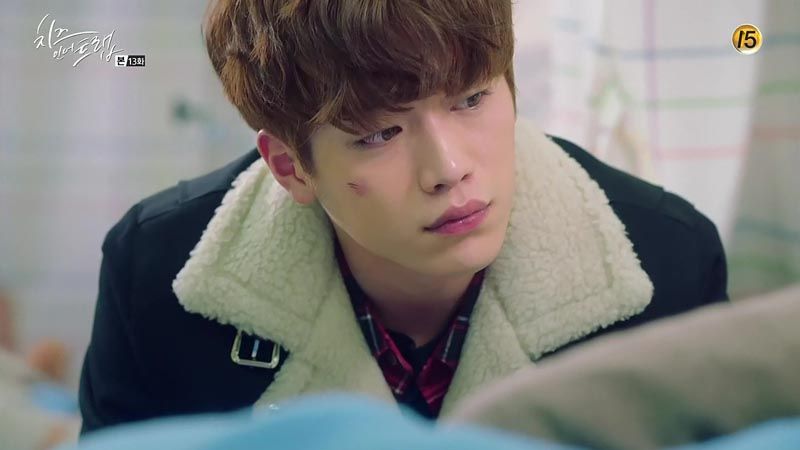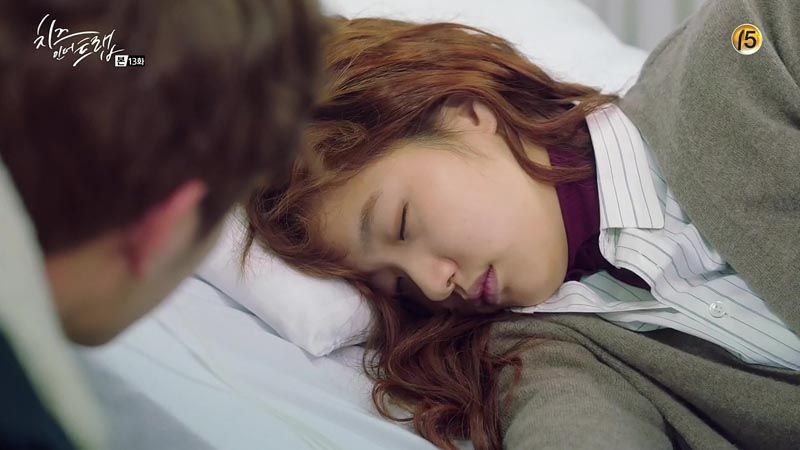 While Seol sleeps, In-ho stays at her bedside, looking worried and guilty. His hand reaches out to touch hers, but he's unable to actually hold it.
Seol's family arrives, relieved to hear that Seol will be fine; she has a mild stomach inflammation that's stress-induced and needs a little rest. Mom is especially grateful to In-ho for being there, and even drops the formalities to talk to him in familiar banmal. Aw, that look on his face when he registers the change—it's so subtle but it means so much.
But then mention of Jung comes up, and In-ho quietly gathers his bag and leaves. He wonders how the boss tracked him to the school and whether he's likely to find the noodle shop, thinking, "If Dog Hair gets hurt because of me, you ought to die, Baek In-ho." That's the deciding factor, and he makes a phone call.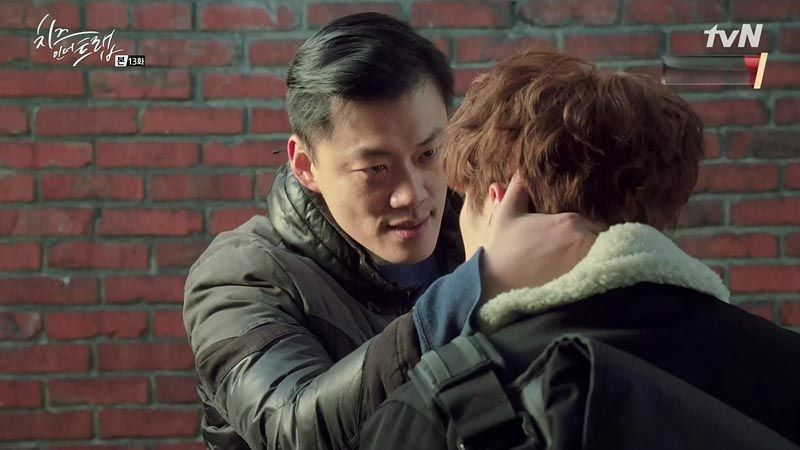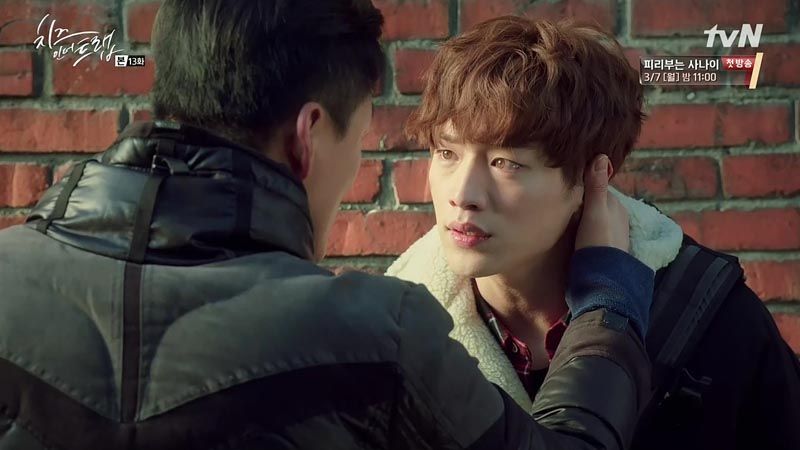 Next thing we know, he's being kicked around by the boss in an alley, who reminds him of the cash In-ho stole when he skipped out on him. In-ho counters that the boss ripped him off first, but only gets kicked some more. In-ho declares that he'll pay back the money—a hefty 5 million won (roughly 4,000 USD)—but the boss doubles the debt citing "interest."
In-ho protests, but the boss offers him an alternative: Come back to Busan with him, and the debt is forgiven. It sounds like the boss want to take In-ho under his wing as a gangster, but In-ho wants nothing to do with it. He'll pay up instead.
The boss gives him a week to come up with 10 million won and warns In-ho to watch himself, making the vague threat to mess with everyone around him if he doesn't.
Seol texts Jung to let him know what happened, and in a flash he's on his way out the door to see her. But he's stopped with more work and a last-minute meeting, tying his hands for the moment. He apologizes and promises to come as soon as he can, and she assures him it's okay.
Seol considers calling In-ho to thank him for his help, but decides that considering Jung's feelings is the right thing to do. Still, she feels conflicted: "But he's like a friend, always with me to help when I was having difficulties. Is it okay to cast him aside for sunbae's sake?"
In-ho goes home and beelines for his emergency cash—only to find that In-ha's already gotten her hands on it, of course. He briefly considers giving up this apartment for the deposit, but that would put his sister out on the street (which I say she deserves given that she raided his funds). That's when Seol texts her thanks (aw, I'm glad she decided to do it), and asks if something's the matter.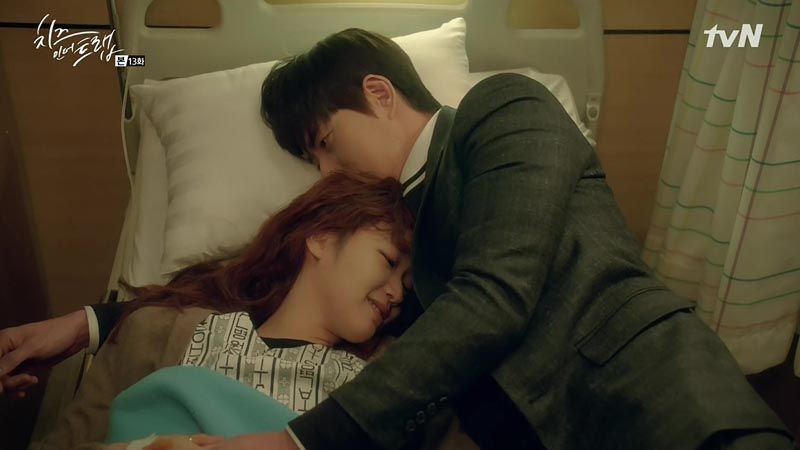 That night, Seol wakes to find Jung at her side, holding her hand. He tells her he was so worried his heart felt like it would drop on the floor, and the hyperbole makes her laugh. She tenses, however, when Jung mentions hearing that In-ho was the one to bring her here, and starts to explain how they ran into each other.
But Jung surprises her by saying that he's glad In-ho was with her when she needed help, though it makes him sad that he hasn't been. She assures him that it's fine.
Jung joins her on the hospital bed, and as they lie there together, he mentions all the stress she's deal been dealing with, from her stalker to her copycat to In-ha. He'll make sure she doesn't get hurt anymore, promising, "From now on, I'll always be with you."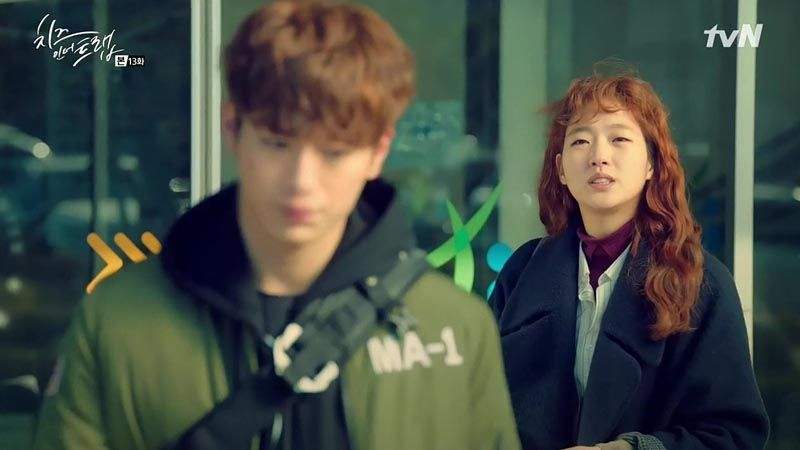 In the morning, In-ho is outside waiting when Seol is released, here to deliver medicine from Mom. He hands it over quickly and avoids meeting her eye, declining her offer to go to school together.
Seol's friends find her on campus, and she assures them it's not that serious. Bora figures it's because Seol is always holding her stress in, and Eun-taek thoughtfully gives her tea from his mother to help with her stomach. Bora asks expectantly what he has for her, and he just says that Bora isn't sick, doesn't get stressed, and doesn't hold things in.
Bora's miffed, and Seol chides that she should have just accepted when Eun-taek confessed his feelings. Bora retorts, "Do you think I rejected him because I don't like him?" She admits her real reasoning: "Because I don't want to split up. If we date, later on we'll break up. Then I can't see him again." She says she wants them to be like this forever.
In-ho heads to the bank to ask about a loan, but finds that he's not eligible because of his employment status. He doesn't qualify for a credit card either. Sigh!
Seol flips through Jung's notes, which are perfectly organized and thorough—they're the perfect study guide, and Sang-chul takes one look and tries to finagle his way into sharing them. Her reluctance is obvious—she doesn't want Jung's hard work going to such freeloaders—but Sang-chul makes out like keeping them for herself is selfish and uppity. He announces to their classmates that she has Jung's notes, and suddenly everyone's full of flattery and interest in Seol, trying to brownnose their way to those notes.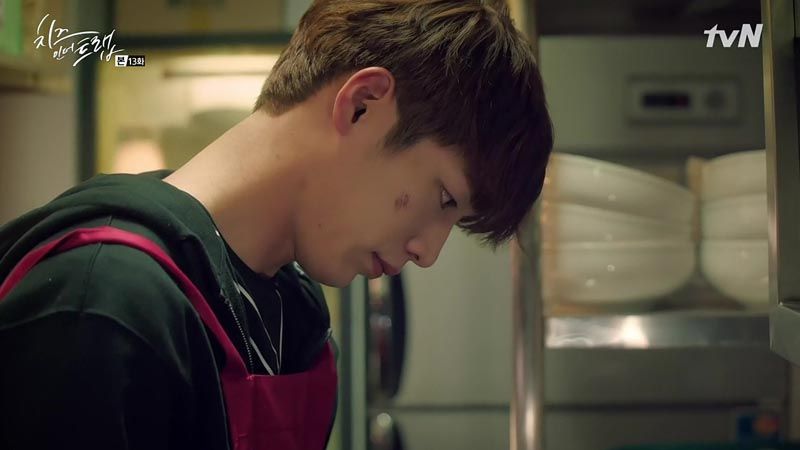 That night at the noodle shop, Seol tries to make conversation with In-ho. It's not easy, since he keeps his back turned and his answers monosyllabic, and ignores her to head outside. He hesitates before taking a call from his old boss (named "Hammer" in his phone), and whirls around in alarm when he realizes that Hammer and his lackey are right here, having followed In-ho.
Hammer says he's merely taking out "insurance" and makes a comment about In-ha—so when Seol steps outside, he shoves her back inside quickly. Hammer leaves him with a warning text: "I'll trust that you won't make me come back."
Seol asks Jung how he feels about sharing his notes with their classmates, and he tells her that he'd prefer that she didn't. He reminds her that they're just using her and that they take everything for granted, but also leaves the choice in her hands, telling her not to treat it overly seriously. Seol sighs, "But now that I hear that, it's become serious."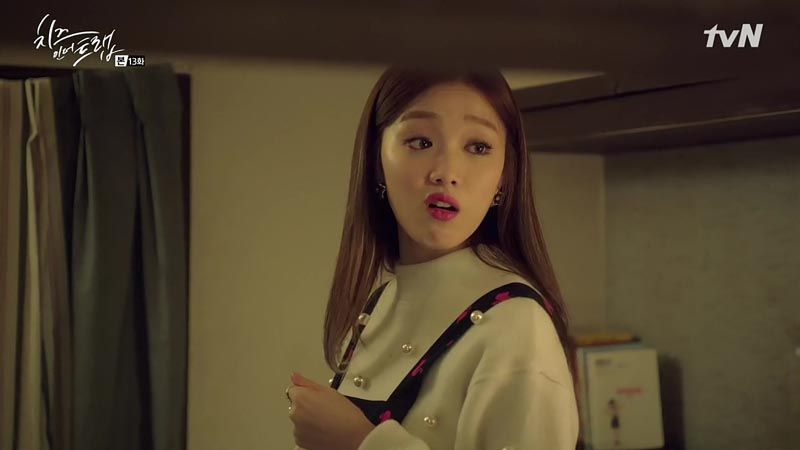 In-ho comes home feeling stressed, and finds his sister with an armful of new clothes, bought on Jung's dime. He asks if she has any money and is appalled at her thoughtlessness about her future, living only for today. She points out that he's the same, and finally he yells at her, "Get out! I'm sick and tired of it!"
With nowhere else to turn, In-ho visits Jung's father and broaches the topic of needing money. But Dad cuts him off, asking, "How long are you going to live like this?" He's referring to the boys carrying a grudge and fighting, since it's obvious with one look at In-ho's scuffed face what happened to Jung's.
Dad says he's done everything to smooth the way for them, but In-ho continues to hate Jung. What will it take for them to move on?
In-ho protests that Dad apologized, not Jung, but Dad bursts out in frustration, "Haven't you thought about everything you enjoyed all that while?" Ouuuuch. So you're going to throw your generosity in his face now?
Dad adds that Jung had accepted the Baek siblings readily and compromised a lot—yet he doesn't feel any gratitude from them. In-ho's eyes fill with tears and he can only laugh in disbelief, saying that father and son are quite alike.
He sees clearly now that Dad took the kids in to keep an eye on Jung, and says that it was crazed of him to come asking for money. Certainly, he won't ask for a handout after hearing those words. So he leaves feeling stung and wanders the streets, taking in the sights of ordinary people walking by, drinking together, having fun. His eyes fill with tears.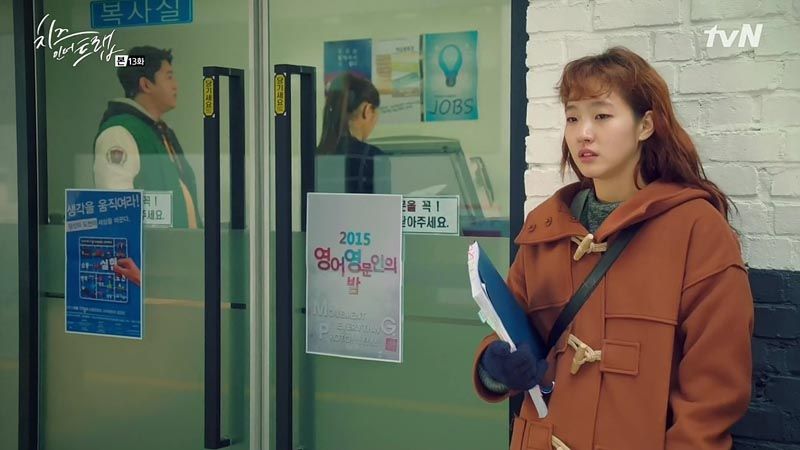 Seol goes to school intending on sticking to her guns about not lending Jung's notes, and ignores the string of desperate texts from Sang-chul, swearing never to ask for another favor. Her resolve lasts about two seconds and she decides to help him out just one last time, heading to the copy center with the notes.
But as she gets to the doors, she overhears Sang-chul already inside, loudly complaining about Seol to classmate Da-young. The two ingrates snipe that Seol is being really unreasonable about the notes, whining that it's hard kissing her ass—nobody would want to be her friends if not for those notes.
So when Da-young tries to sweet-talk her into lunch or coffee, Seol turns her down flatly. Then Sang-chul holds out his hand expectantly for the notes, and Seol hears Jung's voice reminding her that they're ungrateful and demanding, and she admits to herself that she's sick of it too.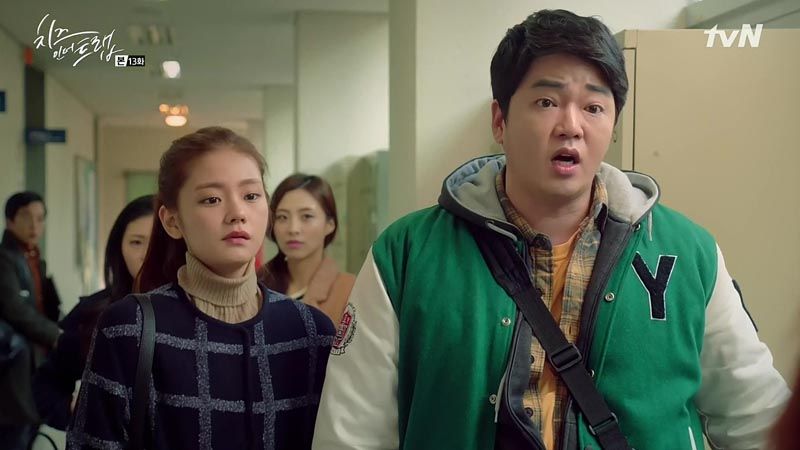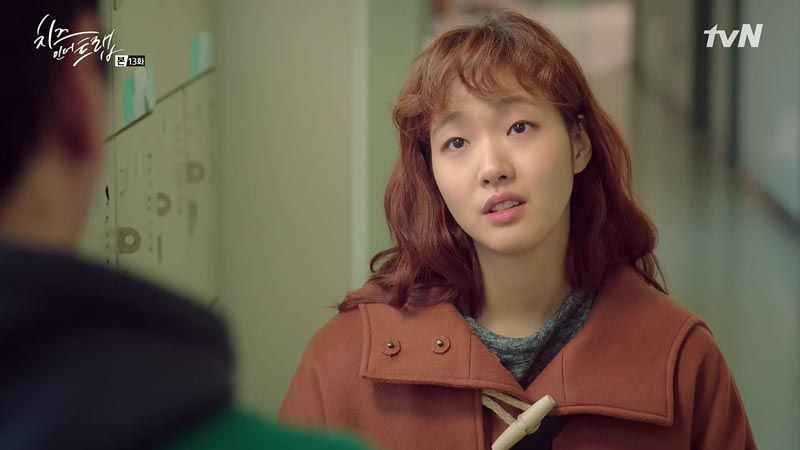 Sang-chul raises a big stink about how selfish she's being, but she holds firm, saying that the notes aren't theirs to demand. She adds pointedly that he should act like a sunbae and not whine about it, which infuriates him and results in even louder whining.
Dad informs Jung of In-ho's visit and his request for money, saying that his temper got the better of him and he sent In-ho off badly. Jung is surprised to hear it, and Dad is surprised that Jung doesn't know what's going on.
Jung is waiting for In-ho that night, having asked around and learned about In-ho's debt and his association with some unsavory people. He offers to give him the money—but on the condition that he stay away from Seol.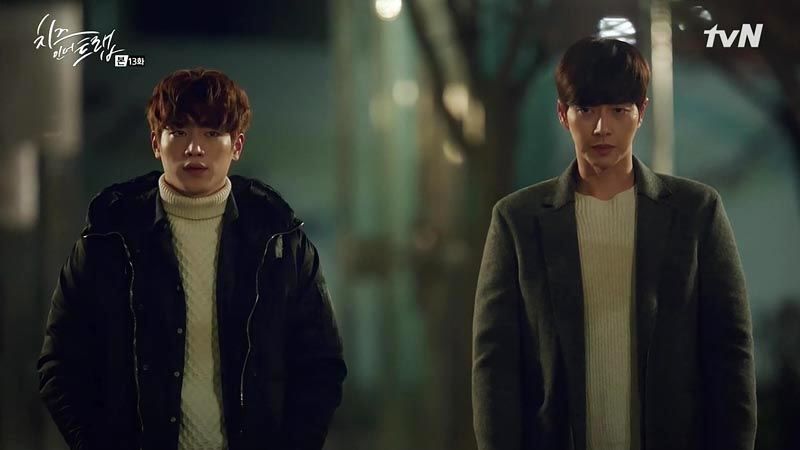 "It isn't important whether you like Seol or not," Jung says. "But if you cause harm to come to Seol or her family, that's different. No matter how rock bottom you are, you're not the kind of trash who'd bring injury to the people he cares about."
In-ho grabs Jung's shirtfront and accuses him of seeing this as an opportunity, only to have Jung point out that In-ho's the one who created the opportunity in the first place. If he doesn't pay the debt off, In-ho will have to keep running—does he want to live like that? He's better off cutting things off cleanly and walking away.
"Think carefully," Jung adds, "about who's the bigger threat to Seol right now."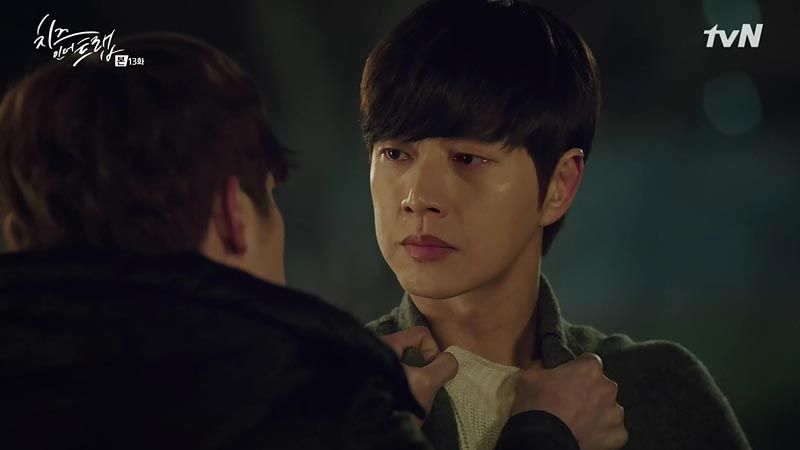 Seol's mother sends her to check on In-ho, who seemed unwell earlier, armed with some freshly made kimchi. With no good reason to refuse, Seol heads over to make the delivery.
In-ho walks up a few moments after she arrives, and once again Seol asks if anything's the matter lately. He just looks at her with those full eyes and heads inside without a word.
He stands in the dark of his apartment with heavy heart for a few long moments before something spurs him into action—he runs back outside, grabbing a scarf on the way, and catches up to Seol in the street. He wraps the scarf carefully around her neck and tells her to give Mom his thanks for the kimchi.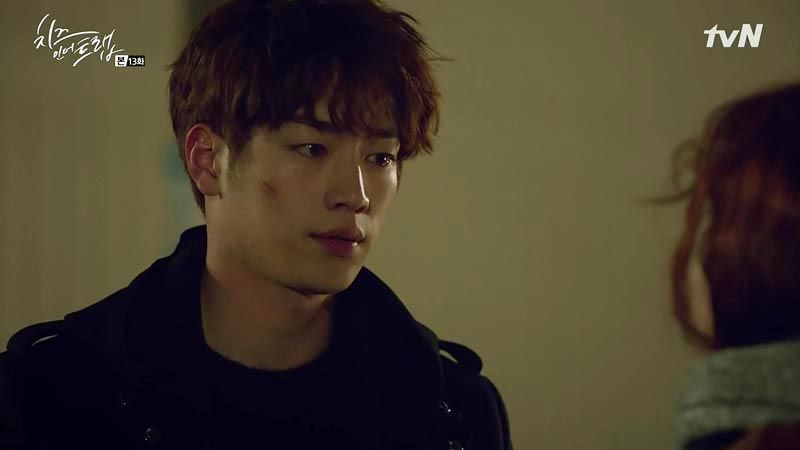 His behavior leaves Seol confused, and she tries to make sense of it.
Bora's also trying to make sense of boy behavior, and gets jealous when she calls Eun-taek to hang out and he turns her down. She overhears a woman calling for Eun-taek and he hurriedly hangs up, which sends Bora charging off with Seol to find him and see what he's up to.
They find him in the middle of a photo shoot on the quad, looking like quite the stylish model—Seol openly admires him, and it looks like Bora's seeing him with fresh eyes as well. Then Bora bristles when the beautiful agency president calls Eun-taek over and brushes at his coat and his hair.
The girls give a quick greeting before Eun-taek ushers them away, and Bora walks away noticeably subdued.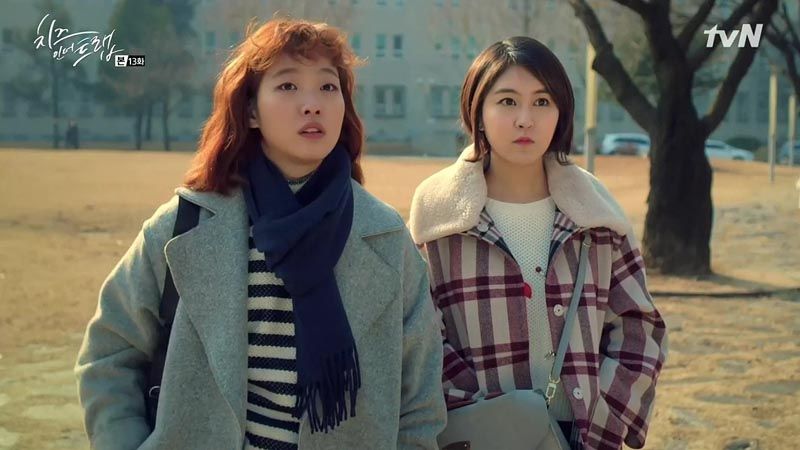 In-ho is distracted in his piano lesson, and the teacher calls him on it. But today, when the teacher tells him to leave if he's so busy, In-ho just agrees and quietly leaves.
Seol sees In-ho on the train home that night but doesn't approach, noting that he's staring off into space blankly. She only grabs him when it looks like he'll miss their stop, and as they walk home, she asks again what's bothering him.
He snaps, "What does it matter to you?" Seol presses for an explanation, though, not letting him dismiss her today too. Hesitantly, she asks if money is the problem.
In-ho is taken aback and snaps at her again, asking again what it has to do with her. She replies, "It doesn't. But how can I help feeling worried?" She reminds him that he told her to talk about her feelings rather than suffering alone, but that's what he's doing now.
"Why should you worry about me?" In-ho asks. "I'm just this kind of person."
"Why do you think like that?" Seol returns. "I don't know how other people see you, but to me, you're a good person. If something troubling happens to you, I and my family will all help you. So tell me."
And In-ho, overcome, pulls her to him and holds on.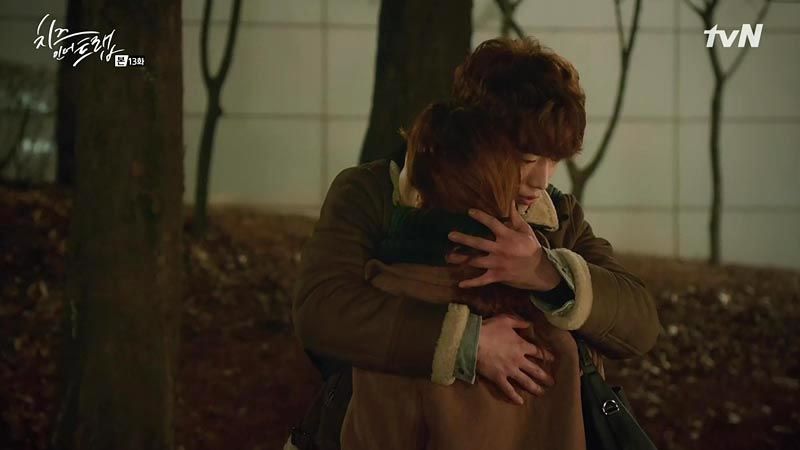 COMMENTS
Aw, In-ho. You make my heart bleed! I love this last beat, and it doesn't even conflict with my love of Seol and Jung as a couple, because I don't read In-ho as a romantic character. I know that his romantic feelings are an important part of his character in the plot, but when looking at Cheese I don't find his purpose to be romantic. The more I see of him, the more I'm struck with his loneliness and desire for connection and affection. It's the product of growing up orphaned, then abandoned by his surrogate family (well, they didn't abandon him, but In-ho feels the rift as an abandonment). And while I can find some room for sympathy in In-ha's character as well—if you read her behavior as the product of her traumatic upbringing instead of as random lunacy, at least partly—when considering In-ho, she's been no source of comfort.
So I read In-ho's arc as being much more about finding roots for his wandering, lost soul. We see that every time Seol's family treats him as one of their own, or when someone expresses care for him that extends beyond the barest social civility. He always seems surprised that anyone would care, which hurts my heart because he's so full of caring. It's just that he's not used to being the recipient, and that's why his friendship with Seol is so touching.
I found a lot of poignancy in the way this episode put In-ho in a corner, and revealed that In-ho played an active hand in the trouble he found himself in. I mean in no way to blame the victim, because the bad guys are for sure the predatory gangsters, not the vulnerable lost boy they took advantage of. But In-ho's fatal flaw is his hotheadedness, which is what prompted him to leave Jung's family without getting full understanding of what happened, and what seems to have prompted his theft of Boss's money. Sometimes it doesn't matter if you're justified if you're putting yourself at such risk to do it.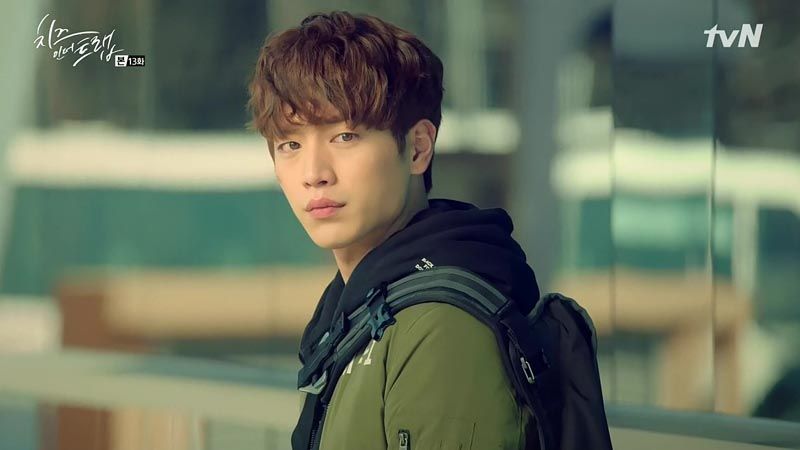 Which is why I appreciate that this drama's development of In-ho isn't purely as misunderstood, or purely as bad boy, or purely as lovelorn second lead. Here he is, finally seeing a way back onto the right path after being aimless and rootless for so long, only to be held back by his own stupid mistakes of the past.
I probably have extra sympathy for In-ho because of the way this drama has structured his character development, that we see him as a decent person with a lot of care and affection. If we'd seen him first as the arrogant piano prodigy who ran away and landed himself in a lot of trouble, it would be easy to write him off and call it karma. Like Jung says, he should have lived right, but that's a really easy thing to say in hindsight and zero percent helpful to In-ho now.
I was disappointed when Jung offered to pay In-ho off to leave, although I could argue, maybe, that this kind of deal isn't quite on the same scale as the past manipulations that Seol had such a problem with. For one, this does actively help In-ho, so it's not a one-sided deal. It's just that he, like always, holds so much power in the relationship, and I think Jung would actually build a lot of character by being the one at a disadvantage. I found myself hoping that Seol might be the one to help In-ho, because aside from genuinely caring about him, having Seol unwittingly counter Jung's manipulation seems like a nicely poetic move. I liked that Seol was the one deciding to withdraw from In-ho rather than Jung asking her to—but I cheered a little when she questioned that impulse and ended up thanking In-ho after all. She has good instincts, and she should trust them, and Jung is just going to have to find a way to deal with it. (And really, Jung needs to learn how to deal with it! It's for your own good, sunbae!)
RELATED POSTS
Tags: Cheese in the Trap, featured, Kim Go-eun, Park Hae-jin, Seo Kang-joon