One More Happy Ending: Episode 14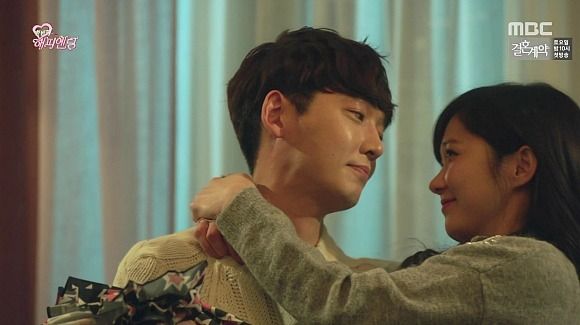 There are always more than just two people in a relationship — you have to be willing to accept all the people that come with them as well. Friends, family, and even children can complicate a love affair, and thankfully Mi-mo and Soo-hyuk take those things seriously. Mi-mo especially has a lot to think about as she contemplates the possibility of becoming a mother, and whether or not she's ready for that huge step.
EPISODE 14 RECAP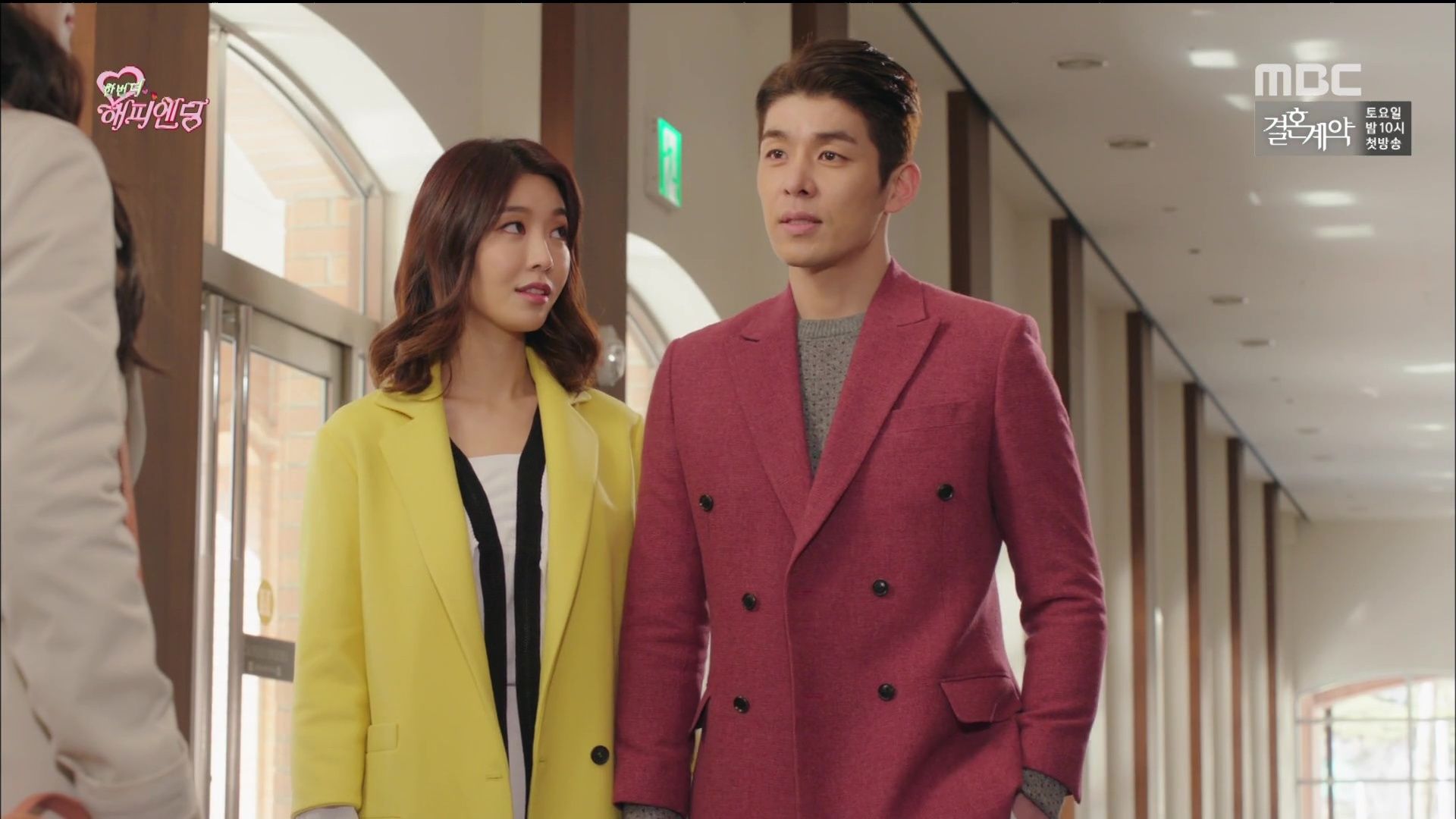 Soo-hyuk has lunch with his sister Shi-ah and her fiance Sung-jae, unaware that he's Mi-mo's ex-husband. Shi-ah tries to chastise him for his treatment of So-eun, but he rightly says that he warned her that he wasn't interested.
Working in a different part of the hotel, Mi-mo finishes up and goes looking for Soo-hyuk to ride home together. She sees Shi-ah in the bathroom and suddenly places her — she saw her at a client's wedding, on her ex-husband's arm, and also once in her building's parking garage.
In the lobby Mi-mo finds herself face-to-face with Shi-ah again, and her ex Sung-jae. They all play it cool, and Mi-mo introduces herself to Shi-ah as a not-very-close friend of Sung-jae's from college, ha. Shi-ah notes that they keep running into each other, and Mi-mo mutters that it's definitely weird. She grins triumphantly when she adds that he's here to see her boyfriend.
She finds Soo-hyuk in the restaurant, and her jaw drops… there are red roses everywhere, and Soo-hyuk is at a table, grinning from ear to ear with a rose in his hair. She's tickled pink at the sweet gesture, and he even gives her a little necklace to replace the one she threw into the sea when they first reconnected. Awww, he's just precious.
Yeon-soo had seen Mi-mo for a consultation at Happy Wedding, having decided to move forward and meet someone new. She told Mi-mo that her ideal man is basically the opposite of Hae-joon, figuring that Mi-mo would understand. But Mi-mo says that you can know someone for a long time without really knowing them, and that the Hae-joon she knew did have a warm heart, at the end.
She goes on her first blind date, and Hae-joon coincidentally has a lunch meeting at the same restaurant. He's surprised to see her there with a man, and doesn't look entirely happy about it, but he doesn't approach her.
Soo-hyuk and Mi-mo get cheerfully drunk on wine — Mi-mo pretends that she can hear the wine talking, and that it says Soo-hyuk is really cute. Hee. The end up weaving down the street together holding hands, and Mi-mo finds a purse that also speaks to her, and aegyos Soo-hyuk to buy it for her. He jokes that he's jealous of the purse because he wants to be the only thing that belongs to her, and gah, they're so adorably silly.
Mi-mo wakes the next morning when Da-jung calls to fuss that she's late to work, and sees a huge pile of purses on her floor. She shrieks when the pile moves, and HAHA, Soo-hyuk was sleeping under them. It's like their fake wedding night all over again.
They gape at the expensive purses, wondering if they can return them, and their conversation with the saleswoman is hilariously reminiscent of their conversation with the clerk who issued their wedding license. They do get the refund though, minus the one bag that Mi-mo really wanted.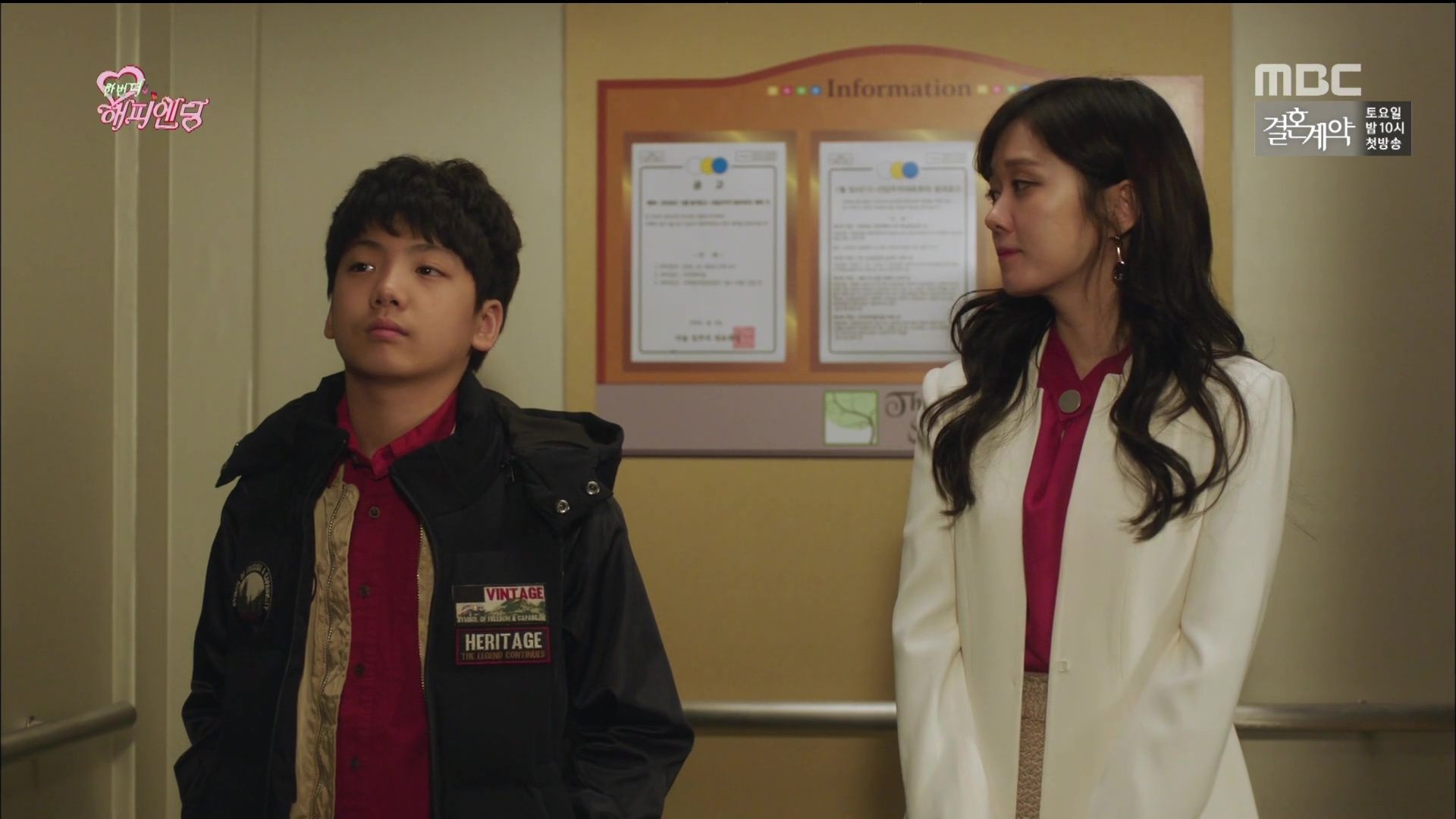 Soo-hyuk finds Min-woo still home, since there's no school today, though he says he's staying at a friend's house that night. Soo-hyuk jokes that Min-woo doesn't want to hang out with him, and Min-woo's return volley that Dad's already got someone else to hang out with carries a bit of hurt in his tone.
Min-woo and Mi-mo end up riding in the same elevator, where Min-woo is uncharacteristically quiet. He does stop to ask Mi-mo a favor before he goes — to please not hurt his dad. Aww, sweet kid.
Another client-couple of Mi-mo's and Da-jung's is getting married, but this one has them a bit worried. The groom's family may object because they're so different, but Da-jung thinks they'll be fine.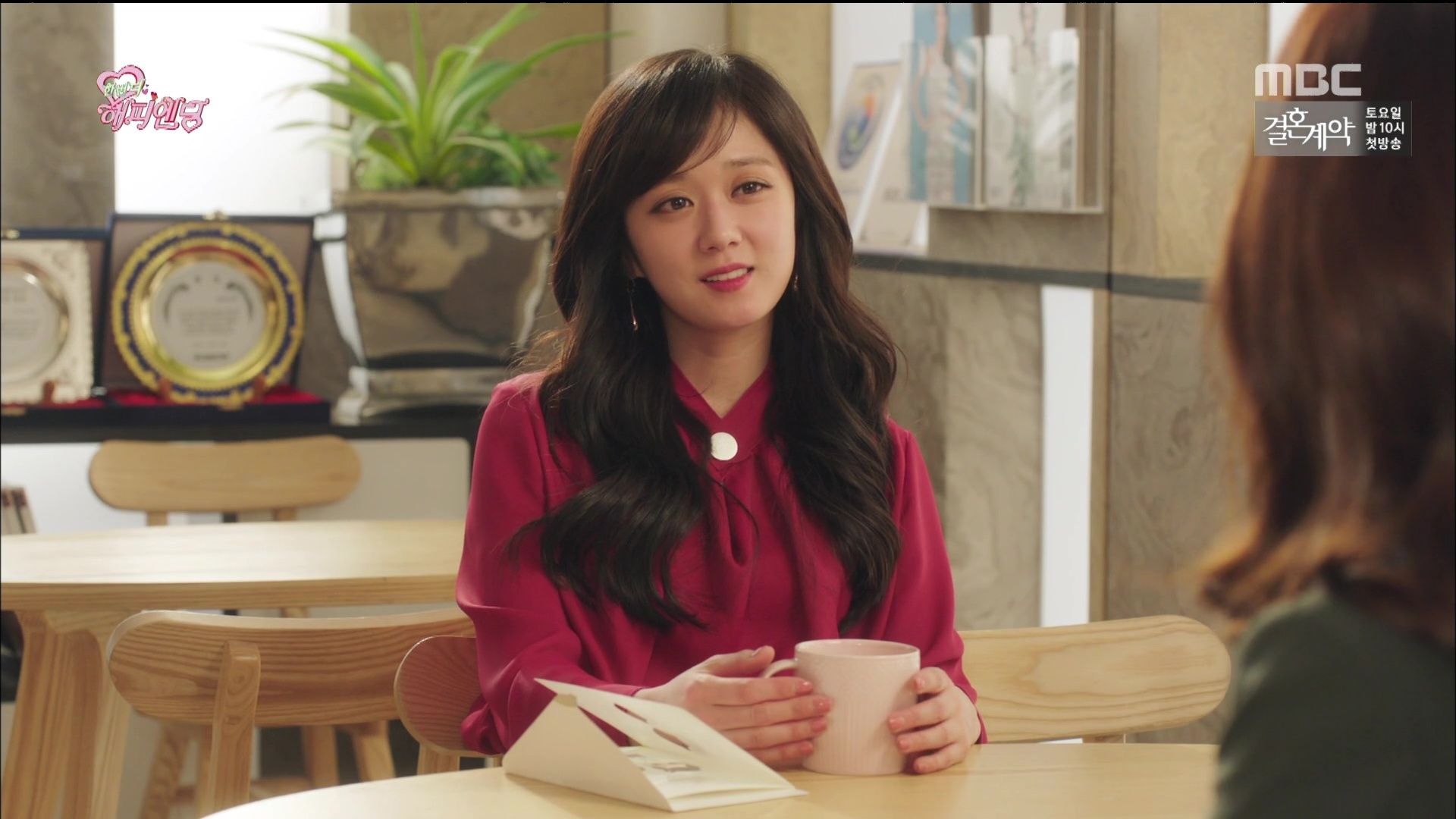 Geun-hak and Da-jung had gone back to couples counseling, where they had to stare into each other's eyes for ten minutes. Da-jung looks a little shell-shocked, but Geun-hak starts smiling right away — and now she smiles thinking about it.
Mi-mo is a bit worried herself, because it took her so long to get together with Soo-hyuk, and now she feels like they keep running into obstacles. His friend So-eun, but mostly his son, who she doesn't think likes her anymore. Da-jung thinks this means their relationship is getting serious, and warns Mi-mo to prepare for worse before it gets better.
Later Mi-mo imagines their relationship is a merger, seeing herself moving into Soo-hyuk's place and the two of them signing legal papers amicably. Then she imagines a hostile takepver, with an angry mother-in-law slapping down a prenuptual agreement, so she brings in her shark lawyer to lay out her own demands (including a fine for not hugging her every day, hee).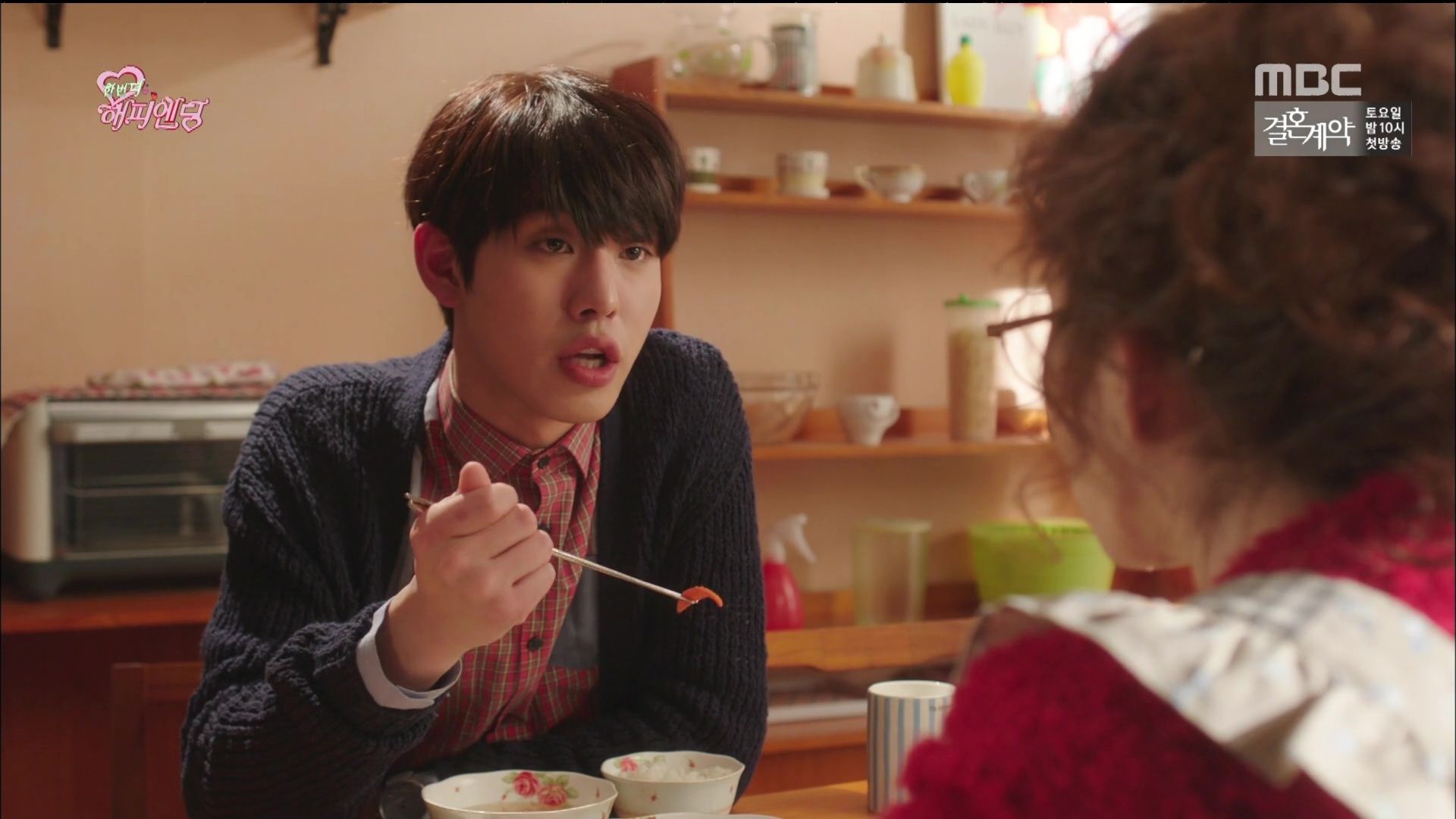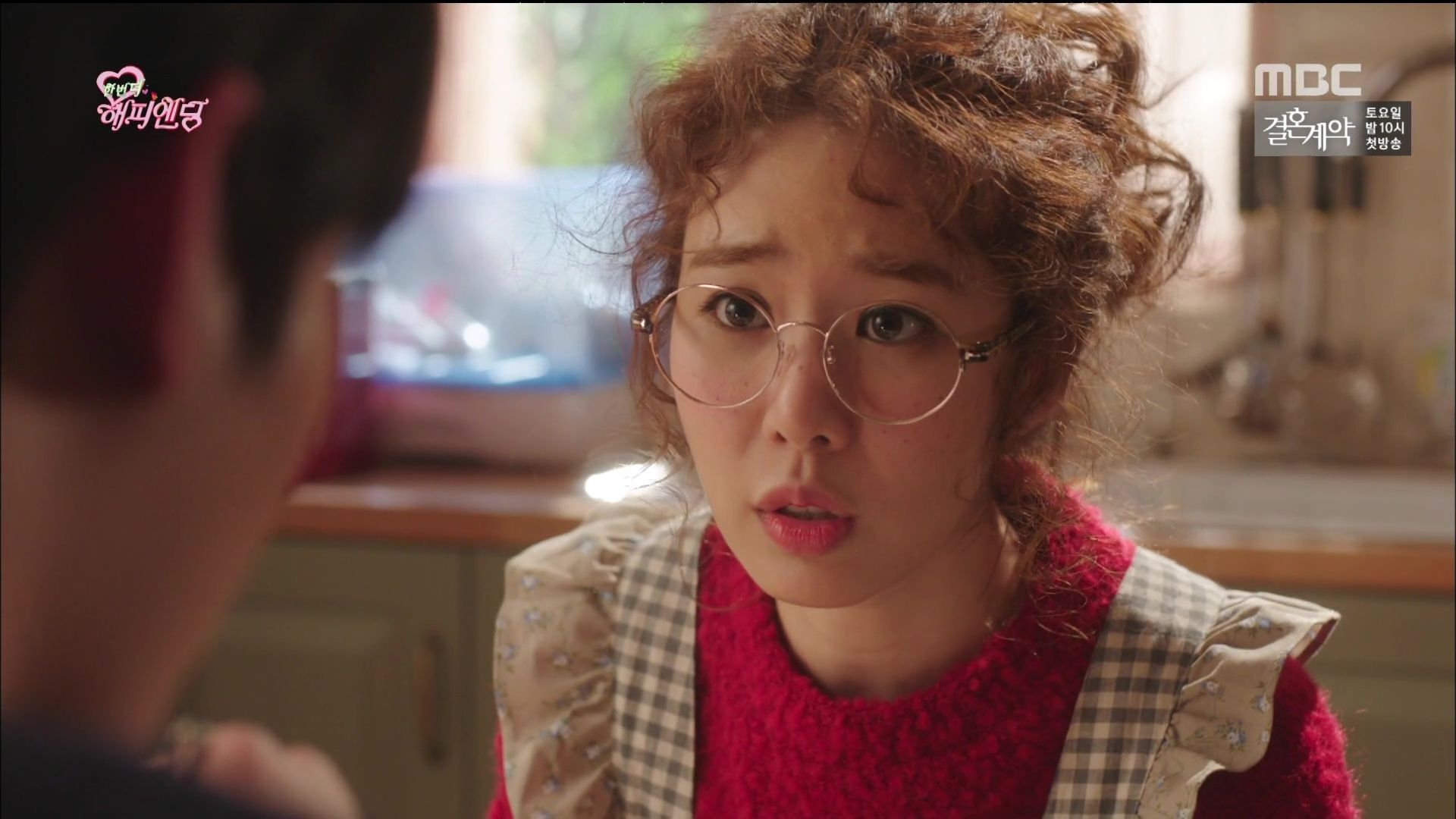 Later Soo-hyuk introduces Mi-mo to his sisters, and oh lordy I'm so glad this is still in her imagination because there are nine of them. They all sit to eat and start to criticize Mi-mo's eating habits, which causes Soo-hyuk to sweep his plates off the table in fury. He threatens to run away with her if they treat her badly, and leads her away.
Mi-mo thinks to herself that she could handle any crazy family he threw at her… but his one disappointed son could be too much.
Dong-mi cooks up a huge meal for Jung-woo, and clumsily brings up marriage — when does he think he might want to do it? He figures, about five years after he gets his first job, which he doesn't even have yet. Dong-mi cringes, but at least he just casually talks like it's her he'll be marrying, which is sweet.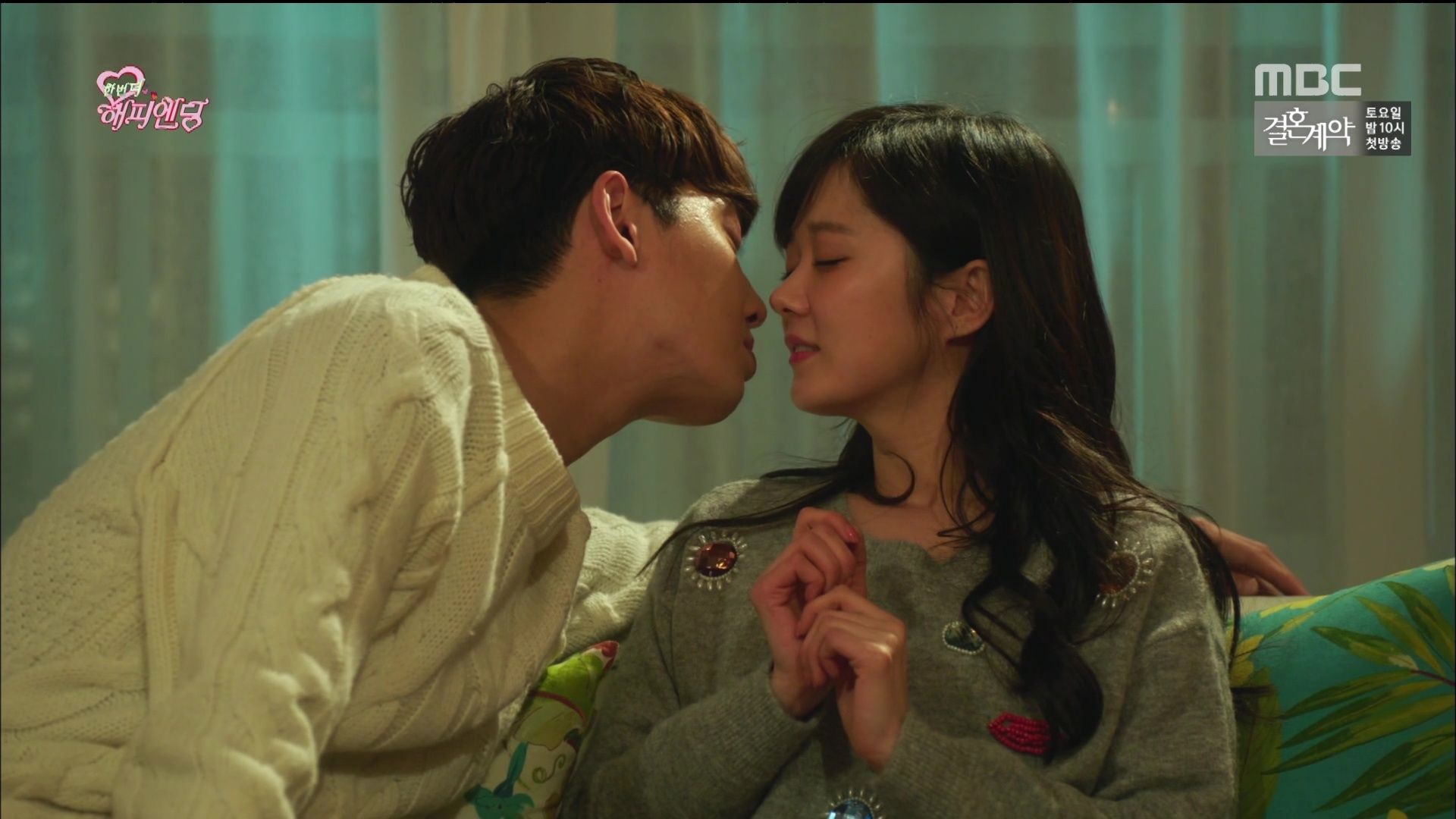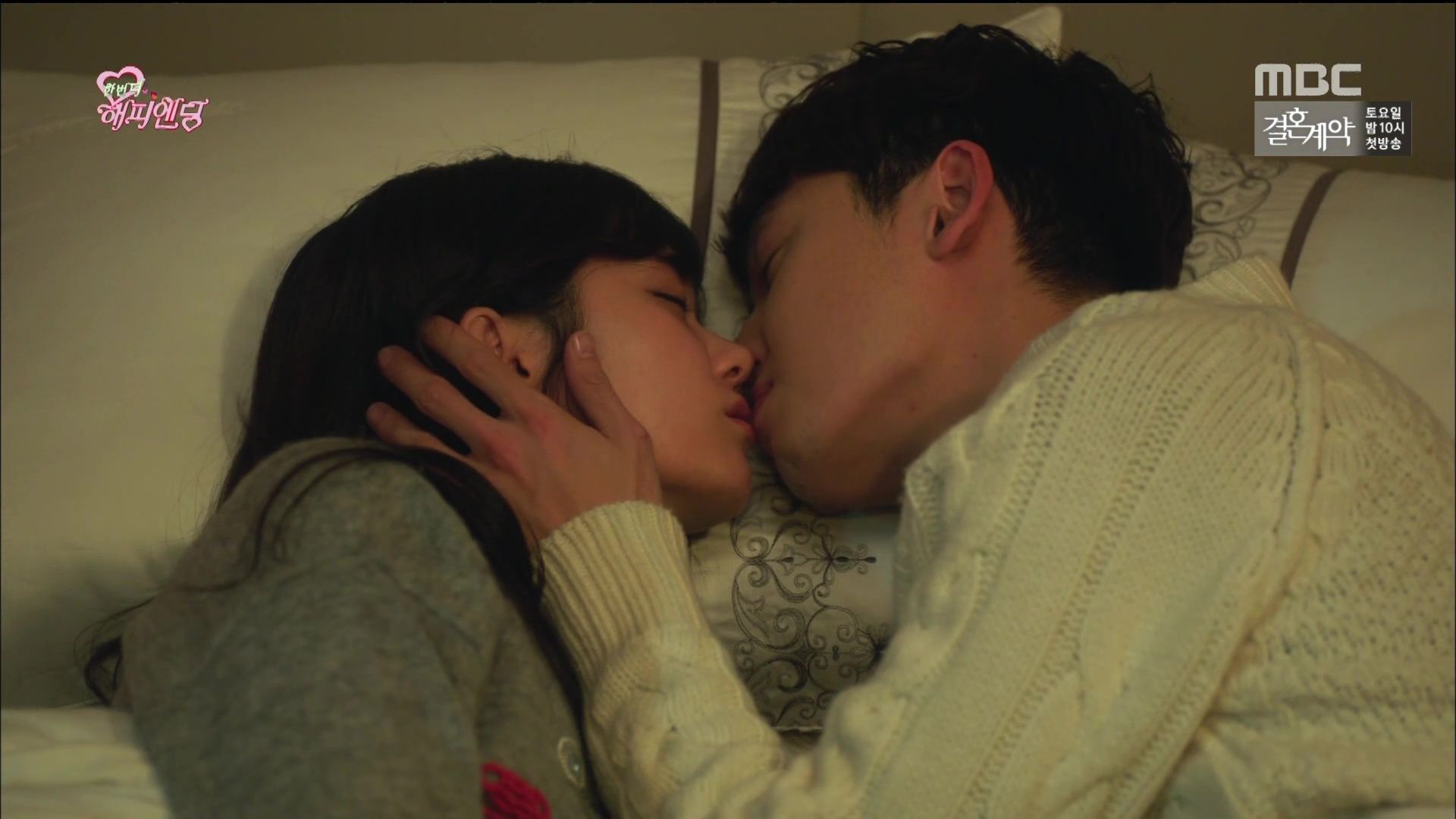 Later she fawns over a friend's new baby, and the friend says that Dong-mi should get married soon so she can have one, too. She doesn't think "that young guy" is a good prospect, and for once Dong-mi doesn't argue.
Mi-mo makes a romantic meal for Soo-hyuk, all guaranteed fresh ingredients this time (and no alcohol!). After dinner Soo-hyuk says that sitting here with her, sans alcohol, feels even more dangerous, because her beauty in the dim lighting is making him crazy. Rawr. She giggles and chatters, but Soo-hyuk isn't kidding around, and moves in slowly for a kiss.
They're distracted when Ppoppo whines at them, and Soo-hyuk quips that a minor is watching, so maybe they should go to her room? He sweeps up Mi-mo in a princess carry and they snuggle in bed, and this time there are no prim objections when Soo-hyuk kisses her.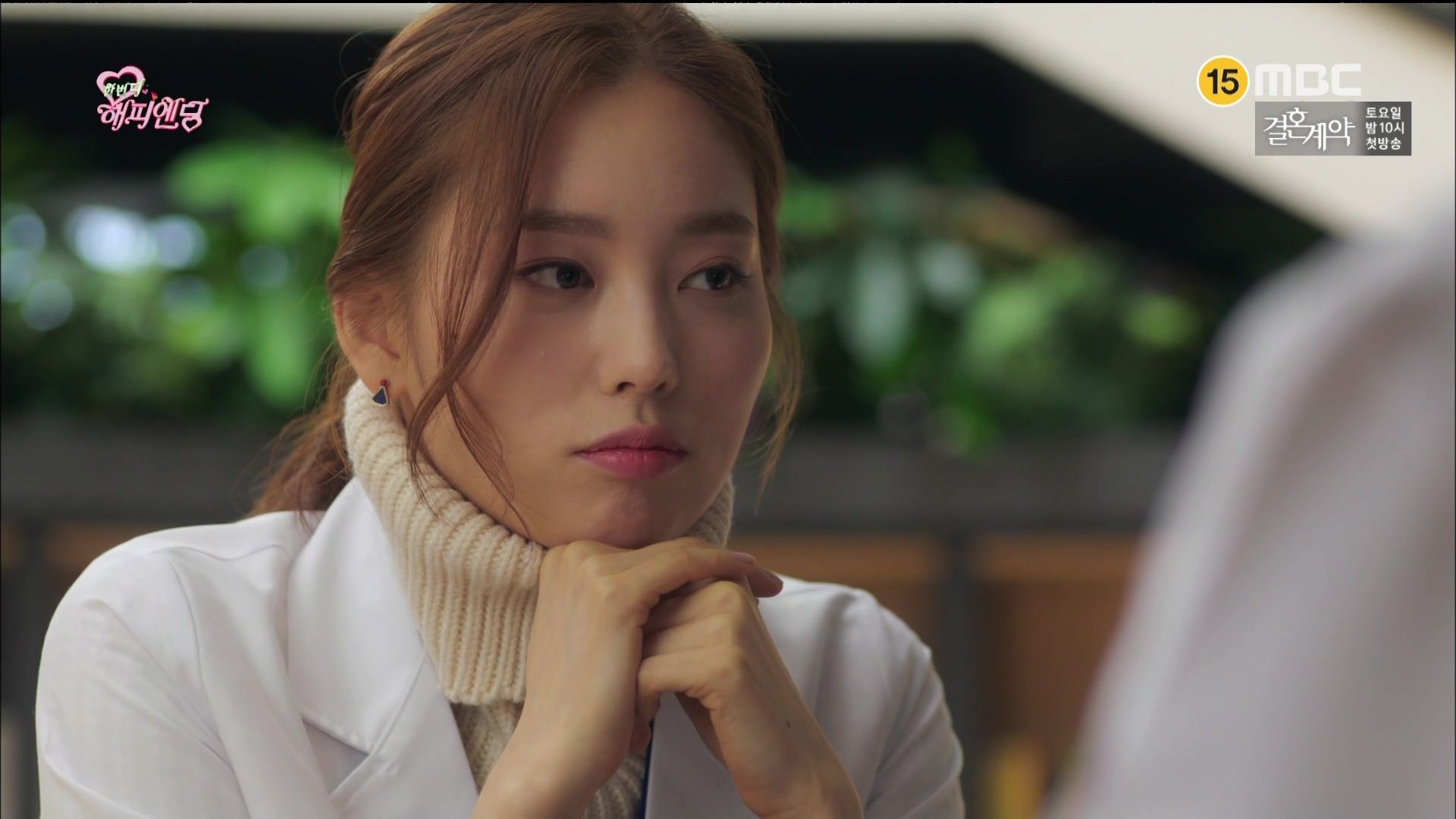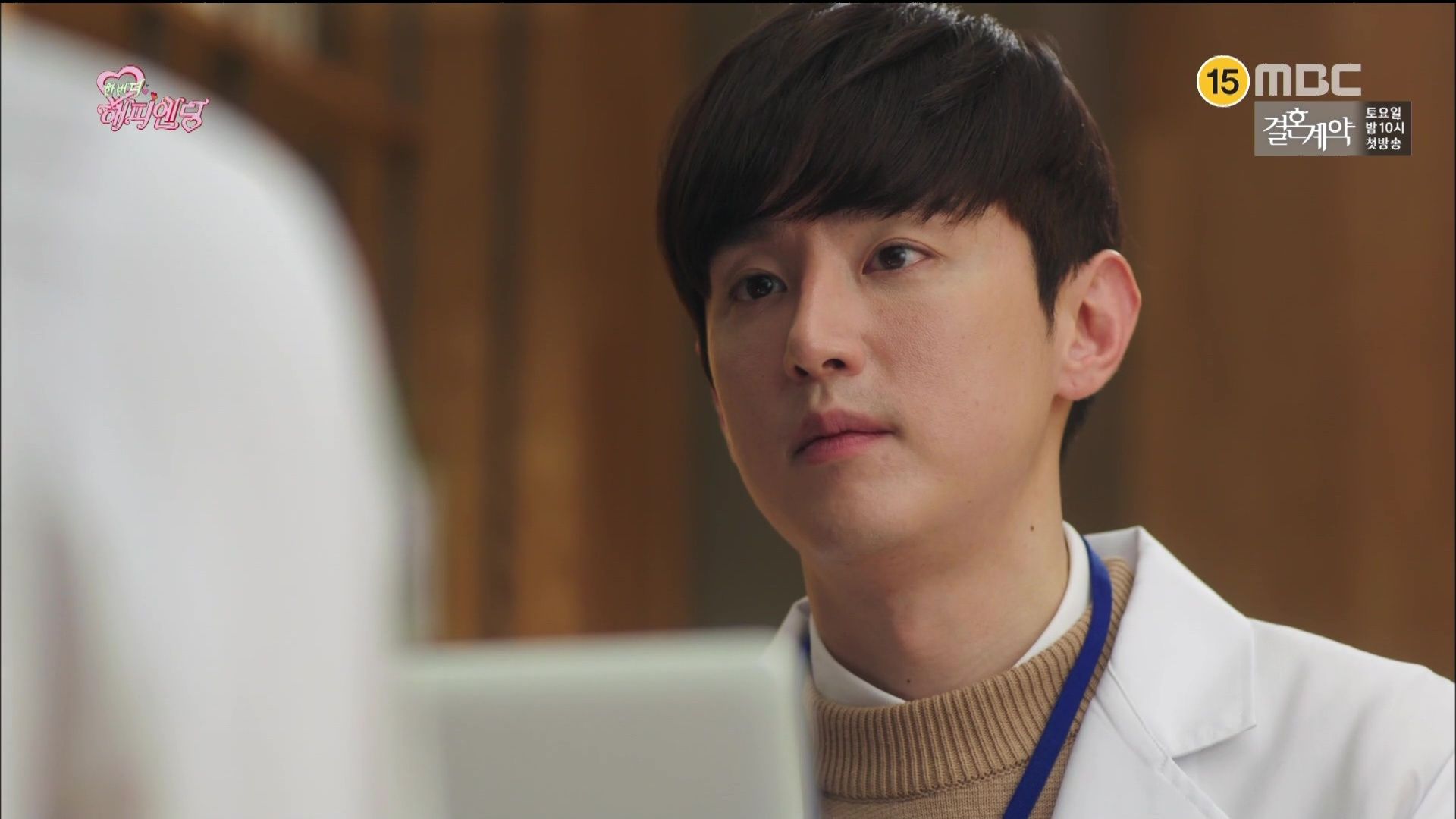 Dong-bae makes Ae-ran a huge breakfast, and sends her off to work with a huge packed lunch, including her very favorite PPL almonds. He's definitely making an effort, and Ae-ran stays guarded but is defnitely softening towards him.
Dong-mi finds out at school that the little girl who was "dating" the younger boy broke up, and now she's dating a fifth grader. But now she's thinking of breaking up with him too, and just focusing on her studies, because all men are like babies — no matter their age, they're all the same. Ha, this little girl cracks me up.
Yeon-soo shows Hae-joon a man she's been matched with, and asks his opinion. Hae-joon asks about the guy he saw her with, and Yeon-soo says that she wants to meet a lot of different guys, because she's tired of wasting her time. Dang, and I was so impressed with her maturity until now.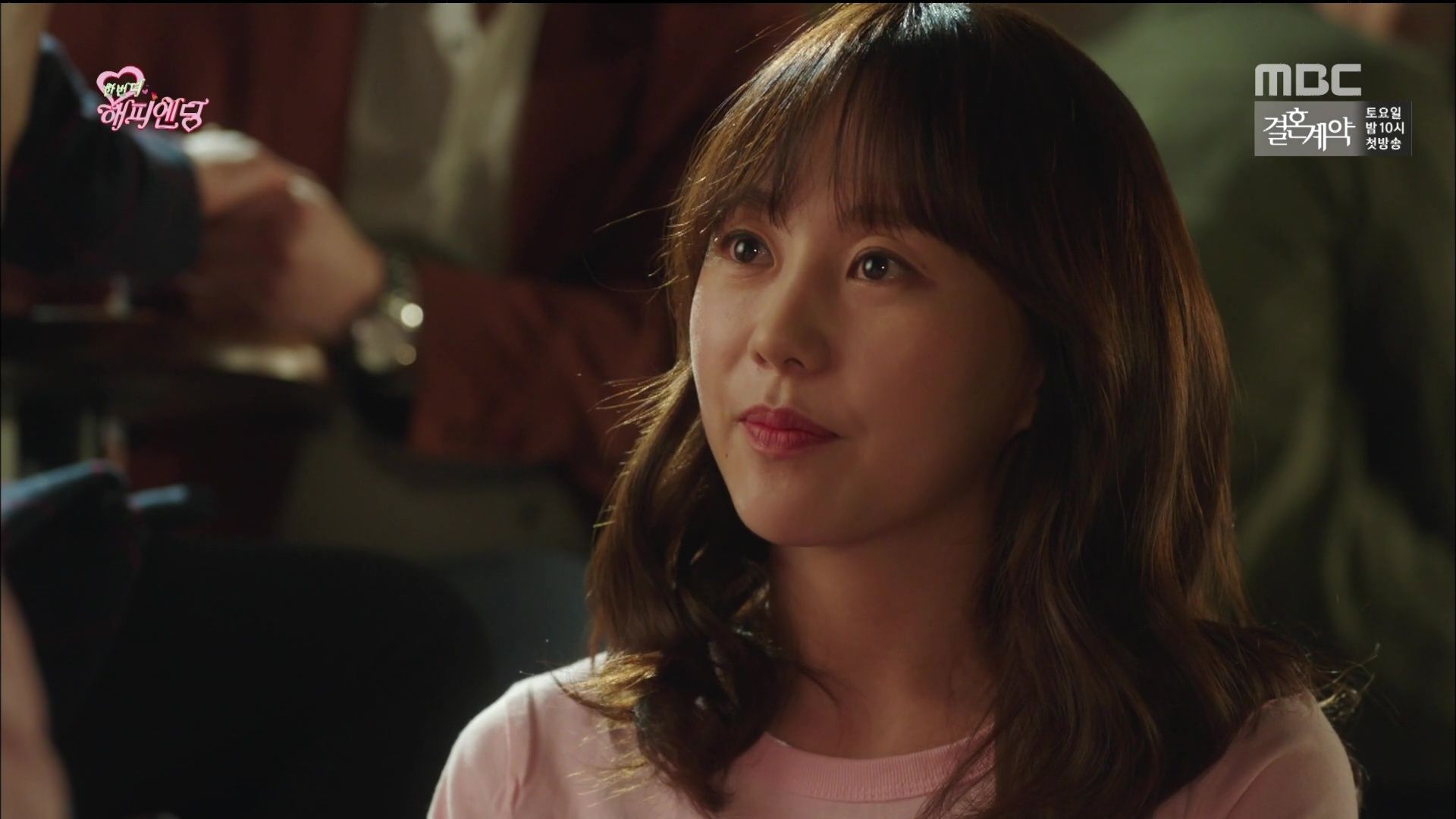 During a break at marriage counseling, Da-jung overhears Geun-hak on the phone with a coworker. He says that he's enjoying his time off work and hangs up, and sees her there. He makes the dumbest joke ever and laughs nervously — it's so cute how flustered his own wife makes him these days.
Back in class they have to tell each other something that hurt them, and the other can only respond, "I see." The other couples do it all wrong, making accusations and excuses, but Geun-hak and Da-jung take it seriously. Da-jung says that she forgot how hard he was trying when she was sick, and only thought about herself. She acknowledges that he's still trying hard, and he's so moved that he can barely say, "I see."
She continues, saying that he's always been a kind man, and he's still kind now, even when she's pushing him away. She apologizes, and thanks him for making such an effort for her and their marriage. He pulls her in for a hug, and this time, she hugs him back. ~sniffle~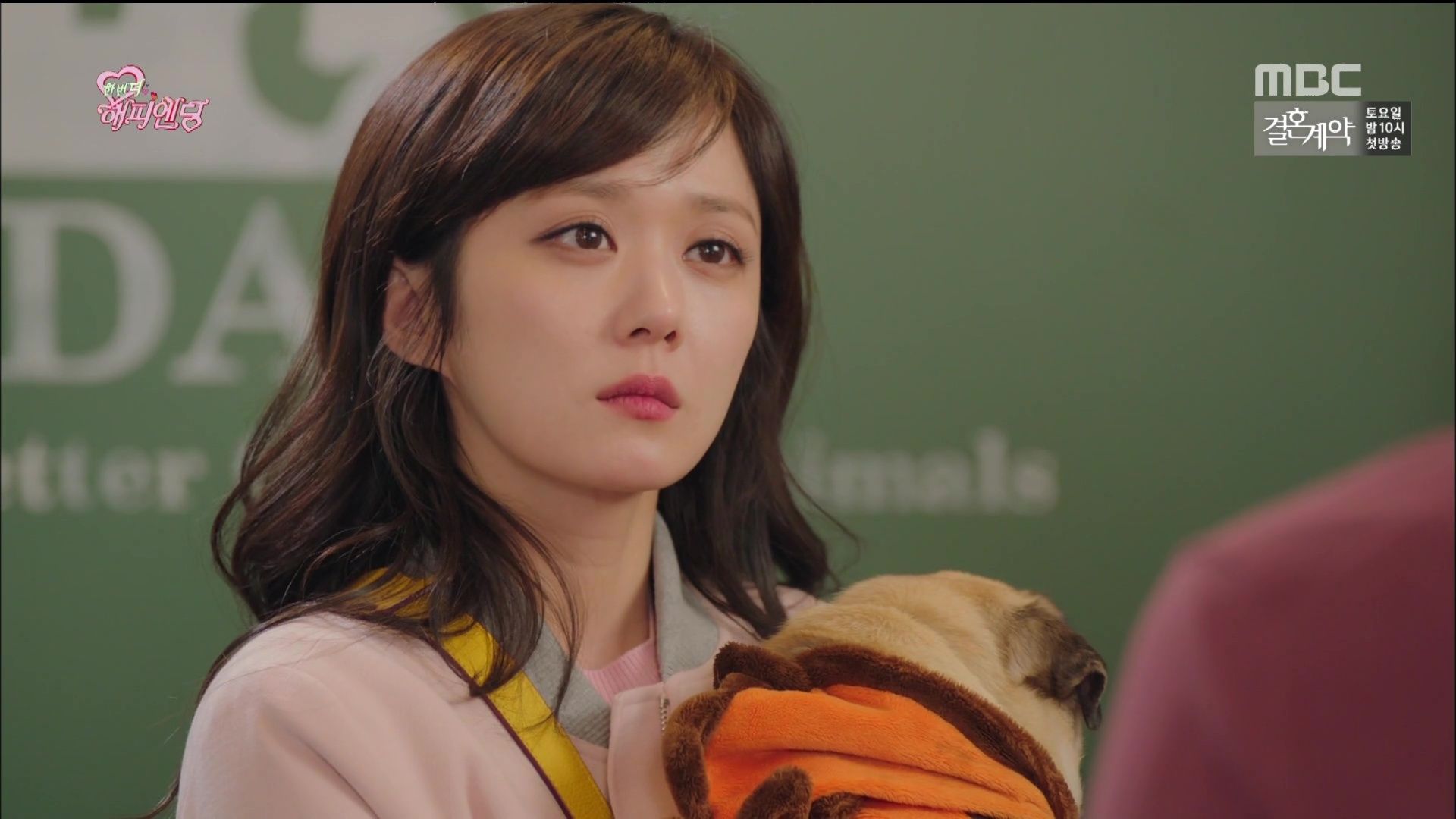 Mi-mo runs into Sung-jae again while she's at the vet with Ppoppo, but she refuses to let him pet the dog, since he threw him away. She snaps that she doesn't like how they keep running into each other, and wonders what he's even doing in a pet store when his fiancee has allergies.
Sung-jae has to admit that he lied — Shi-ah isn't allergic to dogs. He just didn't want to start a life with a new woman, while still owning the dog he got with Mi-mo. Wow, what a jerk. Mi-mo says that he's not even human, and asks if he'd have thrown a child away too if they'd had one.
She's tiny, yet she still somehow manages to look down at him (it's quite impressive), and lectures him that true love means accepting someone's past. He challenges her to prove it, and says that he'll be watching if she ever dates a man with a kid. Mi-mo laughs in his face at that: "I don't love the way you do." You go, girl.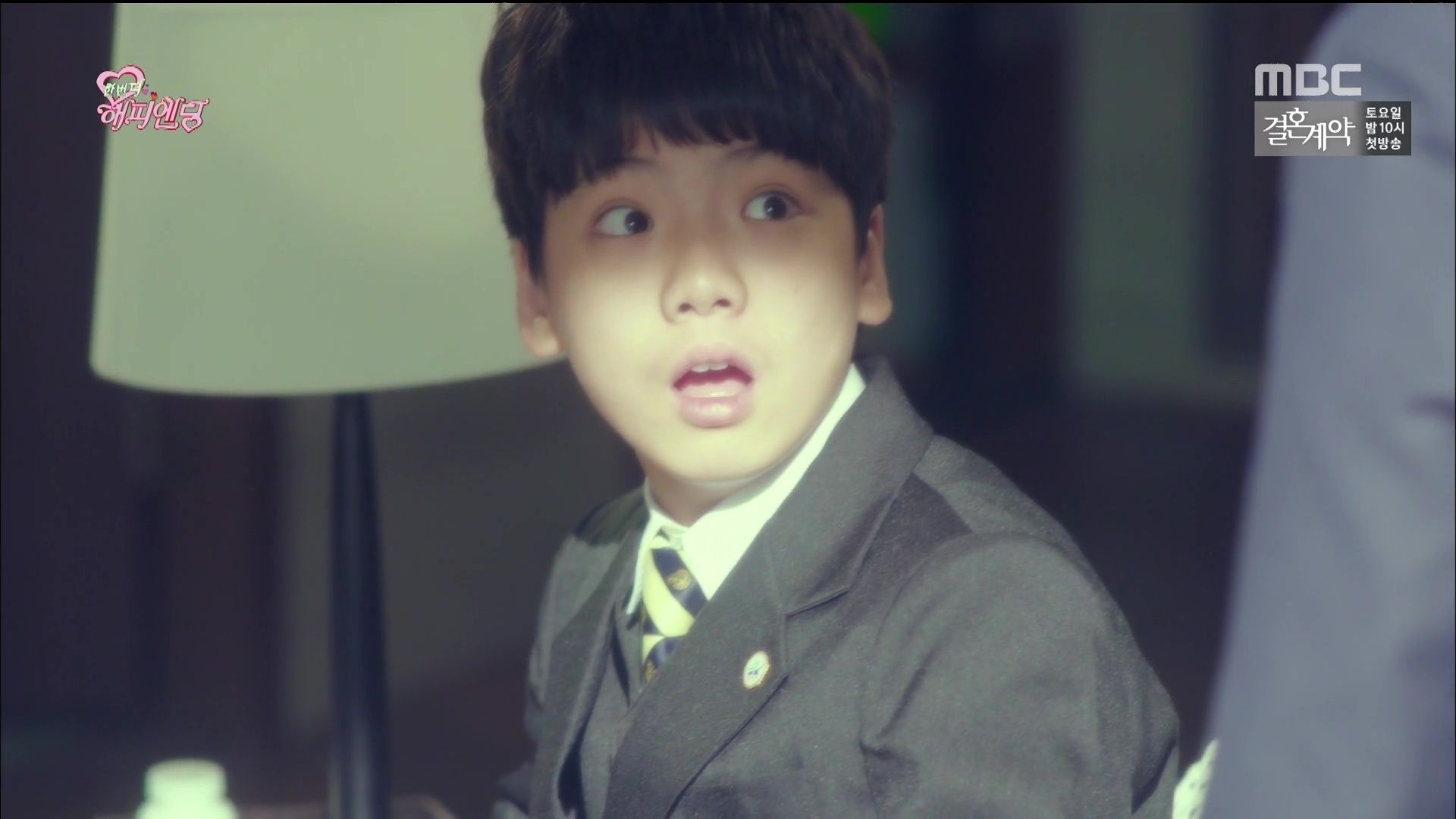 Mi-mo runs into Min-woo outside their apartments, and when he's still a bit chill with her, she says that she's been sad lately because he doesn't joke or smile like he used to. He keeps his face carefully neutral and leaves (he's not rude to her, he's just not friendly with her anymore), and Mi-mo stays up late thinking about what to do.
She dreams of Soo-hyuk giving her back the gaudy ring he bought for her, and she dramatically worries about his son not being happy about this. He asks her to trust him, that he'll convince the boy, but when he tries to kiss her he just can't do it.
Min-woo is hilariously suited up like a father-in-law, horrified that Soo-hyuk is dating that women across the hall. He vows to stop their marriage, unwilling to split his inheritance, so he has her branded as the Virtuous Woman of Yongsan to prevent their union. HAHA, Mi-mo argues that she can't be virtuous, she dates waaay too much, but she's forced to accept.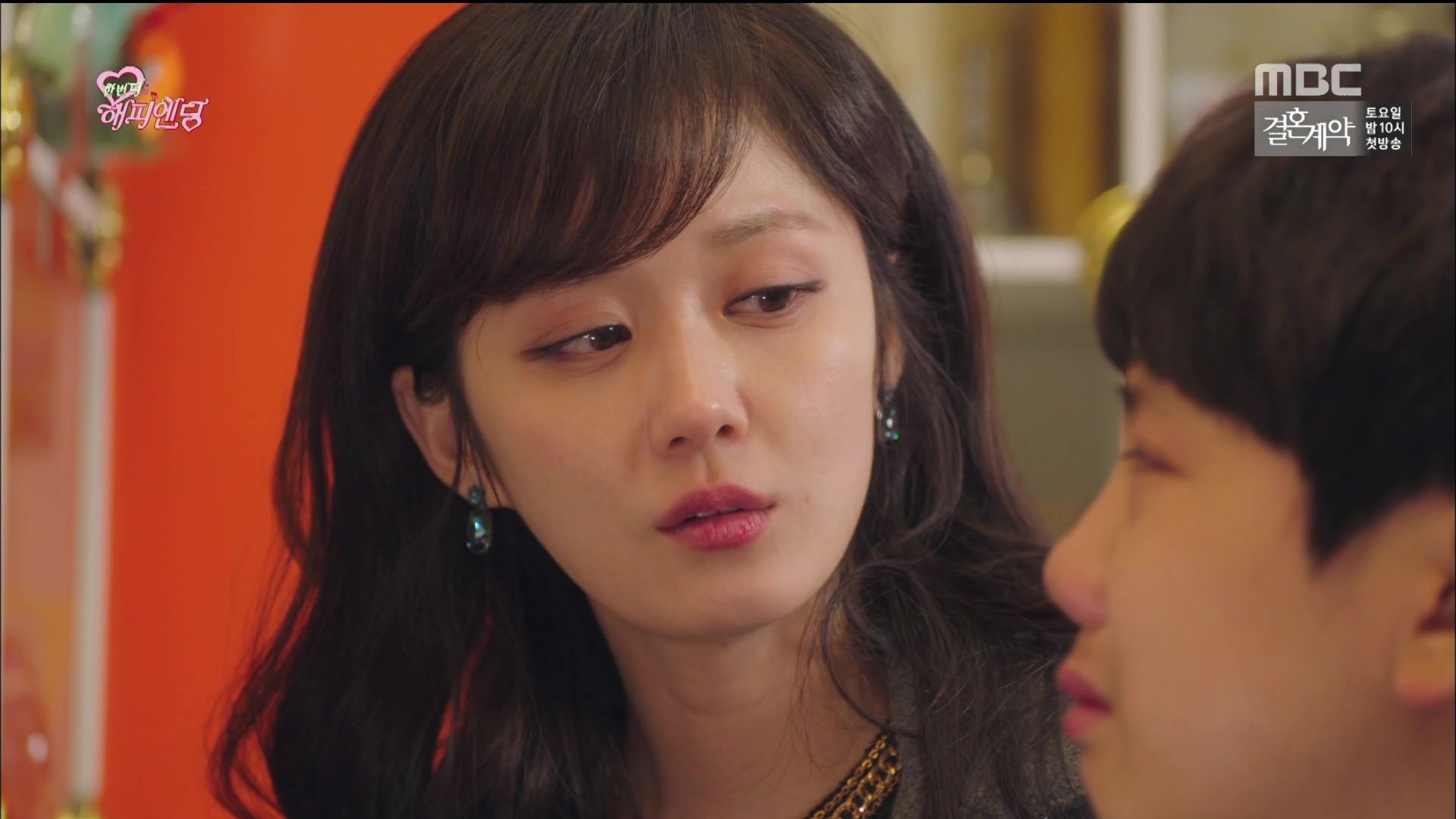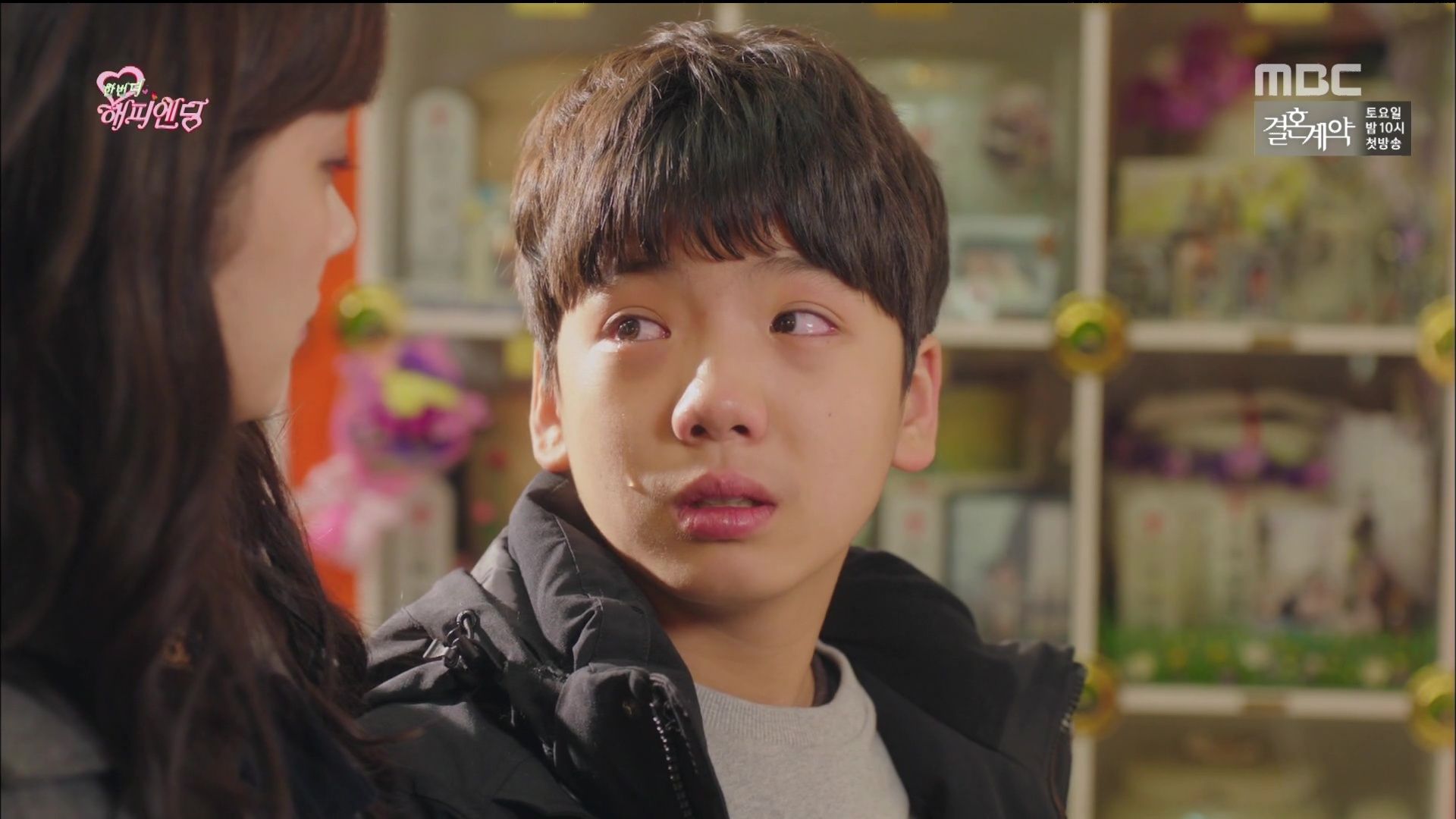 She sees Min-woo in the hall again the next morning, only now she seems determined to do something. She follows him to his mother's resting place, and approaches him as he cries.
His walls are down now, and he tells Mi-mo that he never got a chance to call his mother "Mom." He guesses now that his wish for Dad to find someone is also because he'd like a mother. But if he calls someone else Mom, he'd feel badly towards his own mother.
Mi-mo puts her arm around Min-woo and says that she's positive his mother knows how he feels. Min-woo tearfully asks Mi-mo again not to hurt his dad, almost pleading with her this time. She tells him that when he's older he'll understand that it's impossible not to get hurt when you're in a relationship, but that she will promise to make Soo-hyuk smile at least once a day. Min-woo is smiling again by the time they go for pizza, which makes Mi-mo happy.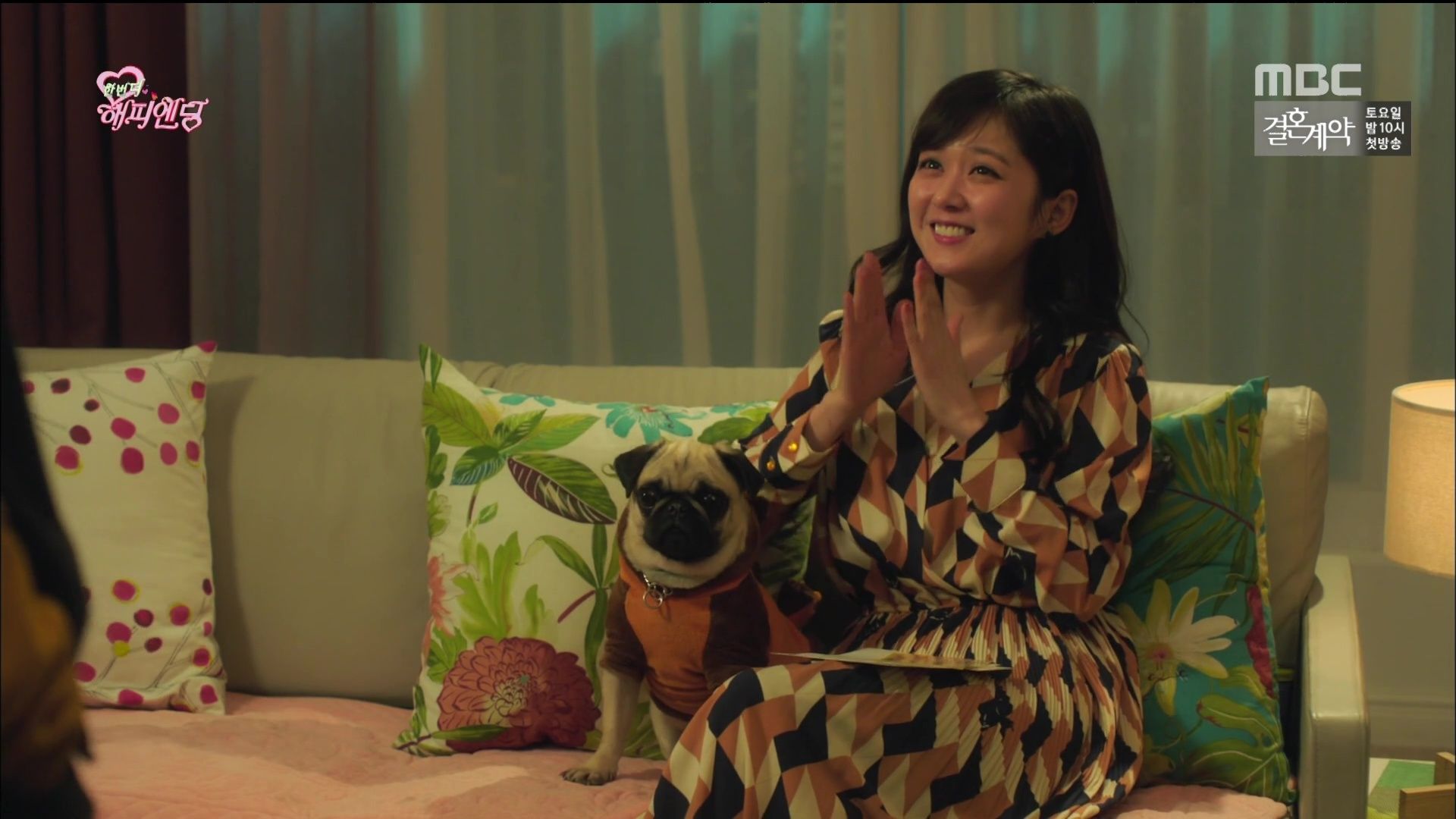 Soo-hyuk suggests a double date with Shi-ah, so that he can introduce Mi-mo to her and Sung-jae. Oh no, this is gonna be very, very bad.
HA, Mi-mo turns her promise to her own advantage — she tells Soo-hyuk to give her a sticker every time he makes her smile, and when she fills up a card with stickers, she gets a wish. At least Soo-hyuk gets a card and wishes too. He gives her a sticker for this idea, then wants a sticker for giving her a sticker, and I can see how this could get out of hand quickly.
Mi-mo demands he sing her the confession song first, and Soo-hyuk is adorably shy about it. But he grants his lady's wish, dorky gestures and all. Excuse me while I watch that ten more times.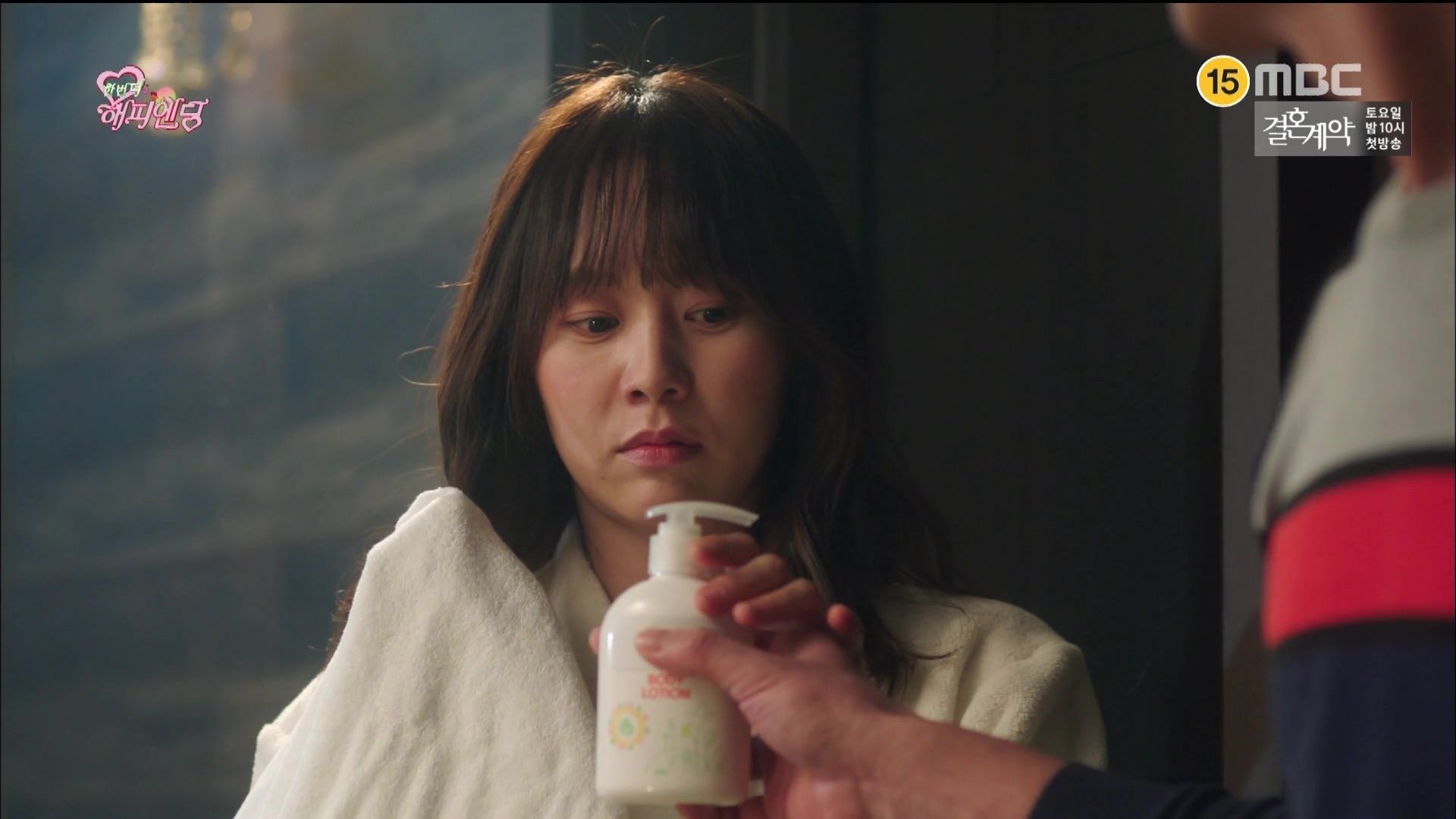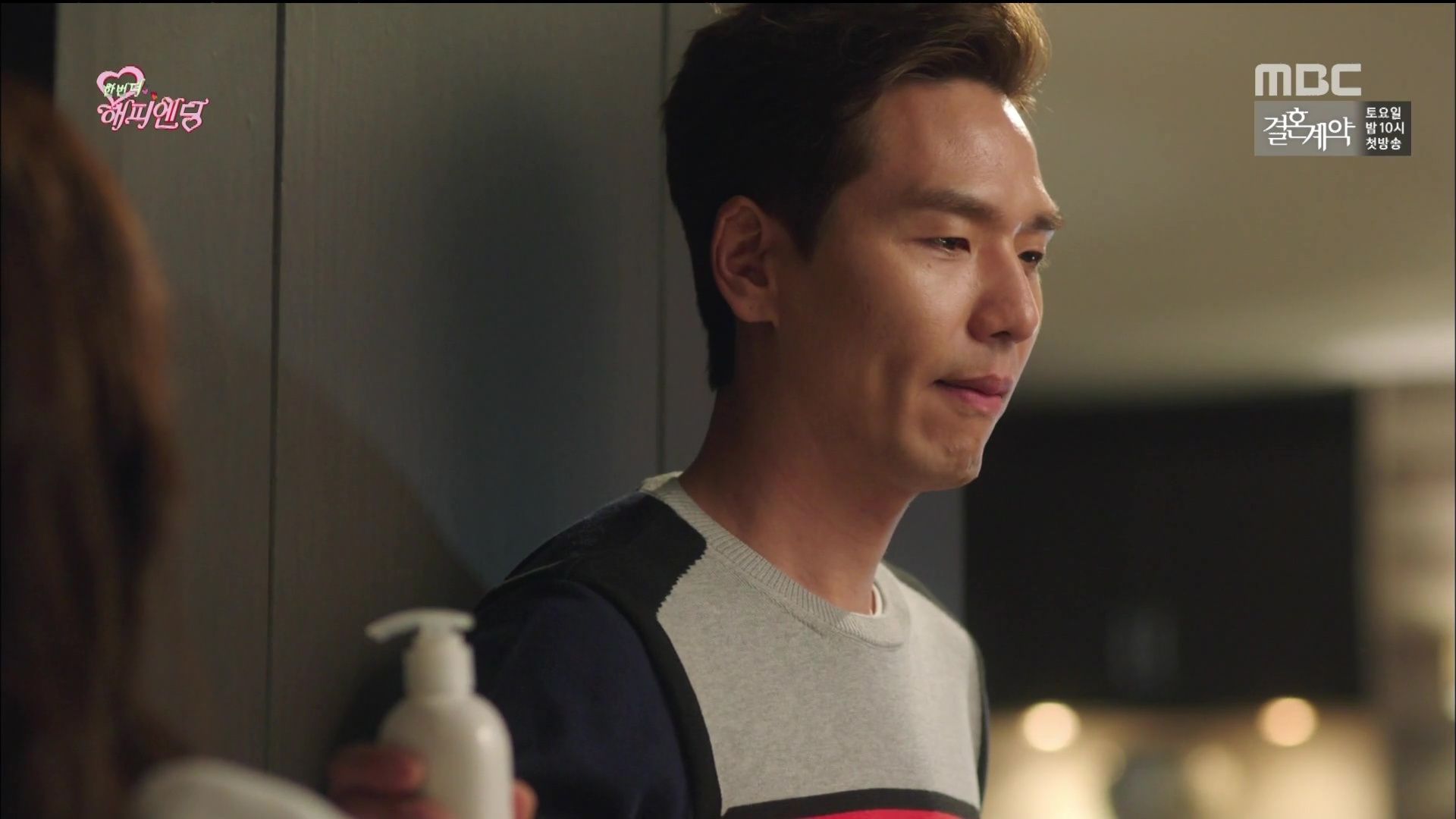 Geun-hak and Da-jung are also shy about their homework, which is to say "I love you" three times a day. Geun-hak looks like he's gearing up to say it at dinner, but Da-jung jumps up to tuck Tae-yong into bed and his moment passes.
Dong-mi stays up late worrying about her relationship with Jung-woo, unsure what to do. She decides to write him a letter to confessing her real age, but she ends up scrapping every attempt.
Geun-hak and Da-jung both agonize over how to say "I love you," as their time swiftly dwindles. Finally Geun-hak approaches Da-jung while she's doing the dishes and slides his arms around her waist, and mutters a quick and barely audible Iloveyou. He says it again as quickly as possible as she's getting out of the shower (OMG her face, HAHAHA). He is so freaking cute.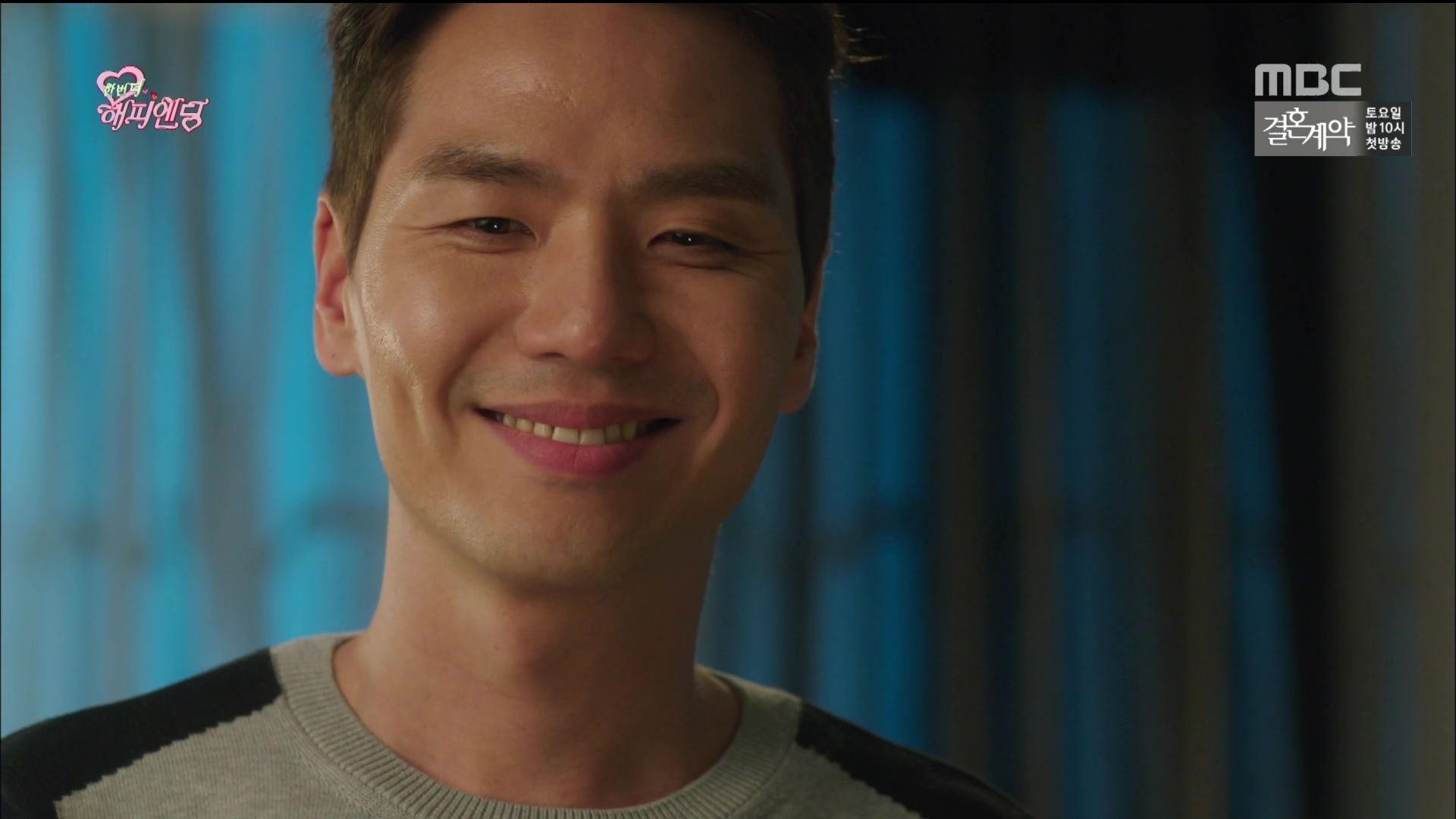 It's Da-jung's turn, and she approaches the door to his office like she's marching to the gallows. She gets hers out of the way all at once: "I love you, I love you, I love you." It's ridiculous, and probably cheating, but Geun-hak smiles at her anyway. Da-jung quickly retreats to her room to collapse on the bed, but she also smiles a little to herself. Aww.
Yeon-soo meets with another prospect, and this one is pretty awful. He picks his teeth at the table and laughs at her, saying that she doesn't look like her photo. Yeon-soo goes off into a daydream, remembering when she and Hae-joon met, and we see that she approached him first even then. She'd told him that they'd make a good couple, as the best-looking students in school.
Now she goes to find him after her disastrous date, and wonders aloud why it's so hard to find a man better than him.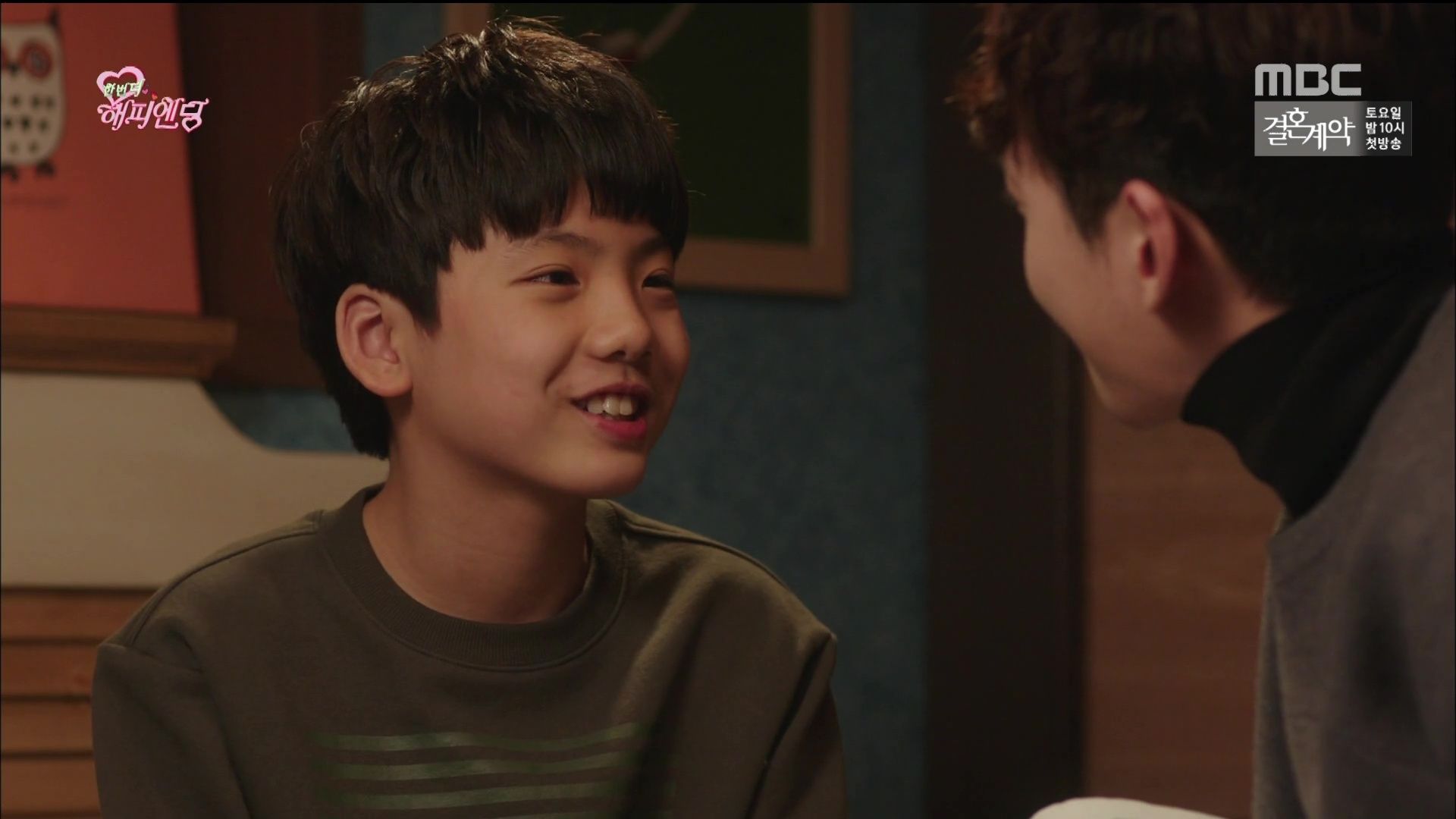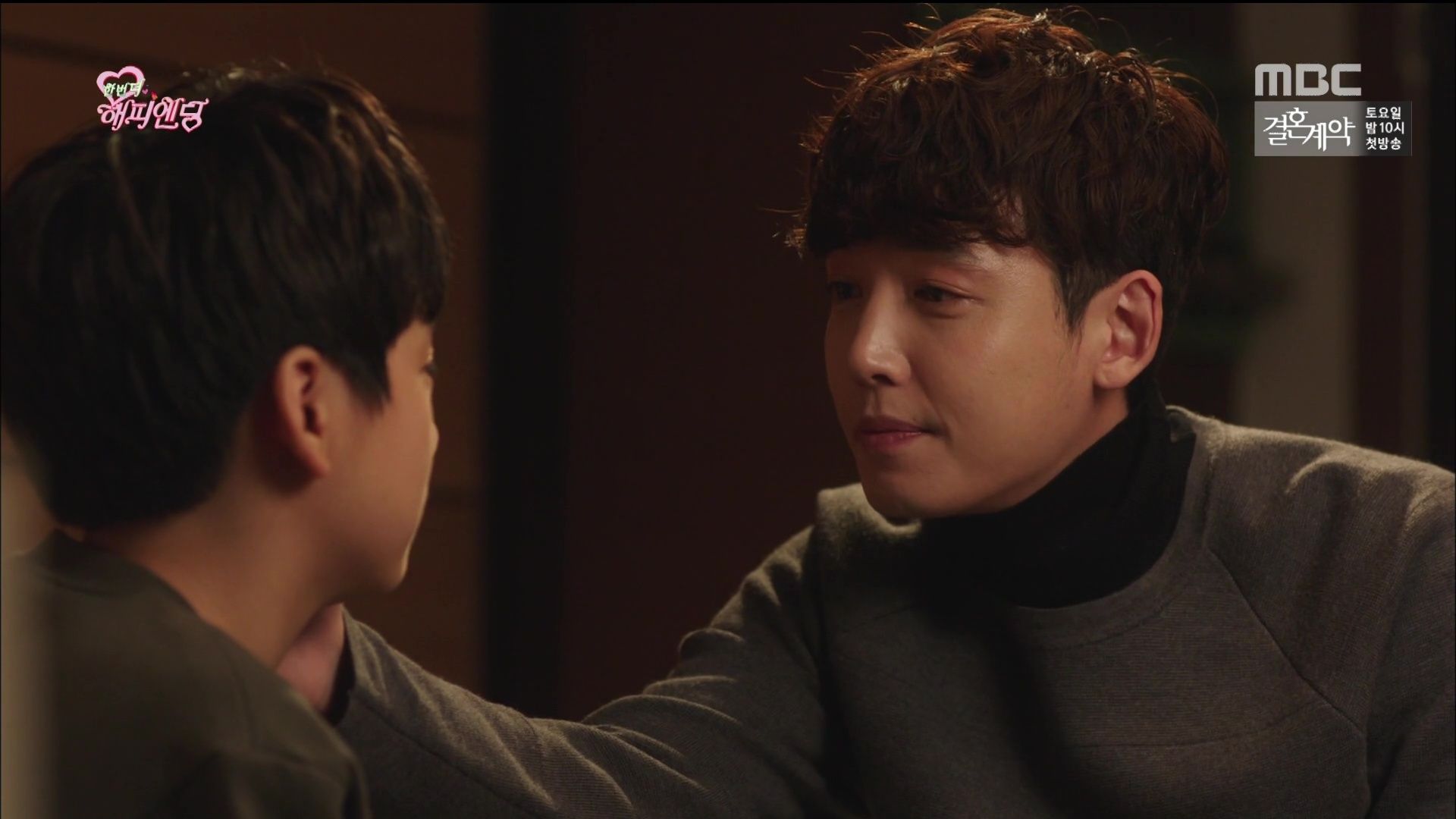 Soo-hyuk asks Min-woo what he wants for his birthday tomorrow, but Min-woo says that his dad should get a gift for working so hard to raise him. Soo-hyuk gets all mushy, thanking him for being his son and telling him he loves him. Min-woo shudders like the preteen he is, so Soo-hyuk hilariously sings it at him instead.
He invites Mi-mo to Min-woo's birthday dinner, and teases her to buy the kid something expensive. He says there's someone he wants to introduce her to there, but doesn't tell her who it is.
She goes shopping the next day for a gift and runs into Sung-jae again, as he tries to snatch a jacket right out of her hands. They argue over the jacket, and Mi-mo actually says that she should get it since she so generously gave him that divorce he wanted so badly, ha. Thankfully the saleswoman finds a second jacket, ending their fight.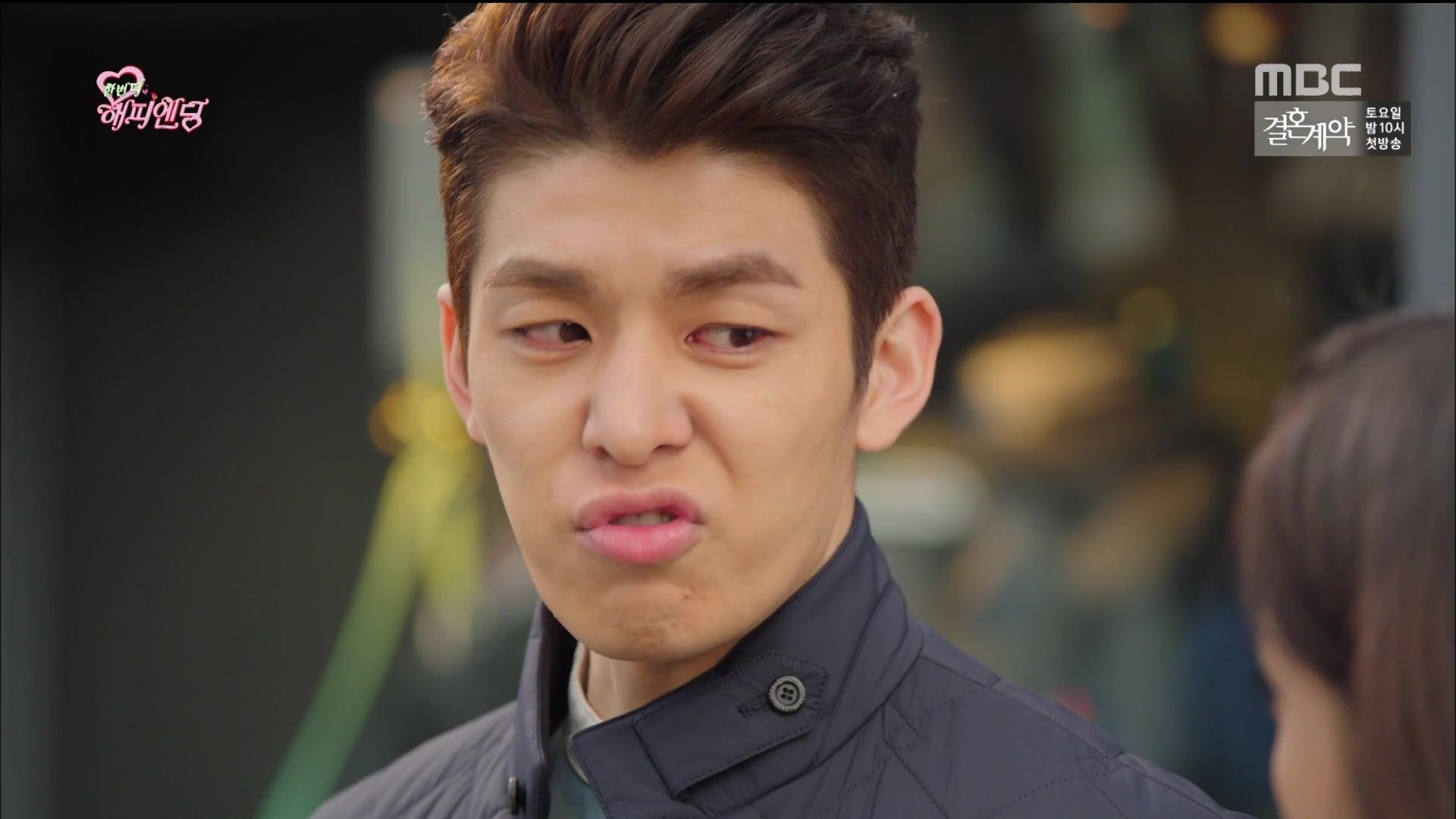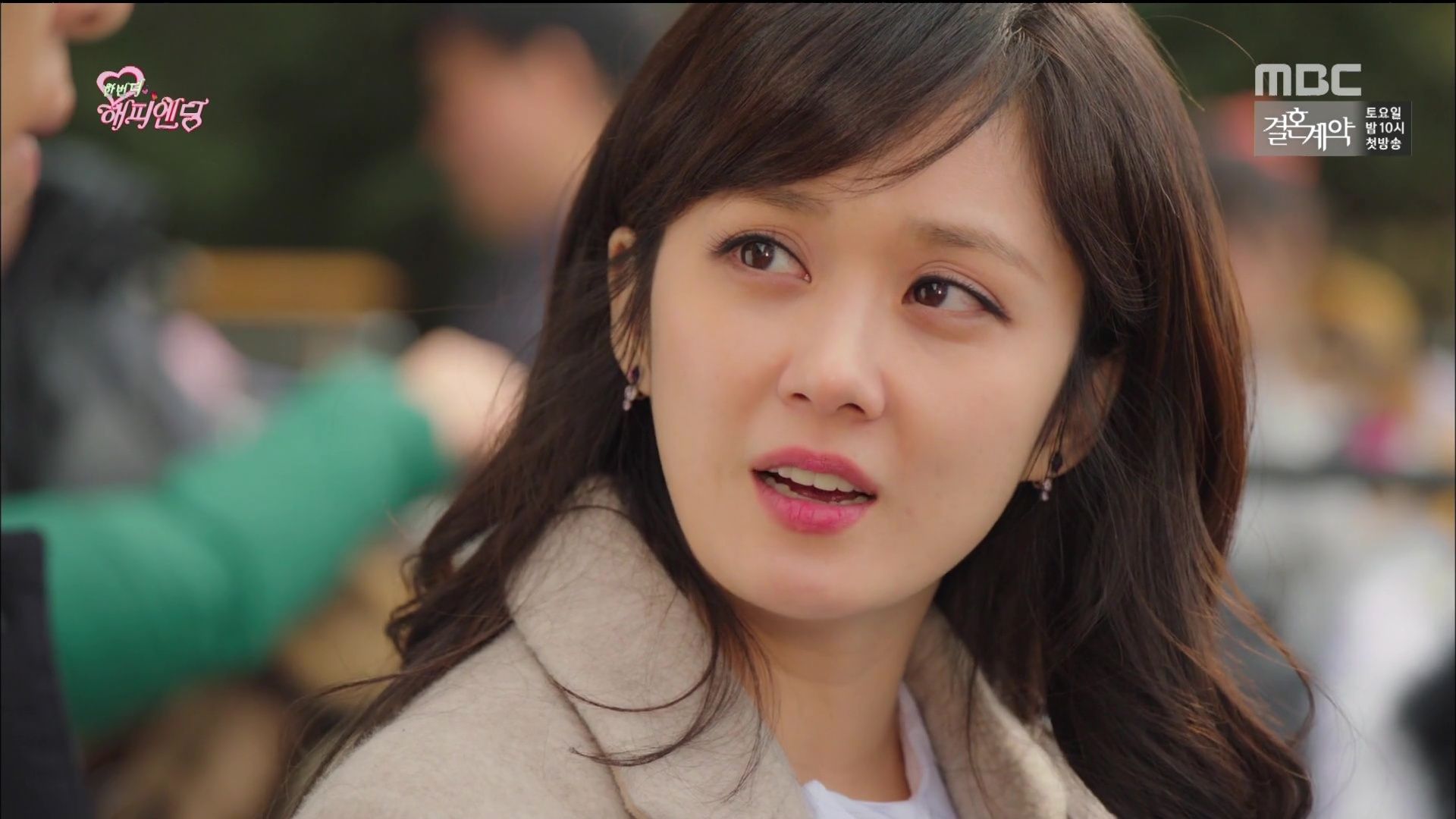 On their way out of the store, they snap at each other that they never, ever want to see each other again.
So of course they share matching looks of horror when they show up at the same hotel later that day. They shove at each other at the door then fight to walk in first, and snarl at each other when they realize they're going to the same restaurant. They're so petty, I love it.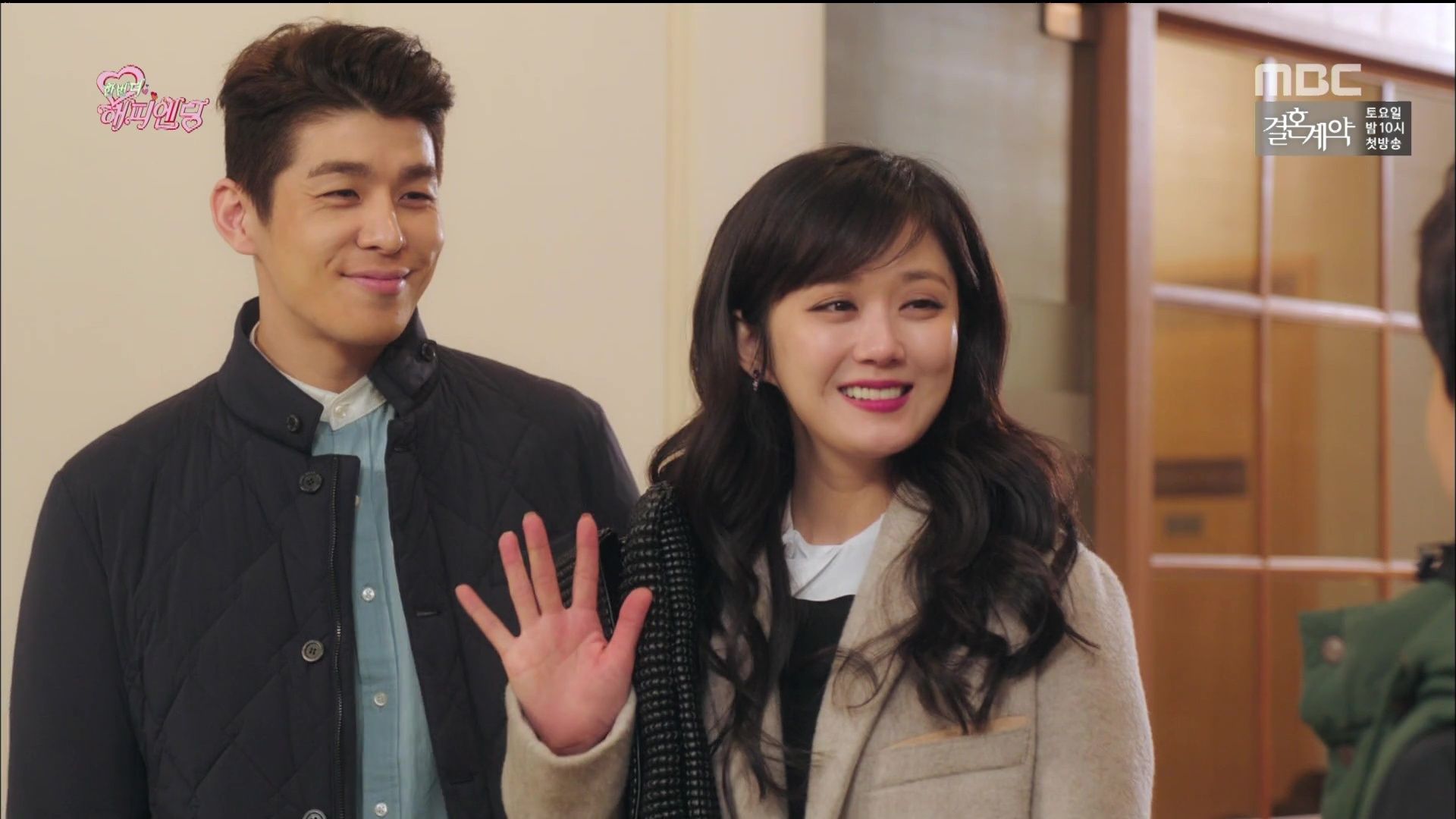 Min-woo sees them and says hi, and when they both wave hello to him, they shoot each other confused looks. But when they see Soo-hyuk and Shi-ah sitting at the same table, the reality of the situation starts to dawn on them.
"You're not…?" "Are you…?" Then both together: "YOU!"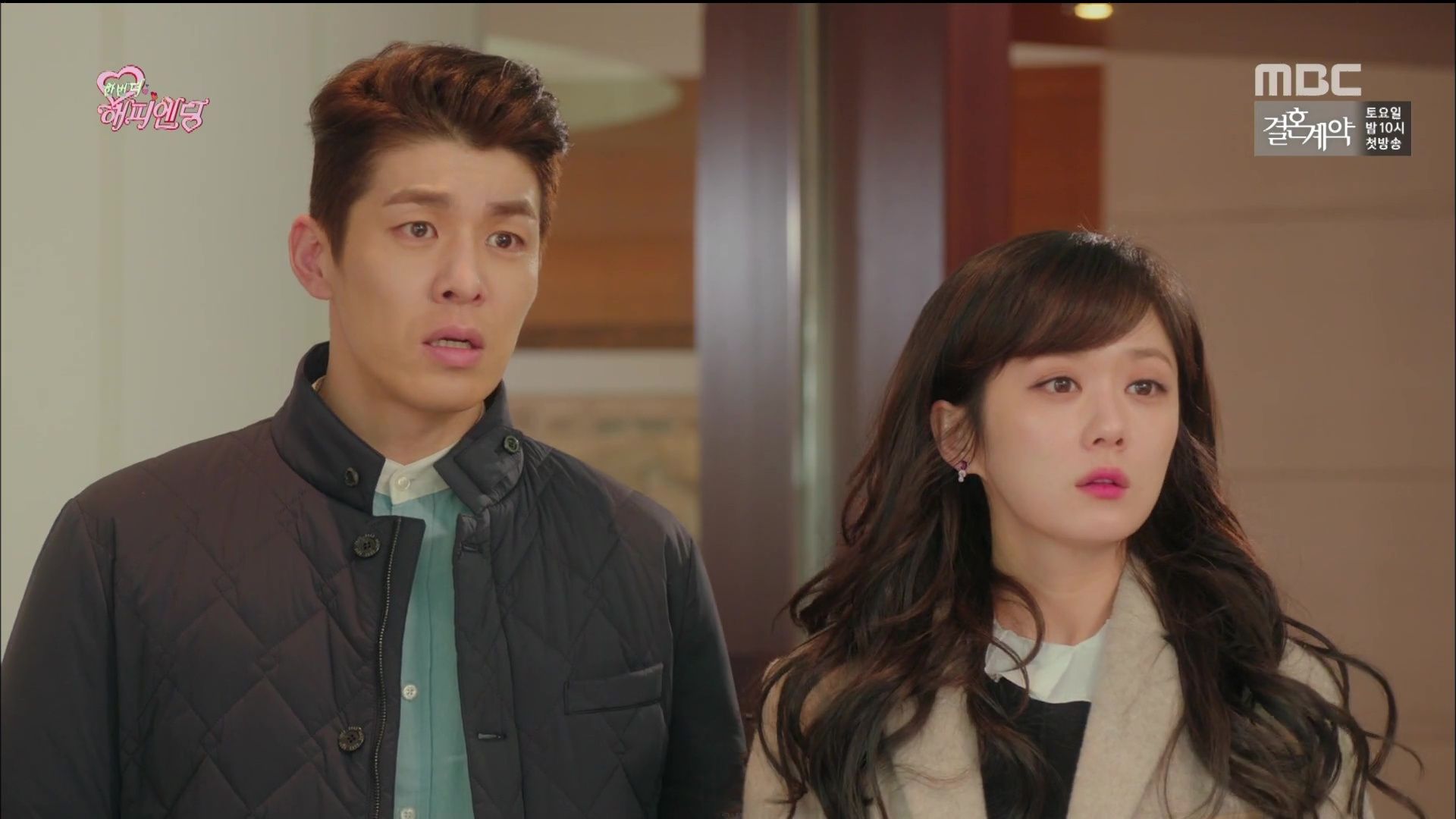 COMMENTS
So so so glad the cute is back — this week's episodes reminded me of the cute, funny show we started out with, and the fun, silly Mi-mo and Soo-hyuk we fell for in the beginning. I love seeing the two of them together, they both just glow with happiness, and it's wonderful how much they make each other laugh. At least if we had to suffer through several weeks of agony, the payoff of seeing them together and happy was worth it. And an extra special thanks to the drama gods for helping Mi-mo get over her prudish waiting! I'm also really pleased with how Geun-hak and Da-jung's story is going (how cute are they, seriously) and that Dong-mi is really giving the future of her relationship serious thought. Everyone is moving forward with maturity and love, and it's awesome.
As much as I love nearly everyone, I'm definitely over Hae-joon and Yeon-soo at this point, and not just because they're no longer relevant to the main story. Yeon-soo has mostly been a strong, independent woman throughout the show, accepting that her relationship with Hae-joon is over and handling her feelings like an adult. So when she walked into Brave Wedding and said that she was ready to move on, I inwardly cheered for her — good girl, go find someone who deserves you! And then she just used her dating to bait Hae-joon, and my opinion of her plummeted. I guess that if we had to have one female character give up her spine for a man, I'm glad it's not one of the four friends, but I'm still disappointed in her. I honestly thought she was better than that.
And what is it about this cold fish Hae-joon that has women willing to make fools of themselves and throw away their pride for him? Yeah okay he's pretty, in a sterile Ken Doll sort of way, but that's it. He's not even nice, and Mi-mo saying that she saw him as a warm person at the end doesn't hold water for me. Mi-mo makes a lot of effort to look for the good in people, which is a great quality of hers, but it makes her findings a little suspect. Not to mention, the whole time they were actually dating, she didn't find him warm or inviting at all. I just don't get what women see in him.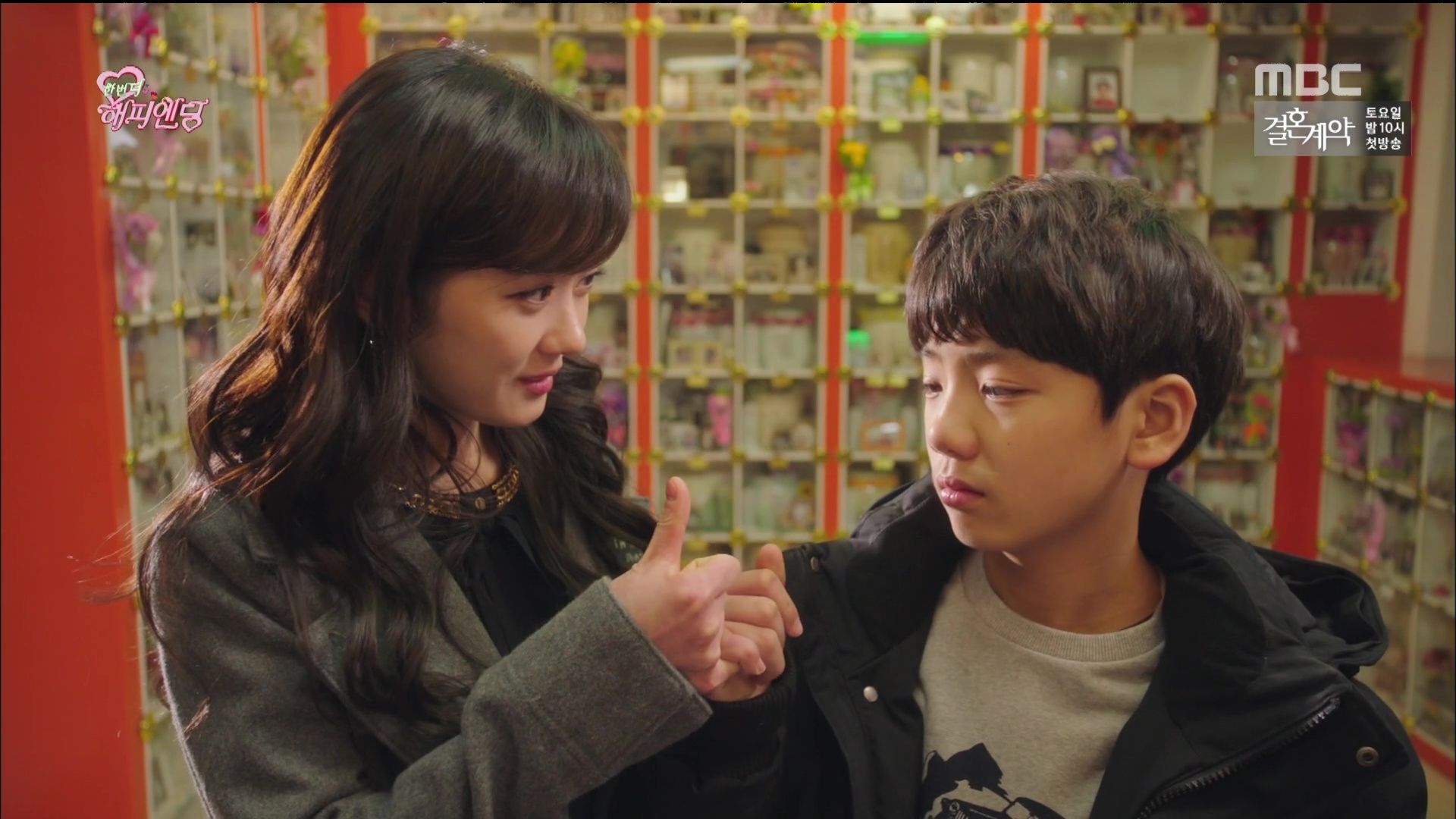 I really appreciated that the show gives Min-woo and his worries some weight in this episode, because it's always been clear that he and Soo-hyuk are a package deal. So I like that Min-woo got his moment to be a real person and not just a child or a plot device. I think we've always known that his "I just want my dad to be happy, it's not because I want a mom" wasn't true, because what kid doesn't want, and need, a mother? It makes my heart ache that he feels his mother's loss so keenly, even though he never knew her.
And it's wonderful how Mi-mo considers Min-woo's feelings about her relationship with Soo-hyuk so important, and doesn't write him off as just a kid. Because he's not — as Soo-hyuk always says, Min-woo is all he's got, and if she and Soo-hyuk do want to get married I love that just getting along with Min-woo wouldn't be enough for her. She wants his acceptance and at least his friendship, if not his love. And I also think it's wonderful that Mi-mo didn't go running to Soo-hyuk for help, but worked out her issues with Min-woo directly. By handling this between herself and Min-woo, it shows how much she likes and respects the boy, enough to keep their own personal issues private between themselves. I also love that she doesn't lie to him, or make promises she can't keep, but instead promises something that she can do — to always make his father smile.
I was glad to see the So-eun sideline fade into the background in this episode, because I do think that if we're going to create one last conflict to threaten Soo-hyuk and Mi-mo's relationship, having his sister marrying her ex is a much more interesting twist. And I was worried that the show would go all melodrama on us again, so I'm entertained that it's being treated instead as a humorous thing, with Mi-mo and Sung-jae running into each other randomly several times before realizing how they're connected once again. It softens the blow and makes the situation more funny than traumatic, and sends us into the final week with a situation poised to give us some conflict, but mostly humor. It gives me hope that Happy Ending will end as it began… a show with lots of heart, and lots of laughs.
RELATED POSTS
Tags: featured, Jang Nara, Jung Kyung-ho, One More Happy Ending, Yoo Inna