Vampire Detective: Episode 1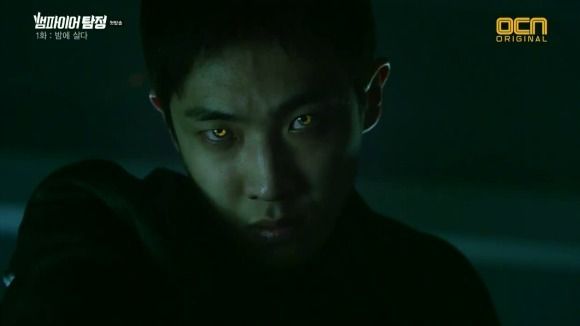 Meet the newest vamp to entice our dreams and slay the room with his stunning good looks. While his visuals may be what lure you into OCN's newest crime procedural Vampire Detective, it'll be the jam-packed action, the mystery, and the bromance between two ex-cops that will have you watching the premiere in its entirety.
What we get is an origin story of a vampire detective, and all the events that lead up to our hero's transformation only add to the greater mystery surrounding him and everyone else in this dramaverse. But we can rest assured that when the dust settles around him, he'll be ready to solve crimes day or night. Here's to hoping that we're in for a bloody good ride.
SONG OF THE DAY
Fiestar – "Mirror" [ Download ]
Audio clip: Adobe Flash Player (version 9 or above) is required to play this audio clip. Download the latest version here. You also need to have JavaScript enabled in your browser.
EPISODE 1: "Alive At Night"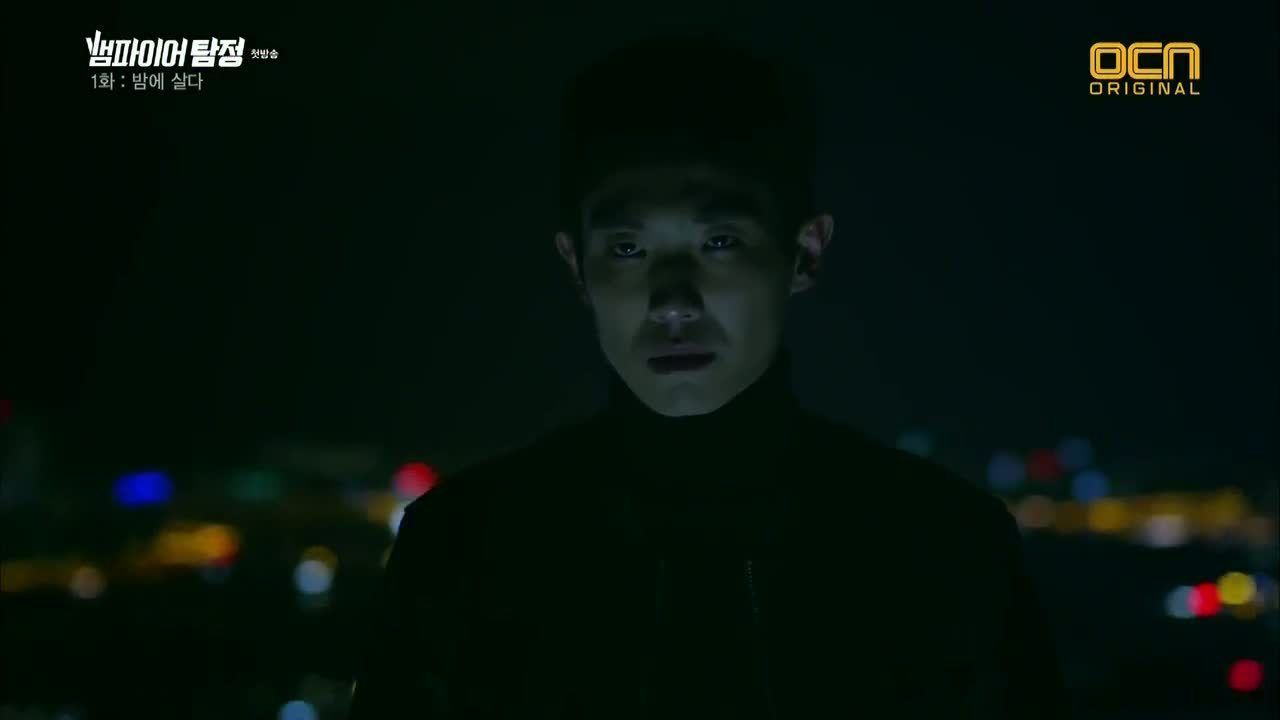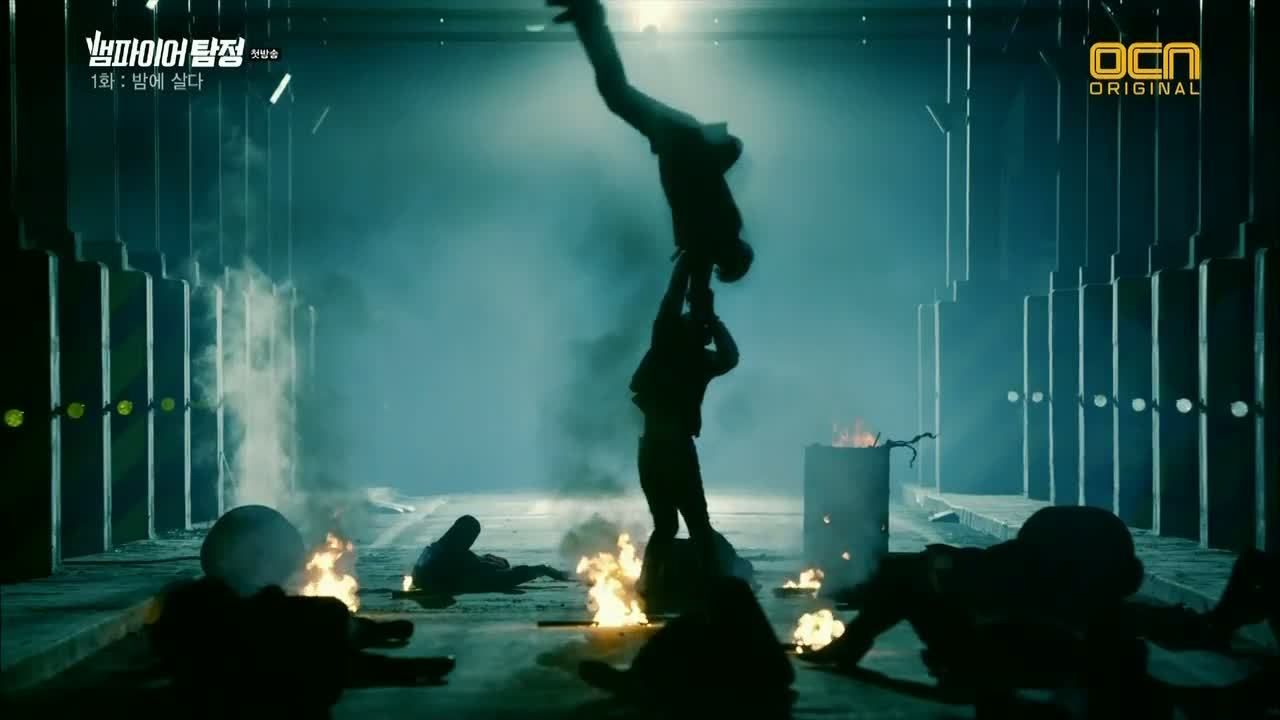 A man stands alone on a rooftop overlooking the city nightscape, a dark expression on his face. This is our hero, YOON SAN (Lee Joon), who narrates, "The night is a life of its own. The energy from the darkness is stronger than the comfort given off from the light, and at times provocative. That is how the darkness digs under our skins."
His voice-over is intercut with a scene of him charging at his enemies in an underpass. He moves fluidly to avoid oncoming attacks while delivering powerful blows. A flying kick takes down a suit, then when he sustains a cut, he responds by flipping the man onto the ground.
His eyes glow yellow, prompting the pinned man to ask in a strangled voice, "Who… are you?" He answers by chucking a business card that transforms into our title screen. "Our hearts race before endless pleasures and desires… and we cannot refuse those things."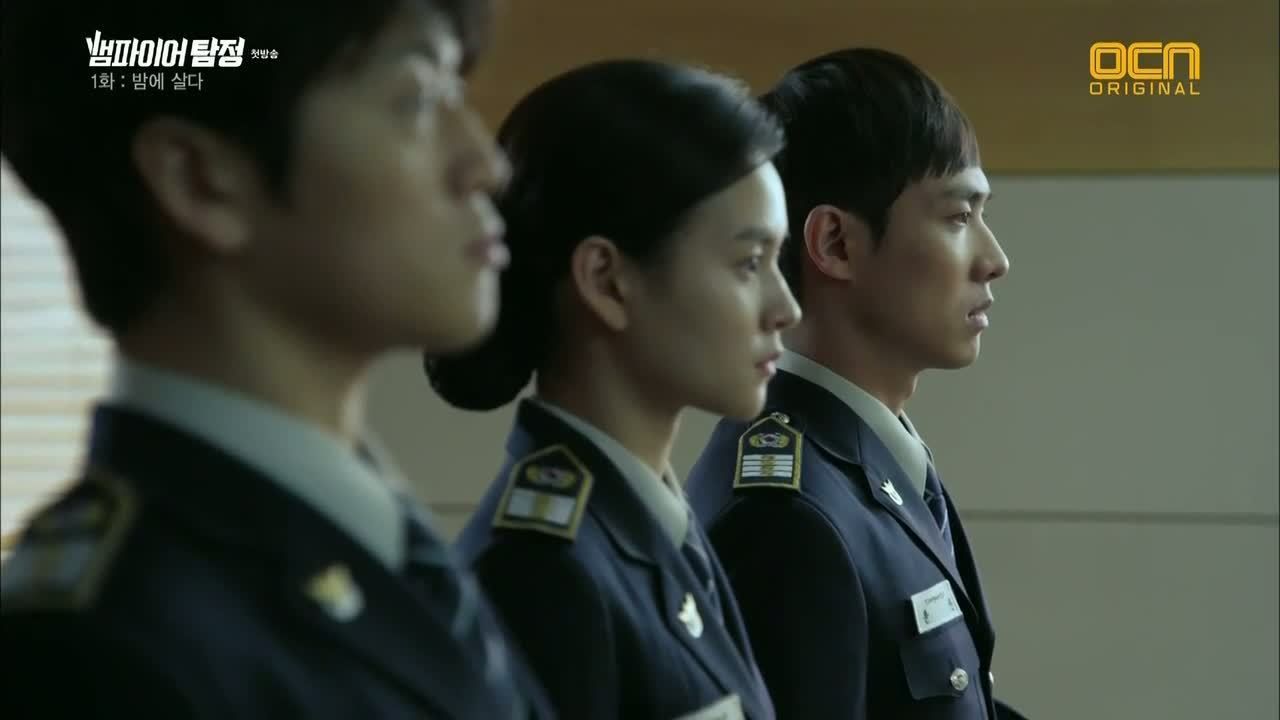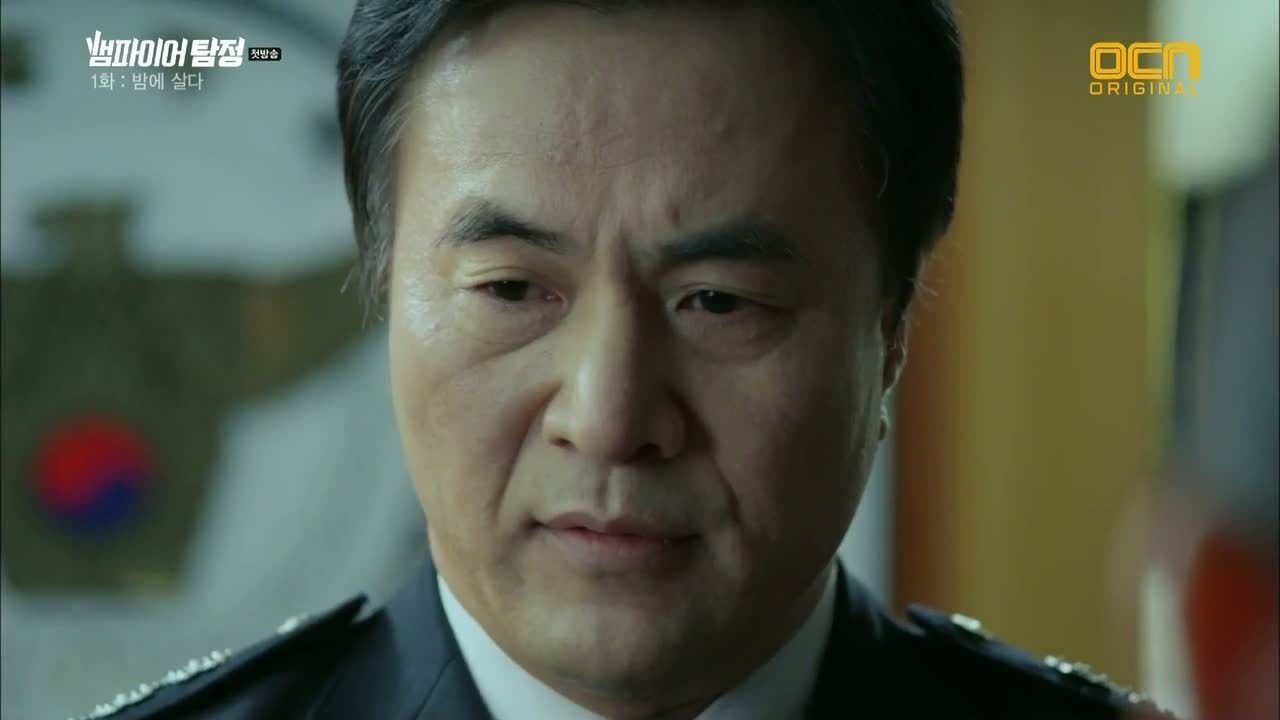 Five years earlier, Korea National Police University. San is in the midst of a judo match against his classmate KANG TAE-WOO (Jo Bok-rae). He seems to hold his own, but it's clear that Tae-woo is much more skilled than he is and pins him into defeat.
Seeing them joke about their ongoing rivalry afterwards suggests that they share an amicable relationship, and both cadets, along with fellow classmate JUNG YOO-JIN (Kim Yoon-hye), are called in to see the dean.
San is the least nervous of them all as he points out Yoo-jin's nervous habit of fingering her sun pendant. But I'm sure even he couldn't anticipate the dean ripping off their nametags and enlisting them in an undercover operation.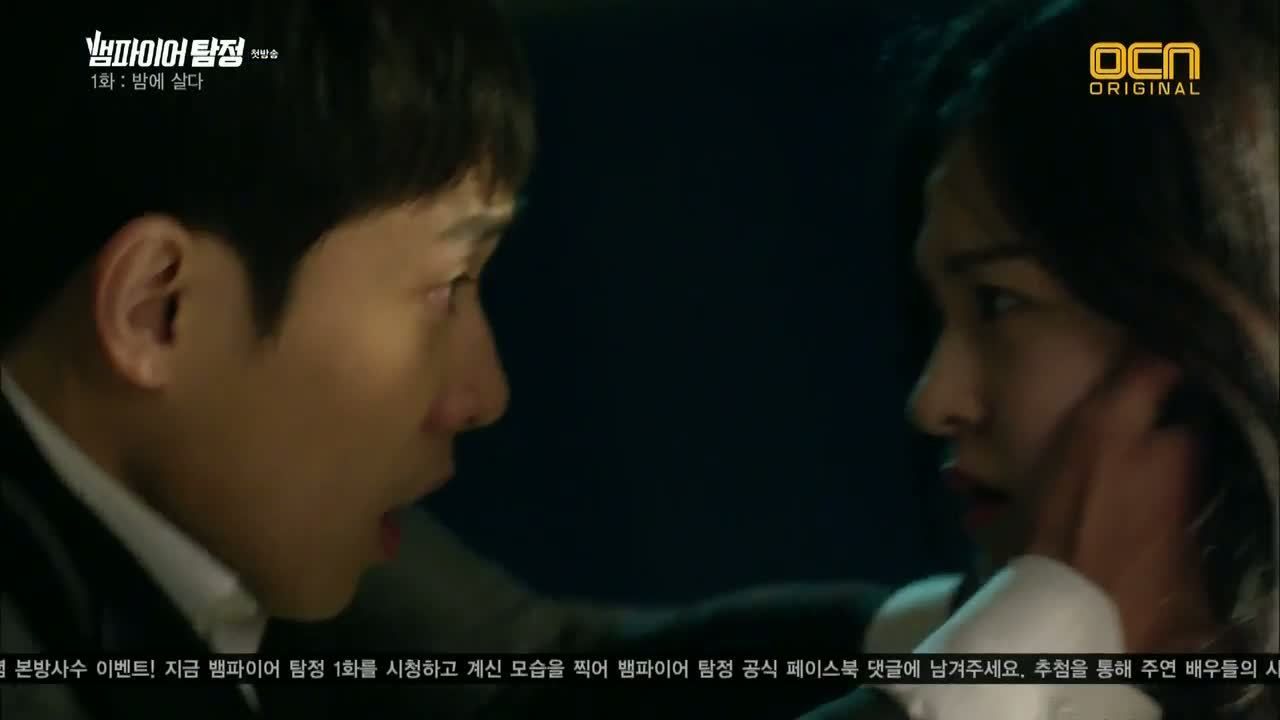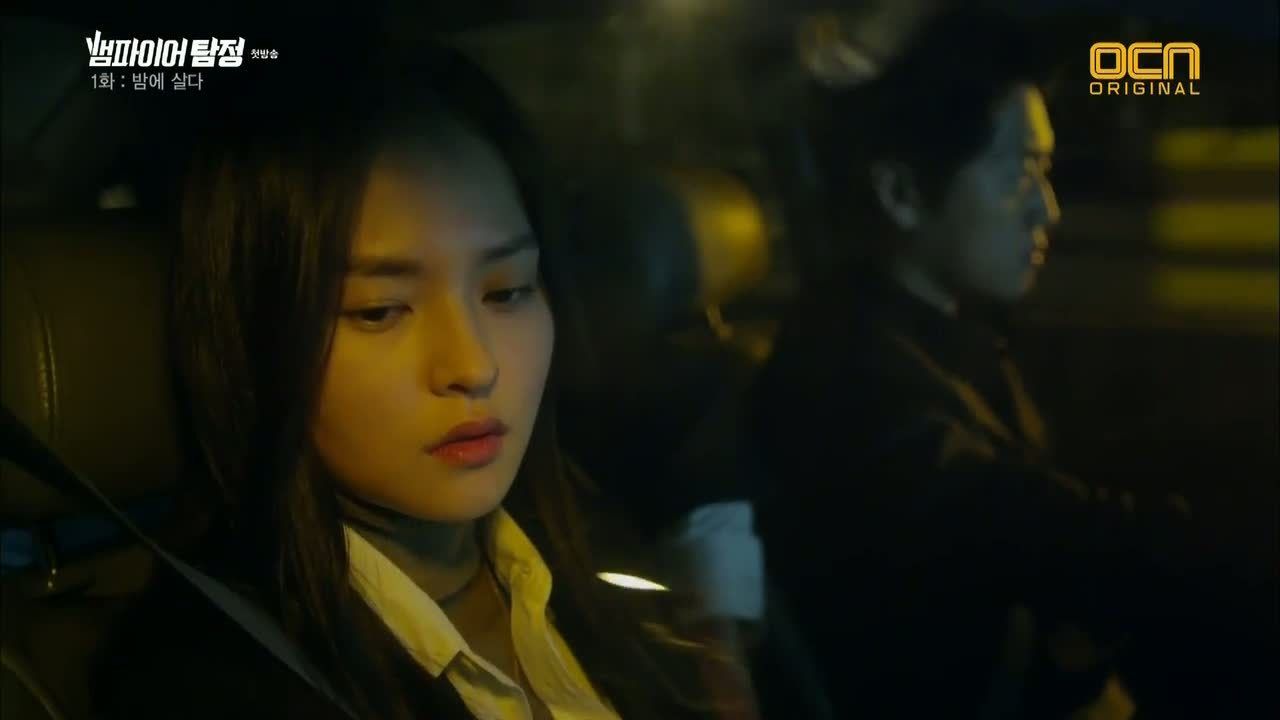 Unfortunately for them, all hell breaks loose in that plan, as we see San run through the building and free Yoo-jin from her bonds. Tae-woo joins them during the escape, and San wraps Yoo-jin into an embrace in the elevator.
It's a brief respite before the elevator doors open up to more men waiting to attack in the parking level. San takes on the group while Tae-woo leads Yoo-jin away before returning with a getaway car.
San climbs in, and they race into the night. He's relieved to hear that Yoo-jin is all right, not at all caring if this failed operation costs him his job. His primary concern is her, though he doesn't pick up anything strange about her flat tone of voice or see her conflicted expression.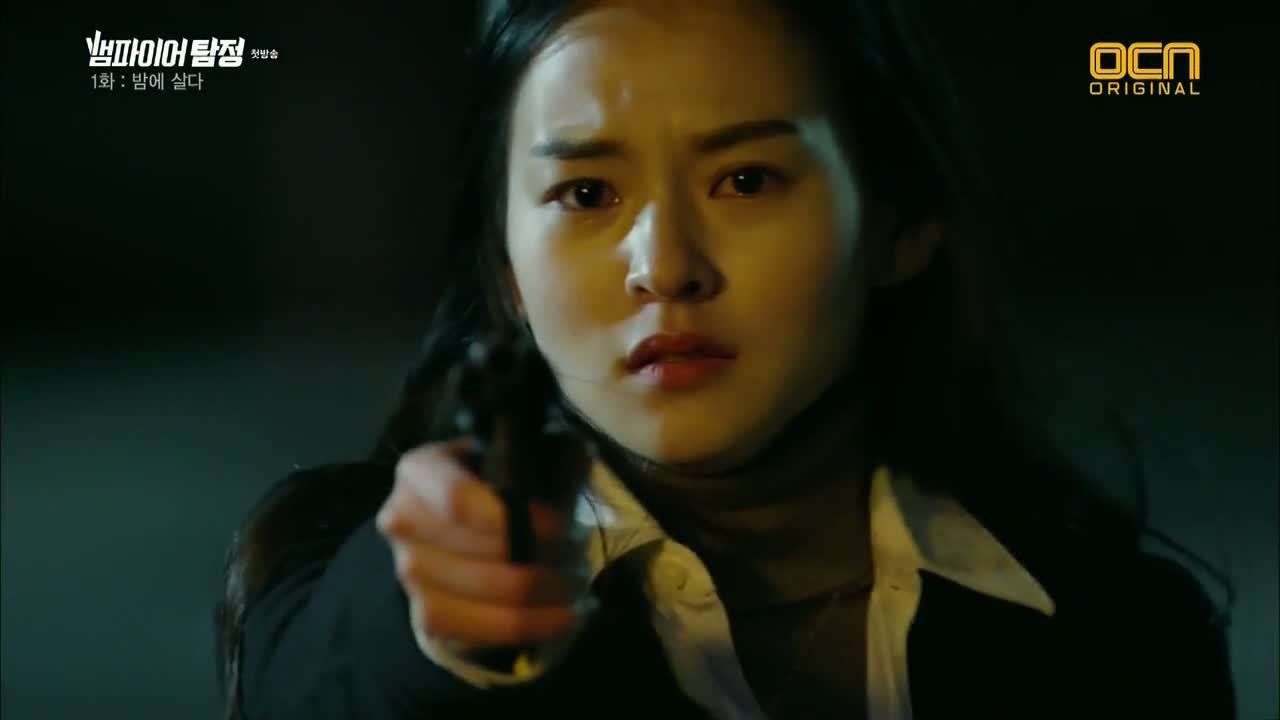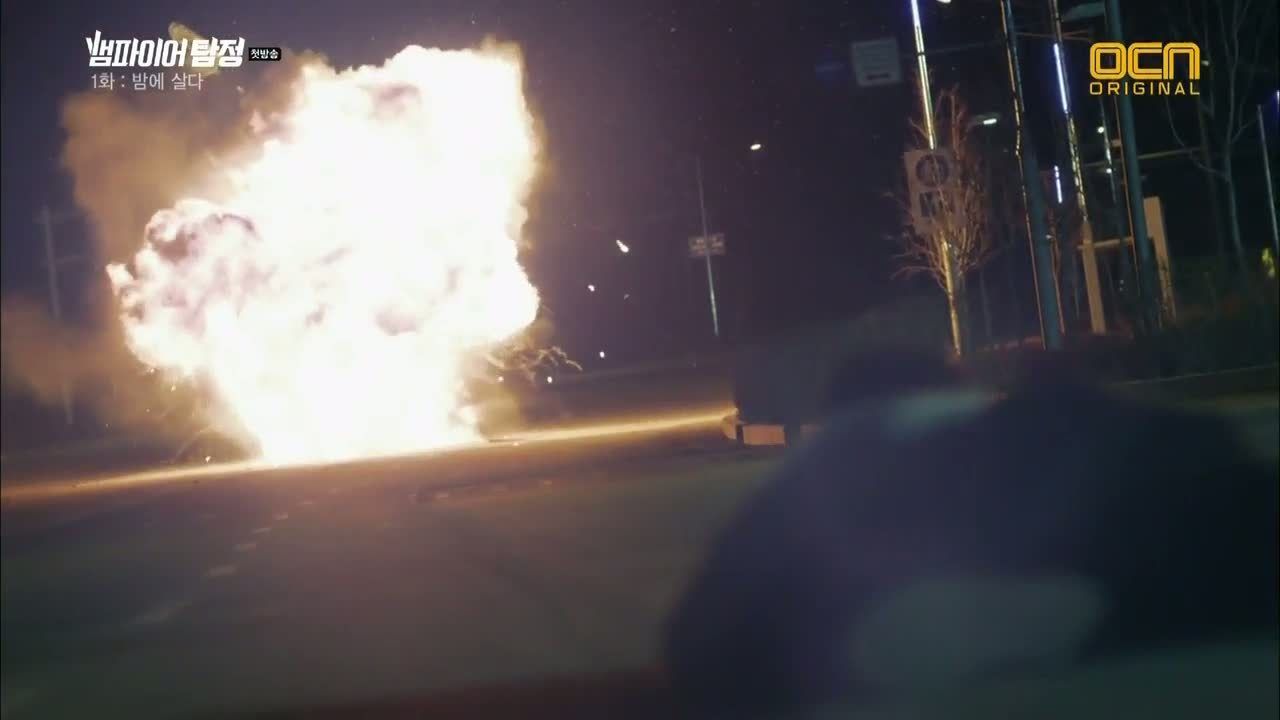 So when she asks that they pull over, he chases after her to check on her. She says this was too dangerous of an undertaking but refuses to get back in the car. Handing over his coat, San promises to come back for her and turns when she calls out to him…
… to see Yoo-jin holding a gun. "I'm sorry," she says before shooting him at point-blank range. San staggers and falls, and barely turns over in time to see Yoo-jin get in the car and drive off.
He's still struggling when the car stops a few hundred feet away and explodes before his eyes. He lets out a horrified scream, trying to crawl towards the wreckage before going still.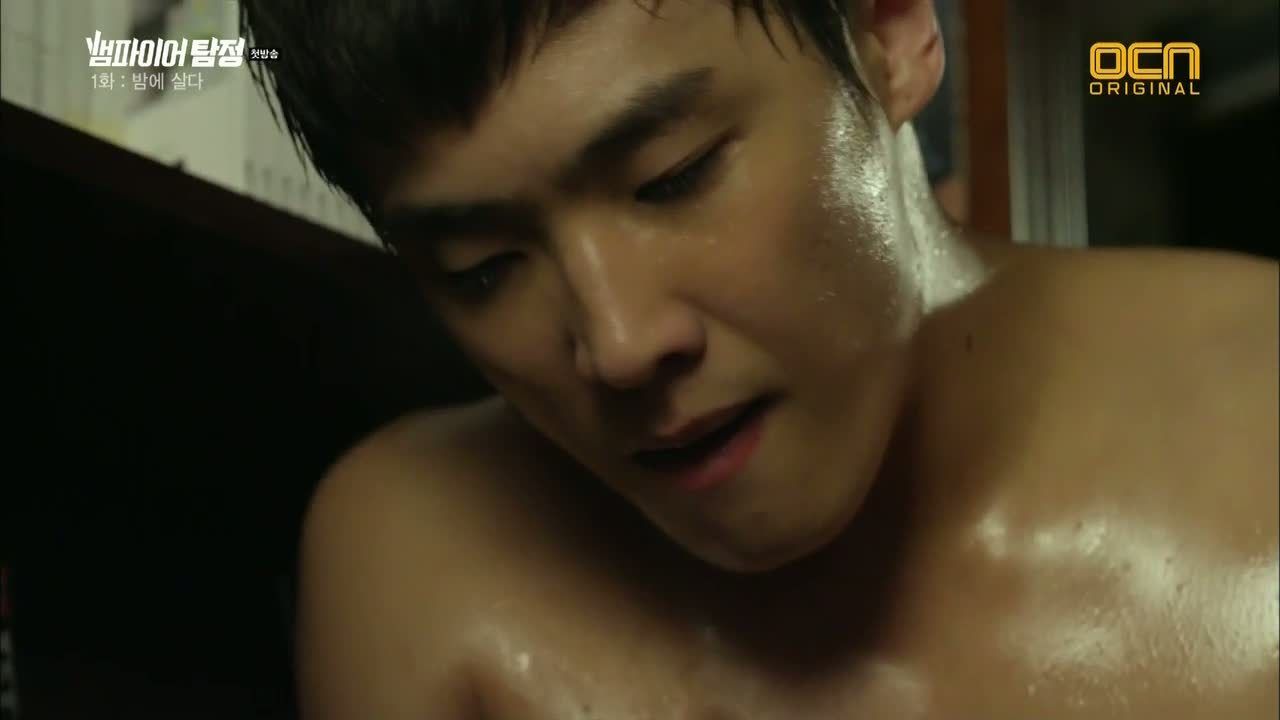 Present day. San has survived and runs shirtless on the treadmill, increasing the resistance level until it overwhelms him. He stops the machine and draws in long breaths before taking his medication and clutching his chest over his gunshot wound.
Apparently San shouldn't be exercising at all per doctor's orders. Not only does his finely-dressed roomie YONG GU-HYUNG (Oh Jung-se) remind him of that, he's also a motherly nag in making sure San's taken his meds.
Gu-hyung doesn't see anything wrong with borrowing the expensive camera from their generous and wealthy landlord. He does, however, take issue with San's casual attire and tries dressing him up for the field because they're dignified private investigators.
San heads out in all-black and is barely interested as Gu-hyung snaps photos of a wealthy woman smooching a younger man. He has to quickly take the wheel when they get caught, and Gu-hyung later revels in the shots.
Our P.I. duo get a call from Gu-hyung's cop hoobae, Detective Park (Ahn Se-ha) to help him solve a case. They meet the detective at a restaurant where he digs into the giant stack of burgers. San politely declines.
Although not fully explained, we're given a few clues in this conversation: the owner of the house Gu-hyung and San live in is currently abroad, and Gu-hyung believes that someone known as "Mutt" is a headache for the police.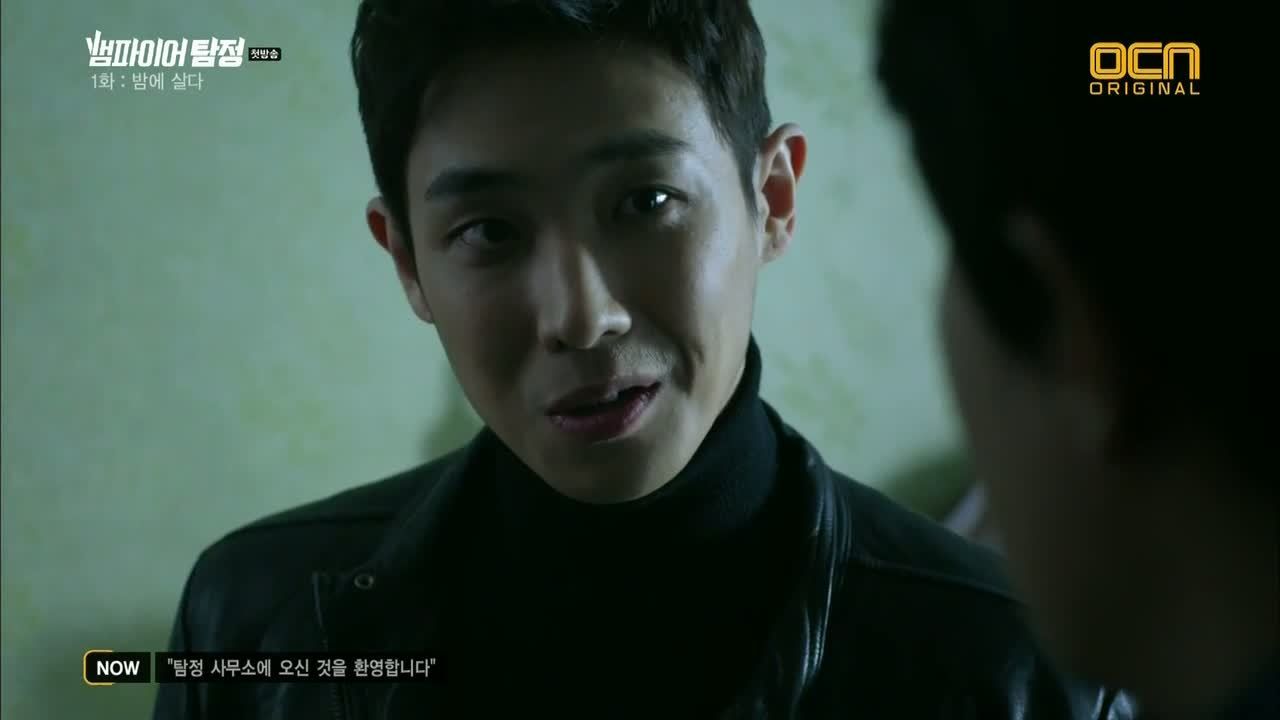 With that, they head out to the crime scene as Detective Park explains how the victim, KIM HYUN-SOOK, was found dead in her apartment with the doors locked and the keys found just under the window. Her estimated time of death was late at night a week ago, and her husband was away on a business trip.
As San opens the door, we see snippets of what happened that night: Kim Hyun-sook greets someone warmly and invites them inside the candlelit apartment. She offers up a beer, and soon the killer attacks and she dies of strangulation on her bedroom rug.
Gu-hyung doesn't think they have a chance at cracking a week-old case, but San astutely asks if there was a neighborhood blackout when the victim died. Detective Park realizes he didn't mention anything of the sort, and San breezily explains that he noticed the many candles outside.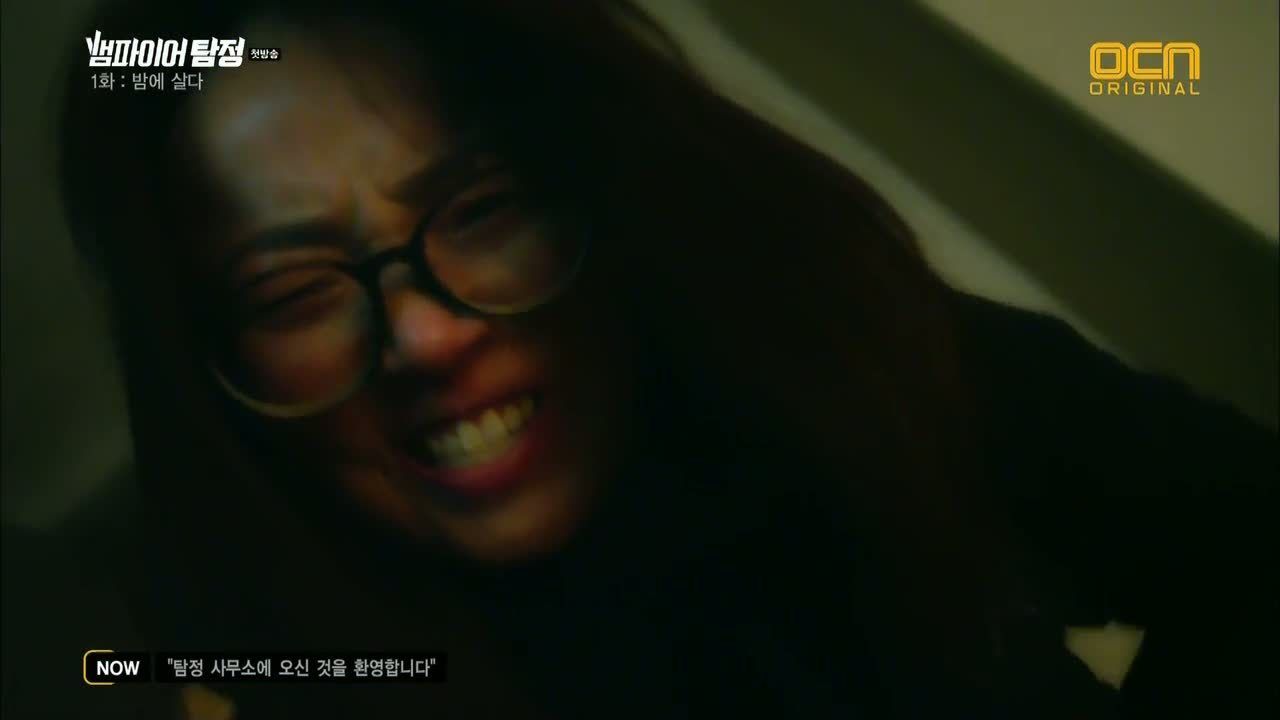 He believes the killer was likely a smoker and wore glasses, which narrows down the persons of interest to the victim's close friend, CHOI JAE-KYUNG. He explains that the victim would've invited a close friend like Jae-kyung inside at any hour, and surmises that the ongoing struggle moved from the hallway into the bedroom where Jae-kyung's glasses were knocked off.
Once Kim Hyun-sook was dead, Jae-kyung may have lit her lighter to check underneath the bed, which explains the burn marks on the edges of the cover. Furthermore, Jae-kyung would've locked the door on the way out and erased her fingerprints from the keys and handbag before tossing them back into the apartment through the window.
Although that's an impressive deduction, even San doesn't know what the motive could've been. That's for the cops to figure out, San says, and Gu-hyung tells his detective friend that they'll be charging him for the services next time. Ha.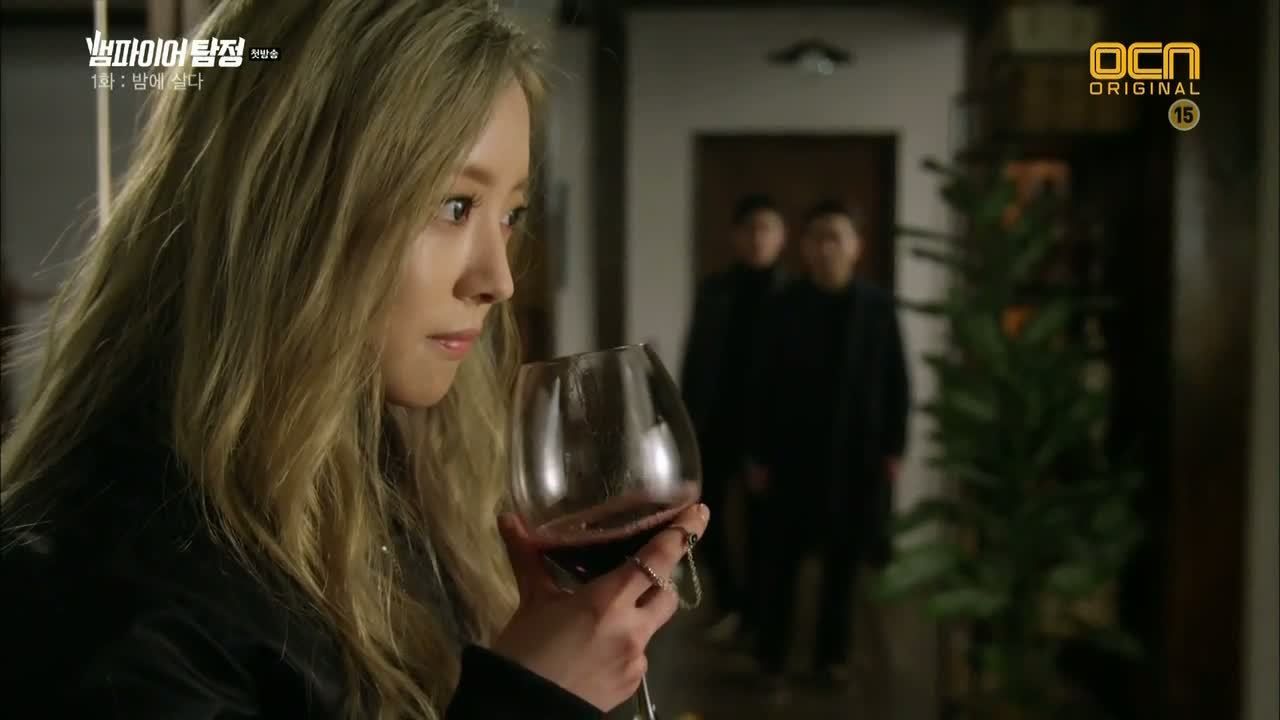 San tenses when they arrive home because he feels another presence. He isn't wrong, as we're introduced to a surprise visitor, a blond-haired female who helps herself to the expensive wine. We'll come to know her as HAN GYEO-WOOL (Lee Se-young), and she wonders if the portrait of the landlord hanging on the wall is of actor Ryu Seung-ryong (a visual cameo, it seems. For now, I hope), only to be told it isn't.
Gu-hyung demands to know who their shameless intruder is, and while she claims to know him, he doesn't. His keen ex-cop reputation precedes him, and she admits to being a former petty thief, though now she spends her time on bigger and better things like hacking, smuggling, and fraud.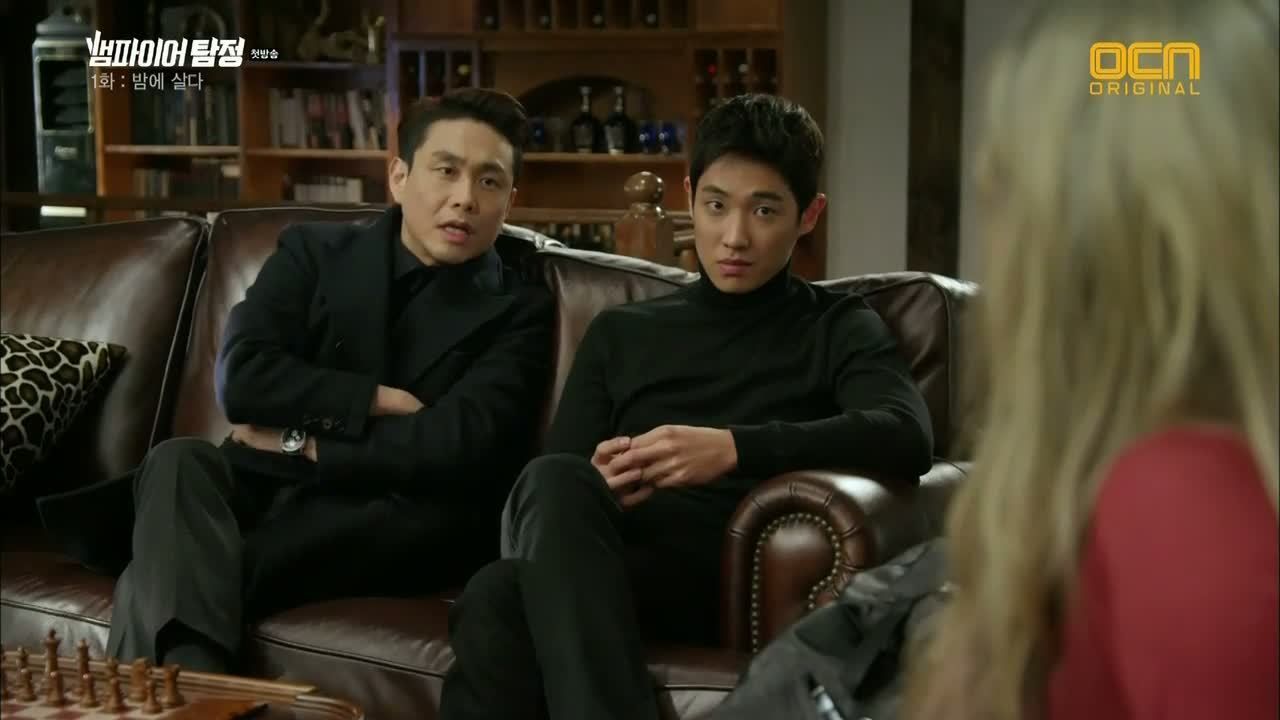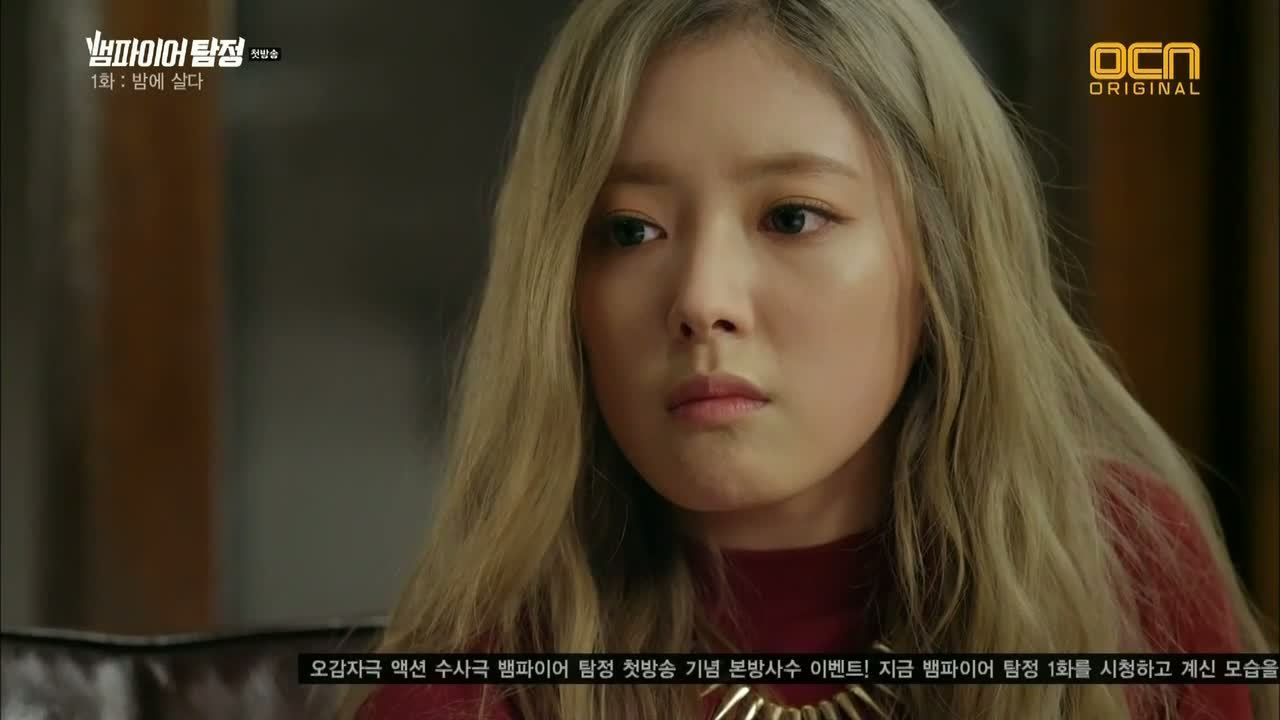 She's here to make a request of the private eye duo: Her boyfriend HAN GYU-MIN is a hematologist who leaves the house every night and returns with bloodstained clothes. But what's odd about it is that he quit his job not too long ago. He wouldn't tell her what was going on, so she followed him one night and saw him with a strange woman. Gu-hyung: "There's a stranger woman than you out there?" LOL.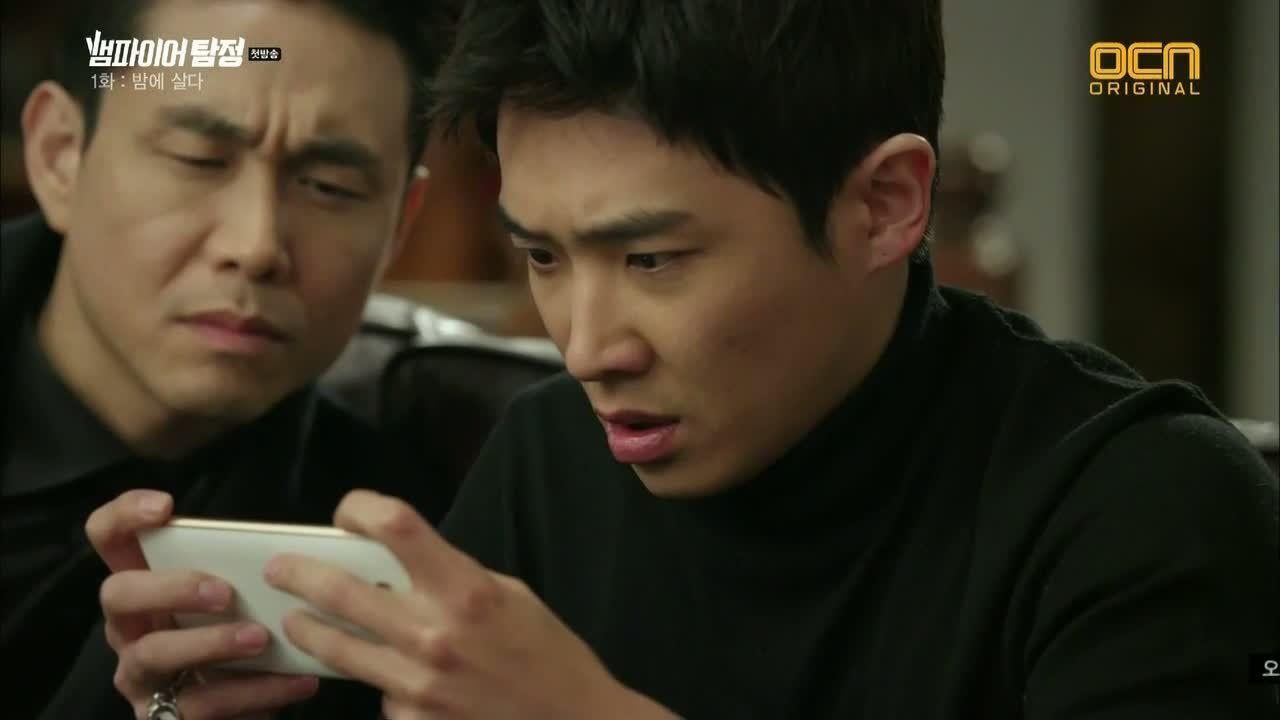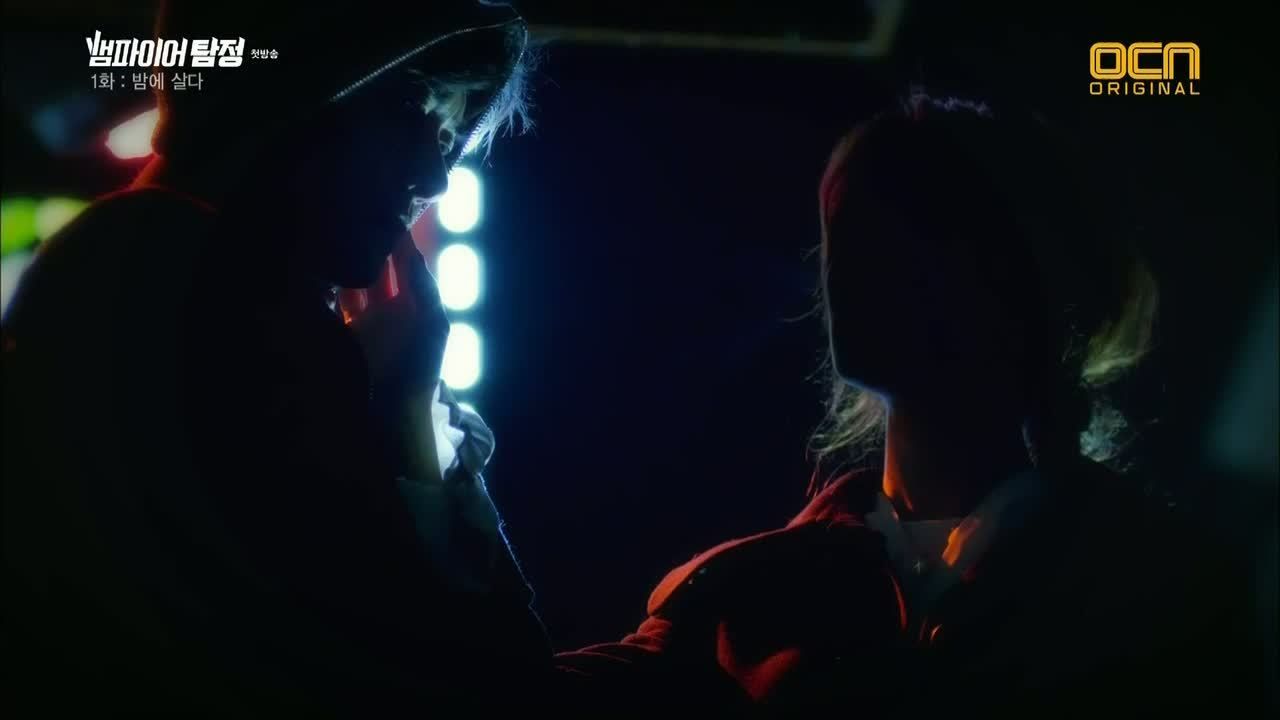 Her woman's intuition suspects something off, and she wants them to protect him from this vixen. Showing them a photo of the two together, San grabs the phone out of Gu-hyung's hands because he sees that the woman's wearing a sun necklace, similar to what Yoo-jin used to wear.
He asks if she knows who it is, then the surrounding voices drown out as he recalls Yoo-jin's final words to him before pulling the trigger. Overwhelmed by emotion, he agrees to take on her case. And for free, at that.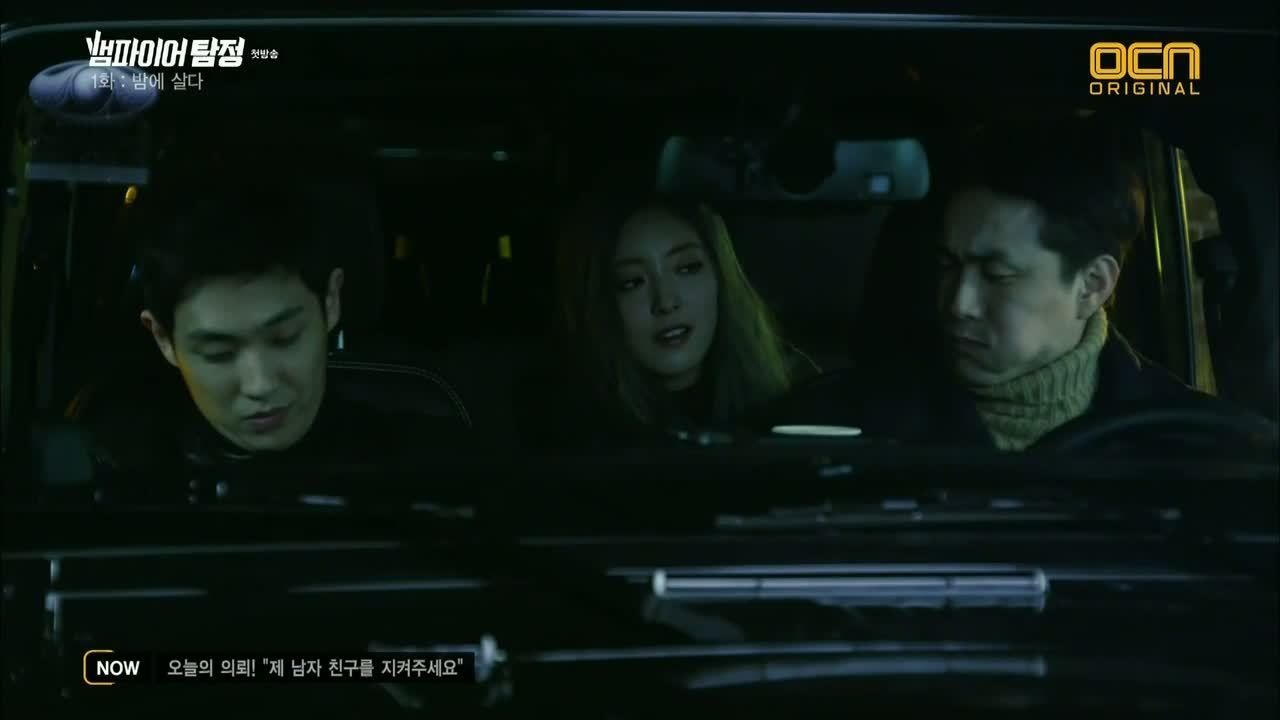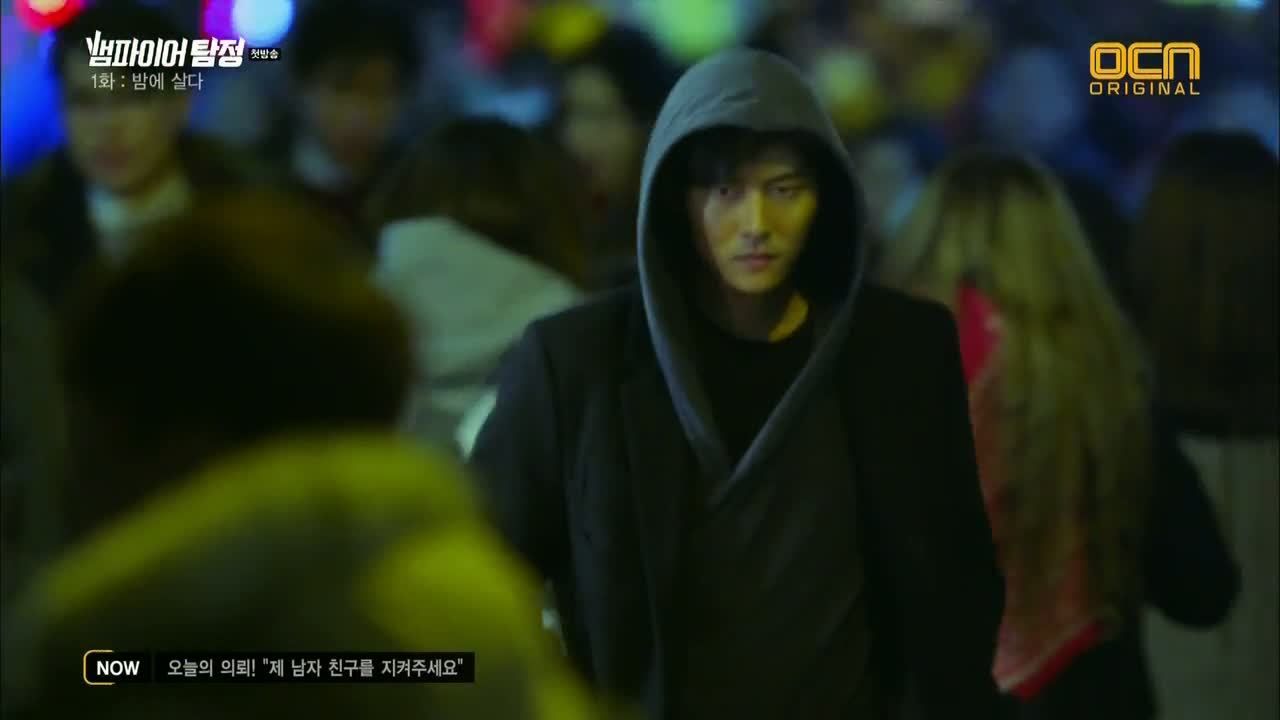 Gu-hyung doesn't like the idea one bit, especially since he doesn't trust Gyeo-wool. "Wasn't there a time in your life when you wanted to protect someone?" San asks. Gu-hyun replies that he'd rather protect himself and his pride, though he's starving right now.
Right on cue, Gyeo-wool knocks with food and drinks in hand to tide them over during their stakeout. San doesn't eat, but he does point out Gyu-min (Jae Hee) leaving the house.
They follow him on foot through the crowded streets, and it seems like he knows he's picked up a tail. Gyeo-wool is left to wait outside while Gu-hyung and San follow Gyu-min into the nightclub. San is left to his own devices when his partner is appealed by the atmosphere, and he catches a glimpse of the oppa.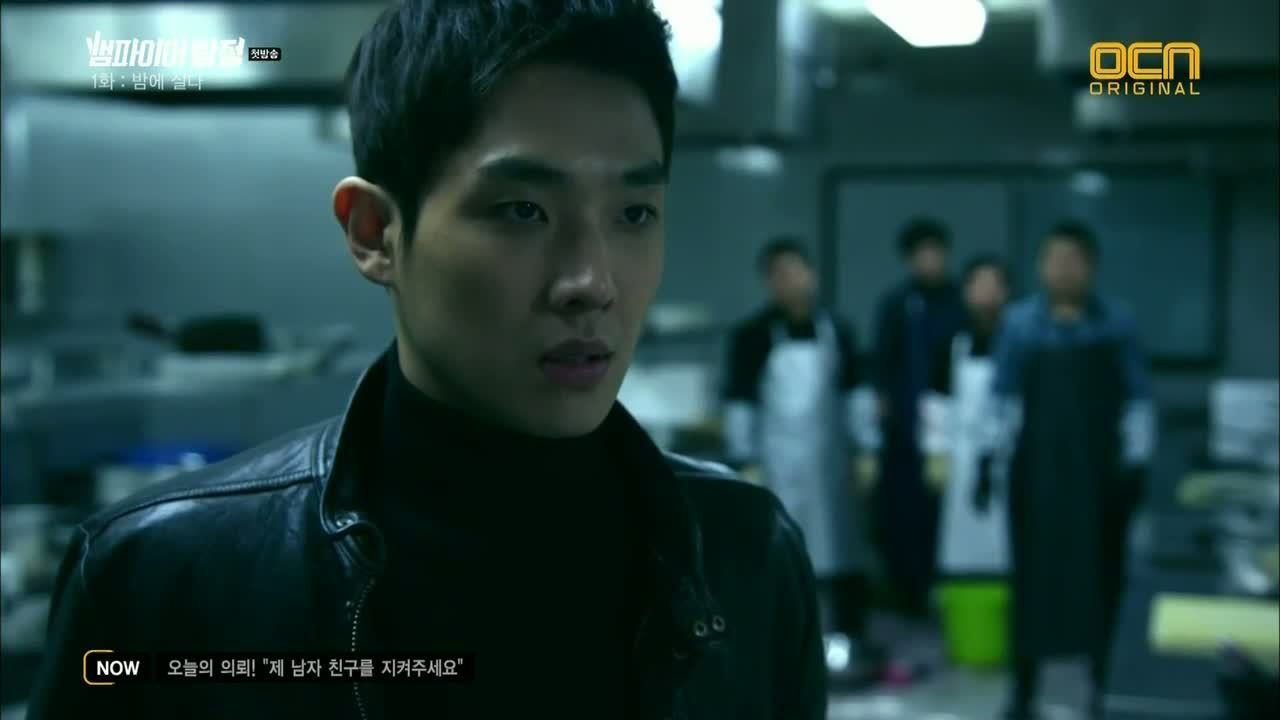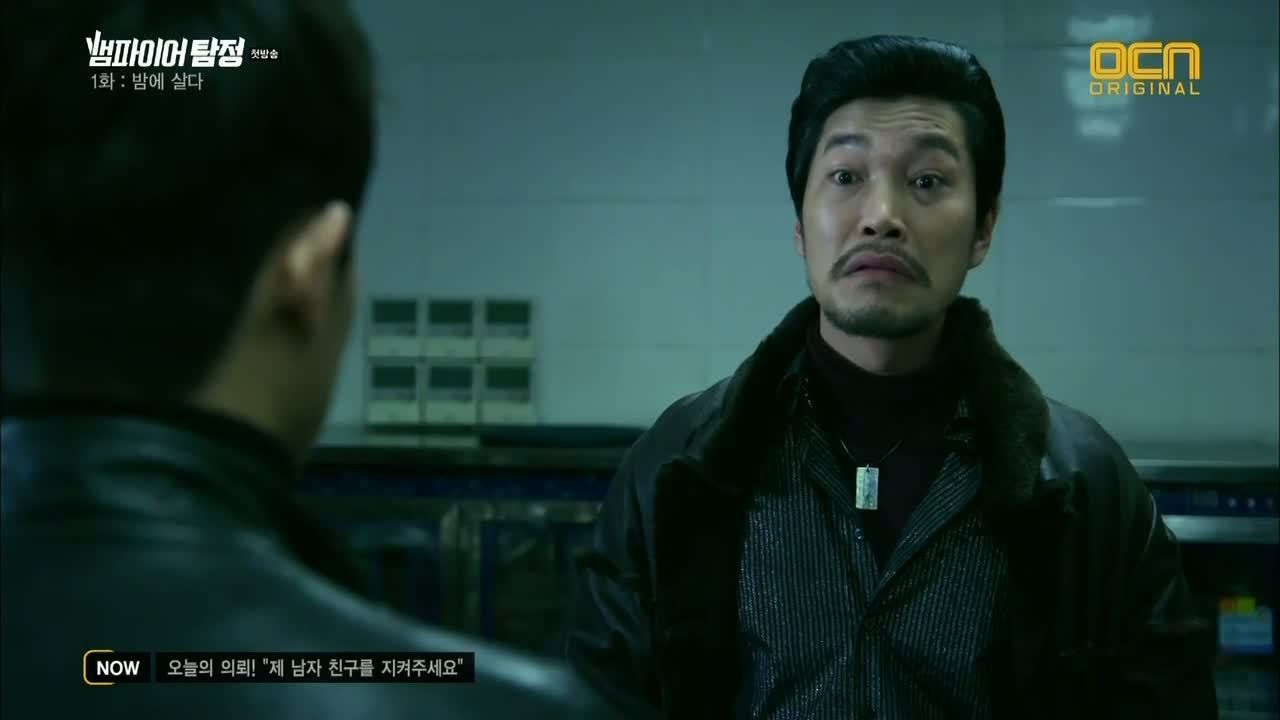 San follows him to the upper level, where the clubgoers enjoy ruby-colored drinks and sucking on each other's necks. He soon stumbles upon the kitchen where some men are cleaning. He apologizes for getting lost, and that's when a goateed man walks through the other door.
Goatee Owner clicks at his men to attack, but that's when Gu-hyung comes through the doors, armed with a taser. He tosses San one too, and Goatee Owner barely gets a few words out before San tases him.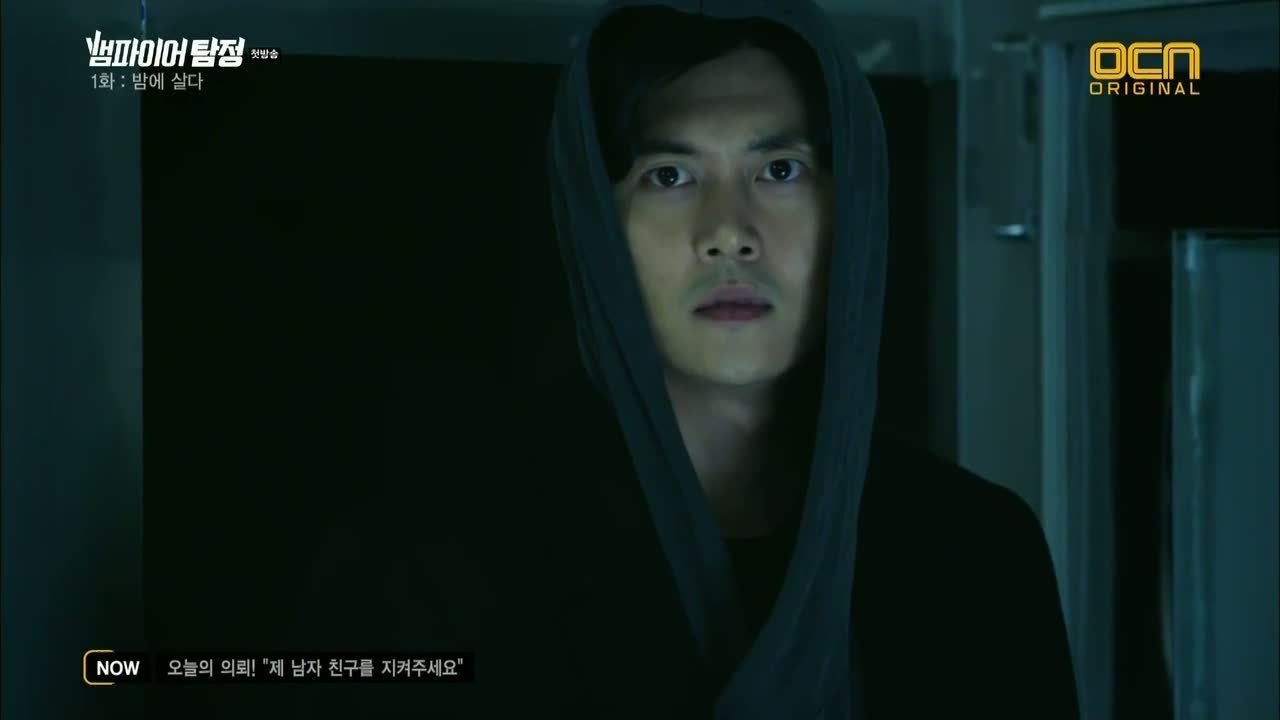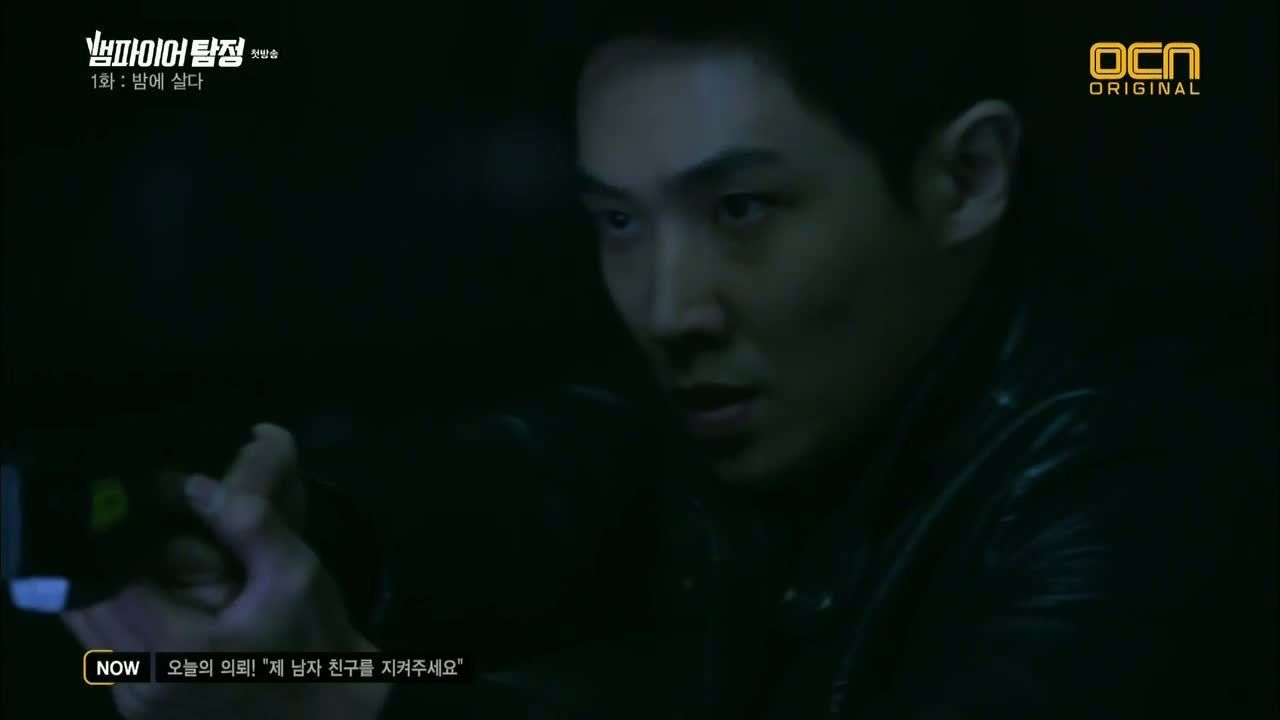 They demand to know where the guy with the hood went, and Gu-hyung tases one guy for stuttering. Gyu-min appears just then, and alarmed to see two tasers pointed at him, he turns out the lights.
Gu-hyung and San tase those around them in the darkness, giving Gyu-min enough time to slip through the doors. They give chase and take down the bouncers to pursue their target, but even this short sprint puts strain on San's chest.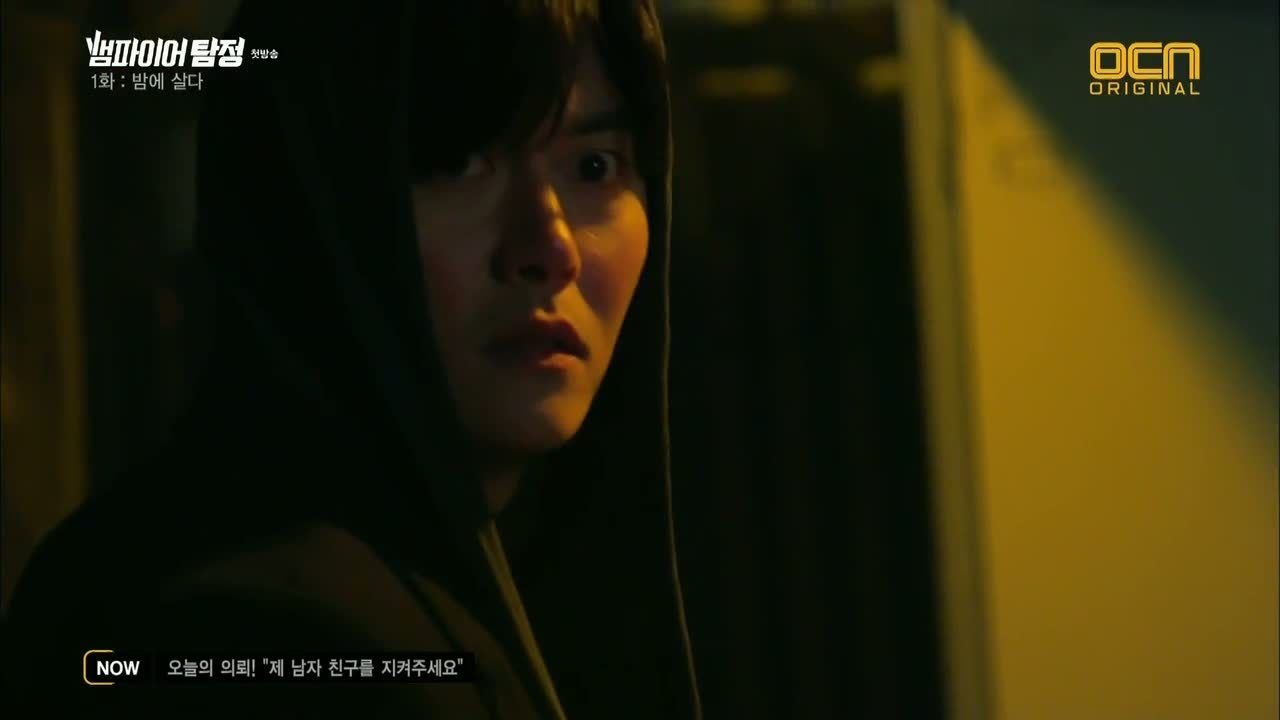 He keeps running until his body finally buckles from the exertion. He reaches for his pills while Gu-hyung runs after Gyu-min to an alley, though the latter is nowhere to be seen. He looks up, and just in time too, as Gyu-min pounces from above and kicks him down.
When Gyu-min is confused by Gu-hyang's sort-of-but-not-really detective status, San knocks him down with some wood. That only keeps him down temporarily, as Gyu-min gets back up to send San flying into a pile of trash.
Gyu-min's eyes go wide when Gyeo-wool arrives, though he begs her to leave him alone and walks off. In his unconscious state, San relives the memory of Yoo-jin shooting him, then he wakes with a start in what looks like a clinic.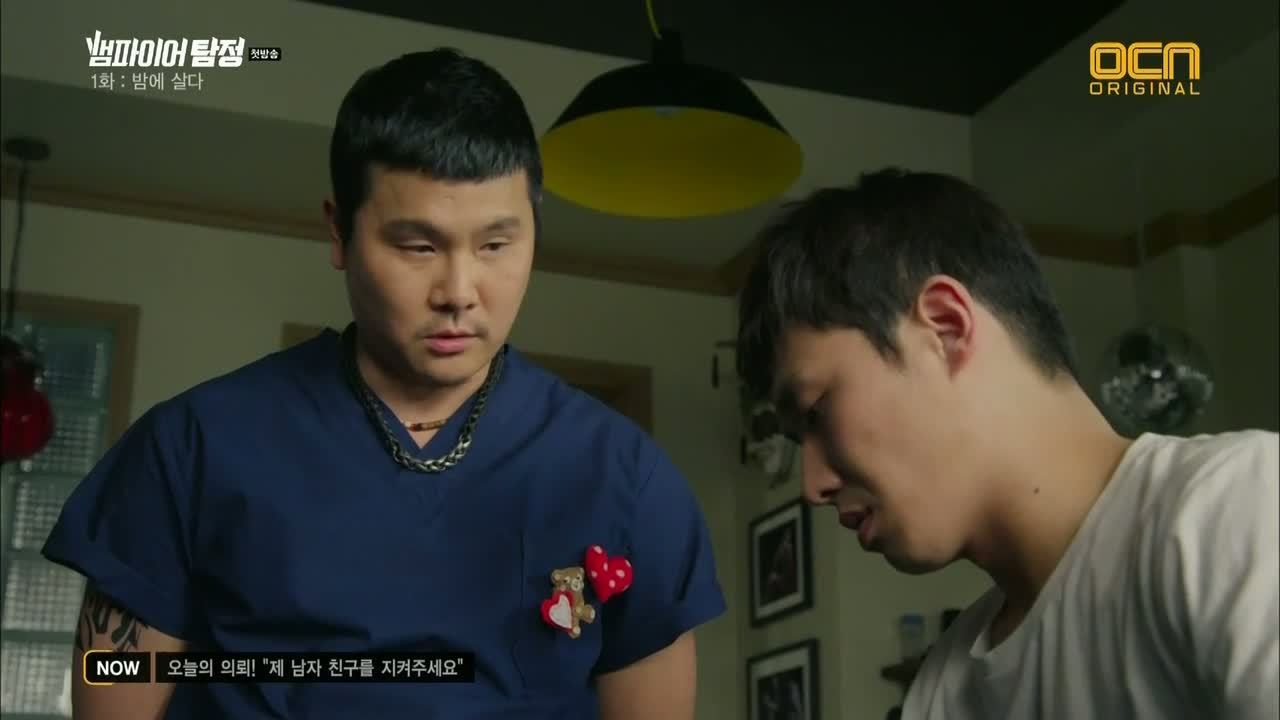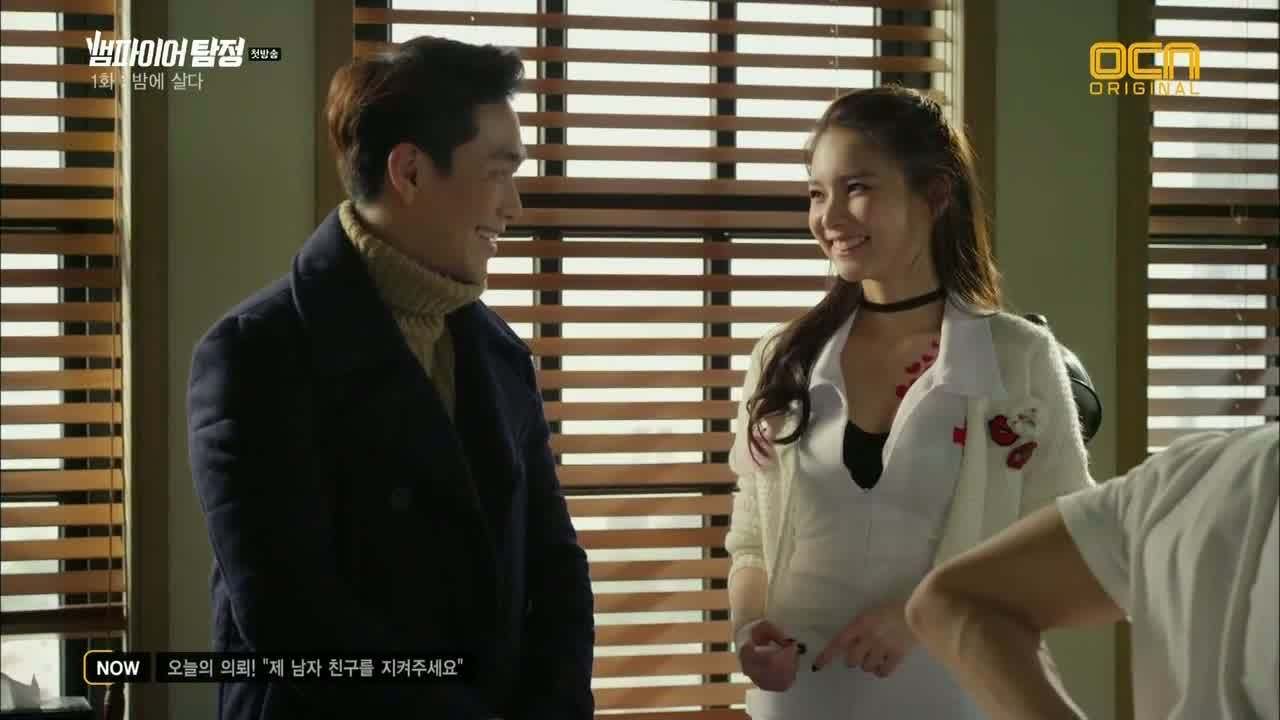 Gu-hyung is relieved to see that he's conscious before turning his attention to the pretty assistant SE-RA (Jei of Fiestar). His doctor is a tattooed man named DOCTOR HWANG (Kim Ki-moo) who stresses that San's first, second, and third priority is to take his meds.
Doctor Hwang says it's been years since he's given up practicing medicine, but Gu-hyung points out that tattooing isn't much difference since he puts people on a bed and cuts into them. As for the scrubs? Just a uniform. Heh.
Gu-hyung and San get a call to check out a dark apartment with vials of blood and medical equipment lying around. It's Gyu-min's place and Gyeo-wool—sporting a new hair color —identifies the woman in the picture as his real girlfriend, but she's missing.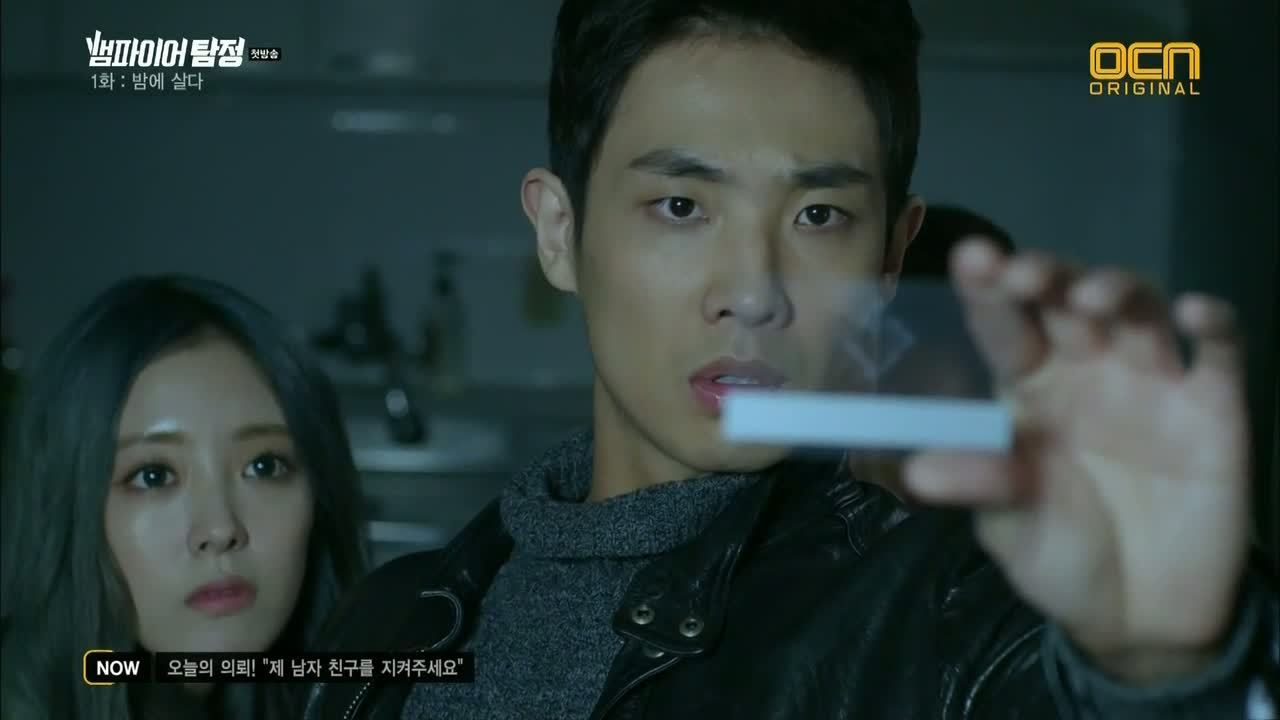 Gyeo-wool apologizes for not sharing that Gyu-min is her biological oppa, adding that she didn't want her straight-laced brother's image to be brought down with her own wrongdoings. He practically raised her after their parents died, so her desire to protect him is genuine.
San says she cannot lie again if she truly wants to protect Gyu-min—if she lies to them again, they're out. She nods.
San discovers a clear card with a mysterious logo that brings them back into the nightclub from the previous night. Gu-hyung and San pretend to be health inspectors to gain entry, and Gyeo-wool remains outside as lookout.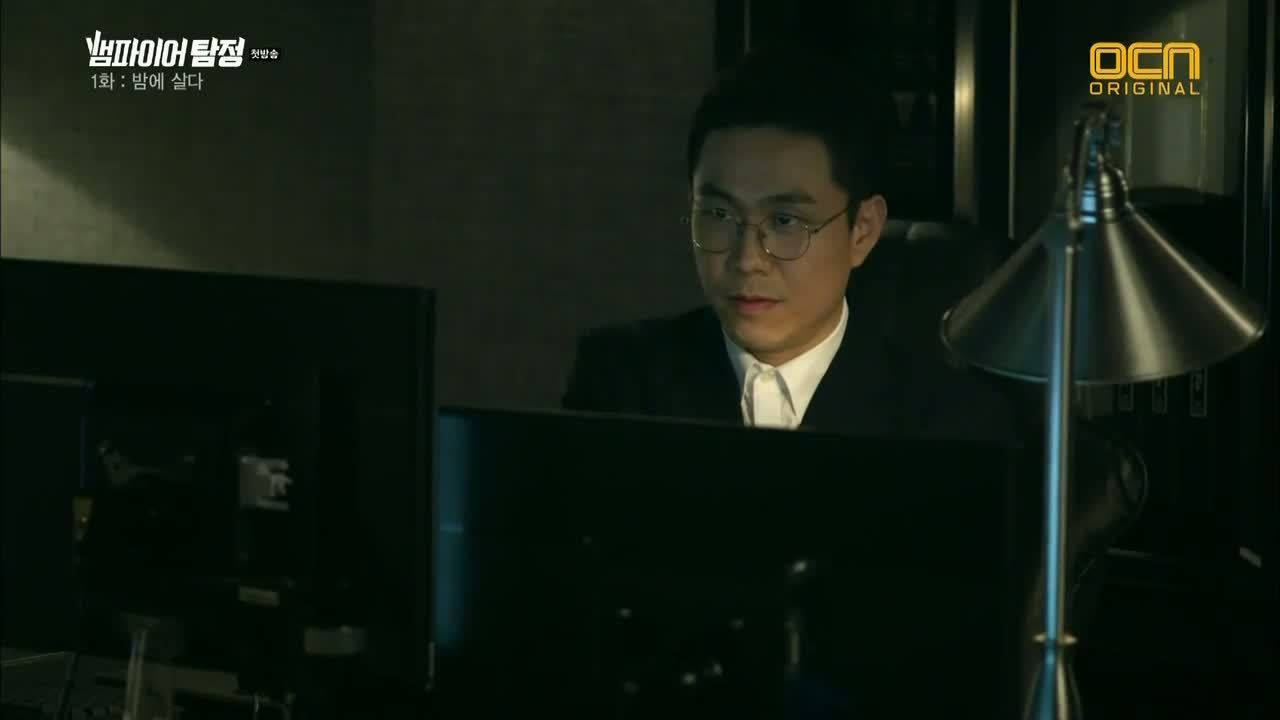 San points out that there isn't a trace of food in the kitchen, then recalls how Gyu-min appeared out of the refrigerator. No matter how much he forces it, it remains locked, then his eyes fall upon the lock. Curious, he uses the card… and it works.
What's inside is no fridge, but an office, and San uses the card again to gain access to the computer. There are dozens of files, and Gu-hyung wonders what "Helper" means.
Too bad their visit has been called in, because Goatee Owner and his goons are back. As Gu-hyung copies the files, San stumbles upon a hidden door. Again, the card opens said door which houses pints upon pints of blood.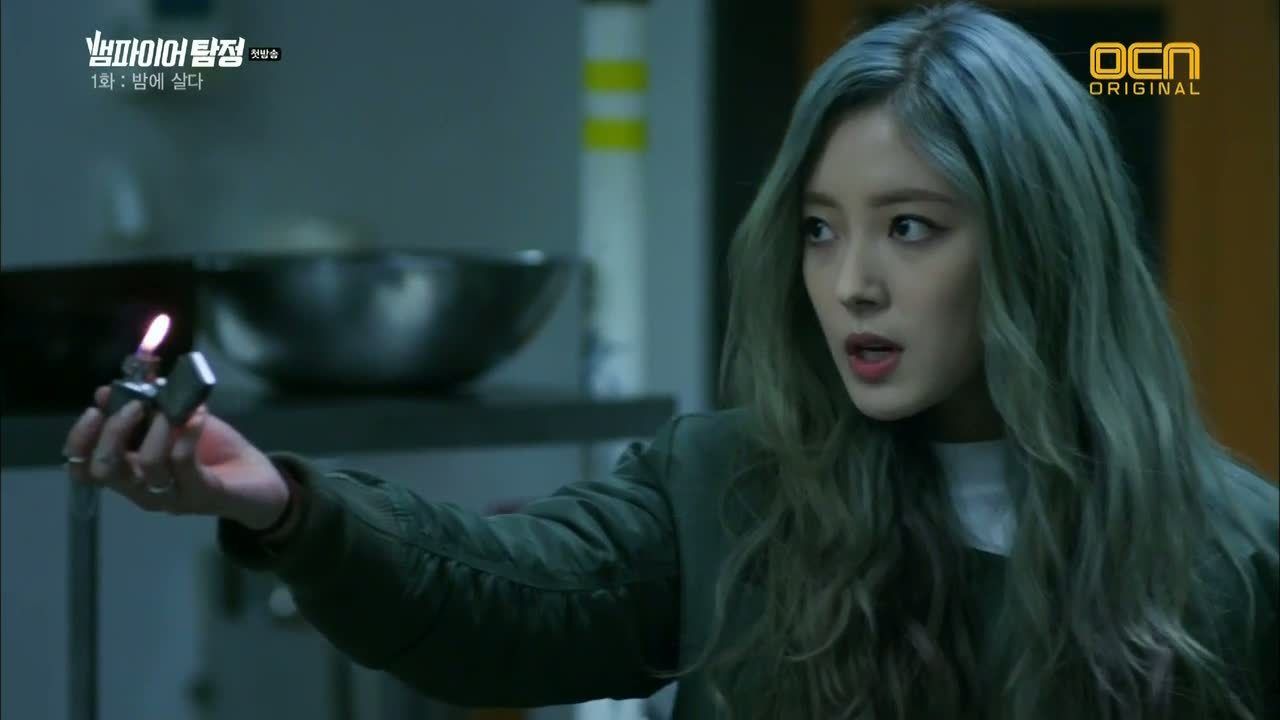 Elsewhere, Gyu-min berates his vampire girlfriend for not consuming blood to survive. She'd rather die than hurt another life, then pulls open the curtains to let in the sunlight. He winces in pain, as we're shown how it was his girlfriend who had bit him. He vows to find a cure in time.
Our private eye duo is cornered by Goatee Owner & Co., and to make matters worse, Gu-hyung forgot to pack their tasers. Whoops. Good thing that Gyeo-wool has their back, as she kicks over a container and threatens to light them all on fire.
San smiles, recognizing that it's water vs. lighter fluid, and Gu-hyung gets down from the counter. Hahah. Told they're not out of the woods just yet, San throws the lighter at the scared, gullible wolves who dive for it.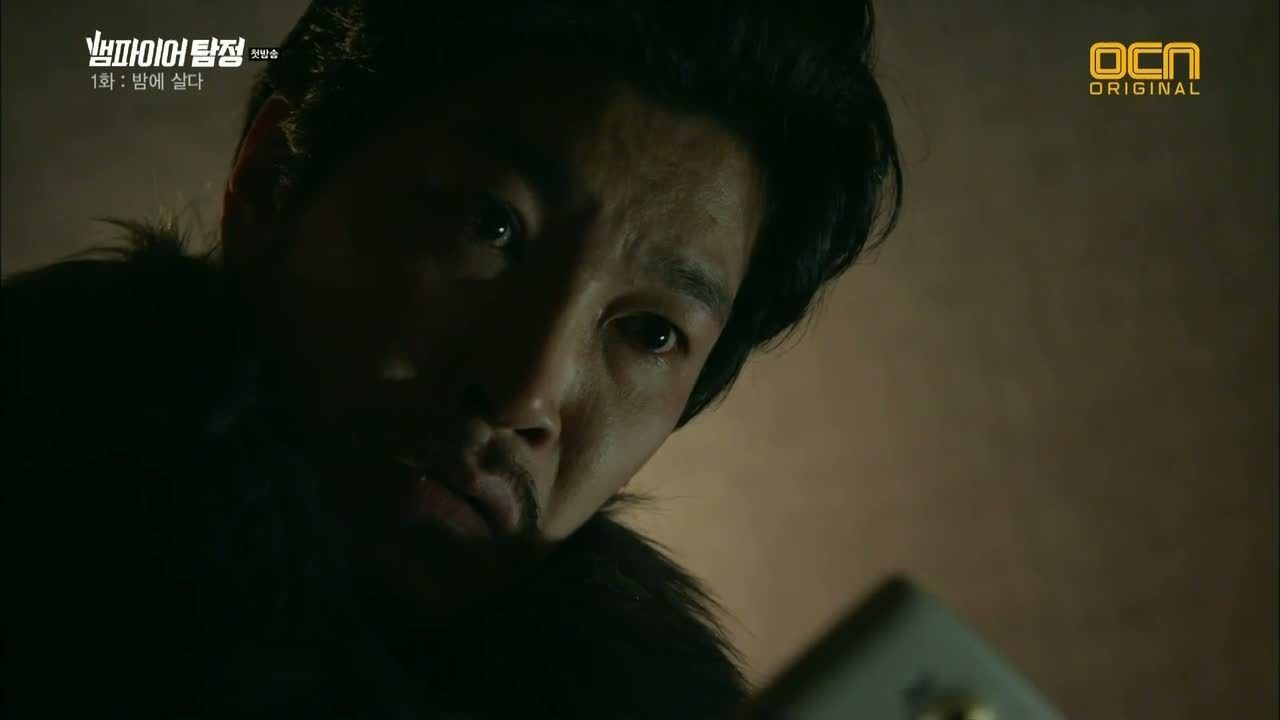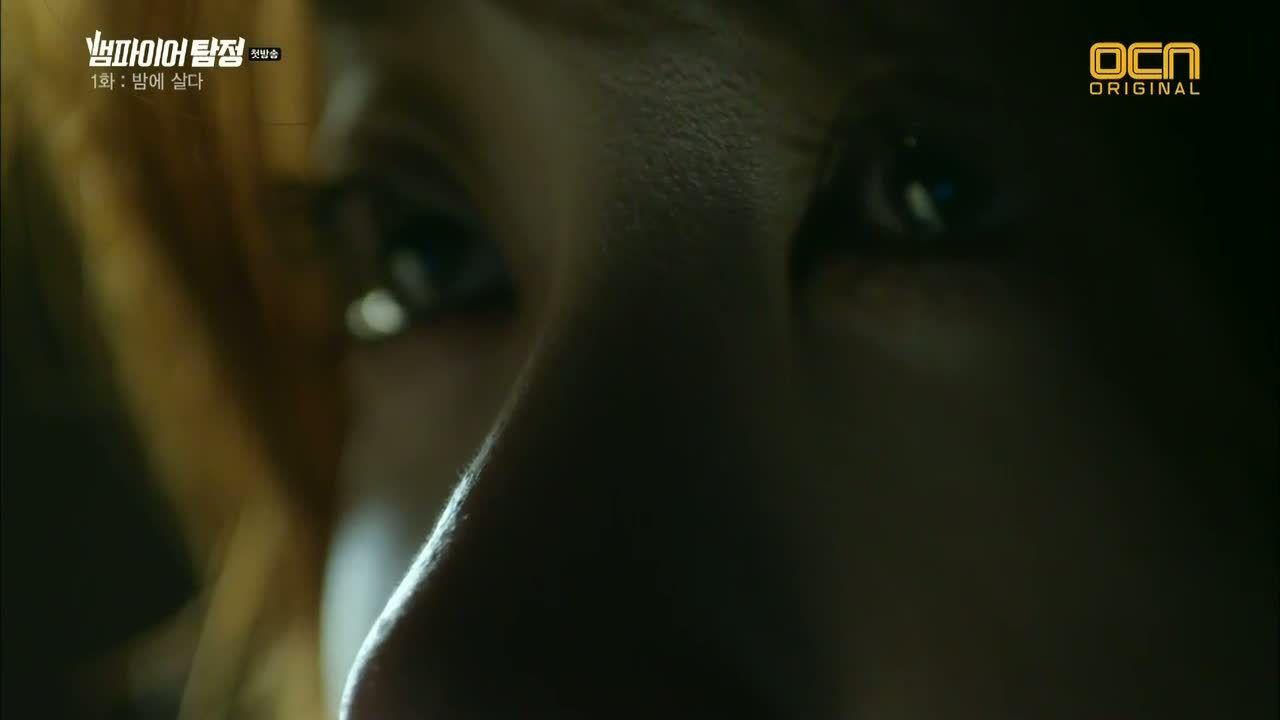 The trio makes a run for it and drive off, though one persistent hooligan hangs on until he's pushed off. Goatee Owner runs to his car but finds that his tires are flat. Way to think ahead, guys.
Gyu-min is working when he recalls one of his girlfriend's memories of when she was bitten and turned. Goatee Owner is left to explain Gyu-min's disappearance while the mysterious lady Gyu-min kept company with every night reviews the CCTV footage of San and Gu-hyung exploring the office.
She punishes Goatee Owner with a hard slap, but puts a finger to her mouth to signify that this matter should never reach the chairman's ears. So instead, Goatee Owner takes his anger out on the employee who let San and Gu-hyung in.
Speaking of whom, San and Gu-hyung review the list of Helpers (which includes Gyu-min) whom they believe act as blood couriers. Gu-hyung thinks they should hand the case over to the police, and when San feels bad for Gyeo-wool, he wonders why his partner is suddenly so worried over a client.
San explains that he's curious about the ending to this tale, and he doesn't share much with Gyeo-wool. He does learn that her oppa did frequent his girlfriend's house in the countryside, so they leave, but little do they know that Goatee Owner follows them.
When they arrive, Gyeo-wool refuses to be left behind again, citing how she saved their asses last time. Gu-hyung allows her to tag along in so long as she doesn't do anything dangerous, and instructs her to inspect the grounds.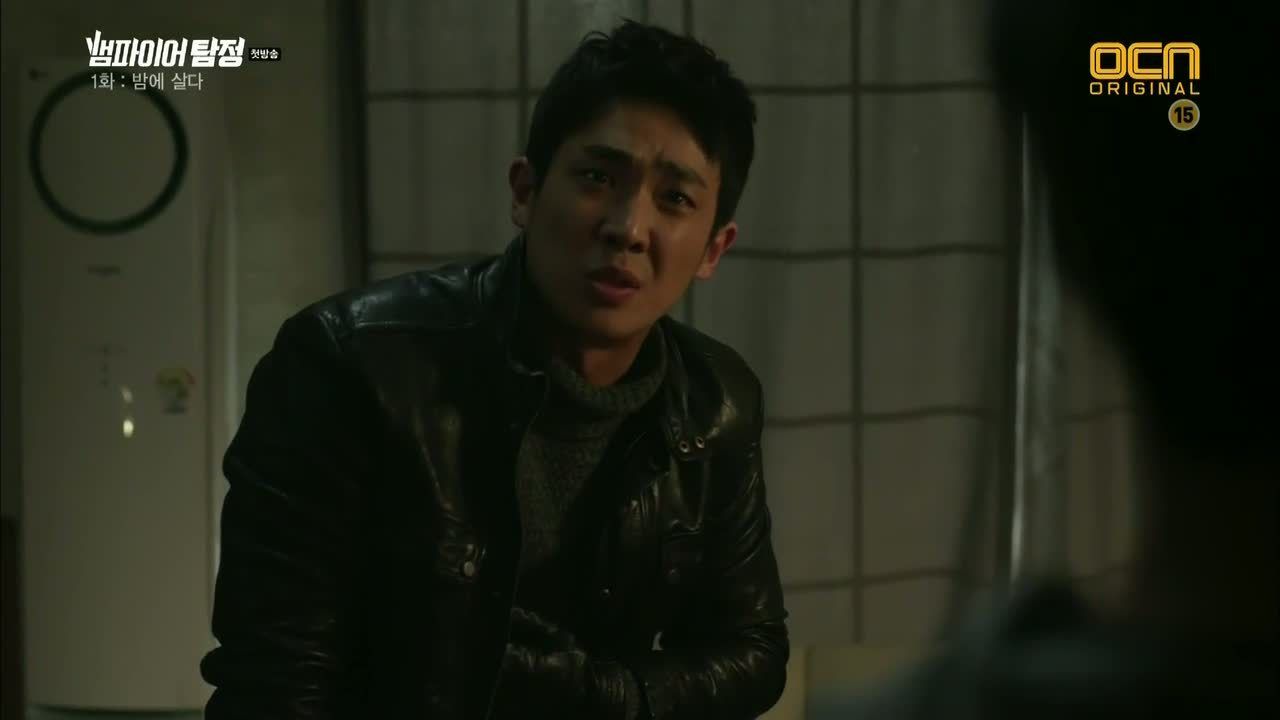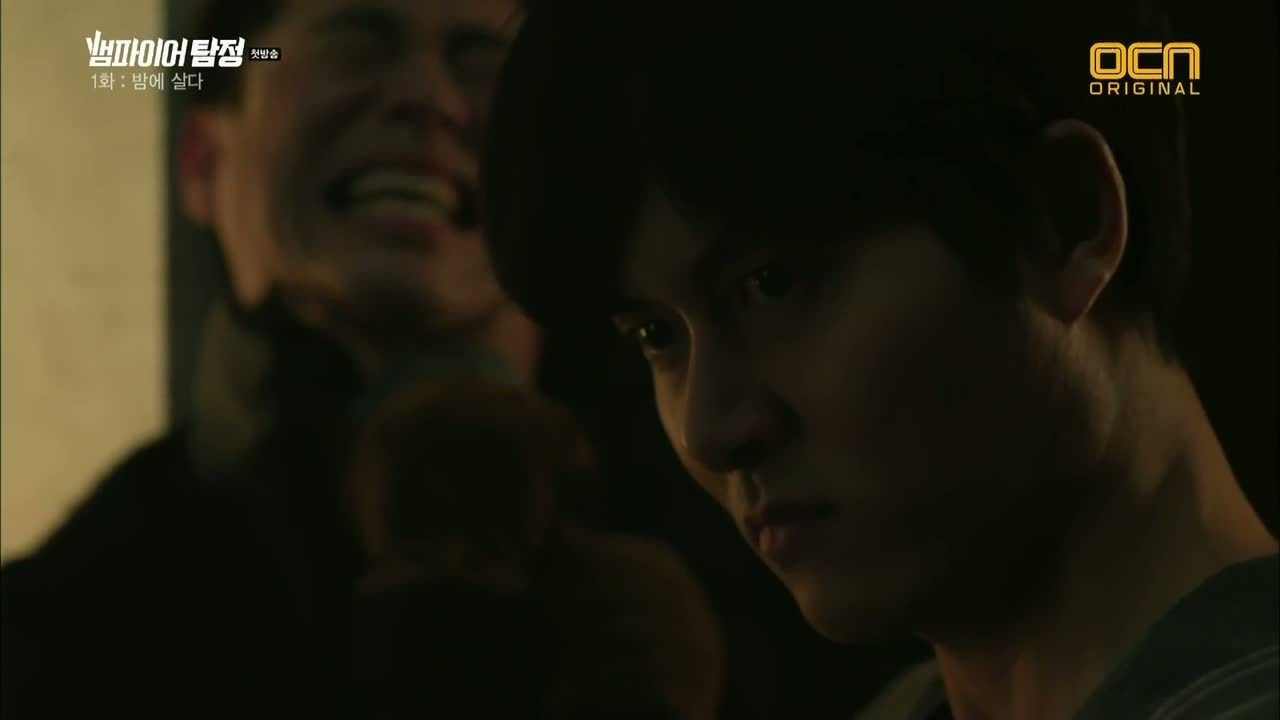 San and Gu-hyung carefully open the door and step inside the dimly-lit home. Gyu-min sneaks up from behind and takes San down. Gu-hyung engages him, but he's no match for Gyu-min's vampiric strength as the latter chokes him and tosses out his weapons.
He advises San to do the same, tightening his hold on Gu-hyung's throat. San does as instructed, and Gyu-min makes it clear that he'll do anything for the woman he loves. He's angered by the mention of his little sister, saying that Gyeo-wool has nothing to do with this.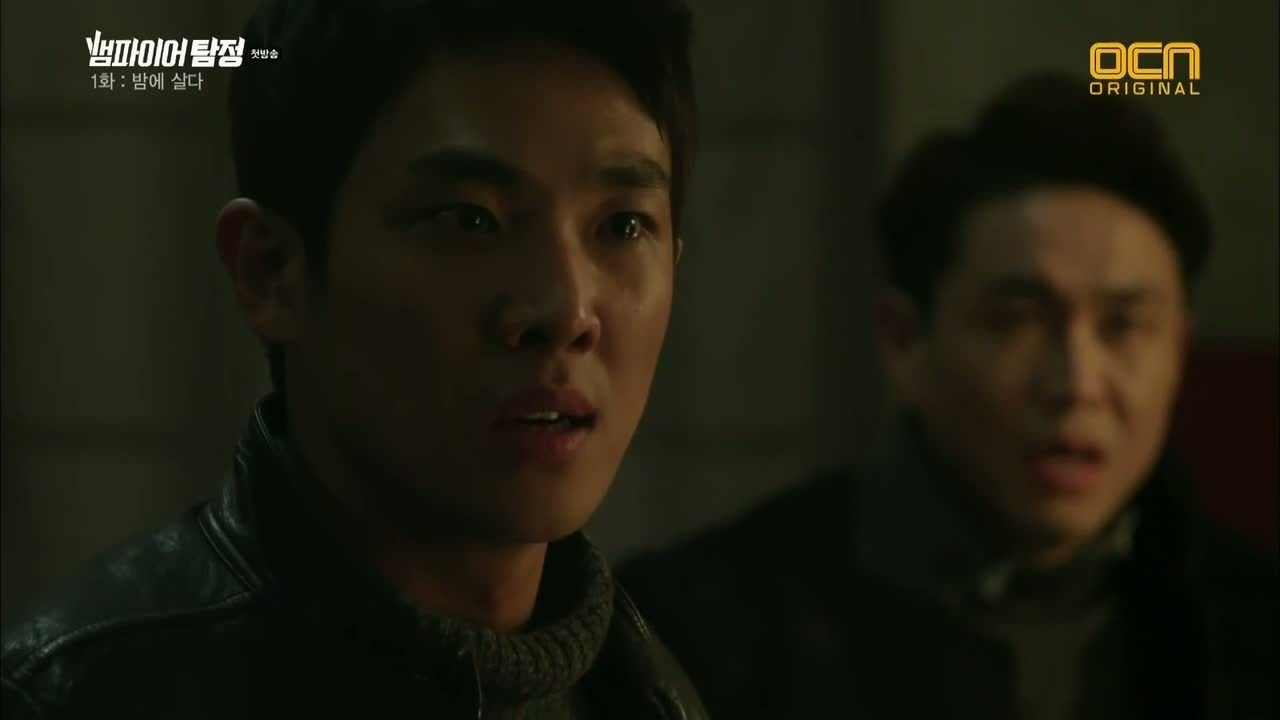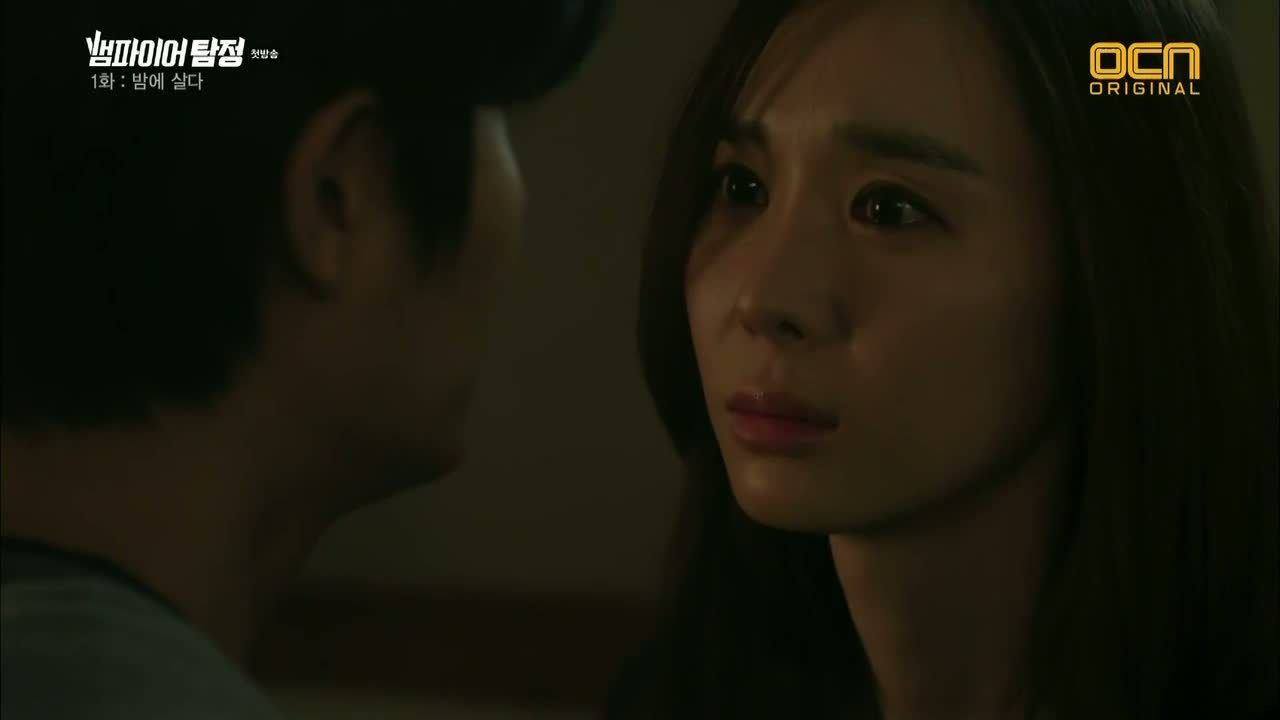 He at least lets go of Gu-hyung, and is surprised when San asks him about the list of Helpers. Gyu-min hollers that San and Gu-hyung have endangered them all by possessing that list—all he promised was to deliver a new strain of blood.
When San asks to whom, Gyu-min replies that they don't know how scary that woman is. "The one with the sun pendant?" San asks, which prompts Gyu-min to ask if they've met her. "How much do you know?!"
"Who is she?" San asks softly. But before he can answer, his girlfriend steps in. She understands Gyu-min's good intentions, but that's what makes it so hard. Taking out a syringe, he agrees to put an end to it.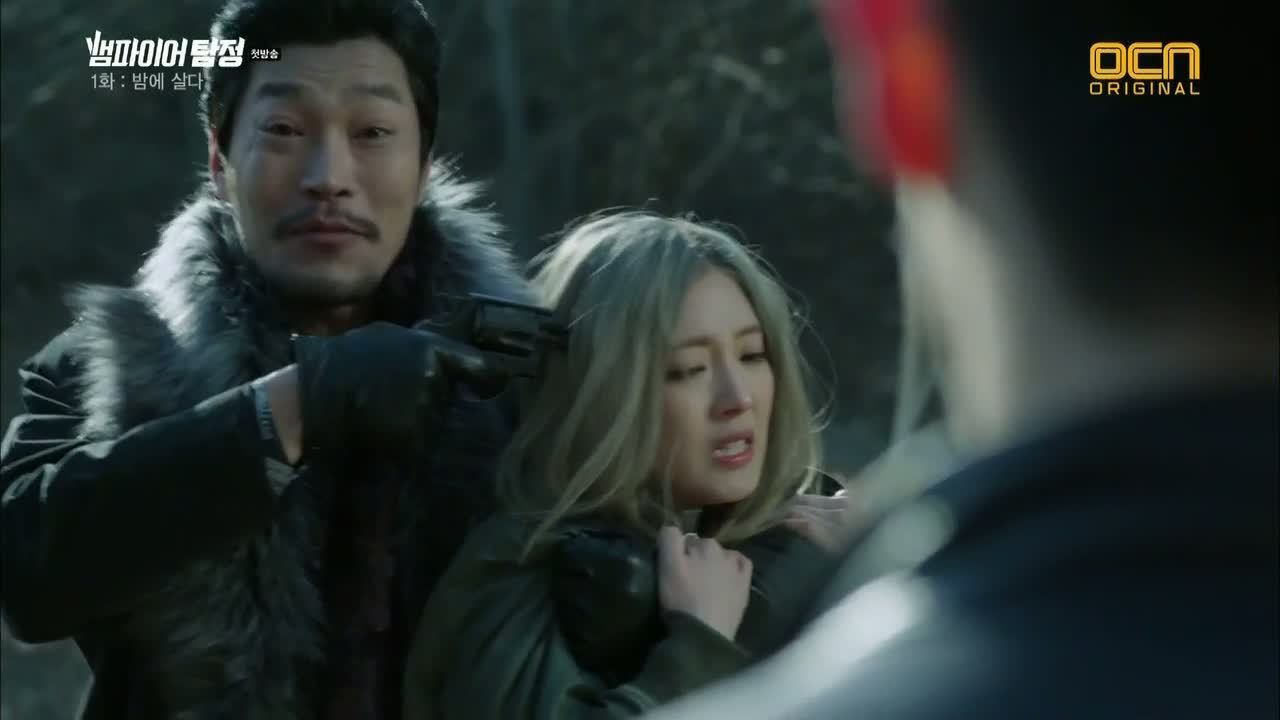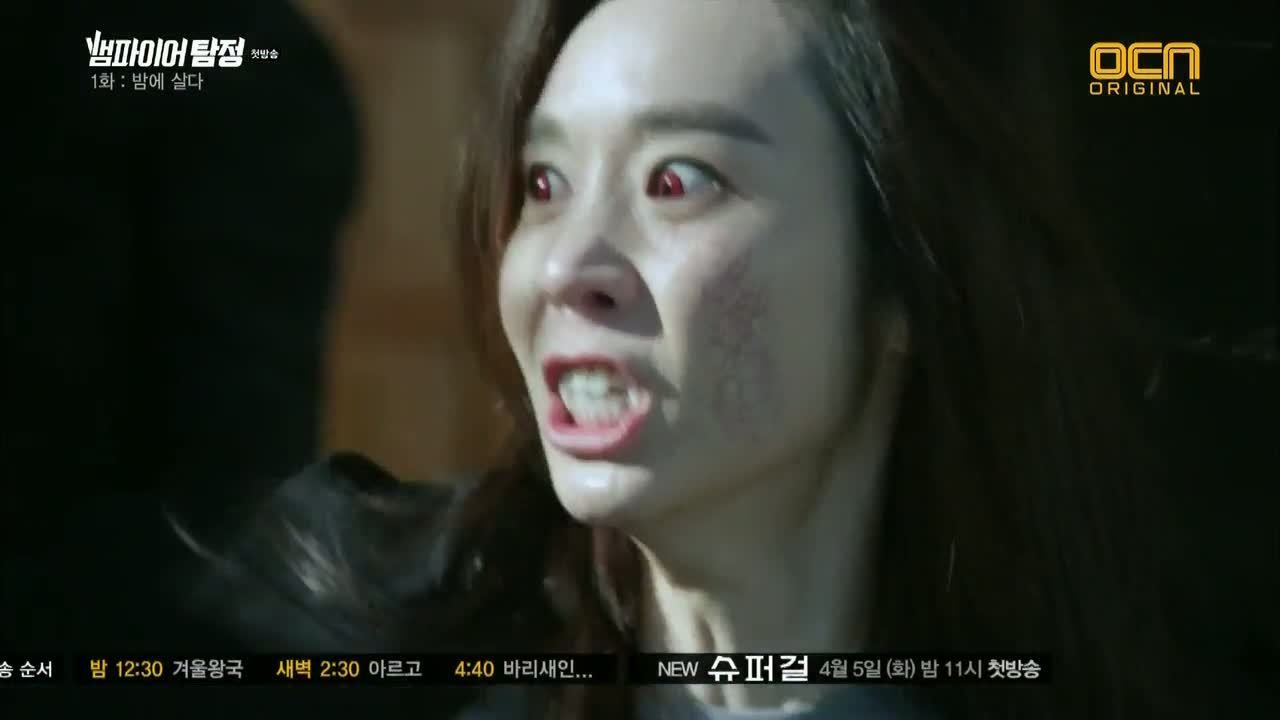 But that's when Goatee Owner shouts that he has Gyeo-wool at gunpoint. He shoots at San's feet when he approaches, then hollers at Gyu-min to bring the USB and his promised goods. Gyeo-wool screams that she's fine, but it's not like Gyu-min can go out into the sunlight.
Inside, his girlfriend begs him to let her go because she's been loved by him. He hands her the syringe because it's the only thing that can save her now. She hugs him and says he's the one who needs to survive before drawing the curtain as a barrier and running outside.
Her eyes glow red and she pushes Gyeo-wool away before taking on Goatee Owner. Her hand bursts into flames which also sets Goatee Owner's body ablaze. He shoots his gun aimlessly, and San runs towards Gyeo-wool to protect her.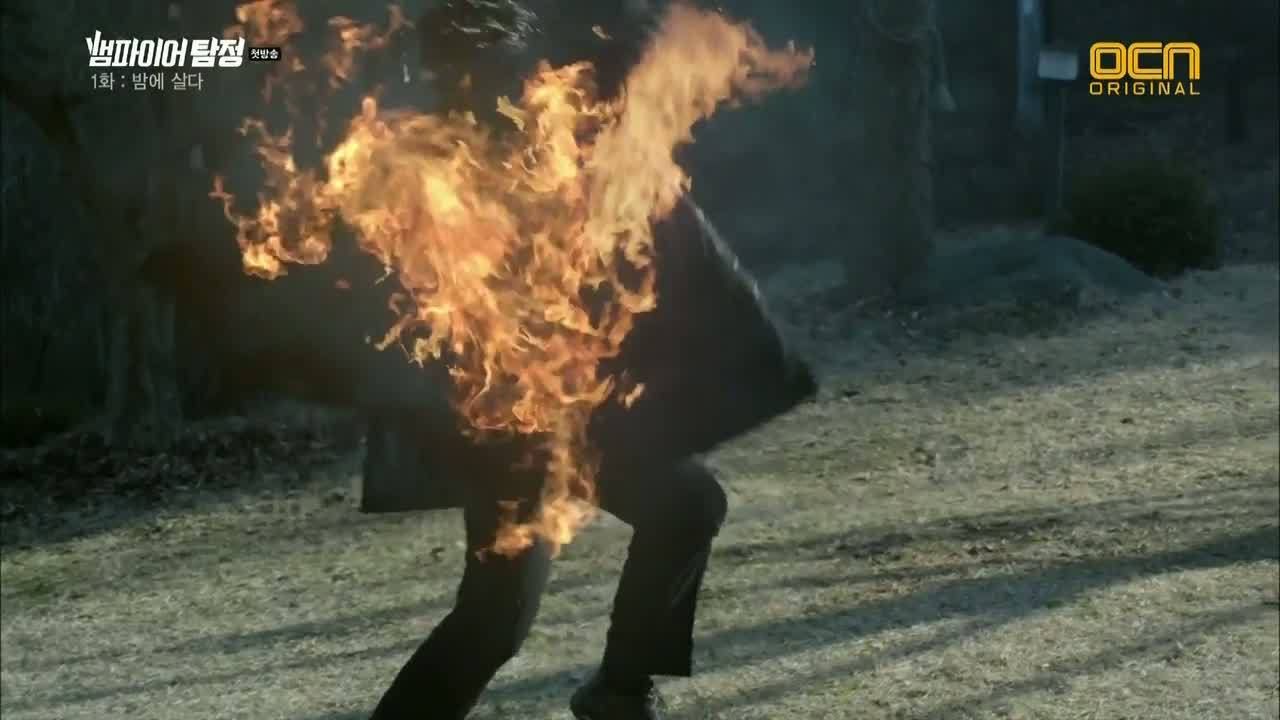 Gu-hyung slides towards his partner's side when he sees San get shot. He runs to call for a paramedic, and Gyu-min calls out to his girlfriend, who turns into ashes before his eyes.
A struggling San briefly imagines Yoo-jin's face when it's actually Gyu-min, who still has his hood up. He bends down and injects San with the syringe. As the past flashes through his mind, San's eyes glow honey gold, unlike the other vamps.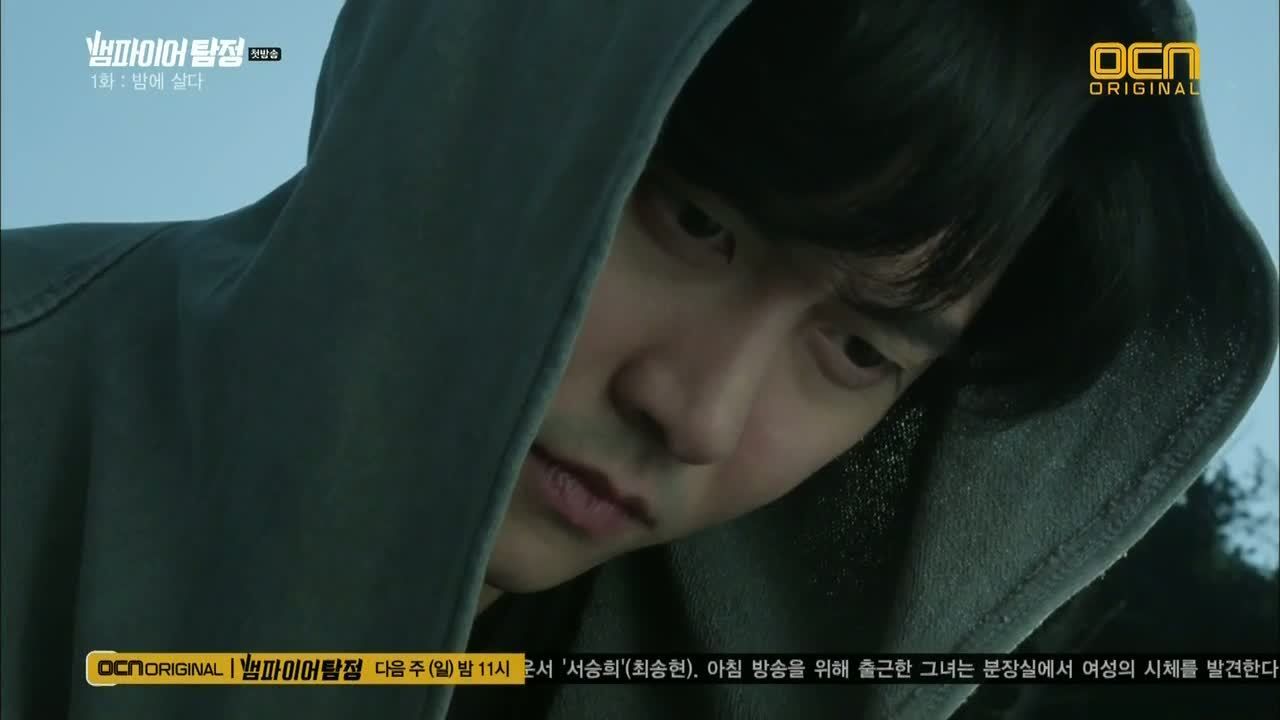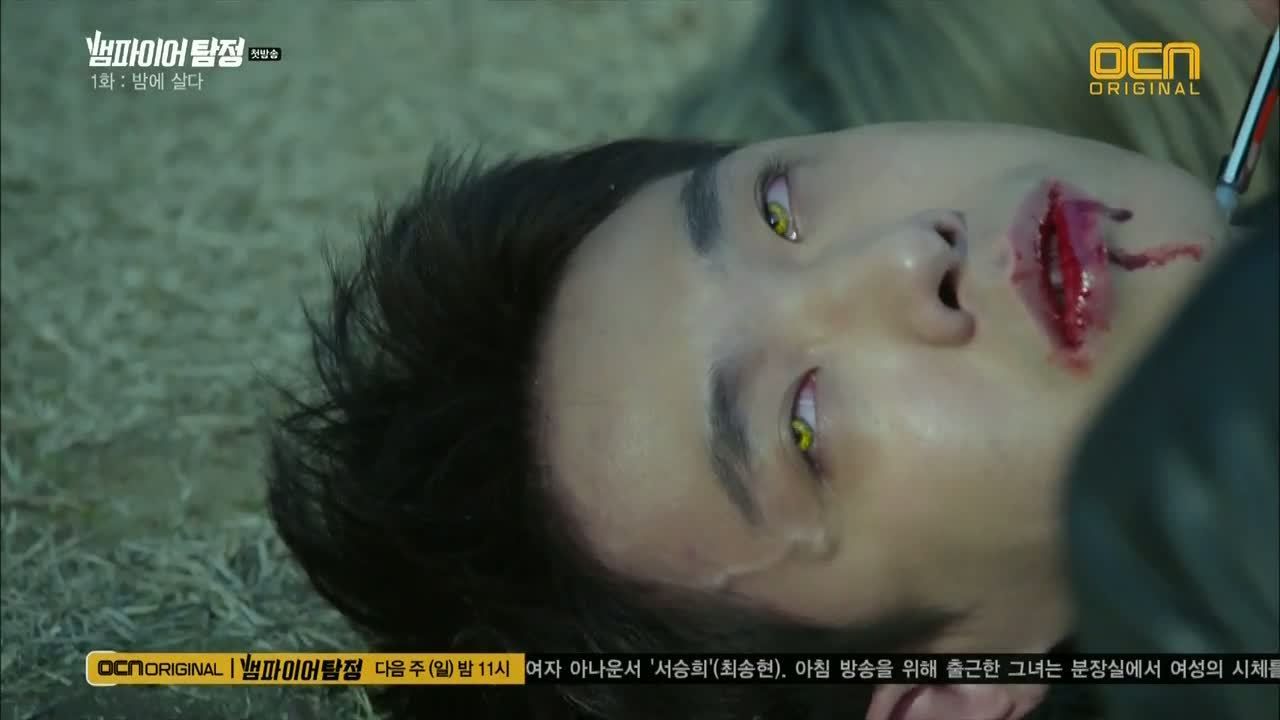 The contents seep into San's system and heals his gunshot wounds. As San regains consciousness, Gyu-min bids farewell to his sister, then turns to face the sun and fade into ashes.
A light snow softly blows through the air as our new vampire muses, "The world is endlessly changing, and I am changing, too. This feeling of standing on the edge of a blade facing a chilly wind… could what awaits me at the end be a blessing? Or a curse?"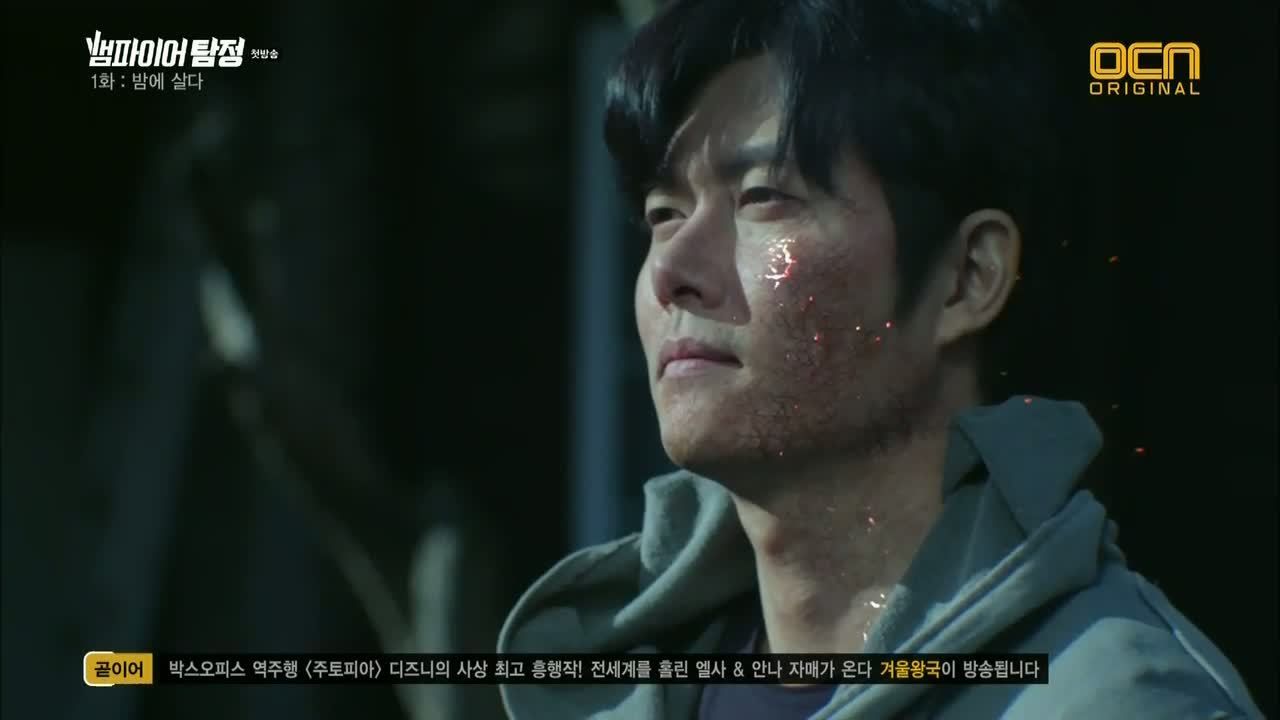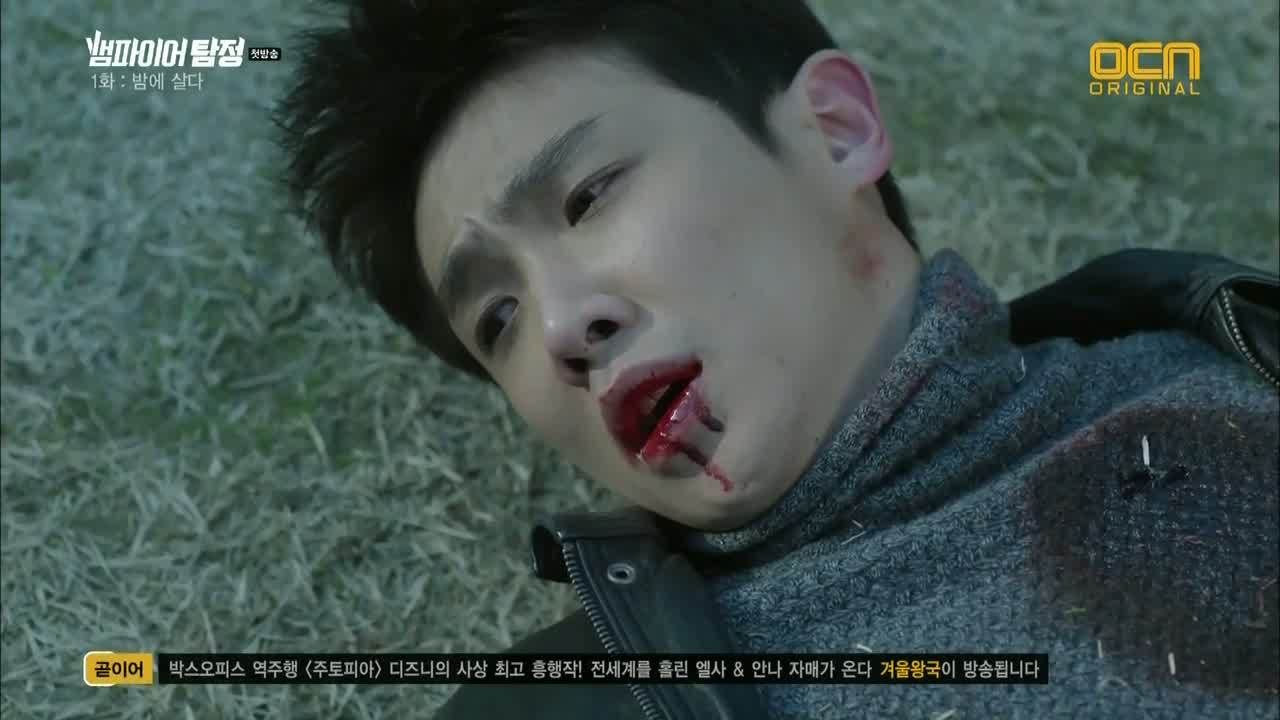 COMMENTS
I believe the answer is that a potentially cursed life for our hero is a blessing for us viewers. Sure my heart sank a little when I first heard that we'd be getting a different vampire series than the third installment of Vampire Prosecutor (that ship will never sail for me), but I always love me a good crime show on OCN. Well, usually anyway. Sometimes you aren't so lucky.
So I really hoped that Vampire Detective wouldn't suck (har) and worked to keep my expectations low. That said, I really do what we've seen in this opening hour, from a smart hero with physical limitations when he was still human, sharing a delectable bromance with his partner, and introducing us to a conspiracy linked to a mysterious Big Bad. There's no doubt that most, if not all of us, have seen a show or two (or a hundred) about vampires before, and while any series can have a unique take on the usual vampiric lore, we deem it important that the internal logic must hold.
The same is true for Vampire Detective whose bits and pieces of mythology contain familiar elements thus far: the fangs, the glowing red eyes indicating their thirst, and their vamps' solarphobia. So far it's straightforward and easy to follow, which allows the show to spend more time on other areas, like building character relationships or how our new vamp will use his new powers (other than vampiric strength) for his crime-solving benefit. Even though our hero in San suffered from physical limitations as a human, I liked that he had limitations, if only because we've seen so many dramaland heroes run effortlessly without needing to catch a breath. Narratively, limitations also meant that the physical stress could risk a case, much like how Gu-hyung stopped to check on his wheezing partner.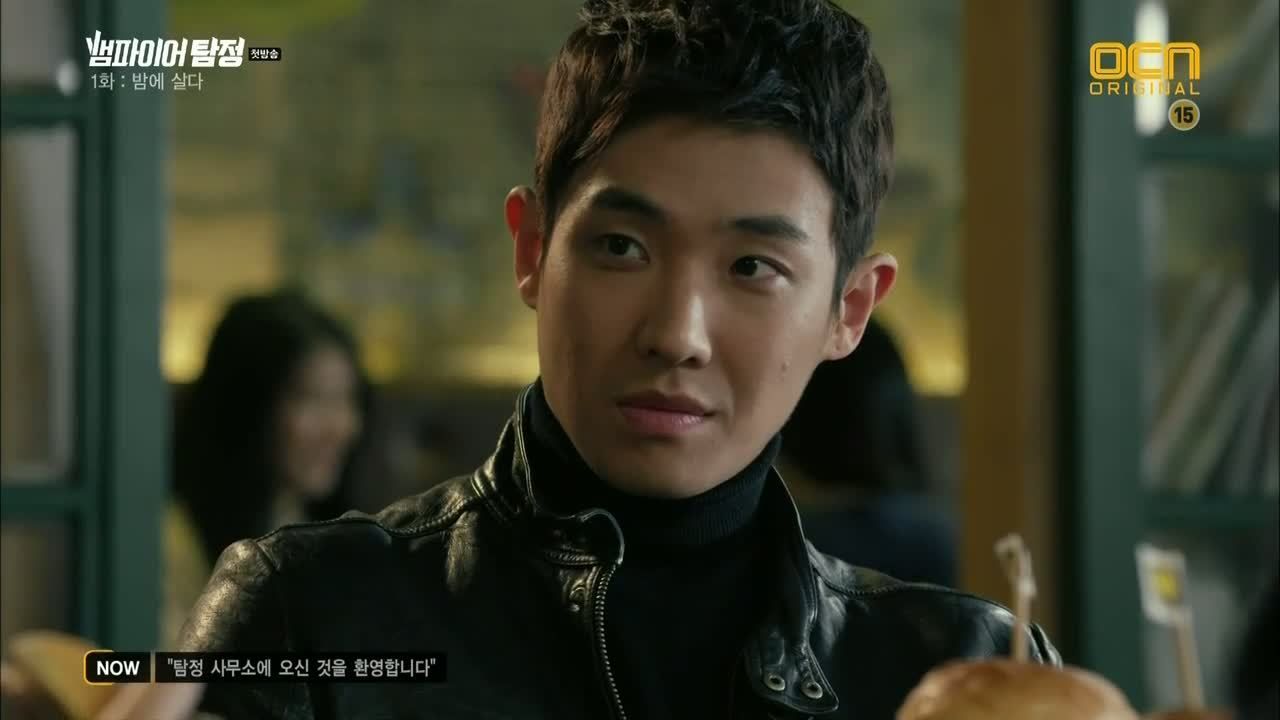 So much like any superhero story, the previous constraints on San's abilities are potentially gone, especially if the contents of that syringe contain healing properties. I do like that he is a new and improved vampire who can already withstand the sunlight longer than his former kind—that oughta come in handy to keep his supernatural secret under wraps, but not always a requirement for a private eye. We haven't been introduced to the drawbacks to San's new undead status, but no one else in this dramaverse knows either because Gyu-min created the solution and died. It's possible that the answer might be hidden elsewhere, but for now, I'm more interested in seeing San get used to being a vamp.
In that same vein, I'm so happy to see Lee Joon back on our screens. I've enjoyed watching him build his acting repertoire over the years, even if I haven't caught all of the projects he's been in. Suffice it to say that he hasn't had the easiest year by shifting his focus towards acting, but I am glad to see him in what could be a fun project ahead. I love the bromance he shares with Oh Jung-se, who always has great comedic timing, and how his character Gu-hyung is like a nagging mother hen to San. They share a close bond, which I hope can extend to their most recent client Gyeo-wool who has balls of steel.
As a team, they're a strong trio that each have their own set of skills to offer. It's important to have someone to depend on in the times when it feels like there's nowhere to go and the situation seems like it can only get worse. But with these two to have San's back, I don't think the beautiful vamp has anything to worry about.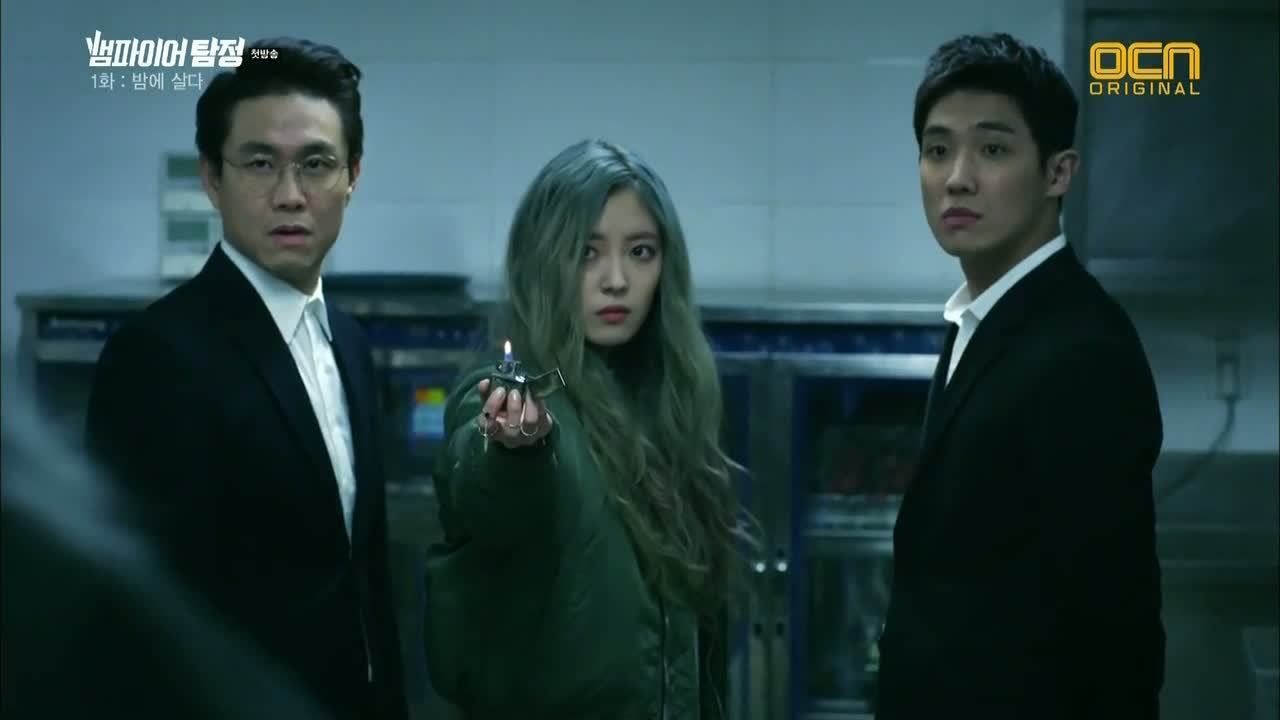 RELATED POSTS
Tags: Episode 1, featured, first episodes, Lee Joon, Lee Se-young, Oh Jung-se, Vampire Detective