Beans of Wisdom: VVar of the VVigs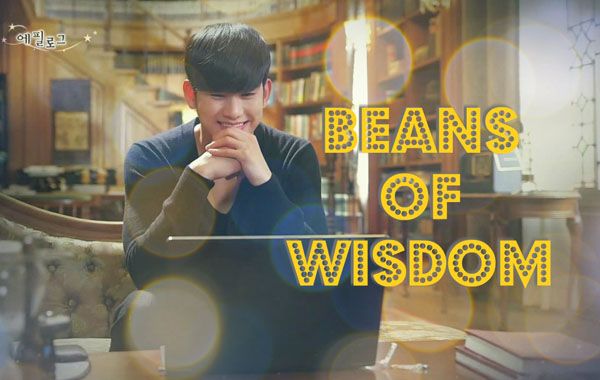 This week in Beans of Wisdom…
franbergh has a question about chaebol population distribution in comment #8 of "News bites: June 18, 2016":
i'm seriously begin to wonder.. is there a lot, like a very lots of single 'chaebol' in south korea? maybe i'll try to go there and find one.
what i learn from kdrama, its like theyre scattered around..

To which mk suggests this simple test:
Throw a rock into a crowd, hit a chaebol, fight with him, get married.
While anugp61 warns us about extra requirements:
Oh but to snag a "chaebol", you have to be a plucky, sweet, hard working candy girl-from a middle(or poor) class family (or from an orphanage) . Preferably with a birth secret.Oh and also a bit of childhood trauma would also increase your chances of snagging up the aforementioned chaebol
And cherkell talks real estate:
Don't forget renting a Rooftop Apartment as well; the more steps to get up there, the better. Preferably with a spectacular view of the Hangang and a fab greenhouse thrown in for good measure, so the chaebol can visit in order to get away from all his chaebol troubles.

Eventually you'll come down with an incurable disease from living in such cold and drafty squalor… but on your deathbed, tell the world that you were a rich heiress all along and leave your fortune to help other Candy Girls obtain their own Rooftop Apartments.
YY tells us to have some patience:
Down a dozen bottles of soju, and position yourself carefully in an elegant sprawl across the steps . It may take a long, long time, but the Good Lord will surely reward you for your patience, and one day, that beloved chaebol face will loom over you, at which point you will sway to your feet unsteadily, slur drunkenly, "O-p-pa! F-i-n-a-l-l-y!", and attempt to clamber on his back for the piggyback you've been waiting a decade for.
While zappy warns of the dangers of dating chaebols:
but you have to fight with evil chaebol mom, evil fiancee/exgf and the worst of all, you'll get amnesia hehehe
In "Mirror of the Witch: Episode 11," Marina answers some questions on why everyone finds Yeon-hee's transformation scary when it's just a white wig and blue eyes. In comment #6.1.1, she writes:
You guys have to remember that this drama is set centuries ago. Even today, people still stare at someone young with natural (even dyed) white hair. Also, Malawi's albinos (usually white hair, light eyes) are at risk of extinction because their body parts are believed to bring wealth and good luck, so they are being killed and their organs sold.

I think it's very believable that someone so young with white hair and blue eyes would be considered a monster centuries ago when people were even more superstitious.
Come to think of it, I used to find colored lenses and unnatural hair dye creepy until I saw kdramas and then kpop. Now it's all "art" to me. See?
Art.
In comment #12, Miranda shows some love for our favorite villain, Hong-joo.
Hong Joo is well-written, but the character could have been any other drama villain with another actress cast in the role. This actress is terrifyingly compelling, she is doing an incredible job.

I love the look of wonder that frequently crosses her face when something unexpected happens – whether that's someone's reaction or a mystical happening. Too many evil shamans are totally in control and self-assured, but somehow this actress makes it seem like Hong Joo is right on the edge of a whole lot of things. She makes it seem like she's very skilled in black magic but that the magic is unpredictable and requires quick instincts and thinking to stay in control, and that flows over to the political scenes too.

At the beginning I thought she was scenery-chewing and she still does hit those notes sometimes, but more often the microexpressions on her face are holding my interest. At the end of this episode, for instance, her entire ninja crew are levelled and yet she herself looks like fascination is more present than fear. Yeon Hui's clearly about to go nuclear and Hong Joo can't resist excitement that she's witnessing this crazy new power.

Hong Joo legitimately seems like someone who's fallen so far into black magic that her other end became completely untethered and she doesn't see people as people, more as noisy chess pieces.
In "Dear My Friends: Episode 11" comment #9, WM paints the tragedy of Gu halbae's character, Suk-gyun.
What you have to remember is Jung-Ah and Suk-Gyun are a different generation. They were raised in world where a wife took care of her husband, and the husband took care of the family (financially, not necessarily emotionally). Suk-Gyun truly didn't see what he'd done wrong because, in his world, he'd done everything expected of a man from his generation. While the rest of the aunties and uncles grew and changed with the times, he simply didn't, perhaps couldn't, change. Jung-Ah, being the dutiful wife, didn't change until confronted with the fact that she was becoming her mother, trapped in a situation that enslaved her not just to Suk-Gyun, but to her daughters, as well, and it was slowly killing her. The fact that Jung-Ah needs to sleep so much to catch up on the sleep she was lacking speaks volumes. Did they both make big mistakes? Yes, but I think that's true for most relationships (not just marriages, but friendships, too). Now that Jung-Ah has taken a stand and is determined to change her life, Suk-Gyun is going to have to get on the train or be left at the station.
Over in "Beautiful Gong Shim: Episode 11," the main trio are so cute together that they're effectively killing all shipping wars. This means our beanies are free to discuss more Important Matters such as Gong-shim's wig. Adal says in comment #8.1:
With the wig on, she's Gong Shim and not Minah, but when she takes the wig off, then we see more of the idol in her.

Maybe that's why the PD doesn't let her take the wig off anymore, even when she sleeps? Kind of unrealistic, like sleeping with your make up on and must be damned uncomfortable too.
Jenn has a more decisive opinion:
It makes me crazy and I want the wig off or at least make it realistic, so she doesn't sleep with and wake up without perfectly straight!!!

But really I want her to accept her stress and bald spot and I don't feel like there can be any character growth without that wig coming off!!! She's hiding behind it and the symbolic reference to it is obvious…wig off ASAP please show!!!
While blnmom makes the debate official:
I guess if we're not going to have a shipping war, we can have a wig on/wig off war.
In "Beautiful Gong Shim: Episode 12," comment #1.4, JesO lays out some good points for Team Wig Off.
I really think the wig is a metaphor for GS insecurities, and hair is just another part of herself that she feels she needs to be ashamed about. It's a comfort mechanism, why else would anyone in their right mind wear a wig while sleeping ( ichy and uncomfortable to the 10000 degree).

I don't like the wig because I feel like it's not who she is or who she wants to be. We've gotten used to it because it was introduced to us at the beginning of the drama, but It's artificial. It's not truly her. It's something she's hiding behind.

Thirdly, she truly doesn't want to have to wear the wig; hence the dream sequence of being able to take it off with DT.

Lastly, when she feels that she is accomplishing her goals and feels that she's found her place in life, her hair will grow back, and that's something to celebrate.

Off with her wig!
What a dangerous time to be a wig…
Speaking of dangerous, BC shared this brilliantly edited video in comment #9.4.1 of "Oh Hae-young Again: Episode 16"
there is this video from soompi which killed it! I would love to see this kind of drama for once…
so if Oh Hae Young again would be a thriller:

W's two parallel universes have nothing on cali's spaghetti story as she comes back to connect every drama in the sun. See if you can guess all the dramas she references in comment #1 of "Lucky Romance: Episode 9".
AND YOU GUYS THOUGHT I WOULDN'T RECAP THIS

in tonight's episode of reply: she was a pretty vampire idol who walked in the night into a ramyun shop, mukadil has started playing tennis to ease his homicidal urges and inexplicably moves to canada (idk to be closer to all the american vampires that live in washington?) yang eun bi funds his passion by using her ramyun chops and her husband's sleazy miss korea investment funds from the 90's.

because he LITERALLY lost the girl to half of the tomorrow cantabile supporting cast, jung hwan turns to the one thing that has remained cool since the 80's, computers.

kim hye-jin lost ji sung joon because he kept drinking water from the flower vases and he got e.coli and died in 2 seconds (k drama logic, totally happened just like i said). she decides that dating a slightly smarter, less assy nerd might be a better life choice. something something tigers, something something why didn't you just pick siwon the first time around.

somewhere in all of this, song jae rim would make it all better. he should cameo and then maybe i'll watch it regularly.
pogo has been having keyboard problems this week which started in comment #1.1.2 of "Teddy bears and high school uniforms for Uncontrollably Fond."
if you vant to see Kim Voo Bin as a puppy you should vatch Vampire Idol, he vas such a dork there and his love line vith Lee Yubi vas beyond adorable, even when she vas vearing a giant rabbit head. And it vas totally reciprocated!

(sorry for the veird spelling, my keyboard is broken and von't let me type the letter after v in the alphabet and I never realised before it is in SO MANY VORDS)
But she didn't let a broken keyboard stop her. In the same post:
He should learn to do the cute/sveet thing better if that is vhat this drama requires, it really does not vork vhen he tries to play some nice college boy, he just ends up coming off like a dinosaur vearing a Totoro costume. And not even in a cute vay, just a bit…. defanged.
We asked Voo Bin for comment, and he seems to agree about being a cute dinosaur.

Purple Owl replied in #29.2
I'm sorry about your keyboard, pogo. But I hope there's comfort in knowing it has made me smile, multiple times, in a really difficult 30 hours!
Yes, vve heart you, pogo! Hope your keyboard gets fixed soon.
(This is the Dramabeans Commenting Policy. Read and pass to five friends or you will get bad drama luck. A friend read the comment policy and shared it to five people. The next day, a geeky tiger started texting her with emojis. One beanie didn't read it and her Oppa went to the army in secret after his last show got 0.2% ratings. Please don't ignore. This is true.)
RELATED POSTS
Tags: Beans of Wisdom