Beans of Wisdom with a side of cuddles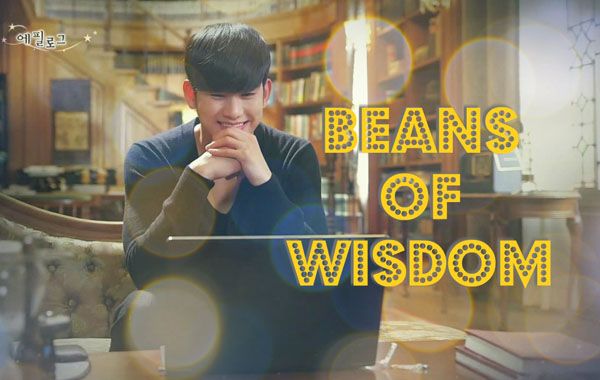 This week in Beans of Wisdom…
In "Jackpot: Episode 23," In-jwa isn't even dead yet but MagMag is already anticipating his resurrection in comment #3:
One episode's time is enough for Injwa to find his own doppleganger, swap himself out of prison and gather up another army for rebellion. Haven't they learn anything?

May be this villian will never die and there will be a sequel Jackpot 2 – Return of the Jackass!
Sue goes for the direct approach:
Don't worry. Someone get me a sword and a plane ticket to Korea and I'll take care of Injwa. If I can't get him the drama's writer will be mincemeat.
While YY predicts the rise of a new Dark Lord.
Jackpot 2: Return of the Jackass

Injwa is thrown into a cauldron of boiling oil. A powerful bolt of lightning strikes the cauldron, breaking it in half. Injwa crawls out painfully, fried to a crisp, but miraculously alive. Injwa creates a special jackass bodysuit to hide his horrific disfigurement. He moves about freely as a jackass, braying "Hee haw!" occasionally in the presence of villagers to throw off suspicion, and plots his next move…
momosan says goodbye to "Jackpot: Episode 24 (Final)" with some wise words from her mom, in comment #10:
At least it didn't go all Warrior Baek Dong Soo on us and have a final episode that had WTF written all over it. Instead it sort of whimpered to an end.

The show was full of plot holes you could drive a tank through. Not to mention that the only way to make sure someone was actually dead was quarter them or behead them.

Or, as my Mom said – well at least it wasn't a 50 episode series…
In "Oh Hae-young Again: Episode 14," Chandler wonders why justice is selective in comment #14:
LOL, so often in dramas the police are useless when a lead character disappears, but here they got a whole SWAT team organized in a matter of hours?! Priceless. Only the best results for Mama Oh.
To which Oshi replies:
It's Mama Oh…my guess is she is intimately familiar with the police.
I guess there are advantages to always being hauled to the police station… (PSA: Don't do it, beanies!)
WM spots a couple of hidden PPLs in comment #8 of "Dear My Friends: Episode 9":
Sometimes I think this show is one big commercial for Kleenex (you definitely need a box), phone carriers (there's always an urge to call your elders afterward), and psychotherapy (self explanatory).

That aside, I love this show. I do wish they had spent more time on the poisoning your child issue (maybe they'll revisit it) because that is such an important topic, but I'm glad to see the characters progressing at such a steady pace. I won't say develop, because it feels like they sprung fully developed onto the screen from the first episode. I put that down to overall excellent production, most particularly writing and amazing acting. Now I need to go call my mother and aunt.
In "Lucky Romance: Episode 7," agree has a warning for teachers in comment #15:
So writing names with red ink would bring bad luck so all of my teacher who corrected thousands of paper and signed with red ink should be cursed by now…
While jaena gives us an (evil) genius idea from her own teacher:
My teacher is wise then cause she made us check the exams (by exchanging papers of course) with red pen and signed with: "corrected by: student name here"
CZ tries to explain why Bo-nui does "weird things" instead of earning as much as her genius programmer character can. In comment #31:
I think you are placing yourself too much into the scene without reading what Bo-nui is about. She doesn't care about money or career or her own safety, but to save her sister. So she works to make money, not to buy herself stuff, but to support and hopefully cure Bo-ra. First it was through medicine, but the doctors (ep 1?) lost her and were helpless. So she turned to superstition and fortune tellers – which amazingly at the time, seemed to work.

All she wants is her sister to be awake – and she's expressly made the IF game for her sister. Since Bo-ra has missed out on 2 years, her youth, her school, etc, Bo-nui created a game where Bo-ra could experience different kinds of life, all the life, all the glamour that she could have lived. That's why it's not a virtual reality sports game (which would be more profitable?) but a game that encompasses all aspects of a star's life. In this case, because of business and sportstars and whatever, it took form as life in aspect of tennis star Gary.

While you may disagree with her priorities, do you believe that Bo-nui will be happy with she has high paying job/top rated game but three graves to visit?
In "Dear My Friends: Episode 10" comment #5, June notes:
If my boyfriend is Jo In Sung and my mum tells me to keep away from him, I'll have a breakdown like Wan too, lol :p
In "Lucky Romance: Episode 8" comment #54, Gill also takes a shot at making fellow beanies understand Bo-nui.
I love this show a lot, but I think it's because the female lead makes sense to me. If you've ever waited for someone to live or die, and that wait has stretched for years, you definitely begin to lose rationality and perspective. In this case the lead has been waiting, for years, pretty much alone, so her coping mechanisms have overtaken her logic almost completely by this point. I feel that someone writing this has experience with the situation, because the speech where she's talking about how every day is hell, waiting for that final axe to drop (to paraphrase), really resonates. Add in the pressure to make enough money to keep the medical process going, while smiling and acting normal every day, and yeah, this show is seriously spot on. I remember at a time like this, a black cat ran in front of my car while I was driving home one night, and the irrational panic at the bad luck it's meant to represent was so overwhelming. You do start looking for positive signs without realizing, and then try to make them appear, and subconsciously start avoiding anything that might be construed as bringing bad luck. So while she might seem weird and over the top to most, people who have lived through situations like this will tell you she's a pretty believable representation of a person trying to survive on their own in a nightmare scenario.
In #41, hartofseeker analyzes how our main couple can help each other grow.
I love how even though [Su-ho] doesn't believe in superstition just as much as before (I actually like him to stay that way wrinklesnose* even though he seemed thrown off by the… mmmm coincidence) but he's learning to give in/adjust a little bit for the sake of someone else– to be considerate. He's not trying as forcefully for [Bo-nui] to accept that her superstitions are wrong; instead he is willing to "meet her halfway" for her benefit. He offers himself as a "talisman" not because he believes the BS but because he can't bear how BN is so crippled by fear that she can't even see her own sister, despite how much she loves her. So ok, fine, if I have to throw out the "talisman" BS so you can start to heal I'll do it.

It's like the stopper's come off– BN has received JUST enough breathing space and hope that she allows herself to be healed… to ponder that maybe, just maybe I don't have to wall myself off from everyone. For now she's relying on SH's "tiger aura" as her crutch to venture, but I really hope the writer will let her believe in herself again. I mean you know what– SH's aura is also his firmness in NOT believing in BN's curse…. how much of BN's suffering is self-fulfilling prophecy? Her ostracism when she was in school… what would have happened if she stood her ground and didn't let other people blame her for freak accidents/their own accidents? Other people believed she was bad luck and are all jittery around her, well is it really that surprising for them to hurt themselves like that? SH, on the other hand, stands his ground that her bad luck is BS, he's not going to be harmed by her for that… and BN needs that firmness/superman/invincibility to knock her out of it– compared to sweet Gary who just gently indulges her (out of just letting her feel more comfortable) even though he believes that stuff only half-way. In that sense, I think BN's attraction to SH is partially that "invincibility" he portrays… the confidence he has and stubborn insistence that she's not a curse. SH's almost her therapist here LOL so she can get out of that unhealthy obsession with the superstitions… BN's so broken in her self value… I mean SH wasn't that far off about BN being suicidal– "I'll take good care of her until she goes… and then I'll follow her." BR not being absolutely dead was the only reason she didn't friggin walk into that river…

BN's also affecting SH positively… SH knows she's not wrong when she points out how carelessly he treats his parents… he can't deny it coming from someone who's lost her own parents. It's awesome how after the conversation he bucks up and calls his mom and has that awkward/indirect conversation with her to check if they're ok… parental issues are there… but when you grow up into an adult… you just gotta learn to buck it up and give the other side another chance because that's how adults have to deal with problems– you face them, not run…
Meanwhile, KaySee found something strange about Su-ho's poses in comment #11:
About the studio shots – isn't it a meta on the Marie Claire shots taken by RJY and HJE Su-ho a while back? He has copied her poses to a T, from the head leaning on Gun Wook's shoulder to holding his hand in the back hug!
I was laughing till I cried. So much.
*digs up pictures*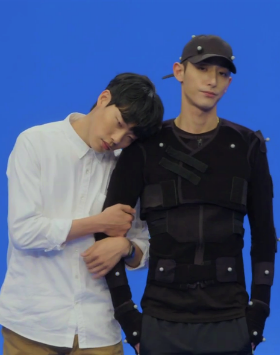 What I wanna know is how KaySee even remembered those exact poses…
Finally, I found this funny comment by amaimikan who's late to the Signal party. In "Signal: Episode 13," comment #52:
I remember had vowed to not watching this drama. But I can't resist the temptation and ended up marathoning Signal.
Now, my tears won't stop. My tears poured down along this episode. I grieved and got angry.
I have to let this feelings out, that's why I re-read the recap and leave a comment.

I'm glad I'm not alone. It's comforting that I'm not crying alone.
:,)
Don't worry amaimikan, I do that when I'm late in watching a drama too! It feels nice to know that others have also suffered enjoyed a drama before me.
Good thing there's nothing about late comments in the Dramabeans Commenting Policy. (Which beanies should read or our voodoo minions will write your anticipated dramas' names in red ink. No pressure.)
RELATED POSTS
Tags: Beans of Wisdom