Beans of Wisdom: Puppies and secret doors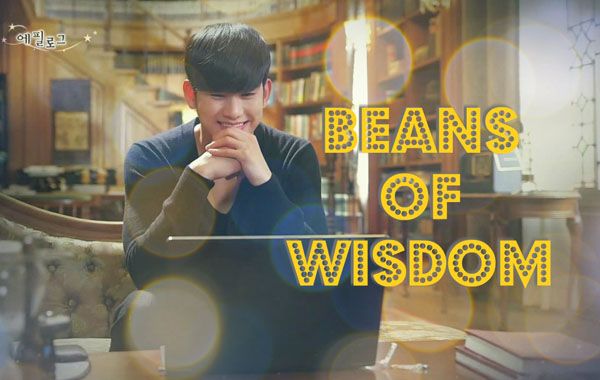 This week in Beans of Wisdom…
dangerousgoods noticed something familiar about the new trailer in "Comic book hero comes to life in W–Two Worlds," comment #9:
Absolutely loving the unintentional homage to A-ha's Take On Me music video. I wonder if these lovers will also be chased down due to their barrier breaking romance?
And right below it, drivebyknitting says the same:
Is anyone else suddenly getting flashbacks to A-ha's video for Take On Me or am I just old? Perfect looking guy from a comic coming to life and wooing a girl with some fighting thrown in? I see no difference!

Of course now I have the literal version stuck in my head.

PIPE WRENCH FIGHT!
Though Aylam has a small request:
YEAH!! I was thinking the same here!!! Oh man~ Please, don't say we're old, it sounds better if we say that we've good music culture lol
Here's a sample of "good music culture":

A makes a case for Jang Hyuk's character in "Beautiful Mind: Episode 2," comment #6:
I actually think that most of what we consider villainous is actually misunderstanding, and I love that about this show. I was especially struck with the rooftop conversation after rewatching the show, yeah the whole 'wanting to see your expression' thing can be taken at face value (hah), but I think he actually did want to see it? He collects expressions on his wall, what if he'd actually never seen it before? It also explains why he gets all up in people's personal space – he has to see their face to gauge their emotional state. He's not a particularly nice person and that works to his detriment, but I think he seems ominous because we're projecting, and that's fascinating.
While angieya is frustrated at dramaland police in comment #7.1.6.1:
But there is a black box in her car which recorded the whole "accident" but of course nobody even thought of it, urgh.
And Sylvia wants better gangsters:
Those evil henchmen driving that sketchy van must be dumb as well.
Why why why commit murder in a public street in a busy metropolitan city such as Seoul. Did they really think there won't be witnesses?

Even small-time kdrama loan sharks know to cut off fingers in abandoned warehouses and murder people by throwing them off isolated ocean cliffs.

Writer-nim, you better give me a good reason.
In "Mirror of the Witch: Episode 13" comment #13, anon2001 has had enough with a certain villain:
Why does everyone believes what Hong Joo says?!!
It's so frustrating when the only reason they are having problems is because EVERYONE believes all those outright lies she is sprouting.
It's like no one has a brain when they are around her.
To which Elle replies:
As frustrating as this is, I find this realistic. People know they shouldn't trust Hong Joo. They know they shouldn't listen to her, that she has an ulterior motive and paying attention to her is a terrible idea.

And yet, she has this way of preying on people's prejudices and fears. She manipulates the Queen Dowager's longing for her son, the King's desperation for a cure and mistrust of QD, and now Poong-yeon's despair over Yeon-hee. She knows exactly how to speak to these people, when to whisper half-truths and when to outright blackmail them. They know she's a snake, and she never denies this. But she's a snake who somehow makes sense. There are far too many people like her in real life tbh, and they're just as frighteningly effective.
Maybe Hong-joo is Kang Do-young's ancestor?
Meanwhile, some Beanies continue to be selfless in the name of art. Such as Chiisan in "Yoo Seung-ho and his image ruination for Kim Seon-dal," comment #6:
Wait, did Yoo Seungho just say he needed to experience love to sympathize with his melo character? I VOLUNTEER AS TRIBUTE!!!!!
bogoshipda shares this BTS gem in "Doctors: Episode 3" comment #14.4:
Btw, you have to check out youtube bts for the puppy alone.
And rewatch ep 1 the scene when HJ got home after the bar fight and got introduced to JH by grandma. She angrily walked past JH and closed the door. There's another innocent victim of HJ's anger… =))
https://www.youtube.com/watch?v=eT2rOrNIqGU&app=desktop
angieya also has a question about Namgoong Min in "Beautiful Gong Shim: Episode 13" comment #10.1.2:
I've been wondering about his height for quite some time. Like a lot of others in k-entertainment his agency was definitely generous about his official height (1.79m or 5'10….I think it's more likely 1.74m or 5'8)
Which Alessar answers with empirical evidence:
We can actually answer this question! In My Secret Hotel Namgoong Min came out of the bathroom wearing only a towel and Jin Yi-Han's character became super-threatened by his ripped, muscular body ("What does this guy eat, nothing but horse meat?") So, he made a point of emphasizing he was taller so the two actors stood toe to toe in bare/sock feet trying to prove each was taller. JYH was right about 2″ taller and his height is listed as 5'11 (so assume 5'10.5) so Min's almost certainly 5′ 8.5″.
Now we know what after-shower scenes are for.
Beanies have different ways of coping with the cryfest that is "Dear My Friends: Episode 13". bugs_bunny writes in comment #6:
i hear you odilettante… i make sure to watch each episode uninterrupted, coz i don't want to cry more than once in a day:( thanks for your recaps, as always!

will wait on the next recap, tissues are not enough it seems, time to grab a towel…
While business-minded WM says:
I gave up and just grab a new box of tissues every weekend before I watch the new episodes. I am seriously considering buying stock in Kimberly-Clark, the company that makes Kleenex. The actors are so good, the production (everything, even the wardrobe) is so well done, they could do an hour on the aunties brushing their teeth and it would be completely entertaining.
Oshi has some pretty but melancholic words about this episode:
Sometimes you lose little pieces of yourself every day and then grow more the next. eventually though the pieces you lose outnumber the pieces you gain. You can't stop it. All you can do is hold on to what's left until it's all gone.
But back to puppies, PollyRose writes in "Doctors: Episode 4" comment #14:
Somebody asked in the previous episode's recap what happened to the puppy. I think I found him: he has pinkish orange hair and follows Hye Jung around the hospital looking like all he wants to do is cuddle.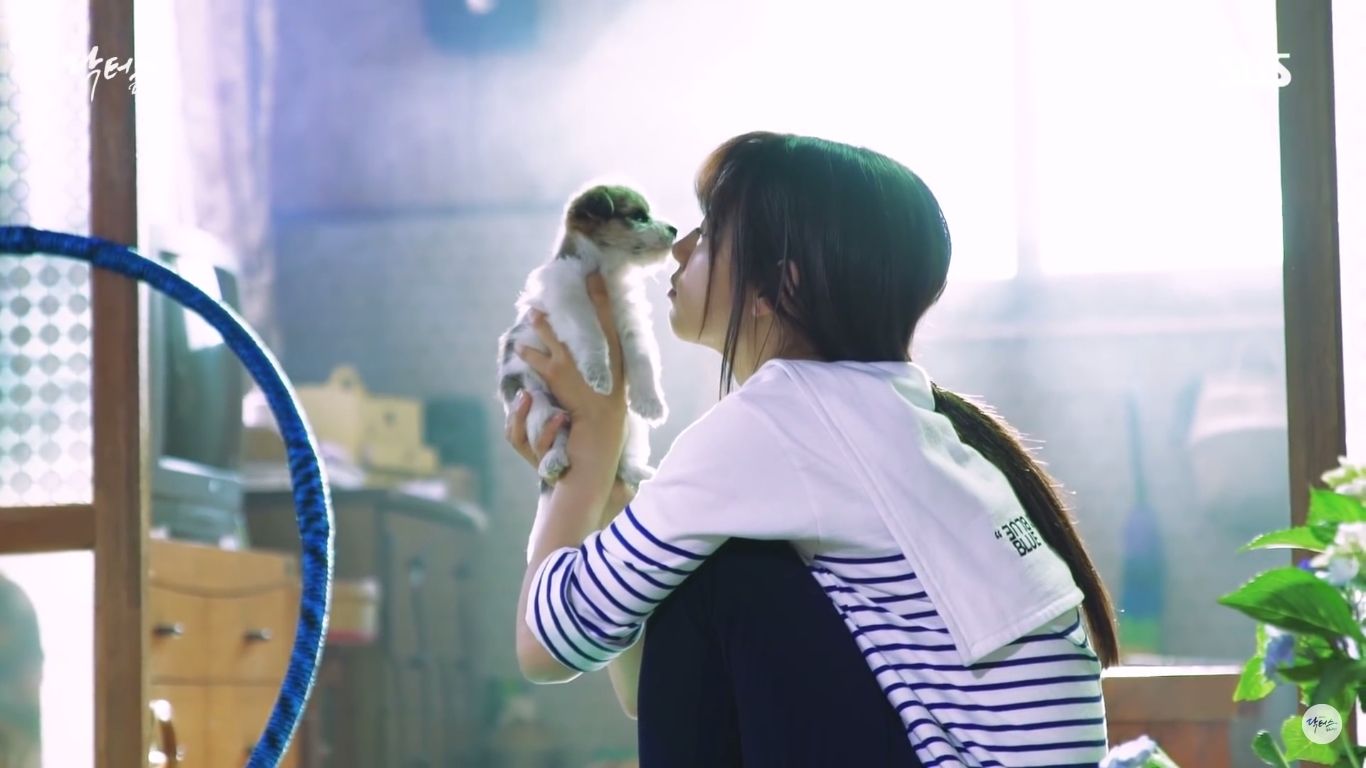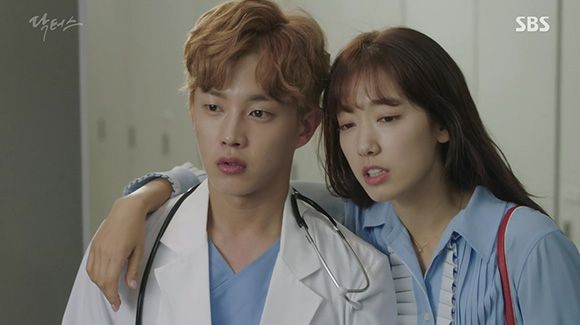 I see no difference.
Lots of beanies saying goodbye in "Oh Hae-young Again: Episode 18 (Final)" starting with Sam in comment #1:
I hate to say goodbye to this wonderful drama but after feeling satisfied with the end, I can say that I will forever remember it as one of the best kdramas I've ever come across. I've never liked Mondays coz it's always so tiring but this drama became the main reason why I'm always full of energy during the days of its air. Thank you for making me get through Mondays and TuesdaysAnother Oh Hae Young ! The love I have for you isn't 89%, it's 100%
Dede writes in comment #21:
Whenever a drama that I really love ended, I have this kind of lump in my heart. Sort of heavy feeling to move on. The feeling that you are really satisfied but sad because you want it more. But you also want it to end because the ending is so beautiful (doesn't matter if it is happy ending or sad ending) and you don't want to ruin it. This is how I feels about this drama. And other drama like Marriage Contract, 1 Litre of Tears (Japanase), Misaeng, just to name a few.
And Juntao has this to say about the polarizing nature of Oh Hae-young:
When it comes to our opinions, we are all different. These posts just prove that fact. You will get differing opinions on just about everything in life. You can pick anything, your favorite food, the best movie that you've ever seen, your favorite restaurant, etc. and there are sure to be people out there will hate it as much as you love it. And you may say to yourself, how is that possible? We are all different, that's why, and that's the beauty of it.
BigBangLover has something to say about the end of "Lucky Romance: Episode 12." In comment #14:
DIRECTOR-NIM you have committed a great crime!! Why would you close the door at the end of the episode. I had to see what they were doing mainly for research purposes…
Miranda replies:
If Bo Ra is up and interacting next episode, we'll know EXACTLY what they got up to.

(You can read the Dramabeans Commenting Policy here.)
RELATED POSTS
Tags: Beans of Wisdom