Beans of Wisdom: This post not sponsored by Subway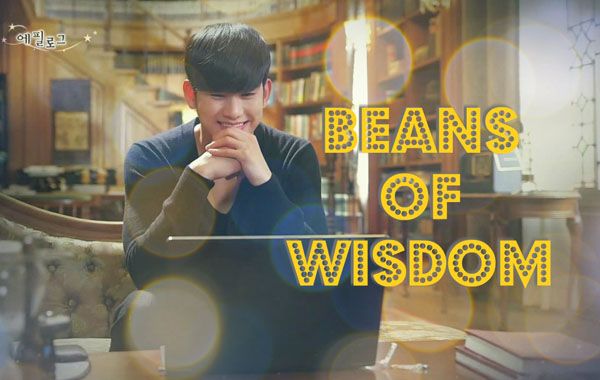 This week in Beans of Wisdom…
In "Fangirl meets her comic book hero in W–Two Worlds," Itenoria started a discussion loop in comment #2:
And that is why I love the amazingness that is stories. Right now we have a drama based on a person having to save the character her father created from her father's obsession with killing him when she doesn't even know that the actual reason her father is so insistent on killing her comic book boyfriend is because yet another writer is writing her father into a killing frenzy. Imagine if she could break the fourth wall and turn to us and be like, you all are the ones creating this mess for me aren't you? It's because of you that my father's creator is making my father want to kill his creation all so you can have a story that will keep you hooked for 8 weeks. Wait? Can we turn that into the trailer? This unending question of what universe is real and what is fake. Who knows, we just might discover that we ourselves are characters in someone else's story.
mary replied:
But who's watching us? What kind of show are WE in? Are the ratings going well? Will we get an extension?
pogo:
So we're basically The Truman Show but with fangirls?!
TaeBi:
A drama where we are all eternally in search for the one perfect drama. And of course it's doing well, what with all the dramas within dramas that the ultimate viewers (whoever they are) get to watch.
Chandler:
*GASP* So this is why I can't stop watching dramas…
Here I thought I was a drama addict, but really…I'm just being written as one?
Normally, I'd have an existential crisis at the thought of my agency being taken from me, but if this means I don't have to take responsibility for my poor decisions, I'll take it
rentenmann:
Getting cut? Does that mean we die? Then drama-watching IS good for my health afterall! YES!
There was a certain funny shower scene mentioned in last week's "Beans of Wisdom: Puppies and secret doors" so Michykdrama says in comment #5:
I know what I'm going to be googling tonight :
My secret hotel
Namgoong Min
Towel 😛
siwonnie27 comes to the rescue with:
Here is the shower scene

See? Life is better if we share.
Peach has a complaint in "Wanted: Episode 4" comment #2:
This show needs to be a little more subtle with it's musical cues. I've already gotten that Manager Kwon is a sketchy dude by seeing his sketchy behavior. I don't need super_suspicious.mp4 playing everytime he appears on screen.
While rubytuesday has a different problem in comment #6 of "Meet the imperial prince lineup in Moon Lovers: Scarlet Heart: Goryeo posters."
So here's expecting second lead syndrome. And third lead syndrome. And fourth lead syndrome. And fifth lead syndrome…
Sylvia says in comment #12.1.2 of "Doctors: Episode 5":
In my fantasy world, when things get too angsty and painful for the second lead, Yoon Do will simply shuffle back a step and go "Things look quite complicated here. I don't want to get involved, so I'm going to leave." And find a better job elsewhere with less shifty hospital politics and a girl who doesn't have 124820498309 guys chasing after her.
For the sake of accuracy, Chiisan lists it down for us:
Lol at "a girl who doesn't have 124820498309 guys chasing after her" xD
I'm gonna do some math with all the guys who openly and secretly have had an interest in Hyejung:

Hong Hong Hong
Yoondo
Jisoo da Puppy
Kangsoo da New Puppy
Yoondo's uncle
Tall and cute Gangster Boss
Thank you, math beanies!
In comment #23 of "Doctors: Episode 5," Am says:
I don't know where the drama is going with Jihong's confessions. The fact that everything is happening so fast in the romance department makes me wary of what is to come..

This hurry to have them be in love makes me sad because it doesn't give me the time to really invest and care in their romantic relationship. Kim Raewon and Park Shinhye have great chemistry and I like their characters' interactions…but where's the build up? Hyejung and Jihong have not seen each other in 13 years. There needs to be a period of re-acquaintance or else their primarily dynamic will always be student/teacher because they never took the time to redefine it.

I guess I was hoping we would see them establish a colleague relationship before jumping into the romance. I want to see an evolution, some growth, something like a journey…Please no more fast forwarding.
To which Chandler replies:
+100

It's like they have some really great ingredients, but decided to serve dinner before the appetizer. And because I'm spending so much time thinking about the appetizer I didn't get, I don't fully enjoy my dinner even though it's pretty delicious. And then that's taken away before I'm finished and I'm already eating dessert?! Ultimately, I end up leaving feeling hungry…

I probably went too far with that analogy, but it really describes how I feel about the romance here.
eli_anne reacts to yet another drama doctor in "Han Seok-kyu offered SBS drama Romantic Doctor Teacher Kim" comment #6:
"Romantic Doctor Teacher Kim"

Eh isn't SBS already airing that right now?

Romantic Doctor Teacher Kim (Rae Won)
In this week's cryfest aka "Dear My Friends: Episode 15," WM writes in comment #12:
If crying releases toxins, I was as clean as a mountain spring by the end of this episode. It was so, so, so good, and then the crack of my heart at the end when [SPOILER REDACTED] before racing to find out about her mom. Oh, show, you've undone me again!
Meanwhile, in "Doctors: Episode 6", Am worries in comment #12:
I hope Doctors are immune to rain because that stuff is deadly
michykdrama reassures us with:
Lol! Pneumonia for all?
Nah… its only when there is noble idiocy involved and forced separation… then one will be caught in the deadly rain and then faint/fall terribly ill and have to be nursed back to health by the other person… cue intense looks of longing and emotional pining…
Haha replies:
Only in k-dramaland you mean ??? in real life people don't get sick from getting wet in the rain. Since this is a medical drama it should be realistic at least on this front. We don't get a flu from rain, but we do get it from viruses passed on from another infected person lol
Chriser explains further:
That is true virus are the main cause of illnesses. Short wetness won't make you ill. Most rainfalls tends to be significantly colder than 98.6 degrees. When the body is exposed to too much coldness, blood flow tends to be slow. When the blood slows down, other body functions will slow down too including immune system. If the immune system slows down, the body cannot fight any potential illnesses. This is why warming up after a thorough drench is important. Another thing is if foreign particles get into the lungs, it can turn into pneumonia. If you're exposed to rain for too long, it is high probability the person can inhale the rain. If you inhale rain in highly polluted area like Seoul or L.A., there is a chance you inhaled bad bacteria or airborne viruses that got caught in the water. Not saying these are major causes of illnesses from rain just some probable ones.
While Sue says:
Lol! I've always said the same thing. In Korea you don't get wet in the rain because within hours you develop an incapacitating fever that prevents you from taking care of yourself. Of course, in Korea people go to the hospital for the smallest things, but incapacitating fevers must be taken care of by romantic leads, that provide bags of medicine and lovingly wipe foreheads with wet towels. Of course, in this case the doctors must be immune, because if they aren't they'll both faint and nobody will be able to take care of them.
In "Open Thread #455" comment #48, Helenya is worried about something else:
I have spent the week binge watching Kdramas and it's now at the point where EVERY time I see a road in the shot my heart starts racing. If I am ever blessed with a trip to Korea I am not walking on any of roads there… just saying…
In "Beautiful Gong Shim: Episode 15" comment #13, nasalhazel observes:
For someone whose appendix burst (or whatever that was), Gong Shim is sure looking lively and active post-op. Glad to know a fully loaded Subway sub is totally OK as a first meal after surgery.
While phuong in comment #1 of "Doctors: Episode 6" notes:
subway product placement in dramas is getting out of hand lmao i've lodt count of how many times i've seen it like when seo woo said "i brought sandwiches" i was like "haha she's not going bring out subway right" AND SHE DID
To which Am replies:
Subway help produce like 90% of dramas. When I see their passive advertisements, I don't know whether I should be annoyed or grateful lol
Miranda says:
It's not stress causing Gong Shim's bald spot – a steady diet of tuna salad Subways have been causing her hair to fall out.
While ZappyR admits to succumbing to our Sandwich Overlords:
It works though

I actually went out and drove one time just to go get Subway because the darn drama I was watching kept showing it.

Sigh. If only all the products are that affordable.

I would love to have that fridge from Lucky Romance.
angieya has a solution:
I think the only way to escape the Subway virus nowadays is to watch sageuks (but only those who don't have time traveling lol).
An illusion Miranda shatters:
All the sword scabbards also contain footlong sandwiches.
ZappyR:
Imagine of Hong Joo's black magic suddenly conjured a Subway tuna sandwich? And Poong Yeon reheats it with his fire power? And they use Yo Gwang gigantic sword to cut it in half to give to Jun and Yeon Hui?

I'll probably stop watching kdramas for a while.
Miranda has more to say in the same thread:
We've reached an important point in Subway product placement, I feel. For years, it's lurked in the background – sometimes subtly, sometimes absurdly prominently, but always there, watching. Waiting.

Waiting to lull the audience into a sense of complacency so it could seize its chance and straight-up murder a woman.

Is it dramatic to think that a Subway sandwich deliberately caused the death of one of society's most vulnerable, a recovering brain surgery patient? Perhaps. But I think we would all do well to take this for what it is: a warning.

Subway has killed. And it will kill again.
Also this:
I am starting a rumor right now: the kidnapper in "Wanted" is a Subway Veggie Delight footlong.
Snowy, defender of Innocent Sandwiches replies:
Huh? The ajumma didn't take a bite.
If there's a lesson to be learned here, it is to eat Subway or else you will die!
To which Miranda has a ready answer:
Nope, it's like black magic – Subway carries a dark aura. That poor woman's system was weakened by lack of food and when the sandwich approached, her entire body seized in panic and horror.

…can you imagine someone giving you a Subway sandwich after you hadn't eaten in days? "Here, I've brought you some processed meats between some highly seasoned sponges. Enjoy." Only an enemy with blackness in their heart would do such a thing. Also, Seo Woo.
If you're tired of Subway PPLs, the Dramabeans Commenting Policy is 100% sandwich-free.
RELATED POSTS
Tags: Beans of Wisdom