Age of Youth: Episode 10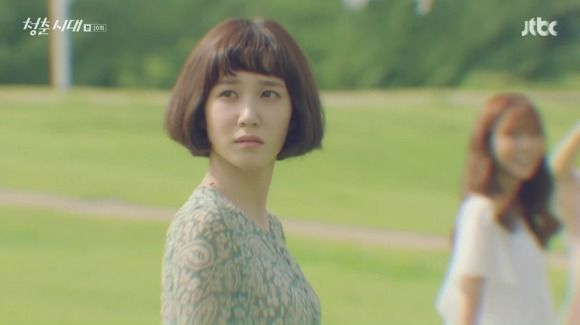 Unique and lively Ji-won may not have a ghost hanging over her head like the rest of the Belle Epoque girls, but she still plays a very important role in the house—much bigger than just that crazy friend everyone has fun with. She could very well hold the group together. I was worried when the show didn't give Ji-won her own episode to explain whatever past she might have, but now I see that the show was simply waiting until now to start unraveling her secret.

EPISODE 10: "We believe because we want to #lie"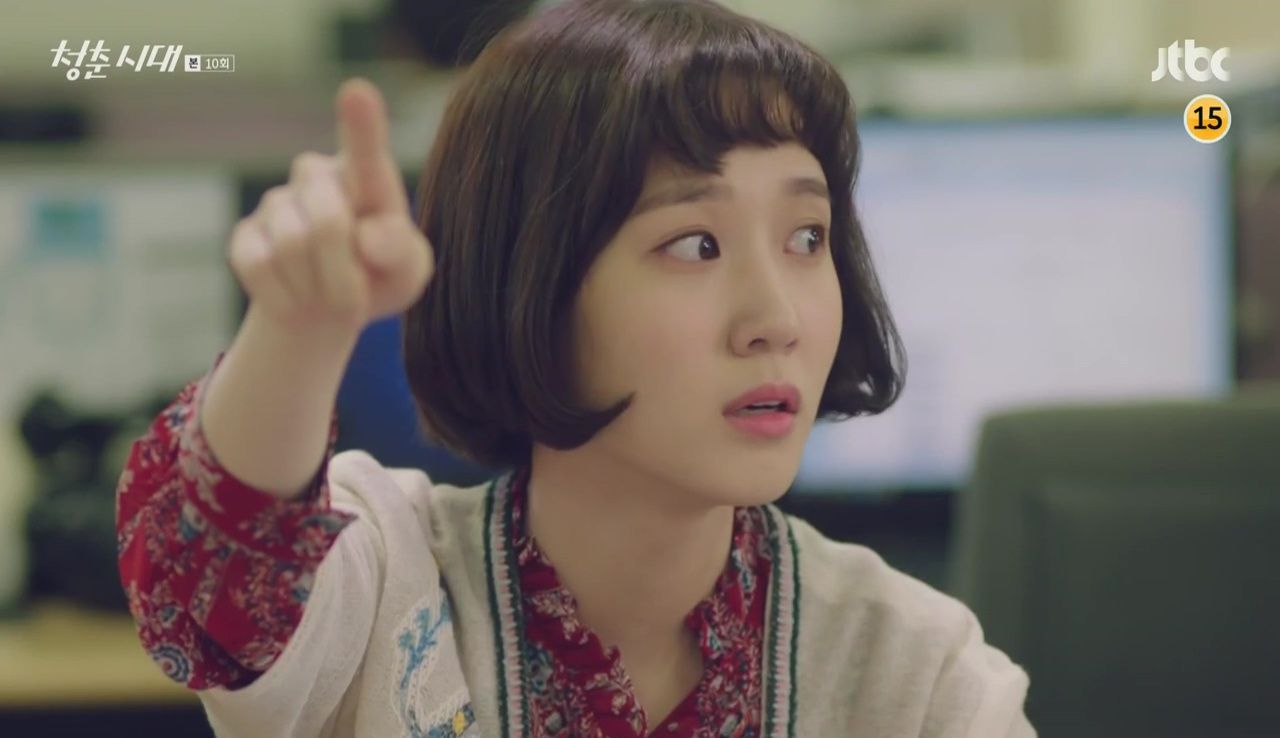 At a school newspaper meeting, Ji-won fidgets in her seat and then admits that she can see ghosts. She points one out right above their heads. Uh, why are you bringing this up here?
Everyone just waves it off, while some even play along, asking if the ghost is attractive. Ji-won thinks that this is exactly how people should react. So she wonders why her housemates had asked such serious questions when she told them there was a ghost in the house. The fact that they overreacted has her going crazy.
After the meeting, Sung-min asks her why she lied then.
*blinks* What.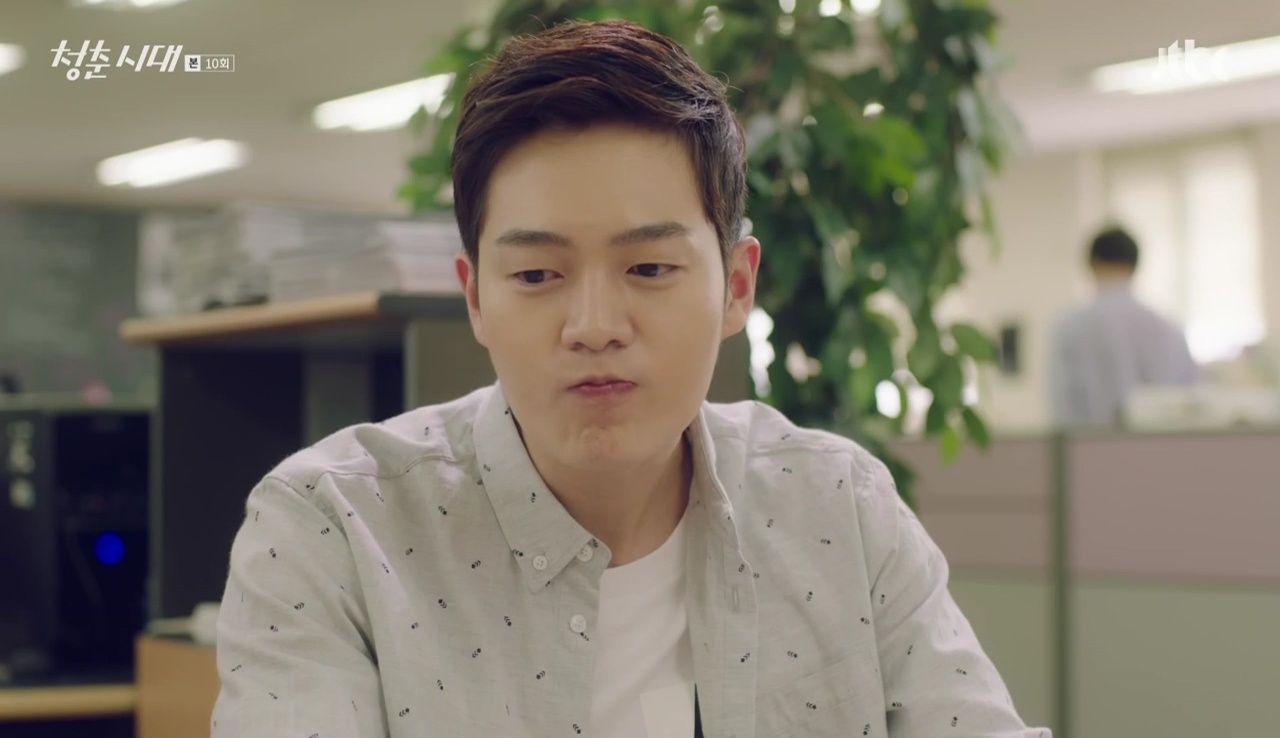 SONG JI-WON, YOU LIED?
Ji-won drops her head on the table, saying it was just a white lie—a joke as a way to bring some tension into their lives. But now the lie's gone so far that she doesn't know what to do. She sighs, and then she hears that high-pitched noise from before.
Ji-won walks into the house like a little kid about to be scolded and finds the girls (minus Jin-myung) busy doing their own things. In her head, Ji-won tries to figure out the best way to come clean, crossing off begging for mercy and treating it like no big deal. She decides to go for a mix of both options. She takes her sweet time bringing the subject up, and just as she's about to mention the ghost, Eun-jae cries out from her room.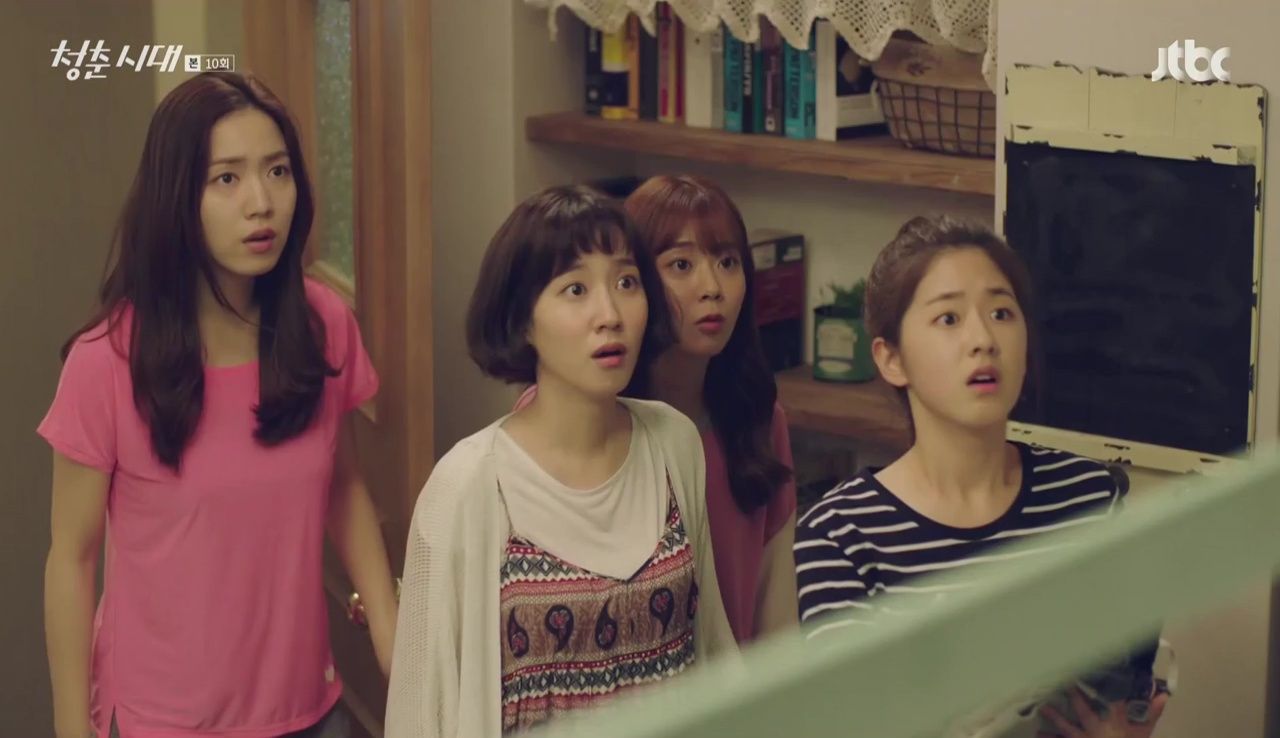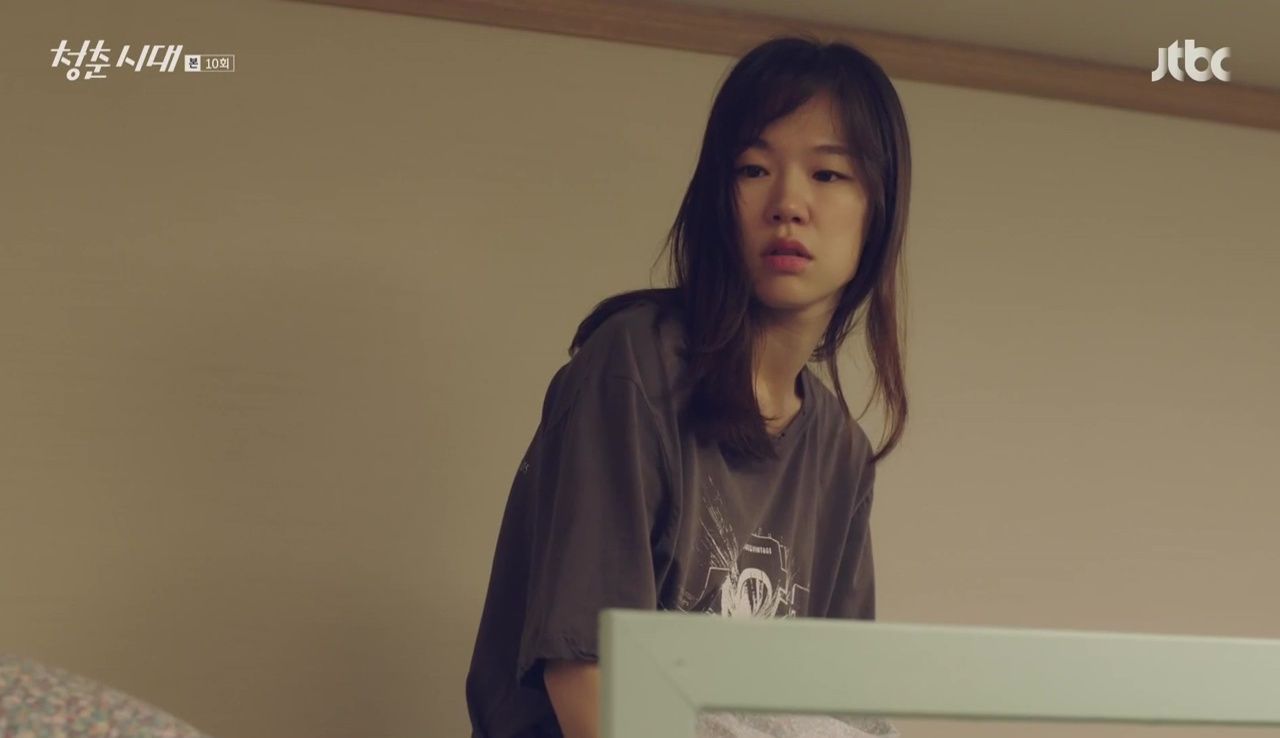 The girls come rushing into the room and their jaws drop along with Eun-jae's. It's past 10 p.m. and Jin-myung is still in bed. They get Jin-myung out of bed and out the door for her convenience store job, but she doesn't even seem to care anymore if she's late or not. Once she's gone, the girls all hit themselves on the head for getting Jin-myung's hopes up for the company position. But they're sure Jin-myung will overcome this. "Because she's Yoon Sunbae," they all agree.
Only, Jin-myung doesn't seem like her usual self at all. She's stuck in a daze throughout her whole shift, barely touching her homework. The next day at school, she comes across a group of classmates congratulating one of her juniors – the other girl from Jin-myung's interview. Jin-myung congratulates her too, though her smile fades when the girl leaves. Jin-myung turns her attention to a few posters mentioning other job opportunities, including working abroad.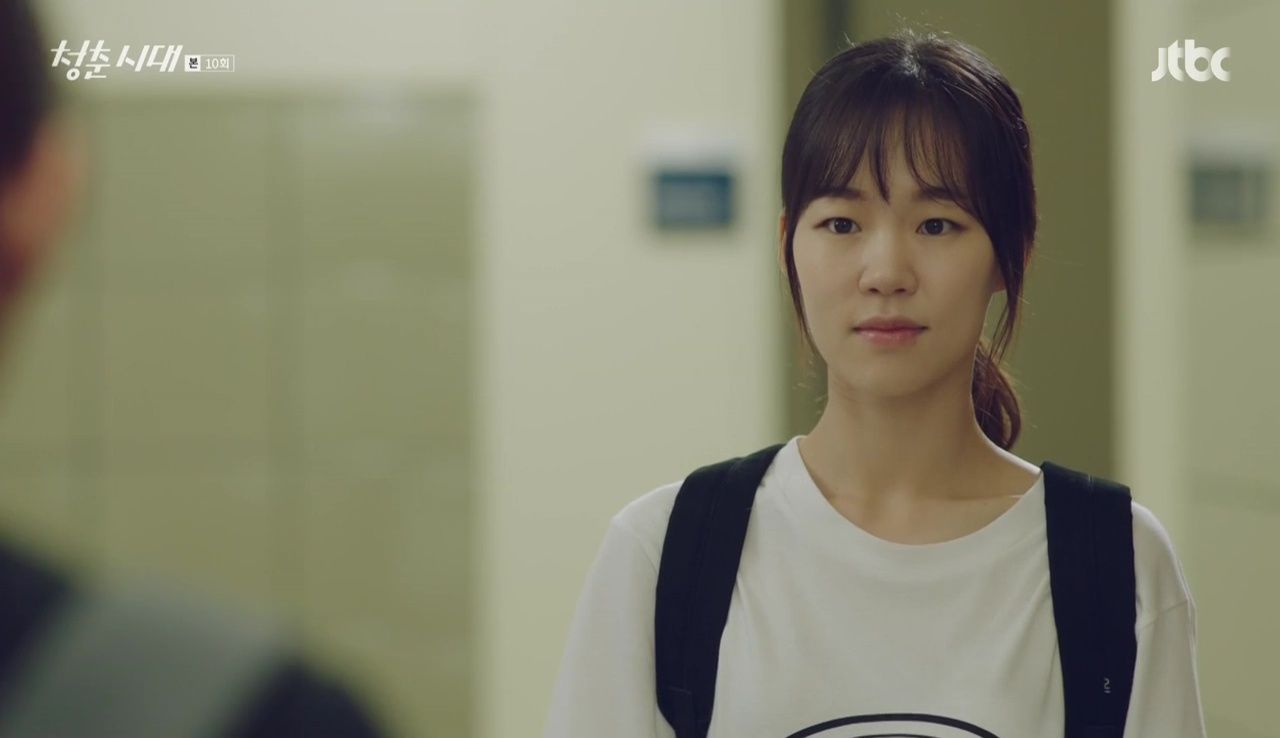 Eun-jae meets up with her aunt on her father's side for lunch. Well-aware of the visit from the insurance investigator, her aunt is also curious about how Eun-jae's dad got into an accident when he was supposedly a good driver. There was an accident before that too, a fire in which Eun-jae's mom got hurt. Her aunt says she wants to re-investigate the dad's case, and Eun-jae gets that scared look on her face.
Also having lunch, Ji-won tells Sung-min she doesn't need to tell the girls the truth. She believes there are certain lies that can just flow on and eventually disappear. Then she hears the high-pitched noise again. Shaking it off, she points to Sung-min's book (Big Little Lies by Liane Moriarty) and asks what happens because of the small lie.
"Someone dies," he says simply.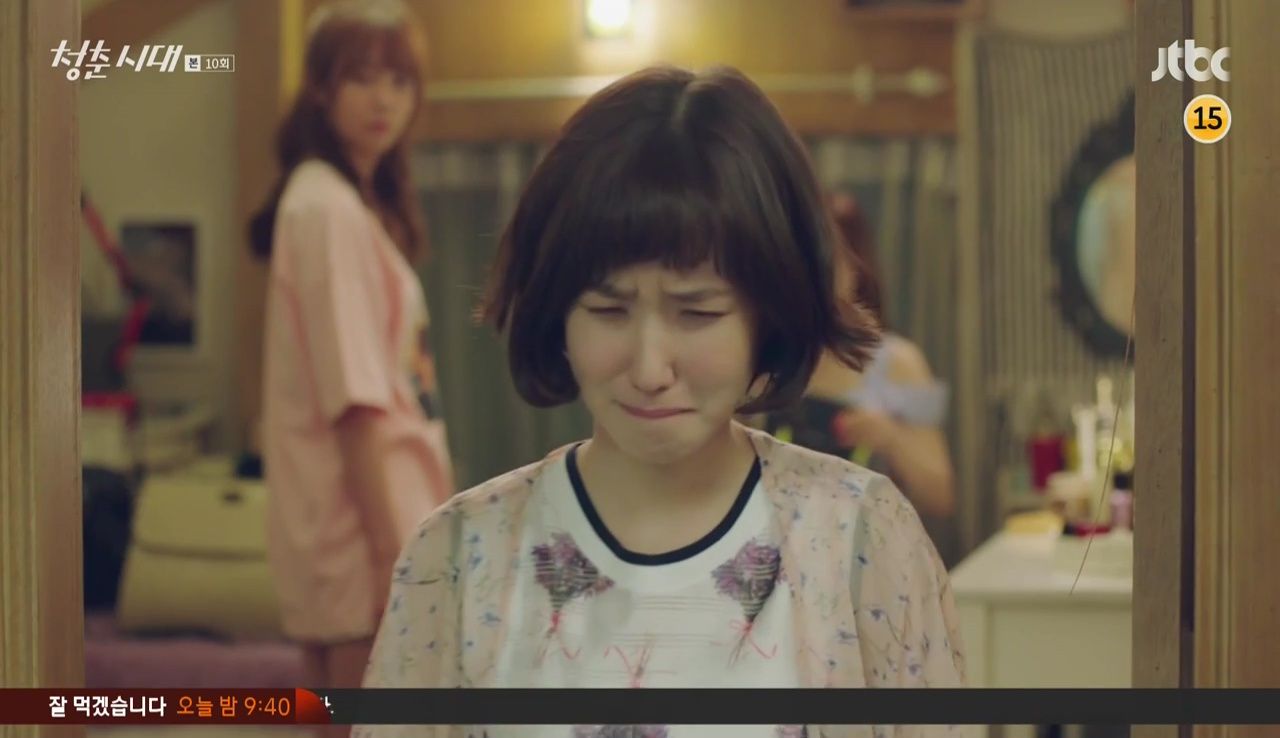 If that doesn't give Ji-won enough stress, she gets even more when she and Ye-eun find Yi-na packing up all of her luxurious bags and shoes, hoping to sell them. Ji-won starts to ask if Yi-na's sudden change of heart is because of the ghost, but chickens out and says never mind.
Yi-na brings all her stuff to a store with the help of Dong-joo. Lol, it takes Dong-joo several trips to bring all the handbags and shoes in, but he's a good sport about it. Yi-na spots the pair of black heels she'd wanted to give Jin-myung and snatches them off the counter, insisting she'll keep them.
Dong-joo gives her a ride back, and he seems somewhat peeved as Yi-na counts her huge wad of cash. When he drops her off, Yi-na tells her to call him, which surprises him. Aw, were you worried she'd want to get rid of you too? He smiles faintly as he watches her leave.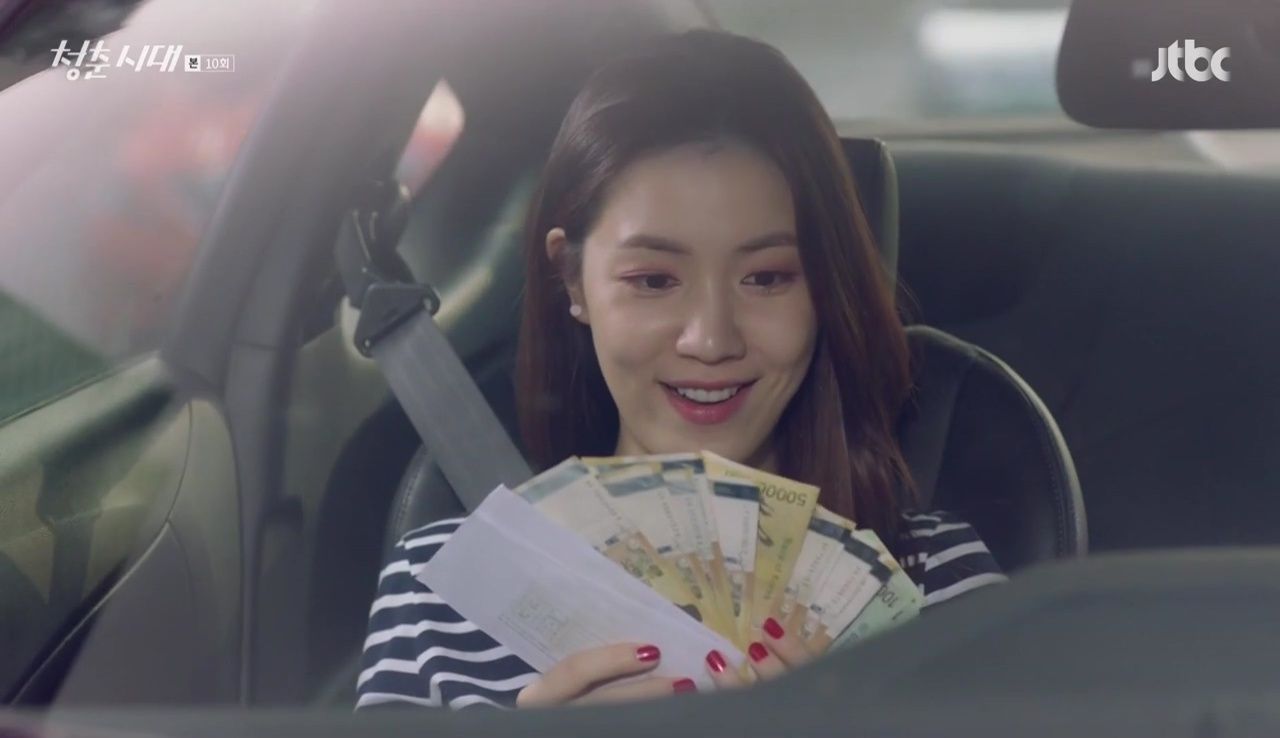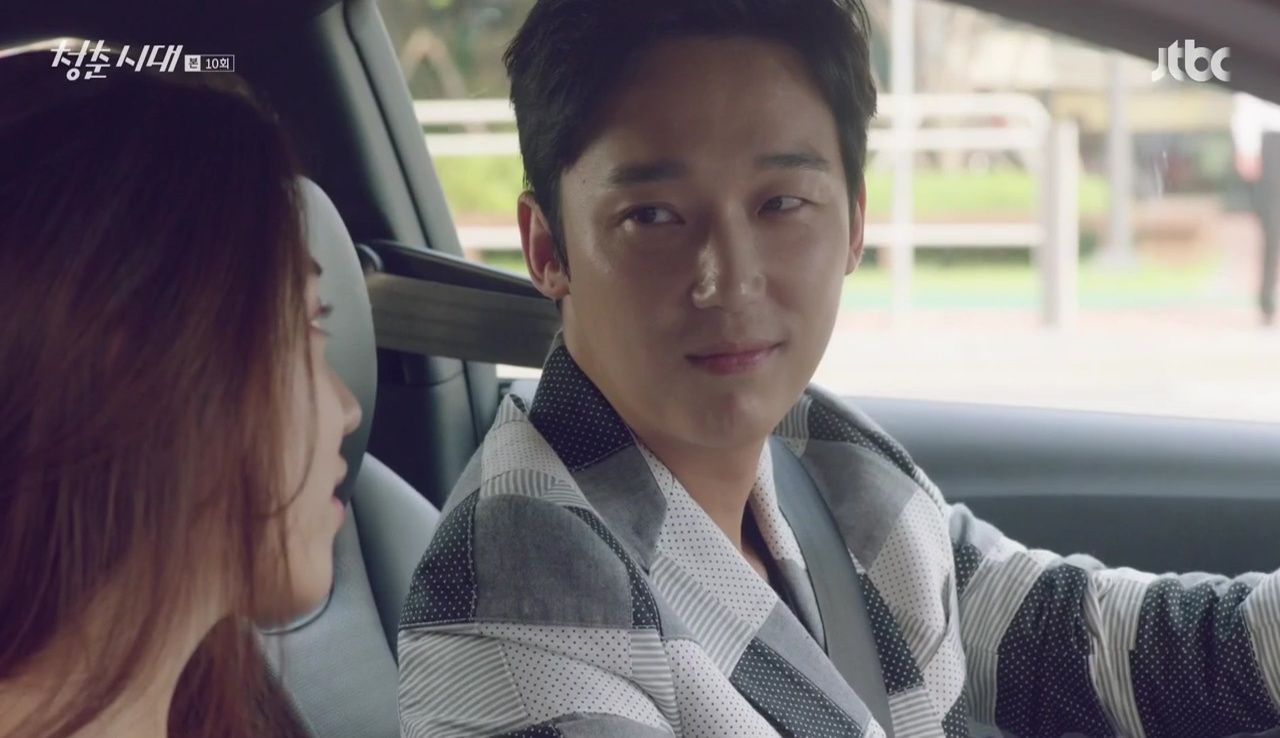 At home, Yi-na sees that Jin-myung is still out of it. Yi-na hands over the black heels and tells Jin-myung to wear them for her next interview since Jin-myung's old shoes might've cost her the last position.
Jin-myung stares at the heels, wondering if it was really because of her shoes. In a worn-out voice, Jin-myung tells Yi-na that a girl in her major ended up getting the position. The girl was in the same, if not worse, financial situation as Jin-myung, and the girl's shoes probably weren't any better.
"It was my fault," Jin-myung concludes. More than the qualifications or connections, Jin-myung thinks she just needs to be a little better. But she doesn't know how to do that.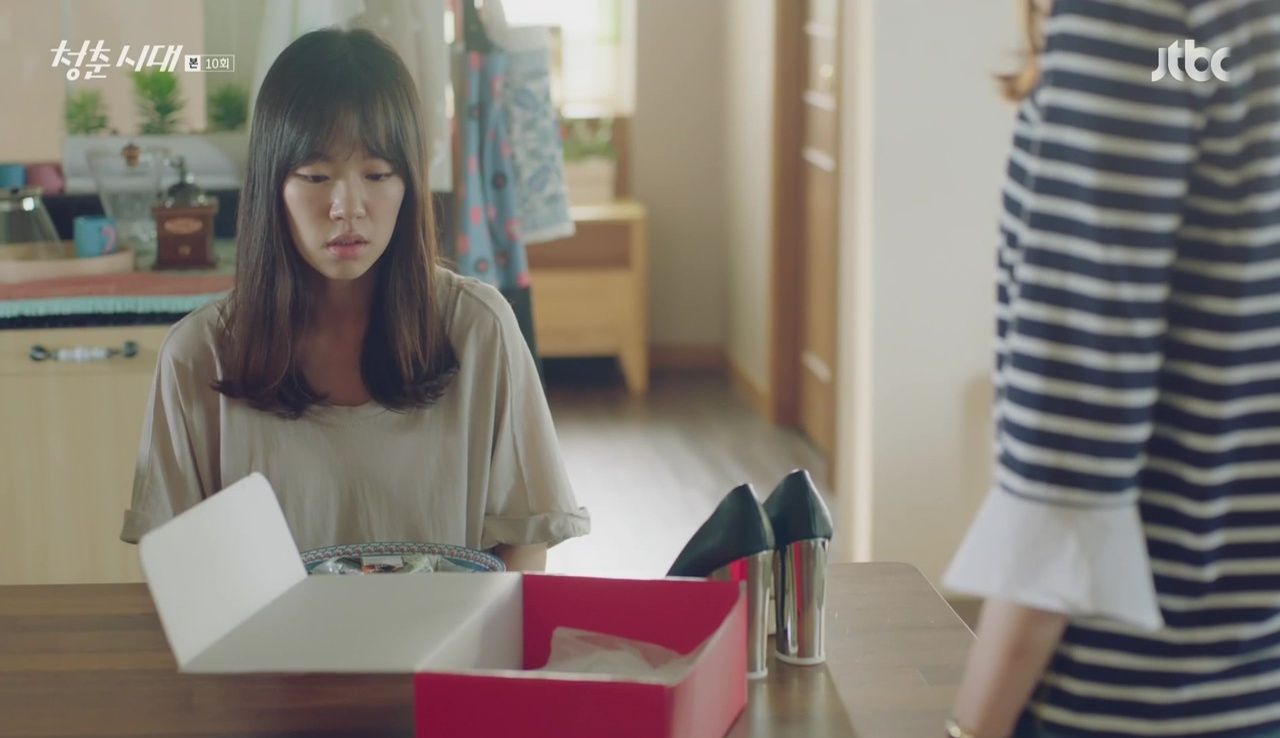 Yi-na wants Jin-myung to take the heels anyway, saying it's a present because Yi-na feels grateful, though she doesn't tell Jin-myung why. Later, Yi-na finds the shoes back at her door, but instead of taking them back, she just places them on the shoe rack.
Ji-won comes trudging out of room after having a nightmare of getting sent to hell. Ye-eun says she always has nightmares of retaking the college entrance exam, and Eun-jae says she always dreams of a dog chasing her as a young girl. Ye-eun points out that her dad comes to rescue her at the end, so wouldn't it be a happy ending? Eun-jae doesn't seem to think so…
"Attention!" Ji-won interrupts. Ji-won needs to make this announcement so she can have some peace of mind. She starts to bring up the ghost, but the sound of the doorbell cuts her off. Eun-jae opens the door and is greeted by her wailing mother.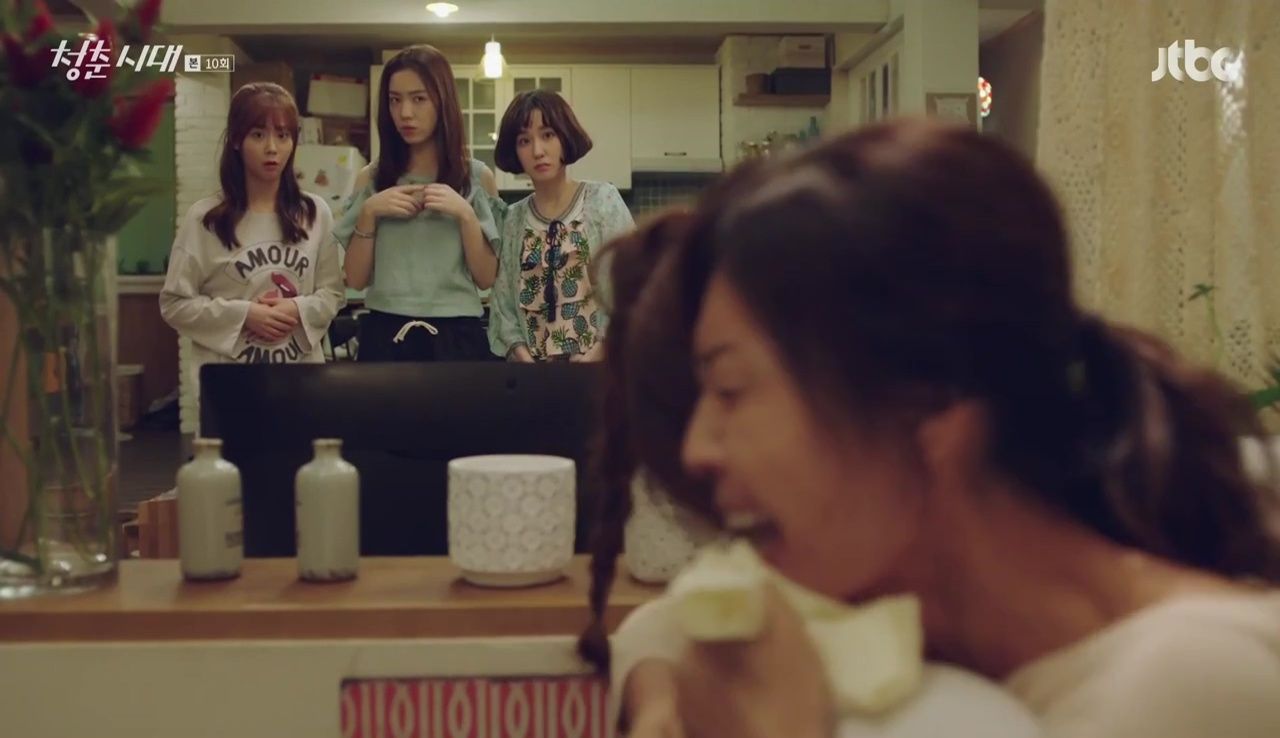 Eun-jae brings her mom to her room to see what's going on. Mom tells her through angry tears that the insurance investigators ruined everything. What makes Mom even more hurt is that Stepdad had asked if she was hiding anything from him. "He thinks I'm someone who would kill their husband!" Mom cries. She's decided that she can't live with a man who doubts her like that.
Welp, looks like Mom is spending the night. Which means Jin-myung will have to crash in Yi-na's room. Eun-jae lets Jin-myung know about the situation via text and Jin-myung replies with a mere "Okay." Jin-myung comes back late at night and takes a seat on the couch, lost in thought. Inside her room, Yi-na makes sure there's enough space on the bed for Jin-myung, but Jin-myung never comes in.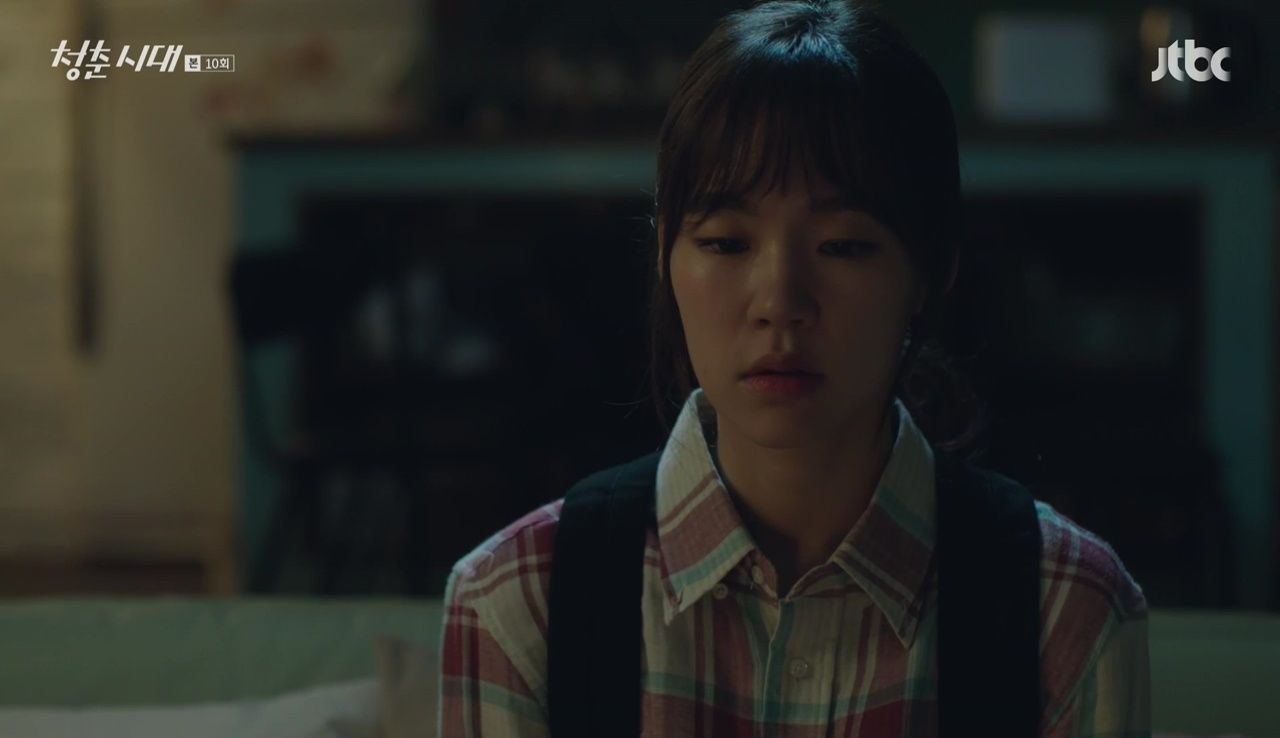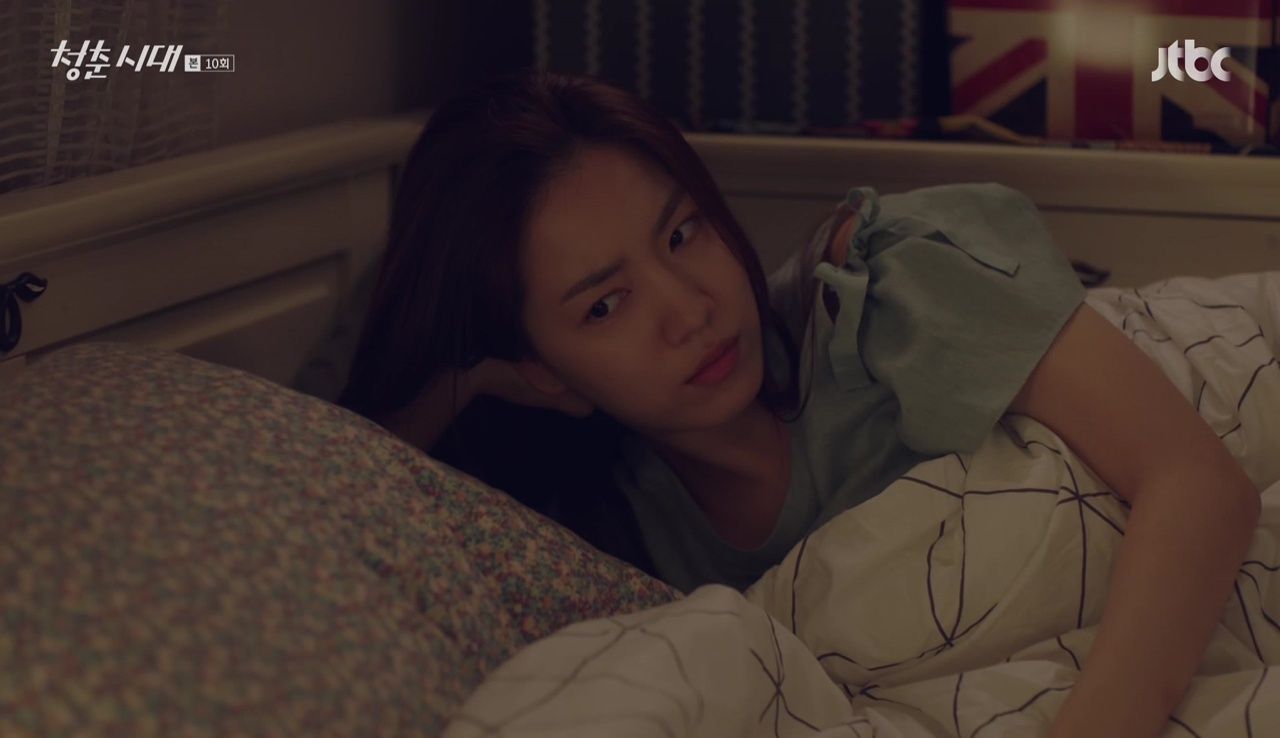 In the morning, Yi-na finds Jin-myung fast asleep on the couch, her backpack still on. The other girls come yawning out of their rooms, so Yi-na quickly hushes them and motions towards Jin-myung. They all try to maneuver around quietly when Eun-jae's mom bursts in and bids them good morning in a loud, cheerful voice.
Eun-jae pushes her mom into her room, but Jin-myung's already awake. Jin-myung looks around in a daze, but listens when Ye-eun suggests she sleep more. Jin-myung borrows Yi-na's room for a while, and wakes up when she hears a delivery man drop something off. She goes out and is greeted by Eun-jae's mother, who tells her someone named Yoon Soo-myung received certified mail. Jin-myung initially tenses, but replies that the letter is hers.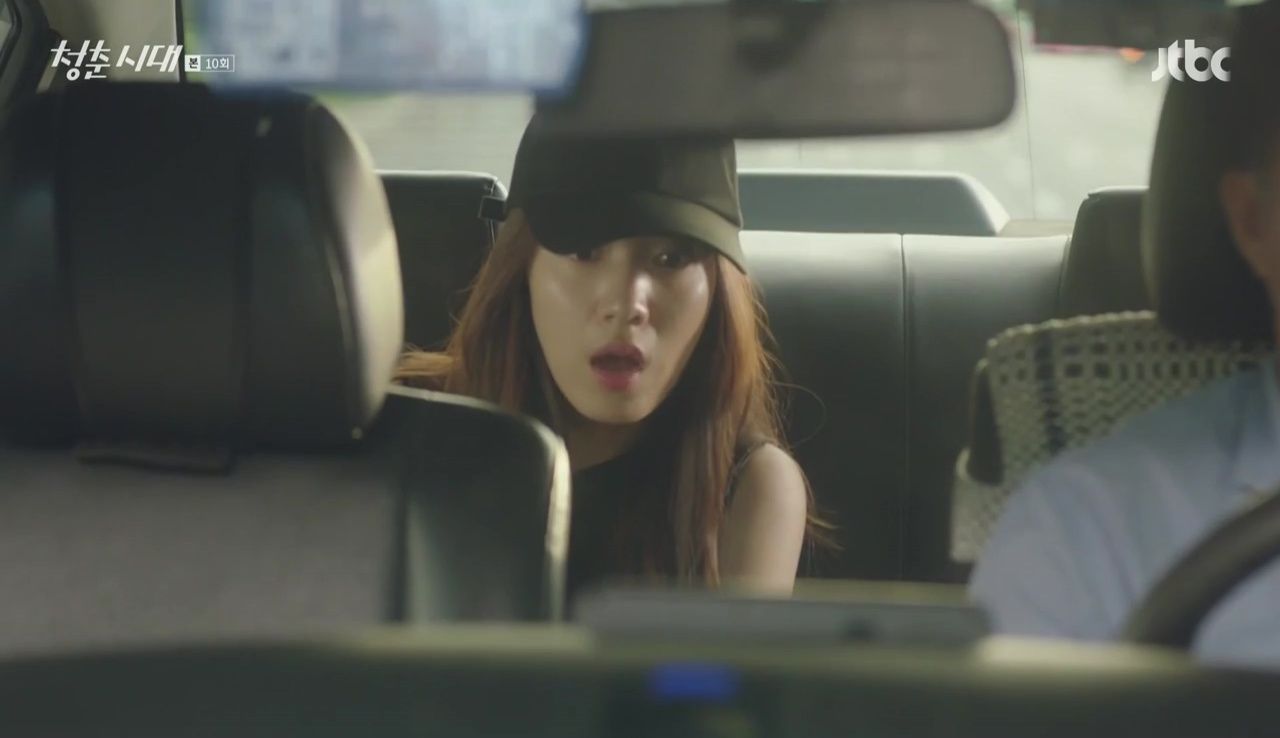 Yi-na gets a job at a clothing store (after lying she took time off after school because she was "sick") and tries to leave in a taxi. She gasps at the taximeter and has the driver drop her off at once. She sighs that that short ride cost her what would be two hours of pay. So she opts for the subway instead, though it's obvious she has no idea what she's doing.
Ye-eun and her friends play around with an online dating app, and Ye-eun muses who her ideal type might be. She happily describes her perfect man, only to realize her descriptions match up to Doo-young.
Ye-eun assures her friends she's over Doo-young, when she spots him on the street, looking like he's waiting for someone. For Ye-eun? She pretends not to see him until she's right in front of him and acts happy to be seeing him after such a long time.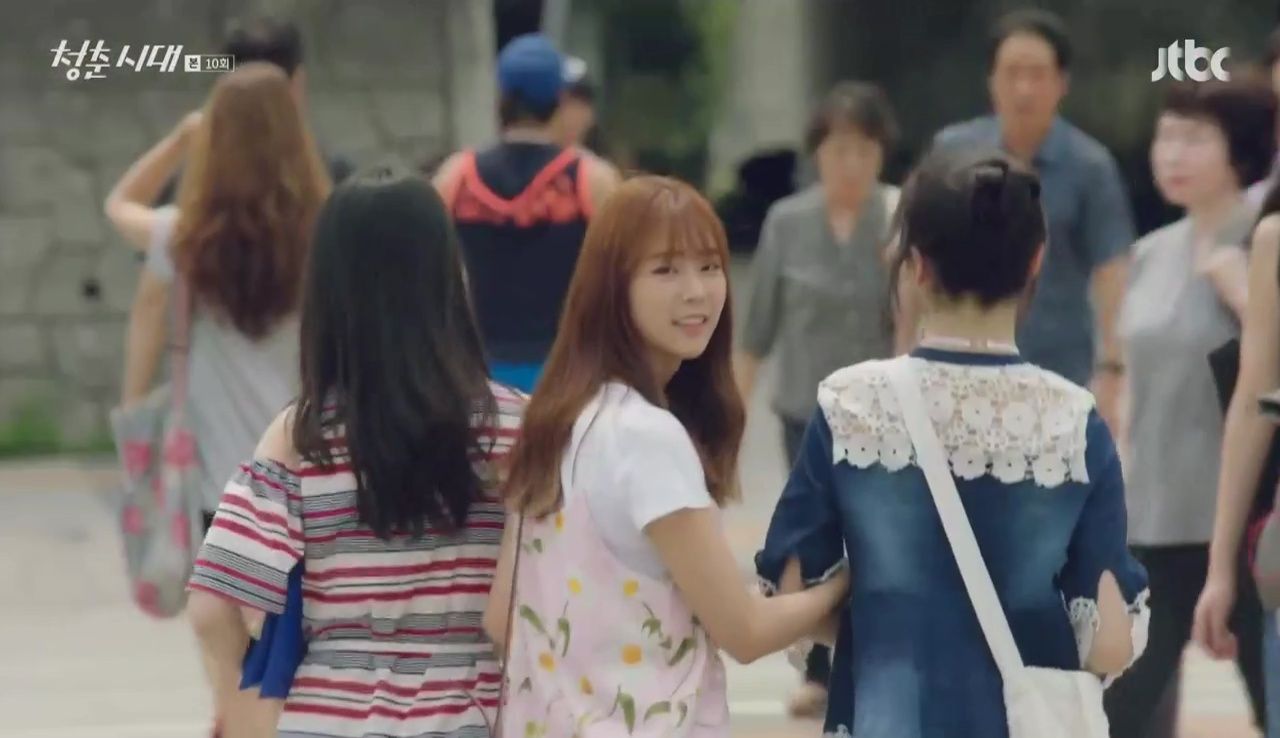 Doo-young starts to ask if she's had lunch yet, but Ye-eun cuts him off and runs along with her friends, laughing about what they should eat. She laughs all the way down the street and then sinks to the ground once Doo-young's out of view. Her friends tell her she handled it well and she looks up at them with hopeful eyes. "Really? I was so nervous, I thought I'd die," Ye-eun says.
Eun-jae gets a call from her stepdad in class and gets up to leave, running into Jong-yeol in the hall. He asks if she's not attending class, and she just says that something came up. He doesn't ask any further and lets her leave. Man, I miss them being cute and happy.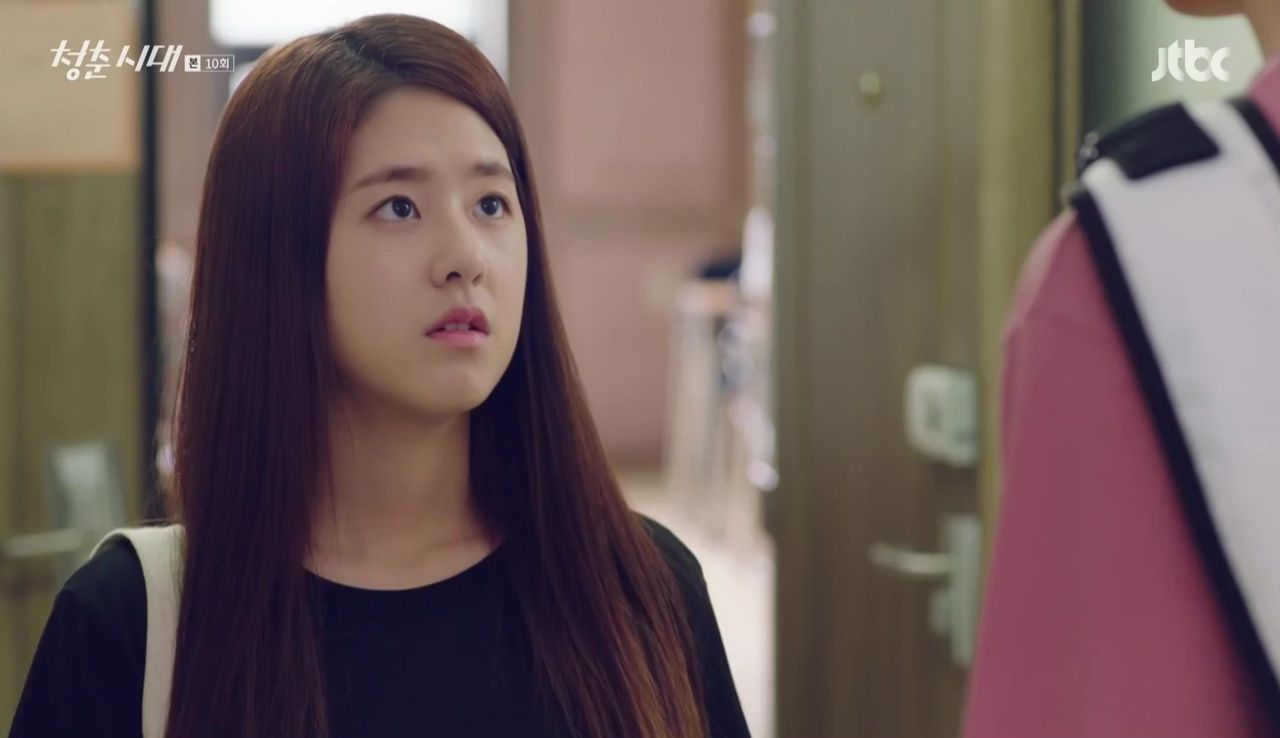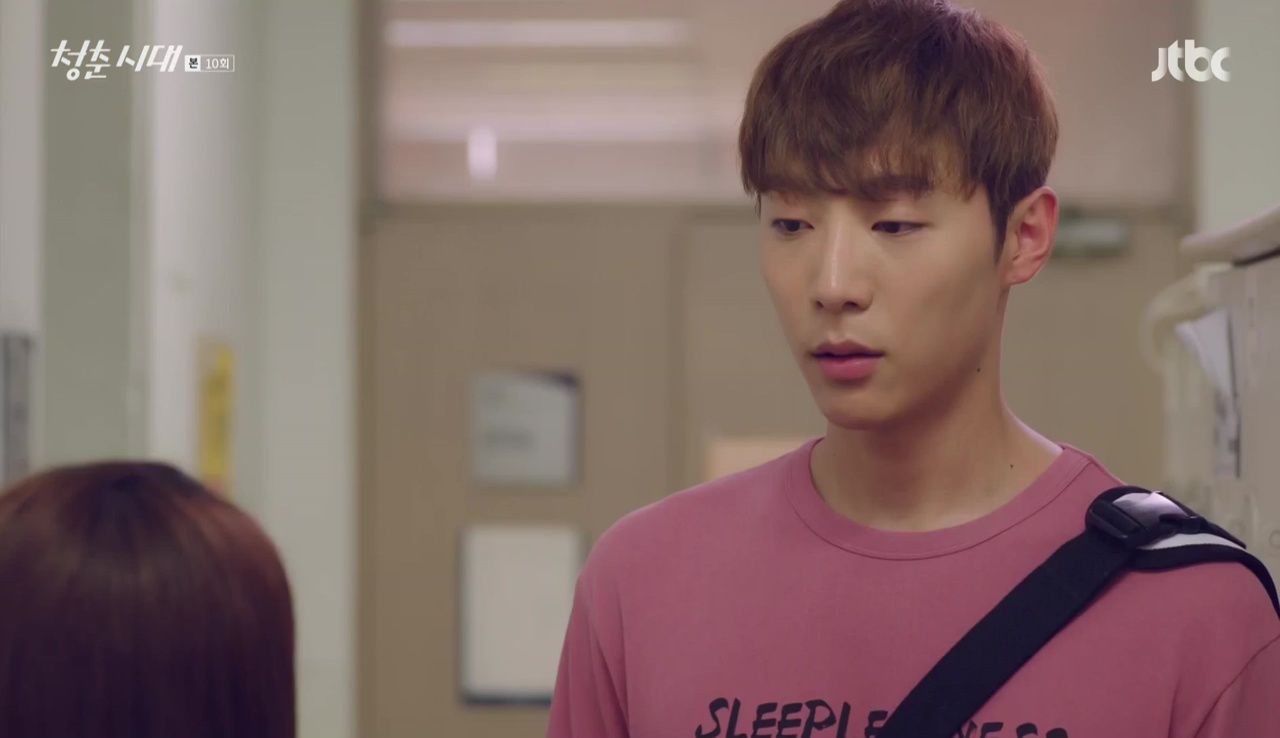 On her way to the hospital, Jin-myung catches the loan sharks harassing her mom, but she just walks away from the scene. She waits until Mom goes up to her brother's room and then gives her the letter—a military draft notice.
"You didn't apply for disability benefits?" Jin-myung asks. Her back to Jin-myung, Mom says it's because Jin-myung's brother could wake up anytime, whether it be tomorrow or the day after that.
Jin-myung lowers her head and says she understands before adding, "You wanted to believe, right? Not because you had reasons to believe, but because you wanted to believe." Jin-myung looks up and asks if her mom knows that that kind of hope usually only brings misfortune.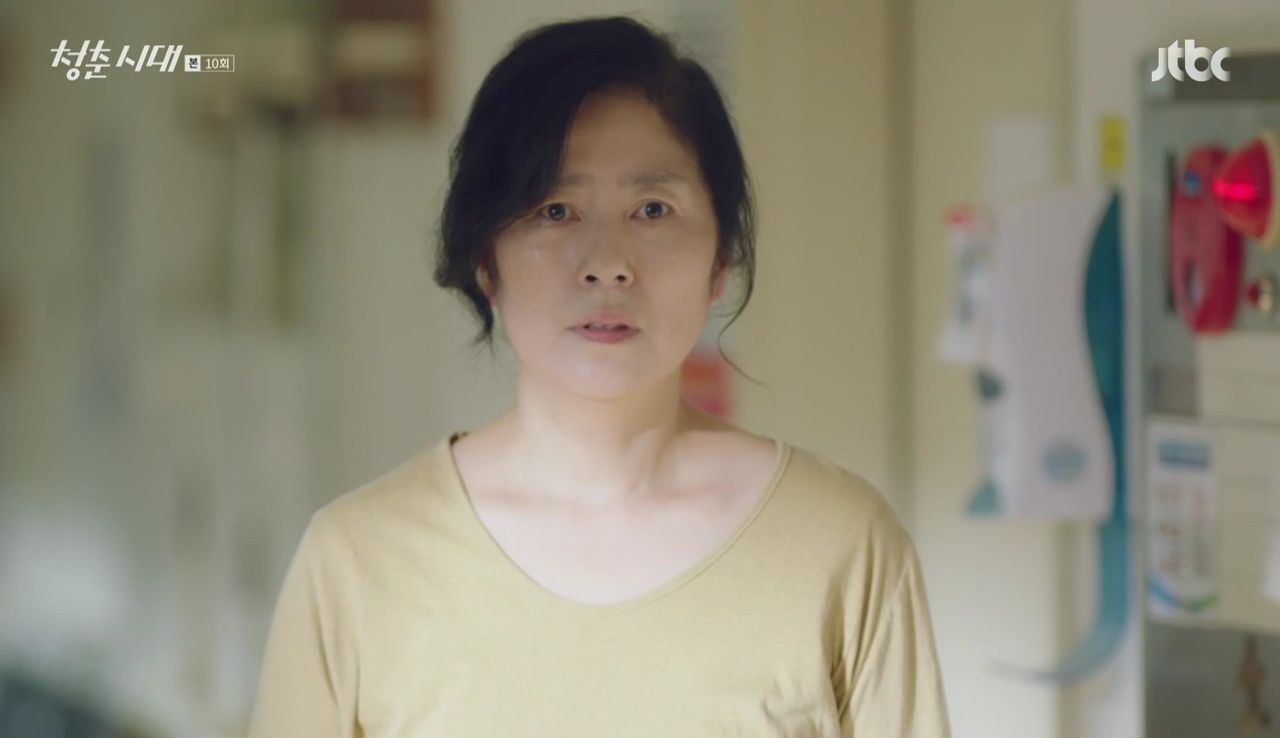 Mom stops at those words and finally looks away from her son just as Jin-myung walks out. Mom rushes out of the room and calls out, "Jin-myung-ah!" Jin-myung slowly turns around and Mom shakes her head, looking nervous. Jin-myung doesn't say a word and keeps on walking. Unni, you're scaring me…
Outside, Jin-myung walks by some young boys playing soccer. She watches their high energy and flashes back to her lifeless brother stuck in his hospital bed.
Jin-myung goes straight to the restaurant, and though the petty waitress informs her the whole wine ordeal was a mistake and that the other staff will stand by her (aw), Jin-myung marches up to the manager and quits. It takes the manager off guard, but after seeing there's no changing Jin-myung's mind, he agrees to let her go.
Jae-wan asks Jin-myung if she's really quitting, looking more frustrated than relieved. Jin-myung reminds him he first told her to quit. "And if you do quit?" Jae-wan asks. Jin-myung doesn't answer. She changes the subject and asks if Jae-wan can get time off tomorrow.
Eun-jae's mom has Yi-na, Ji-won, and Ye-eun hard at work making dinner, and the girls rejoice when Eun-jae walks through the door. Eun-jae steps aside to show that she brought her stepdad along, making Mom drop her chopsticks in shock.
Like some cringey romantic movie, Stepdad presents Mom with some flowers and says that they should go home now. They go in for the big kiss, giving the girls the cue to get the hell out of there. Hahaha, as soon as the girls shut the door, the music that had been playing in the background muffles as if they just shut the couple's romantic moment out.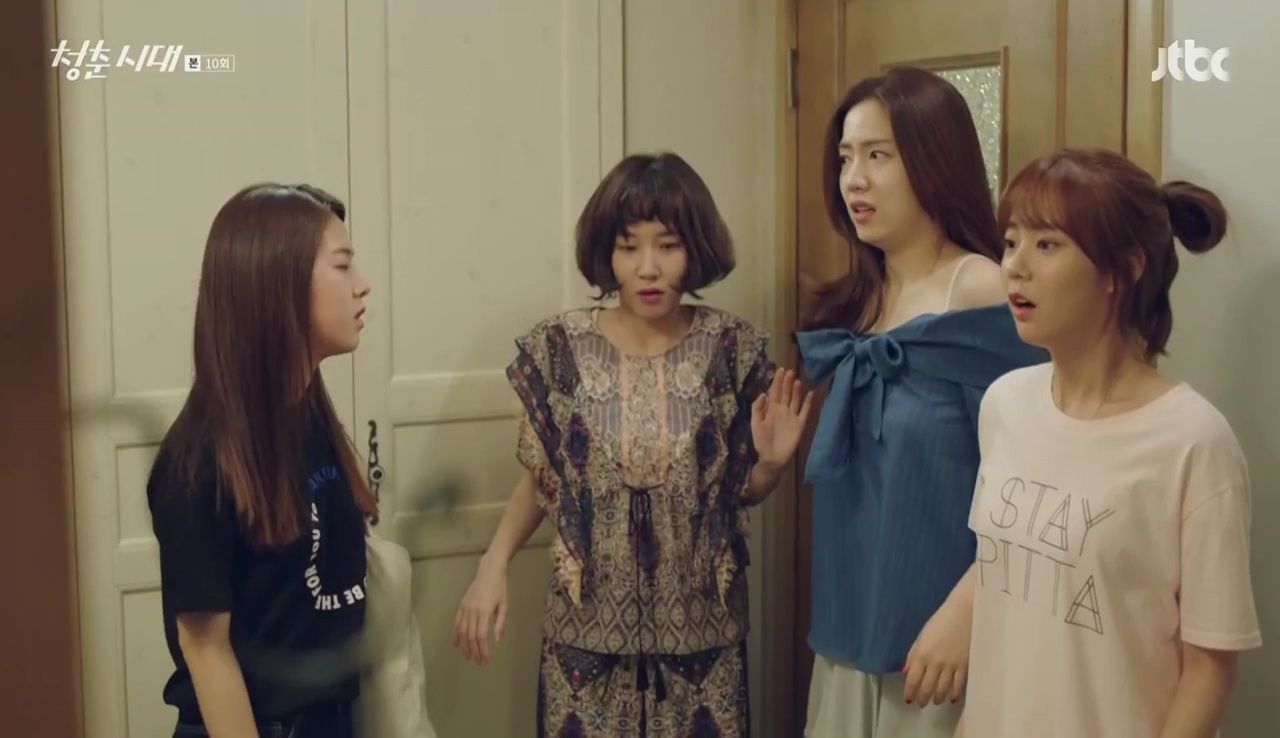 Eun-jae sees her parents out and the girls get ready to feast on the dinner Eun-jae's mom left. Jin-myung walks in carrying fish cakes and ddeokbokki, and the girls all gape at her. Ye-eun: "No way." Ji-won: "Who are you?" Eun-jae: "Sunbae, is something wrong?"
Jin-myung says she just felt bad for being such a downer lately and wanted to eat this together with them. The girls excitedly push the food Eun-jae's mom made aside and set the table with Jin-myung's. They all apologize to Jin-myung for getting her hopes up for the job, and Jin-myung insists it's not their fault. She wanted to believe.
In fact, she says if it wasn't for that hope, she wouldn't be able to handle it. Unni, you're really scaring me right now.
Yi-na breaks the sad moment by suggesting drinks. Ji-won grabs everyone a glass of beer and they all toast to Jin-myung. They all happily dig into the precious food Jin-myung bought everyone, while Jin-myung watches the scene with a smile.
Jin-myung's eyes fall on the shoe cupboard and her smile falls. Ji-won catches this, but Jin-myung clinks her glass with another smile before Ji-won can say anything.
That night, Ji-won dreams that she and the girls are strolling through a wide, open field. They come across a door and they all go through it, but Ji-won notices that Jin-myung is no longer there. Ji-won looks all over, but Jin-myung has vanished.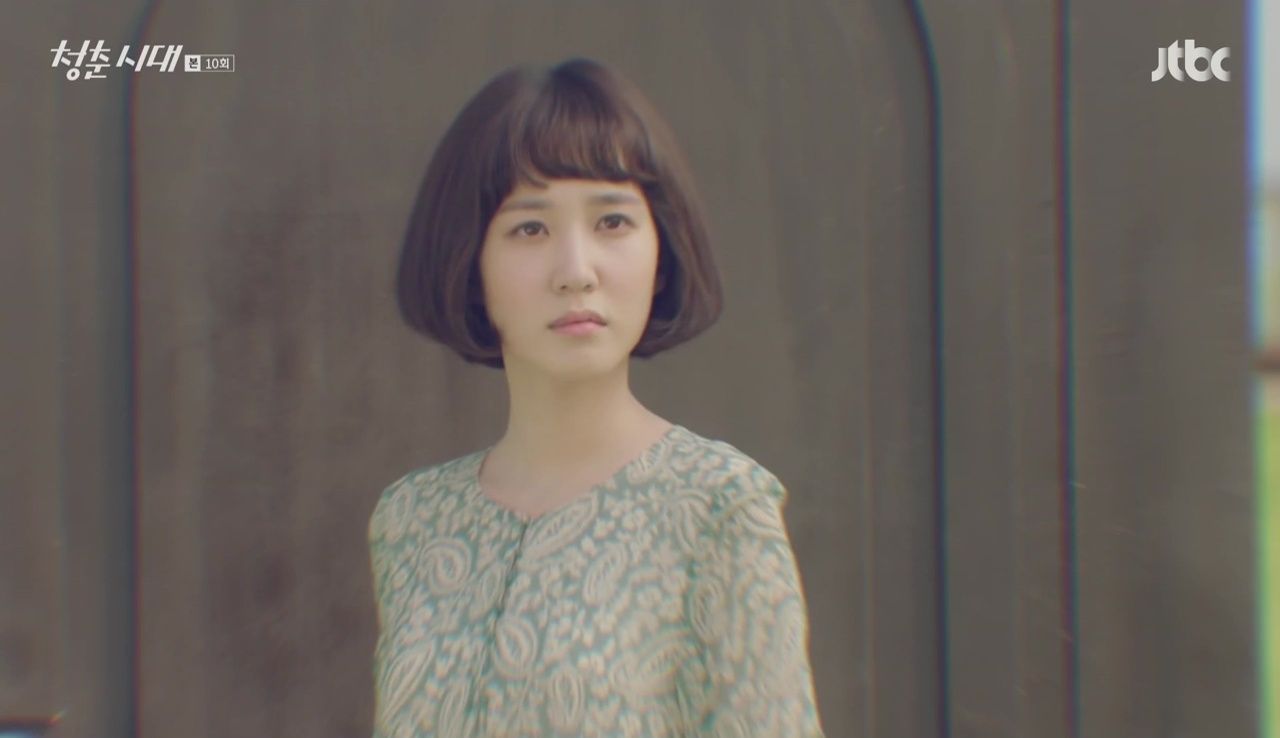 Ji-won bolts up in bed, the high-pitched noise returning to her ear. "What is this?" she mutters to herself. She goes out to the living room and nearly has a heart attack when she sees a figure sitting on the floor. Ji-won yells at Jin-myung for startling her and Jin-myung apologizes, saying she came here to think.
"About the ghost here…" Jin-myung says, "It's my younger brother."
She continues that her brother is unable to live or die—she's sure it must be terrible. And with that, Jin-myung heads back to her room, planting more worry into Ji-won's head.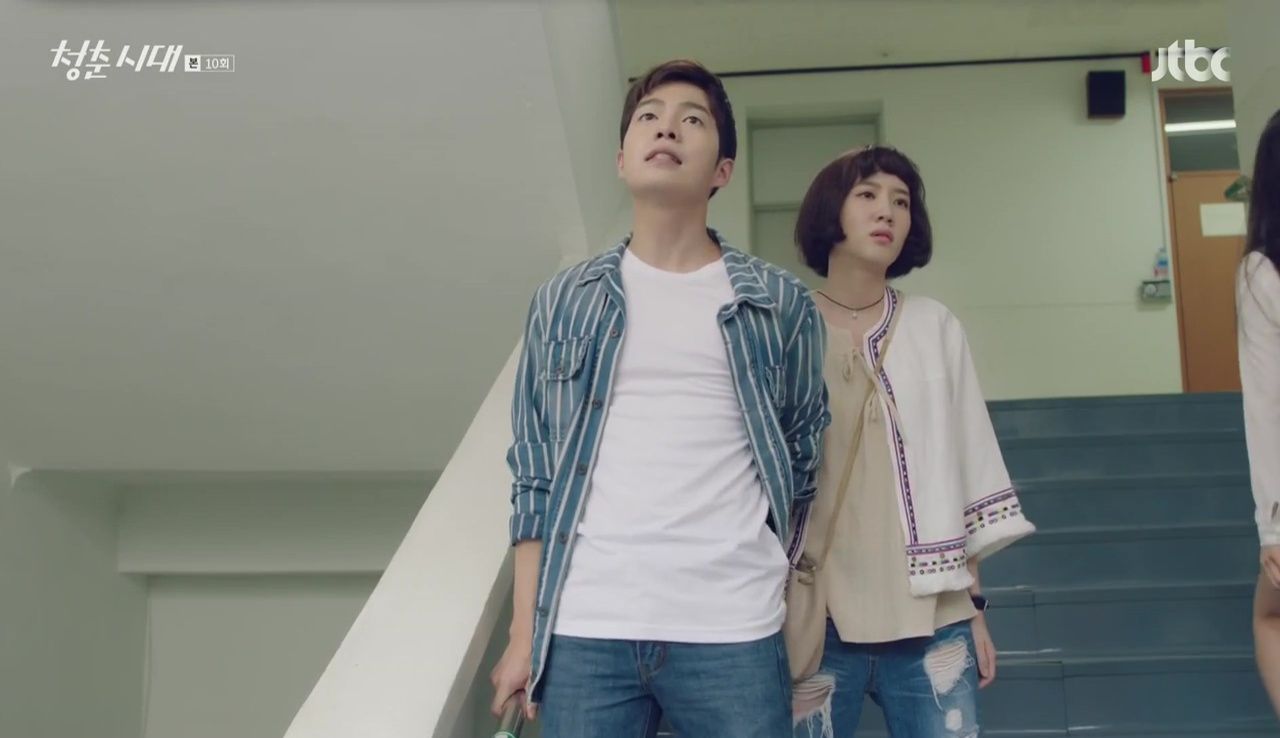 The next day, Ji-won visits Sung-min for reassurance that this ghost thing isn't her fault. She stops him from running away by holding him back with a wedgie and tells him that Jin-myung's been acting weird lately. She thinks back to the night before, but shakes her suspicions off. "It's nothing. It must be nothing," she convinces herself.
Elsewhere, Jin-myung visits the bank to close her account, and she delivers the money her loan sharks have been wanting.
Later, Jin-myung meets with Jae-wan as planned and tells him she just wanted to spend some time with him. She just wants to drink coffee and talk like others do. Jae-wan's worry melts away and is replaced with a smile instead. He fulfills her wish and lets them do what most couples do, like eating ice cream and watching a movie.
As the sun sets, Jin-myung (wearing Yi-na's heels) and Jae-wan walk along a pier. Jin-myung allows herself to grab hold of Jae-wan's arm, and Jae-wan takes it a step further by grabbing her hand instead. Ah jeez, this is hurting my heart.
Eun-jae comes home while on the phone with her mom, who tells her to thank the girls, especially the "scary one" that got a letter for Yoon Soo-myung. Eun-jae stops when she enters her room to see all of Jin-myung's belongings totally cleared out.
Ji-won comes in at that moment looking for Jin-myung and looks at Eun-jae with sudden dread.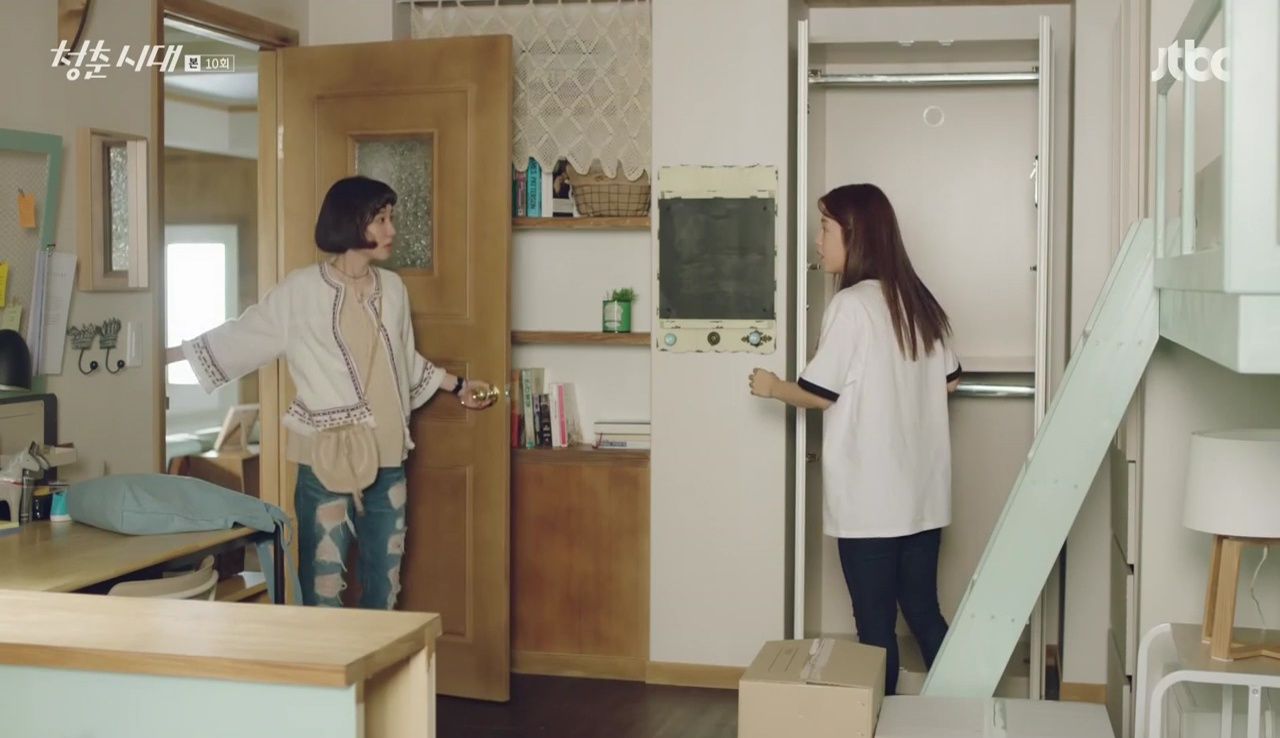 Jin-myung rests on a bench while Jae-wan places a bandage on a cut on her foot. He tells her to wear sneakers next time. "Next time…" Jin-myung sadly repeats.
Jae-wan tells her they can take their time and do everything she wants to do next time. His words move Jin-myung, and she takes this chance to lean in and kiss him. When she pulls back, she smiles and explains that she doesn't think she'd be able to do that next time.
They smile softly at each other and turn to look at the sunset.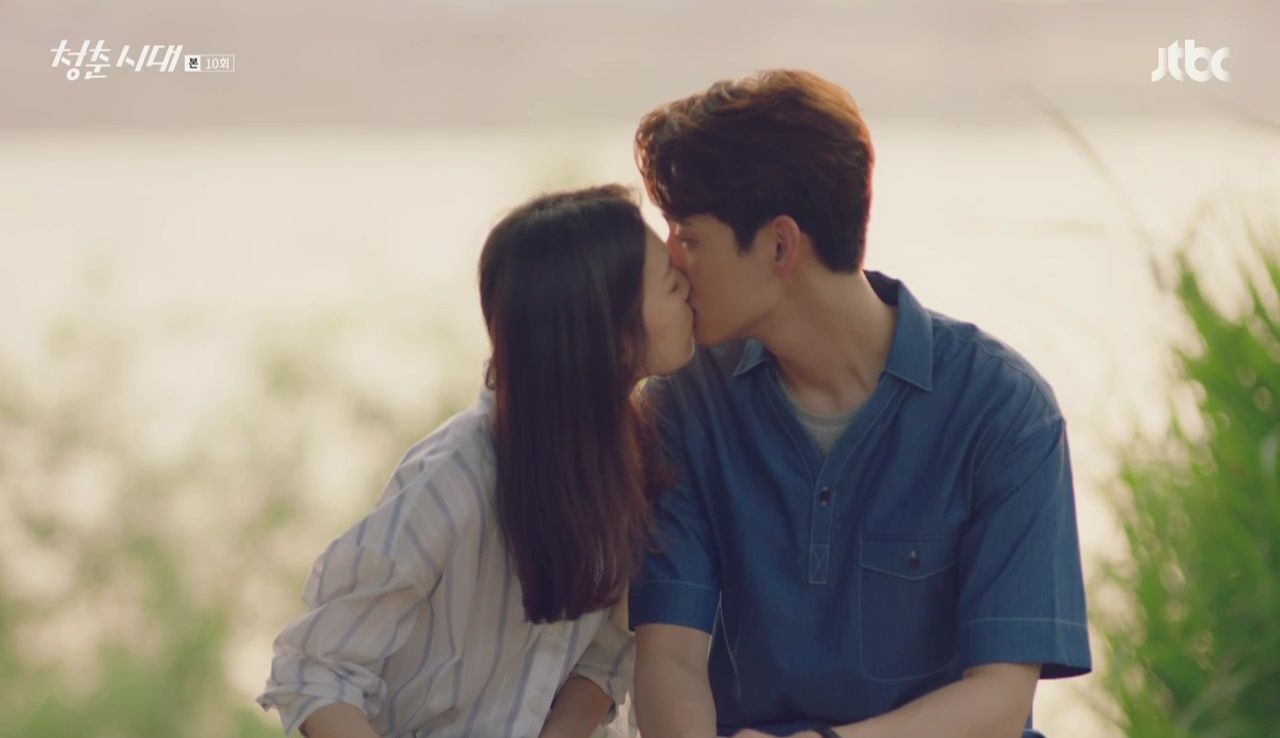 Ji-won and Eun-jae find out from the landlady that Jin-myung plans to move out, and Yi-na notices that the heels are missing. They all jump at the sound of the doorbell, but it's just Jin-myung's loan sharks, here to deliver the IOU Jin-myung forgot. Ji-won asks the loan sharks if they know which hospital Jin-myung's brother is in.
The girls (minus Ye-eun) take a taxi to the hospital, Ji-won a puddle of nerves in the front seat. "No, it's not my fault," she narrates, "How is that my fault? People aren't that simple. She wouldn't have made a decision like that because of one reason." And at the same time, Jin-myung parts ways with Jae-wan and takes the bus. She waves goodbye happily, and has to hold in her tears until the bus takes off.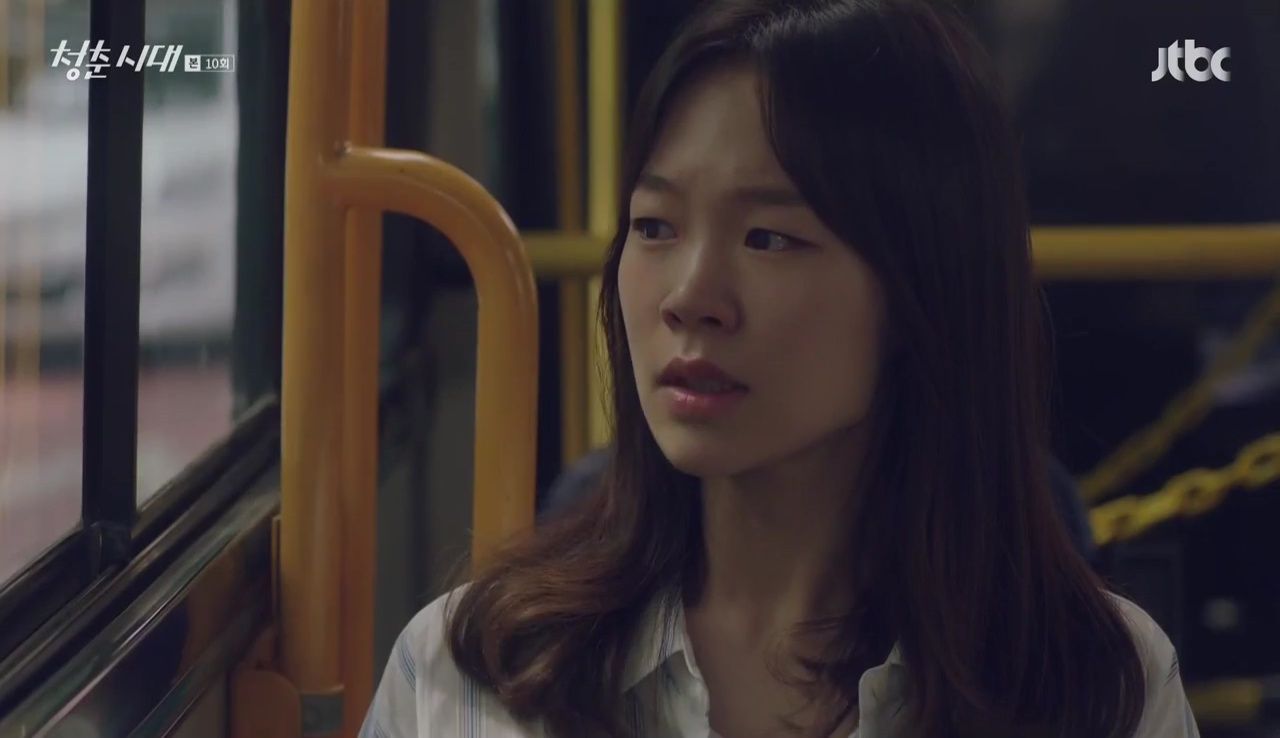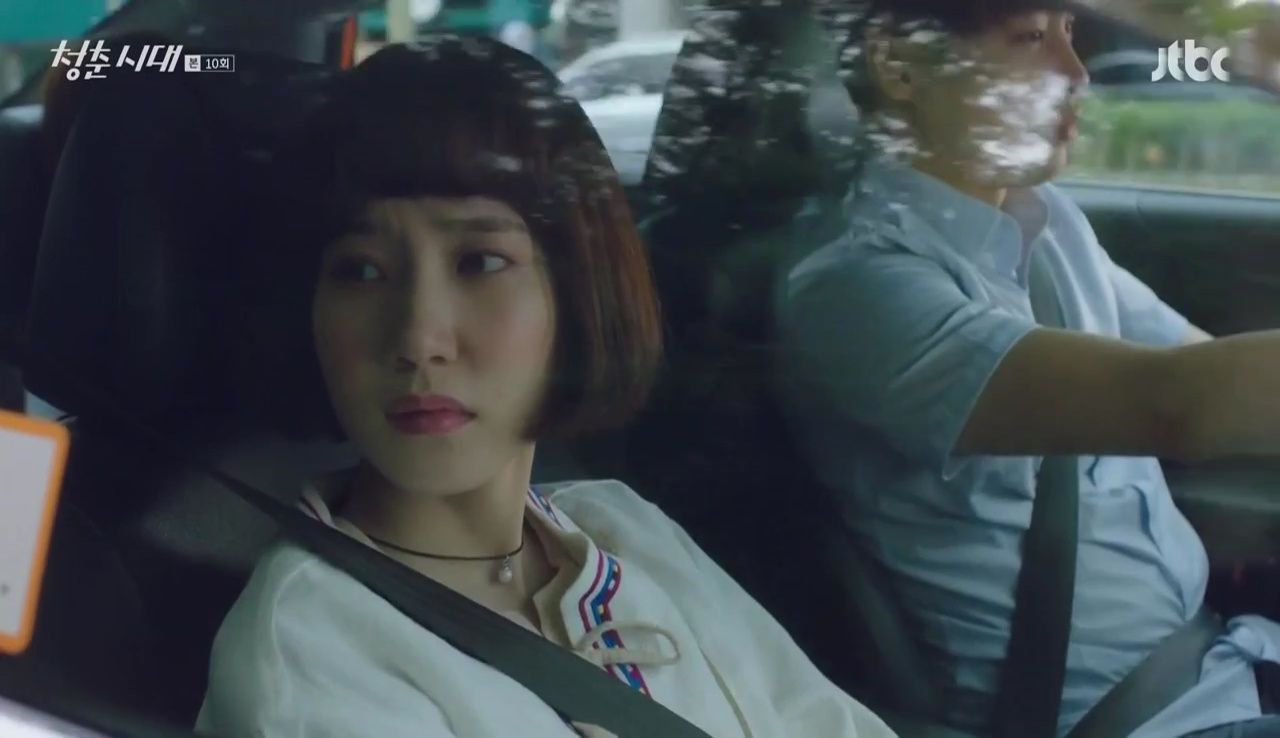 Jin-myung beats everyone to the hospital and makes it up to her brother's room. It takes her a moment to open the door and then… we see her brother flatline.
The girls soon arrive just as the hospital goes hectic. The girls follow two running security guards all the way upstairs, just in time to see the body of Jin-myung's brother being wheeled out and Jin-myung's mom getting arrested. Jin-myung comes out of the room last, and the girls hurry to her side. Yi-na and Eun-jae bring Jin-myung into a hug, and Ji-won collapses to the ground with relief, grasping onto Jin-myung's wrist as she cries.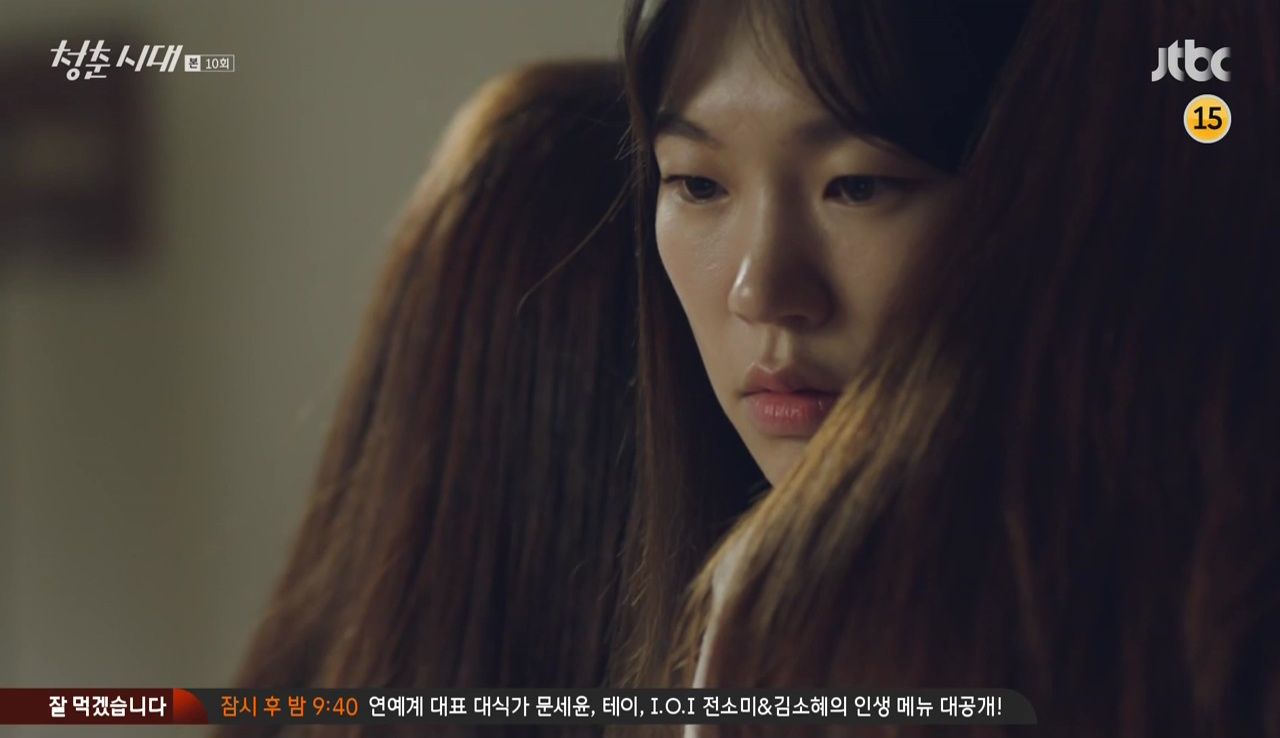 The girls all pile out to the front entrance – Ji-won never letting go of Jin-myung's arm – as Jin-myung's mom is escorted to the police car. Right before getting in, Jin-myung's mom turns back to look at Jin-myung one last time, her eyes red with tears. Mom gets into the car and Jin-myung leans into Ji-won, her own eyes filling with tears as well.
The girls take the bus back, all of them looking completely exhausted. Jin-myung blankly stares out the window and just lets the tears fall.
And from a church, Ye-eun silently prays for her family and for her housemates. She prays especially for Jin-myung, knowing she needs the most help right now.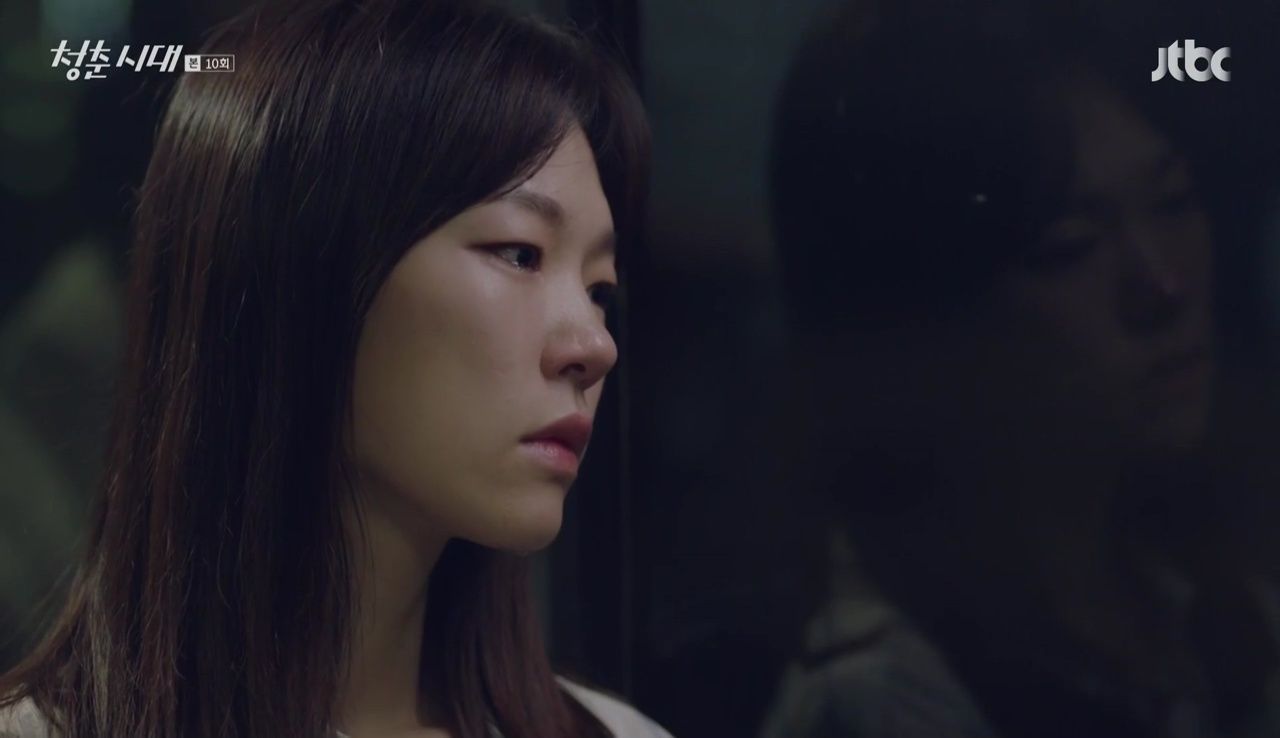 Epilogue. Ji-won is interviewed about her lie, and she insists that even she doesn't know why she said it – it just happened. She's asked if she has any secrets, but she firmly says no. The high-pitched noise returns and she ominously looks up. "Hyo-jin?" she quietly calls out.

COMMENTS
I… am a mess. Both my brain and my heart. Like Ji-won, I was a total nervous wreck throughout the entire episode, and I was just waiting for Jin-myung to snap like she did in the restaurant last episode. After that breakdown, her defeated attitude in this episode had me terrified that she would come to the decision to end things once and for all, whether that be by committing suicide or pulling the plug on her brother.
And again, like Ji-won, I was so overwhelmed with relief to see Jin-myung walk out of that hospital room alive that I just had to stop and cry. But after that moment was over, more questions flooded in: Did Jin-myung pull the plug? Is her mom trying to take the blame? Or did Mom actually do it? Or is it something else entirely? From what I got out of the episode, it seemed like Jin-myung was fully prepared to end her own life.
The way Mom stopped Jin-myung in the hospital after the "believe because we want to" speech made me think that at that moment, Mom got the feeling that her daughter had given up on life. And perhaps after years of taking care of her comatose son, Mom decided to do something for both her children by just letting him go. This is what I think for now, but there are honestly many possibilities the show could choose. And at this point, I almost always expect the show to surprise me in some way.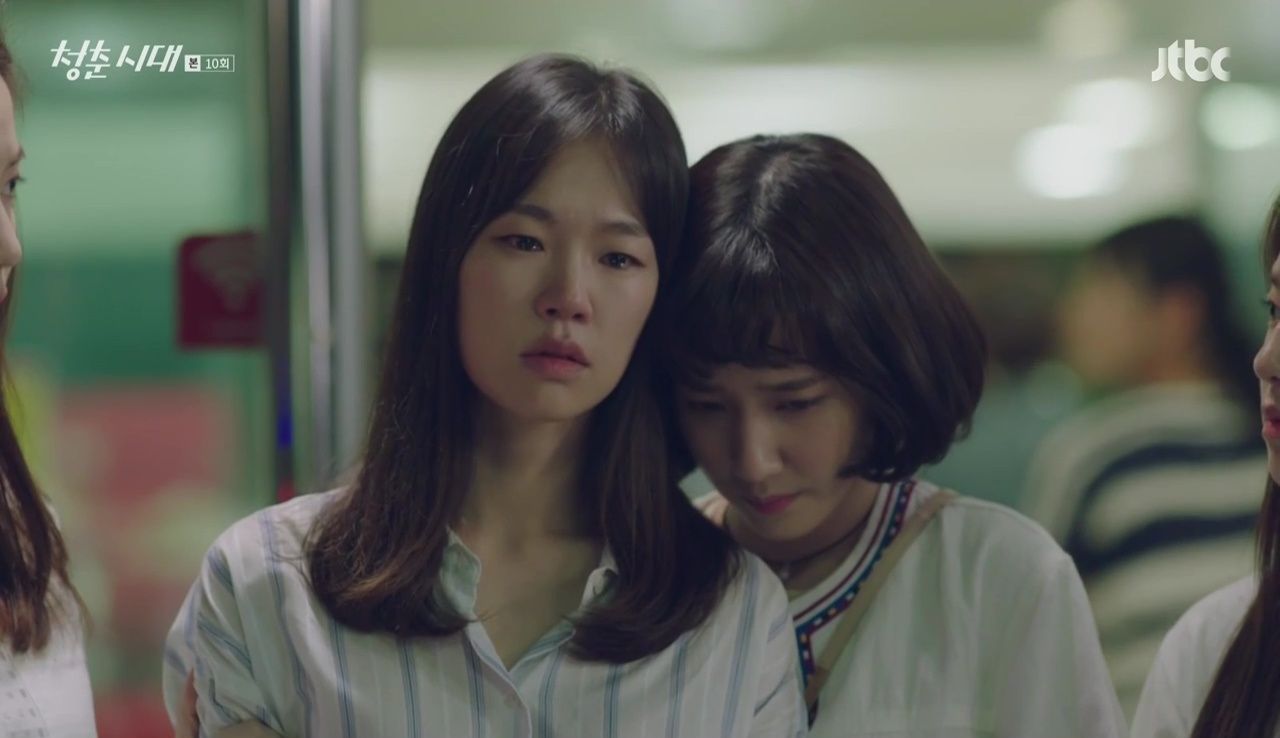 Speaking of surprises, I cannot freaking believe Ji-won lied. I trusted you, girl! You were always my favorite! Though I feel somewhat betrayed, I also feel that this was a brilliant move made by the show. Rather than being a cop-out, the fact that Ji-won's ghost-seeing ability was all just one big lie fits well into the story, so much so that everything else makes perfect sense. From the moment Ji-won's character was introduced, I fell in love with her and always thought she was the glue that kept the show together.
And now with this twist, I think she really does keep everything together. It was her lie that reminded the girls they couldn't just bury their "ghosts" away forever. It was her lie that got the girls to open up their wounds one by one so that they could allow themselves to heal. So even though Ji-won may blame herself for being the final straw on the weight on Jin-myung's shoulders, I don't think it's her fault at all. She did lie – and I really hope she eventually tells the truth – but the "ghosts" haunting these girls have always been with them, whether they knew it or not, and they have to deal with them sometime.
As we go into finale week, I'm praying along with Ye-eun that everyone will be okay. I doubt our girls will get neatly tied endings, but I at least hope we get the sense that they could have those neatly tied endings sometime in the future. I'm sincerely believing because I want to.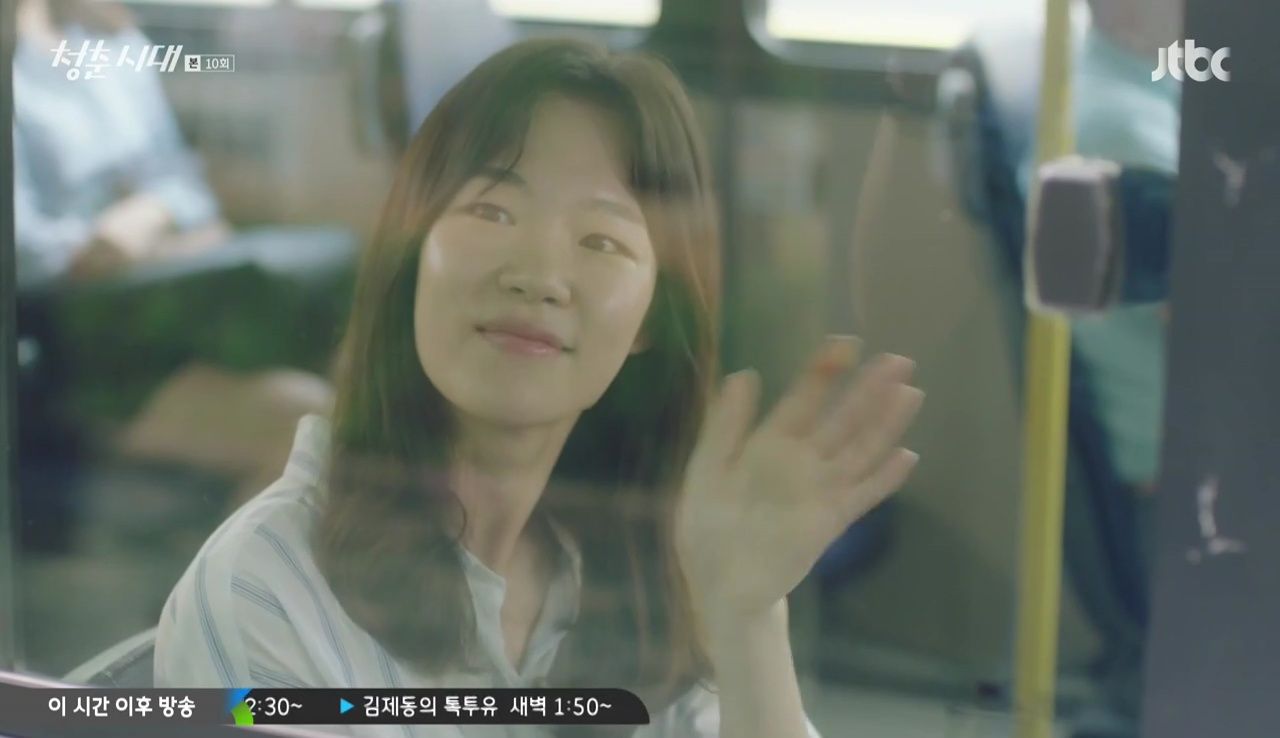 RELATED POSTS
Tags: Age of Youth, featured, Han Seung-yeon, Han Ye-ri, Park Eun-bin, Park Hye-soo, Ryu Hwa-young