Age of Youth: Episode 5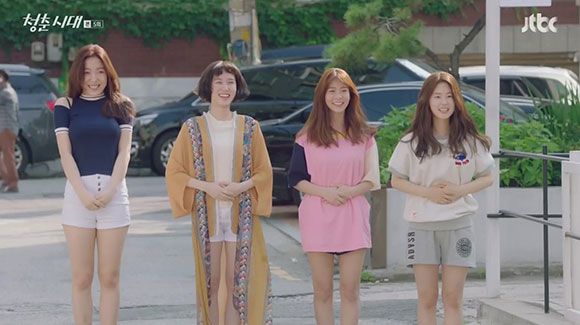 This show! I may have had my reservations at first, but I'm now fully invested in the lives of our five housemates as they slowly learn about love, life, and friendships. This episode in particular is pretty damn funny, and it's all about the boys — whether they're just platonic friends, potential love interests, or boyfriends who put your heart through the wringer, our heroines are finding it hard to get through a day without thinking about them. Thank goodness for meddling, opinionated roommates who actually push you into action, because without them, who knows where we'd be? Probably in a place that's a lot less entertaining, that's for sure.

EPISODE 5: "The reason for loving someone, and the reason for not loving someone #men and women"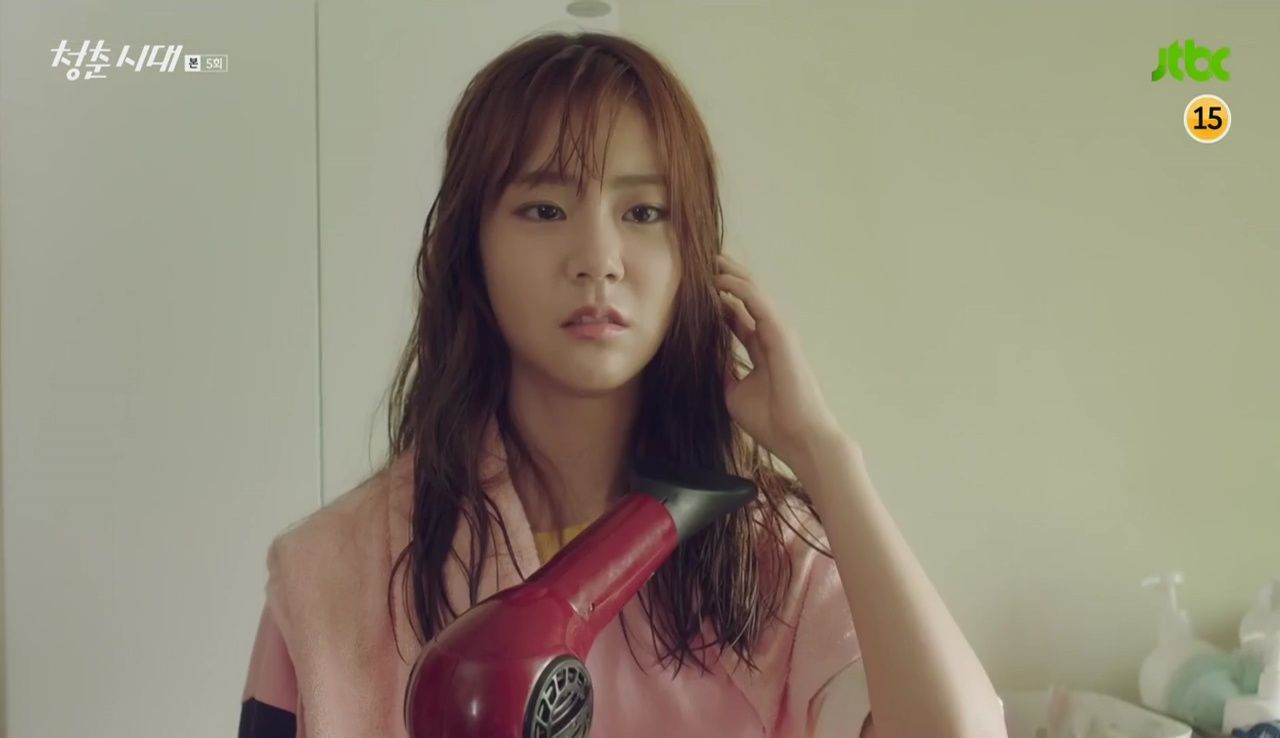 Ye-eun, looking miserable, blow-dries her hair while thinking about her boyfriend Doo-young. She breaks down in tears and thinks, "It's all over. My love is over. There's nothing more I can do. Oppa, I really liked you."
In the middle of her tearful monologue dedicated to Doo-young, the blow-dryer shorts, scaring Ye-eun. She drops the blow-dryer and runs out of the bathroom, causing a concerned Yi-na and Eun-jae to peek out. Yay, is Yi-na back?
Ye-eun mutters that things have been off lately in the house, citing an exploding kitchen lightbulb and a clogged toilet. Though Ji-won has a rational explanation for these things, Eun-jae's in Ye-eun's camp, saying that other weird things have been happening, like Yi-na moving out (then back in), and Jin-myung's fingernail falling off.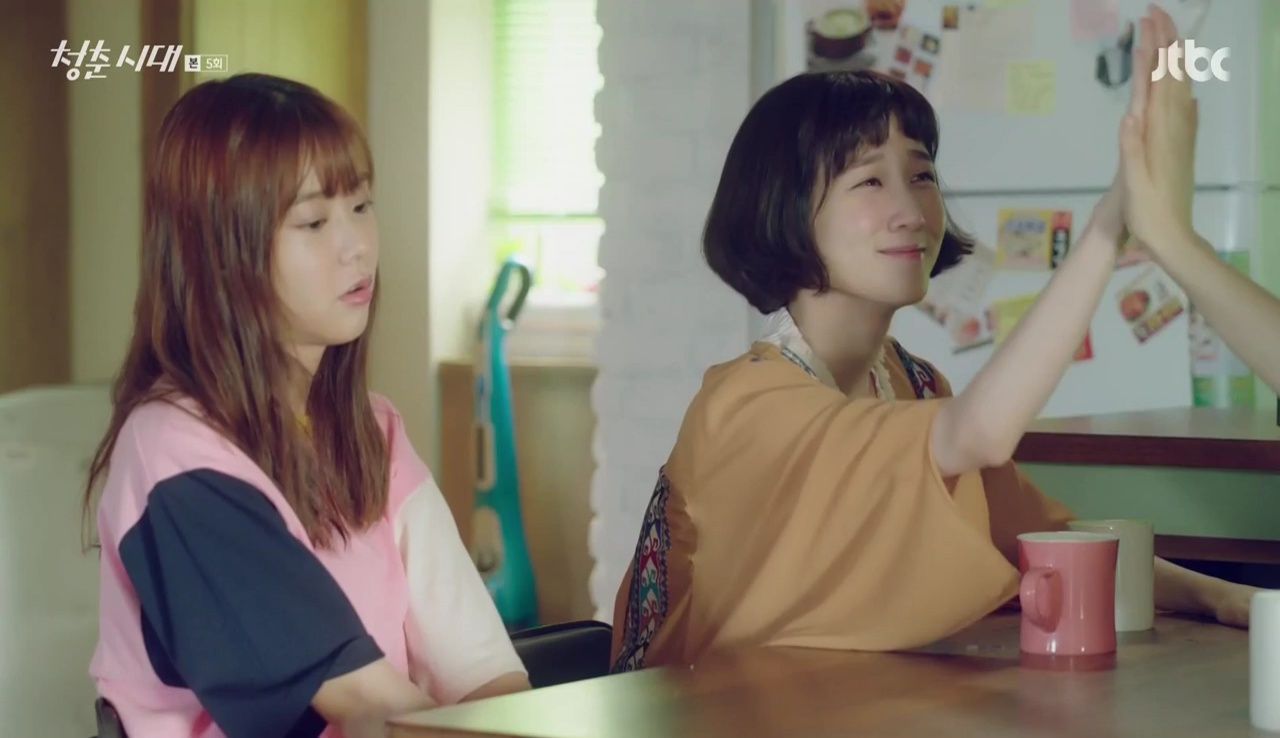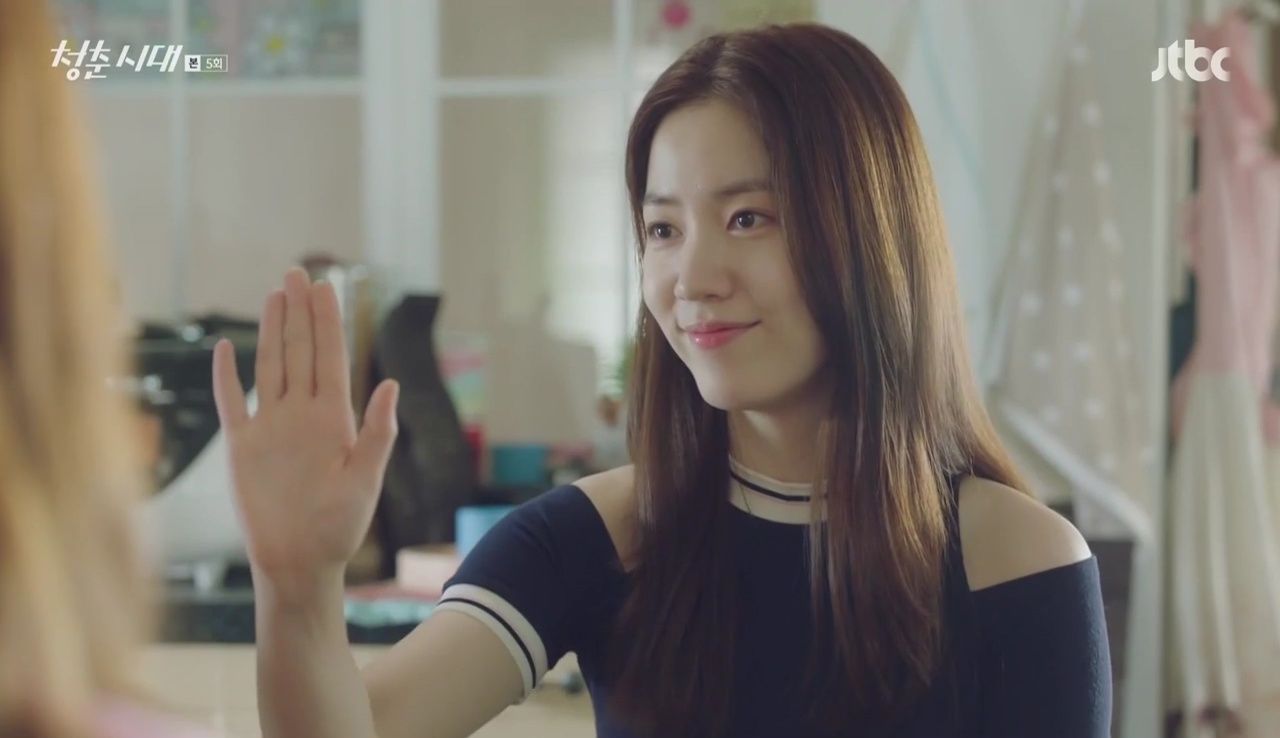 Pointing to the cabinet, Ye-eun blames the ghost for causing trouble, then asks Ji-won if she can't kick the ghost out. Just then, the light in their entryway flickers on and off and Ye-eun cowers in fear, thinking the ghost heard her. Ji-won tosses Ye-eun a cucumber and suggests using phallic objects to keep ghosts away, like their ancestors did. But Yi-na has an even better idea: They should throw a party, filling their place with real men instead of cucumbers.
Ji-won agrees enthusiastically, suggesting that they each invite guys they know; Eun-jae can bring her long-haired crush, and it's a chance for Ye-eun to meet someone new. Though Ye-eun's unsure if Jin-myung would be on board for the party, Jin-myung just tells them to do whatever they want, since she can't attend anyway.
The last obstacle is their landlord grandmother, but even that hurdle is cleared easily, as she's on her way out of town for a vacation. The four roommates are all smiles as they bow goodbye to her.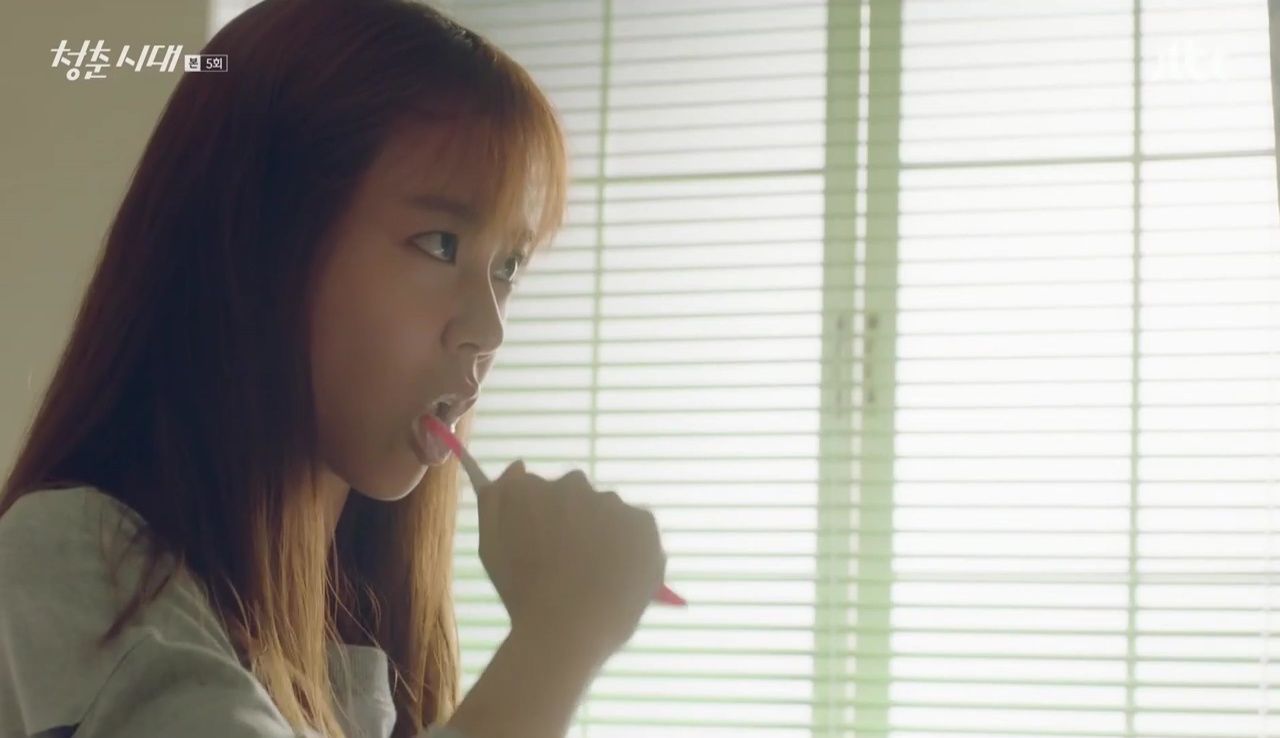 Three days before the party, which they've dubbed the "Night of Men." Ye-eun brushes her teeth furiously as she recites a poem in her head that encapsulates the anger she feels toward herself for allowing her boyfriend to treat her so badly. As she stomps out of the house, she thinks to herself that while she was dating Doo-young, her self-esteem really went downhill.
She recalls all the ways he let her down, from giving her those perfume samples for their one-year anniversary to how he'd frequently ignore her texts or calls. In cooking class, her anger grows as she thinks that all he ever wanted to do was have sex. She hacks into her chicken carcass with a cleaver, turning it into pulp.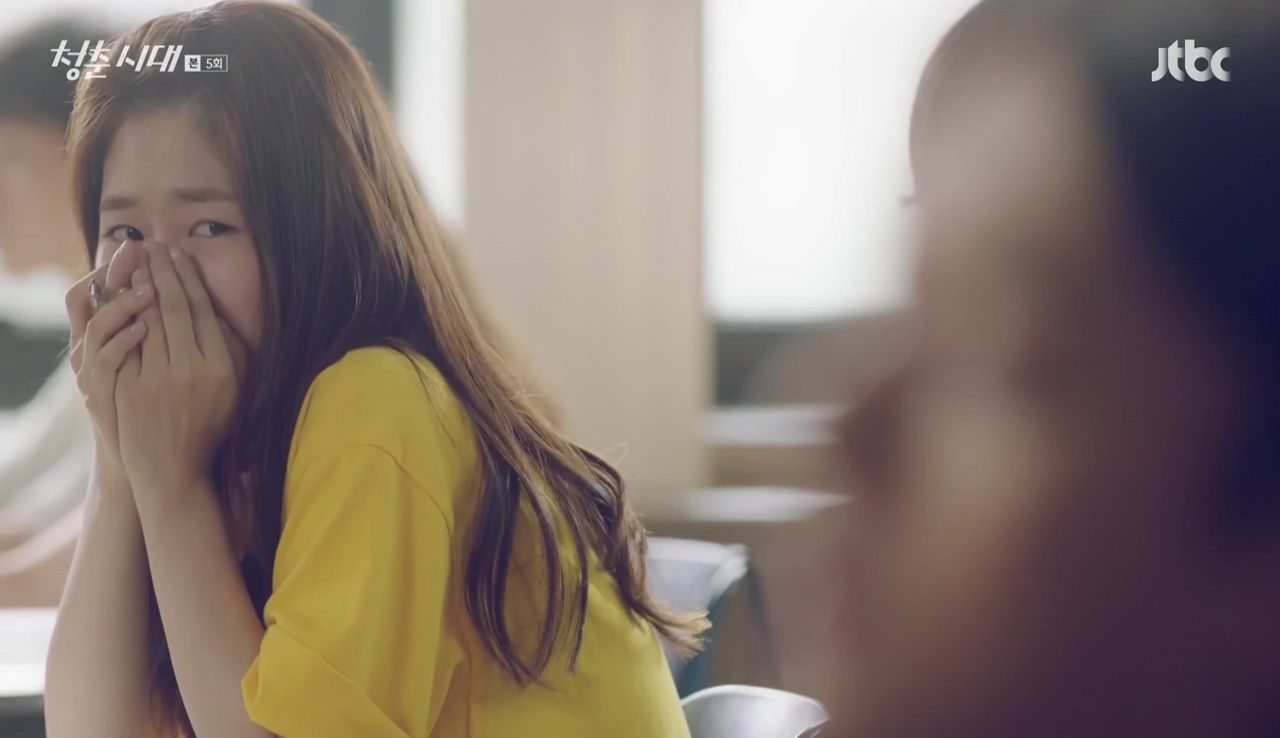 Eun-jae sits in class, listening to a lecture on the five stages of grief. But Eun-jae can't concentrate — she's barely keeping it together as she steals glances at her crush, who sits just a few seats over. She continues to stare at him after class ends, not even noticing that her other sunbae Jong-yeol is standing in front of her until he waves his hands in her face.
Eun-jae's not that excited to see Jong-yeol at first, but then says she has a question for him. Jong-yeol's pumped that Eun-jae is finally showing some interest, and scrunches up his face in happiness when she gets close to whisper in his ear: "That sunbae… does he have a girlfriend?"
But haha, Jong-yeol completely misses her reference to the other sunbae, only hearing the part asking about a girlfriend (which can also mean, "Do you have a girlfriend?"). Thinking she's asking about his own status, Jong-yeol lights up and says that no, he definitely doesn't have a girlfriend.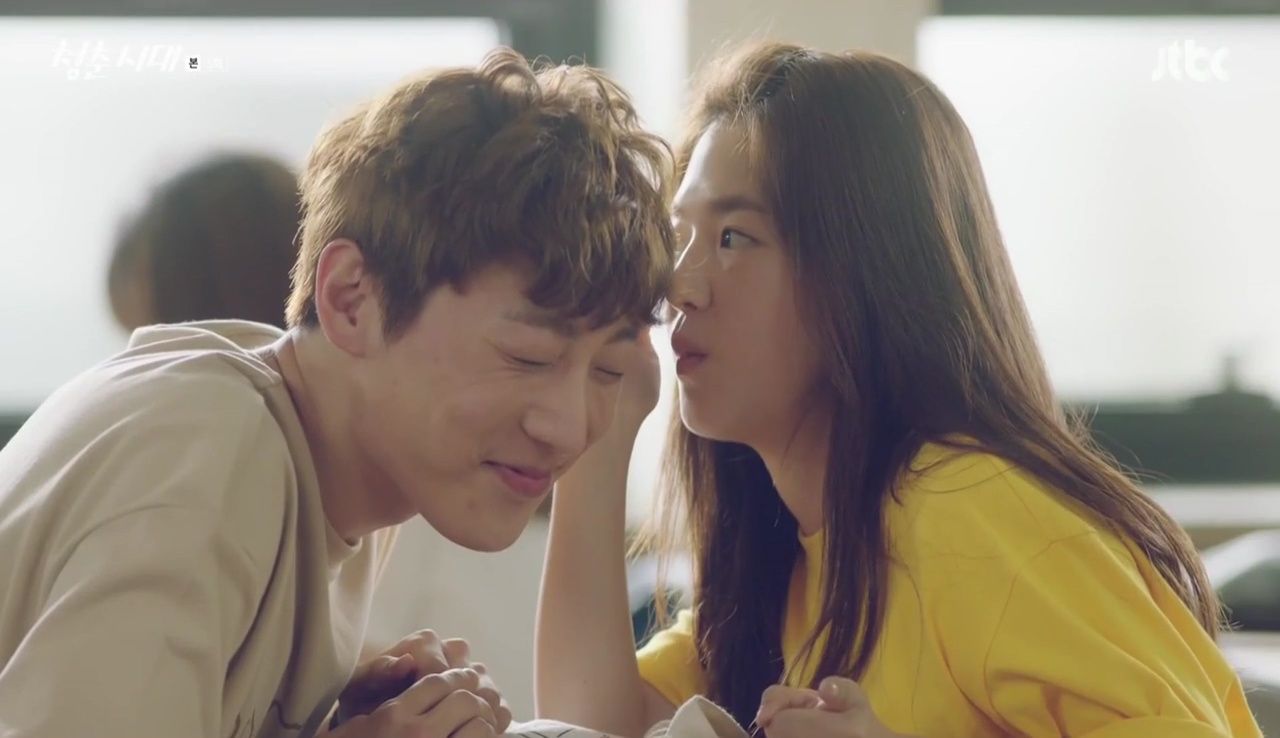 Eun-jae's thrilled to hear this news, and jumps up while Jong-yeol's in mid-sentence to follow her real crush out of the classroom.
Ji-won spots a friend in the hall and follows him up the stairs to invite him to their house party. He agrees to come as long as there's booze, but he ends up taking it back when Ji-won starts teasing him, warning him not to use her invite as an excuse to finally make her his woman, ha.
Yi-na inappropriately gasps and moans at lunch over some too-spicy ddukbokki, embarrassing her lunch buddy and fellow "co-worker" SEO DONG-JOO (Yoon Jong-hoon). She does her duty and invites him to the party, but tells him not to dare try anything on her roommates, who are just normal, ordinary girls.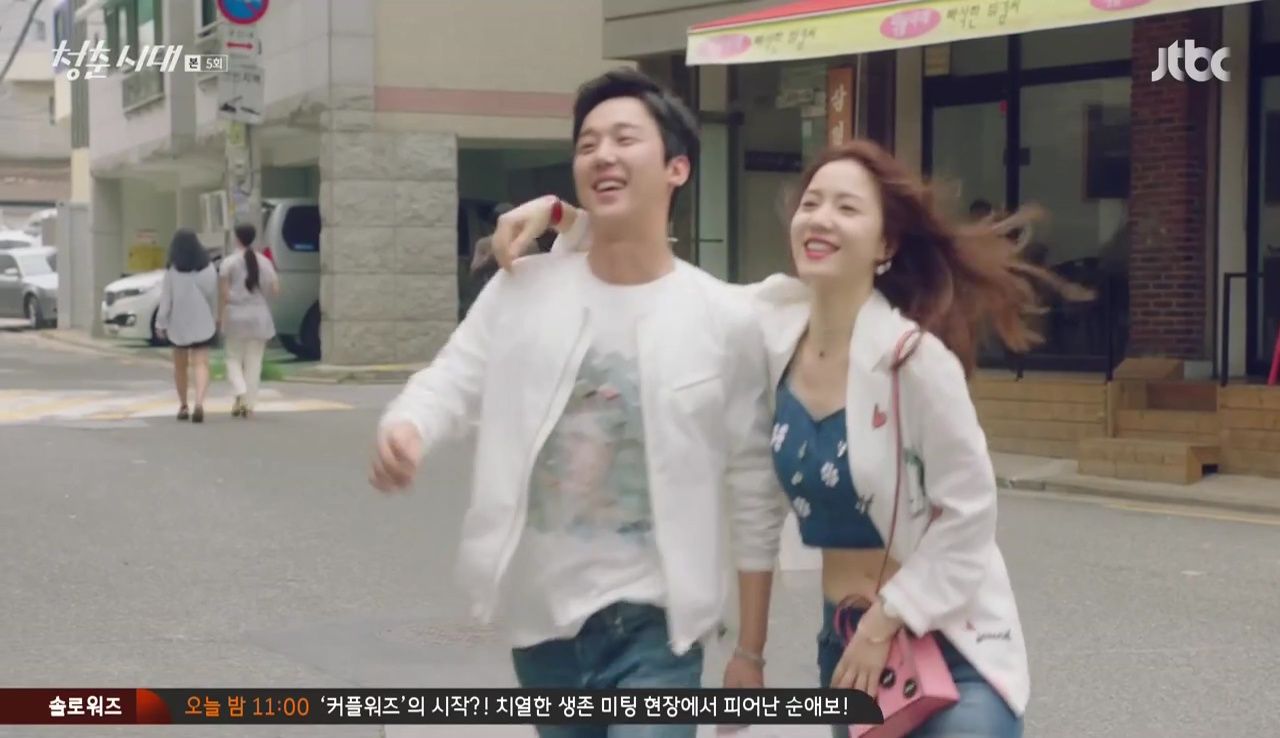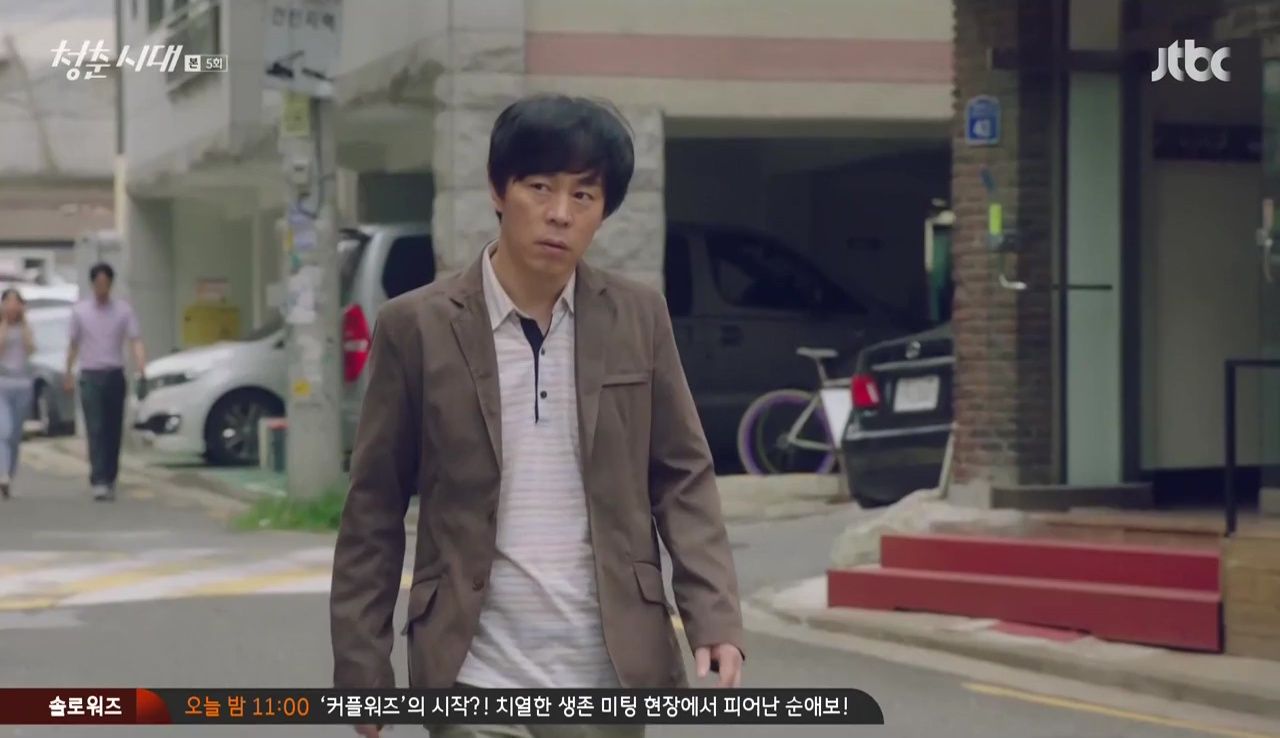 As Yi-na and Dong-joo leave the restaurant, Yi-na's stalker man OH JONG-GYU appears from around the corner. His attempt to follow Yi-na is thwarted when someone calls out his name, and he watches Yi-na disappear.
Jong-gyu's acquaintance asks him when he got out (of jail?), then asks if he's found "the bitch" that he said he wouldn't leave alone once he was out. His eyes still fixed in Yi-na's direction, Jong-gyu replies that he did, in fact, find her.
Jin-myung works her late shift at the convenience store. During a lull, she slumps down and scrolls through texts from chef Jae-wan — the latest one reads, "I miss you." She thinks back to her last conversation with him, when she told him not to like her, and types out a response to him: "Me too." But she can't send the text, and puts her phone down. Meanwhile, Jae-wan just happens to be standing across the street from the store, looking in at her.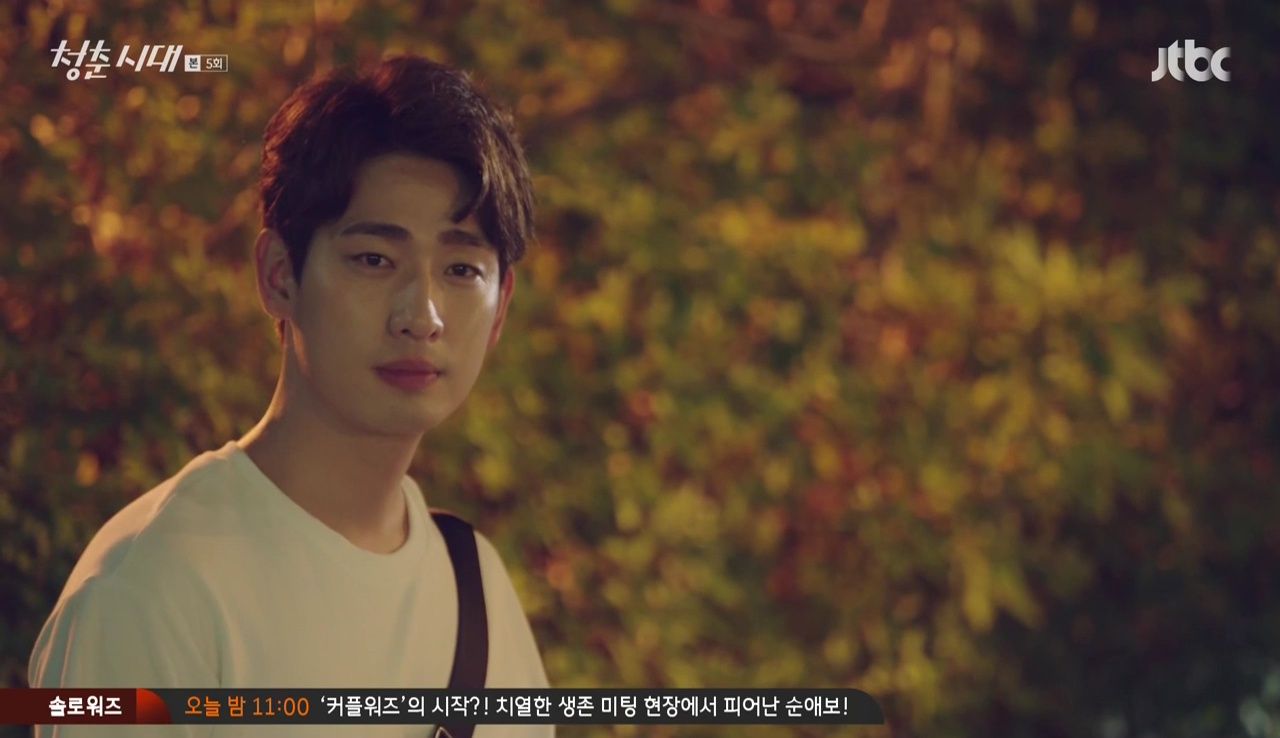 Two days before the Night of Men. Ye-eun's now in depression mode. Her bus passes by a car wreck on the way to school, and Ye-eun starts imagining that it's Doo-young that's been hurt. Next, she imagines him getting ready to hang himself, so devastated over their breakup. Alarmed, she ends up running off the bus and racing to Doo-young's place. She gets to his floor just in time to see him opening the door for a deliveryman, and she deflates, seeing that he's totally fine.
Eun-jae heads out to the field to watch the guys in her department play a game of soccer tennis (I think?), smiling shyly as she focuses in on her crush. Jong-yeol's playing too, and when he notices Eun-jae in the stands, he kicks his game into high gear, totally showing off for her.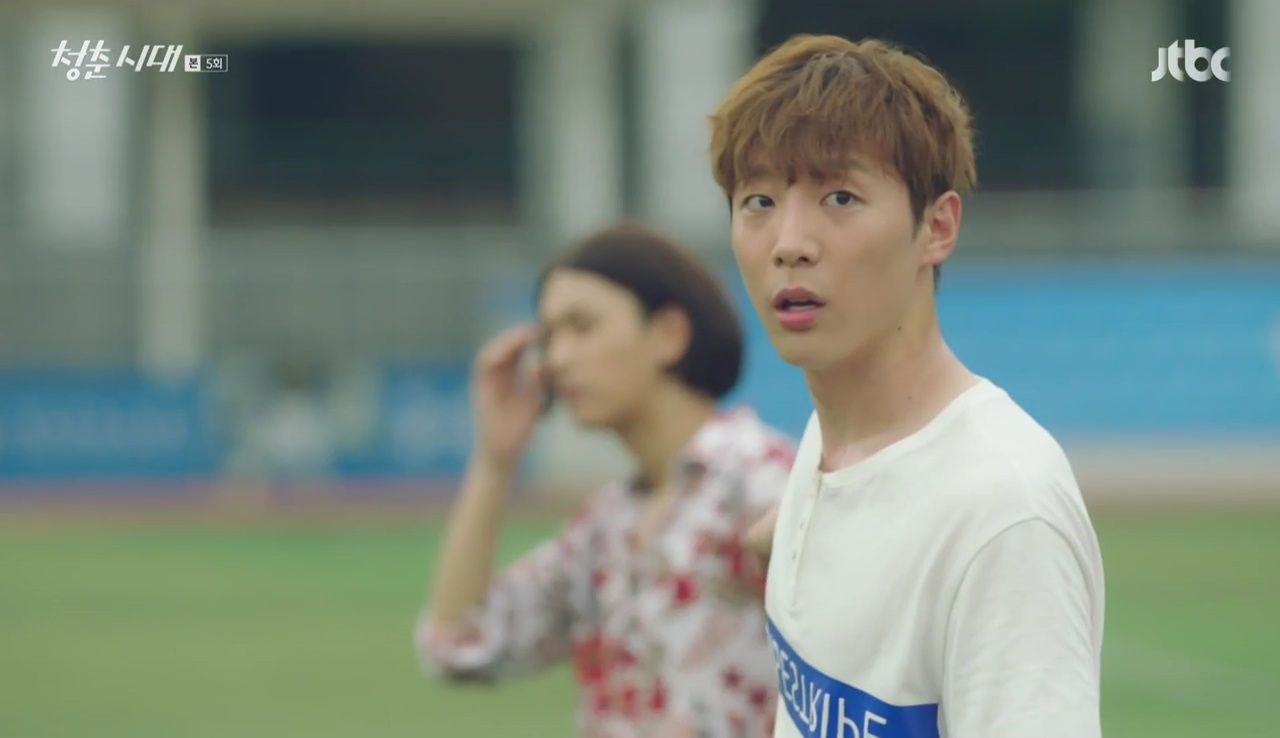 She only has eyes for her other sunbae though, keeping her eyes on him even as Jong-yeol strolls right up to her after the game. Once she registers Jong-yeol's presence, she has another question for him: which does he prefer between "Sunbaenim," "Sunbae," and "Oppa?" Jong-yeol can't stop himself from smiling at the "Oppa," and tells her that's the one to use. Eun-jae cringes with embarrassment at the thought of actually using that word to address her crush.
Party prep is fully underway, with Ji-won extending invites to foreign exchange students she barely knows and Yi-na buying a ridiculous amount of party supplies. Meanwhile, Jin-myung can't stop thinking about Jae-wan — as she's taking down her laundry, she pauses to look out the window, recalling the time he stood out there after walking her home, looking up at her.
On her way home, Ye-eun thinks to herself, "I wish I could be at peace. I wish you wouldn't keep popping up in my mind. I wish I wasn't curious about you anymore… whether or not you're thinking of me, if you miss me." Her words seem to apply to Jin-myung too, who's leaving the house for one of her part-time jobs, looking just as down as Ye-eun. The two cross paths briefly, but they don't say much to one another, while Jin-myung forces herself to smile at Ye-eun.
Eun-jae is hard at work on a note (on heart-shaped paper!) inviting her beloved crush to their party, only to have Ji-won snatch it away before telling her it would be better to just ask her crush face-to-face. When a depressed Ye-eun gets home and confirms that she has yet to invite a guy to the party as well, Ji-won chides the two of them for not contributing.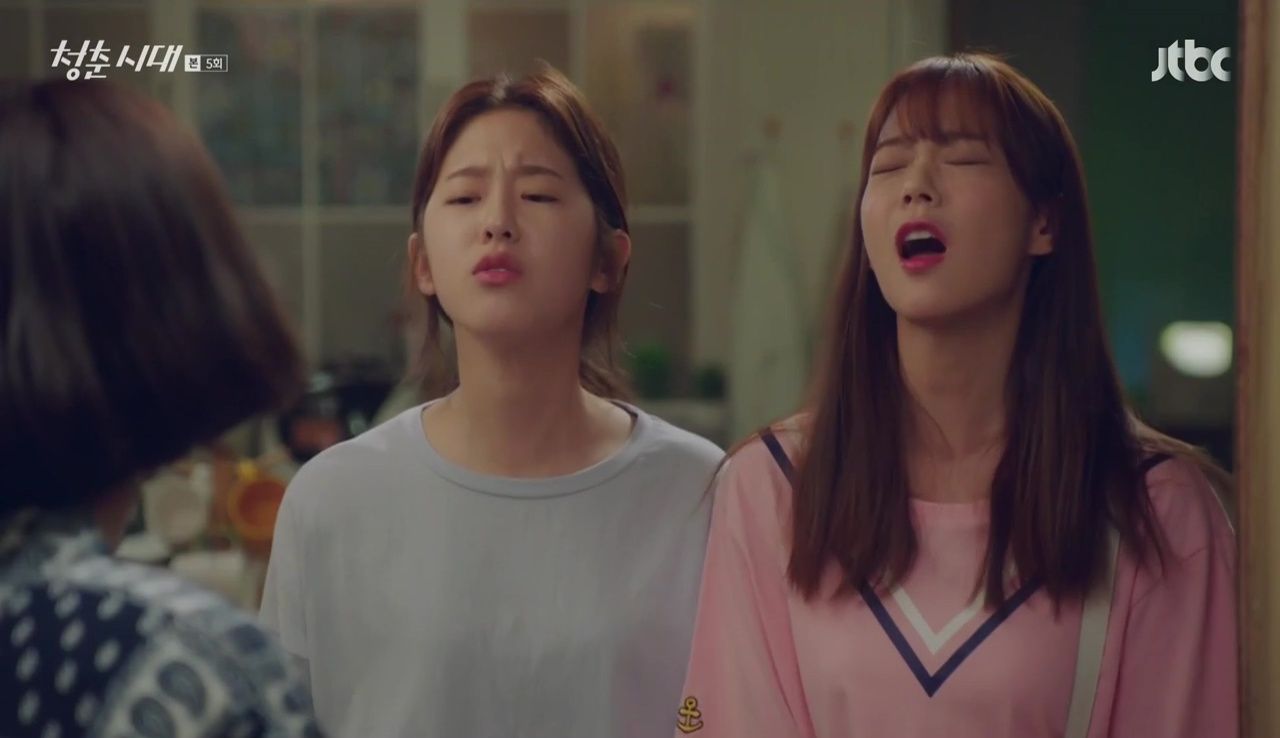 Ji-won comes up with an idea to "encourage" the girls to make a move: Whoever doesn't bring a guy to the party will receive a really scary punishment. Eun-jae and Ye-eun both know better than to entrust Ji-won with picking out the punishment, so Yi-na says they'll each provide a suggestion and pick one at random.
So the four end up at the kitchen table, each thinking hard about what to put down. Eun-jae's the first to think of a punishment, and it's as lame as Ji-won thought it was going to be: cleaning the windowsills. Yi-na's suggestion is more what Ji-won had in mind: confessing to a random guy and getting his number. Ye-eun's is to tell the landlord that her lipstick doesn't suit her, which Ji-won doesn't approve of either, but she says that it doesn't matter — she's come up with the real punishment.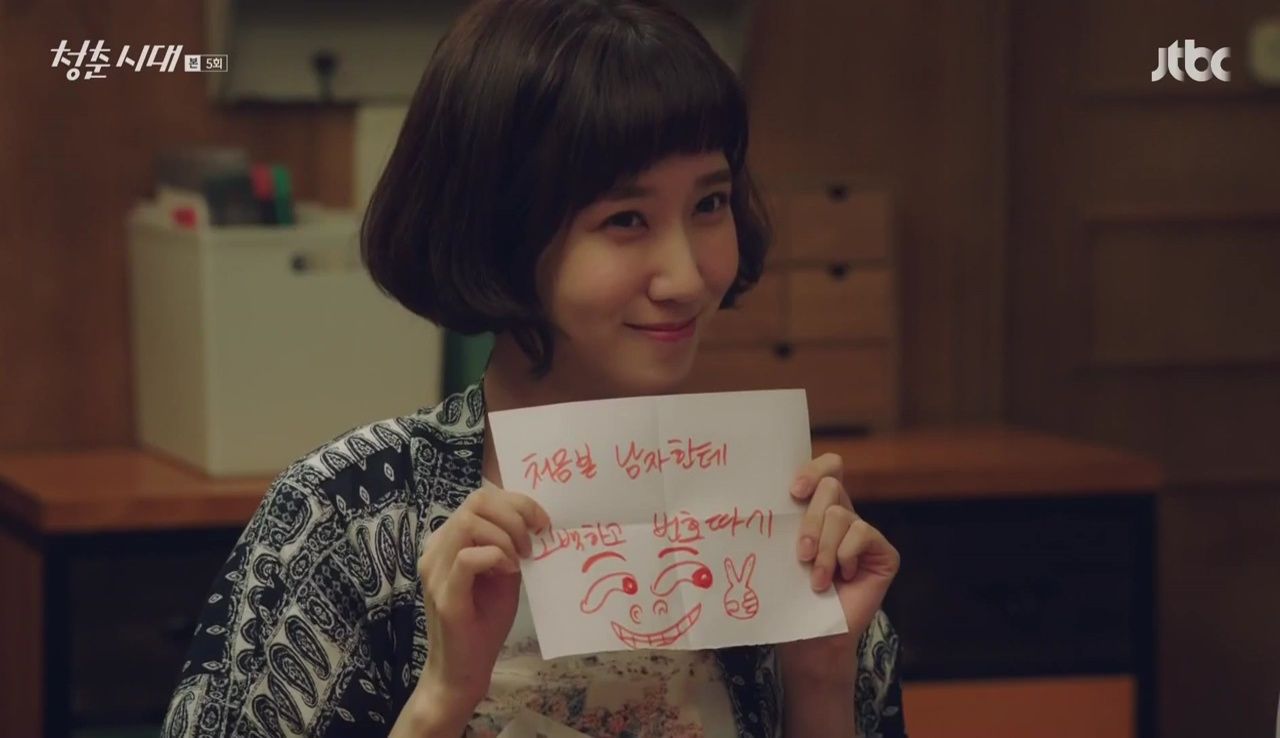 We don't get to see what Ji-won wrote, but her slip of paper elicits gasps of horror from Eun-jae and Ye-eun, and a delighted smile from Yi-na. Despite Eun-jae and Ye-eun's best efforts, Ji-won's punishment makes it into the suggestion box, which Yi-na locks up (and then stores the key in her bra, heh.)
One day before the Night of Men. Ye-eun's now in acceptance mode and has graduated to singing about her pain in the bathroom.
Jin-myung arrives at the restaurant for her shift, but stops short outside the office when she sees a fellow waitress putting a bandage on Jae-wan's scraped arm. The co-worker tells Jae-wan to ride more carefully — it sounds like he fell off a bike. Jin-myung watches Jae-wan until he takes notice, then moves past him without a word.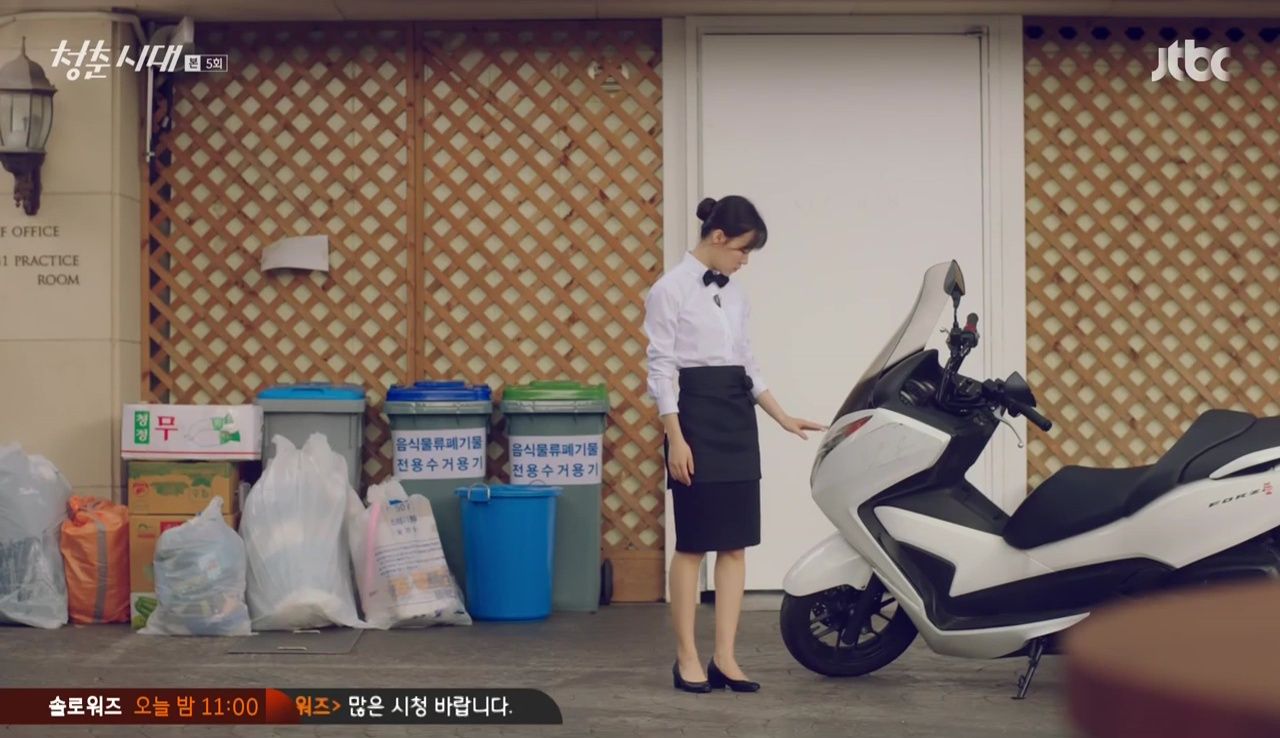 Jin-myung sees the motorcycle in question when she takes a garbage can out back. As she stops to run her hand against the bike, noting the scratches on the paint, Ye-eun narrates that breaking up with someone means not being there for the person in good times or bad, and losing the ability to even be curious about the other person. It also means having to give up on the future you'd imagined with them.
Ye-eun is out on a double date, but she still looks completely depressed and couldn't seem less interested in talking with the guy. Her friend scolds her for not even trying, so in an attempt to do better, Ye-eun asks her date what he's doing on Saturday.
Back at school, Ji-won takes photographs of the boys basketball team. When she's done, she invites the entire team to the party, heh.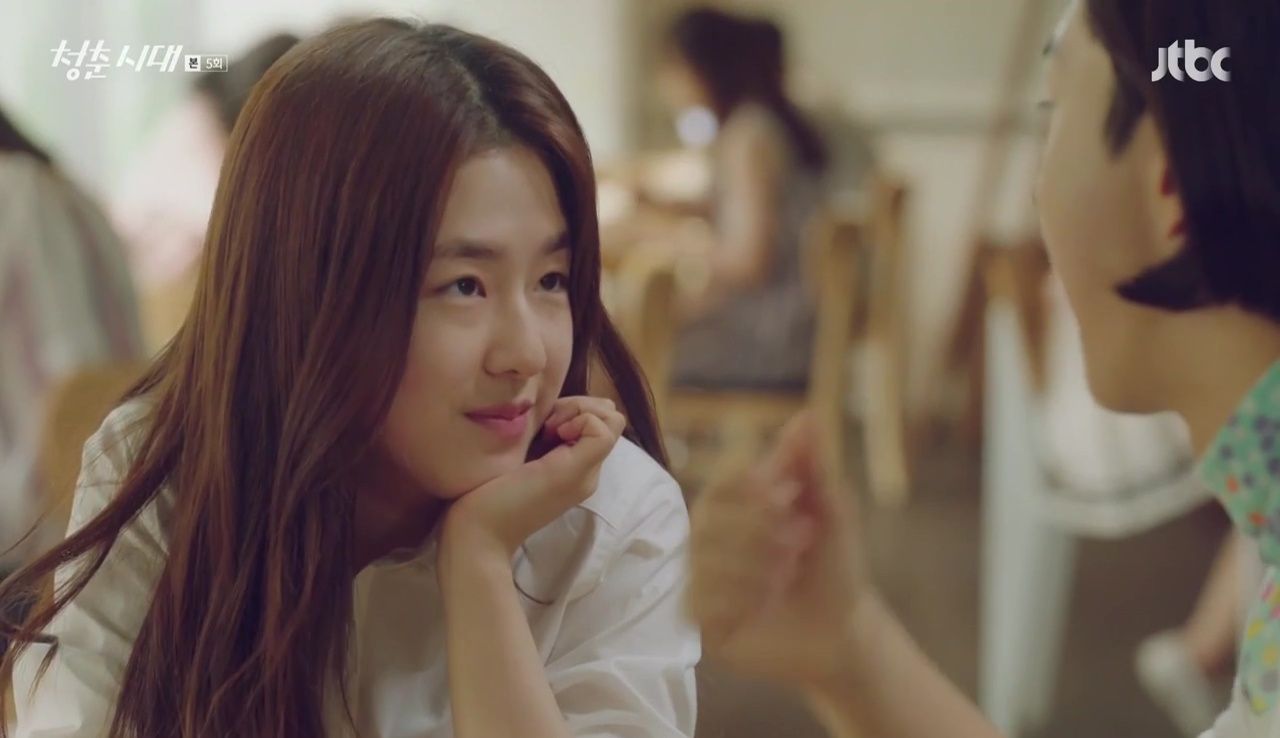 Meanwhile, Eun-jae follows her crush into the cafeteria and daydreams about sitting next to him and sharing food. She then follows him outside, but still can't bring herself to actually approach him. Jong-yeol catches sight of Eun-jae pacing and sighing to herself as she tries to work up the courage to talk to him. He walks over and wonders what she's doing, and Eun-jae asks him for a favor.
Cut to Eun-jae asking him to attend the party, you know, because she doesn't want to be on the receiving end of Ji-won's punishment. But it's not actually Jong-yeol she's inviting — she just wants Jong-yeol to relay the invite to her crush (whom he refers to as the "oily guy"). Poor Jong-yeol looks aghast at the request, but he agrees to do it when Eun-jae considers inviting her crush to the party herself.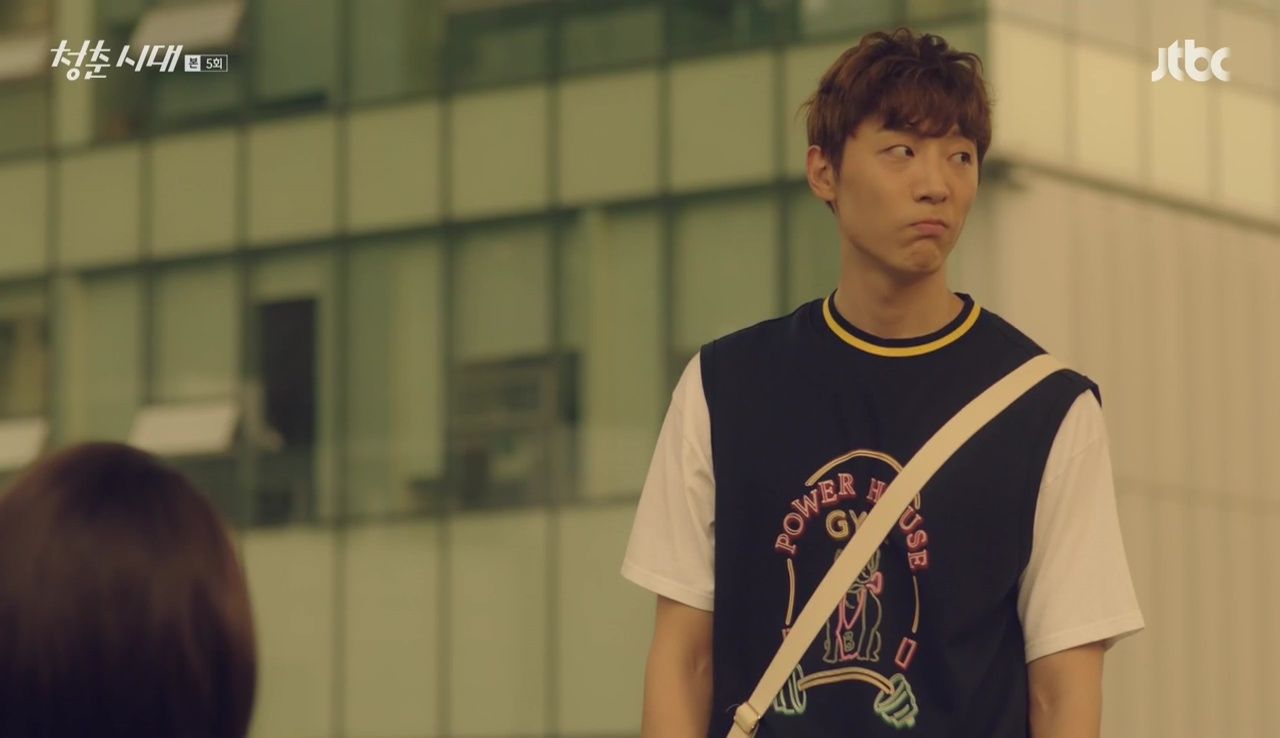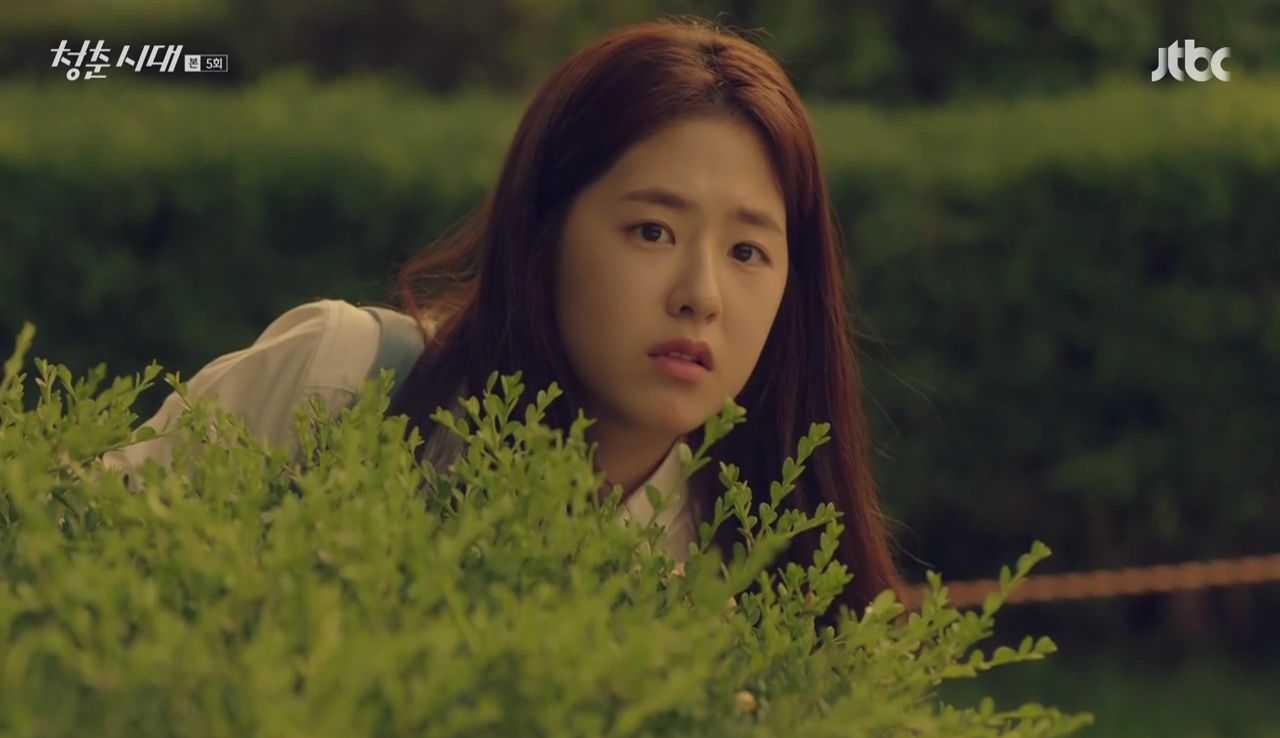 As Eun-jae hides behind a nearby bush, Jong-yeol delivers her message to Oily Guy — only he mumbles the whole time, so Oily Guy can't understand a word. Jong-yeol glances over at Eun-jae and shakes his head, as if her invitation was rejected. Eun-jae hangs her head in disappointment and walks away in tears, and when Jong-yeol catches up to her, he offers to buy her a drink.
Eun-jae drowns her sorrows in shot after shot of soju, then squeaks out to Jong-yeol that Oily Guy was her first love. Breaking down in tears, she tells Jong-yeol that she liked everything about him — she even picked out their future kids' names. An exasperated Jong-yeol tells her it wasn't love, but ends up comforting her when her sobs grow louder, even letting her wail into his shoulder, tears and snot and all.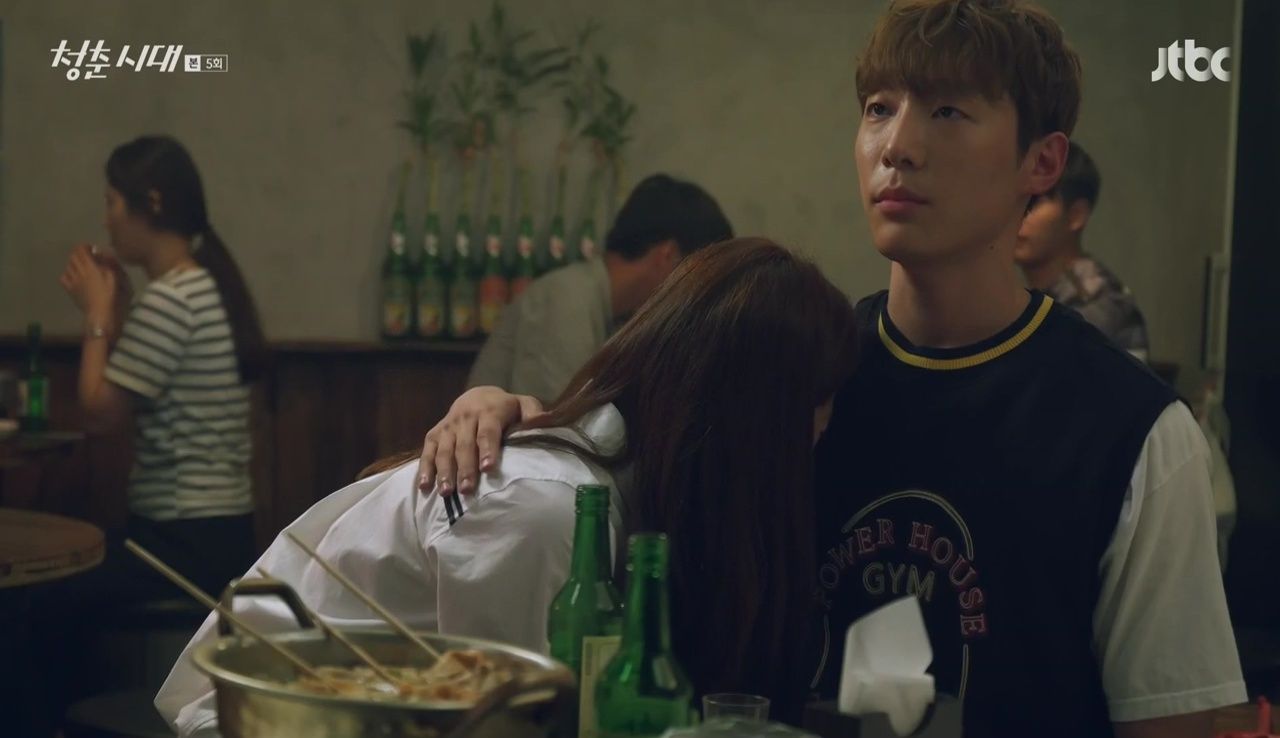 With a start, Eun-jae remembers that she still hasn't found a guy for the party and thus is eligible for Ji-won's horrible punishment. Jong-yeol (who sweetly wipes her nose, aw) volunteers himself, as long as he gets something in return: three movie dates with her. Eun-jae's not particularly thankful and wonders why he'd do something like this. Frustrated at her for being so clueless, he tells her to think of it as community service.
Ji-won's appalled to find Yi-na decorating the apartment by herself while Eun-jae and Ye-eun sleep. But when she checks in on the two, she gives them both a pass — Eun-jae came home pretty drunk, and Ye-eun's not actually sleeping, but crying in bed. Sometime later, Jin-myung comes home to a dark house and studies the party goods laid out in the living room.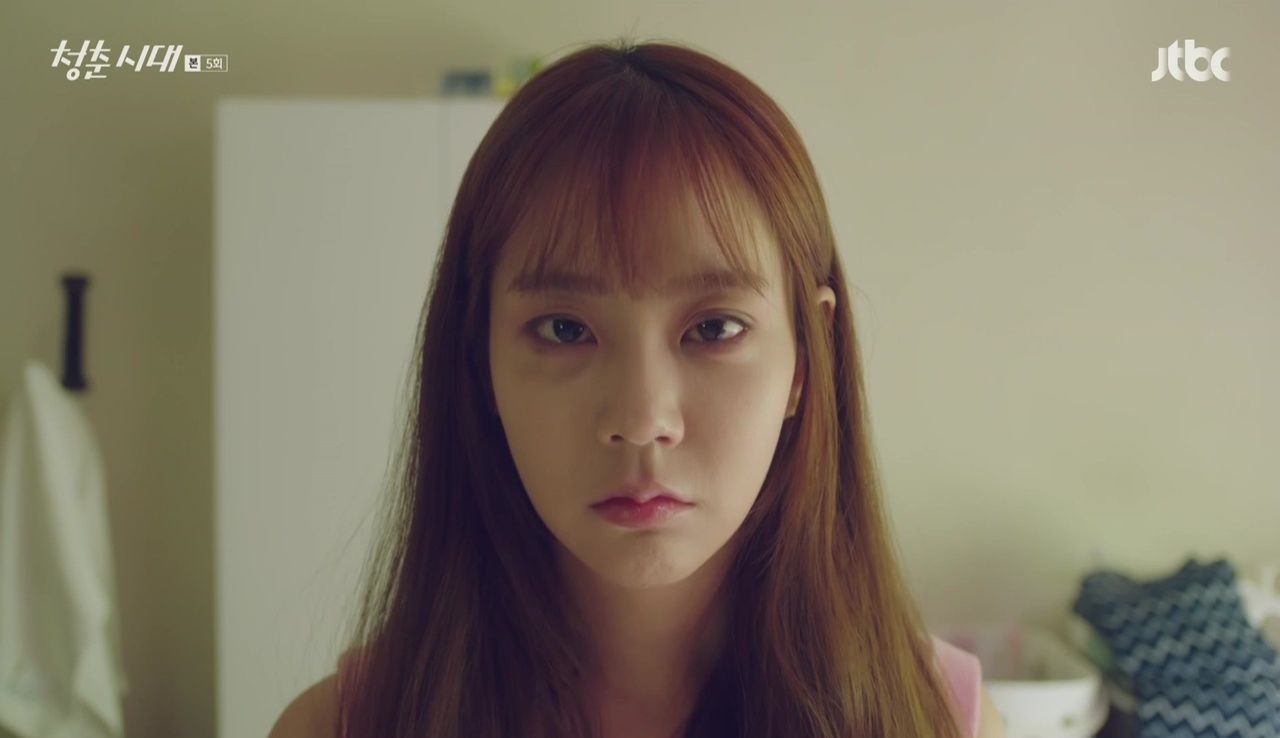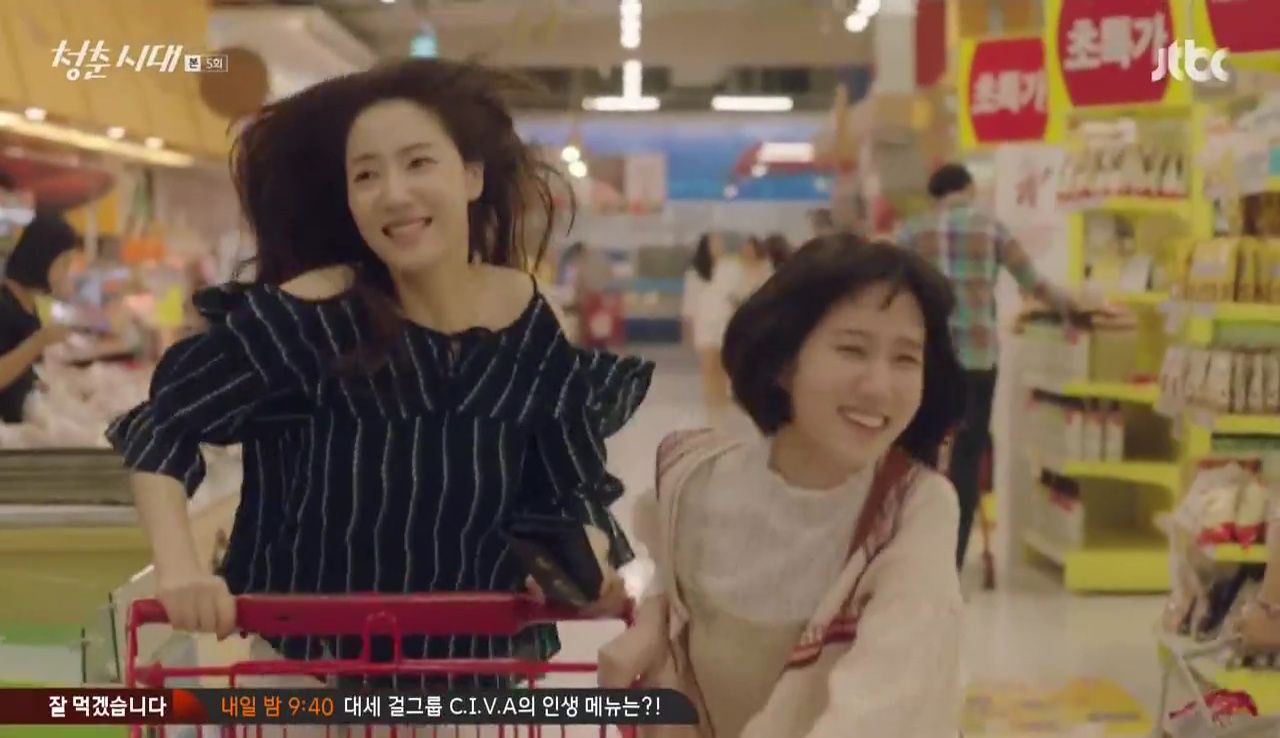 The day of the party. Ye-eun stumbles to the bathroom, her eyes puffy from crying all night. Yi-na and Ji-won are at the store to pick up beer and food, cheerfully grabbing extra in case all twelve members of the basketball team show up.
Back at the house, Ye-eun works on a sign for the party. She has a little Inside Out moment when thinking of Doo-young, with mini versions of herself in different colored wigs telling her how she should feel. The real Ye-eun throws her head down on the table in confusion.
When Ji-won and Yi-na return, Eun-jae and Ye-eun join them to blow up balloons. They each inhale some helium, and soon, they're giggling at their voices and having too much fun to notice that someone's phone is going off with a call from "Dad." Even Ye-eun's sadness is no match for the girls' funny voices, keeping their conversation from becoming too serious.
Jin-myung walks out of her room to the sounds of her roommates' laughter. Ji-won offers to call in sick for her, saying that it'd be really nice if she could come to the party too. But Jin-myung brings the mood right down, telling the girls that she doesn't have as much free time as they do, so they should stop teasing her.
She gets ready and runs to the bus stop, but just misses the bus as it pulls away. But her timing actually seems fortuitous, as an older ajusshi who just stepped off the departing bus is looking for directions to… the Belle Epoque. While giving directions, Jin-myung looks at the man curiously, then asks him if he's looking for Song Ji-won. The ajusshi brightens, asking if she knows Ji-won.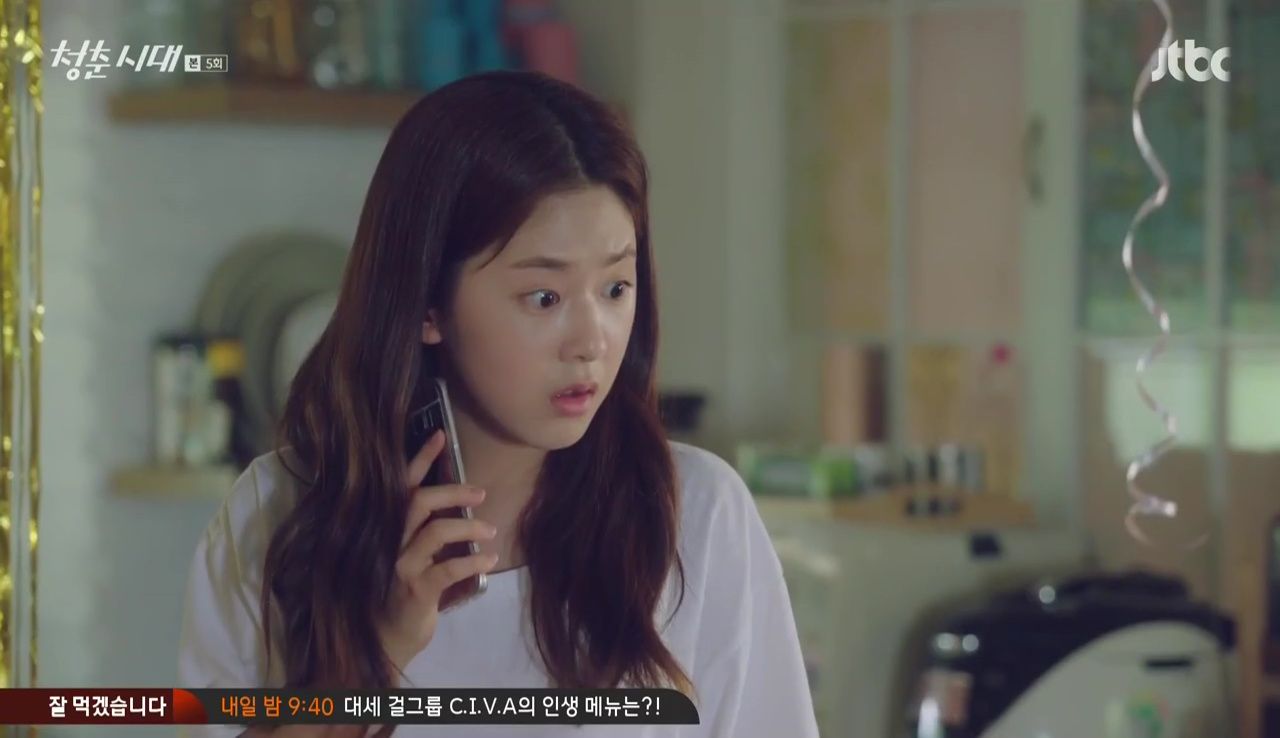 Ji-won finally finds her phone when her dad calls for the umpteenth time, and she answers the call. At the same time, Eun-jae picks up a call from Jin-myung. Both Ji-won and Eun-jae's mouths drop at the same time when they hear the news: Papa Song is on his way to the house.
As if on cue, the doorbell rings. The girls freeze for a minute, Ji-won lets out a horrified scream, and everyone scrambles to clear away the evidence of the party. Yi-na checks the intercom screen, but it's only Jong-yeol (with flowers!) who has arrived early.
Jong-yeol stands in the entryway, watching the mayhem that's happening inside as the girls hurriedly try to return the apartment to its normal state. It's not long before he gets pulled into the fray though, and soon, he's moving furniture and helping Eun-jae take down decorations.
Jin-myung ends up helping Papa Song with his bags and accompanying him to the house. During their walk, he asks Jin-myung to look out for his daughter, calling Ji-won naïve and innocent. Ha, Jin-myung's face at that comment is so great.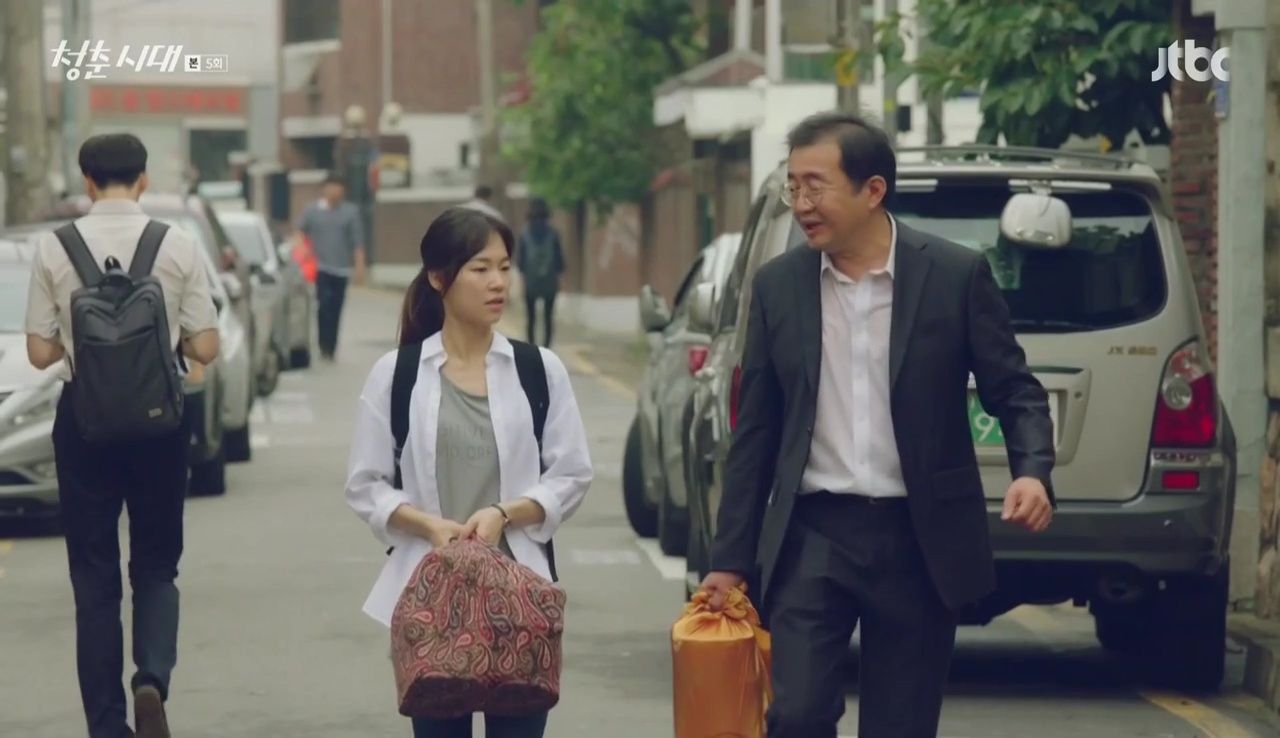 They finally reach the house, and Papa Song rings the doorbell, calling for Ji-won. Jong-yeol's able to take down the last piece of evidence — a disco ball — just in the nick of time, and the girls shoo him into Eun-jae's room, shoving Eun-jae in with him despite her protests.
The other three girls take a deep breath, and Ji-won moves to open the door. Just then, Ye-eun gasps — haha, they forgot to take down some penis balloons hanging on the balcony door. She races over to take them down, while Yi-na greets Papa Song with a formal bow right there in the entryway in an attempt to stall him.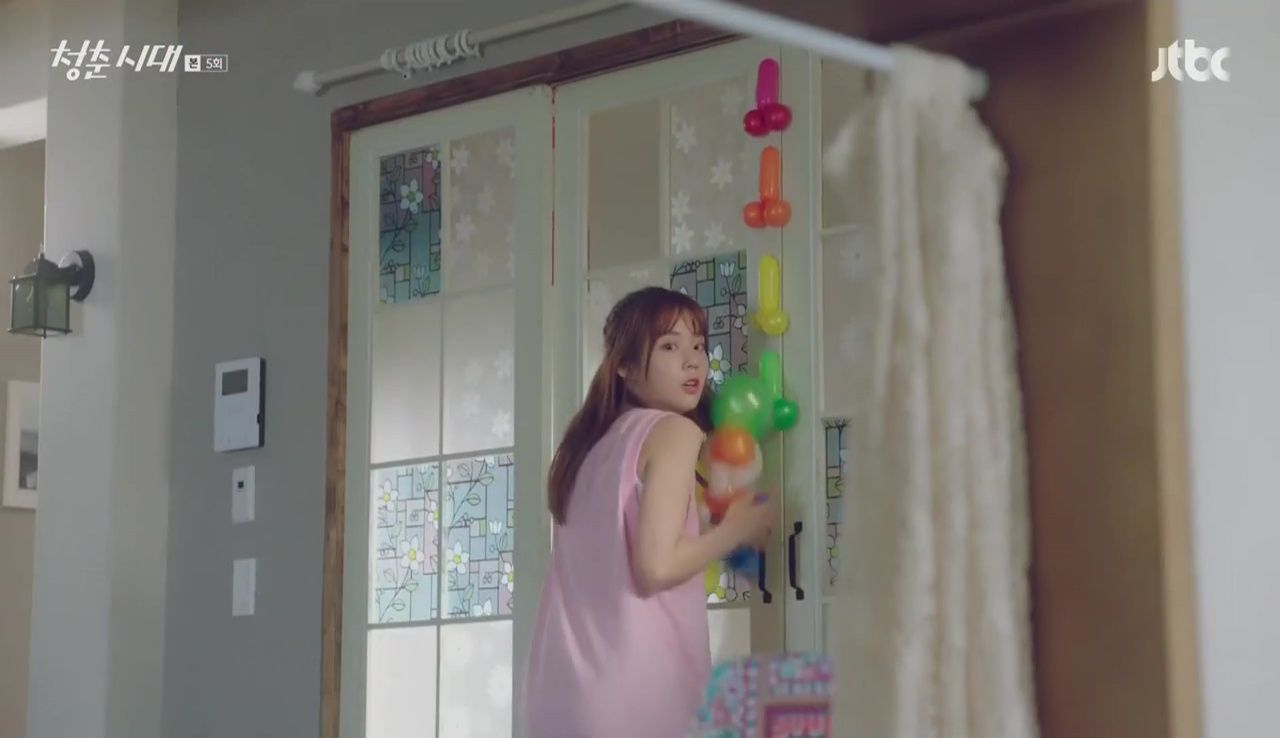 Eun-jae and Jong-yeol stand awkwardly in her room, surrounded by party paraphernalia. Jong-yeol takes a seat, only to find a penis-shaped party decoration under him, which Eun-jae pretends not to see. He asks Eun-jae which furniture items belong to her; when she points out her bed, he swallows hard. Eun-jae doesn't let that go, asking him why he swallowed like that. Jong-yeol claims he's just thirsty, then accuses her of thinking dirty thoughts.
Ji-won ushers her dad into her room, and he tries to settle in for a nap. But Ji-won's having none of it — she practically shoves him out the door, saying she wants him to get home safely before the sun sets. It works, and Papa Song leaves.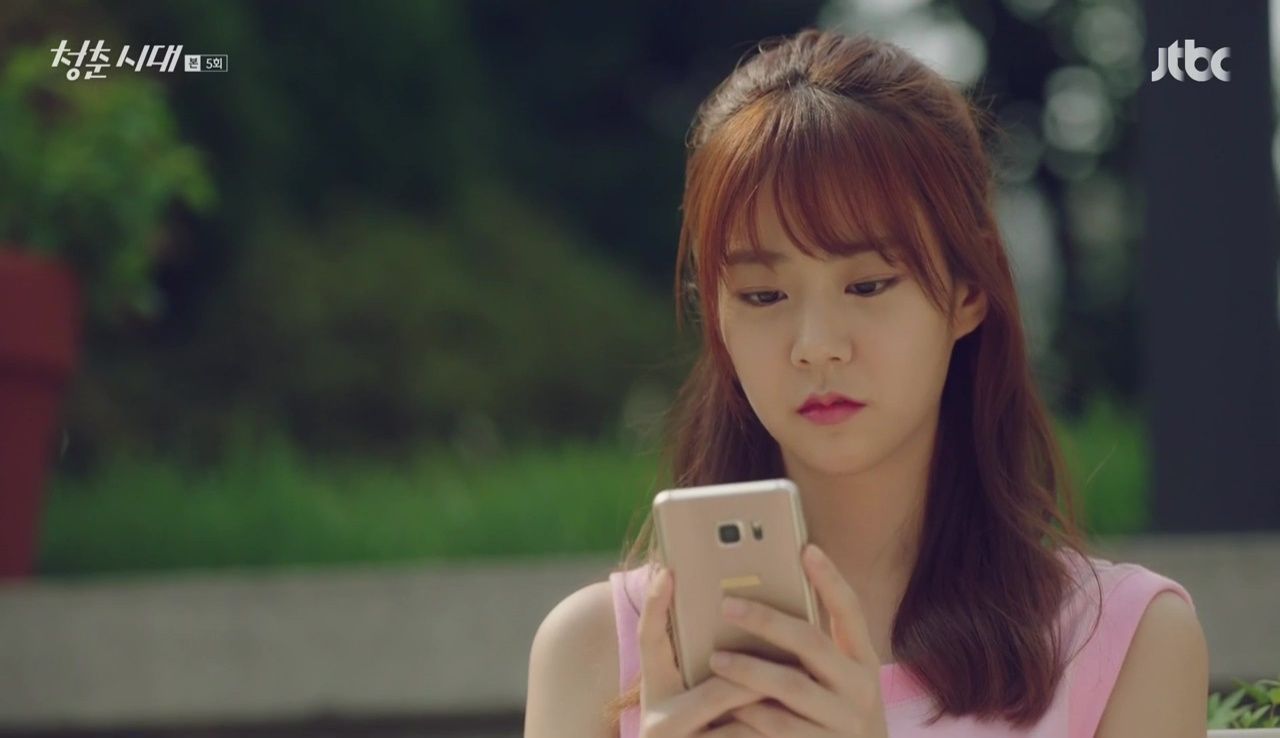 As the girls are heading in to re-decorate for the party, Ye-eun finally hears from Doo-young in the form of a simple text asking her what she's doing. She stares at her phone and thinks to herself that she had an ordinary romance, and she'll have an ordinary breakup, where one day they'll forget about each other. She finds this thought both comforting and sad.
Yi-na, Eun-jae, and Ji-won are busy decorating for the party a second time. Jong-yeol helps out, enthusiastically responding to Ji-won's new name for him: "Eun-jae's man." Bewildered, Eun-jae just watches him; when he turns to look at her and sees her looking back at him, he smiles.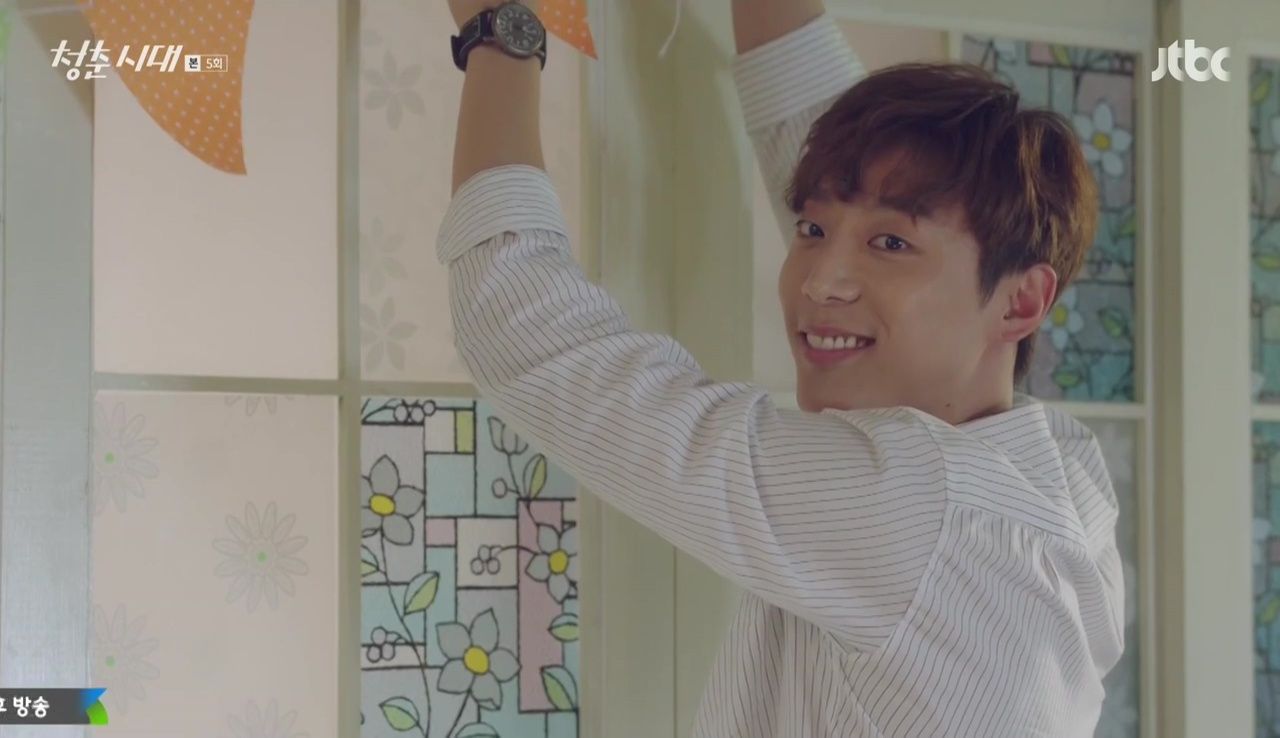 Ye-eun waits for Doo-young at a cafe, and narrates that she hopes that the next guy she dates likes her more than she likes him. She knows that breaking up with Doo-young is the right thing to do — there are so many reasons why she shouldn't like him, the worst one being that he doesn't like her as much as she wants him to.
Doo-young arrives, and I want to punch that smug look off his face. After some prompting from him, Ye-eun finally speaks, telling him that she's grateful for the times she had with him, but if they're to break up, she wants to do it properly. He's surprised at this, asking if she really wants to break up. As tears well up in her eyes, she shakes her head no. And in a voiceover, she says, "There are so many reasons for me not to like this man. But there's just one reason why it's okay for me to like him. It's because I like him. I like him so, so much." She breaks down in tears.
Epilogue. Ji-won's interview mostly covers her tendency to talk about dirty things and her obsession with men. She states that no matter what happens, she's going to lose her virginity this year, then wonders if she should just grab a random guy off the street.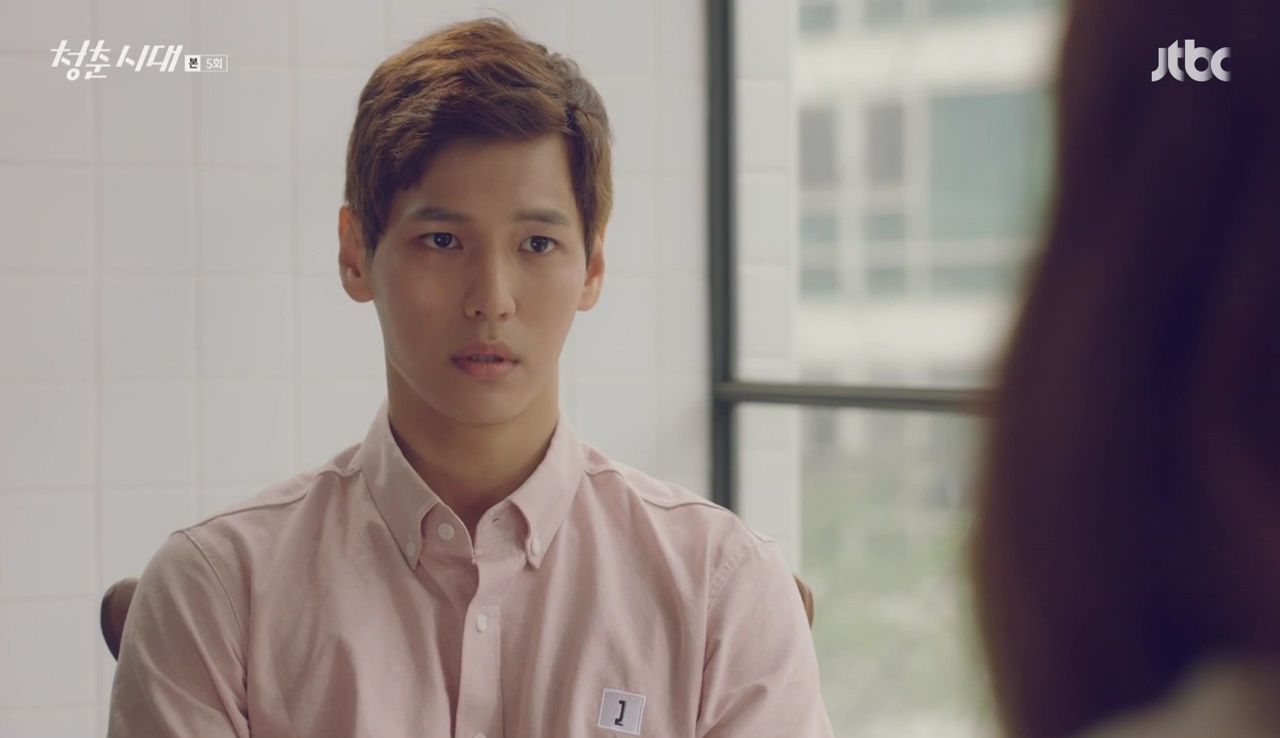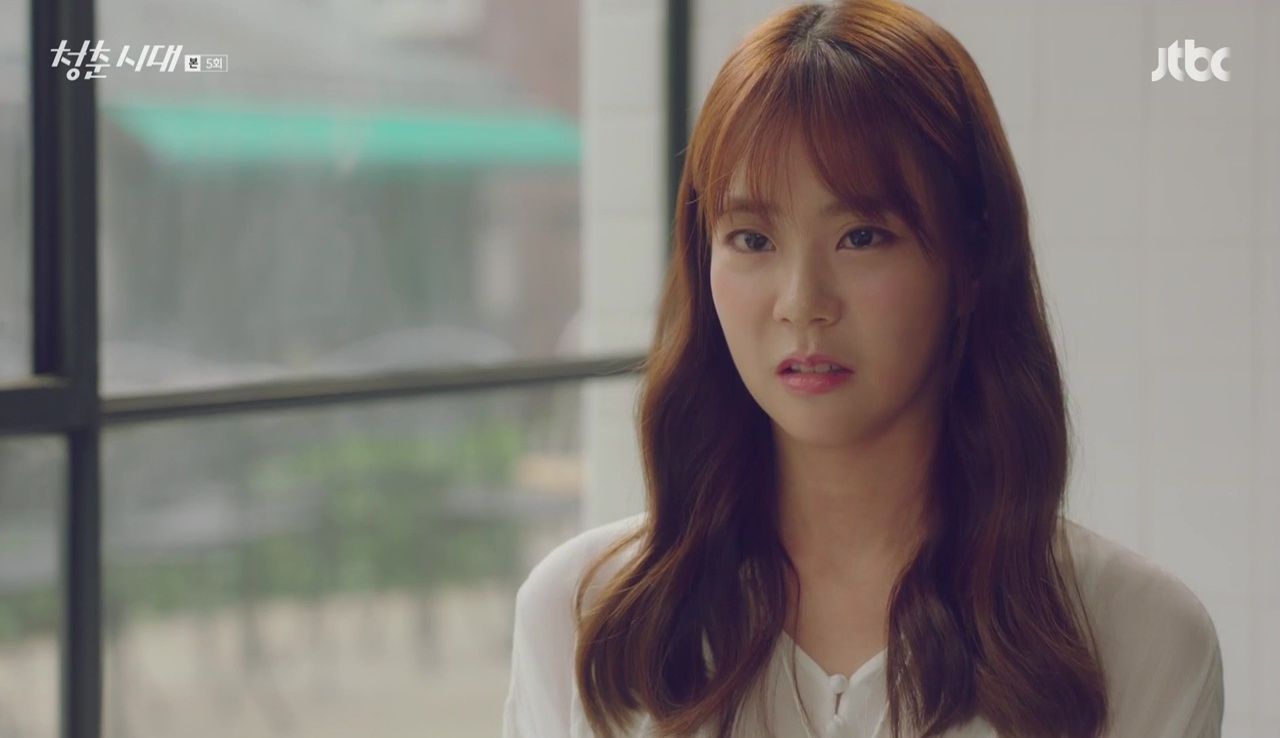 COMMENTS
I was disappointed at first to realize that this wasn't going to be a Ji-won-centric episode — she's my favorite and I want to have her front and center already! Instead, we circle back to Ye-eun's thoughts this hour (even though for some reason, we end with an epilogue with Ji-won), as she navigates the next step in her relationship with Doo-young. Though I haven't been the most sympathetic to her plight in earlier episodes, I actually felt for Ye-eun in this one — wrestling with the feelings of knowing someone's not good for you, but also really liking him anyway, feels real to me. I was rooting for her to hold strong as she went through her stages of grief and came to the (right) decision of deciding to break it off with him.
I think it makes sense that for Ye-eun, who was so invested in making this relationship work, the process of deciding to break up was just as painful as actually being broken up. That said, if she doesn't end up following through and breaking up with Doo-young, I'm gonna throw something. I mean, what's the point of going through all that if she just ends up back with him? I want her to grow, and to realize her self-worth apart from her relationship with him. And I hope her roommates are the ones to give her hell if she does back out.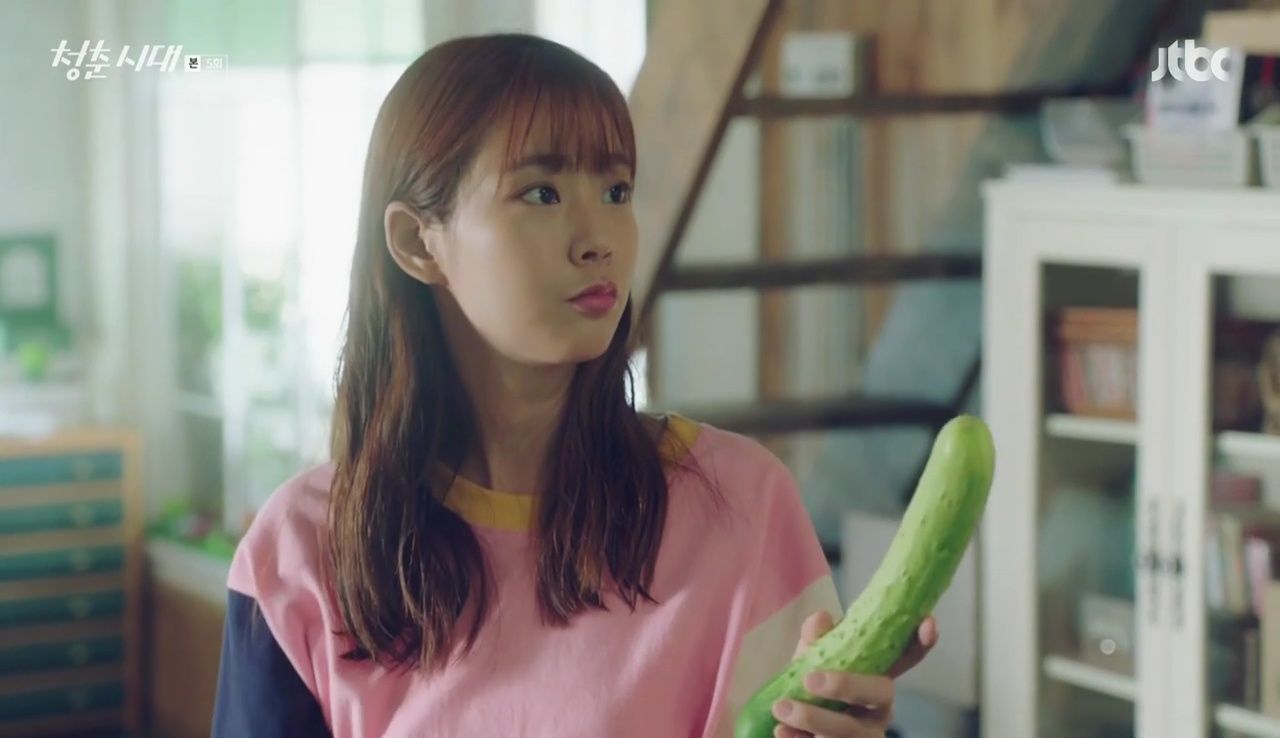 This show is finally hitting the right notes for me, and I'm impressed with the way it manages to provide ample focus on most of our other housemates even as it highlights one girl's inner thoughts per episode. I loved everything that had to do with the prep for their party, especially as it provided an excuse for Eun-jae to try to make her move on Oily Guy, albeit with some questionable help from Jong-yeol throughout the process. And speaking of Jong-yeol, he is SO adorable with his totally obvious crush on Eun-jae. I don't even care that he dashed Eun-jae's dreams by lying that Oily Guy wasn't interested in her, because all I want is for him and Eun-jae to get together and be super dorky together in love. That smile that he gave her toward the end as they were redecorating slayed me — and it's made all the better because I think she's starting to get some idea of his feelings toward her. So. Much. Cuteness.
It's great to have Yi-na back as a roommate and providing some much-needed balance to the house. We now have confirmation that Stalker Man is not a good guy and that he's out to get her, so it brings me some comfort that she's not living alone. On the brighter side, Yi-na and Ji-won are hilarious together, and I can only guess what sorts of shenanigans will unfold at this epic Night of Men party when it actually happens. At this point, I only have one wish — that Jin-myung joins in on the party, and we see her smiling again. What will it take to get all five girls in a room together, happy and having fun?

RELATED POSTS
Tags: Age of Youth, featured, Han Seung-yeon, Han Ye-ri, Park Eun-bin, Park Hye-soo, Ryu Hwa-young