Beans of Wisdom: PPL duct tape and metaphysical cats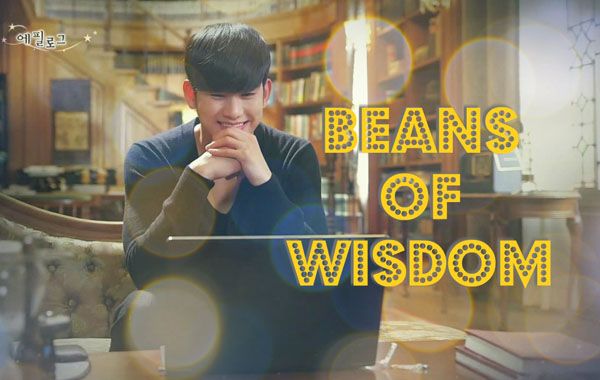 This week in Beans of Wisdom…
In "Cinderella and the Four Knights: Episode 1" comment #18, Yoyo writes:
Butler Kim plastered to the ceiling was hilarious!!!
TM asks:
How did he end up there to begin with? It must have been tough to put him there
Yoyo answers back:
A butt load of green duct tape and the ingenuity of a spoiled third generation chaebol.
While blnmom says:
I think that was PPL for duct tape. Look, you can get it in bright green instead of the drab gray color! And it's so strong you can tape a butler to your ceiling!
"W–Two Worlds: Episode 8" is inspiring all sorts of existential discussions. In comment #17.4, Yeonka writes:
RE: the existentialist aspects of W. It's simply awesome imho. Because, for example, when KC decides to reset everything by giving up his free will (to pursue the only purpose he was allowed to and created for, aka to forever hunt the faceless culprit), it's basically not only logical – from a mind driven perspective – but also a conscious choice made in self-awareness. It's plain and simple, acceptance in its pure form.
KC entirely accepts that moment even if he doesn't agree with it, he just stops being resistant to what (he) is (supposed to be). By embracing the suffering existence, he accepts fully who he is, just as he is, and thus truly fulfills the only reason of (his) life.

[Because, imo, (real) human beings also have only one (major) reason of existing, to become self-aware that their life is a long sequence of experiences each one chose to live in order to fully accept and love themselves just as the are. As beings with flaws, limits and fears, yet unique, original, unrepeatable and being the only ones responsible for their life (by assuming the responsibility for one's own life – each one is responsible only for their own choices and the consequences that follow).]
Cipher writes in comment #4:
Then it leads me to another question I can't help asking: what is the reality in the comic world. When KC woke up from his dream, all readers of comic book W would conclude: the psycho arc is just a dream hooray. However, for us drama viewers, we know those things actually happened( or did they? ) It seems that the reality in this manhwa world entirely relies on observation and understanding by the 3D real world audience.

Just a bit like a thought I enterntain from time to time:the world might not exist after I die or before I was born, since I would not be there to observe it.
Sun:
Schrödinger's cat?
Meanwhile, Divyrus gets compassionate in comment #8.5:
Am I the only one who felt bad for the faceless killer? I mean he literally has no purpose, no character, no emotions with a single minded goal of killing KC and employed whenever required by OSM.

Sounds too cruel than how KC is used in a way. At least for KC, he was fleshed out and treated with care.

The faceless killer is literally a trope used when convenient and thrown away later. Imagine, If all tropes had some kind of being and a mind of own?

Now am imagining, noble idiocy, truck of doom, amnesia, birth secrets – all tropes sitting together and having a drink, lol.
siesta adds:
and complaining endlessly about how pointless their whole lives has been lol

amnesia: "don't they know that a good bonk in the head is all it takes?!"
truck of doom: "I had ONE job."
Michykdrama:
Birth secret: You see that chaebol? He could be your father. You see that girl? She could be your sister.
In the same post, whilethemusiclasts says in #71:
I love that the entire point is that writers should think more about their characters and give them purpose in the story more than just to serve as plot devices and to further the story of the main character. Dad's shitty writing is the main evil and now he's got to set it right. Give the characters actual identities (especially the killer), give them a purpose to continue living even with the absence of Kang Chul, give them an actual life. Shitty drama writers need to take notes.
Yoyo has a lot of questions in "W–Two Worlds: Episode 9." Starting with #3:
I'm still not over it and I have a million questions that begin with how and why….. Still want to do Face Swap on Snapchat??
And this thread in #7:
So what do we call No-face now that he's got a face???
Kestrel:
New Face? (n)OH Face?
Lord Cobol:
"Face transplant guy??" "faceplant" for short.
"He who must not be 'faced'" ?
taml:
Faux Sung-moo?
mary:
Yes-face?
No Seung Moo?
Moon Lovers: Scarlet Heart: Goryeo dropped multiple promos this week, starting with "Scarlet Heart's princes share bath time, games, and a lady love." SL writes in comment #64:
I would willingly go back in time and suffer from unhygienic conditions, lack of internet, and nonexistent plumbing if it meant Lee Jun-ki would stare at me like that.
PBY comments on the barrage of promos in "Longing stares and lunar eclipses for Moon Lovers: Scarlet Heart: Goryeo" at #15:
The PR team at SBS:
"How do we make SURE the viewers tune in for the new drama?"
"Hmm, how many posters did you say we had?"
The other Kiara talks about Jin-myung in "Age of Youth: Episode 8" comment #17.3.
Maybe I kind of see her and her situation from a different perspective. I'm rooting for her character because I'm very grateful that I didn't have my family's financial burden on my shoulders. I don't think I'd make those sacrifices till I'm done with school and have a real job.

I do understand why she is in that state of mind and her mood and spirit is low because she is in a hopeless situation and it's getting worse. I'd sit in a corner and cry my heart out too but she doesn't too it often because she has learnt to suppress her feelings.

[…]

I love the title of this episode, Hope! that dang hope. Don't you dare give up. When one door closes another opens.
I hope she slams a door on her current boss's hands and break it so he won't touch another girl again.
wapz is worried about "The forecast looks sunny for Jealousy Incarnate" (#9):
Aren't 24 episodes too much? I see it as a light rom com with the basic premise only being about jealousy and I think 16 episodes would be enough. Unless obv they have enough source material and twists to keep us entertained.
Moushimi replies:
I know what the producers were thinking. Well, here it is:
Producer: hey, lets make this a drama 24 eps.

Writer: huh…. Why 24? I wanted to make it a 20 ep.

Producer: So that if our ratings sucks SBS will not be able to cut more tham 4 eps which means we will be able to make 20 ep, therefore it's a win-win situation for both of us.

Writer: YOU R A GENIOUS!!!!!!!
Taeki's horse-riding Teacher reacts to a quote in "Hearts and smiles at Moonlight Drawn By Clouds' press conference" comment #29:
Meanwhile, Kim Yoo-jung said of her co-star, "At first when I heard the news that Park Bo-gum was cast, I thought it was really well done. When we met on set, he was so handsome I was startled."

You just knew it NOW??? We've been startled for AGES.
Finally, kitkat writes in "Drama viewership ratings for the week of Aug. 8-14, 2016" comment #33:
all these discussions remind me how diverse we are. there are so many factors when it comes to question why do people like certain drama and why not. our culture, surroundings, upbringing, education, religious views, personal preferences… each and every one of us is unique and special that way. I might scratch my head why so many beanies adore a certain drama / actress / actor when they don't excite me in the least? and why is this drama described as boring when I find it anything but? and how is this story supposed to be a moving one when I find it so over the top and a total cliche? guess we all have those moments. and you know what? it's perfectly fine! we just need to respect that. and remember that when we get carried away a little bit.
Thanks to all the beanies who keep the beanut gallery a fun, insightful place to hang out in. And for those who haven't read it yet, please take time to read the Dramabeans Commenting Policy.
RELATED POSTS
Tags: Beans of Wisdom