Beans of Wisdom: Reformed trucks and sassy titles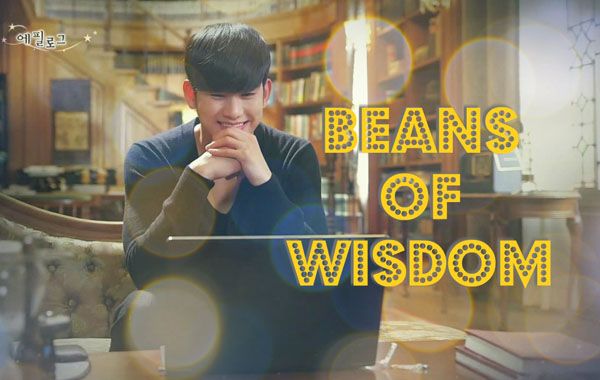 This week in Beans of Wisdom…
In response to the behind-the-scenes problems in "My Sassy Girl's original leading actress rumored to quit, role still not cast, Lord Cobol suggests a solution in comment #24:
Shows to replace this fiasco:

Let's Fight Casting Director

W – Two Actresses

Uncontrollably F****d

Second to Last Actress

Age of Incompetence

Cinderella and the Four Replacements
iateallthecookies replies:
Don't forget the old favourites:

Secret casting

You from another audition

I won't hear your voice

Remember — actresses' war

Sign me, unsign me

Ratings over everything

Actresses in the trap

Who are you? Acting school 2016

Angry actress

And soon to come:

Cast me 2017
randomblah adds:
Alternatively, Joo Won in the Trap. LOL.

Some more dramas:

Six Flying Rumors
Ex Leads Club

Emergency Replacement

Imaginary Casting

D-Day (and yet there's no lead actress)

The Greatest Flop

Decision Turner

Second Time Casting a Lead

Wanted: Another Sassy Girl

I Remember You Auditioned Before
Alessar:
Let's not forget:

Sign or Go Crazy

Please Come Back Original Actress

When A Director Casts

Lead Actress's Dignity

Five Casting Directors

She Was Pretty Reasonably Mad
Check out the original thread for more show titles.
In "Here are alllllllll of your Moon Lovers," Dakchigo notes (#19):
On Moondays, Moonlight Drawn by Clouds and Moon Lovers will also go against Moonster.

*rimshot*
the-basketcase talks about the siblings in "The Good Wife: Episode 13" comment #5:
I find it interesting how both Hye-kyung and Sae-byuk are so similar. Both of them have partners that are/used to be the main providers while they stayed at home, which is why Sae-byuk is the one that understands his sister the most. When he tells her to be happy its probably because he really understands the life she led before and what it means to break free from her past self (his being queer definitely adds another layer into that statement, as he probably had a hard time coming out and being truly accepted as a gay man).

When Sae-byuks partner, (Jung-min??) says he misses him, all I thought was hmmmm… wonder if Tae Joon should take some lessons from him to learn how to be a decent human being…?
diggy writes in "W–Two Worlds: Episode 10" comment #4.2.2:
I feel like every past scenes will happen again but with a different feel to it. Next time around YJ will be buying clothes for KC (because he's bleeding in a motel) and maybe this time around the Truck of Doom will be their getaway vehicle. You never know with this writer.
Sancheezy replies with an idea:
so Truck of Doom discover humanity and changing side?
I'd love to see that,

"oh there's a people on the street"
humanity strike! hit the brake instantly
Blueribbon:
I hope that happens. He has to expand his acting roles, he has potential but playing the same role in every single drama is truly getting repetitive. He needs a better manager to help him choose better roles.
kanz:
Truck of Doom repents and reflects on his past mistakes and won't appear in as many scenes as he'd like to before. Netizens praise him for the change. Maybe Truck of Doom have already changed his agency to help him find new roles?
KangChulFan writes about our favorite Kang Chul fan, Yeon-joo, in "W–Two Worlds: Episode 10" comment #91:
With reference to Yeonjoo's I want a happy ending for you. That was actually the most revealing and heartwrenching statement from her. Shes gonna help him restore thgs in its place undo the evil thgs ghost unleash on kang chul but her happy ending for kang chul does not include herself in the equation. She has relegated herself as a side character only. As long as he gets a good ending then to her their separation wont be in vain. I ofcourse disagree because any ending for kang chul without her is not a happy ending. Although kang chul doesnt voice it, his gaze at her has rapidly evolved from polite strangers to curiosity to a keen intensity to know her. If his gaze gets anymore intense im sure we'll all go up in flames.
Spoken like a true Kang Chul fan!
Meanwhile, PBY says in "It's all muscles and kittens for action drama The K2" comment #12:
I thought you really couldn't improve on the concept of Imaginary Cat (Yoo Seung-ho + kitty), but it turns out you can.
Ha-won's current task to gather the cousins and eat together sparked a discussion on what defines a family and whether strangers have a right to force people to be a family. In "Cinderella and Four Knights: Episode 4," whatis starts in comment #29:
I don't like her "Just force it" attitude towards the mission. Asking nicely in the beginning was cool – she didn't know any better, and she asked them to join for breakfast. Then afterwards… it all feels superficial. Playing games and "granting a wish" to get them to a meal. Isn't she curious as to WHY there is so much animosity? Even after the Ahjumma told her a snippet about each cousin, she didn't do much to learn the root of the problems.

She became this annoying, naive puppy. Which makes totally no sense, considering her own past. She is aware that animosity within family exists, and she is aware that sometimes, it's not something that can be overcome by pure persistence. She got kicked out of her house despite her endurance and efforts. I don't mean to say she should become pessimistic, but she should be more compassionate towards their situation.
Zoe adds:
I absolutely adore Ha-won and I think Park So Dam is incredibly natural in this role, but I have to admit I'm not a huge fan of the "I'll make you a family, whether you like it or not" narrative. I feel like family is always such a complicated thing, the dynamics so individual, and so deeply emotionally affecting that it's nearly impossible for a stranger to come in and say, "if only you were kinder to each other, spent more time with each other, this would work out."

[…]

Besides, as you mentioned, being rejected by her own family, she already should know how impossible it is for pieces of paper like marriage certificates to "make" a family. Which renders this exercise even more disingenuous. I would believe it more if she were the one who wanted a real family and was this sort-of trying to create that fantasy existence, but the narrative isn't playing it that way. What I'm hoping is that they undercut this later, that this is just a set-up, but the narrative isn't actually about Ha Won making them a family. The more honest narrative would be the one where, like right now she initially forces the issue, but later realizes she can't, and comes to know more of their history, and then becomes emotionally invested. For me it's more believable if she's just doing this right now because she can't understand why they don't get along and doesn't particularly care either way apart from the sole purpose of completing her missions, but as she keeps failing, is forced to confront their individual traumas, understand them more, in order to succeed, but then in the process, comes to know them and their loneliness too deeply, and then actually starts wanting them to be a family for their sake, but maybe even starts succeeding, but doesn't force the issue. The actual will has to come from them.
While inxomnia has a more optimistic view of Ha-won's actions:
I think from her perspective, she's trying to get them to give it a thought/chance, because from her perspective, none of them have ever even tried to consider the others as a family. Essentially, none of them have really done each other truly wrong, they've just never let down their walls and let themselves be part of a family because they never knew how to.

I think it's different from Ha Won's experience and is consistent with her character because even though her step-family never treated her like a family, she always saw them as a family and she always tried to be part of the family of her own effort and will, so perhaps to her, that was enough.

I think from Ha Won's characterisation, you can tell that she cherishes the concept of family a lot and I think that's why she is going along with the set up/missions, because she chooses to see the good in people and she believes the brothers are good-natured and wants them to be a family. I can buy into her motivations, even though they are somewhat self-righteous and oblivious.

I feel like this drama is not only going to focus on the love triangles/squares but is aiming to teach us about the concept of family, so I don't mind seeing how they try to bring the boys together, I'm just keen to see some reluctant bromance.
Jen replies to the question of when to stay with a show in "Uncontrollably Fond: Episode 15" comment #22.3:
If there's one important thing that I've learned here in DB, it's that you can decide not to be a kdrama martyr. If you're not happy with a drama you're watching, for one reason or another, let go, you will be better for it. On the contrary, if you really really like a certain kdrama, go and watch it and enjoy the feelz no matter what other people say coz at the end of the day, it's your (kdrama) happiness after all 😉
newbee writes in "Open Thread #462" comment #42:
I wish someone could draw a manhwa of my life like W where I could go 10 years back and start living altogether a new life..
I wish I could go 9 years back where I would choose the right path regarding my college after 12th..
I wish I could go back 8 years ago where I would not stubbornly pursue a wrong relationship and be all wounds like I am now and loved someone who even now loves me truly..
I wish I could go 6 years back where I would not hurt my parents mentally and financially rather be more of a support to them..
I wish I could go back 4 years back where I could have moved out of the relationship when I had a chance to.. I wish I could go back 3 years ago when I started watching kdrama and be addicted to the point till now to the point that I am physically and mentally broken and lost..
I think all the girls here are smart and good enough to handle your love for kdrama and life equally well.. But it's getting difficult for me..
Urbangirl sent this beautiful reply:
Newbee, I ask you to think about the future and all the possibilities it will bring. I had a pretty miserable childhood and adolescence. My life became increasingly better. I recently realized that both my parents lived their lives always looking back and regretting events that they believed had happened to them. By always looking back, they couldn't or wouldn't be in the present or look positively to the future. I try not to be like them. When I do look back to events that were not happy, I also think about how those events helped me make better choices in the future, open to new and unplanned for opportunities and I try to move forward looking to how I can create a better future. I think of it like writing and reading a book at the same time. The past chapters are still there, but you turn the pages and write the next chapter.
And Jozie adds:
I don't know what's going on in your life, but try to hang in there. Tomorrow won't be like today. If you need to ask for help, ask for help. You can always pay it back by helping someone else in the future when you are doing better.
Thank you for being a supportive community, beanies.
RELATED POSTS
Tags: Beans of Wisdom