Bring It On, Ghost: Episode 14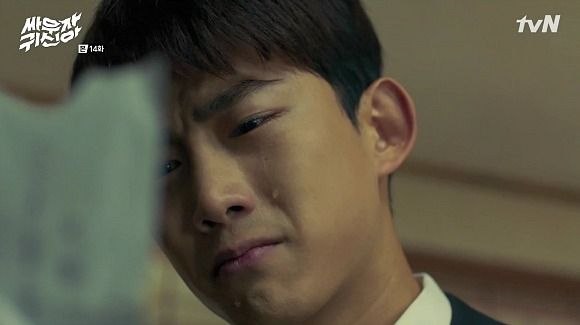 Things are growing dark as we near the final week of our ghost story, yet still, every answer only seems to reveal more layers, adding to the mystery of Bong-pal's past. But it's time for the truth to be told, because only with the truth can Bong-pal finally stand up and fight. And it will take everyone working together to beat the evil that's been stalking them all for decades.

EPISODE 14 RECAP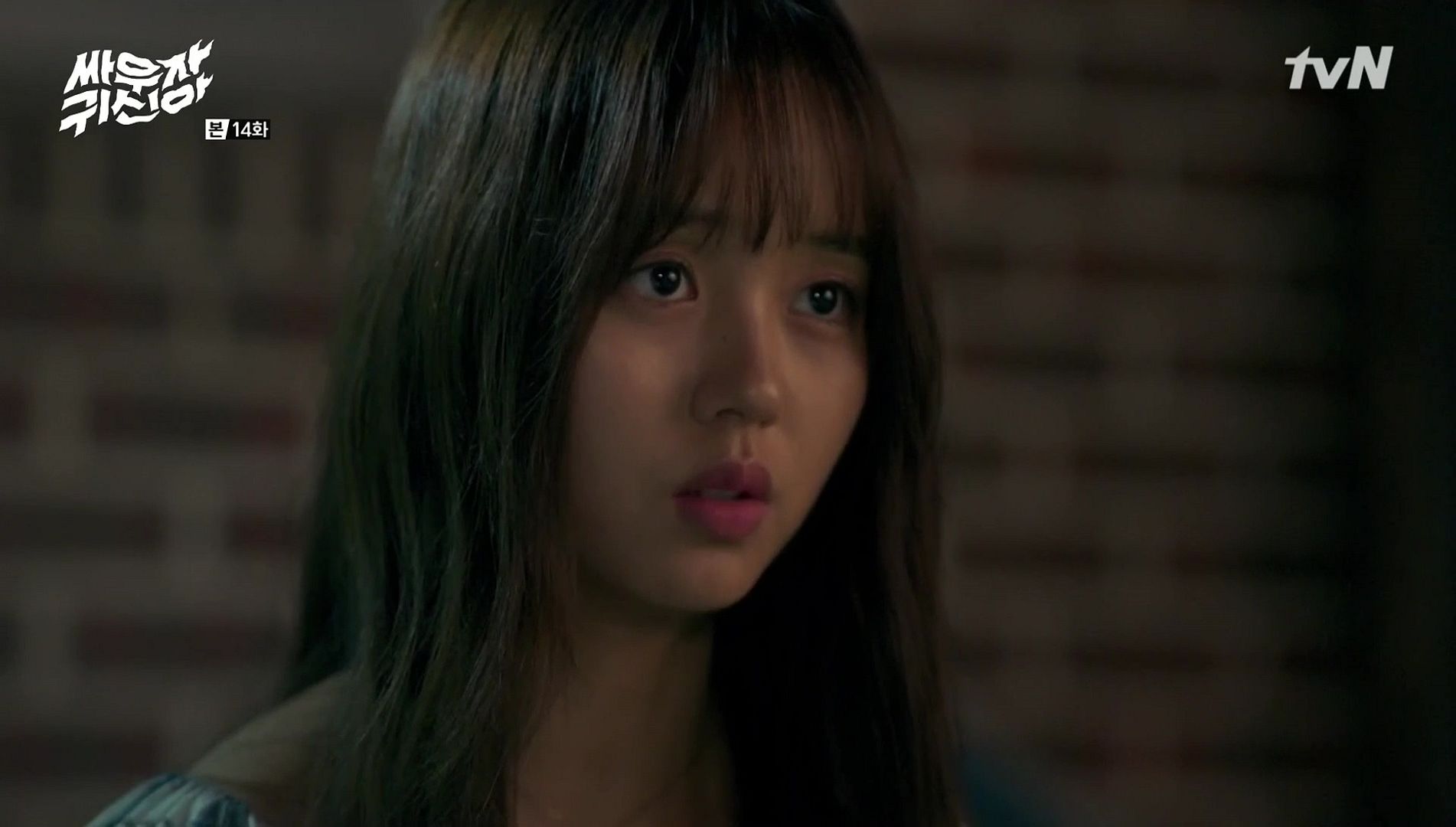 Hyun-ji calls Bong-pal after seeing the ghost in her home, and he finds her on a bench, shocked and crying. She forlornly tells him that she can see ghosts, and he holds her close, remembering how Myung-chul had worried that memories of her time in the afterlife could affect her now that she's awake. Bong-pal promises Hyun-ji that no matter what happens, he'll protect her.
When she's a little calmer, Hyun-ji asks Bong-pal what it was like seeing ghosts for the first time. He tells her honestly that he was scared, and cried, and even wet himself. His mind would go blank and he would just freeze when he saw a ghost, but then one day he stopped being scared.
We see little Bong-pal in flashback, playing outside at night, and he'd let his ball roll down a hill. The ball had rolled back uphill to his feet, and when he reached to pick it up, a female ghost had grabbed his hand. He'd reacted as usual by crying, but a kind voice had called his name, and he'd looked up to see monk Myung-chul.
Myung-chul had sent the ghost away, and he'd told little Bong-pal that everyone has something they fear. But you have to face the fears and overcome them. He'd told Bong-pal that he doesn't have to do it alone, and that he would be with him always. Okay, that worries me – foreshadowing?
Now Bong-pal says the same to Hyun-ji — that she doesn't have to be afraid, because he'll always be by her side. He takes Hyun-ji by the hand, and leads her home.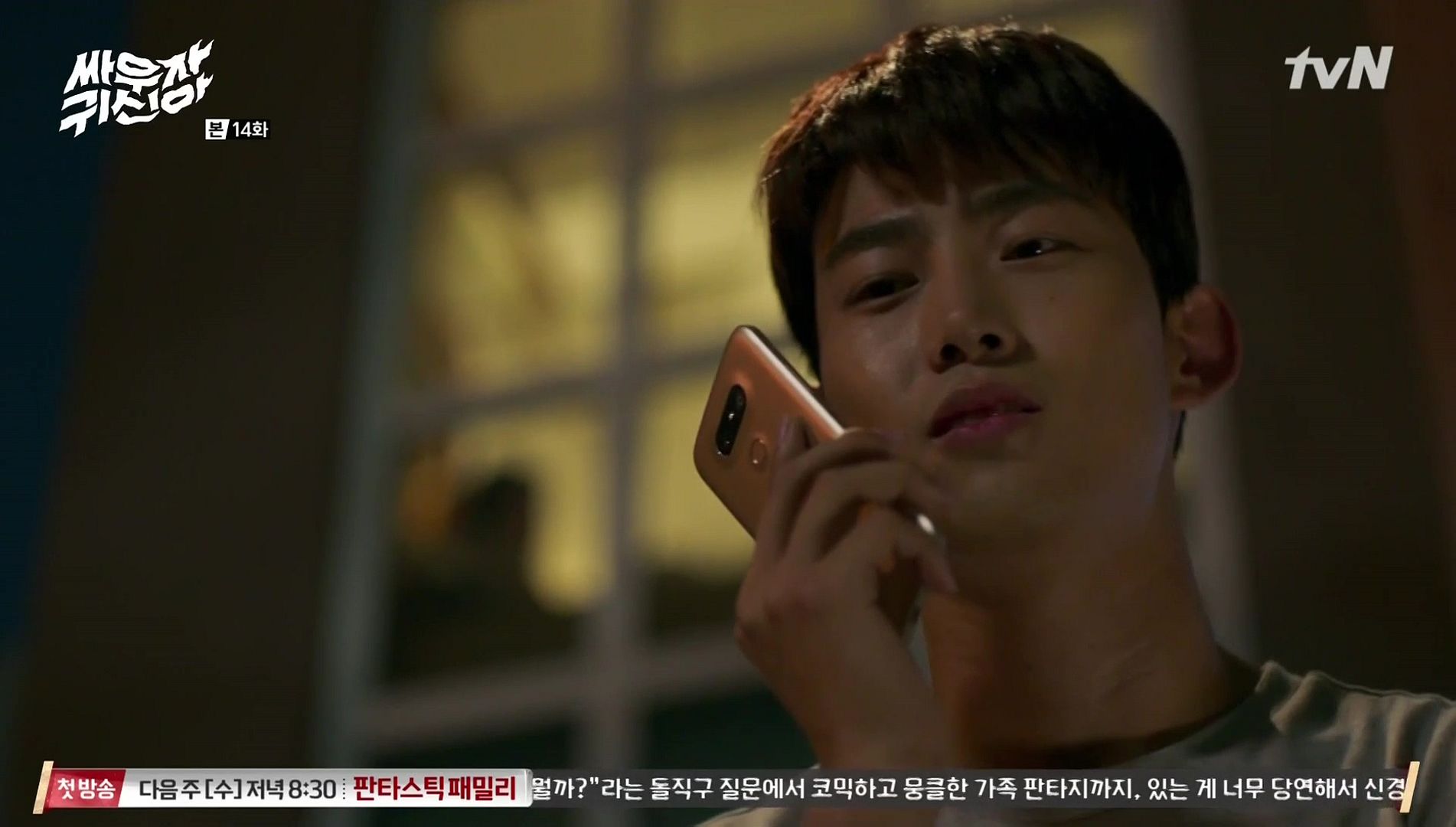 Later on the phone, Bong-pal tells Hyun-ji that he made it home safe, but in reality he's standing below her window watching over her. He sings her a song, the lyrics seeming to say exactly how he feels for her. That's so sweet. It works, and Hyun-ji is sleeping peacefully by the time her mother gets home.
Myung-chul waits up for Bong-pal, and Bong-pal tells him about Hyun-ji's new ability to see ghosts. Bong-pal asks if Myung-chul can fix Hyun-ji's eyes first, willing to give up the chance he's been saving for for years. But Myung-chul advises him to wait, because her new ability might just be temporary.
Bong-pal checks in with Hyun-ji in the morning, and she says that she slept well. She has a meeting with Hye-sung this morning, so they make plans for the afternoon.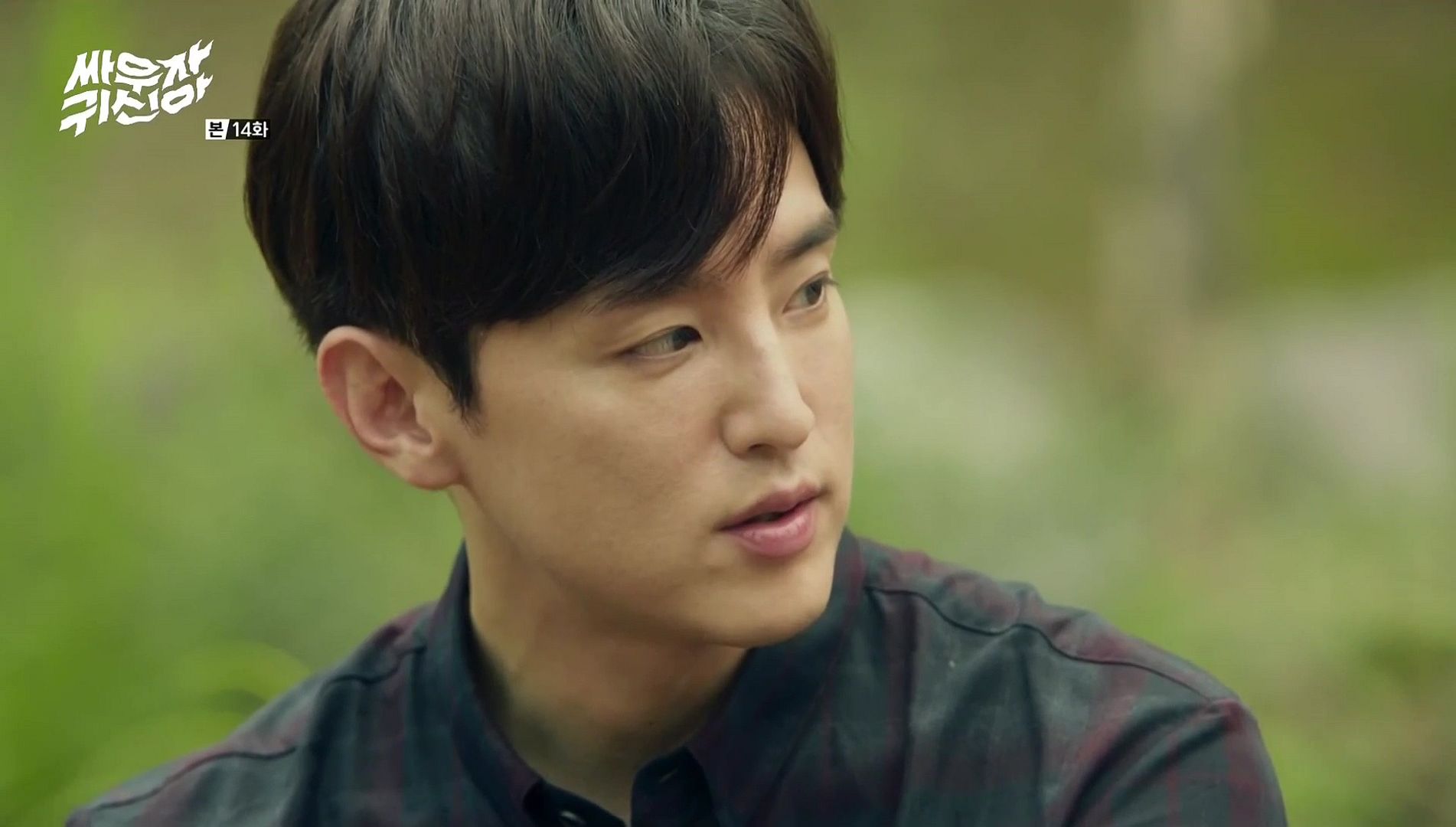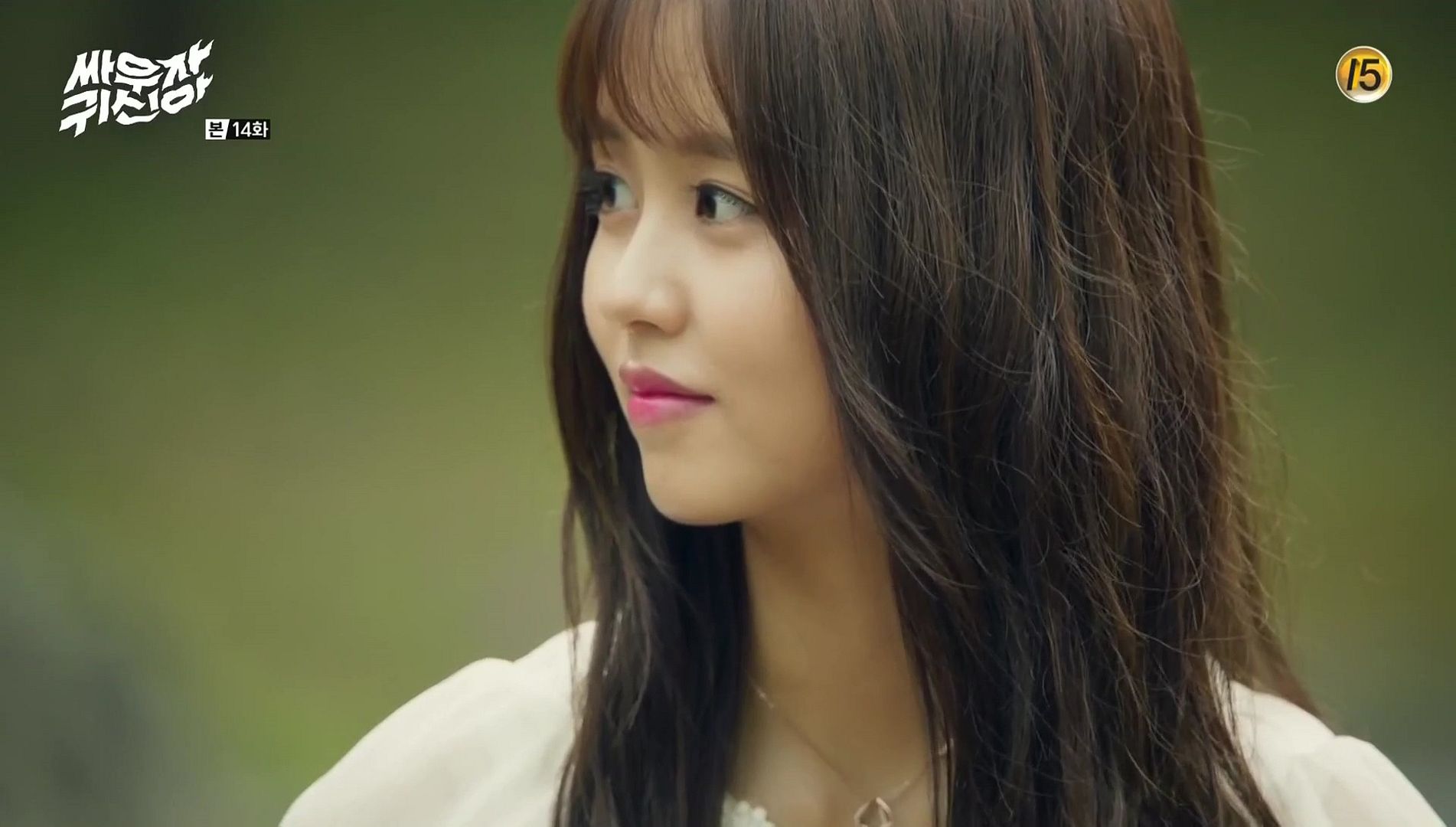 A hunter's dog finds something in the forest — a human hand. Yikes. Is it Bong-pal's father?
Hye-sung explains Hyun-ji's recovery like raising a puppy. You have to get out in the world and do a lot of different things, to avoid being fearful. He advises her to take things slowly, as she may have some yet-undiscovered trauma to work through, and he invites her to visit his little therapy dog Happy as often as she likes.
Hyun-ji has a small dizzy spell, and when Hye-sung reaches up to touch her head, his ticking watch right beside her ear triggers a memory. She's lying in the street after being hit, and a hand with a similar ticking watch reaches out to her. She tells Hye-sung that she remembered something, and he tells her not to try too hard to remember bad things.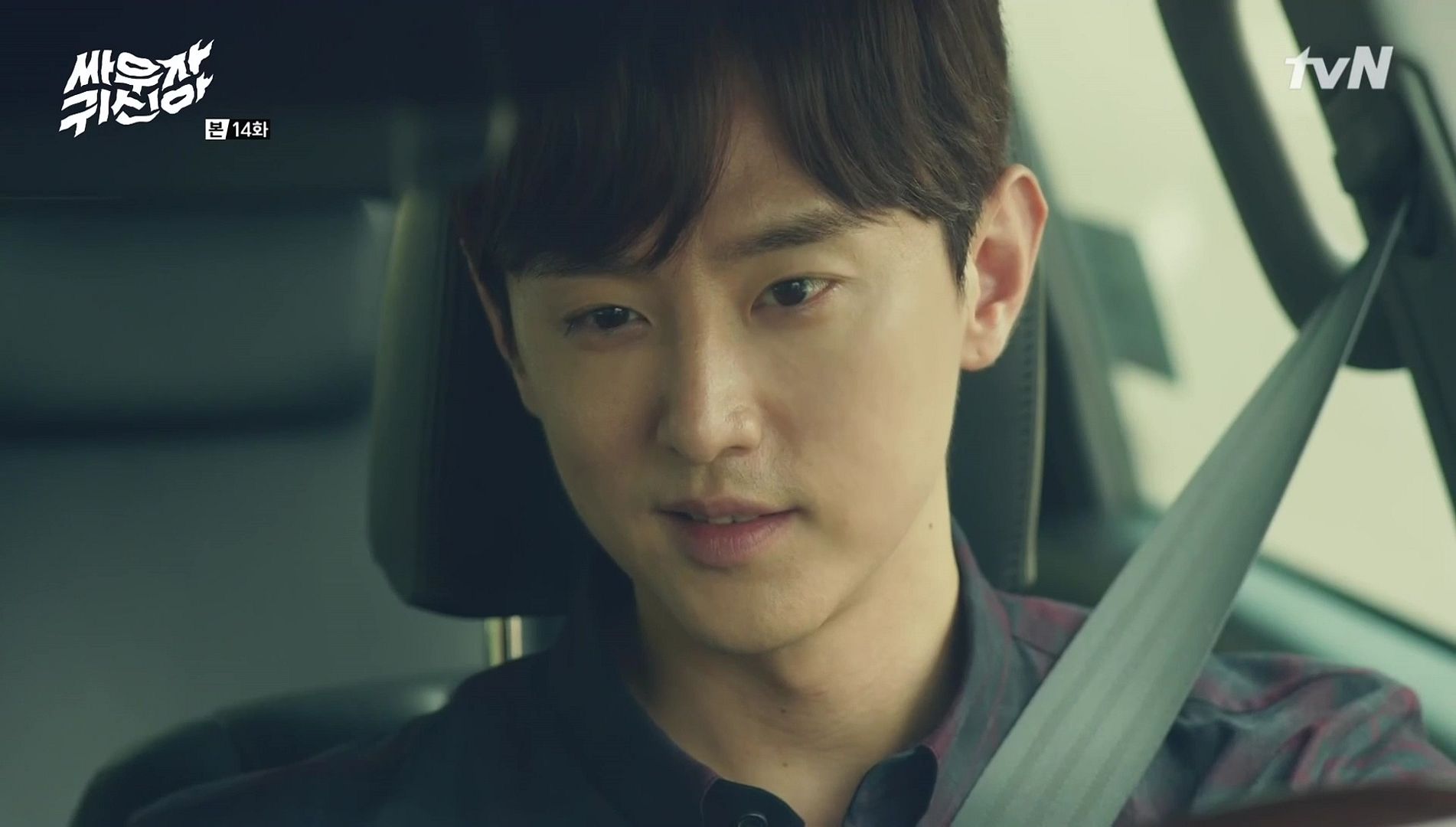 On the drive back Hye-sung asks Hyun-ji how she and Bong-pal met, and she giggles that it was fate. Hye-sung finds that interesting, but he doesn't ask any more questions. He drops Hyun-ji off where Bong-pal is waiting for her, and only then scoffs at her belief in fate.
Chun-sang and In-rang discuss the favor that Myung-chul asked of them, which they find to be a strange request. He'd asked them to stay by Bong-pal at all times, and if Hye-sung does anything strange, to call Myung-chul right away.
Bong-pal takes Hyun-ji to buy some workout clothes, and takes her to a gym to teach her some basic ghost-fighting techniques. He pretends to be the ghost and attacks Hyun-ji, and her martial arts training kicks in and and she twists his arm behind his back. He maneuvers out of her grasp and they end up in a close clench, but Hyun-ji easily somersaults out of Bong-pal's arms and flings him over her head. Awesome.
She sits on Bong-pal's chest, but he's stronger and quickly flips them over until he's the one on top. Rawr. Things look about to get heated, except that Chun-sang and In-rang arrive just then, and the mood is broken. Chun-sang jokes that this isn't the time for dating, not that Bong-pal looks even one bit sorry, hee.
The boys re-introduce themselves to Hyun-ji, and In-rang is adorably nervous to be officially meeting her in person. Chun-sang takes charge as a Physical Education major, and he ignores Bong-pal's warnings to be careful wrestling Hyun-ji. He pretends to be a pervert chatting her up, and she torques his arm and kicks him right in the jewels. He shoulda listened.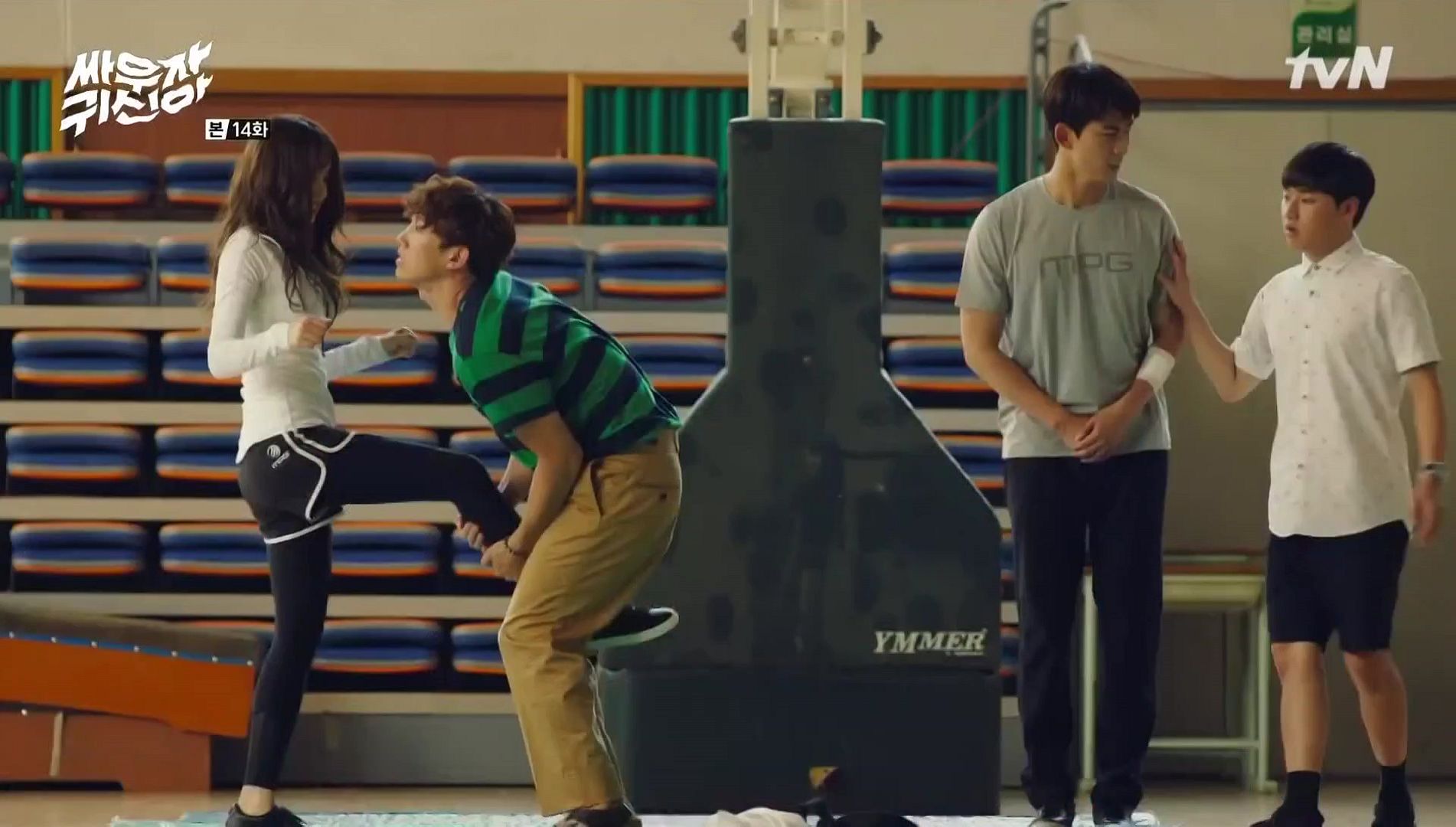 Later while they're having lunch, Hyun-ji apologizes profusely, and Chun-sang grumbles that she should have told him that she's studied Taekwondo. It does explain why she was such a good fighter as a ghost. In-rang hopes that Hyun-ji gets her memory back soon so they can catch her hit-and-run driver.
Chun-sang says that she should remember Bong-pal at the very least. He points out that In-rang's little feelings are hurt, too, that she doesn't remember him, and In-rang shushes him with a mouthful of fish.
Chun-sang thinks that practicing in a more natural setting would help Hyun-ji better, so the four head to… a noraebang? The boys sing a song in honor of Hyun-ji's waking after five years in a coma ("Heartbeat" by 2PM), and Bong-pal grouches that nobody sings this old song anymore, PFFT.
Bong-pal walks Hyun-ji home, where she finds her mother meeting with a real estate agent. As soon as this house is sold, they're moving back to their actual home, where Dad's been staying. Hyun-ji doesn't look happy at the news — home must not be close.
Myung-chul receives a call from the police, as he was the one who reported Bong-pal's father missing. They've found him, but it's not good news. He's dead, and they need Myung-chul to identify the body. Myung-chul confirms that it's him, and he wonders sadly what happened to his old friend.
Later, the cop finds Myung-chul to suggest that they do an autopsy. Bong-pal's father's neck was broken, but it doesn't seem to have happened in a fall. An autopsy will tell them if he was murdered.
At Hye-sung's clinic, a television tuned to the news alerts Hye-sung that the body was found, and that an autopsy will be performed.
The sad task of telling Bong-pal that his father is dead falls to Myung-chul, and he just says that his father was found, and that they should go see him. Bong-pal doesn't understand and declines, so Myung-chul bellows, "BONG-PAL-AAAH!" Something bleak in his expression finally gets Bong-pal's attention.
He's shocked when he sees his father's body, and he haltingly asks Myung-chul what happened. But Myung-chul stays silent, unable to offer any answers.
The news reaches Detective Yang that a body has been found whose cause of death closely resemble those of Hyun-joo, the coed who was killed recently. He talks to the doctor who confirms it, that the man's neck was broken and he has defensive wounds, indicating a struggle. Once they get the family's consent, they can perform an autopsy and hopefully, recover some DNA from the murderer.
Myung-chul explains to Bong-pal why he needs to sign the autopsy consent form. Bong-pal takes the form and Myung-chul leaves him alone to think. His phone rings with a call from Hyun-ji, but he's in too much shock to answer.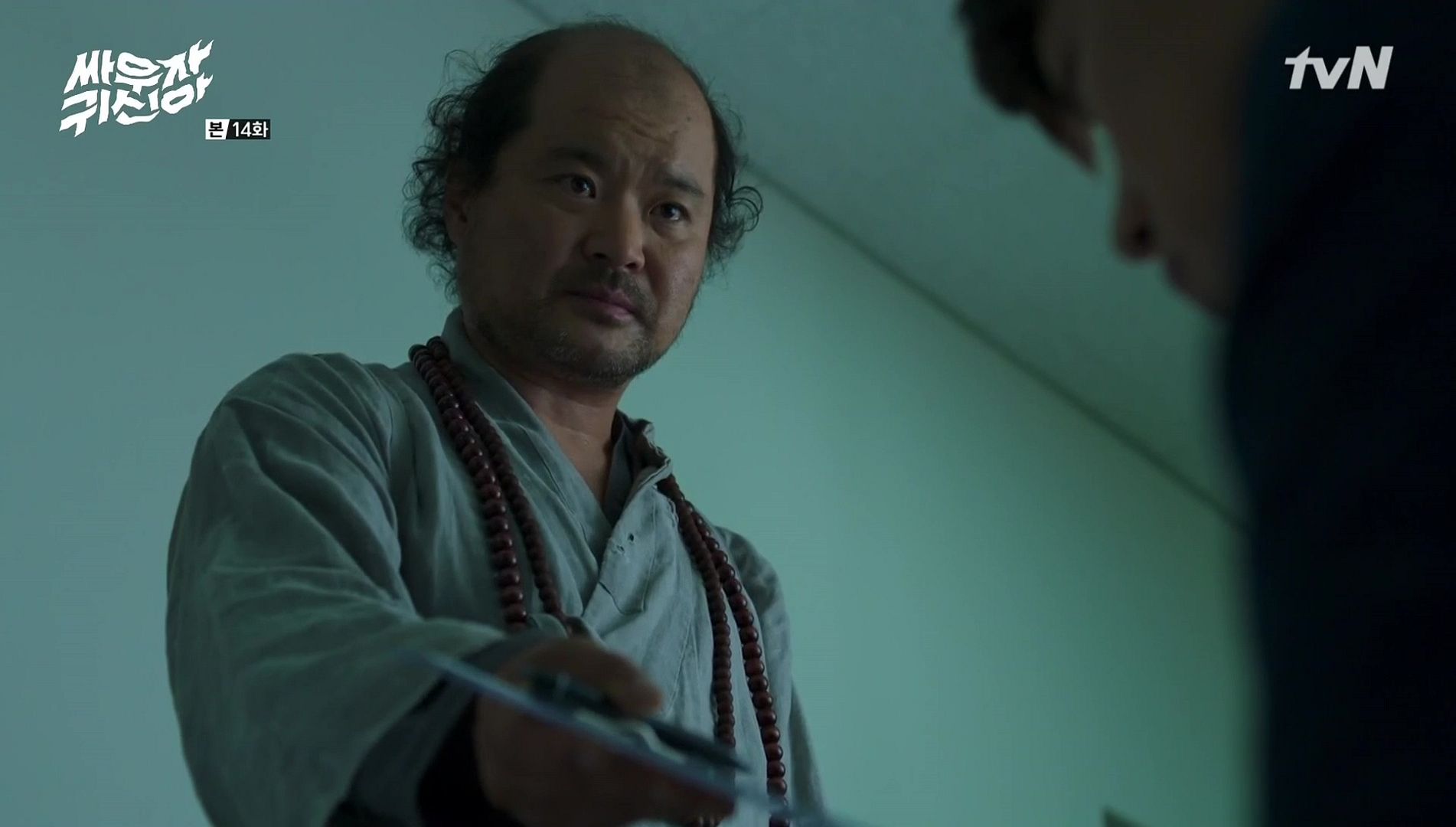 He doesn't answer Hyun-ji's flood of texts the next morning either, and now she's growing worried. She sends him a message giving him ten minutes to answer or else, but he's busy at his father's funeral. Myung-chul sees that Hyun-ji's been trying desperately to reach Bong-pal, but he notes Bong-pal's dejected demeanor and doesn't say anything.
Hyun-ji finally shows up at Bong-pal's apartment, but he's not home. She gets a call from Hye-sung and meets him for a counseling session, and he notices how preoccupied she is. Her phone rings and she answers, thinking it's Bong-pal, but it's just Myung-chul on Bong-pal's phone. Her eyes well up at his news, and she says that she'll be right there.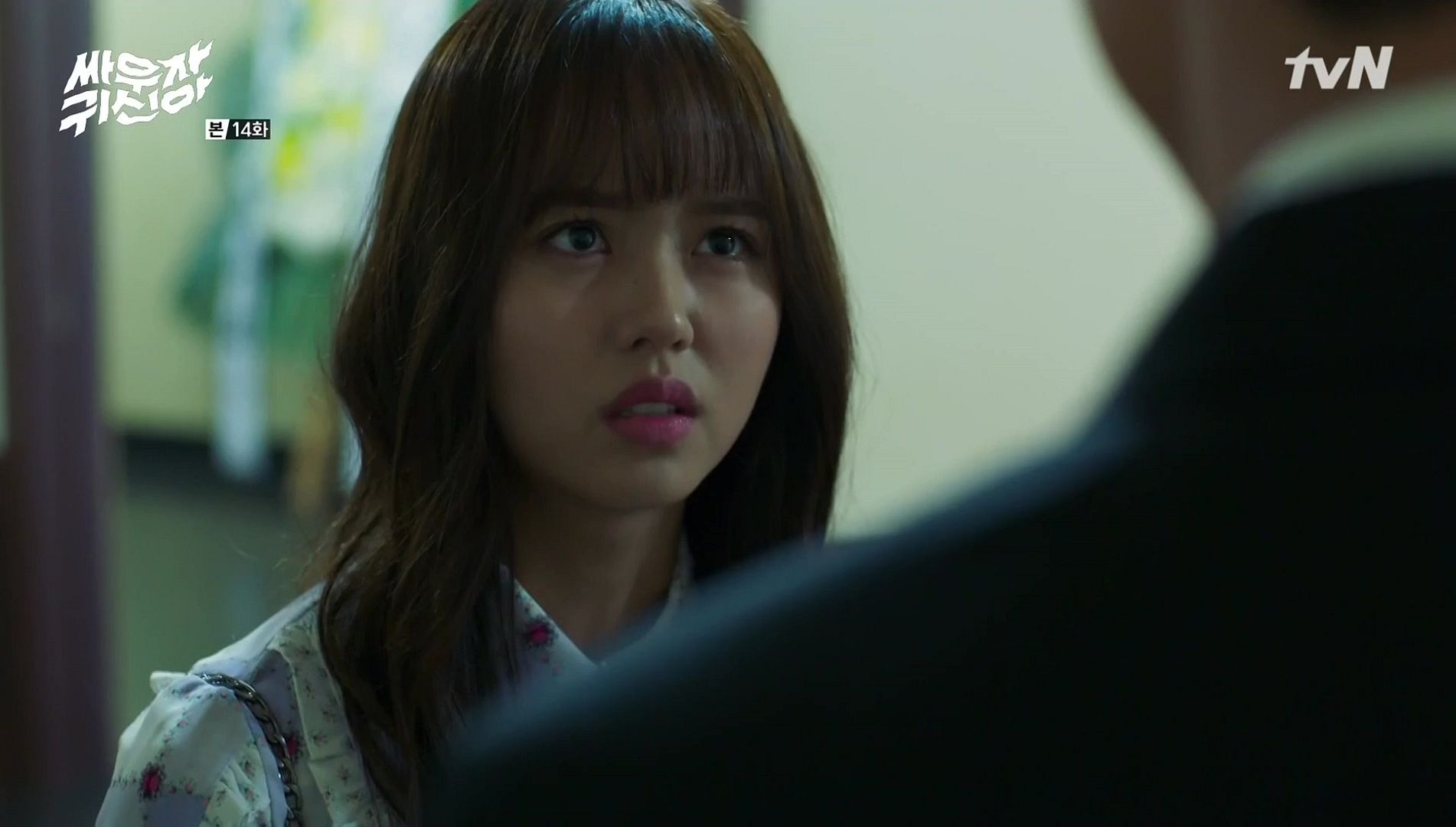 Hye-sung looks angry to have his session with her interrupted (he'd planned to take her "somewhere far" ~shiver~), but he drives her to the hospital. Hyun-ji finds Bong-pal looking desolate, but he rouses a bit when he sees her, and seems vague but grateful that she came.
He goes to take care of some things, and Myung-chul thanks Hyun-ji for coming. She only now looks at the photo of Bong-pal's father, and her face goes pale. A sudden memory hits her, of praying at the Buddhist temple to pass her exams, and seeing Bong-pal's father there.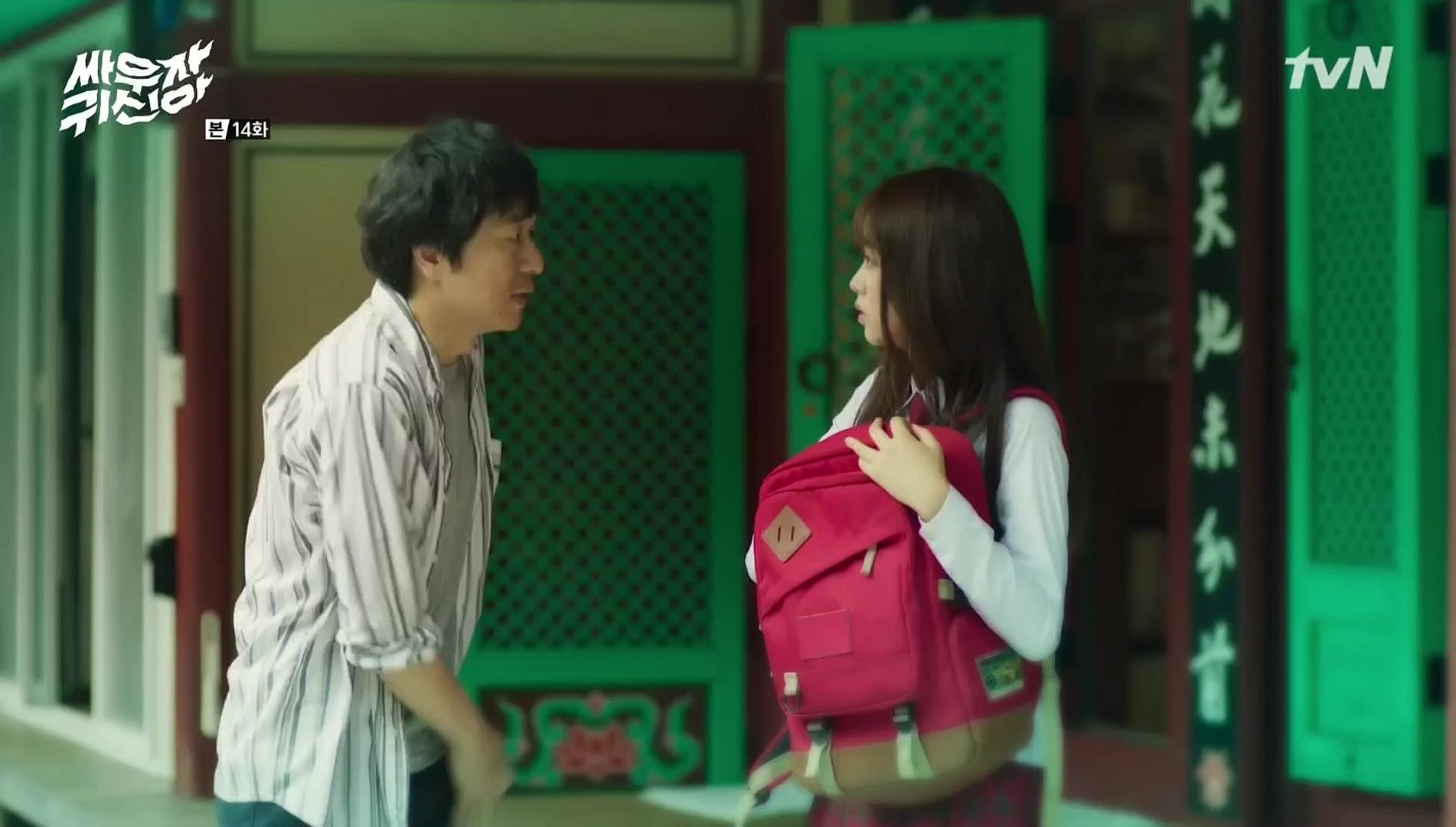 He had approached her that day on her way out of the temple. He'd given her a small pouch and asked her to take it to his son, then run away. That's when Hye-sung had arrived, following Bong-pal's father, and he'd walked right past Hyun-ji.
Hyun-ji had found a note inside the pouch, with Bong-pal's name and address. She only remembers this now, and realizes that it was Bong-pal she was supposed to deliver the pouch to.
She suffers a small dizzy spell but quickly recovers, and Myung-chul asks if she remembers where she put the pouch. She can't recall, so Myung-chul urges her to rest for now. He tells her that whatever was inside the pouch was very important to Bong-pal, and to let him know as soon as she remembers.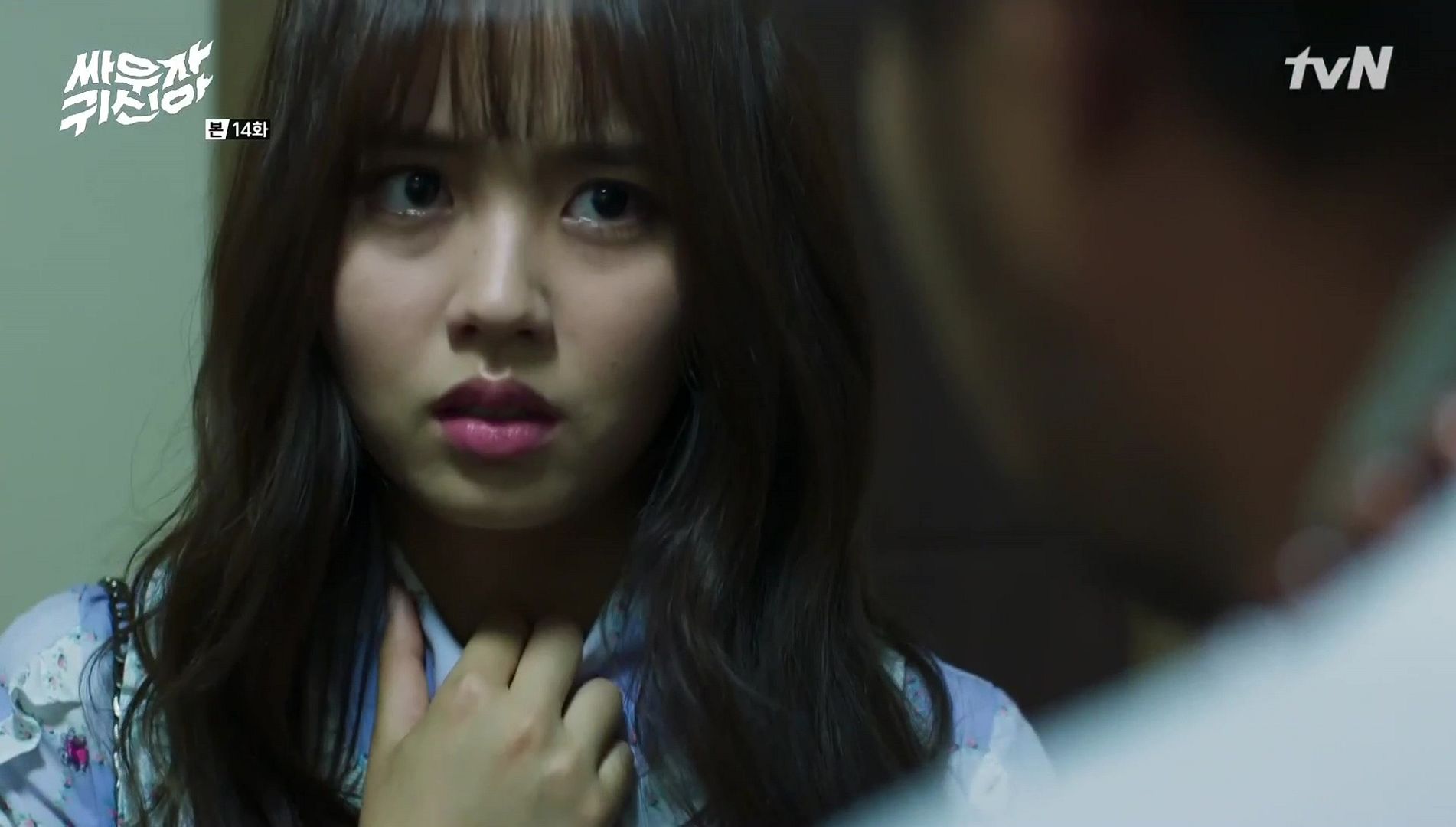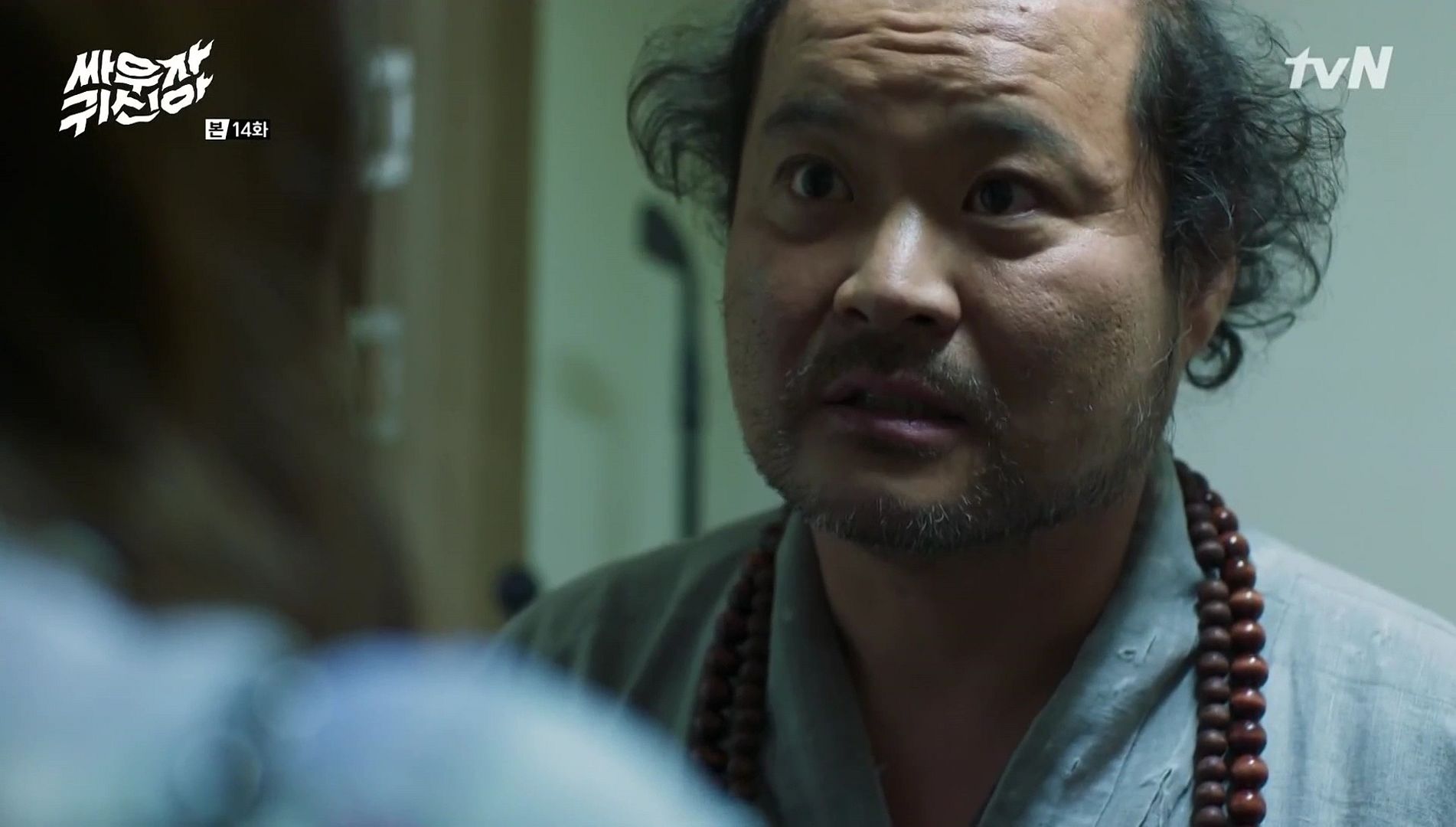 The monk heads back to the funeral and finds Hye-sung, who offers insincere condolences. Myung-chul doesn't respond, but follows him out and slams him against his car door in fury. Hye-sung calmly says that he was just worried about his student, but Myung-chul is onto him, and says so.
He snarls into Hye-sung's face that he can still feel his bloodthirstiness from eighteen years ago, and that he clearly sees the evil spirit that he chased out of Bong-pal, inside Hye-sung now. He knows that the spirit murdered Bong-pal's mother and now his father, but Hye-sung just asks why he took him out of Bong-pal's body in the first place.
He says that Myung-chul brought this on himself, and with that, Myung-chul has his confirmation that this is the spirit he battled all those years ago. Hye-sung smirks, asking what he's going to do about it, and shoves him backwards.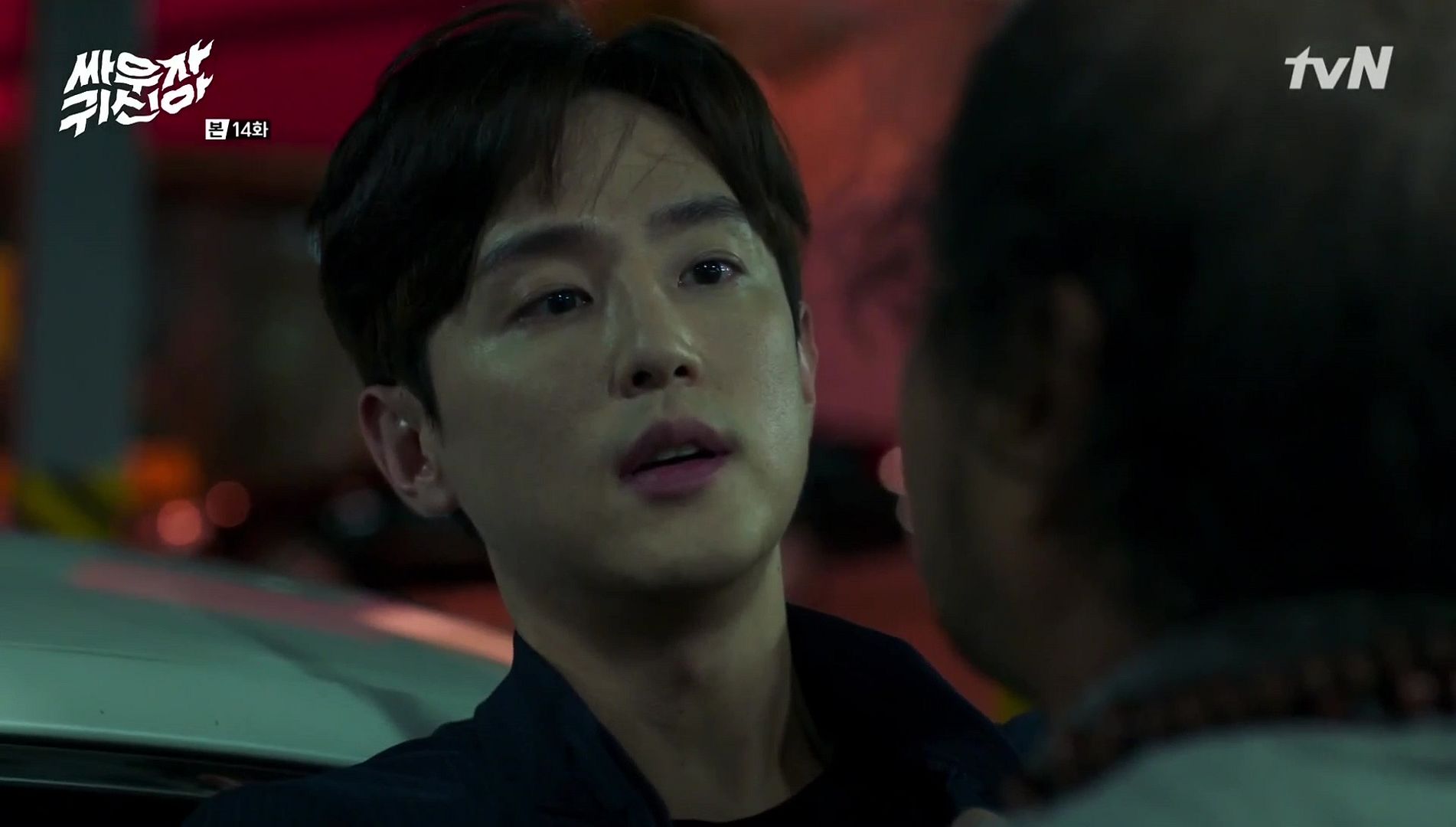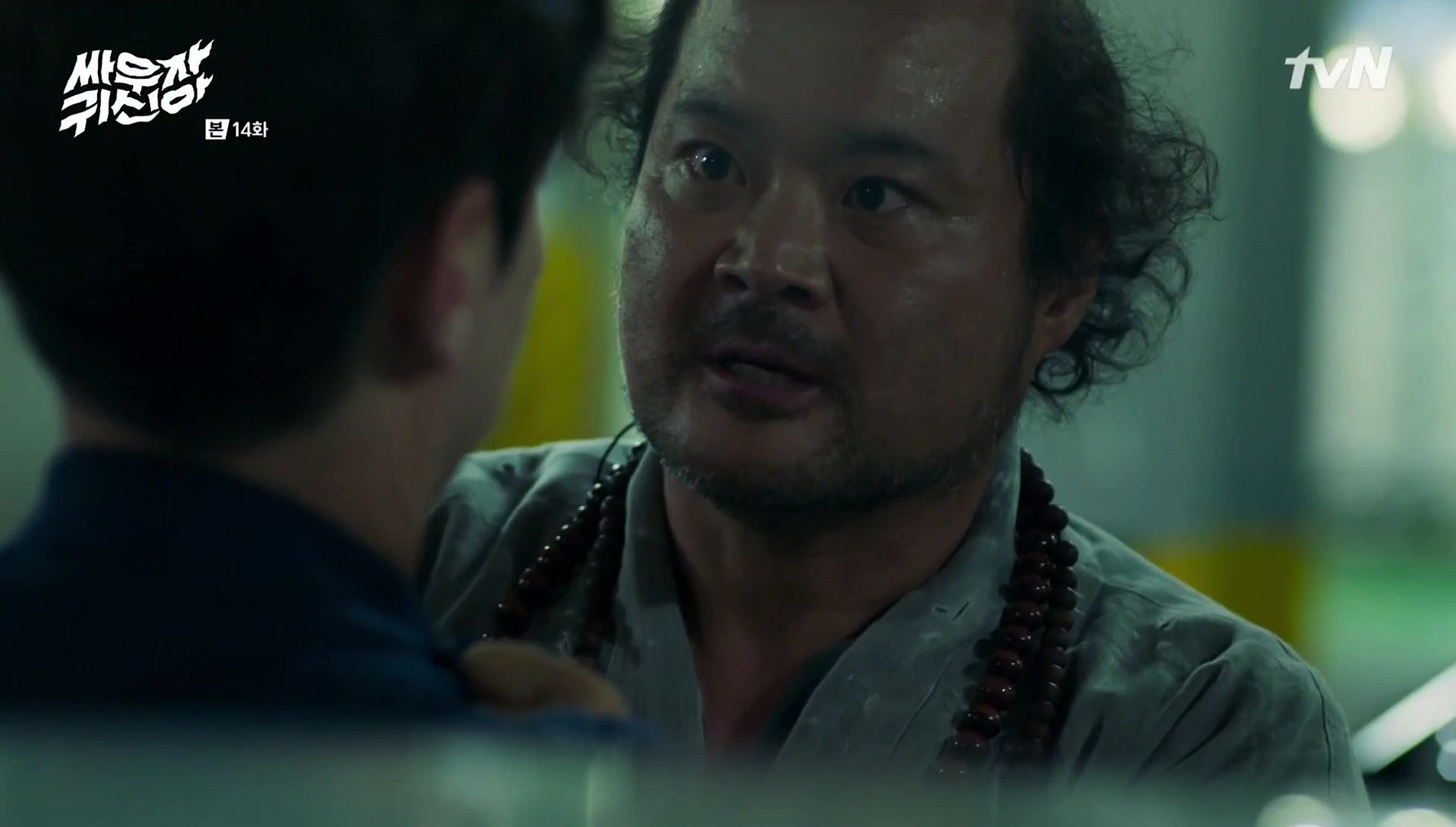 "I warned you that curiosity would kill you," he intones, while Myung-chul yells for him to get out of this body immediately. But Hye-sung says that it's too late, and they've already become one entity — if he leaves, the host body will die. He adds that the host owes him this, "Because I saved him from the abyss."
We go back to the day of Hye-sung's father's death, when his mother had found the boy standing beside the open patio door, enveloped in black mist. Later he'd been bullied, the neighborhood kids taunting him that his mother killed his father. They left him crying in the gutter, and the demon spirit had found him and whispered to him.
The boy ran from the demon, but it had caught up to him and forcibly entered his body. We hear the boy's voice admitting that he was the one who killed his father, as his body, now possessed, finds the leader of the bullies and smashes his head with a brick. Damn.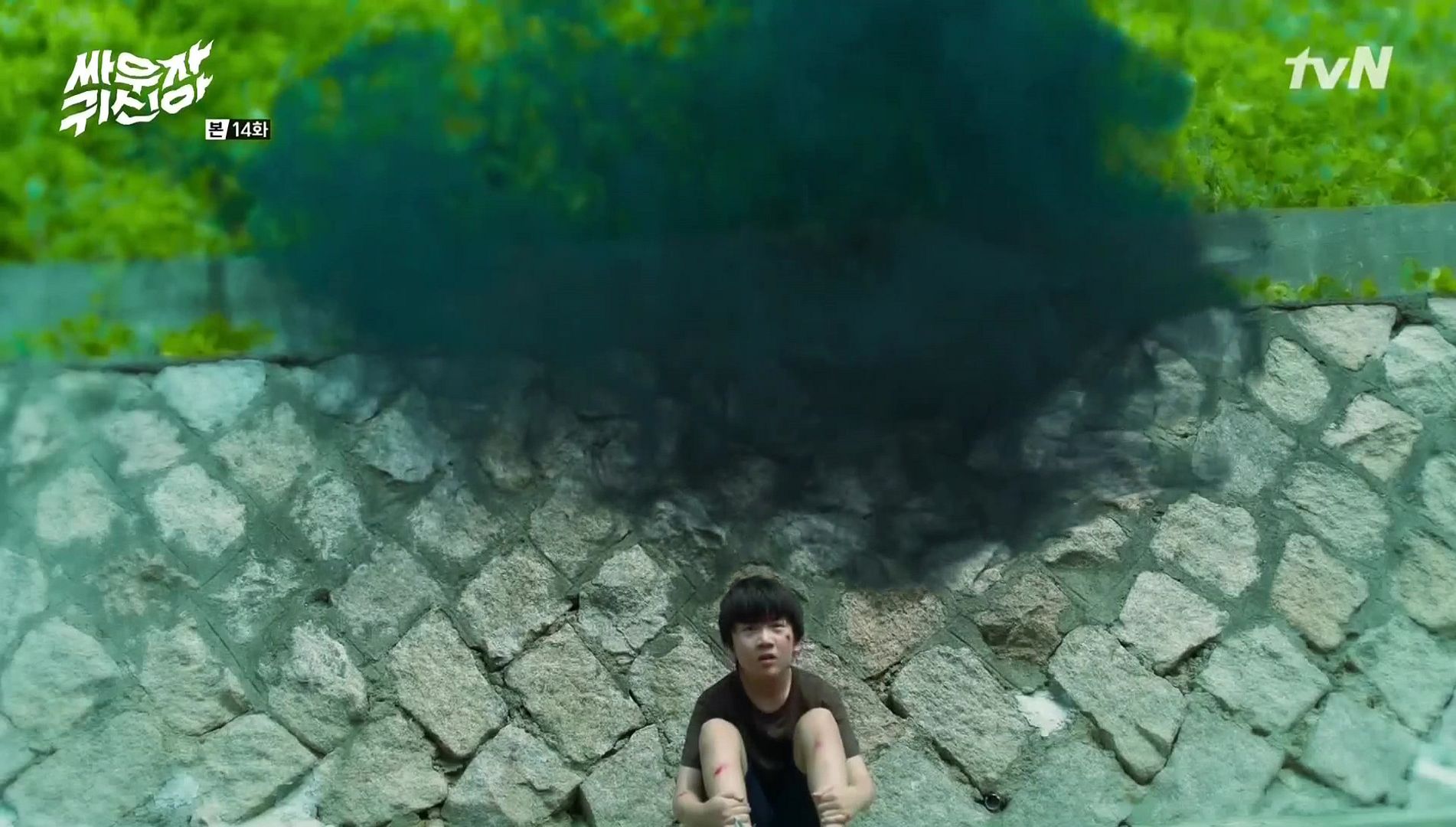 Back in the present, Hye-sung warns Myung-chul not to get in his way, or this time Bong-pal will die. Myung-chul slams him into the car again but Hye-sung just laughs, and black mist bursts from his skin as he grabs the monk by the throat. He holds Myung-chul in midair, then smashes him into the car's windshield.
Hye-sung growls that if Myung-chul wants to survive, he'd better lay low. He magnanimously says that he's sparing Myung-chul's life since they're old friends, but next time, "I will twist your neck."
Bong-pal goes out just as Hye-sung is driving away, and finds Myung-chul still gasping for air on the hood of the car. Myung-chul refuses to tell what happened, but it's obvious to Bong-pal that something severe just went down.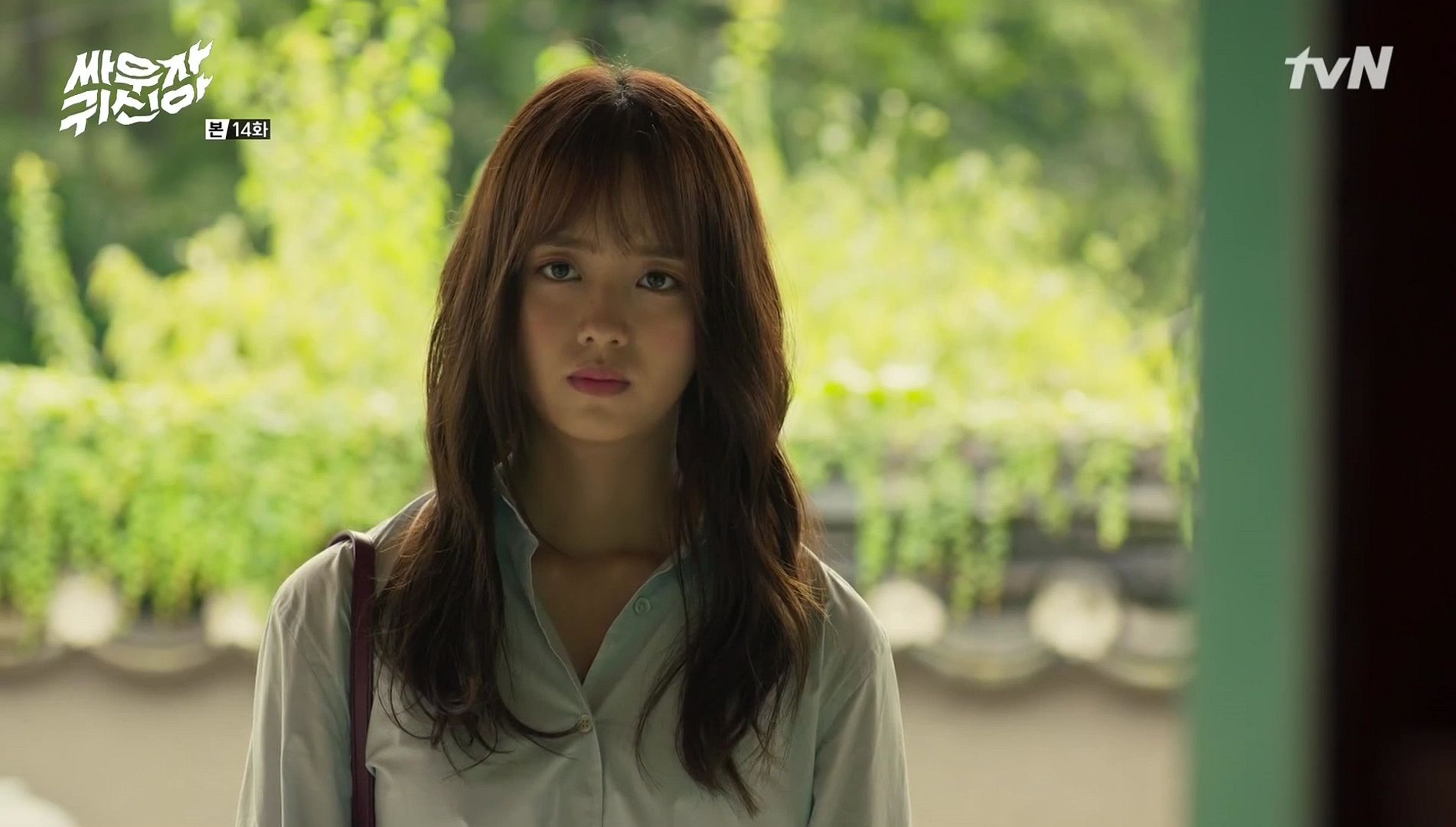 Detective Yang receives the autopsy reports, and thank goodness, DNA evidence was found under Bong-pal's father's fingernails. The blood type matches that of Hye-sung, so Yang orders a warrant to collect Hye-sung's DNA.
Hyun-ji watches while Bong-pal pays respects to both his mother and father at the Buddhist temple. Afterward, Myung-chul tells Bong-pal to just stay home for now, and he thanks Hyun-ji for her help. He asks if she knows Hye-sung, but stops himself there when she confirms that he's counseling her.
Hyun-ji is worried that Bong-pal hasn't eaten in days, though he smiles and says that he's fine. He heads home, promising to call her, and she nearly calls out to him again before deciding against it.
Once home, Bong-pal finally pulls out all of the unopened letters that his father has been sending to him for years. He opens one and reads it, tears coursing down his face. He cries that he's sorry, over and over. Outside his door, Hyun-ji stands and listens to Bong-pal's sobs.
Myung-chul visits his shaman friend and tells her everything, including that Hyun-ji was given the ritual tools by Bong-pal's dad just before her accident. The shaman thinks that Hyun-ji should know that Hye-sung is the one who hit her, but Myung-chul worries that that would put her in even more danger.
She argues that at least Bong-pal should know who killed his father, and asks why the demon is so obsessed with finding the ritual tools. Myung-chul says that he wants to find and destroy them, since they're the only thing that can kill him. Unsure what to do next, he leaves his ritual sword with the shaman for safekeeping.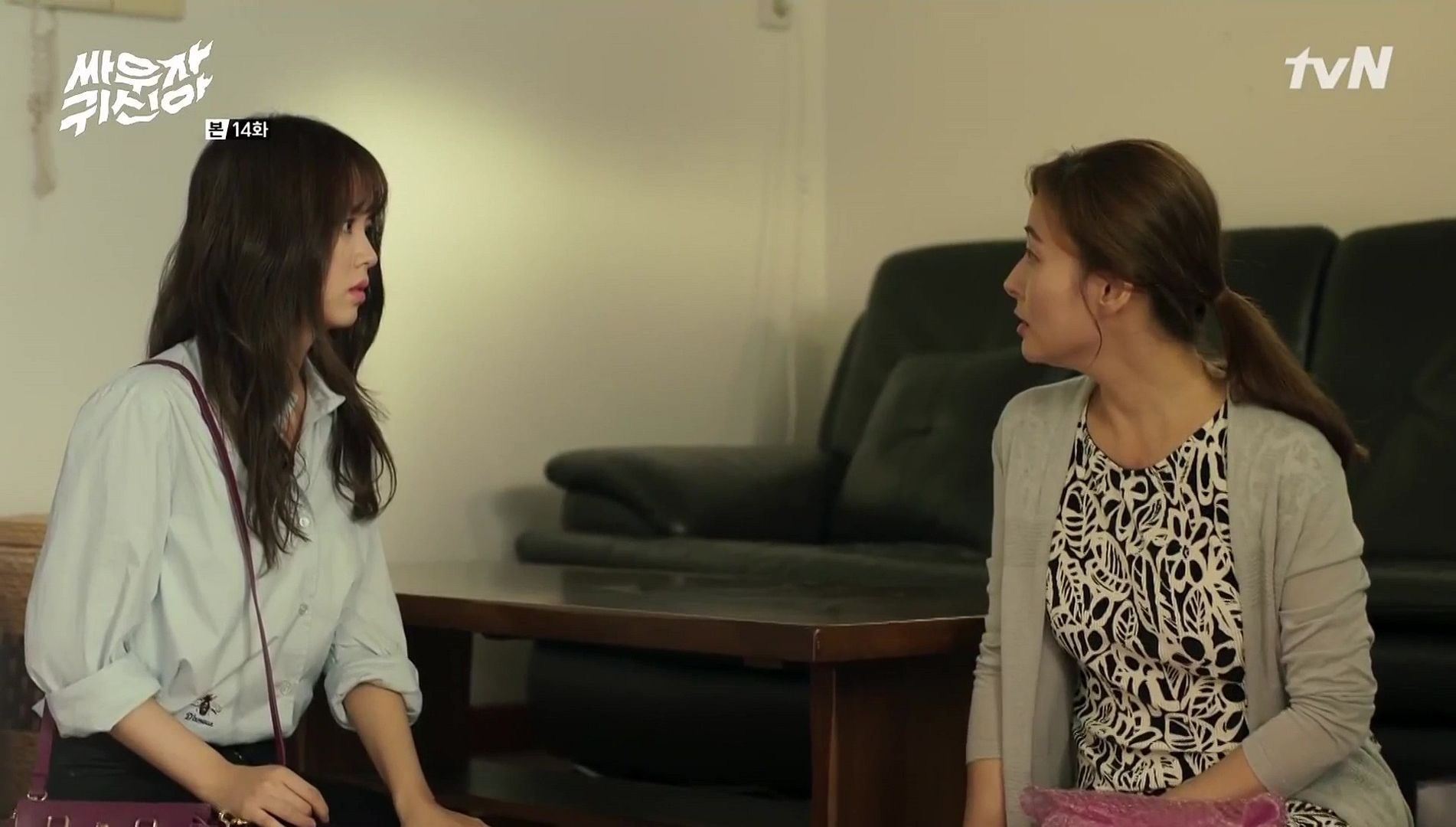 Hyun-ji's mom is packing when Hyun-ji arrives home — the house is sold, and they're moving back home tomorrow. Hyun-ji asks if she can stay in Seoul with her uncle, and Mom guesses that this is because of Bong-pal. She tells her daughter that she's just falling for Bong-pal's kindness (to which I say, is there a better reason?).
Hyun-ji explains that Bong-pal is going through a rough time and she wants to be here for him, but Mom refuses. She thinks Hyun-ji needs to focus on studying and getting into college. She clarifies that she's not telling Hyun-ji to break up with him, because they can always reconnect when she gets into school.
Hyun-ji doesn't seem to be listening, and she just runs out of the house and all the way to Bong-pal's apartment. She pounds on his door, calling out that she's moving away tomorrow, and that she wants to see him before she goes. When he doesn't answer, she says that she'll be back soon, and to wait for her.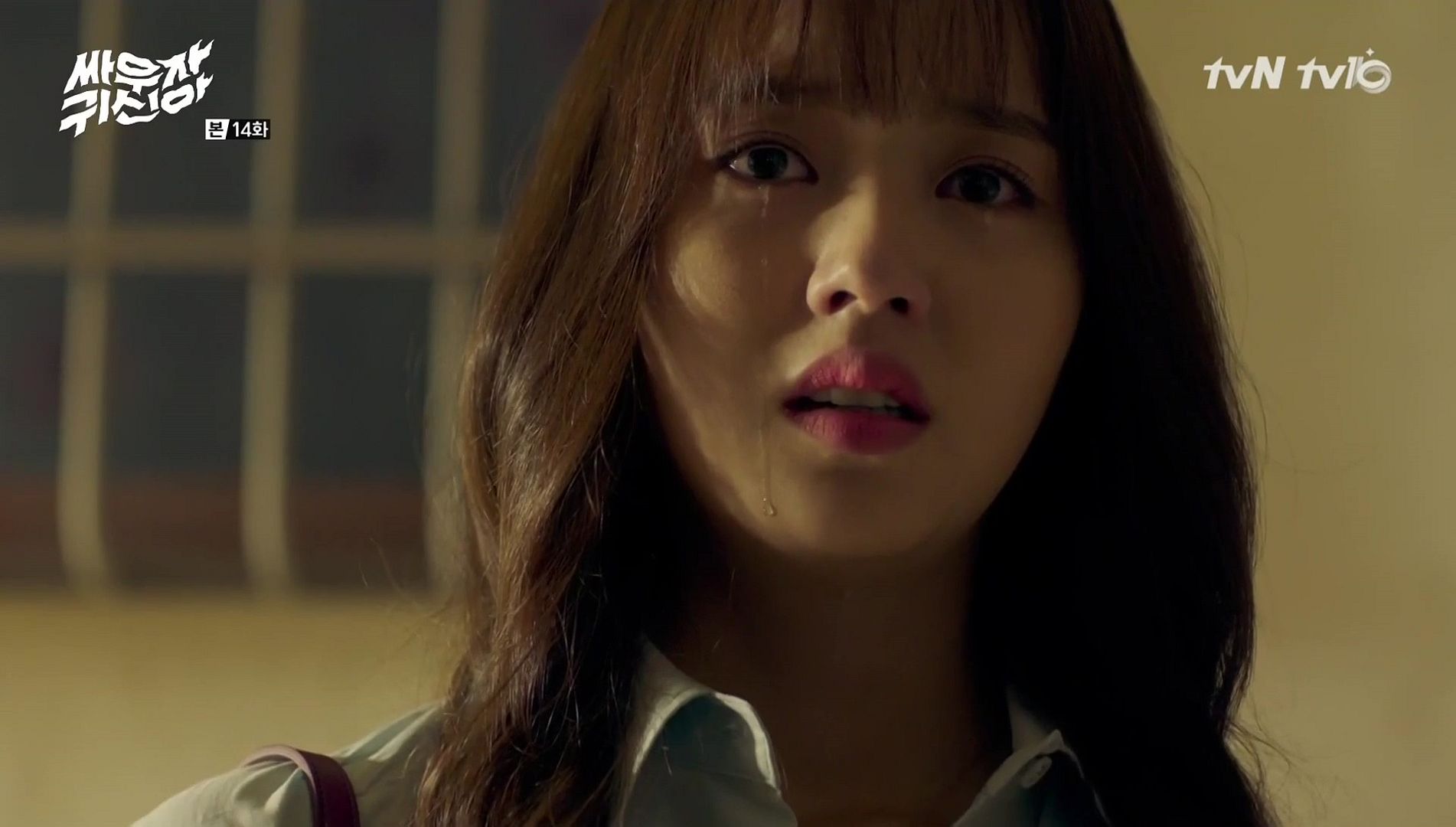 Inside his apartment, Bong-pal just sits, staring at a picture of himself as a child with both of his parents. He doesn't even seem to register Hyun-ji's voice as he cries silently. Eventually Hyun-ji goes, tears welling up in her own eyes.
She wanders past the veterinary clinic and Hye-sung calls out to her, noting that she doesn't look well. He invites her in for tea, and though she seems uncomfortable, Hyun-ji follows him inside.
Detective Yang goes to Bong-pal's place, and Bong-pal invites him in. Yang tells Bong-pal that the autopsy found that his father was murdered, and asks how his father knew Hye-sung. Bong-pal wasn't aware they knew each other, and asks haltingly if Hye-sung is involved with his father's death. Yang tells him that it's possible, and asks him to report anything he may remember.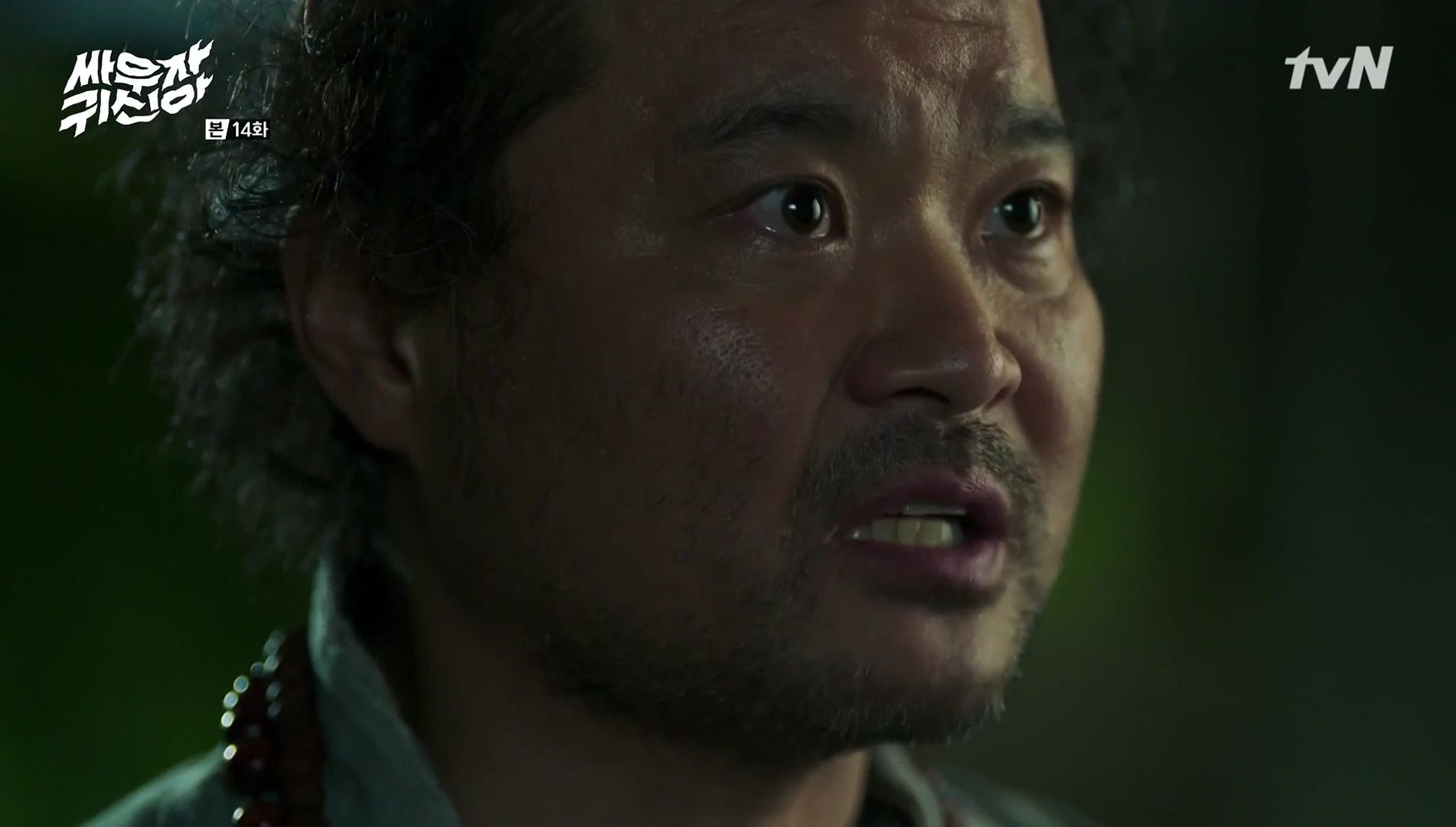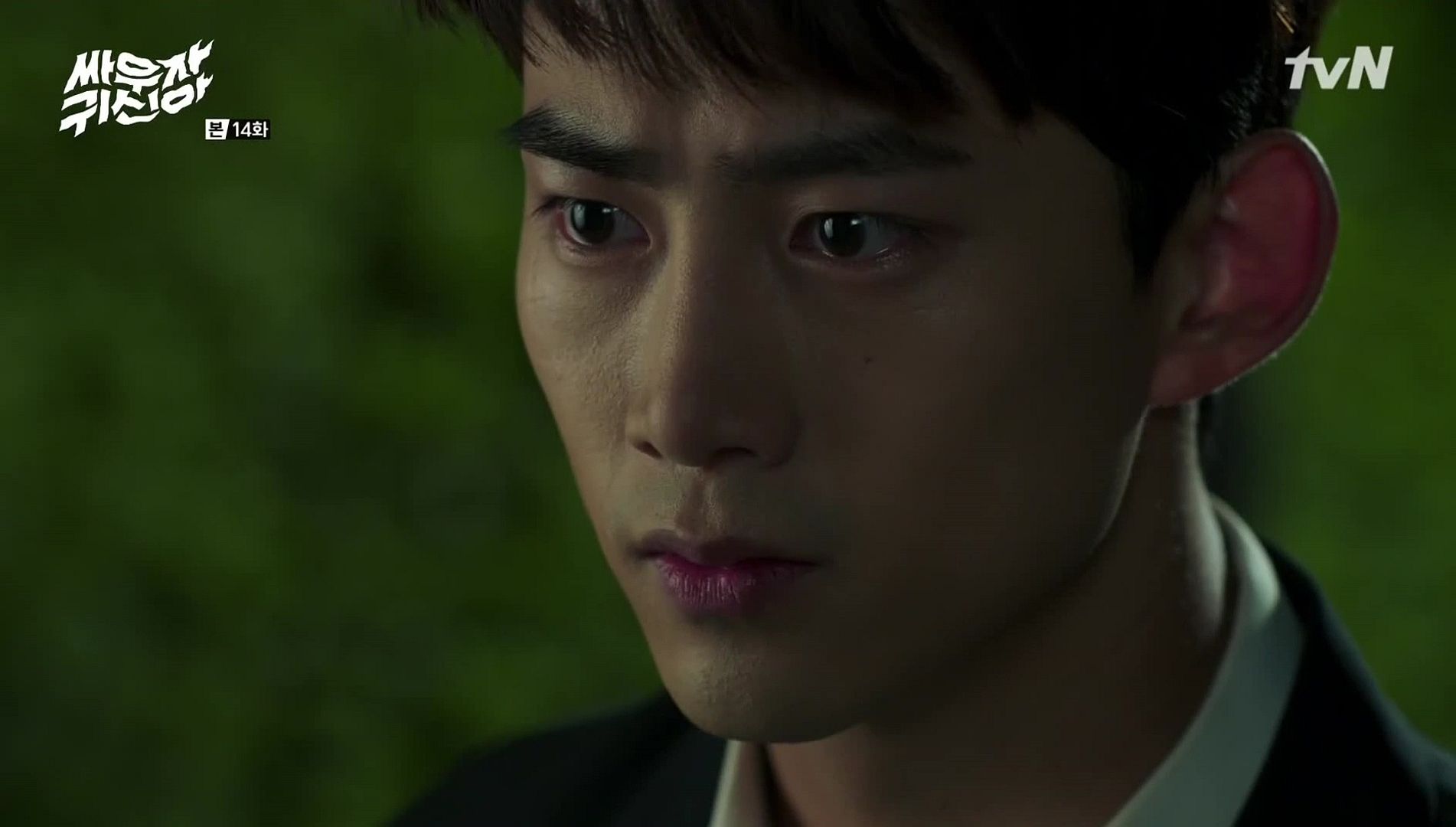 Once the detective leaves, Bong-pal calls Myung-chul to meet. He tells the monk about the detective's questioning, and that he implied that Hye-sung might have something to do with his father's murder.
Myung-chul decides to come clean, and tells Bong-pal that Hye-sung isn't human — or rather, the body is human, but possessed by an evil ghost. What's worse, it's the same ghost that possessed Bong-pal when he was a child. Now that ghost is hanging around because Hyun-ji has something it wants.
Hyun-ji grows dizzy once she's in Hye-sung's dark office, and she tries to stumble to the restroom. Hye-sung watches her with a predatory gleam in his eye — did he drug her tea?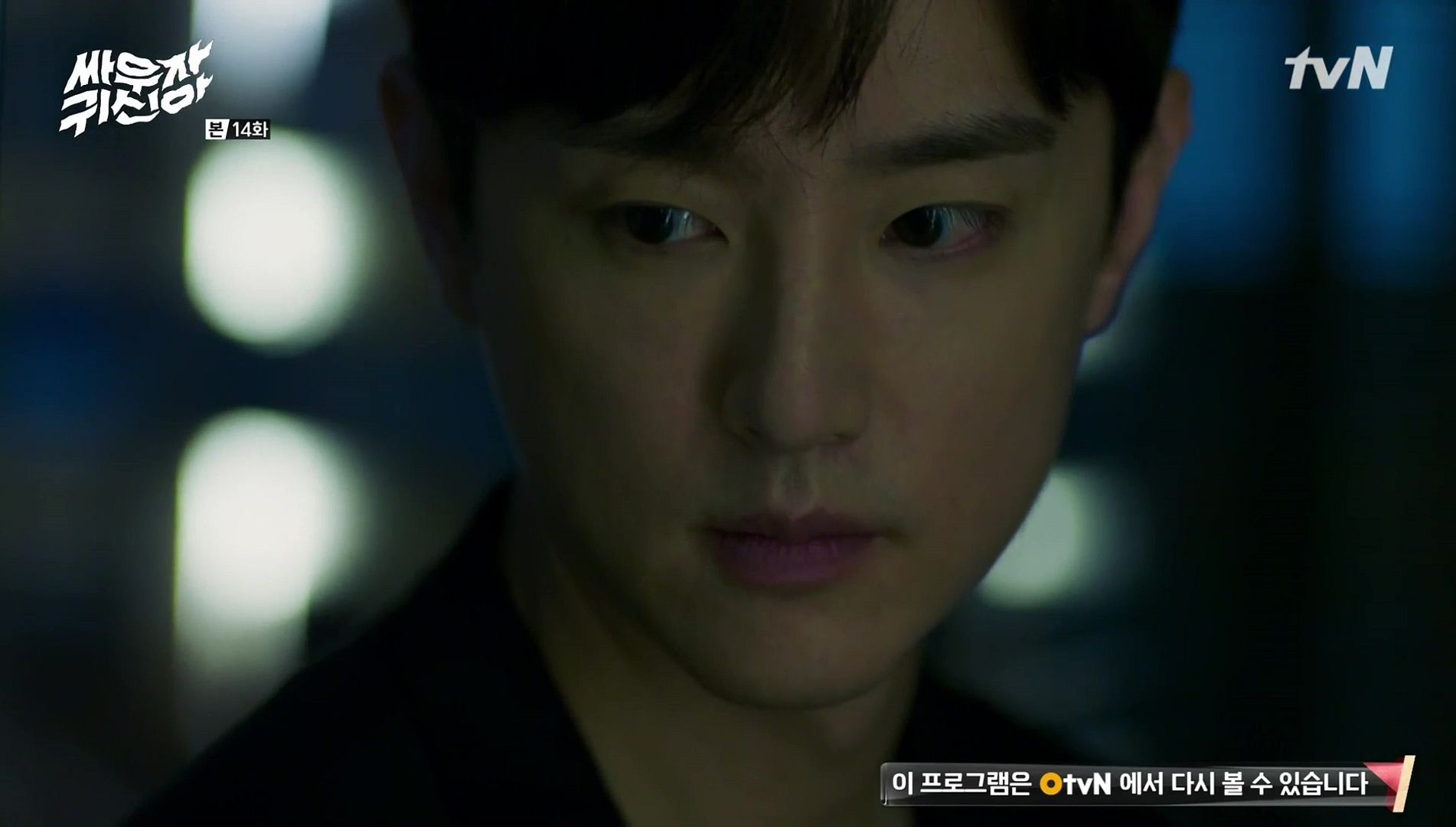 Bong-pal rushes to find Hyun-ji, calling her on the way, but Hye-sung sees the call and turns off her phone. Sensing that something is wrong, Bong-pal breaks into a run.
Hyun-ji can barely walk now, and she clutches at her throat, causing the necklace that Bong-pal gave her to fall to the ground unnoticed. She sinks to the floor, gasping for air, while Hye-sung watches.
Meanwhile Bong-pal runs as fast as he can, trying to get to Hyun-ji before Hye-sung can harm her.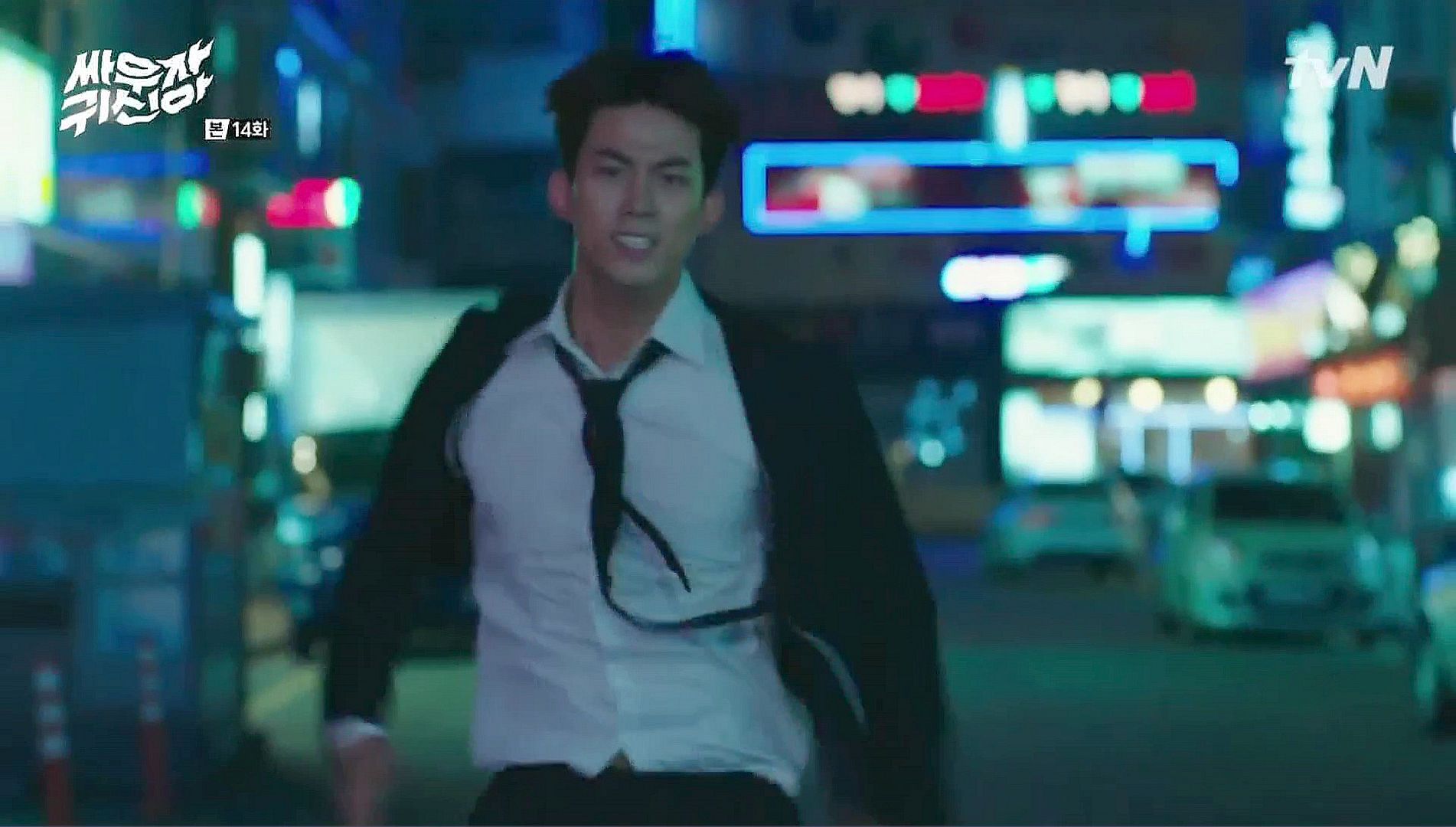 COMMENTS
I really appreciate how quickly this show moves — I've said it before, but it's worth saying again, since the pacing and plot development has been pretty consistent and it's worth praising. We never linger on any one issue for too long, and that's because the characters act like reasonable people who talk to each other and don't try to handle things all on their own. Hyun-ji especially impresses me, particularly now that she's awake and can actually do something about the things that are happening around her. I loved how she saw Bong-pal starting to pull away from her, and instead of moping and sighing for several episodes, she went out there, neatly got rid of the other woman, and got her man back in line. Even now, with Hyun-ji caught in a "damsel in distress" situation, I have no doubt that she'll be okay in no small part because of her own strength and spirit. She seems like a smart young lady with a sensible head on her shoulders, who knows when to take action and when to ask for help. So unlike many drama heroines, and so refreshing.
I'm just heartbroken for Bong-pal, that he wasn't able to mend fences with his father before he died. I don't know if we'll ever know exactly why they were estranged, but from Bong-pal's reaction to his father's death, it wasn't for lack of love. And now he's losing Hyun-ji, but this time his retreat into a solitary existence isn't so easy for him. He knows now what it means to have friends and to love someone, but it's all slipping away from him at once, and it's no wonder that he's just simply shutting down. For that reason I'm glad that Myung-chul finally told Bong-pal everything, because now he has something to focus on and to fight for.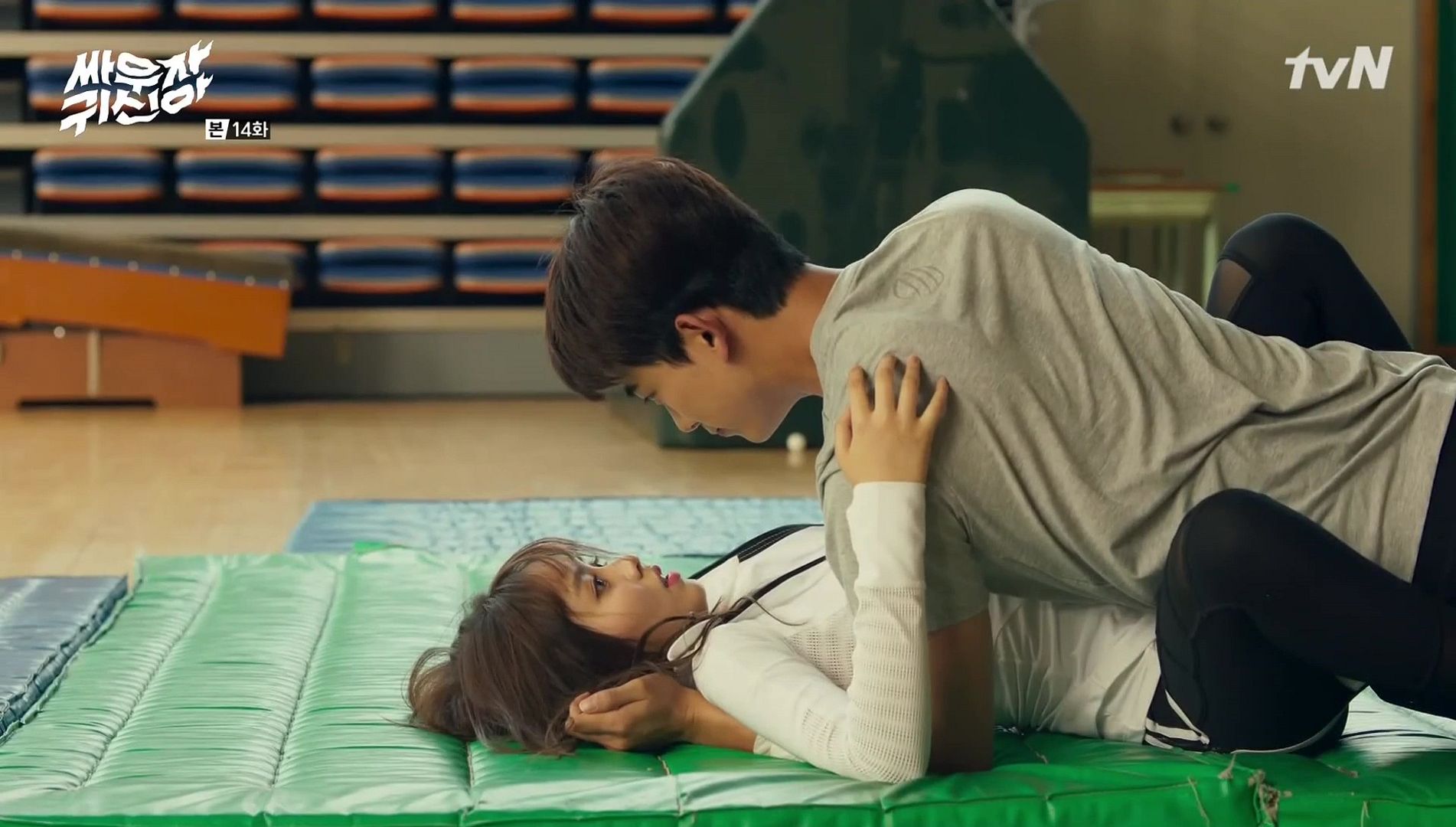 How is it possible that the more we learn about Hye-sung's origins and motivations, the more terrifying he becomes? He's seriously one of the most frightening drama villains for me, and a lot of that is because of the mysteries surrounding him. He's so unpredictable that I never know what to expect, and the chills I get when his eyes go so cold and blank are just delicious. I do hope that it's not true that his host can't survive once he's gone, because it would be a shame for that poor boy to miss out on his life because he was protecting his mother from his abusive father (I'm assuming, but the bruises on Mom's face tell a pretty clear story).
I do wonder though, why Hye-sung hasn't killed Myung-chul yet — he's never hesitated to kill anything or anyone who gets in his way. Myung-chul knows more about him than anyone, is the only person to ever have been successful at exorcising him from a host, and poses the most danger to his current existence. It makes me wonder if Myung-chul is somehow paranormally off-limits, or holds some power that he's unaware of at this point. He was capable of banishing the demon once, but then supposedly lost his powers. We need Myung-chul to recover what he lost so that he can get rid of the demon permanently this time.
I was concerned that the show would lose traction once Hyun-ji was no longer a ghost, and I'm so happy that that wasn't the case. Earlier in the series I'd wondered why it was taking so long for us to get the tiniest scrap of information about Hye-sung, but in retrospect I see that it was cleverly planned that way. Without a new focus for the action, things could have ground to a halt when Hyun-ji woke. But as the ghost-hunting slowed, the demon-hunting sped up, and we never lost any of the forward motion that makes this show so addictive. I honestly didn't expect such a tightly-woven story when I went into this drama — I was anticipating a cute love story and some creepy ghosts, but not much more. I love it when a drama proves me wrong, and gives me so much more than I was expecting.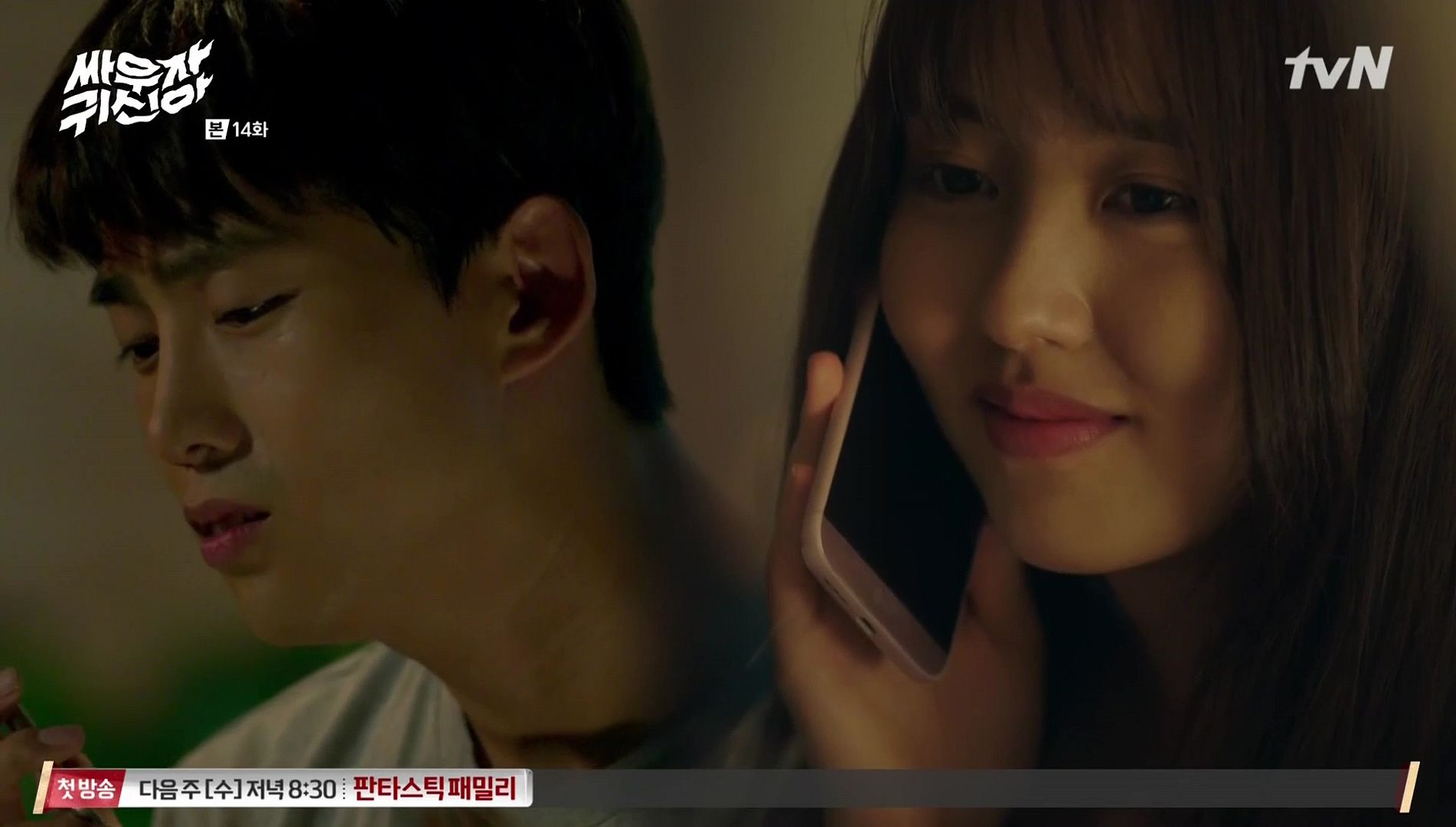 RELATED POSTS
Tags: Bring It On Ghost, featured, Kim So-hyun, Kwon Yul, Taecyeon