W–Two Worlds: Episode 10
I don't think this episode will blow anyone's brain to smithereens, but I guess that's a good thing? If you happen to enjoy the heroine's adorable antics as she navigates her way through the manhwa world, though, it'll be a fun hour. And by fun I mean filled with crimes and misdemeanors, because apparently our girl can't spend a day inside the manhwa world without doing something that might land her in prison. Some things never change.

EPISODE 10 RECAP
Rewind to the night that Dad is about to give No-Face Killer a face: Dad starts drawing the issue of the webtoon according to the outline he and Su-bong came up with, and as he's drawing the big reveal with No-Face coming out of the shower and looking into the mirror, Su-bong interrupts to ask if Dad would like a midnight snack.
After Su-bong shuffles out, Dad calls out to him again to ask him something, but Su-bong is already gone. This is already starting to get creepy…
As Dad reaches for a file of notes to look something up, his copy of Goya's Saturn Devouring His Son drops to the ground. He picks it up and reads his own message on the back: "Rather than be devoured, I will devour." He decides then and there to rip it up, but as soon as he does, his drawing tablet glows with an eerie white light.
Dad jumps at the sound of his own voice coming through the tablet: "You've finally kept your promise." It's not Dad who's speaking though—it's No-Face, who will now have to be called New-Face, because I'm literal like that. Now that he's been given form, New-Face renders himself on a blank page: It's the same killer who's been terrorizing Kang Chul, but with Dad's face.
As the black-and-white outline fades into color, and then into the manhwa world, New-Face looks into the mirror—but also out at Dad in the real world (symbolism!)—and says, "Was this my face? Yes, this was me. I was you. This face suits me well. You wanted to kill Kang Chul too, just like me." Oh hell, New-Face is scarier than No-Face.
Flashback to the night Dad came into the manhwa world to stab Kang Chul on the roof: Someone was watching the whole time, and as Dad was running away from the scene, No-Face came out and grabbed him by the scruff and Dad turned to him, eyes wide in horror. That's when they met face-to-no-face for the first time.
Back in the present, New-Face smiles at Dad and says that's when he knew: "That you and I have the same soul." He touches his new face and says with satisfaction, "Is that why? I think it fits perfectly." It's the way he says it like it's a new suit that's extra creepy.
Dad is terrified, and as soon as the glowing light turns off, he scrambles to unplug his tablet. But as soon as he nears the desk, hands pop out from the screen and grab Dad by the collar with a death-grip, and then New-Face emerges to look him in the eye.
Dad screams that he kept his promise, but New-Face knows that Dad is planning to kill him off in the manhwa. He calls that a betrayal and argues that all he's done until now is follow Dad's orders.
New-Face declares, "You're now me. I am you. From now on, YOU follow MY orders!" He yanks Dad into the screen, and then they're both gone.
Back in the manhwa world, New-Face slicks his hair back and breathes a sigh of relief, looking like a serial killer after a kill. Gack, I'm imagining horrible things like New-Face gauging out Dad's eyes just before this.
Su-bong returns with a midnight snack, and that's our cue to brace ourselves, because this is the scene that closed out the last episode. Su-bong finds Dad slumped over at his desk, and when Dad lifts his head, he has no face. Yup, still crazy scary the second time around.
His words pop up in chyrons out of thin air, because he no longer has a mouth, and he calls out to Su-bong to help him because that bastard took his face. Su-bong doesn't register any of this, of course, because he's out of his mind screaming for dear life. As Dad ambles toward him blindly, Su-bong passes out.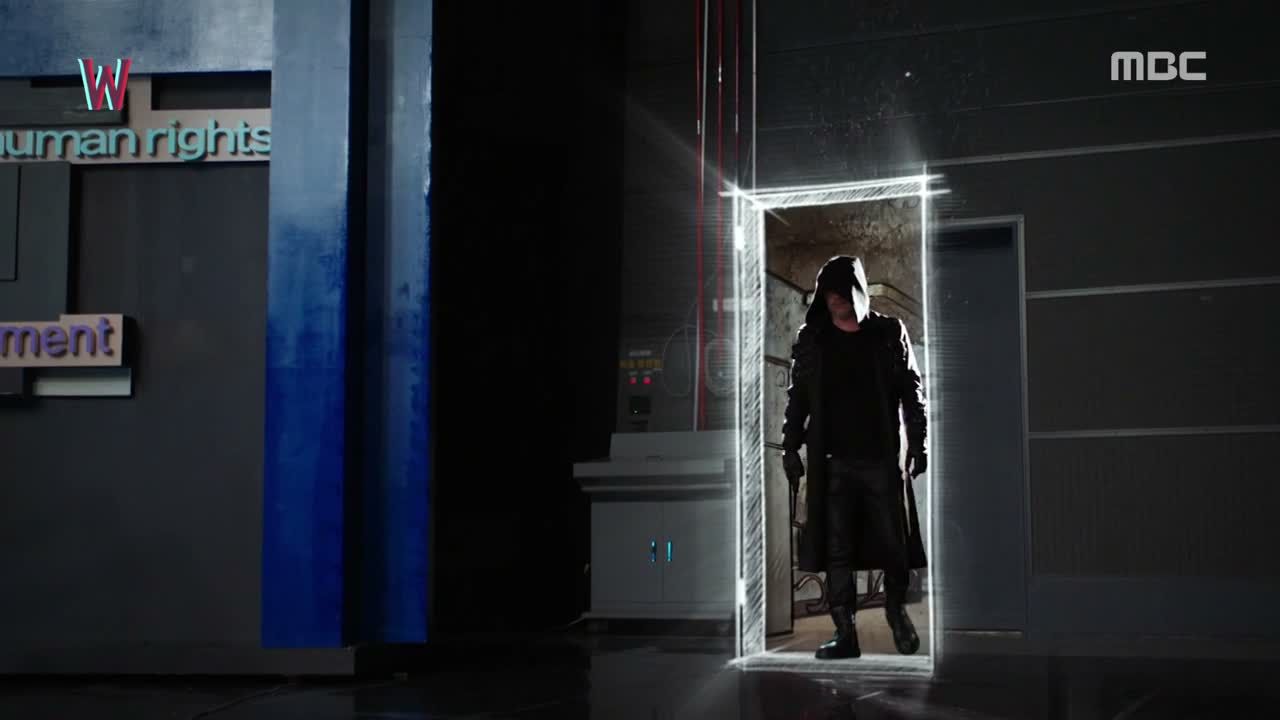 New-Face calls out to Dad through the tablet and orders him to sit down, and then demands that Dad draw him a gun and a bunch of bullets, because he plans to kill a lot of people. Ack, Dad, don't do it! But he does, of course. (Seriously though, WHY?!)
And then New-Face takes the gun and bullets and steps out of a portal onto the stage of Kang Chul's crime show, where he guns down everybody in his path. He turns to the cameras and says that it took Chul so long to find him that he just decided to come out himself: "How do you like my face?"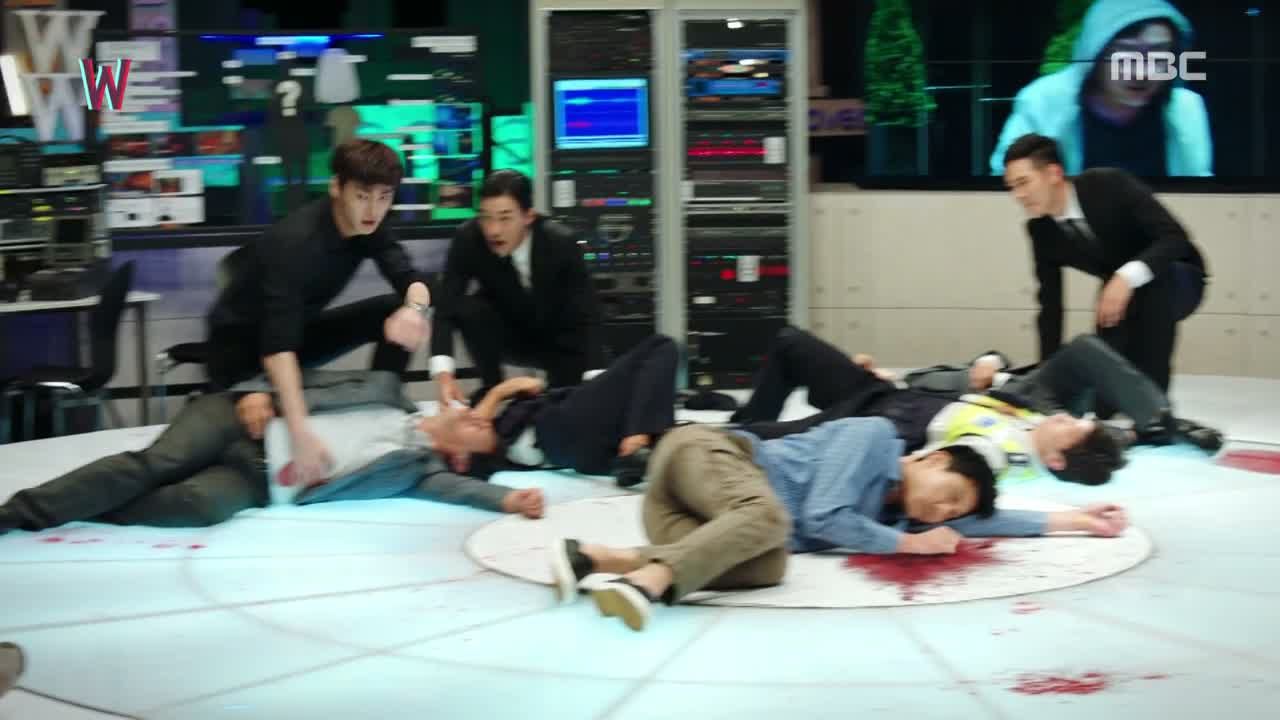 Kang Chul fumes as the killer promises to see him again soon and then shoots down all the cameras. He leaves the way he came—through a drawing of a door that disappears as soon as he steps through it. And by the time Chul runs to the studio, New-Face is gone and all that's left behind is a sea of bloody crew members, dead or injured.
Yeon-joo finds this out after the fact from a news report that she sees in the hospital—the one in Kang Chul's world. She wonders why Dad changed the story to something so gruesome, and why she keeps getting pulled back here when Chul clearly doesn't remember her.
So-hee pulls Chul aside and says that everyone is freaking out because of the mistaken news story that included him among the victims of the shooting, and tells him to do an interview to put those rumors to rest. So Chul meets a group of reporters down in the lobby, where they ask if this shooter is the same one who killed his family ten years ago, and if this means that Chul was framed.
He intentionally doesn't confirm or deny, but says that someone will end up having to take responsibility for going after the wrong person and letting a killer run free for ten years. It's a not-so-veiled jab at Assemblyman Han, who watches the interview on TV and throws a fit, calling Kang Chul a psychopath.
Meanwhile, Yeon-joo continues to help treat the victims in the emergency room, until finally one of the doctors notices that she's not from this hospital. She quickly says that she must've grabbed the wrong lab coat and gives him an update on the patient before running off.
She makes her way into her office (or where it would be in her world), and swaps her lab coat for someone else's. She spots a stack of juice-box soju on the desk that's been confiscated from a patient, and goes to the roof to have a drink.
Chul steps out onto the roof and doesn't see Yeon-joo at first, and she sees him quietly wipe at his tears from a distance. She holds up a hand as if to caress him from where she sits. When he turns around, she's still looking at him with those longing eyes, and it makes him stop to stare back at her.
He calls her by name and asks if a doctor should be drinking, and she explains that the emergency room isn't short-staffed anymore and she's not on call anyway. That seems to suffice, and then he asks, "Can I have a sip?"
He admits that he really needs it right now, so she offers him the soju and tells him he can keep it, taking out a third one from her pocket. Ha, that looks bad. He just thanks her and drinks his, and then starts to feel her staring at him again.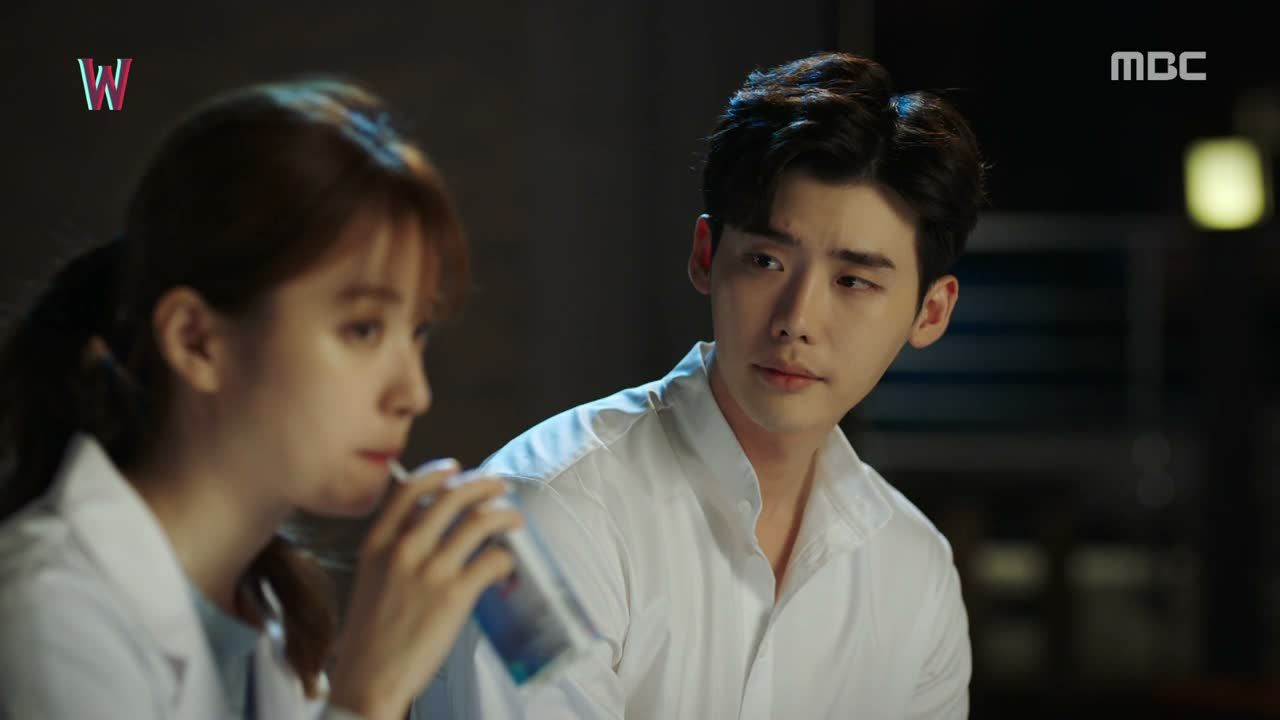 Chul asks why she keeps looking at him that way, and after some prodding, she says quietly, "You look alike." He asks whom he looks like, and she answers, "My husband." He realizes that the ring she was chasing the other day that she's now wearing around her neck must be a wedding ring, and then he heads back down after getting a call from So-hee that Ajusshi is out of surgery.
Yeon-joo watches him until the very last second that the elevator doors close, and drinks away the ache in her heart. She wakes up the next morning in her bunk and asks Seok-bum what time it is, but it's a woman who enters the room, and someone on the television says that it's been thirteen hours since the shooting and there are two more victims confirmed dead.
Yeon-joo sits up in bed and quickly lies to the other doctor that she must've slept in the wrong bed last night, and scrambles out to the hall. She looks around and wonders why she's still in the manhwa world, and sneaks back into her office to steal one of the toothbrushes stashed there.
She tiptoes around the hospital trying not to be discovered, and watches Kang Chul from a distance as he gets a report from the detective that the killer disappeared without a trace. She narrates that she didn't return to her world that day, or the next day, or the next day.
She fills her stomach with free side dishes in the hospital cafeteria—just radishes and kimchi—while trying not to salivate at the people eating rice and soup next to her. She ducks when she sees Kang Chul walk in to have lunch with So-hee and Do-yoon, but he sees her and eyes her curiously before moving on.
Yeon-joo continues narrating that she couldn't go back home despite the fact that she was now just an extra in this manhwa, who no longer meant anything to the hero. She sneaks back into the residents' office and finds a slice of leftover cake and eyes it hungrily, but she's caught by the same doctor who found her sleeping in the bunk. This time she notices that Yeon-joo is wearing her lab coat and asks why she keeps sneaking around here, and Yeon-joo is forced to run away from the hospital.
She sits outside on the curb with nowhere to go and nothing but hunger on her mind, when So-hee arrives with a large entourage. That gives Yeon-joo an idea and she arrives outside of So-hee's apartment. Lol, are you going to break in and raid her fridge? That's brilliant, since she can't sneak into Chul's penthouse with all that security.
Thankfully So-hee's lock code is the same and Yeon-joo can get inside. She eagerly goes straight for the fridge and starts a pot of boiling water for ramyun, and then catches a whiff of herself. Pretty ripe by now, I imagine.
She grabs a pair of clothes from So-hee's closet and digs through her dresser drawers for underwear, and finds something even better: a stash of emergency cash. Yeon-joo feels terrible about taking the money but promises to pay it back.
She's about to head back out of the bedroom with her loot when suddenly she hears Chul's voice from out in the hallway, asking So-hee for her lock code. She manages to hide in the closet before he walks in, but agh, she forgot about the pot of boiling water!
Chul comes in to pick up the thing So-hee left behind, but he stops in his tracks when he spots the pot on the stove. Yeon-joo waits until she hears him leaving and then tiptoes back towards the bedroom door… which is exactly what Chul is waiting for.
He kicks the door open and sends Yeon-joo flying onto her stomach, and she hilariously attempts to keep her face hidden from him. It's no use, of course, and he recognizes her right away. So embarrassing.
Chul texts So-hee a photo of Yeon-joo to ask if she knows this woman, but she says no. With that confirmed, Chul asks why Yeon-joo broke in here, and she finally answers in a shaky voice, "Because I was hungry."
She says she hasn't eaten in days, and Chul asks all the logical questions, like why she wouldn't buy food and why a doctor has no money. She says she's not a doctor at that hospital—he just assumed she was—and he sends his bodyguard out to call the police.
He's thrown by her cavalier attitude when he threatens to turn her over to the cops, but Yeon-joo says it's better there because at least in prison she'll get meals and have a place to sleep. Damn, it must've been a bleak four days.
Chul scoffs that prison isn't a hotel, but Yeon-joo says she knows since she's been there many times. She tells him to just turn her over to the police, and then adds, "But before they get here, can I eat some ramyun? The water's boiling." HA. I don't know whether to laugh or cry.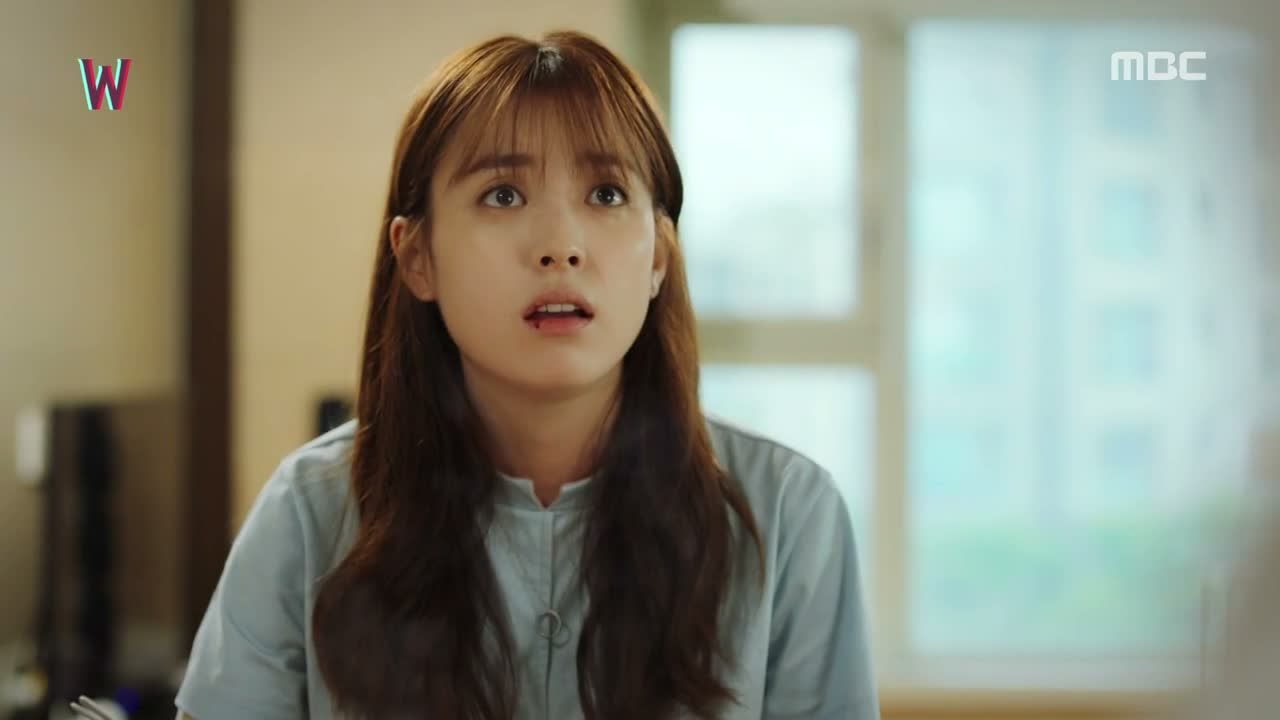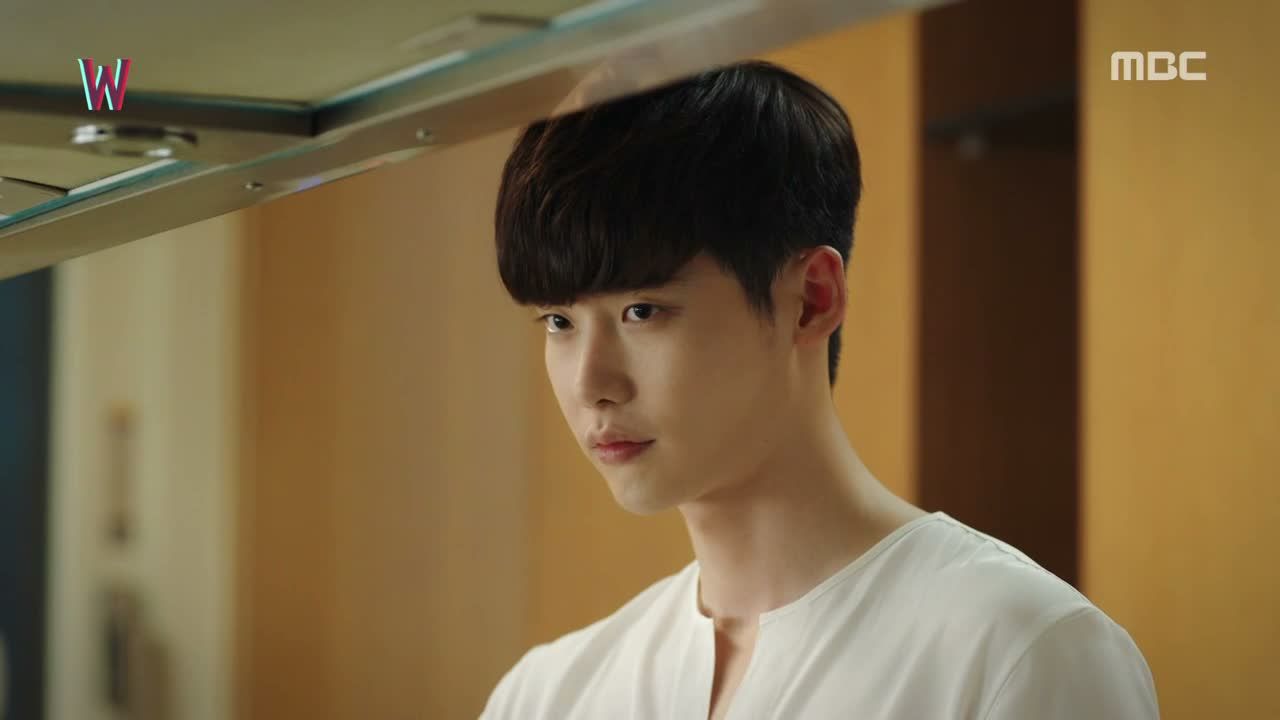 She puts on her best puppy face and says that she's just so hungry, and the next thing we know, Chul is cooking her ramyun. Hee. He interrogates her while he cooks, and she says that Oh Yeon-joo is her real name, and she has no home or family. He asks about her husband, but she just stares back at him with pained eyes.
Chul serves up the ramyun and even offers her kimchi, but Yeon-joo can't even take her first bite because of her bloody lip from the fall in So-hee's bedroom. He's not very sympathetic despite having caused the wound, but then he grabs a tube of ointment and dabs it on her lip with his finger.
It startles her, and she stares up at him and tries to say that she's fine. But when he persists, she finally turns her head away and cries, "Stop it!" She says that this just makes it harder for her to let go and asks angrily why he had to go and touch her.
She says that she's been trying so hard not to run into him—even when she's been homeless for over a week, she didn't go to him for money because she didn't want to insert herself into his life. She bursts into angry tears and shouts, "So why have you suddenly shown up here, giving me medicine and being nice to me?!"
Chul is completely spun around, since he doesn't understand why that's something to get mad about. Yeon-joo holds her ring up and tells him, "This is a wedding ring. But I have no husband. So even if I asked him to come, there's no one to come for me." That's just painful, is what.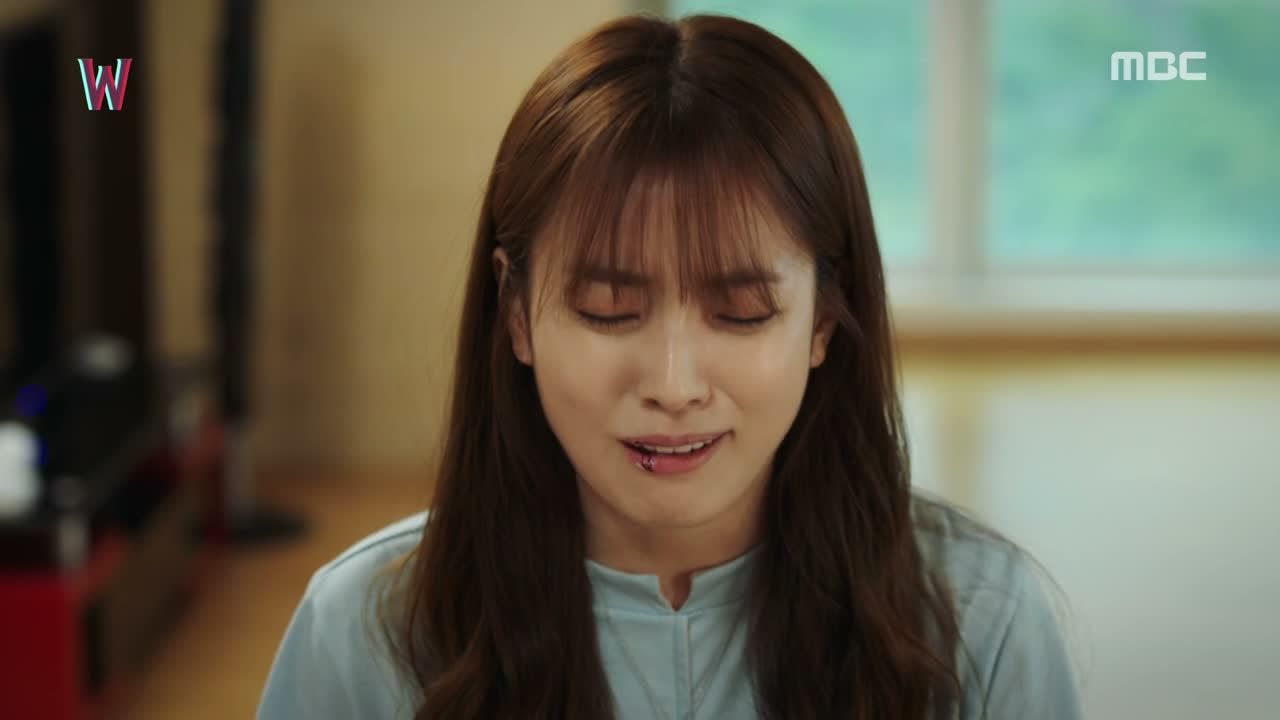 Chul doesn't get it, so Yeon-joo just shouts that her husband disappeared—he didn't die, they didn't get divorced, but he just disappeared. "We didn't even do anything. Just… four sweet things? He did only four things for me and then disappeared. We only got to spend one day together. Funny, huh? He never even told me he loved me. It was always me doing the confessing. And then he was gone," she says, looking right into Chul's eyes.
She sniffles back another wave of tears and says that she tried to forget because it was supposed to be a happy ending, except this is no happy ending, and now she doesn't even know why they parted if things were going to end up like this, or why she's here if he doesn't even recognize her.
She bursts into sobs as she says that she wants to go back home but has no way of getting there, and Chul wonders why he can't understand a thing she's saying. She tells him that it's none of his concern and stuffs her face with ramyun while crying.
The police arrive and down in the street, Chul shakes their hands before getting in his car. But Yeon-joo isn't in the police car as it pulls away…? She's sitting in Chul's car, confused as to why he didn't turn her in. He says that she seems to consider the police more lightly than she considers him, so he felt like he'd be losing somehow if he turned her in. Pfft.
Yeon-joo tells him to stop taking an interest in her, and Chul thinks her word choice strange and says he's suspicious, not interested. Yeah, that's how it started the last time you married her. Ajusshi calls and asks Chul to stop by the hospital, so they head back.
The tide turns against Assemblyman Han, and he's ordered to step down and drop out of the presidential race. He's not about to go down so easily, but it seems that public opinion is on Chul's side.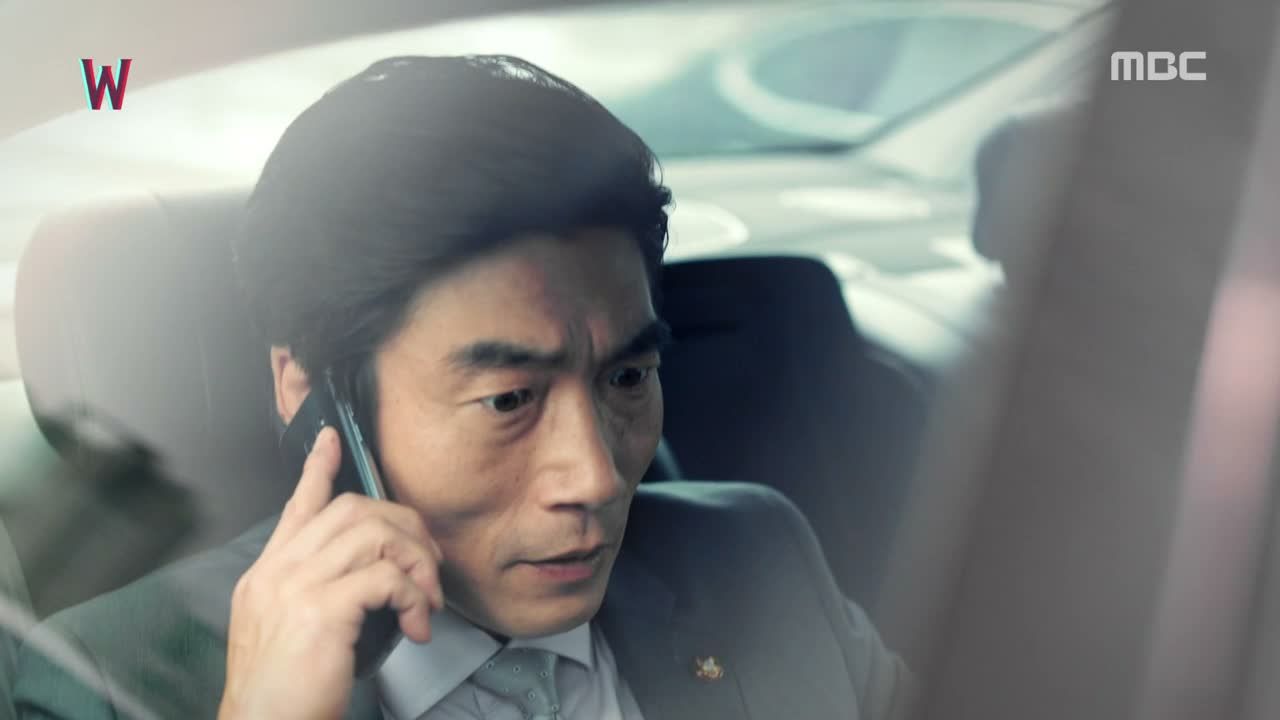 Assemblyman Han screams in frustration in his car, when an unknown caller interrupts his tantrum. It's New-Face, who says in a taunting voice that he knows exactly what Assemblyman Han is planning to do: He wants to kill him and make it look like a suicide, which is the way we saw it play out in Su-bong and Dad's original outline.
The question is: How does New-Face know this? Also, it's weirding me out that New-Face drinks Dad's preferred brand of scotch.
New-Face says he knows everything that's about to happen to them, including their pointless deaths, and he calls them the bridesmaids to Kang Chul's happy ending. New-Face doesn't see why they should comply, and offers to help make Assemblyman Han the next president. Great, the villains are joining forces?
At the hospital, Chul leaves Yeon-joo in the car with a bodyguard to watch her, and she asks if there's really no lead on the killer. The bodyguard says it's true.
New-Face starts barking orders at Dad, and has him type out some dialogue between Chul and his father—an argument about his father meddling in his life. Oh no, is he building evidence for Chul to be the killer like Assemblyman Han was trying to prove ten years ago? The villain is retconning the manhwa now?!
Chul comes up to Ajusshi's hospital room, and Ajusshi seems distraught as he says that in the all the chaos he didn't have a chance to check his email until today, and he found that someone had sent him evidence.
Chul perks up, but Ajusshi says it wasn't about the recent shooting, but about Chul's family's shooting ten years ago. It's an audio file, and Ajusshi plays it for Chul on his phone. Crap, it's a recording of Chul and his father having the argument that New-Face just had Dad type out.
In the recording, Chul tells his father to mind his own business, and his father yells at him for coming home drunk and hits him. Chul reminds his dad that he said he wouldn't take being hit anymore, and in a burst of anger, his father disowns him and kicks him out of the house. A shot rings out, and Chul's mother screams.
Wow, that's damning. With tears pooling in his eyes, Ajusshi says that he's never once suspected Chul in the last ten years, but the recording is proof that Chul went home that night that his family died, when he swore that he didn't.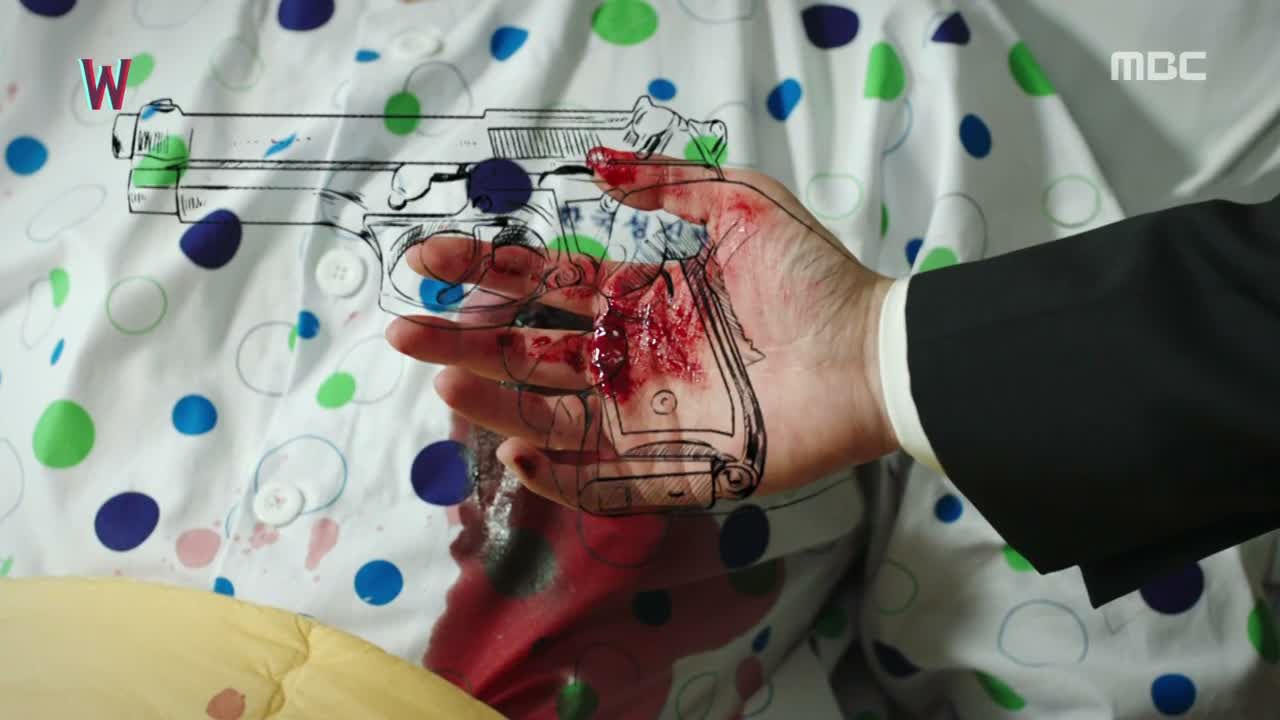 Chul says that it's a fabricated recording because he's never had this conversation, but Ajusshi asks how that's possible when his parents have been dead for a decade. Chul is shocked that Ajussh suspects him, but Ajusshi says tearfully that he just wants to know the truth. Chul asks who sent him this file because it's completely fabricated, but before he can even finish asking, a bullet comes out of nowhere and shoots Ajusshi right in the heart. Crud.
He flatlines immediately, and out in the hallway, Ajusshi's wife and the nurse head towards the room with cops in tow. Inside, Chul panics and tries to wake Ajusshi up, but it's too late. He looks down at the blood on his hand when suddenly a drawing of a pistol flickers in and out of his hand. Shitshitshitshit.
At first it's just the outline of a gun, and then his whole arm turns into a manhwa drawing. And then the gun flickers back, finally materializing right there in his bloody hand. This is so bad. Get the hell out of there!
Chul is so stunned that he doesn't even have a chance to hide the gun before the cops walk into the room, and the only thing he can do is turn the gun on them to make his getaway.
Thankfully for Chul, the cops on duty aren't very fast, and he manages to fight and run his way down, though one of them manages to shoot him on the stairs, not that it slows him down.
Chul reaches his car outside and pushes his bodyguard aside to take the wheel, and he nearly runs over all the officers surrounding his car… having forgotten that Yeon-joo is still sitting in the backseat.
Do-yoon calls to ask what's going on, and all Chul says is that it's all a fabrication and the police can't solve this, which is why he had to run away. Chul hangs up and then finds that he's bleeding quite a lot, and Yeon-joo gasps. He says he'll drop her off somewhere, but she's more worried about his bullet wound.
After driving a while outside the city, the bleeding in his abdomen gets worse and Yeon-joo shouts for him to pull over so she can drive. He finally stops the car and tells her to just go on her way because getting caught with him will be bad for her, but she tells him that she has nowhere to go.
She orders him out of the car and helps him into the backseat, and as she takes over the wheel, she asks for his wallet so she can go buy medicine. She stops at a neighborhood pharmacy for some supplies, where she sees a news report about Ajusshi's shooting and Kang Chul's fugitive status.
Yeon-joo narrates that that's when she realized that all of Chul and Dad's plans to get rid of the killer had failed.
Assemblyman Han is just as confused as everyone else when he sees the news that night, and then a prosecutor calls to say that they found evidence that Chul was really his family's killer. Assemblyman Han sits back with a devilish laugh, as Yeon-joo narrates, "So right now this is a world that moves according to the culprit's will. A world controlled by the villain."
Yeon-joo returns to the car and panics when she sees how much blood Chul has lost. She wonders where to go and finds an out-the-way hotel, where she runs in to pay for a room and then wakes Chul up to help him get inside.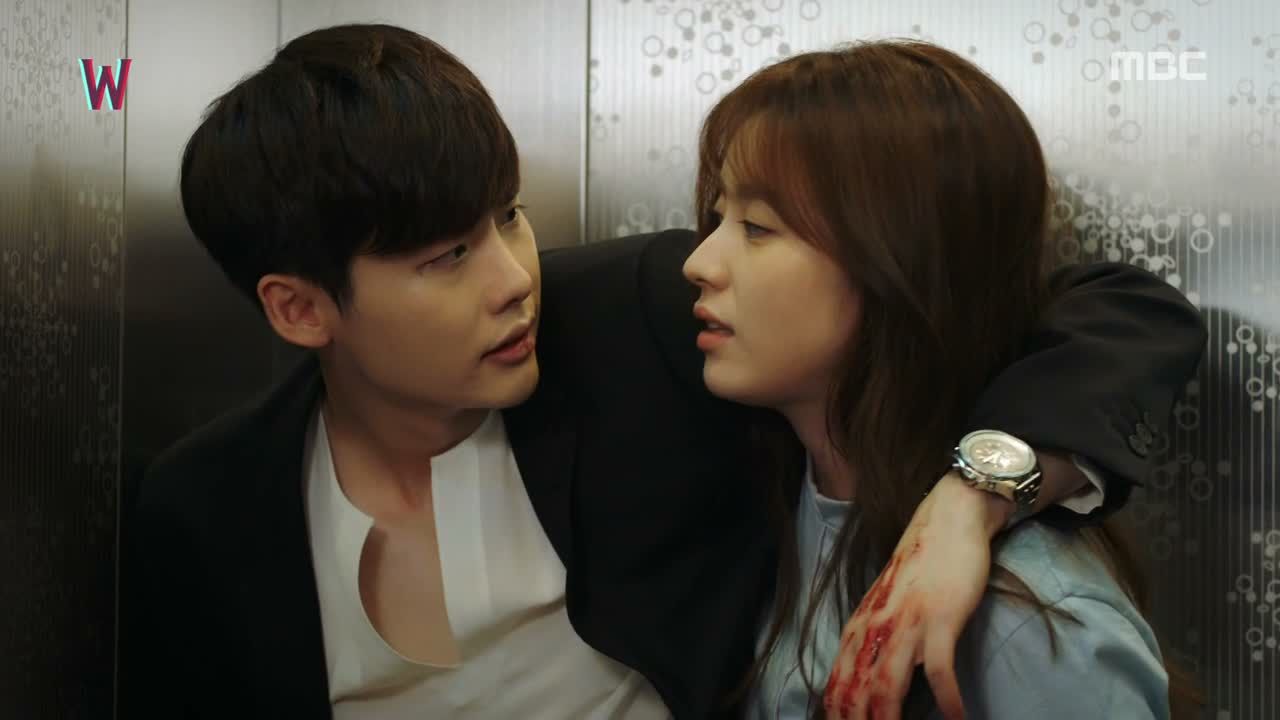 They get to the elevator and Yeon-joo tells him not to lift his head because of the security camera overhead, and he just looks at her and asks, "Did we used to know each other? Do you… know me?"
She ignores the question and is saved by the bell when they arrive on their floor, and she gets them inside the room. But in her haste she doesn't notice that they've left drops of blood on the floor outside, and on the door handle.
Yeon-joo gets him onto the bed and treats his wound the best she can with over-the-counter bandages, and he notices her crying as she holds a compress to his stomach. He asks why she's crying and says he's not going to die, and she cries, "You won't die! And who says I'm crying?" as she wipes at her tears.
She guesses that he was framed and that's why he ran away, and she says that she'll find a way out of this. But right now she doesn't know anything and she needs more supplies to treat him properly, and says that's why she has to get out of here. She asks him to hold on and wait for her just a little while, but Chul has no idea what she means or how she could possibly help him.
The only way she can explain it is: "I'm someone who wants your life to have a happy ending. That way, our parting won't be in vain."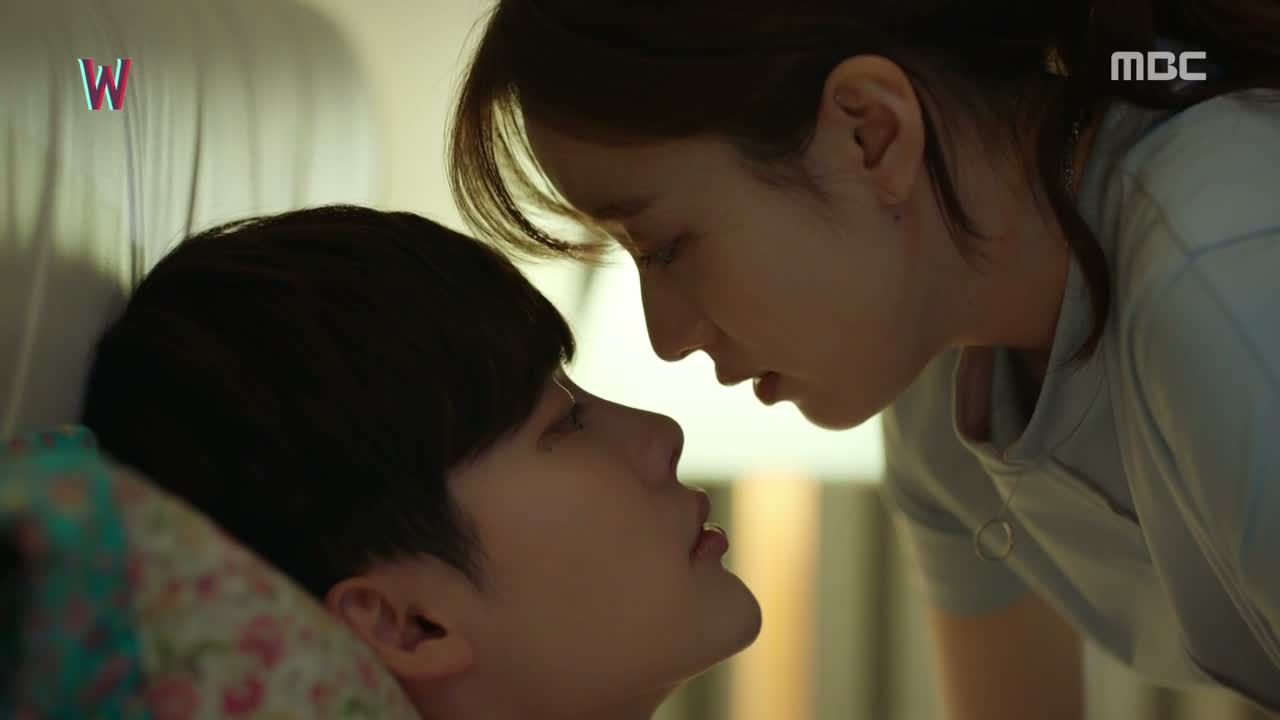 Chul stares at her curiously and asks, "Who are you?" She doesn't answer, but says, "I have to get out of here, so I really hope this works again…"
She leans all the way in so that her face is hovering just above his, and just before she presses her lips to his, one of her tears falls onto his face. She kisses him softly and lingers there for a long beat before pulling away slowly.
He looks up at her, but before he can say anything, she sees "To be continued" being written in the corner and dashes off to the bathroom.
She reappears back in her world and reaches up to touch her lips, and clutches her wedding ring, eyes full of emotion. In the manhwa world, Chul wipes Yeon-joo's tear off his face and looks at his hand curiously.

COMMENTS
This episode was a slowdown in terms of plot, since it takes the full hour for Yeon-joo to catch up and discover that something has gone very wrong in her world. I mean, poor Su-bong is probably still unconscious, for crying out loud! We've left him lying there since last Thursday! I'm a little disappointed that we haven't seen more of Dad in the aftermath of losing his face—it's kind of the horrifying but maddeningly curious thing that I've been waiting all week to see, and I feel like all we did in this episode was fill in some blanks in the past, but not move forward at all in the present, where he suddenly has no face. Seems like a thing to address, no? It does appear that Dad losing his face was probably a punishment inflicted upon him by New-Face, not a direct result of drawing his face on the killer.
At least with Yeon-joo returning to her world in the next episode, we'll be dealing with the fallout then, but right now I'm so confused about why Dad keeps following New-Face's orders and drawing whatever he asks for (though I guess now we know that Dad can draw and write blind). Is he just complying out of fear, or is it actually out of his control? Does New-Face know the planned happy ending for Kang Chul because he overheard it, or does he now share a brain with Dad?? Was it literal what he said about them sharing a soul? Because if giving the killer his face also meant giving him access to the creator's mind… I have no idea how they'd ever defeat him. And if that's the case, what happens to Dad? The most frightening aspect of this (well, minus the no-face retribution) is that the killer seems to be identifying with Dad so much that he's decided that they've always been the same person all along, and could quite possibly take over Dad's existence in the real world. The killer already stole his face and his taste in scotch—what next?
It was a little frustrating that it took Yeon-joo so long to figure out that things had gone awry, but this episode was an upswing in terms of emotional development, because while in the past I had always been rooting for the couple, today I really felt that emotional pull when Yeon-joo kept trying to avoid the truth and Chul kept trying to figure out why it felt like he knew her. I found myself hoping at every turn that he'd suddenly remember her, even though he doesn't have amnesia and there's no way he'd remember her without her undoing the reset on the manhwa world. It's just a really good emotional conflict to leave her stranded in Chul's world when she wants to be there least, and forced to rely on him when it's taking all of her strength to stay away from him.
While it's hard to see Yeon-joo go through such pain, I love that she's not going to curl up and die over her heartbreak, or even hold back from expressing her frustration at Kang Chul despite his complete ignorance on the matter. When push comes to shove, she'll put her hunger over her embarrassment, and will always jump headlong into danger and put her trust in people. I think it's pretty clear that she becomes the heroine of this manhwa every time because of who she is, and I like that her character is coming to the forefront as things in Kang Chul's world go down the toilet. It's exciting that the hero is on the run, but I worry. Save us, Yeon-joo!
What this episode confirmed for the romance was that all roads will lead them back to each other, no matter how many times they do this. Hell, this might've been the hundredth time already. She will always pique his curiosity, he will always help her avoid prison, and she will always save his life. Maybe everything else can be a variable, except for the fact that they're drawn to one another. Or maybe the one constant is that Yeon-joo will always love him, and that alone will somehow always bring her back to him. Before, their love story seemed to spring out of circumstance—worlds and realities colliding with the two of them at the center. But if it happens a second time in a whole new situation, not because he remembers her but because this is just who they are as people, then it really starts to feel Meant To Be in a cosmic sense. I didn't think I would enjoy watching them do their romance differently, but this time it's fraught with emotion that wasn't there before, and tints everything in the past with a sense of nostalgia. I'm still hoping for a re-reset, mind you, but now I also wouldn't mind it if they just fell in love for the first time over and over and over again.

RELATED POSTS
Tags: Episode 10, featured, Han Hyo-joo, Kim Eui-sung, Lee Jong-seok, Lee Shi-un, W–Two Worlds