W–Two Worlds: Episode 6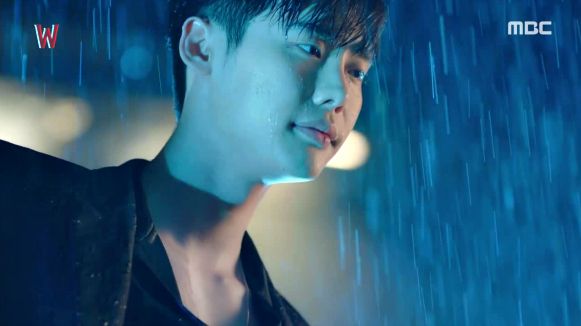 I feel like I'm still recovering from yesterday's episode. The show seems like it's recovering too, because we're a little lighter on the nonstop thriller-suspense-WTF-OMG today, and we spend a little time focusing on our heroine and her relationships. It's time for a cold hard dose of reality in her life, which is often the hardest thing for a fangirl to embrace. But (sadly) real life is not a manhwa, and there are life-and-death consequences to be faced when her hero seemingly goes rogue.

EPISODE 6 RECAP
A gun goes off in Dad's workshop, and outside, Su-bong immediately falls to the ground, convinced that he's been shot. He hasn't, of course, but inside Dad slumps to the floor with a big gaping wound in his chest, and Kang Chul looks down at him, eerily calm about the whole thing. But! You just shot your creator!
Su-bong's jaw hits the ground when the manhwa hero he's been drawing scenery for just walks out the front door holding a gun. Kang Chul pauses and says that if he calls emergency now, Dad might live. That's it, and he walks away.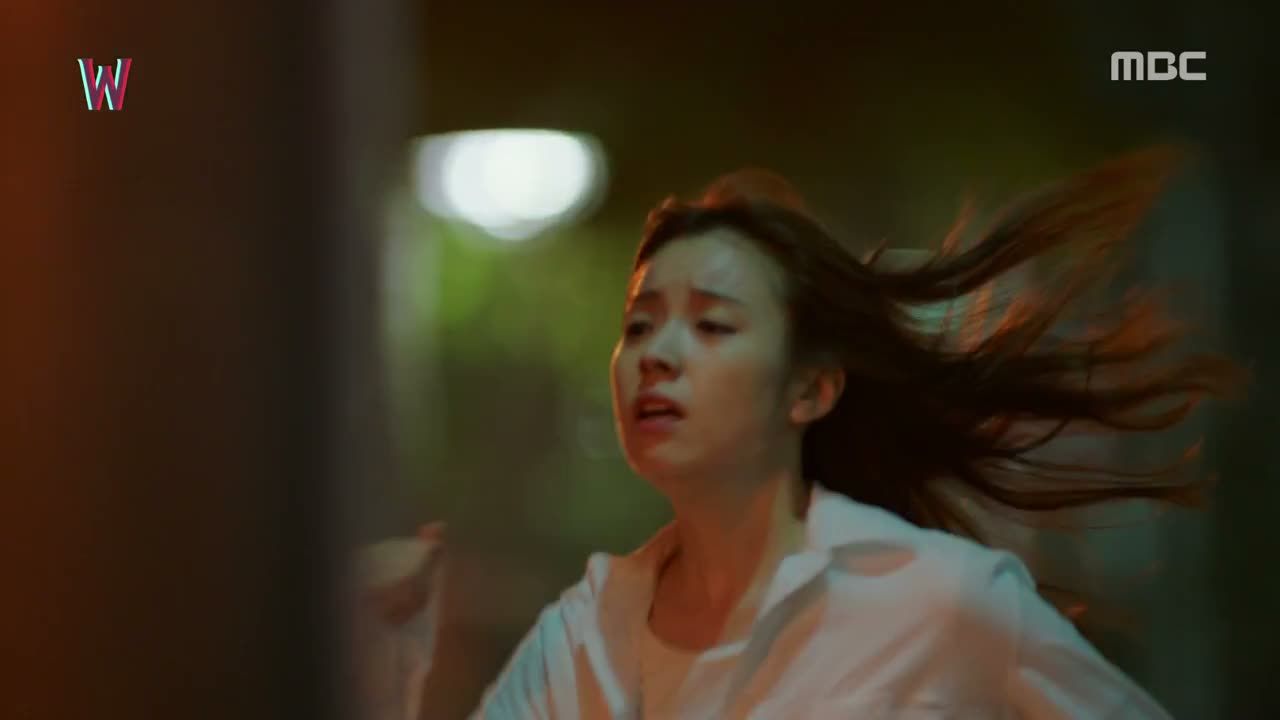 Yeon-joo can't handle being trapped in the slowest cab in all of Seoul and gets out to run the rest of the way. She's terrified because the last thing she heard was the sound of the gunshot, and by the time she reaches the front gate, it's pouring rain and the place is surrounded by cops and paramedics.
She runs inside where Su-bong is wailing, his shirt covered in Dad's blood. The paramedics are working on moving Dad's body, and he looks alive… barely. Yeon-joo rushes to his side, screaming, "Dad! Daaad!" eyes filled with terror. Mom gets the call from Su-bong, and goes numb from the shock.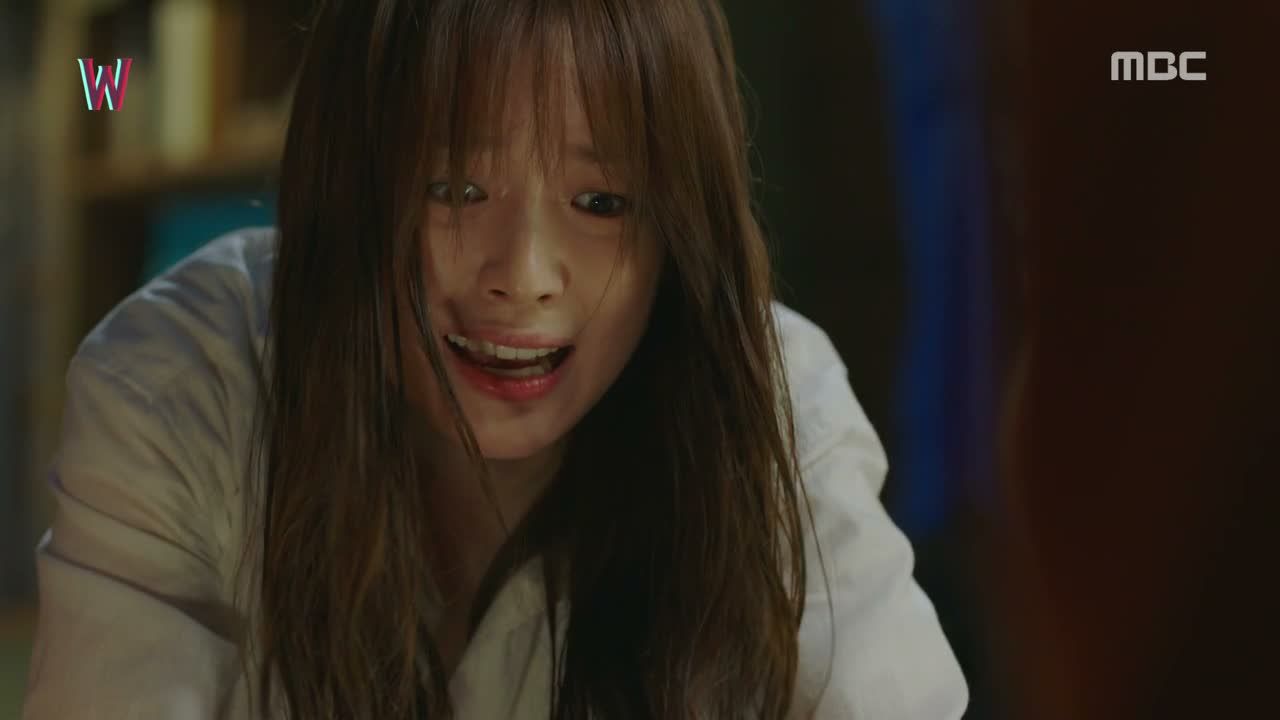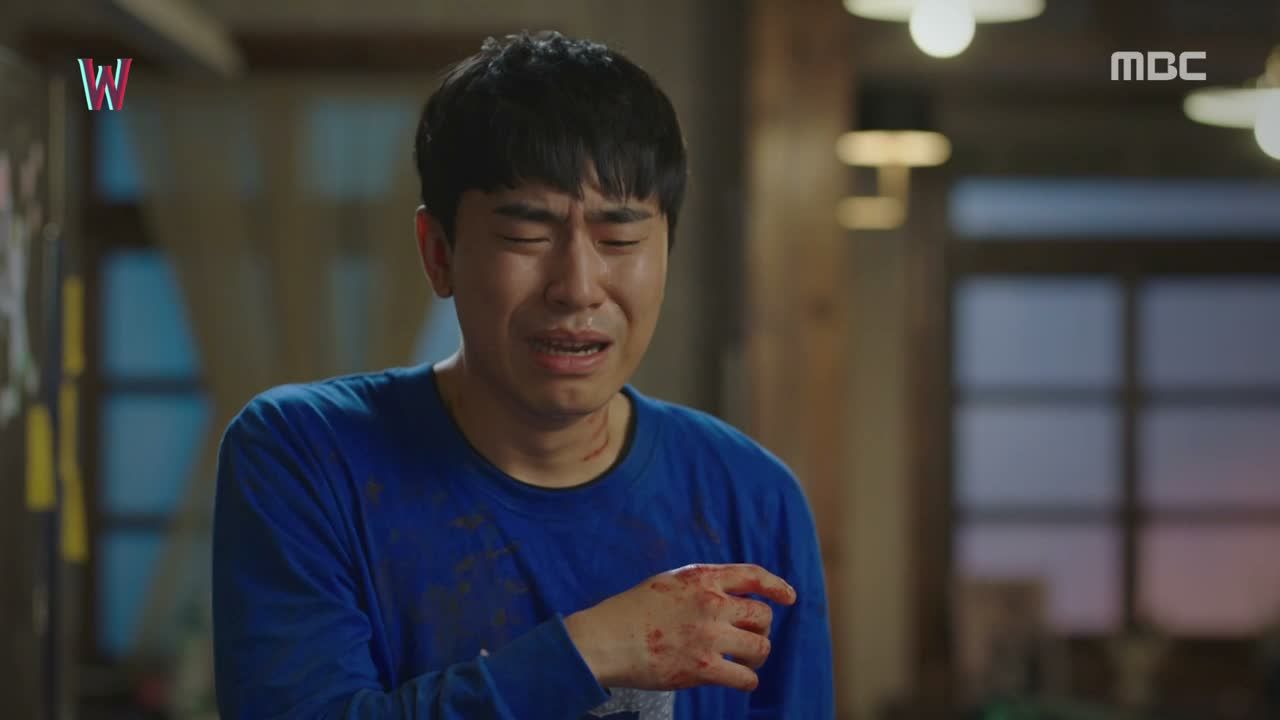 In the ambulance, Yeon-joo takes over CPR when Dad's pulse starts to drop, and she pleads with him to hang on and not be scared. They arrive at her hospital, where she barely holds it together as she updates Professor Crazy Dog, her hands still pressed on Dad's heart.
She enters the operating room, and Crazy Dog is actually nice for once, kicking her out for her own good. He insists that it's because he can't handle the pressure of her watching, but Yeon-joo's on the verge of tears the whole time, and as soon as she exits, she breaks down in sobs.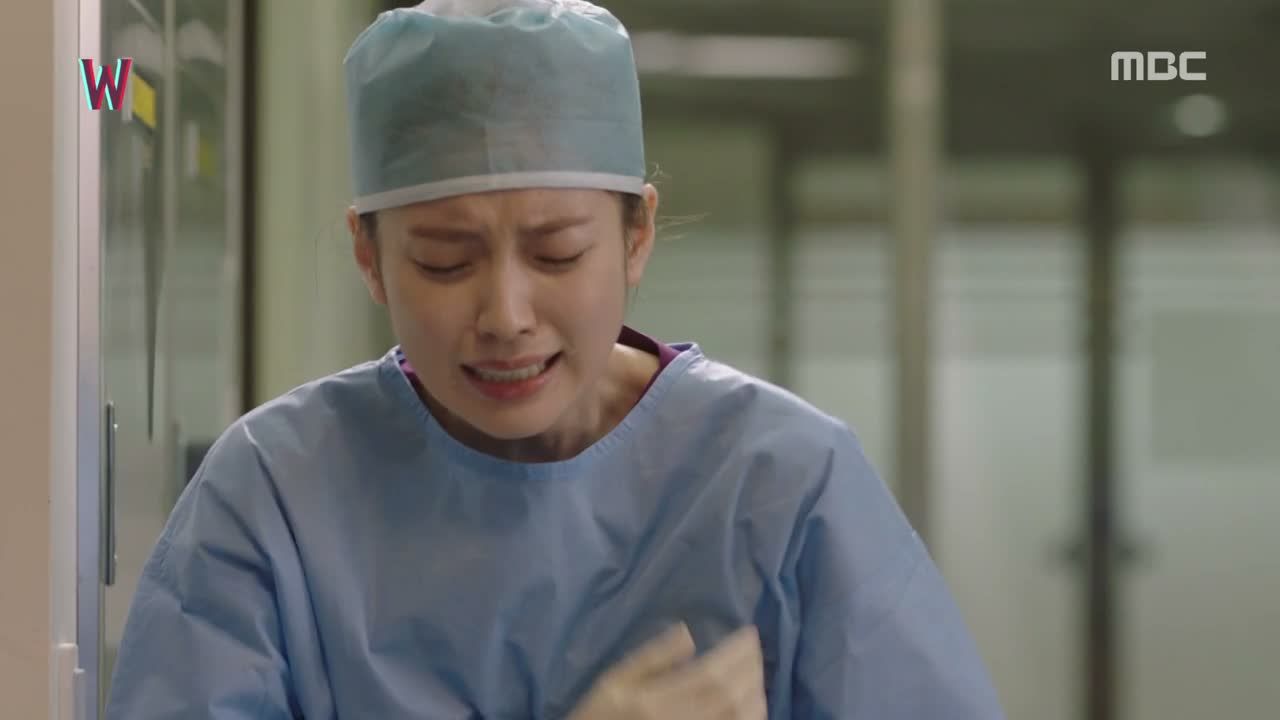 Su-bong comes up and says in a shaky voice that it was Kang Chul—Su-bong saw him in the flesh with his own two eyes. Yeon-joo's hand closes up into a fist and she asks if anyone saw where Kang Chul went. Oh no, are you enemies now? Say it ain't so!
Su-bong says that her father was right, and that he had a reason for wanting to kill Kang Chul all this time—he must've known this would happen. He asks why Yeon-joo saved Chul, sighing that if she'd only not saved him, this wouldn't have happened. "He's just a manhwa character," Su-bong argues.
Mom arrives and holds Yeon-joo's hand, and in the operating room, Crazy Dog takes out the bullet and says it's a good thing it stayed intact. He puts it in the pan, and it's a real bullet—no cartoon fakes here.
Down in the lobby of the hospital, Kang Chul walks up to the front desk and leaves a letter for Yeon-joo, asking for it to be delivered to her. He says nothing else, and heads back out into the rain.
The next morning, news breaks of Dad's shooting. He's still alive, but still hasn't regained consciousness. Dad's editors at the publishing house see the news and wonder if they should call Yeon-joo, because something is going on with the webtoon—they stare at the screen and say it's strange.
Yeon-joo sits by Dad's bedside and clutches his hand, unable to hold back her tears. Seok-bum comes by and urges her to get some sleep, and promises to stay here next to Dad. You're a good friend.
Yeon-joo gets a call from Dad's publisher, who hesitates to bother her with the webtoon at a time like this. But he says it's odd that he received a new issue in the middle of the night, when it couldn't have been Dad who sent it. Wait, the manwha is still going? Does that mean Kang Chul got back to his world??
The publisher says it looks like her father's artwork though, and he wonders if maybe Dad had finished the issue beforehand and scheduled it to send. He says the content is odd too, so he wanted to double check with her before putting it up online.
Yeon-joo asks if she can see it first, and hesitates before opening the email from the publisher. When she finally clicks, she finds the newest episode called "Kang Chul's Awakening."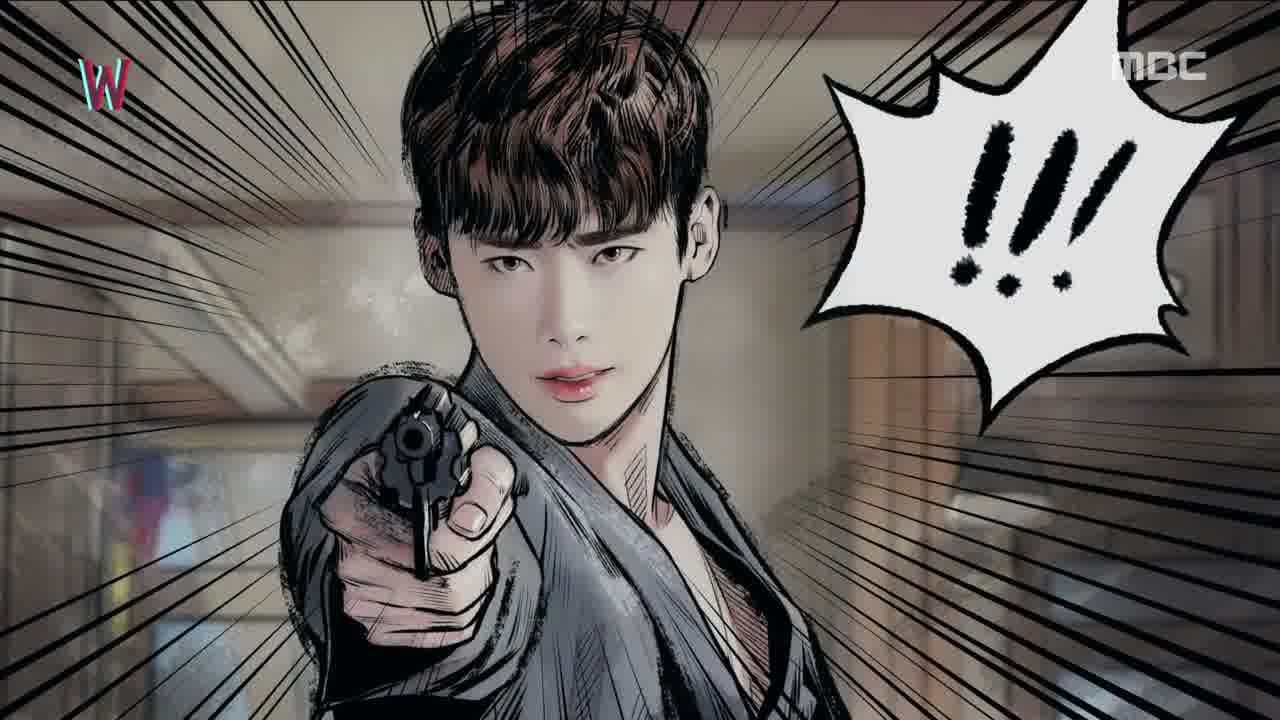 The issue details Kang Chul's moment of self-awareness when he discovers that he's a manhwa hero, and his journey across universes into the real world, where he found Yeon-joo in the hospital and shot his creator. Whaaat. The story continued in her world? This is turning my brain into mushy goo.
In flashback, we see that the night of Dad's shooting, Kang Chul wandered the streets aimlessly, still holding the gun in his hand. He eventually dropped it on a pile of trash, and that gave him pause—it's what his family's killer did in the manhwa, and he winced to realize he'd become the same.
He kept wandering as the rain came down, and he stopped in front of a poster for W, calling him "this generation's guardian of justice," wondering if he'd finally catch his family's killer. It was as if the words were mocking him.
Chul stepped inside a convenience store to buy a pen and paper, and sat down to write Yeon-joo a letter. As he writes her name on the envelope, the image turns into the webtoon frame that Yeon-joo is staring at in her office.
And then on cue, the nurse walks in and hands her that very letter. Yeon-joo stares at the matching envelopes in hand and on her screen, and then tears it open to read. The whole thing isn't visible, but in the latter half he writes, "And thank you. Now I can leave knowing the truth about my life. To a hero who turned into a murderer while looking for a murderer, there isn't a more fitting ending than this, is there? So… goodbye…"
Alarmed, she goes back to the webtoon and scrolls past the letter, and the next frame shocks her—it's Hangang Bridge, where Dad made Kang Chul jump the first time.
The image fades into the flashback from the night before, as Kang Chul stood on the ledge of the bridge in the pouring rain.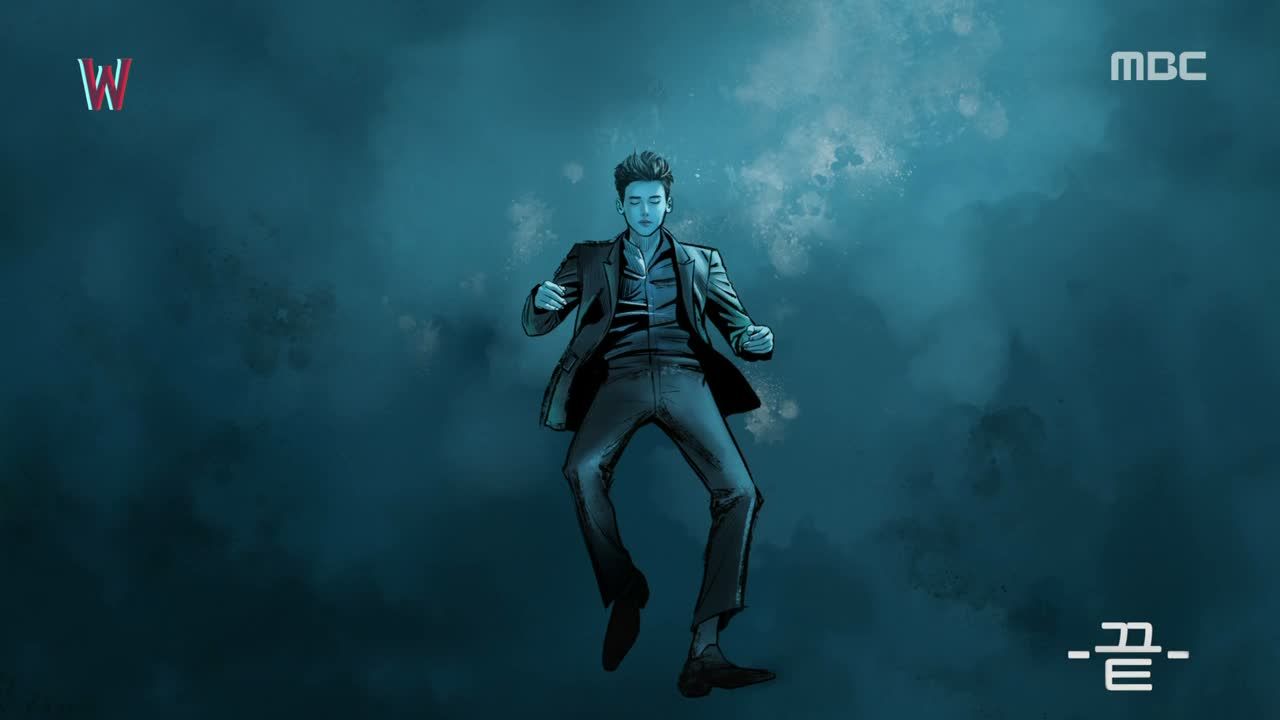 His smile was bittersweet, and then he let go, his body falling in slow motion to the river down below. He sank to the bottom, and the screen fades back into the webtoon on Yeon-joo's screen. She quickly scrolls down, and the next image shows him drowning… with "The End" stamped down in the corner. Nooooooo!
She gasps and runs to the bridge, terrified, but it's morning now and there's no sign of Kang Chul. She crouches to the ground in defeat and lets the tears come.
Yeon-joo's mom sits by Dad's bedside spilling tears of her own, when suddenly Dad opens his eyes. Oh thank goodness.
At the same time, Yeon-joo and Su-bong speak with the detective on Dad's case, who tells them that there are a lot of anomalies that he can't account for. The CCTV in front of Dad's house didn't capture anyone going in or out, and they can't locate the gun, or even the bullet that the surgeon pulled out of Dad's chest.
While he says this, we see the gun in question turn into a manhwa drawing and disappear, and the same thing happens to the bullet. What.
Yeon-joo and Su-bong give each other the side-eye and keep their mouths shut, and they go to see Dad in the hospital. They tell him that Kang Chul committed suicide on the bridge and that it became the manhwa's ending, and the publisher is waiting for their approval to upload the last issue.
Su-bong says that he and Yeon-joo have worked out the best possible cover story for Dad's shooting and the manhwa's ending, and the next thing we know, the webtoon goes online and the news broadcasts a story about W creator Oh Sung-moo's suicide attempt, brought about by severe stress and depression over the series ending.
Naturally the manhwa's ending has the public in an uproar, and fans are beyond upset at the story's bleak finale and lack of closure for Kang Chul. Crazy Dog is so deflated that he forces Seok-bum to drink with him that night.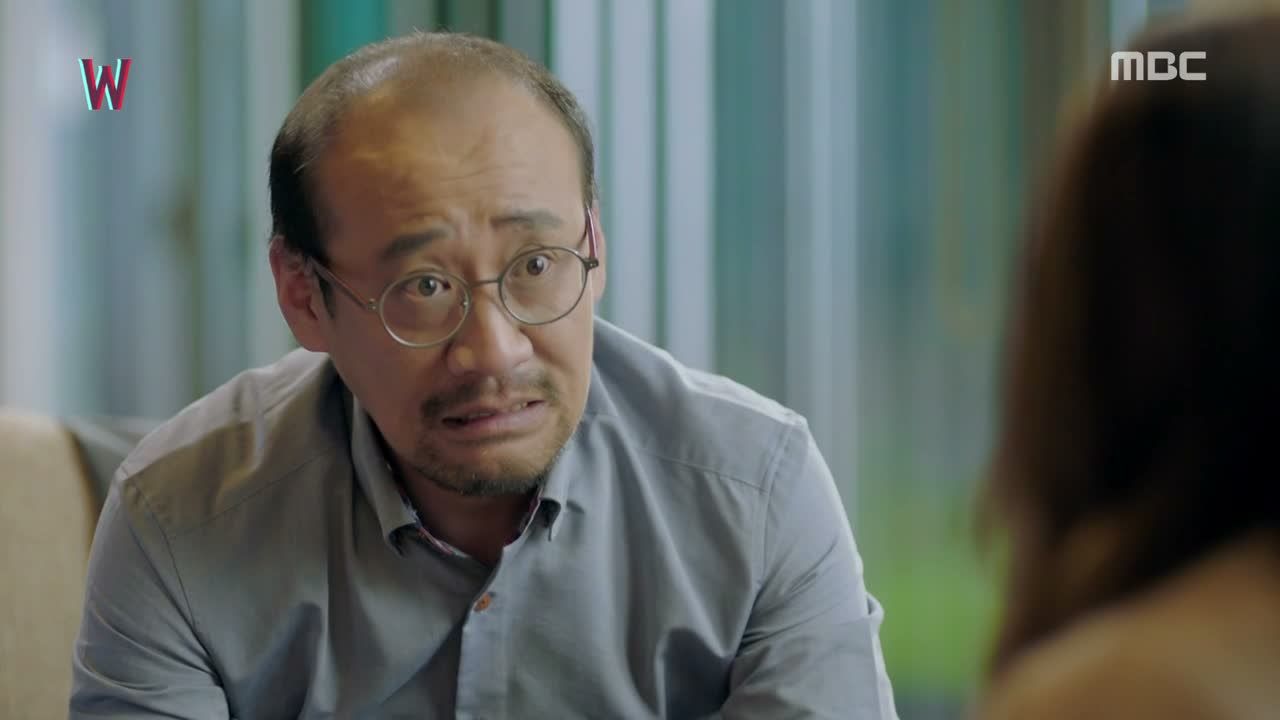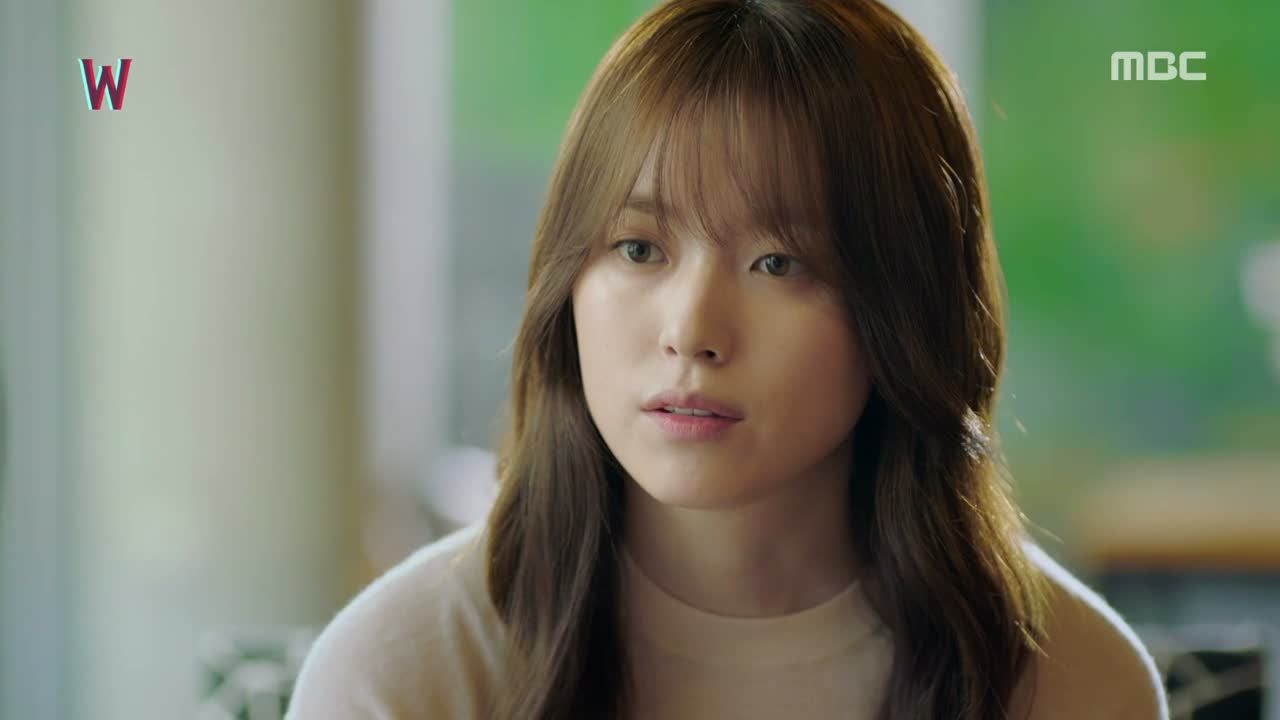 A month later, Dad's workshop is all packed away and cleaned out of anything having to do with W. Yeon-joo puts everything in boxes and then goes to meet with Dad's publisher, and tells him that Dad hates hospitals so much that they've moved him back home and she's staying there to take care of him.
The publisher says that there are still protests being held by loyal fans, asking to bring Kang Chul back from the dead. The director of the movie adaptation is sitting next to him and sighs that no one will want to see a movie about a hero that dies that way.
They plead with Yeon-joo to ask Dad if he'll consider bringing Kang Chul back and continuing the series, or even just rewriting the ending. The publisher says it would just take a few frames, but Yeon-joo is firm and says no—Dad is retiring, and he's been through more stress than they could imagine.
She says it's not something she could ever ask of him, and makes it clear that Dad's retirement is final. The publisher turns into a blubbering mess, whining that it's such a deflating ending to have a hero just die like that without purpose or honor, not even in a cool or emotionally satisfying way.
But Yeon-joo finds herself saying the thing she never thought she'd say: "It's a manhwa… It's just a manhwa hero—don't empathize too much. You'll forget it soon." Perhaps she's saying it more to herself.
Yeon-joo comes home and tells Dad that she made his position clear with the publisher, and he approves. Yeon-joo doesn't seem so ready to let Kang Chul go, but truthfully, neither does Dad.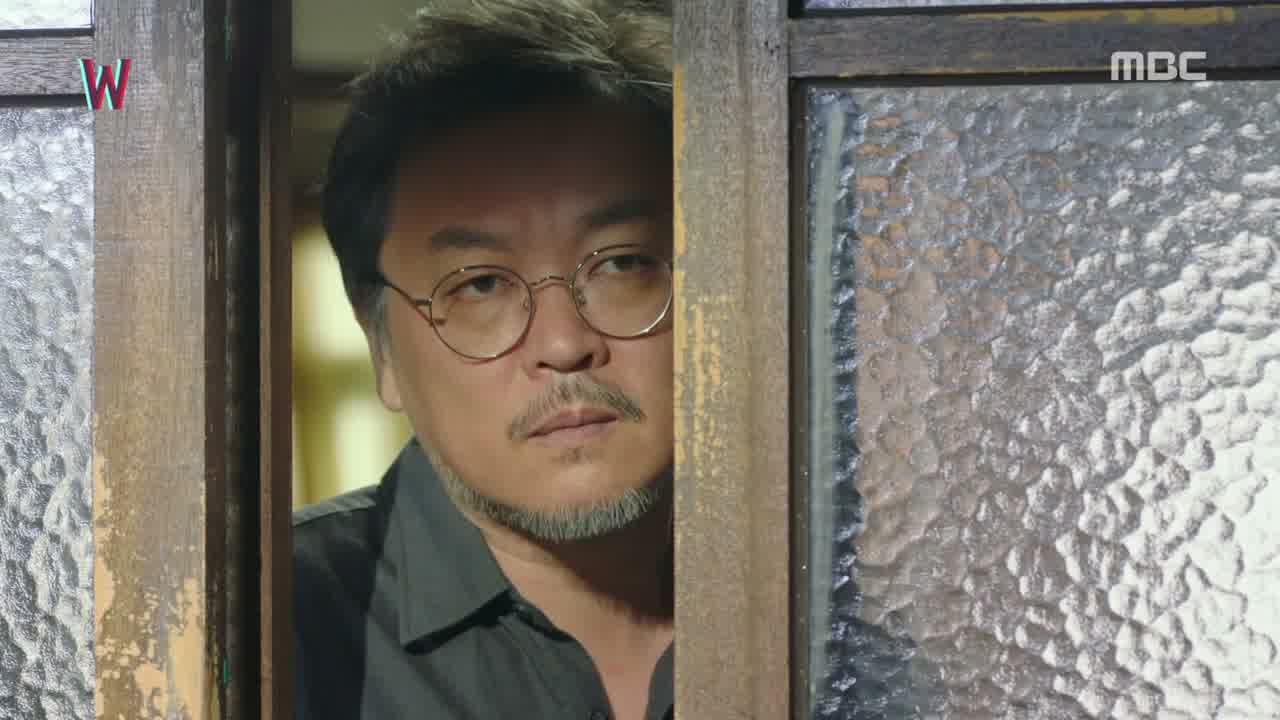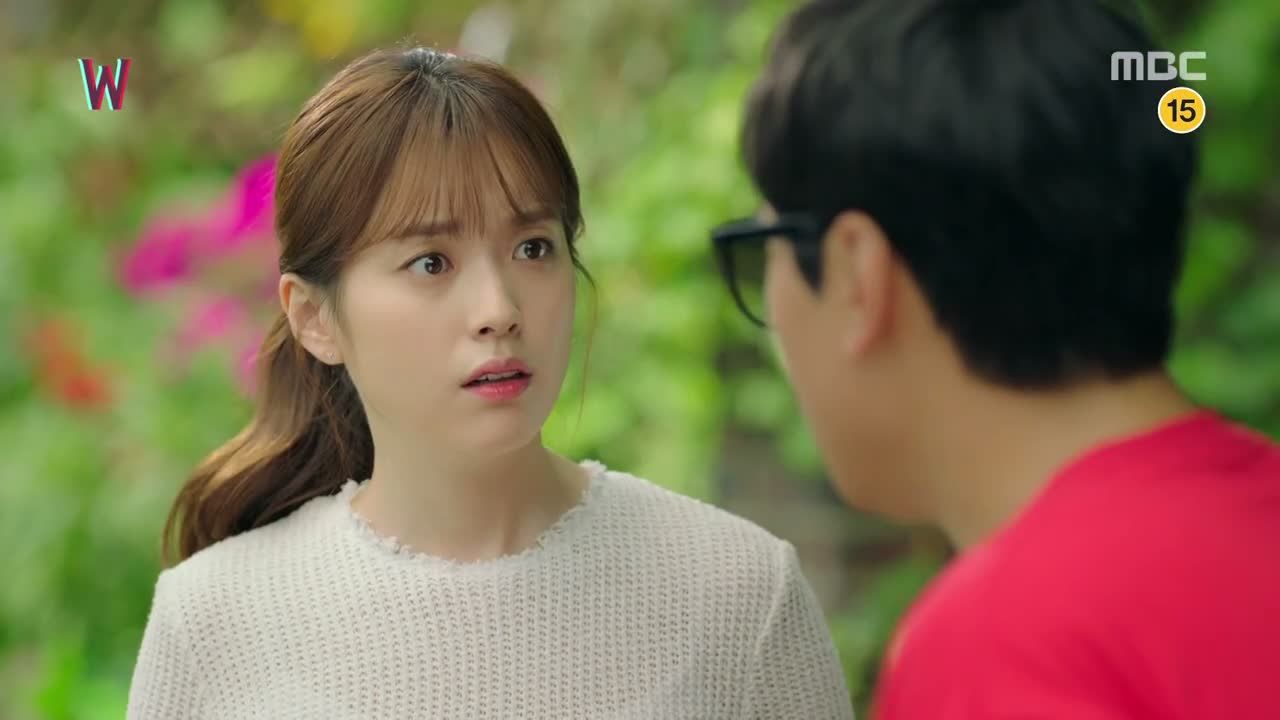 Su-bong rushes over with news that the police have found a body in the river that could be Kang Chul, and Yeon-joo is stunned. He rushes her out so they can go identify the body, and Dad watches them go with an inscrutable expression.
Yeon-joo is lost in thought the whole way there, while Su-bong worries about the fact that they can't exactly identify the body, even if it is Chul. They arrive at the morgue and the police officer says it will be difficult to look at a body that's been decaying for a month, but Yeon-joo assures them that she's a doctor and can handle it.
Su-bong can't though, and pukes as soon as they lift the sheet. Yeon-joo takes a careful look and breathes a sigh of relief when she confirms that it's definitely not Kang Chul, because this man is wearing a ring.
At the dinner table, Dad probes about where she went with Su-bong today, and Yeon-joo tells him about the body. She wonders why they haven't been able to find Chul yet, and says with a bit of hope in her voice that he must've returned to his manhwa world—that seems fitting since he's a manhwa character, she thinks. Dad says he doesn't really know.
She asks, "Dad, when a manhwa says 'The End,' what happens after that? Does that world just stop there, or do they live on and we don't know about it? Fairytales always end that way: 'And they lived happily ever after.' But did they really live well until they got old and died, or did it just stop on that last page the moment the fairytale ended?"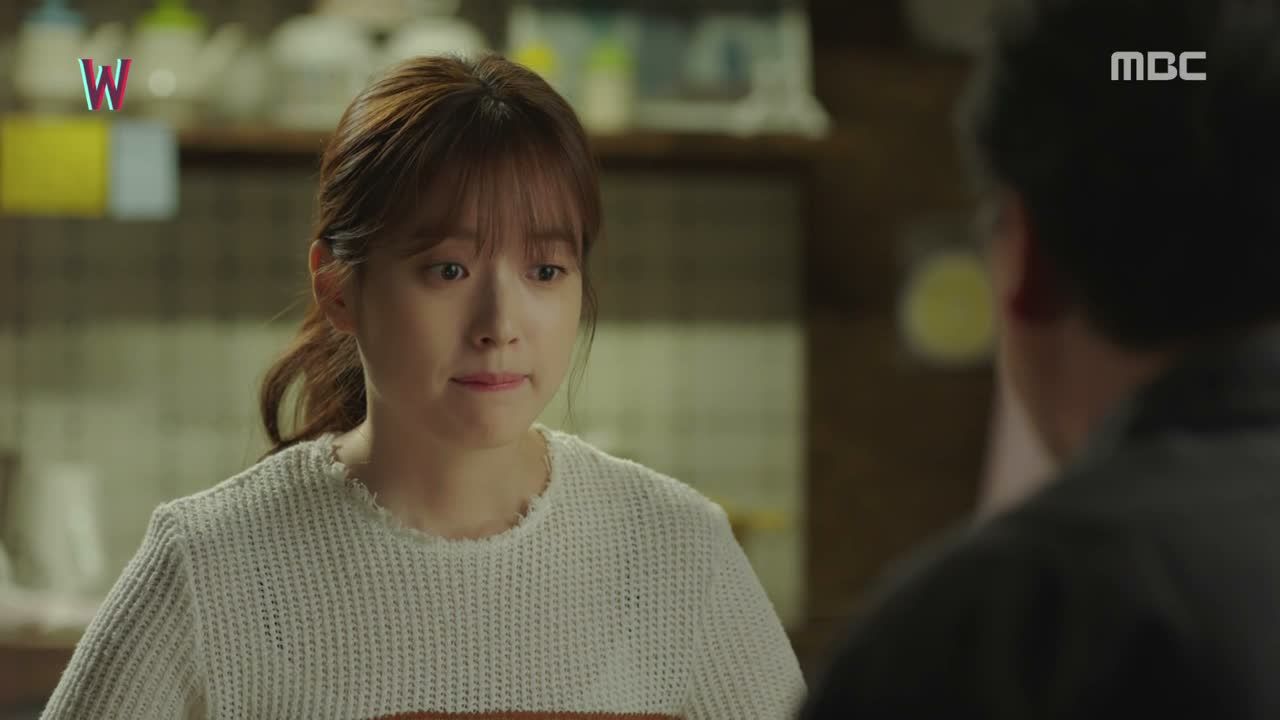 Dad reflects on her question and asks if she wants him to bring Kang Chul back from the dead like everyone else, and Yeon-joo quickly says no—he has no reason to do that. Dad says that there's a reason he can't do it, and a reason he won't do it.
He tells her that a week ago, the cops officially closed the case on his shooting and returned his tablet computer, the one that he smashed and left in the motel. They had collected it for evidence, but had no more use for it. Dad admits that when it was returned to him, he wondered if he should bring Kang Chul back. Yeon-joo's eyes widen.
Dad tells her that he knows Kang Chul better than anyone, and he knows without a doubt that Chul could've shot him in the heart and killed him instantly if he'd meant to. Dad decided that since Kang Chul had left him the choice to live, he'd do the same for Chul. In flashback, Dad had turned on his tablet to the closing frame of the webtoon, and began to erase "The End."
Except it wouldn't erase. Ohhhhhhh…
Yeon-joo asks why, and Dad says he doesn't know. He wonders if maybe he and Kang Chul betraying each other severed their ties. Dad says that's the reason he can't draw Kang Chul back to life, and the reason he won't is: Yeon-joo.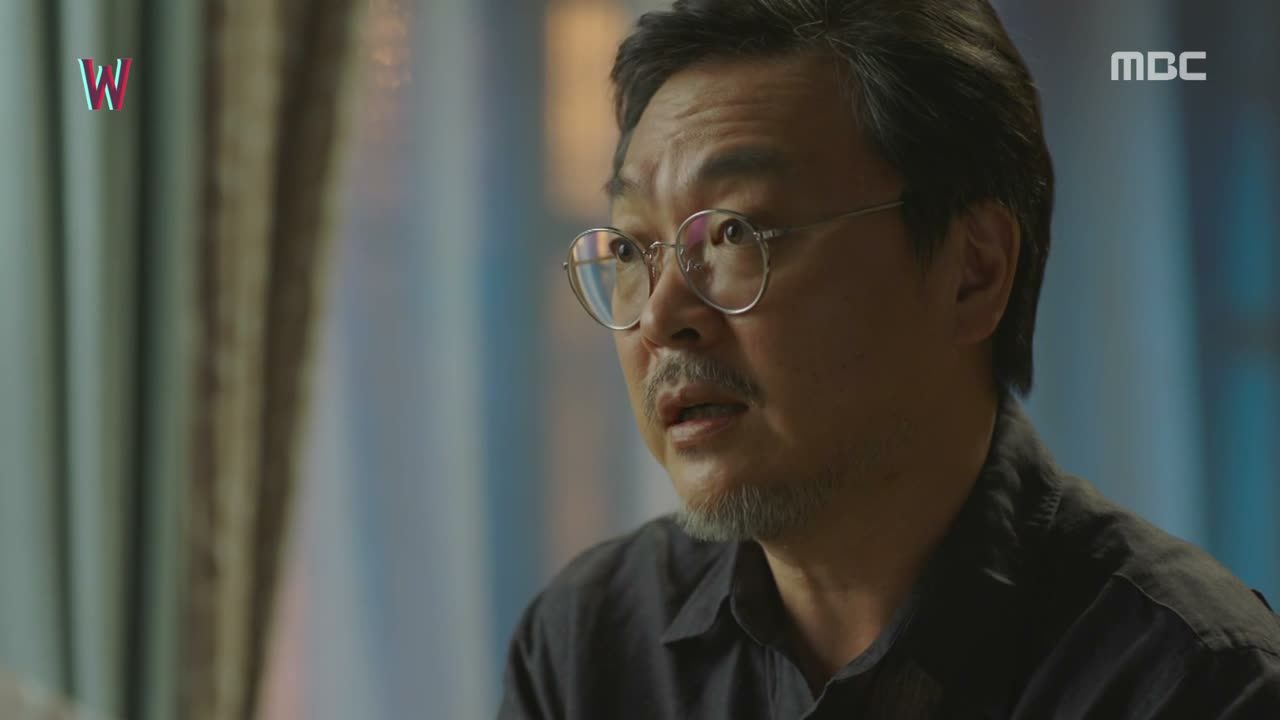 Dad: "Do you know why you kept getting pulled into that world?" She doesn't, but Dad says he figured it out when he saw that Chul left his final letter to her: "You've become a main character in the manhwa. You've become the heroine. That's why we have to end it here. Because you're a real person. And Dad's daughter. And Mom's daughter."
She looks heartbroken, but nods yes. Dad says those are the reasons that W ends here. When she's alone though, Yeon-joo's thoughts linger on the idea of "The End," and what it really means—did Kang Chul ever get a funeral, or is his body still floating in that cold river… forever?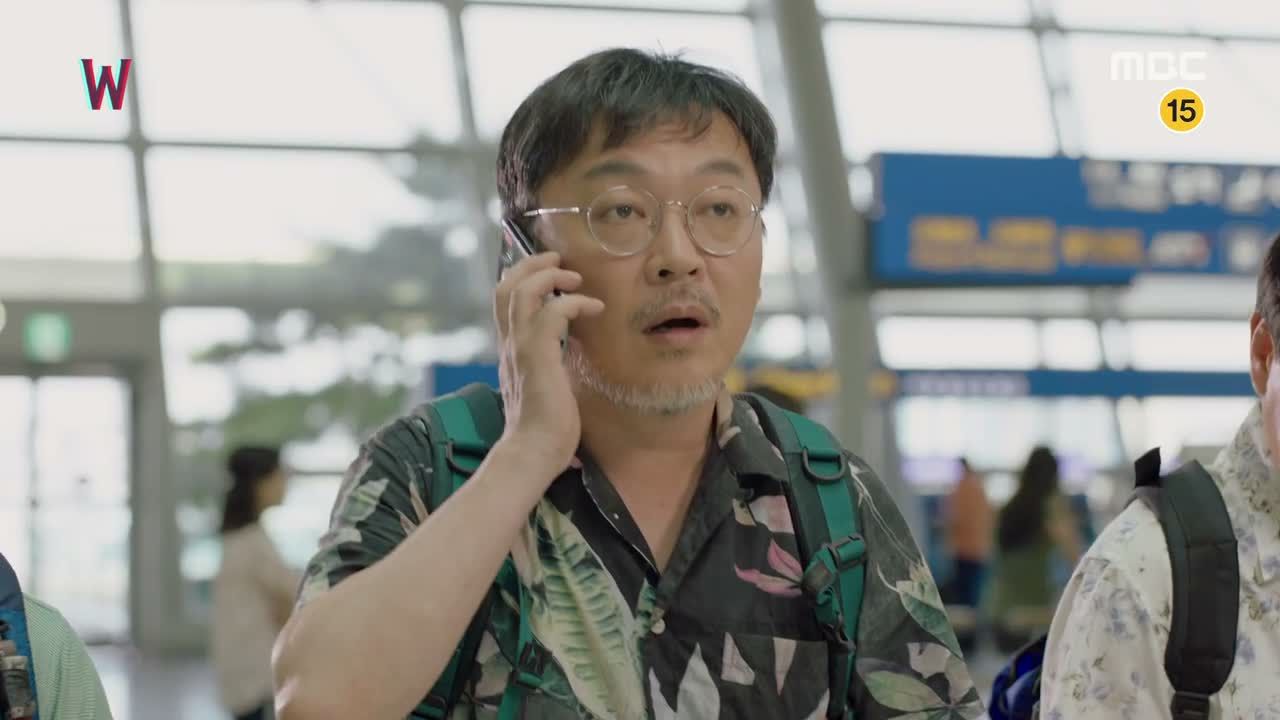 A few weeks later, Dad is on the mend and even goes to New Zealand on holiday with his buddies, and Yeon-joo calls with last-minute instructions for him to take his meds and not drink a drop of alcohol.
When she hangs up with Dad, Crazy Dog suddenly comes into her office and smells her hair. Huh? He notes that she washed it and orders her to come with him to lunch. Well, your nickname is certainly apt, sir.
He takes her to a fancy restaurant, and explains offhandedly that he's supposed to set his friend up on a blind date today, but the female colleague canceled at the last minute, so Yeon-joo has to be the substitute. He argues that she was the only one in the hospital who'd washed her hair today. LOL.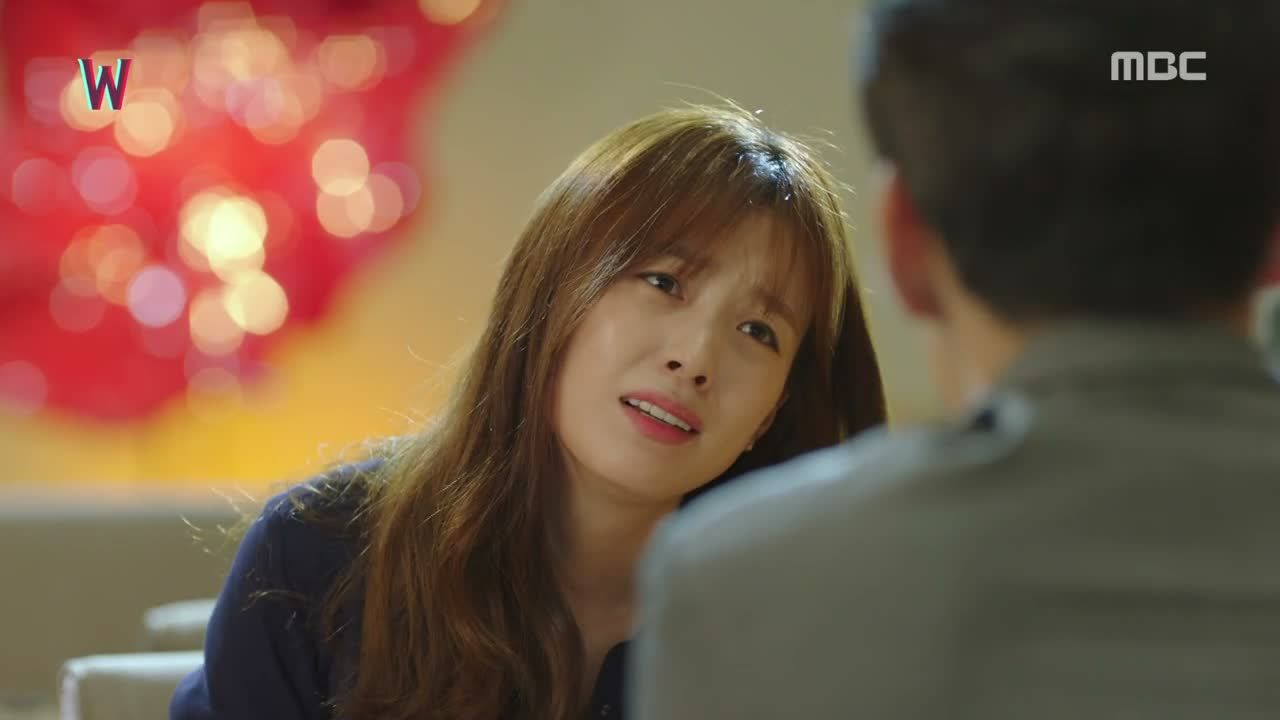 Yeon-joo curses her clean hair, especially when she so often doesn't wash it, though she seems to change her mind when she spots a handsome, well-dressed man approaching their table. But he goes in another direction, and ha, She Was Pretty's Ahn Se-ha comes over to them instead.
Yeon-joo cringes, and Crazy Dog talks up his friend, saying that there's no such thing as a man who's tall, good-looking, and smart anyway. Yeon-joo immediately thinks of Kang Chul, of course, and says that they do exist. Crazy Dog: "Who, me?" Pff.
Even funnier is the fact that Ahn Se-ha is playing his She Was Pretty character Poong-ho. His eyes turn to saucers when he sees Yeon-joo, and Crazy Dog misinterprets her incredulous laughter as happiness.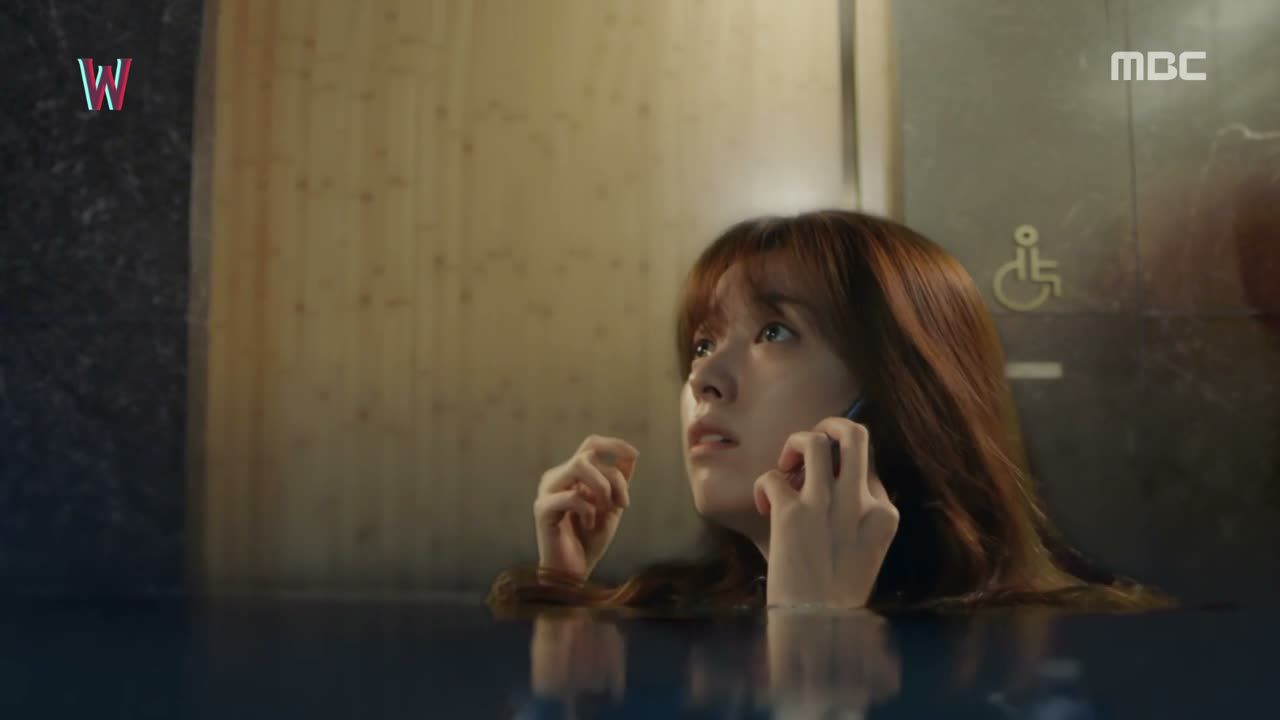 Seok-bum texts Yeon-joo to ask if having washed hair turned out to be lucky or unlucky, and she excuses herself to go to the bathroom and tells him it's a big ol' fail. Yeon-joo decides that she's been ignoring her love life too much lately, and that it's time to meet new guys, a new one every week, she decides.
Suddenly the line goes dead on both sides, and Seok-bum and Yeon-joo check their phones thinking that the reception cut out. But as Yeon-joo looks around her, she's immersed in water, which rises rapidly up to her chin, all the way up until she's completely submerged. Aaaaaaah, is it the Han River?! It came to her?! This is crazy and cool.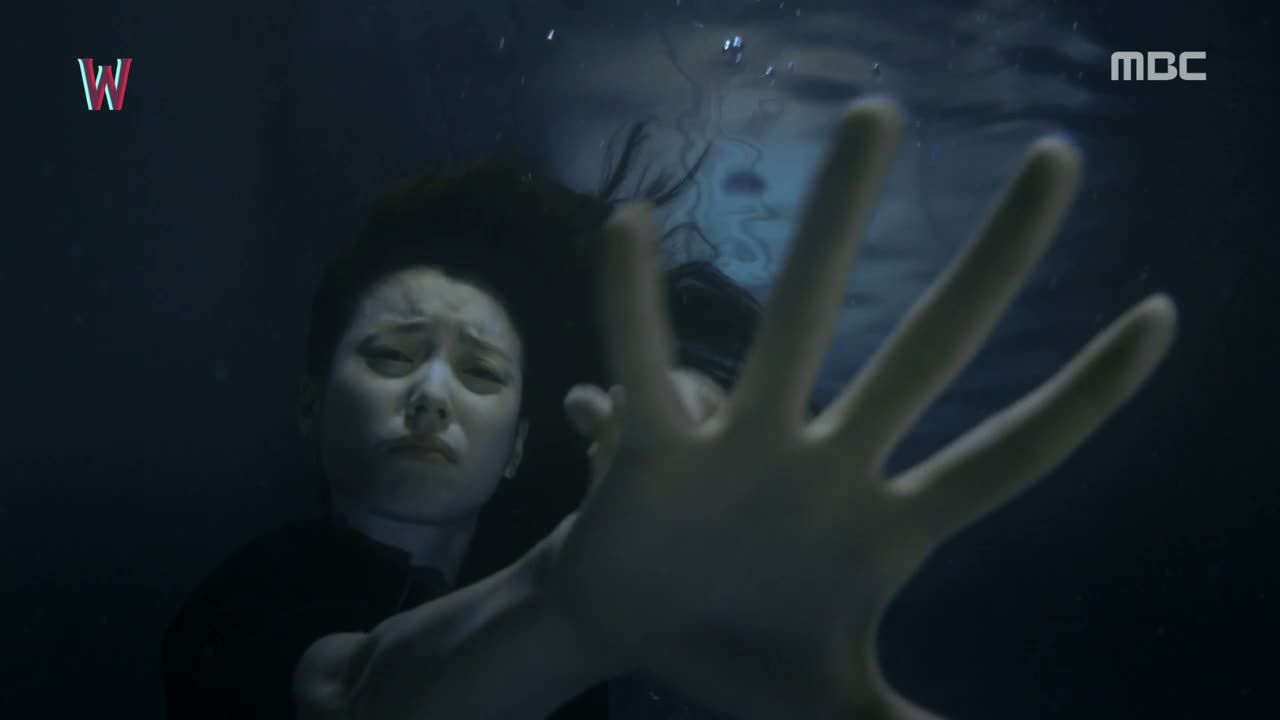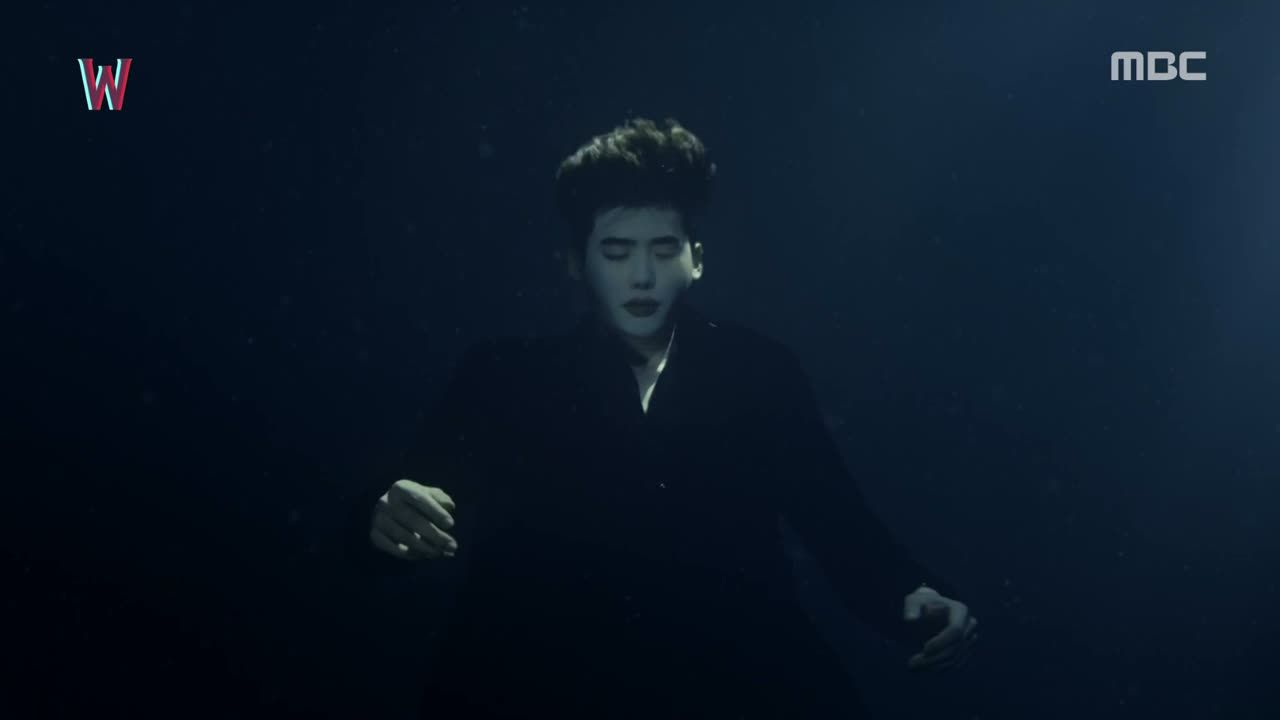 At first she tries swimming up, but then she looks around and spots him in the distance: It's Kang Chul, just suspended there like he hasn't moved in all this time.
She starts swimming towards him, but it's so, so far. It takes all her strength to get close to him and she reaches out a hand to his, but just before they can touch, he starts to sink further and further away from her. She tries to reach out again, but she's losing air, and she's forced to go back up to the surface.
She swims up, and suddenly reappears in the bathroom, sopping wet from head to toe and gasping for air. WHAT THE HECK WAS THAT?
Yeon-joo is completely shaken up after seeing Kang Chul like that, and marches back to the table dripping water everywhere. She asks for a phone (she dropped hers in the river while trying to swim to Kang Chul), and checks the webtoon. Right before her eyes, "The End" disappears from the last frame and gets replaced with "To be continued." YESSSS!
Without a word of explanation, Yeon-joo walks out on the blind date and runs to Su-bong, who's now working as an assistant for She Was Pretty's Hwang Suk-jung, a crazy lady who demands that her manhwa characters get eyes the size of saucers.
Yeon-joo grabs him and says they have to go save Kang Chul, and Su-bong looks at her like she's got a screw loose. Yeon-joo says they can save him, because time hasn't passed for Chul—he's suspended in that moment, where the manhwa ended.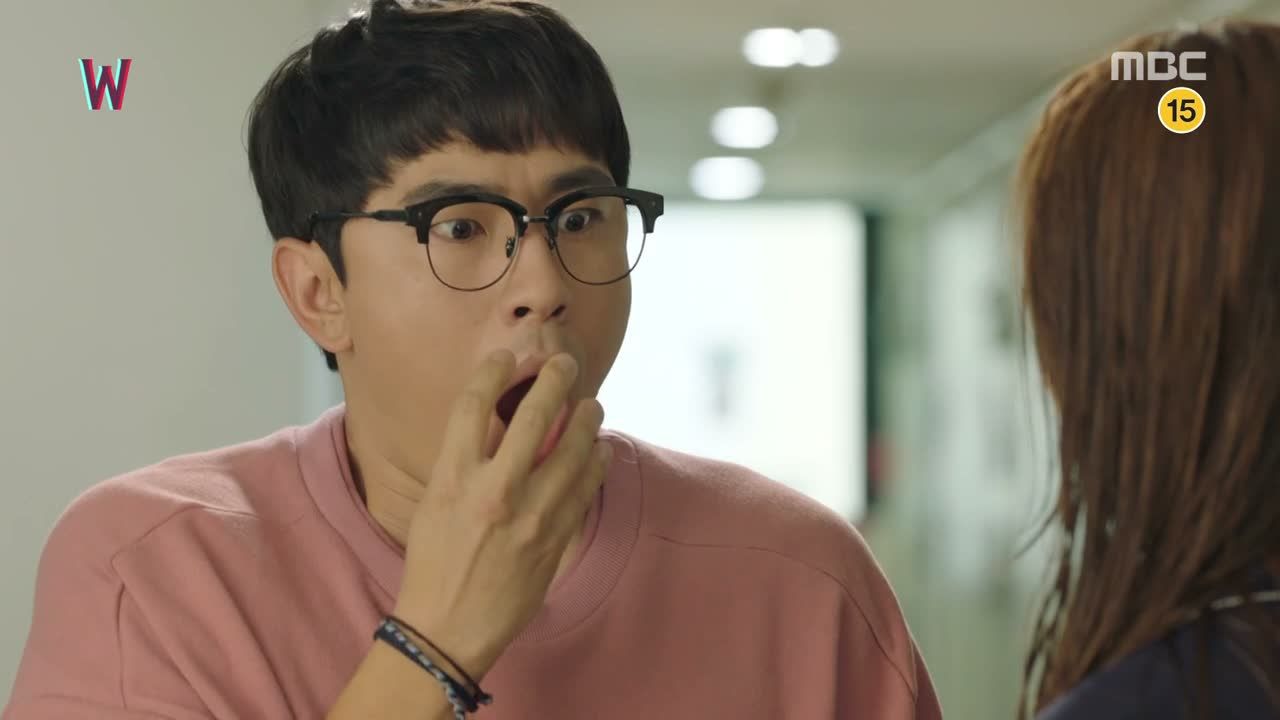 She says he's still there in the river, and she saw it herself because she was there. Su-bong finally notices that she's drenched in water and gasps.
They rush back to Dad's workshop and Su-bong fields a call from the publisher, who says that they didn't alter the webtoon on their end. The online response is immediate, and people everywhere start to leave comments in anticipation of Kang Chul's comeback. Dad is still on his flight to New Zealand, so Su-bong says he'll check in and call the publisher back.
Yeon-joo brings out Dad's tablet and says it's been fixed, and she thinks maybe they can use it to save Kang Chul. Su-bong is still shocked and asks if Dad wasn't the one to change the webtoon, but Yeon-joo reminds him that he's on a plane, and couldn't alter it even when he wanted to.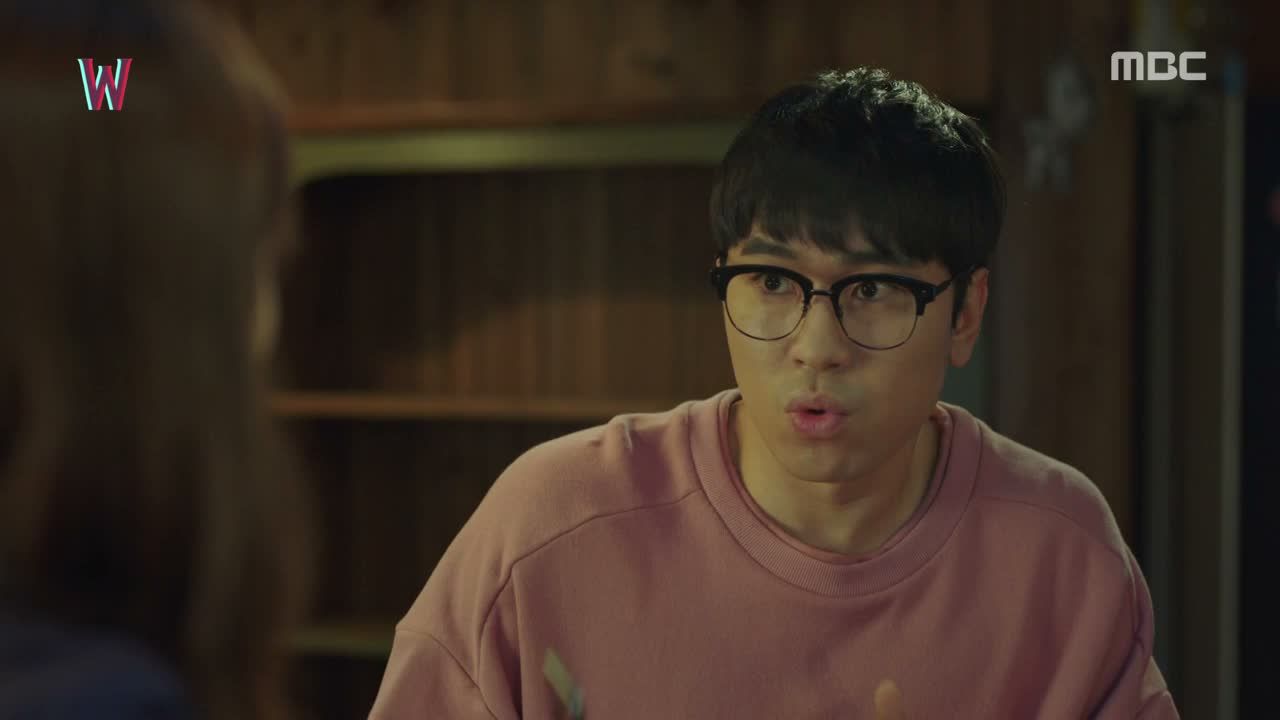 Su-bong, ever the slow one: "So you're saying that 'The End' changed to 'To be continued,' all by itself? Why?!" Yeon-joo looks at him wide-eyed: "I don't know!"
He can't understand it, especially when it's not like they tried to kill him off for no reason like before. The hero killed himself, and it ended… so why isn't it ending, he asks. Yeon-joo thinks on it and says, "He must've found a new reason that it couldn't end." Su-bong asks what, but Yeon-joo doesn't know.
At the same time, two bicyclists come upon a hooded figure standing on the ledge of a bridge. Whoa, it's the killer from Kang Chul's world! But… is this Yeon-joo's world? How did he get here?
The bicyclists call out to him and say that it's dangerous, and suddenly the hooded figure turns on them and swoops down to attack them. As he flies down toward them, we see his face flash—it's made up of pixels that spark in and out, the way the webtoon frame did when Kang Chul stepped through into this world. What… are you?
Back at the workshop, Su-bong still doesn't understand why they're supposed to save Kang Chul when the manhwa ended, and Yeon-joo yells that Chul can't save himself, and doesn't have the will to live, which means that they have to save him.
She says that no time has passed in the manhwa, which means they can draw a boat with divers passing by, and they can save Chul in the very next frame. Su-bong is aghast when he realizes that she means for him to draw this, and he cries that W is her father's work, not his—there might be a miniscule difference in the artwork, but it will be noticeable.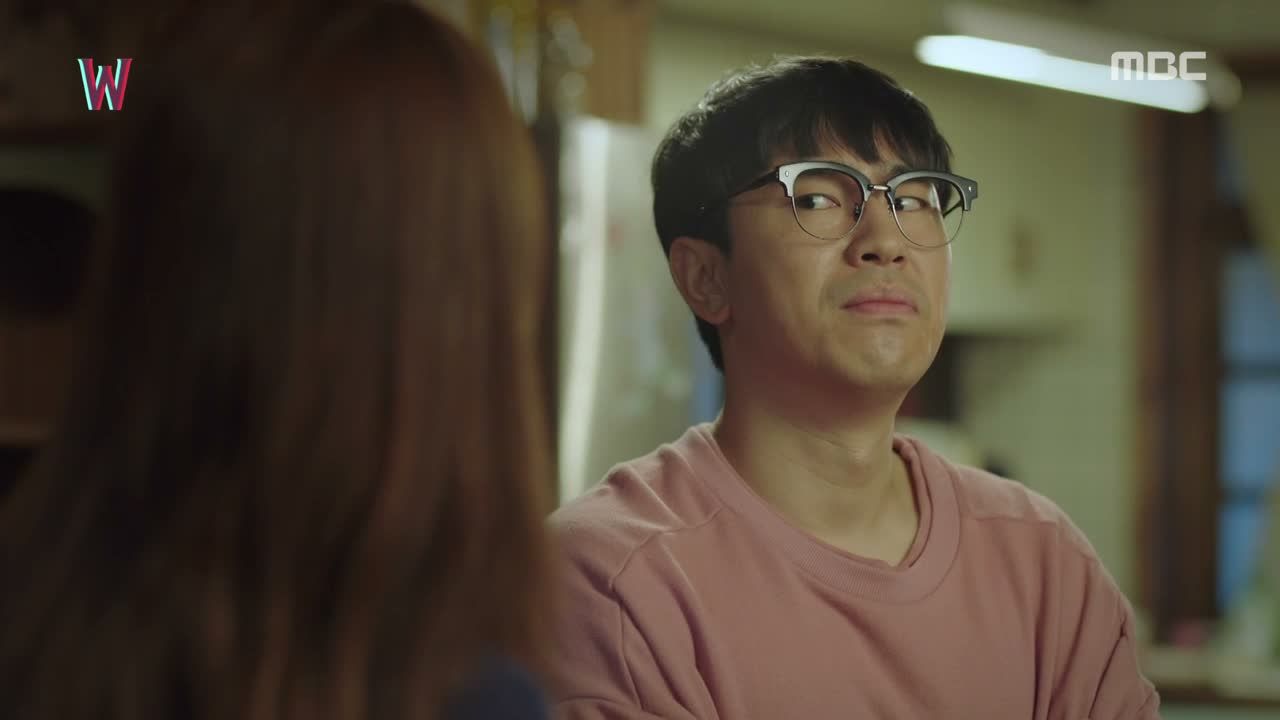 Yeon-joo shouts that Dad won't do it, because he's afraid that she'll get sucked back into the manhwa world. Su-bong runs with that, pointing out her wet hair. But… isn't that proof that she has no control over that anyway?
She knows he's right—that Kang Chul shot Dad, that it's going to be hard for him to be forgiven, that this cursed manhwa ought to end, and that she can't keep getting sucked into that world. She knows all that, but she says that Dad is alive and well, and they're all going on as if nothing happened, and people will move past it because it's just a manhwa character.
"But Kang Chul is in that cold river, feeling guilty that he's become a murderer… for over two months all alone… That's too much," she cries. Su-bong softens a little, and Yeon-joo breaks down as she admits that she thinks it's all because of her. The tears totally work on Su-bong, and he caves and agrees to try. Yeon-joo says that everything started on Dad's tablet, so it should work to save him now. Su-bong braces himself and picks up the pen…
But hours go by and he gives up in the middle of drawing the rescue boat. The story doesn't make any sense because there's no linking narrative, and he says this is outside his capabilities because he's just the assistant—W isn't his.
Su-bong suggests waiting for Dad to land in New Zealand and breaks for a snack, and Yeon-joo hangs her head knowing that Dad will never start drawing this manhwa again. But Su-bong suddenly has a light bulb moment in the kitchen (with a light bulb overhead, heh), and says he heard something once years ago from her father, about W and Yeon-joo…
Cut to: Prison visiting booths, where guards suddenly discover Yeon-joo lying on the ground in her prison jumpsuit, right where she'd disappeared from, the last time she was in Kang Chul's world.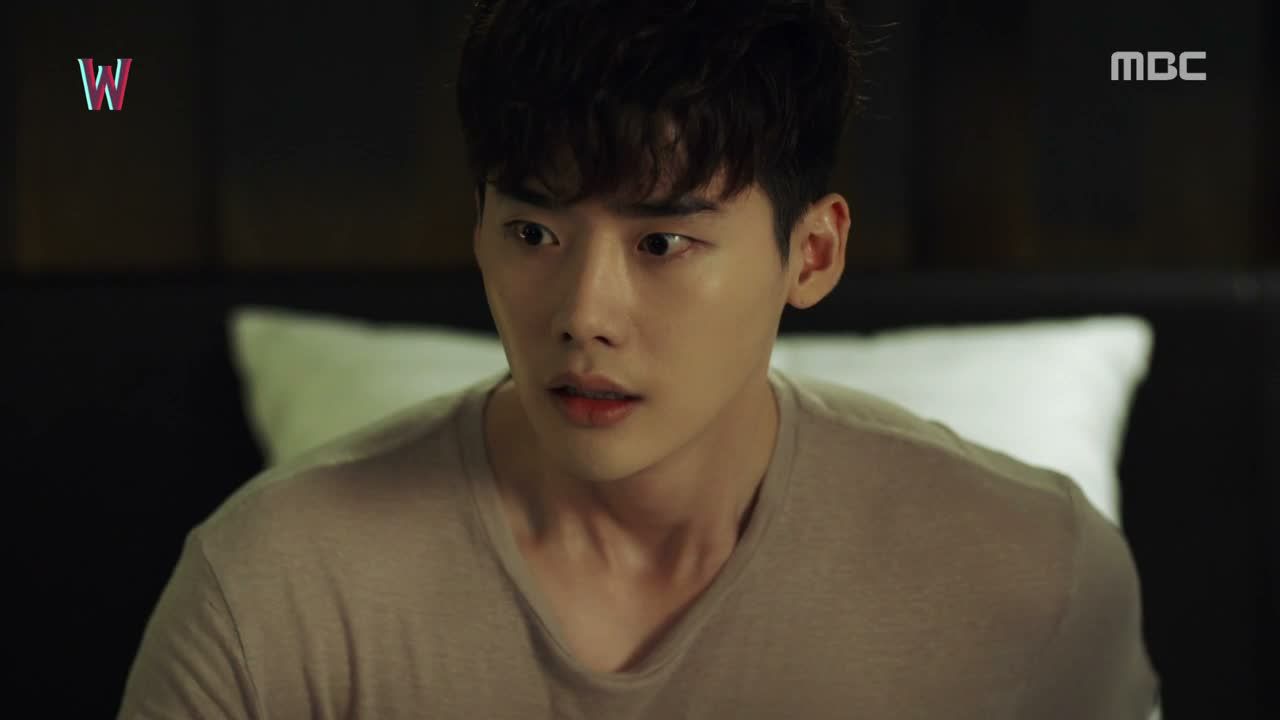 We rewind to the moment that Chul jumped off the bridge on that rainy night, but this time a rescue boat sees him and divers bring him up to the surface right away. Kang Chul wakes up with a start in his bed, as if it's all a dream. But his hand still has the scars from his fight with Dad. And he's back in his world…
And in the prison, Yeon-joo opens her eyes and looks around, and breaks into a huge smile. Awwww yeah, we're back!

COMMENTS
What did Su-bong tell her?! Gah, these cliffhangers! My guess is still that Yeon-joo will turn out to be Kang Chul's original creator, at least on a conceptual level. It probably never occurred to her or Dad because she was young at the time, and he was likely inspired by one of her drawings. But maybe if she drew Kang Chul first and then he spun the character into a story worthy of a manhwa series, it's possible that Yeon-joo really IS the key to Kang Chul's life, in a way that he never even imagined. I don't know if that's where they're going, but I know I would love it if Yeon-joo had creator-god power over Kang Chul's world.
Dad made it clear that his ties to the manhwa had already been severed, which he assumed was caused by his and Kang Chul's mutual betrayal. But now I wonder if the root of that change is something different, and if it has to do with Yeon-joo. Clearly Dad had control over Kang Chul's story to some extent, but is it really that Chul's will overcame his own, or does it have to do with what Yeon-joo wanted for the story, and for Kang Chul to get what he wanted? Does he actually have less free will than he thinks? It was so interesting to see that Dad has affection for Chul too, despite only showing abject horror at his rogue creation up until now. But he does have a soft fatherly devotion to the character, and I found that fascinating and realistic. Dad ultimately still can't be trusted when it comes to Kang Chul, since he would throw Chul under the bus (literally) the second he proved himself dangerous, but I really enjoy the complexity of this character that loves and despises, fears and understands his creation more than anyone.
The more that Yeon-joo starts to take over the storytelling, I keep thinking of W the manhwa as a daddy-daughter bedtime story. Despite the scale of the manhwa, at its basic level W is not that different from a bedtime story Dad tells to his daughter, where he gets to make up all the rules as he invents the story, and she gobbles up the fantasy world with delight. I love that Yeon-joo represents the innocent child—she asks him all the things a child would ask, like what a happily-ever-after really means for the characters in that story world, and whether their lives go on even if the story ends. But the part that's interesting is that she's an active participant in the storytelling, like a father saying, "Once upon a time, there was a princess in a pink dress in a castle," and the daughter goes, "No! A blue dress! In a penthouse!" and Dad goes, "Okay, a blue dress in a fancy penthouse then…" The story is Dad's, but it's also the daughter's, and it's as if Yeon-joo is changing the story by interjecting to say that she doesn't like the direction things are going in. And because the story is ultimately hers—he invents it and keeps it going to make her happy—she has that power.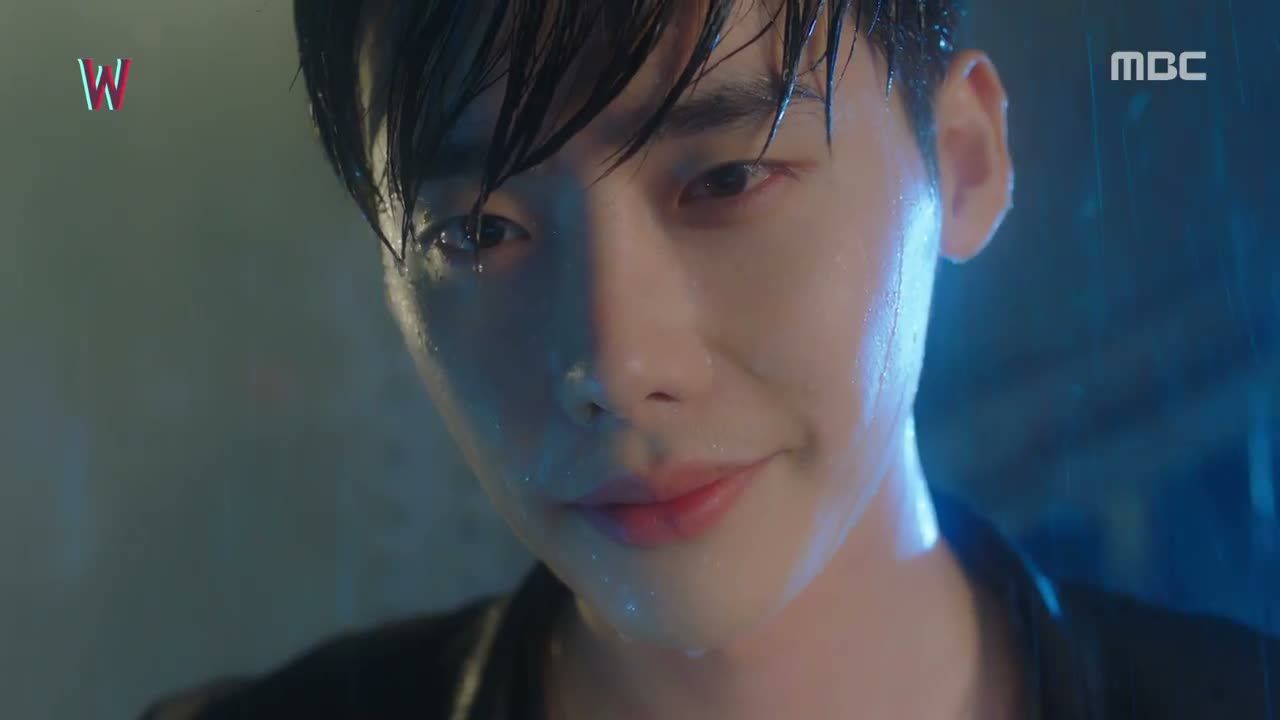 I don't know what it'll mean for Yeon-joo now that she's become, as Dad says, the heroine of Kang Chul's story—that's a complication that'll surely have dire consequences down the line. But there was a distinct shift in this episode to Yeon-joo being the main storyteller who drove Kang Chul's narrative. Whatever she does at the end of the episode successfully restarts his entire world and brings him back to life, and I'm pretty sure she didn't sit there and draw all that out. It has to be tied to her will somehow. But then, was she also the one who caused the bathroom to flood and turn into the Han River? Or was Kang Chul calling out to her? Maybe he was about to walk towards the light when he heard her say that she'd be going on a blind date every week?
And how come no one knows that W's villain is different from the rest of the characters in that world? How come he didn't freeze like everyone else? Did he cross over into the world via Kang Chul's portal… or does he have a portal of his own? Ack. Please don't tell me he can just move freely between worlds—I don't know if I can handle a faceless assassin just showing up wherever he pleases. Is he human? Is he a glitch? Is he faceless because Dad doesn't know what he looks like?? Ohmygah, please just draw him a face already—it's creeping me out that he doesn't have one! If he looks that way because Dad never bothered to decide his identity or give him a face, my mind is blown. Note to any writers out there: Everyone deserves a face!
I have so many questions about the gun and bullet suddenly disappearing from Yeon-joo's world, and Kang Chul returning to his world despite dying and being suspended in the river. But I'm sure that stuff will be unraveled soon enough. I have to say, I'm excited for the return to Kang Chul's universe, because things get wackier over there, and now Yeon-joo will have a whole new set of narrative rules to navigate—whatever power it is that sent her back there. The only downside is less screen time for Yeon-joo's friends, but I'm hoping we cut back and forth often. Because I can never get enough of Su-bong's shock-face, probably because it mirrors mine as I watch every episode of this show.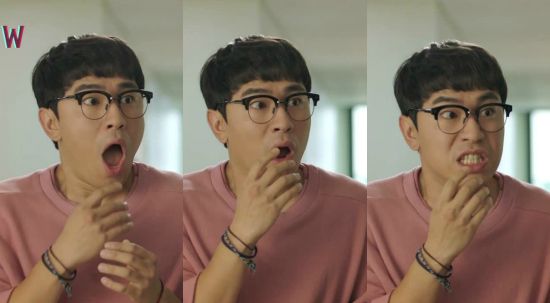 RELATED POSTS
Tags: Episode 6, featured, Han Hyo-joo, Kim Eui-sung, Lee Jong-seok, Lee Shi-un, W–Two Worlds