W–Two Worlds: Episode 7
Have you ever seen a girl so happy to be going to prison? I've seen a lot of cute, spunky drama heroines in my day, but this one puts a smile on my face every time I see her. Maybe it's that her love for the hero is so unabashed, or maybe it's that she wears all of her emotions on her sleeve, joy or pain. Maybe she just feels like the ultimate fangirl, and I get to watch this show every week feeling like she's me.
Note: I'm sure we were all on pins and needles waiting for MBC to decide whether or not they'd air W or the Rio Olympics. Lucky for us, Episode 7 was broadcast as normal, but MBC confirmed that Thursday's Episode 8 will be pre-empted. So sadly, this will be our only dose of W this week. Cruel, cruel drama gods! Some of us have addictions that need feeding, you know! *fistshake*

EPISODE 7 RECAP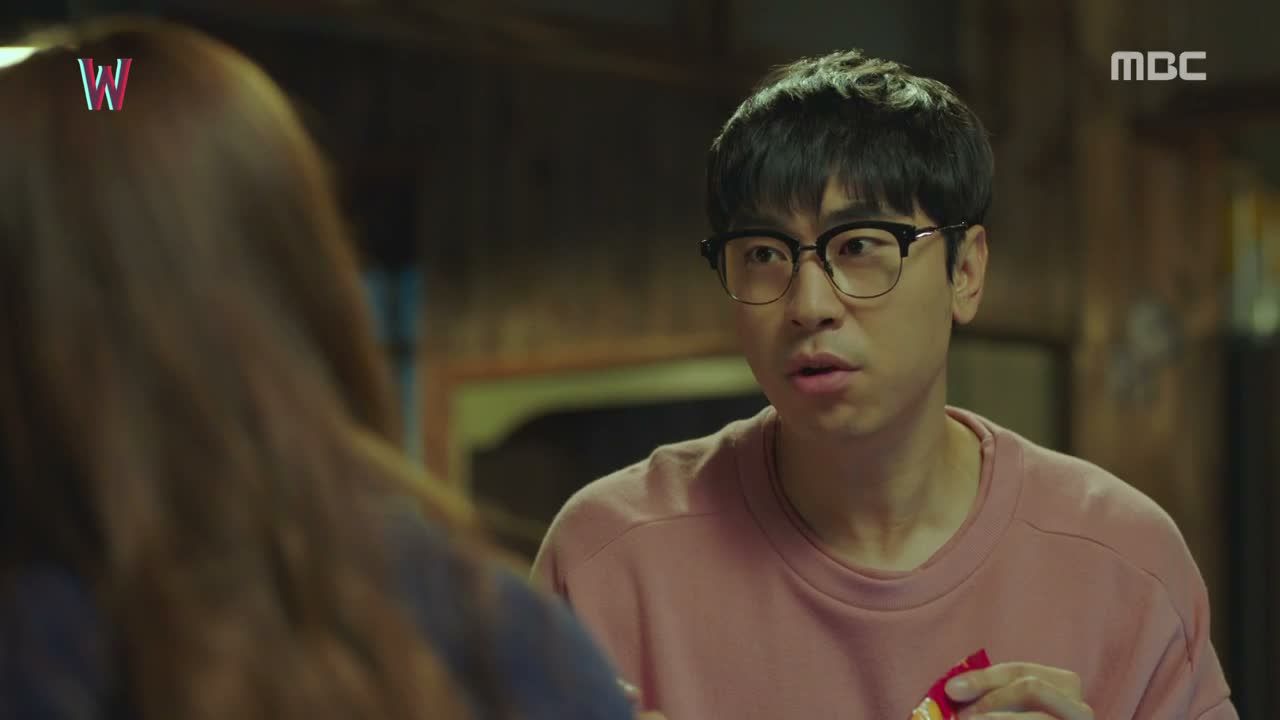 Once Yeon-joo discovers that Kang Chul has been suspended in time for the last two months and can be saved, she enlists Su-bong's help in trying to continue the manhwa. After a frustrating attempt to draw a rescue scene, Su-bong gives up, and then suddenly remembers something he heard from her father long ago…
Su-bong: "About W… that Noona created it." Omo. "He said that Kang Chul was a character you created," Su-bong recalls.
Yeon-joo looks at him quizzically, and Su-bong gets all worked up as he remembers her dad saying that W was based on stories that Yeon-joo had created when she was young.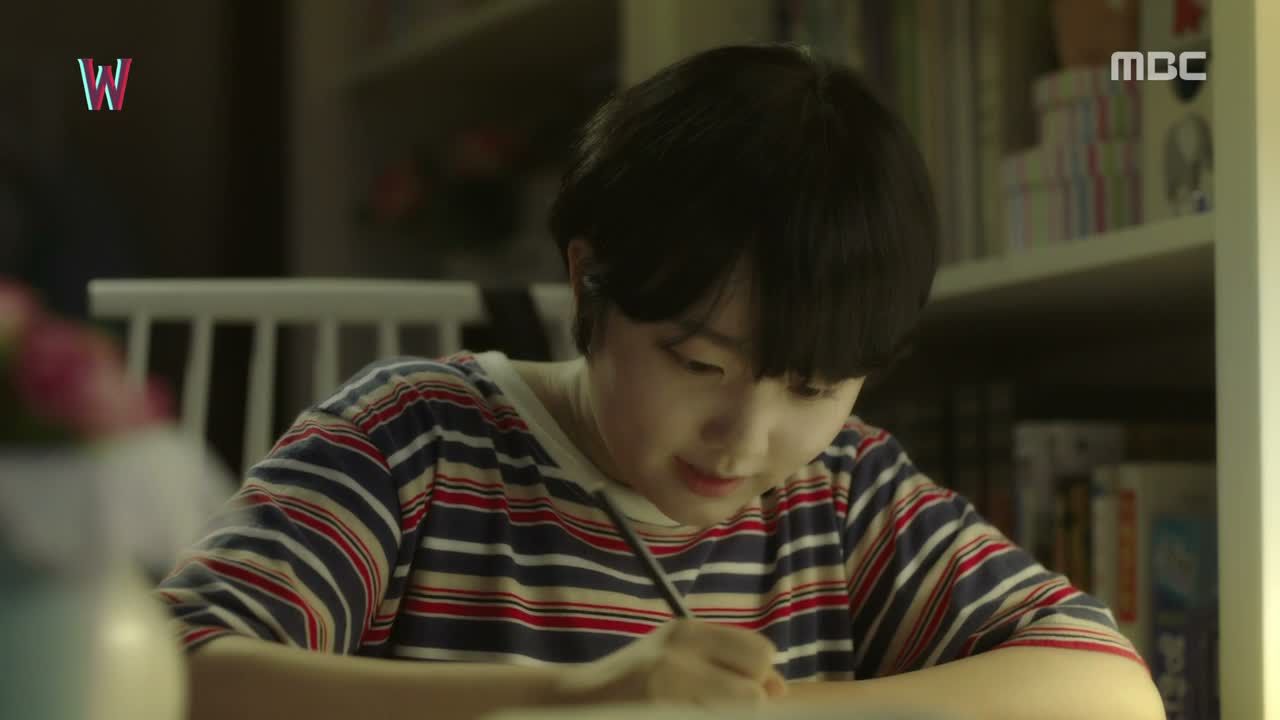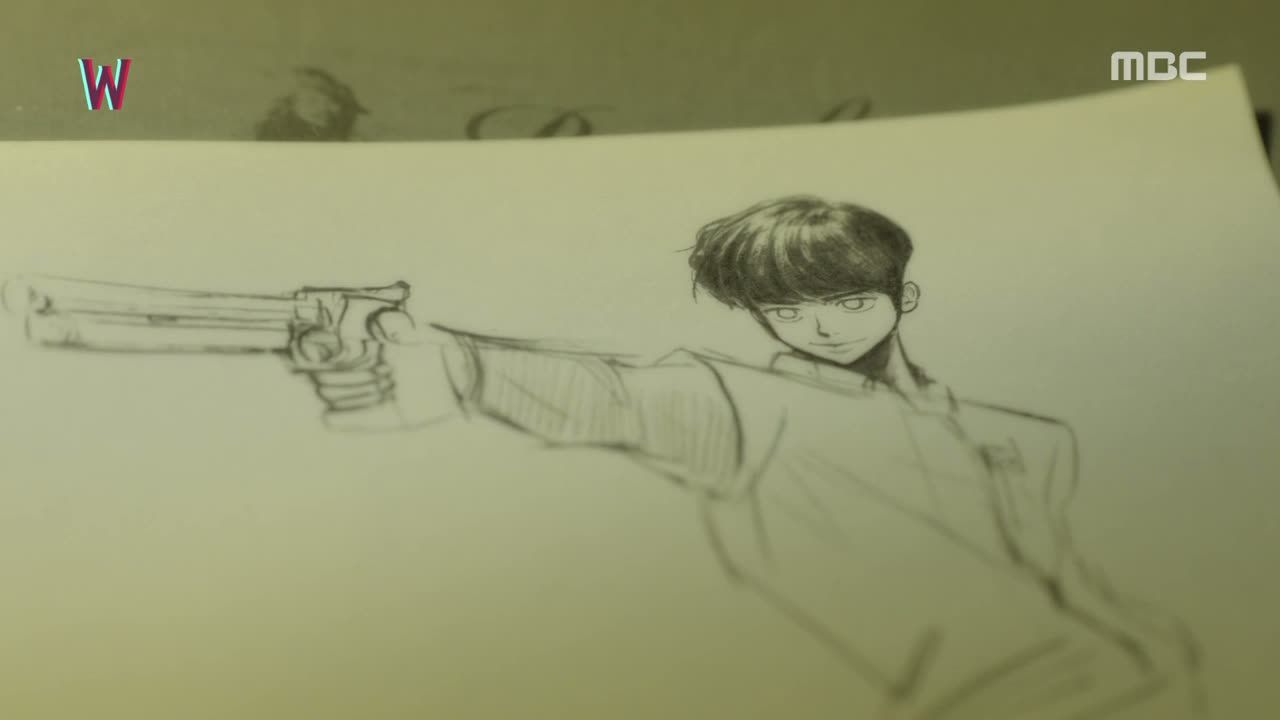 That finally seems to jog her memory, and we flash back to 2000, when Yeon-joo was a teenager. She and her friends were glued to the TV during the Sydney Olympics, when real-life sports shooter Kang Cho-hyun was competing for the gold medal. She lost in the final round and took home silver, and young Yeon-joo was crushed.
But that gave her an idea for a character, and that night she began to sketch out his characteristics: He was a national sports shooter, in his second year of high school just like her, and she decided he'd be 185cm tall.
When Mom came into her room, Yeon-joo hid the sketch under her schoolbooks, but over the phone she told her friend all about her new ideal man: He's a tall, muscular, good-looking genius who's nice, and funny, and also good at sports, and he wins a shooting competition in a last-minute reversal. Lol, this explains Kang Chul SO WELL—he was invented by a teenage girl!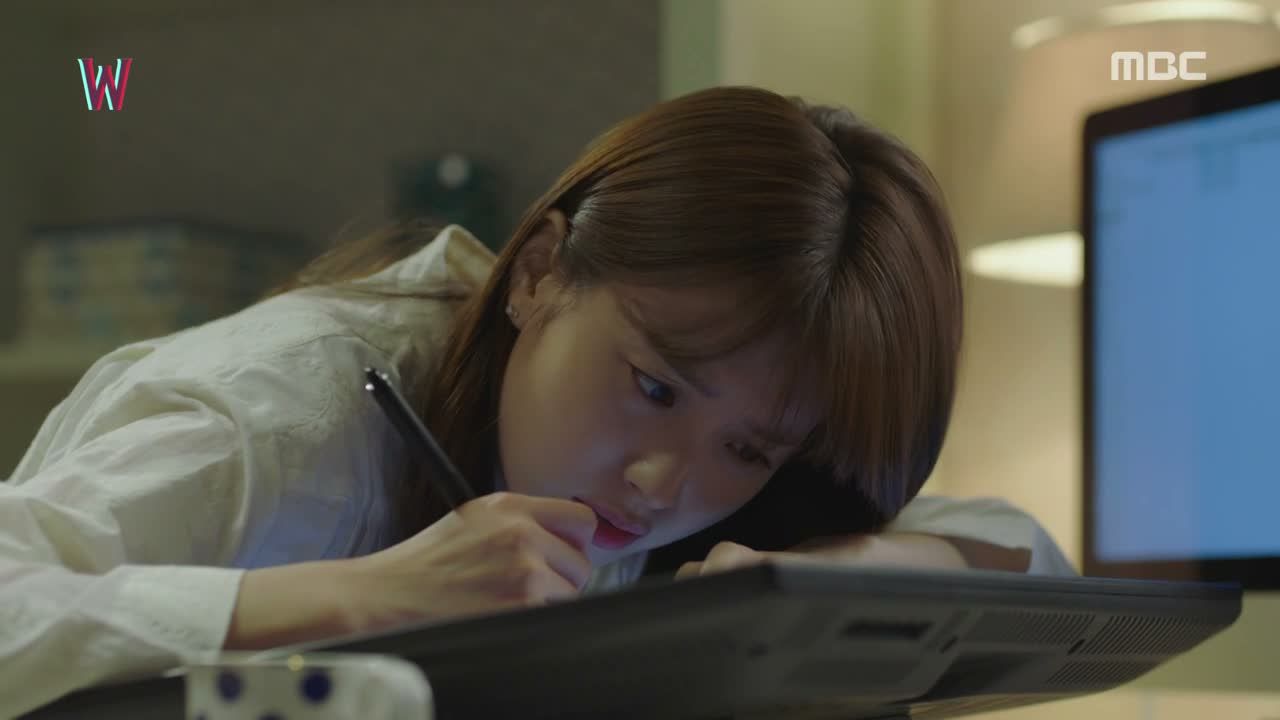 Her friend got excited and asked when she could meet this awesome oppa, and Yeon-joo's face fell as she said, "You can't… there's no way to meet him." She sighed dreamily, thinking he'd never be real.
As the camera spins past the '90s idol posters on her wall, we fade back into Yeon-joo's old room in the present day, where she sits hunched over a tablet screen, trying to draw. Su-bong comes in with coffee and coaxes her to show him what she drew, and he busts out laughing immediately.
She's attempted to draw Kang Chul, but Su-bong laughs and says she created a new character. Yeon-joo cringes and says this is too hard, and Su-bong points out that her father always said she was talented, and dreamt of becoming a manhwa artist. Yeon-joo sighs that she stopped drawing eons ago and shakes her digital pen in frustration, saying that they didn't have these back in her day.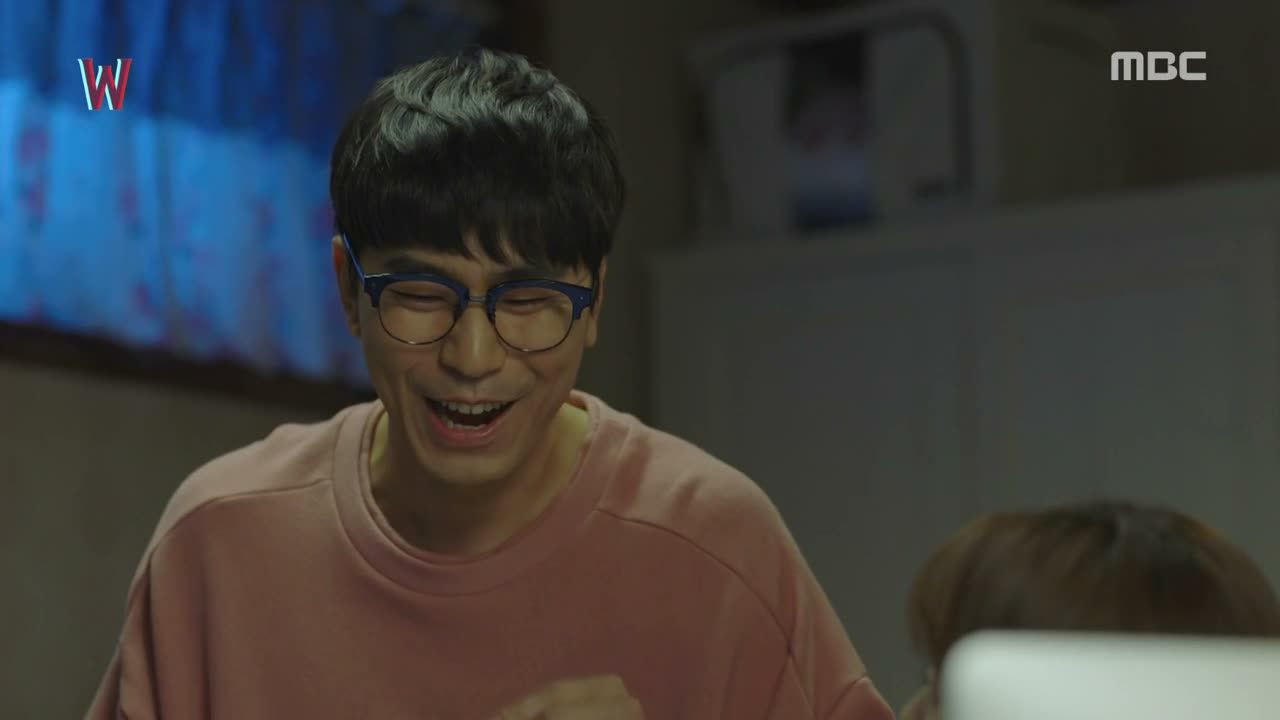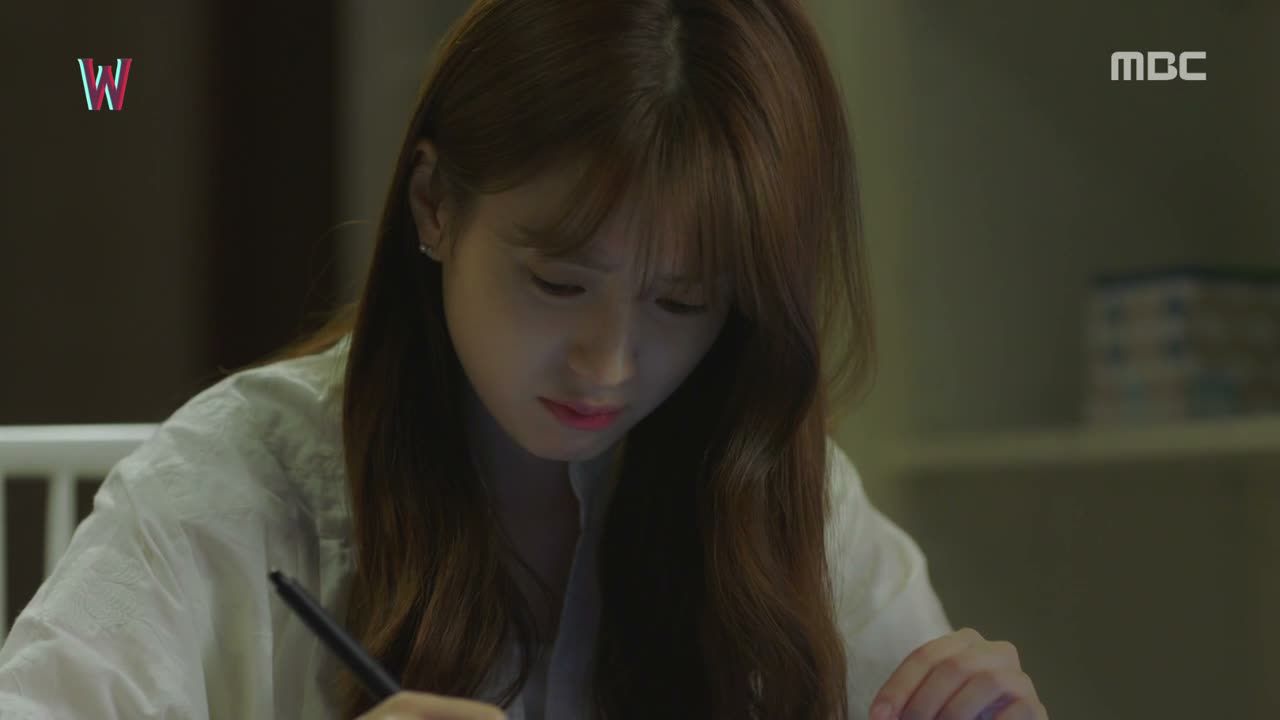 But when Su-bong suggests waiting for her father to return, Yeon-joo warns him not to make a peep about this to Dad. "I'm going to save him. I'm going to save Kang Chul," she says with determination.
She falls asleep at her tablet and wakes with a start, while dreaming of Chul sinking in the river. She struggles to hold back her tears as she gets back to work trying to draw him.
Well something must have worked, because the next thing we know, Kang Chul is rescued by divers as soon as he jumps from the bridge, and Yeon-joo reappears in Kang Chul's world, back in prison. She grins from ear to ear.
Kang Chul is startled to wake up in bed as if nothing happened, and So-hee asks why on earth he was on that bridge. She assumes that he was pushed off by someone else, but Chul just looks at her like he can't believe she's moving and talking again. He asks what day it is and what happened, and is doubly shocked to learn that almost no time has passed since he left this world.
Do-yoon comes rushing in and says that Yeon-joo was found in prison, and Chul immediately grabs a jacket and heads back there to see her. He switches on the radio as he drives, and when he hears that Yeon-joo is being transported tonight, he swings the car around and literally cuts off the prison transport caravan in the middle of the road.
The cops all draw their guns on him, but they pull back when they see that it's Kang Chul. He asks for five minutes to speak with Yeon-joo, and pretty much bulldozes his way onto the prison bus.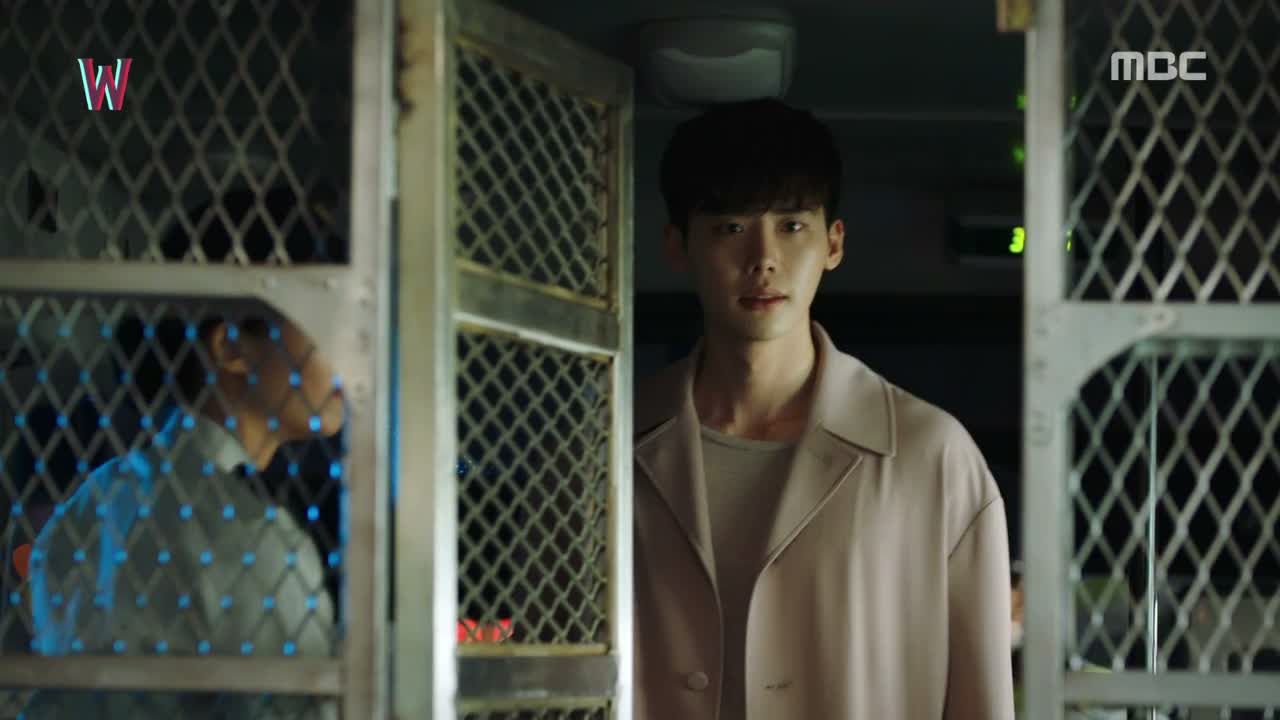 Yeon-joo looks surprised to see him there, but she just smiles and asks him pleasantly if he's okay. Kang Chul is fraught with emotion and just barely ekes out, "How…?" and Yeon-joo says brightly that there just happened to be a police rescue boat nearby when he jumped, and there just happened to be divers on that boat.
Chul asks hesitantly after her father, and she says that Dad is alive and well, and after two months of recovery, he's even gone on vacation. Chul wonders if maybe her father brought him back to life, but Yeon-joo says it wasn't Dad: "I saved you." She shows him the giant red callus on her finger (oh, so she DID draw him back to life?) and teases that he's indebted to her for saving his life three times over now.
Chul asks how, but Yeon-joo says she'll answer his question if he answers hers first. He can tell that she's mimicking him, but she just continues on and says that if his life goals have changed, he can make new ones instead of jumping in rivers. She lightly mocks him for only having revenge as his sole motivation in life, and gives him a new immediate goal: Get her out of here.
She asks him to get her out through legal channels, not escape like the last time, so that she doesn't have to be on the run every time she comes here to meet him. Aw, are you planning on coming here often?
Yeon-joo says it's the least he could do for someone who saved his life, and promises to answer his question once he gets her out of jail. Chul's eyes are wet with tears, and he argues that it won't be easy, but she just tells him to work hard at it then, and not think of anything else.
The officer prods Kang Chul to end the conversation so they can get on their way, and Yeon-joo adds that this isn't Dad's story anymore: "That ended completely. From now on, think of it as a sequel that we're creating together. My taste is different from Dad's. I really dislike murder cases, revenge, gunfights, thrillers, stuff like that. My taste is sweet romance." Haha, awww yeaaaah.
He turns back to look at her, and she adorably reminds him of his mission by waving her handcuffed arms up in the air. Chul is deep in thought as he drives down the bridge past where he jumped, and when he returns to his penthouse suite, he remembers seeing all the conceptual drawings for this space back in Yeon-joo's world.
He's even more thrown when he looks at So-hee, who's fallen asleep in a chair while waiting up for him, and Do-yoon, who rushes in to ask where he's been. I can't even imagine what it feels like to look at your friends and your whole world and know they aren't real. Chul shakes away what he's really thinking and just asks for his legal team to be called.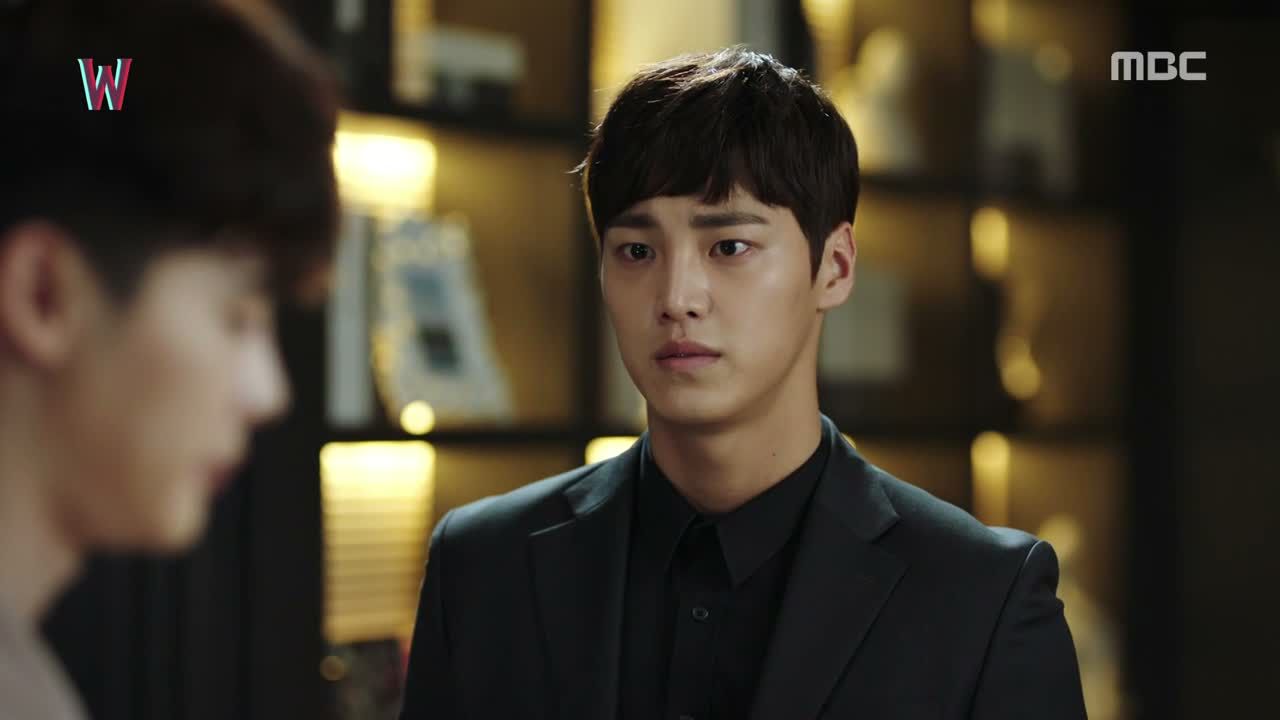 Yeon-joo's interrogator gets even more vicious the second time around, and she just sits there terrified, shaking and not saying a word. Thankfully Kang Chul comes by to see her first thing in the morning, and the detective is happy to accommodate him with a private visiting room with all the cameras shut off.
Yeon-joo sits down eagerly and is surprised that Chul already found a way to get her out. She chirps brightly, not sensing the dark mood he's in, so she's completely startled when he asks angrily, "Who're you to decide my life as you please? What gives you the right?" Oh.
He says he's not really that curious about how she saved him, since he can already guess that she drew it. "But you draw me, and you bring me back to life—do you consider that your right? Why did you follow up however you wanted, the death that I chose?" he demands to know.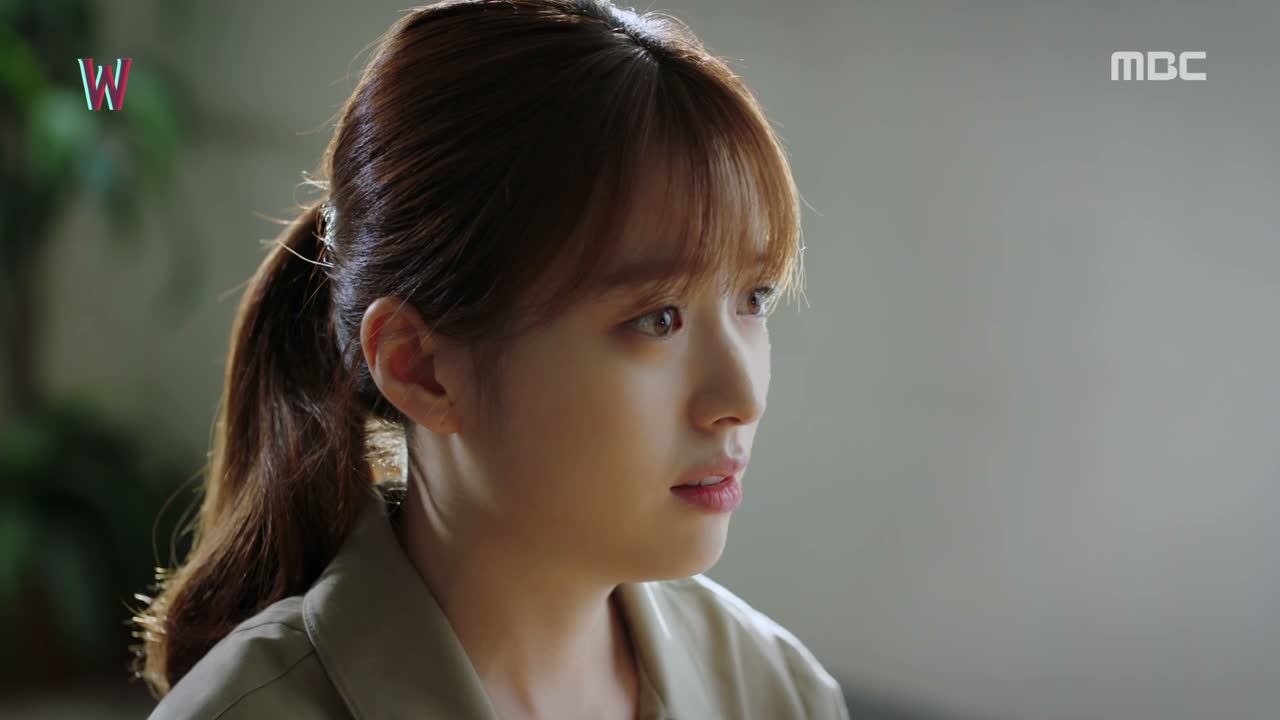 He asks what gives her the authority, and points out the irony of being driven to death when he was struggling to live, and being brought back to life when he wanted to die. Yeon-joo just stares back in shock as he asks bitterly, "Are you messing with me? Is this thrilling and fun for you people?!"
She's so taken aback that she doesn't know how to answer, and he asks if she thought he'd be grateful that she saved him. He scoffs at her calling this a sequel, and argues that this is just a place where Yeon-joo comes when she's bored, and she gets to return to the real world when she's done. Ouch. He brings her near tears when he spits out, "Did you bring me back to life to play romance? Do I look like a toy to you?!"
Yeon-joo asks in disbelief how he can interpret her intentions that way, and Chul lets out a sigh, asking how he's supposed to keep living like this. He tells her where he went this morning, as we see him visit his family's graves in flashback.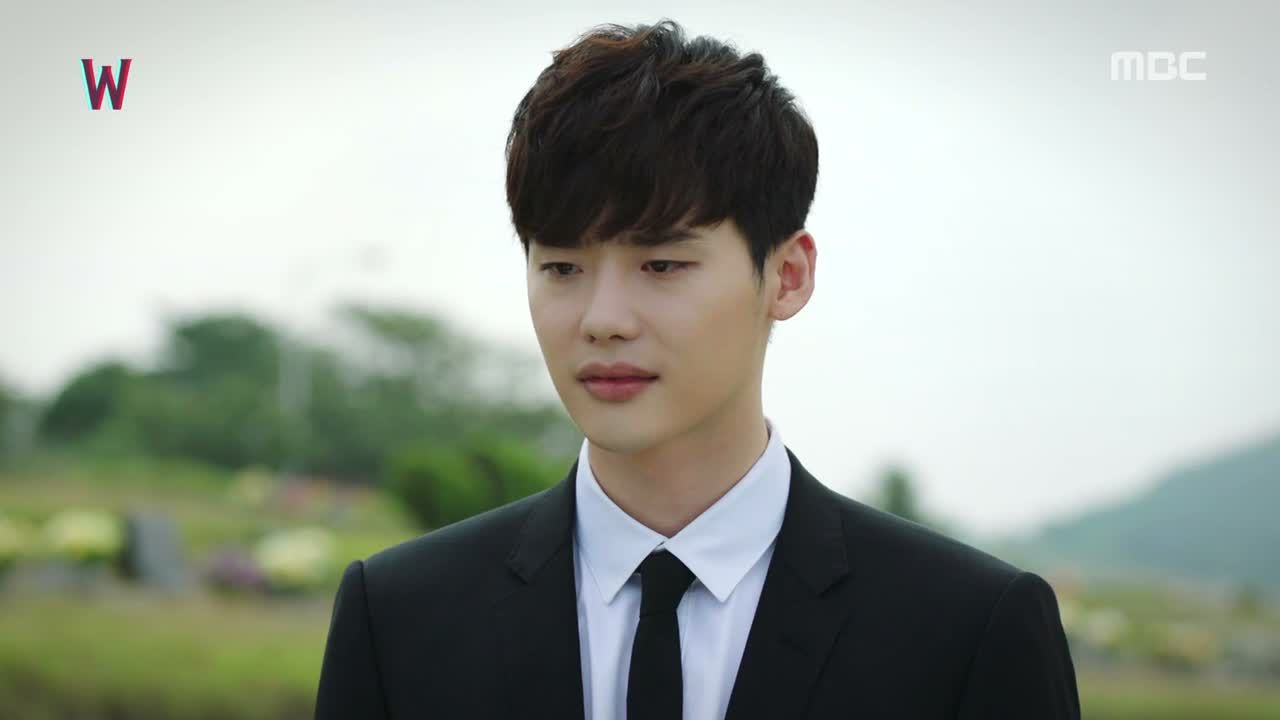 Chul says that she has a mother and a father, but he doesn't: "Before, they had passed away. But now, they never existed." He calls himself an orphan, born from the pen of some alcoholic, and he doesn't even know what he was sad about and missing all these years when his family wasn't real.
Chul says he isn't grateful at all that she brought him back to life: "Who would want to live this life again?" Yeon-joo breaks down in tears, crying that she wasted her time doing a stupid thing if she was just going to be resented for it. She sobs loudly, regretting having spent all that anxious concern on him for two whole months all by herself.
He asks why she did it, when she should've just been a doctor and gone on dates and lived her life, and not held onto a lousy manhwa and gotten herself imprisoned all over again. "Because I love you!" she shouts. OMO.
Chul is stunned silent, and Yeon-joo admits, "I know it makes no sense. But I've fallen in love with you for real." That's really the last thing he expected to hear from her, but before he can even react, Yeon-joo vanishes right before his eyes.
She reappears back in her old bedroom, still wearing her prison jumpsuit. The tears come spilling out as she thinks back to the times she'd shouted "I love you" at Kang Chul just to get a reaction out of him, and how the same words meant very different things the third time around.
Kang Chul sits there staring at the empty chair where Yeon-joo was sitting, and a tear trickles down his cheek as he thinks back to when they first met. He smiles wistfully, and finally gets up to leave after lingering for a while.
But just as he's about to walk out, he senses a change and turns back around. There's Yeon-joo, rematerialized in her chair and looking up at him. He raises an eyebrow and she avoids his gaze, embarrassed, and calls him out on the fact that he acted so immovable, but he was shaken by her "I love you" after all.
She tells him not to blame her too much either, because it's not like she wants to come here—she keeps getting pulled in when he thinks of her, like now, and in the river. She asks hesitantly if she's wrong, and then he finally breaks into a smile and says, "You're right. I was scared… that I would never see you again." Oh, swoon.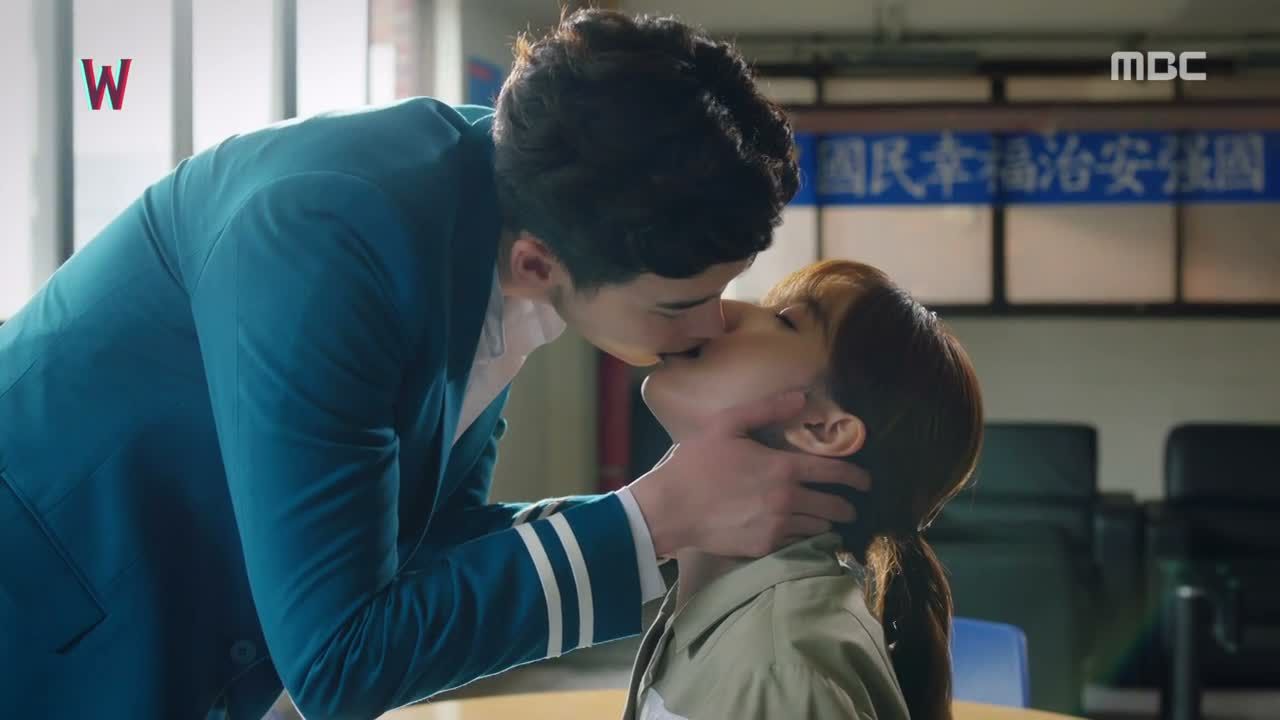 Then he marches over to her and tilts her face up to meet his in a kiss. They're so lost in the moment that they don't even notice that the detective has returned with coffee, and he's more flustered than they are when he sees them lip-locked.
After the detective scurries out, Yeon-joo asks in her hazy kiss fog if the detective was just here, and Chul says it doesn't matter. He picks her up and puts her down on the table (rawr), and she throws her handcuffed hands over his head so they can get serious about the making out. My butterflies are having butterflies.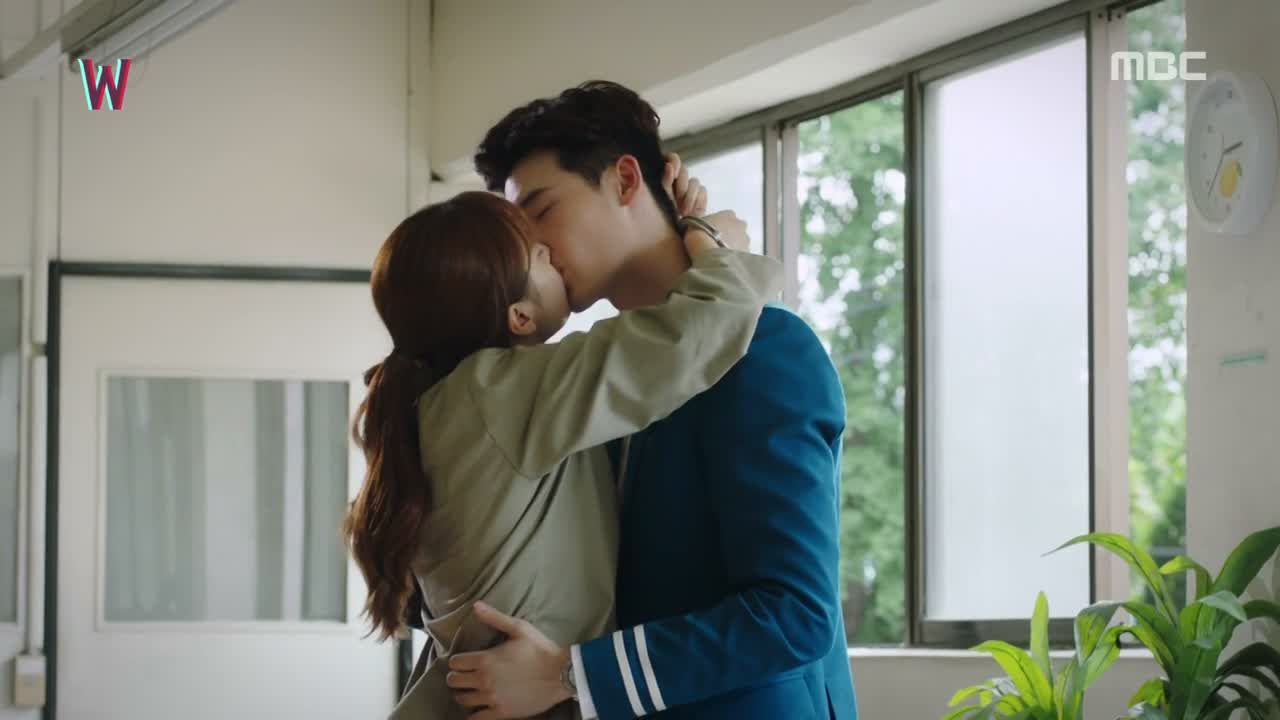 The detective comes out and asks Do-yoon if Kang Chul knows the suspect, and Do-yoon tries to play dumb, but the detective mutters, "I think they know each other. I think they know each other really well." LOL.
Yeon-joo could not look happier lying in her cold prison cell that night, and she narrates that this was the happiest moment of her entire life—in that instant, she wasn't thinking about Mom, who was worried that she hadn't come home yet, or even concerned whether she'd ever be able to go back to work as a doctor. She narrates, "My life suddenly felt unreal, and I even began to believe that here, this moment—that this life was real."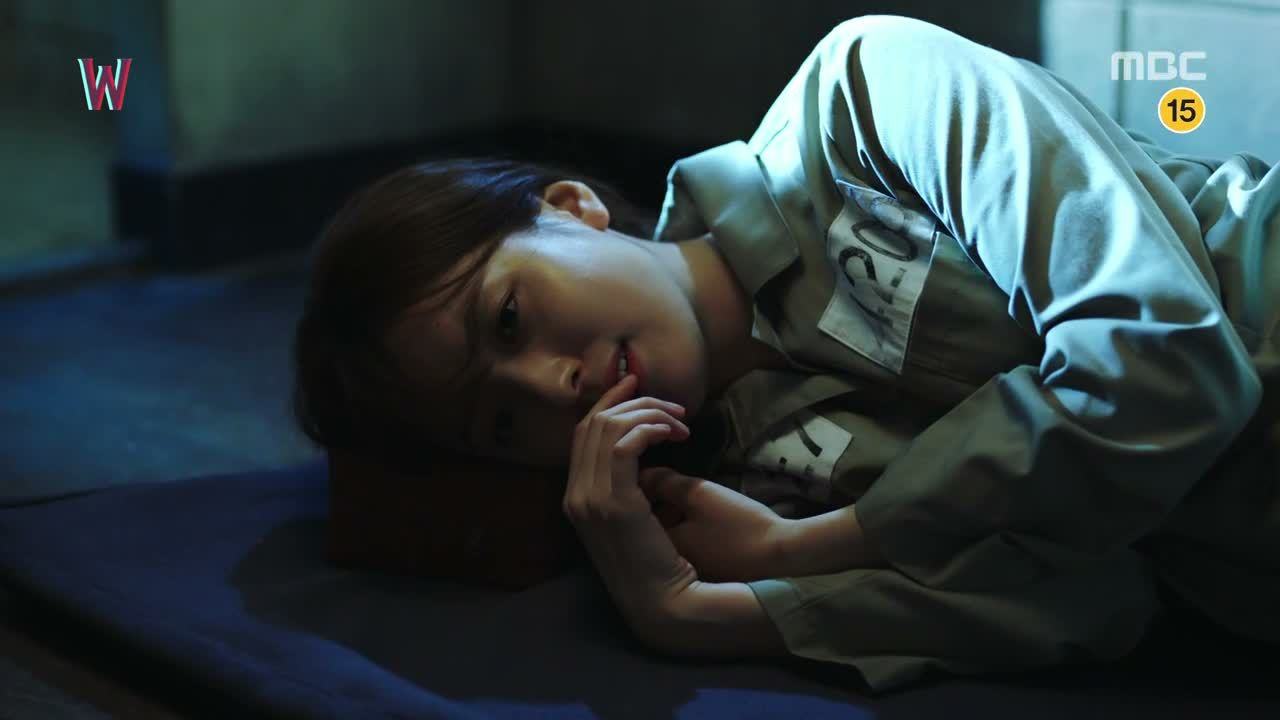 Yeon-joo beams when she's called out to meet a visitor, but she's disappointed when it's just Do-yoon and the lawyer, without Kang Chul. Do-yoon is here to relay a message, and in flashback we see Chul getting dressed that morning and telling Do-yoon that he looked into what kind of "sweet romance" women like, and there's no end to the different kinds.
So he told Do-yoon to ask for Yeon-joo's help in narrowing the field, because he's got a debt to repay. After copious hours of research, he'd narrowed down the options to: (1) Cinderella at a fancy party; (2) a romantic trip to the countryside; or (3) simple romance in everyday life.
Yeon-joo's reactions are intercut with Kang Chul's list, and she looks flabbergasted at the choices presented. Chul decides at the last minute to add another option: "Number four: provocative and shocking 19-and-over concept." He flings his jacket off his shoulder and makes a kissy face complete with silent rawr (at Do-yoon, lol) for emphasis.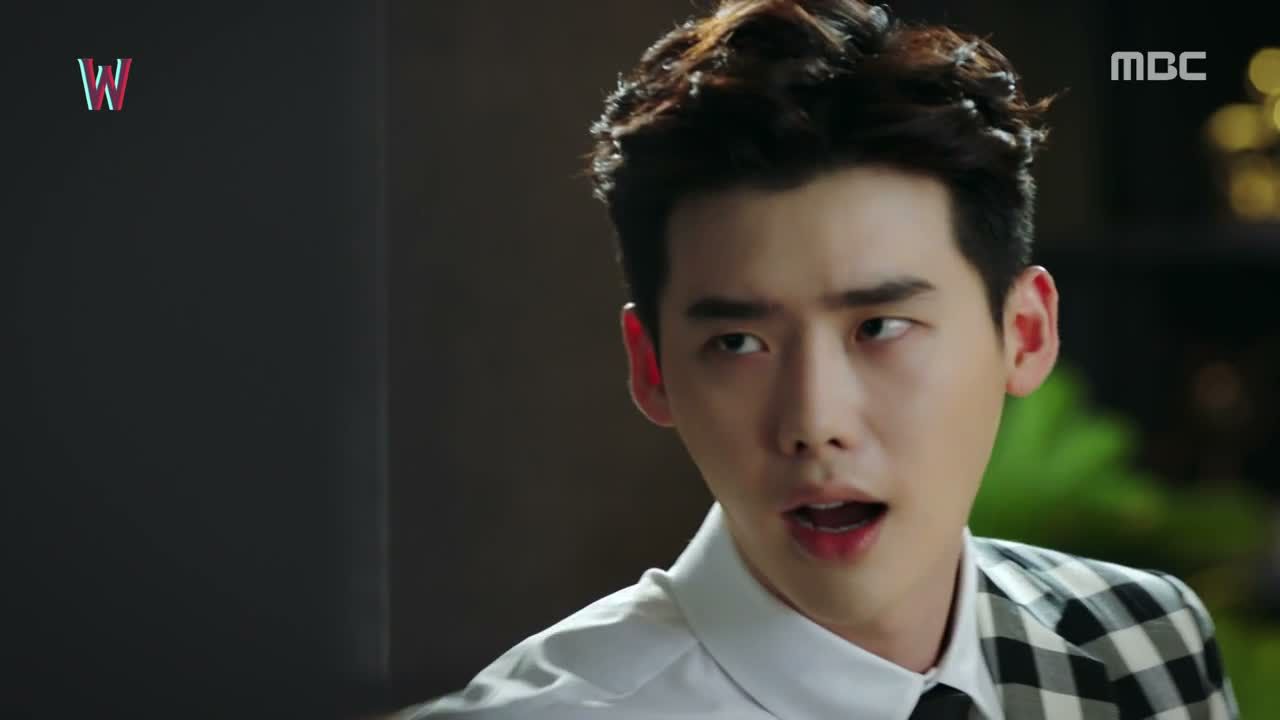 The best part is that Do-yoon seems to be reenacting this for Yeon-joo's benefit, because she stares back at him with her jaw hanging open. He adds in an embarrassed voice that Chul said his personal preference is for number four. Well of course it is.
Yeon-joo can't believe she's being made to choose this in all seriousness, like the romance is some kind of business proposal, but Do-yoon says this is Kang Chul's style. She says no to four and hesitates on the Cinderella party, but in the end she chooses number three (the simple, everyday romance).
Except she's holding up four fingers as she says "three," and Do-yoon points it out. Pff, well that's a Freudian slip in the most literal sense of the term. Yeon-joo asks what the point of all that is when she's stuck in jail, but Do-yoon says she'll be out soon, and that the lawyer will explain that in detail.
Meanwhile, Ajusshi comes to Kang Chul's office to see him, and the first thing he says is, "You're getting married?" What?
Yeon-joo hears the same thing from Chul's lawyer and gasps, and the lawyer says he's in the middle of creating a paper trail to prove that Chul and Yeon-joo had already registered their marriage in the U.S. last year.
She's even more shocked that she's about to be married in the past, not the future, and the lawyer explains drily that their problem is that she can't verify her identity or explain why she ran away after saving Chul's life. But if they make her his secret wife, it gives her an identity, and a reason that she attempted to keep herself secret and refused to testify.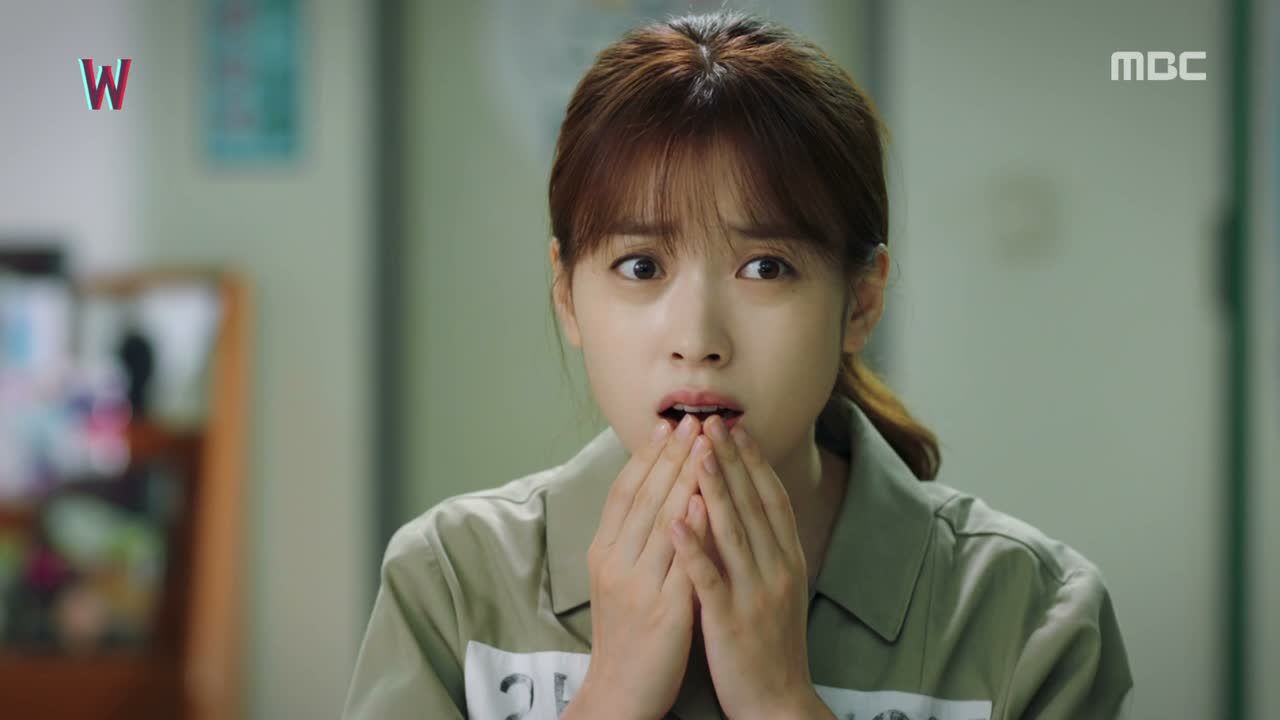 Ajusshi worries that registering a marriage, however fake, will be hard for Chul to get out of down the road. But Chul says with a smile that if he gets stuck he'll just live with her. He brushes aside Ajusshi's concerns about his money, saying that money holds no meaning for him now.
And then Chul really shocks Ajusshi when he says that he's going to give up looking for his family's killer. Ajusshi can tell something has changed, and admits to feeling like there are gaps in his memory. He asks if Chul really went to another dimension like they were talking about before, and Chul says that he did, but can't tell Ajusshi anything more because it'll only cause him unbearable pain.
Chul says that all he can say now is that Yeon-joo's identity has been confirmed, and there's no problem with her becoming his wife, "Though I do worry whether she'll always stay by my side." He adds that there's no reason to search for his family's killer anymore, and asks Ajusshi not to ask why.
He's frustrated, but Ajusshi doesn't argue and just asks why Chul went to Hangang Bridge that night. Chul admits that he went there to die, and says that despite still feeling that way now, he's found a small desire to live, and he's going to start thinking about how he should live his life from now on.
Yeon-joo has no idea if she's doing the right thing, but she testifies to being Kang Chul's secret wife who's been living with him for the past year. Chul testified that she ran away the first time because they were contemplating divorce, and she didn't want to be outed publicly as his wife. Yeon-joo nods stiffly and affirms his version of the story.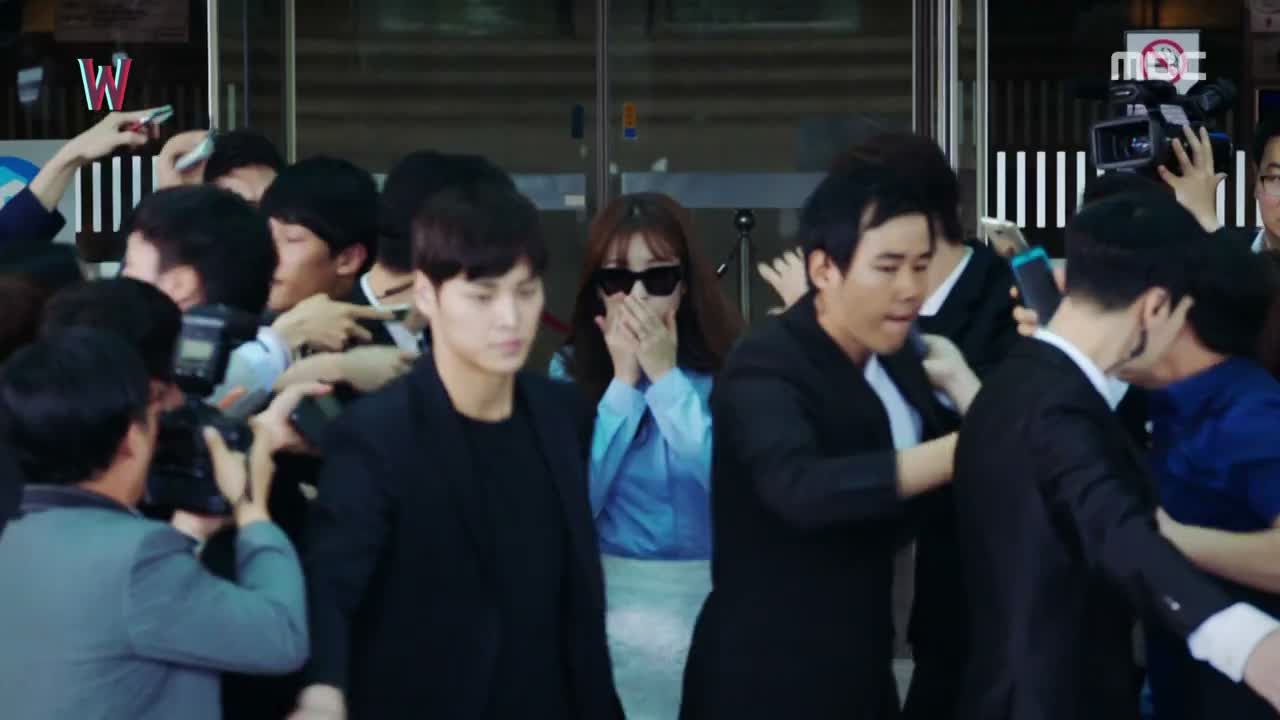 And with that, she's officially released from police custody, and Do-yoon is ready with a wedding band for her to wear. It's so strange that Kang Chul is romancing her by proxy. She knows it's a fake marriage, but the ring still makes her all fluttery anyway.
Do-yoon hands her a pair of sunglasses to wear as they exit, and she finds out why when she's met with a throng of reporters outside. The bodyguards hustle her inside the car, and Yeon-joo is shocked again when they arrive in the penthouse to an army of servants, all bowing and calling her madam.
She asks Do-yoon if she's really supposed to share a room with Kang Chul, and he points out that they have to keep up appearances with so many people watching. Oh, how I love contract romances.
He says that Chul will be home later tonight, and once she's alone in the bedroom, she flops down in the chair and wonders how she ended up married. There's a stack of newspapers on the table all with giant headlines speculating on Kang Chul's secret wife, and it finally starts to sink in. She screams, "Did I really get married?"
She feels better after a hot shower, and the ring on her finger gives her pause. She looks around and takes in all the his-and-hers sets of things, from toothbrushes, to bathrobes, to underwear.
She gets a little thrill out of getting to peek at Chul's underwear drawer, and of course Chul sneaks up behind her while she's holding up a pair of his boxer briefs. I am so embarrassed for you right now.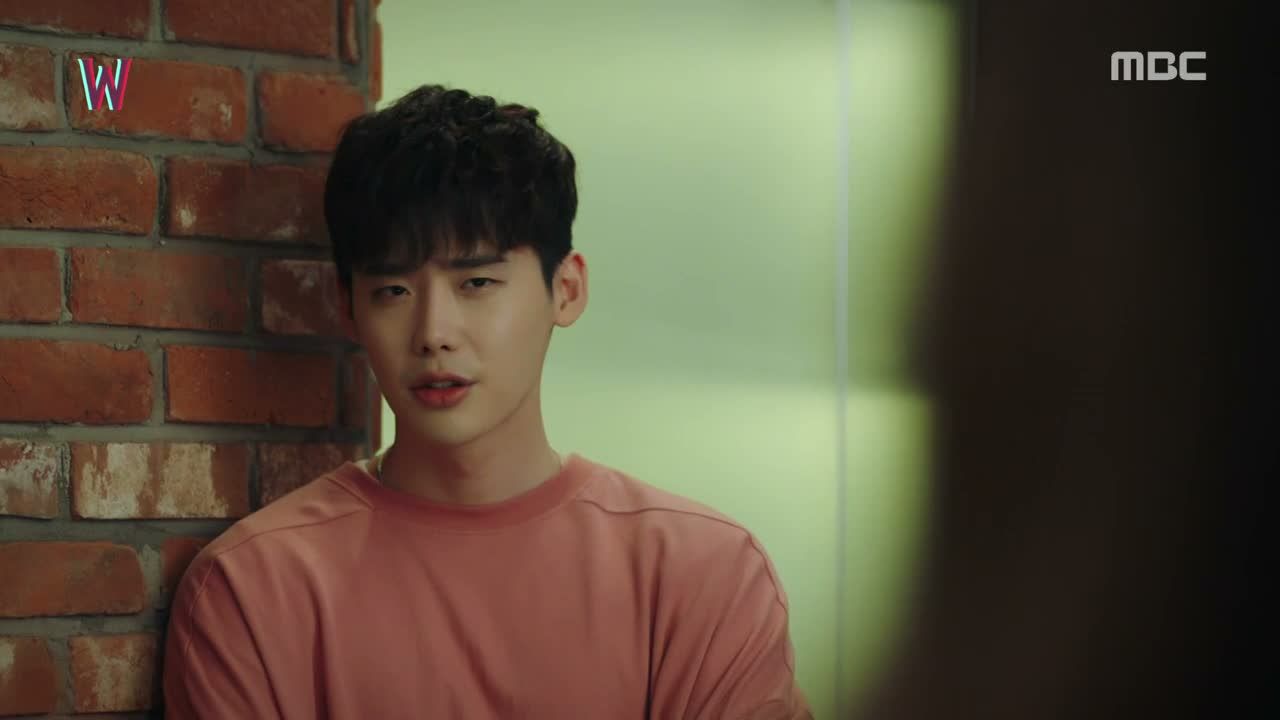 He just watches her with a devilish smile and says, "It was number four. Your taste was number four." She swears that she didn't know what it was when she picked it up, and he argues that surely they have men's underwear in her world. She's mortified that he keeps teasing her, while he can't stop grinning, saying that he's happy to see her.
She pouts that he didn't visit her in prison, but he says he was too busy building their fake dating history for their unplanned wedding. She says that marriage was a bit beyond the sweet romance that she asked for, and he says they can start doing that stuff now.
He says he studied hard too, and remembers a thing he wanted to try. While he goes out to retrieve a book, Yeon-joo clutches her thumping heart, trying not to swoon too hard. Chul returns with a book that he says is supposedly filled with romantic things women want, and he opens it up to an illustration of a man tying a woman's hair back.
Yeon-joo laughs as he insists on tying her hair, and he explains that he had to study because he doesn't know any of this romance stuff. Gawd, that is so adorable. Even as he's tying her hair, he wonders what's so sweet about this, but she loves it.
He tells her to flip through the book and find other stuff she wants to try since he thinks they can do about ten in a day, though she doesn't see the need to tick off a to-do list like it's homework. He absently answers, "We have to do a lot while we can. We don't know when we'll see each other again." No no, why are we talking about heartbreak already?
Yeon-joo stops at his words, and he realizes that he might've said the wrong thing. He tells her to stop staring at him like that or else she might vanish again, and wonders if there's something wrong with his heart because he's shaken so easily these days. He tells her not to cry or confess anything anymore, if she wants to stay with him a long time.
He manages to tie her hair after a few mangled attempts, and then leads her by the hand into the bedroom. He plops her down on the bed and climbs on top of her, but it's just to tease her before he plops down next to her and pats his shoulder for her to lean on.
He shows her that even book-reading is a thing in the book, and insists that they have to snuggle this way to read together. Why are you so cute? She's amazed that he memorized the entire book and all the page numbers, and he asks her about a few of the illustrations, like whether women really find grocery shopping together romantic.
Yeon-joo says it's totally romantic to have a guy carry your grocery basket and discuss what to eat that night, so he laughs and says they'll go grocery shopping tonight then. He's amused that she likes everything in the book, from shoelace-tying to kitchen back-hugs.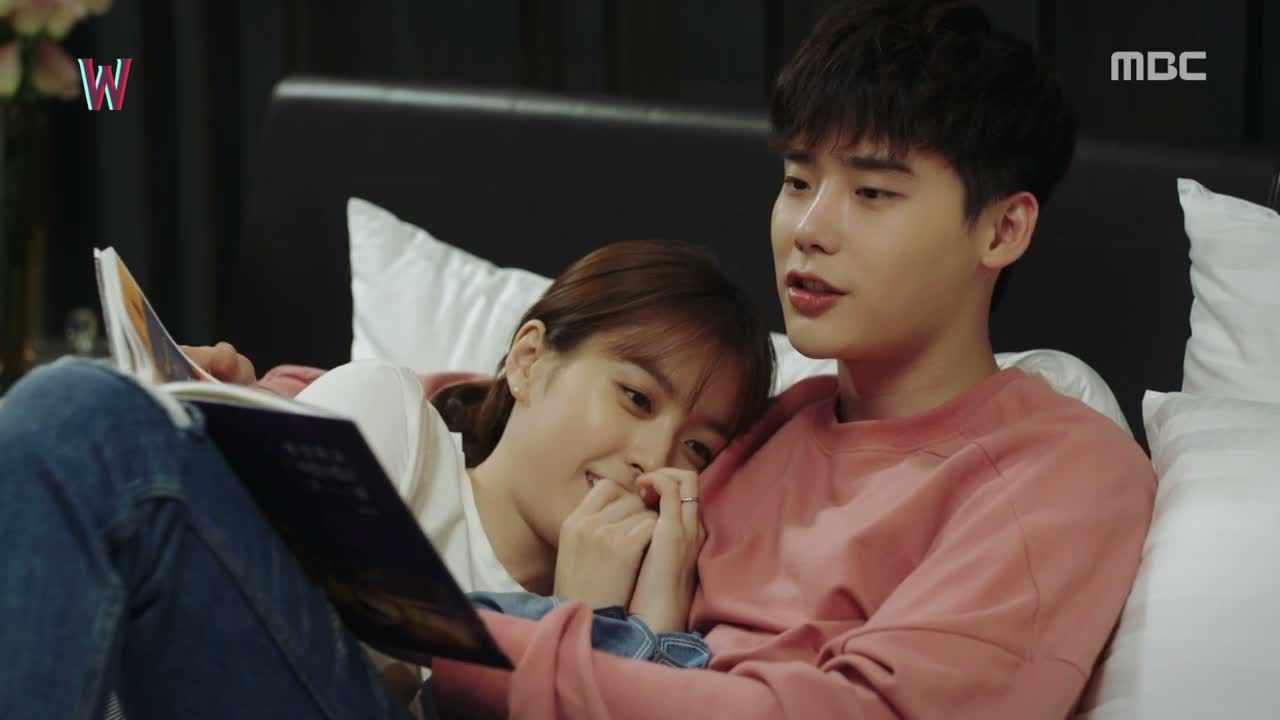 At every illustration Yeon-joo sighs happily, "I like it," and then notices the matching wedding band that Kang Chul is wearing. He asks her about back-hugs but she's staring at his ring and she sighs, "I really like it."
She smiles shyly when he points to an illustration of a forehead kiss, and he decides that one is easy and plants a kiss on her forehead. She accuses him of enjoying this rather than doing it to repay his debt to her, and he pretends not to know what she's talking about, all while leaning over her for a real kiss.
But his bodyguard has the worst timing ever and walks in on them, and all three of them jump and flail in opposite directions. The bodyguard keeps his back turned while Chul and Yeon-joo take turns pretending to be REALLY engrossed in that book, hee.
Chul scolds him for not knocking, and the bodyguard admits to not being used to him having a wife. He says that Do-yoon wants to see him on the roof, and Chul wonders why he didn't come down here like usual.
He smiles at Yeon-joo's reaction to being caught in a compromising position and tells her to index the pages that she wants to do tonight. He adds with a wink, "I'll say it again—I like the 19-and-over stuff." She hiccups in response, and collapses on the bed clutching her heart again.
Kang Chul takes the elevator up, but as soon as the doors close, his phone rings from an unknown caller and suddenly words appear before him: "Where are you? How did you live?" Aaaaack, is it the No-Face Killer?
Alarmed, Kang Chul rings the security station, but as soon as he does, the caller hangs up and the chyron disappears. Oh no, we didn't switch genres at all, did we?
Up on the roof, Chul asks Do-yoon to trace the last call he got, but doesn't tell him more than that. Do-yoon hands him a resignation letter from So-hee, and we see her crying earlier that day in flashback. Do-yoon had told her to talk to Chul directly, but she didn't want to see his face.
Do-yoon reminded her that Chul's marriage was fake, but she asked if it really looked fake to him, because it didn't seem that way to her. Do-yoon said that even if that were true, So-hee should separate work from her personal feelings, but she said through tears that she must not be very professional because she couldn't imagine doing her job while looking at Yeon-joo every day.
In the present, Chul says they should let So-hee rest a few days, and he'll go see her after that. Do-yoon has one other thing to say, but he hesitates to bring it up because it's so strange.
We return to the flashback as So-hee said goodbye to Do-yoon with finality, despite his insistence that she'd be back. She held out her hand for a shake, and when he shook it, her hand started to fritz in and out and disappear. And for a split-second, it morphed into a manhwa drawing of a hand. Whoa.
Do-yoon freaked out and pulled his hand back, but then So-hee's hand reappeared back to normal, and she didn't seem to notice anything wrong at all. It makes Do-yoon wonder if he's crazy, and in the present Chul wonders what it means.
When Chul returns to the suite, Yeon-joo is asleep, and he chuckles to see how many pages of that book she put sticky tabs on. His phone rings from that unknown caller again, and this time he reaches for his gun before answering.
Again the words appear before him as the caller speaks, asking, "Where are you? How did you go back? Who said you could die? I waited for you for so long." Chul asks who it is, and the voice answers, "Who am I? Don't you know me? I killed your family ten years ago in your house."
Chul remembers Dad telling him that there was no killer because it was just a backstory that he invented to make his character strong, but on the phone, No-Face insists that he killed Chul's family, each with a bullet straight to the head. He brags that he's a sharp-shooter just like Kang Chul, and says that Chul can't stop looking for him, and can't die yet: "The end can only be the end after you and I finish it."
And then, No-Face says something that makes Chul's blood run cold: "I see you have a new family? It's that woman's turn now. I'll make a bullet hole in her forehead. Wait for me."
OH NOOOOOOO.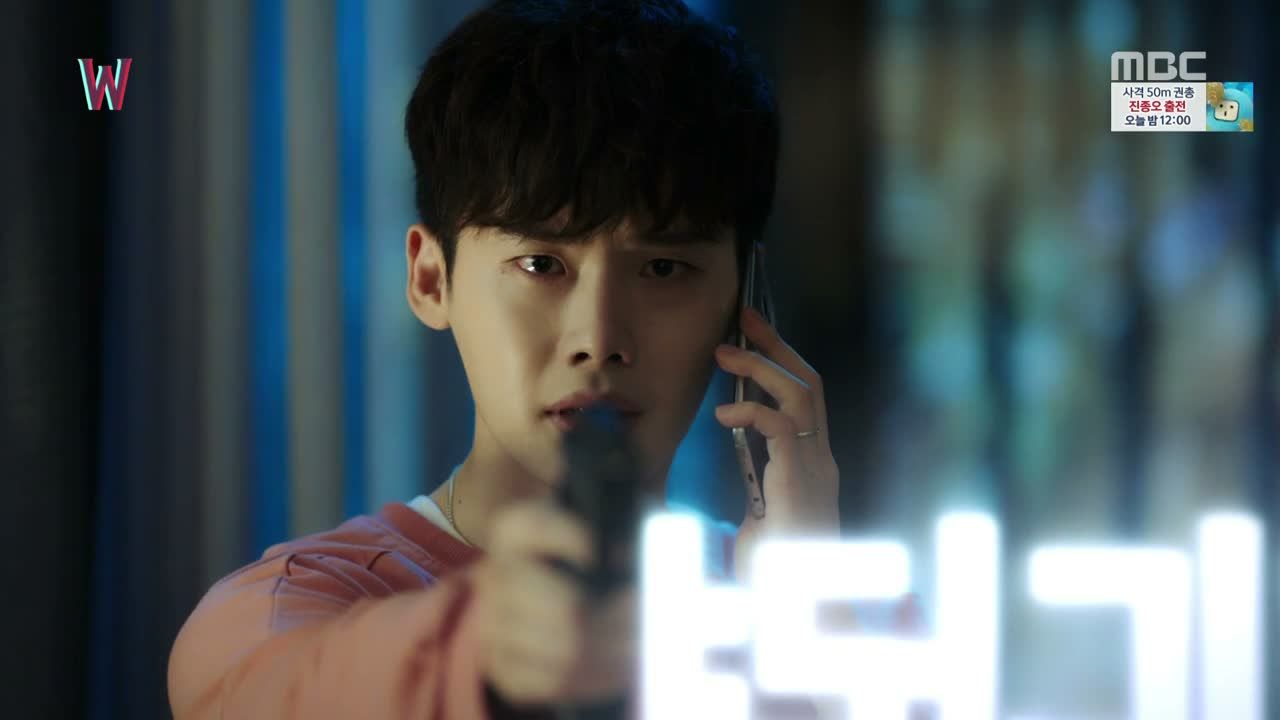 COMMENTS
I knew that romance genre switch was too good to be true! Everybody throw away your cell phones right this instant! Though truthfully, I prefer this—the romance is all the sweeter when there's death and mayhem constantly clipping at their heels, and every happy moment feels all the more precious because it's slipping from their grasp even as they're enjoying it in the present. It struck me that Kang Chul was so hyper-aware from the start of their relationship that it would be fleeting. I know part of that is just their inability to fully control when and how she comes and goes, but then it REALLY crushed me when he said she'd just go back to her real life someday when she got bored. Then I started thinking of Kang Chul as Winnie the Pooh and Yeon-joo as Christopher Robin, and then I wanted to curl into a ball and cry. You can't leave him there and just grow up, okay?? I can't handle that!
I still have so many questions about Yeon-joo having created Kang Chul's character, because we've seen her draw two versions of him at two different points in her childhood now. As a teenager, it makes sense that she'd characterize Kang Chul as her ideal man, and I like that she draws inspiration from her real-life sports hero. But in the previous flashback when she was even younger, she was already drawing a boy with a gun, which makes me wonder what happened to make her like guns or even know about them at such a young age. Maybe it's innocuous… or maybe there's something really scary in her past that she's repressed? Why didn't she remember that she'd created Kang Chul? I want to believe that she created him out of love, wanting a friend or a protector or a soulmate. But I feel like I'm waiting for the other shoe to drop on his true origin story.
As much as I wanted Yeon-joo to take over control of the manhwa from Dad, I was worried about her clashing with Kang Chul over his free will, so I'm glad that he addressed it right away and met her with anger when she saved his life. Because from where he stands, the most infuriating part of his existence is being controlled by some artist's whim, and I thought he was justified in asking if he was just a toy to her. I'm still worried that this will be a major problem for them, but if it's really true that Chul can pull her into his world with his will, that puts them on closer footing. We've seen him manipulate his own world and break the fourth wall to talk back at Dad, so I fully believe that he's got a mind of his own and isn't just acting according to Yeon-joo's will. But I have a feeling that Yeon-joo having creator-god control over his universe means more angst than she's anticipating, and that he's got a better grasp on how fleeting their romance might really be.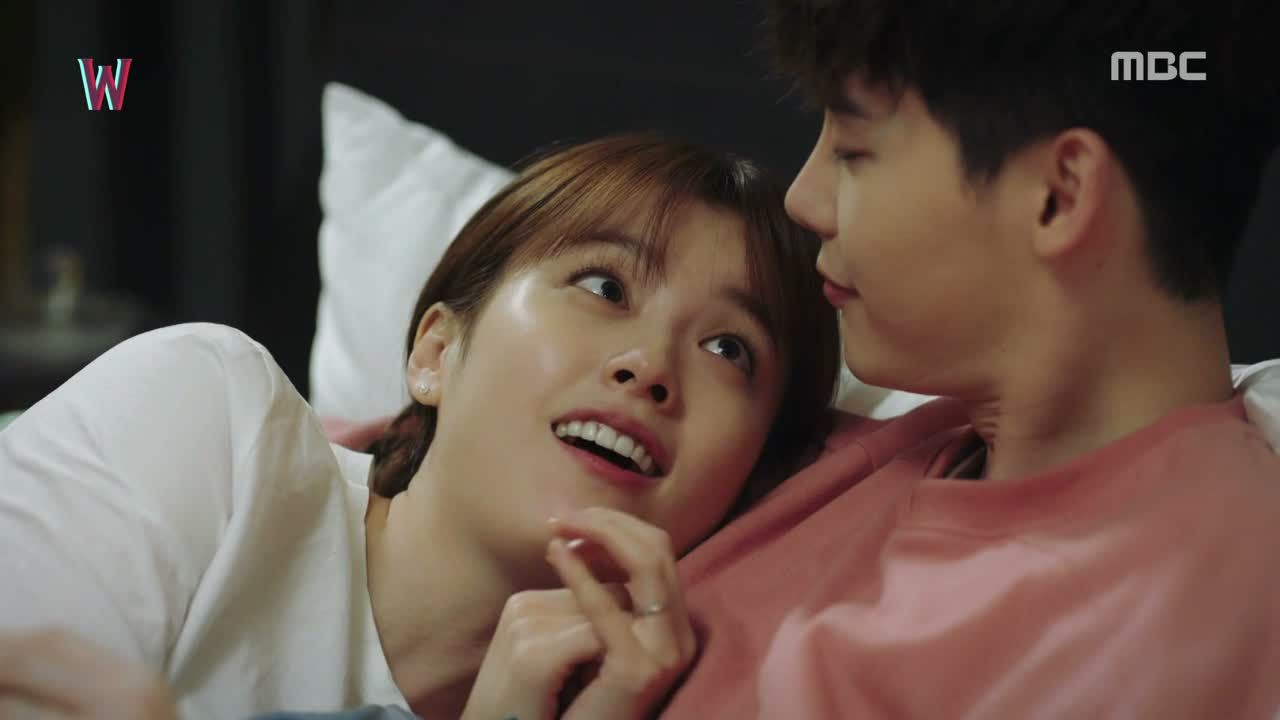 I was so saddened by the idea that So-hee was starting to fade away because she was being phased out of Kang Chul's story. There's something so sad about the supporting characters not having lives of their own, and not existing for any other reason except to serve the hero's tale. It made me think that now I want Yeon-joo to save all of the main characters from the manhwa world, even though that seems highly improbable. All of the rules seem to be changing, and I don't know if that's because Yeon-joo created the sequel, or because Kang Chul crossed into the real world, but now the other characters are starting to become more sentient, and No-Face Killer has totally gone rogue, which is exciting… in a scary death way.
When No-Face was talking to Chul in the last scene, I wondered if he was just a rampaging killer because Dad had created him with no logical motivation behind his murders, and his sole reason for existing was to kill Kang Chul's family and be his ultimate enemy. He literally has no other purpose or characteristics—I mean, he doesn't even have a FACE, for crying out loud—which would explain his single-minded drone-like devotion to killing Chul's family, without rhyme or reason. It's a clever consequence of a creator's lack of detail (how often have we met antagonists who seem poorly motivated?), except in the horror story version, that villain actually becomes the most monstrous version of the few traits Dad bothered to give him. I am officially scared of No-Face, especially since he seems to have developed free will of his own. How? Why? Can't we put a lid on that? Can we call Dad back from New Zealand?
But for now I'm just basking in the fun of Yeon-joo and Kang Chul's contract marriage, which is hilarious and delightfully upbeat. Contract romance buys you such great motivation to force two people together (not that these two actually needed prodding in that department, ahem), and I always love the comedic antics when our heroine gets thrown into a new situation she didn't expect in the manhwa world. Plus, now with feelings out on the table, we're in for an interesting chapter in the romance where Yeon-joo has become someone Chul wants to protect, giving him a new purpose in life (though it'll surely come at the cost of much angst for us). It's all so sweet and romantic and sad at the same time, because they're both so aware of the fact that they're defying nature by being together and that time and pretty much all laws of the universe aren't on their side. But… doesn't fortune favor the brave in all fairytales? Surely there are loopholes to be exploited!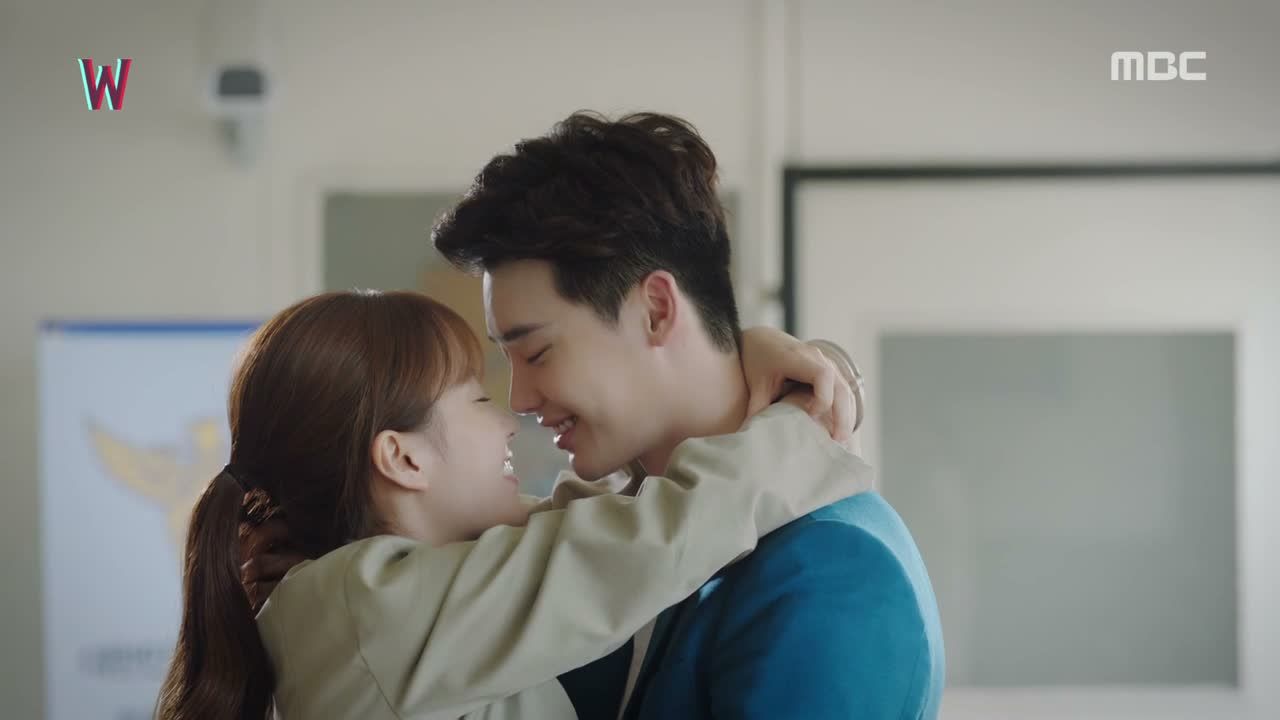 RELATED POSTS
Tags: Episode 7, featured, Han Hyo-joo, Kim Eui-sung, Lee Jong-seok, Lee Shi-un, W–Two Worlds