W–Two Worlds: Episode 9
Maybe up is down, and down is up. And I could've sworn that yesterday happened already, but now I'm not so sure. I didn't used to think those rules of the universe were arbitrary, but who's to say anymore? I guess if this were any other drama, I might say there were new twists in every episode, except when you create a world (or two) where literally anything can happen, do you even call them twists anymore? Crazy things happen, and that's just a day that ends in "Y" around here.

EPISODE 9 RECAP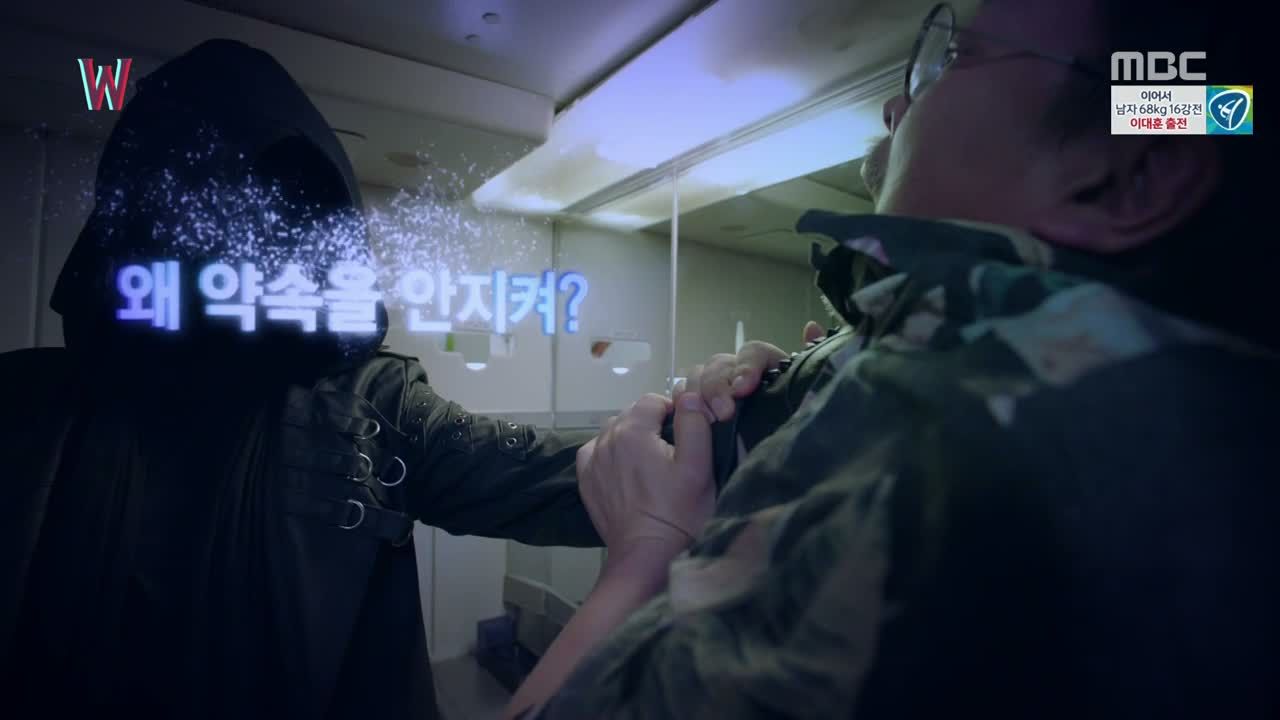 We already saw this, but in case you wanted to relive that stabbing pain in your heart: Kang Chul makes Yeon-joo promise to go back to her world and draw him waking up from a dream, having forgotten everything that's happened since he met her, effectively resetting the manhwa world. He jumps off the roof in order to send her back.
Meanwhile, No-Face Killer tracks Dad all the way to his flight to New Zealand, first appearing in voice and words only, before suddenly materializing in the restroom with his hands over Dad's mouth to cover his screams.
No-Face has teleported here to confront his creator about who he is, and knocks Dad around in the tiny stall until he has him in a stranglehold. He growls, "You betrayed me. Why don't you keep your promises? You said you'd find me. Who am I? Who am I? Give me my face!" It's somehow deadly serious and hilariously comical at the same time.
The flight attendant knocks repeatedly when she hears the scuffle, and then finally the noises subside and the door clicks open… Oh, there's Dad! He's alone, but he looks badly shaken up.
Yeon-joo reappears in her world and hurriedly draws Kang Chul waking up from his dream, and she breaks down in tears once it's done. Kang Chul's timeline resets to him waking up in the hospital after his stabbing incident, and he stirs awake with tears in his eyes.
Yeon-joo narrates that resetting the manhwa worked—No-Face disappeared from her world, though he left three victims in his wake. Police officers clean up the murder scenes, of the two bicyclists on the bridge and the assistant at Dad's publishing house.
Su-bong flails and pleads for Yeon-joo's mom to drive them away from Dad's workshop, but Mom refuses to go anywhere without finding Yeon-joo first, and runs off to look for her. Su-bong starts out trying to call out politely, "Mother! Mother!" and eventually just starts screaming "MOM!" like she's his mom. It's the cutest thing. He's shocked when Mom finds Yeon-joo drenched in sweat and passed out in the passenger seat of his car.
In the manhwa world, Kang Chul is drenched in sweat too, and So-hee sits by his bedside all night. Yeon-joo narrates that all the main characters in Chul's world were saved from disappearing.
Dad flies straight back to Korea and reads the latest issue of the webtoon with a dark expression, especially when he sees the frame of Yeon-joo with a bullet hole in her forehead.
Dad shows up at Mom's place unannounced to see Yeon-joo, who's just been brought home from the emergency room and is sleeping in her bed. Mom says she doesn't understand what Yeon-joo was doing drawing in Su-bong's car for hours until she passed out.
That seems to break Dad's heart even more, and he touches Yeon-joo's forehead tenderly and holds her hand. He isn't happy when he notices the wedding ring on her finger, though it does remind him of Kang Chul and the frame he saw in the webtoon of Chul asking her to pass a flash drive along to her father.
Dad finds the flash drive in Yeon-joo's pocket and pops it into his phone, where he finds a letter addressed to him. We see Kang Chul write it back when Yeon-joo was crying after seeing So-hee almost vanish.
Chul writes that he heard Dad was alive, but he has no plans to apologize for shooting him: "Because I don't have the right to be forgiven, but you don't have the right to forgive me either." Dad smirks and calls him arrogant.
Chul says he's writing because they have work left to do: "I'm going to accept the wretched fate you gave me, so you must do your work as well. Stop running away. Not for me, but for your daughter—you will be able to do it this time. W's happy ending…" Dad gazes over at Yeon-joo, deep in thought over Chul's proposal.
Hours later, Yeon-joo stirs awake and finds Mom sleeping on the floor. Mom says that Dad came home and stopped by to see her, and Yeon-joo goes out to the living room to call him, but then thinks better of it because it's five in the morning.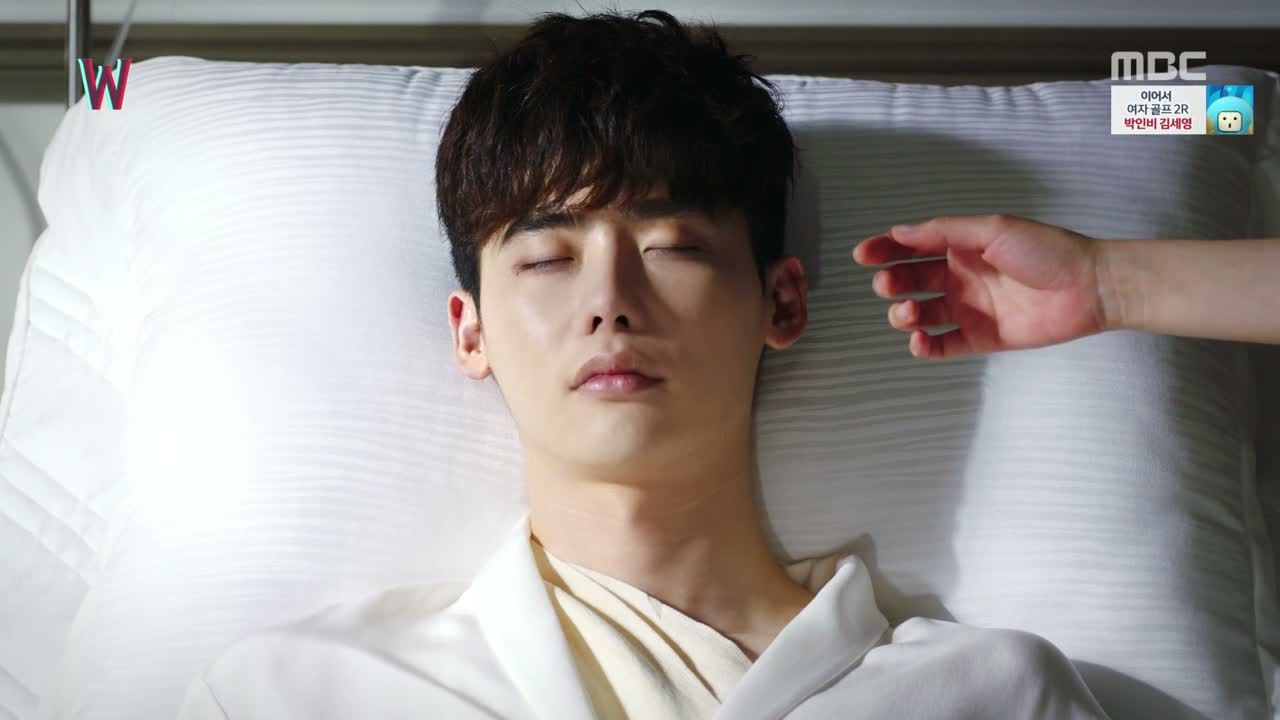 Suddenly her living room turns into Kang Chul's hospital room, and Yeon-joo is standing just a few feet away from Chul while he sleeps. What the…? Is this real? Is she back in the manhwa world?
She can hardly believe it and approaches his bed slowly, lifting a trembling hand to touch his face. But before she can make contact, she's back in her living room, back to muted colors in the blink of an eye, like nothing ever happened. Huh? Is he still pulling her into his world by thinking of her? But he doesn't know her! What is happening?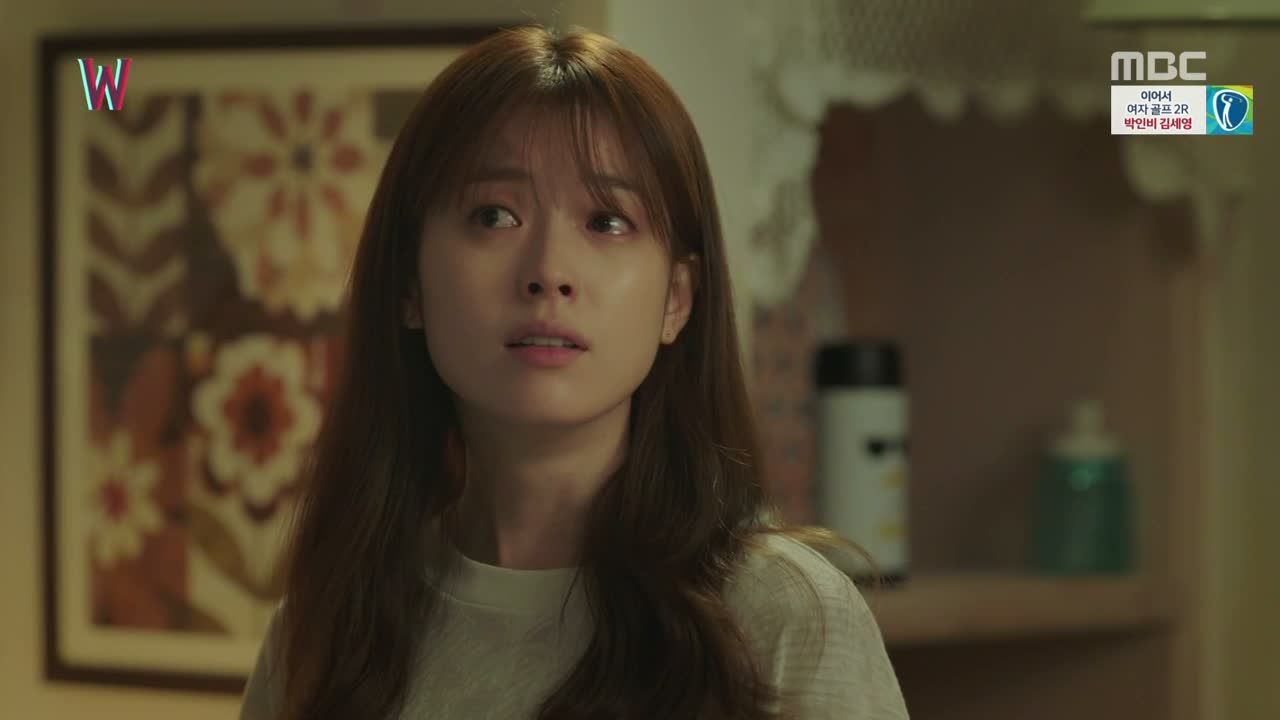 As tears trickle down her face, Yeon-joo narrates in voiceover that for a while, she must've lingered in Chul's subconscious dreams, because she was able to see him a few more times, but just for brief moments.
Another time, she disappears from her car and appears back in Chul's hospital, just long enough to catch a glimpse of him from the hallway as a nurse enters his room. He glances in her direction for a second, but then the door closes and she's back in her world, crying. Oh this is just MEAN is what this is. Poor Yeon-joo!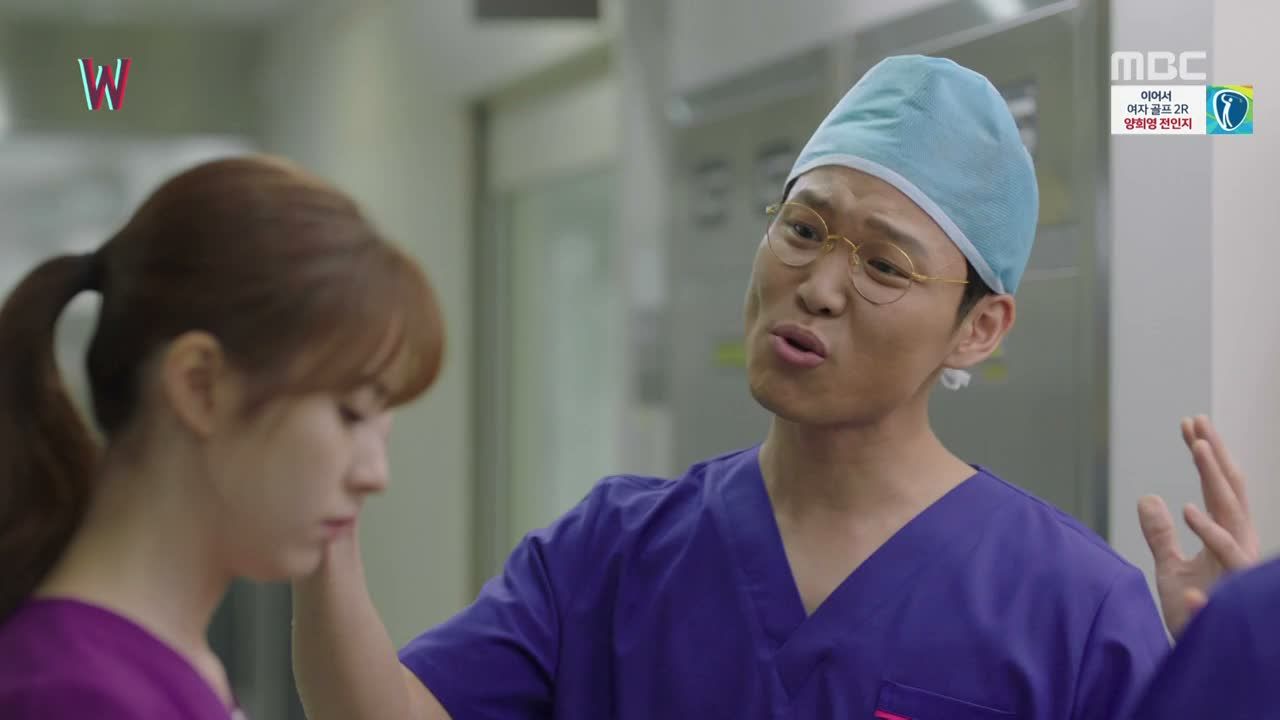 She's so distracted at work that Professor Crazy Dog has to remind her to put a cap on before surgery and take her ring off. Seok-bum teases her for getting married while they weren't looking, and Crazy Dog says all it took was one blind date with his friend for him to know that Yeon-joo would die old and alone with cats.
As she pries her wedding ring off, Yeon-joo narrates that the third time she saw Kang Chul, it was one week later for her, and two months later in his world. She drops her ring and chases it along the ground, not realizing that she's been transported to the manhwa world until the ring quite literally leads her straight into Kang Chul.
The ring rolls into Chul's shoe and Yeon-joo rams right into him head-first. He smiles pleasantly and apologizes, while she looks at him like she's seen a ghost. He picks up the ring and says it's pretty as he puts it in her hand, and she strains not to cry. Ugh, this is too painful.
Chul gets a call and nods goodbye, and Do-yoon greets him by the door. They look happy and carefree, and Do-yoon spots Yeon-joo looking at Chul with such an ardent look in her eyes that he asks if she isn't a broken-hearted ex-girlfriend. Chul says he's never seen her before, and glances at her curiously one last time before leaving.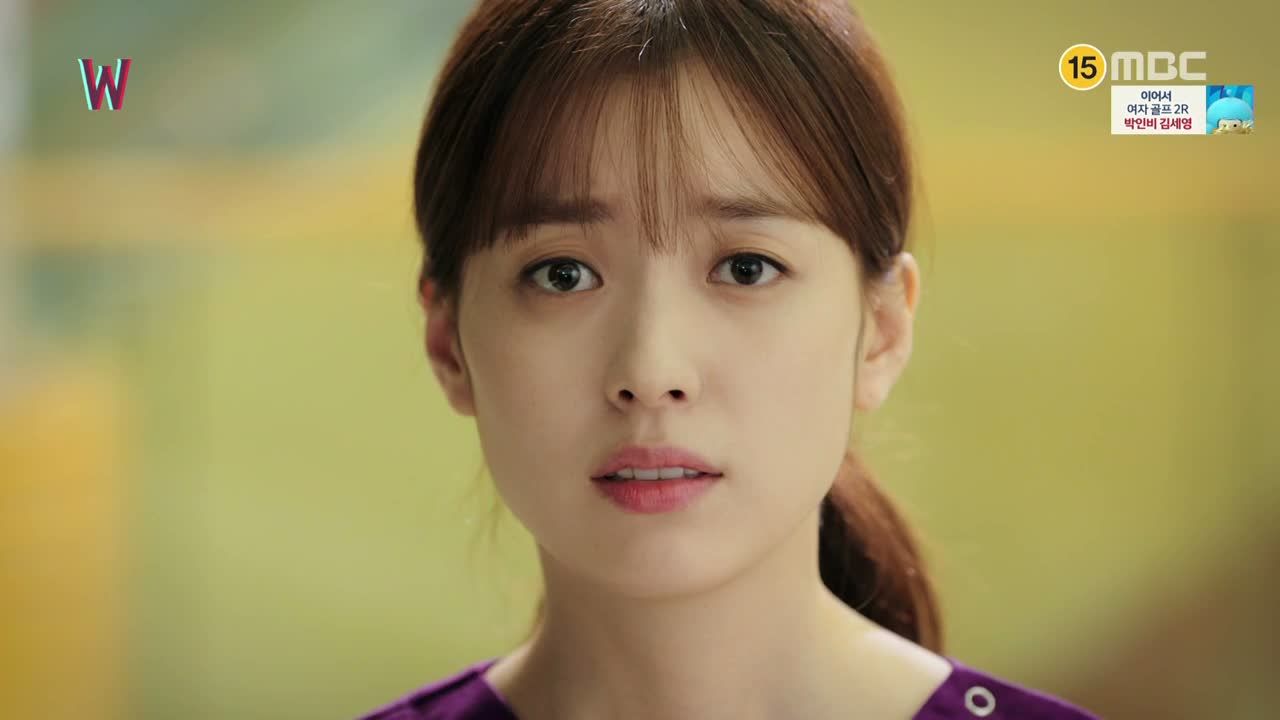 Once he's gone, Yeon-joo closes her fingers around her ring and says in voiceover, "Just as I drew it, Kang Chul forgot everything." She finally bursts into loud, wailing sobs and returns to her world, and Seok-bum and Crazy Dog run out when they hear her crying.
Yeon-joo narrates that as Kang Chul recovered and became busy again, he stopped dreaming altogether, "And he forgot me forever. The Kang Chul who felt endlessly hopeless, lost his way, and tried to find his will to live in love… was gone."
In the manhwa world, Chul goes right back to chasing down criminals on his way out of the hospital, and Yeon-joo narrates that he went back to the Kang Chul everyone knew before: "Always strong, never discouraged—our hero."
Apparently Su-bong spent the intervening time becoming a mountain man, because he stands outside Dad's gate with a scruffy beard, holding his drawing case and pacing back and forth nervously. He looks like he's about to run away, but in the end he rings the doorbell.
Dad is back to drinking and drawing, and Su-bong fidgets in his presence, saying that the rest of the team will be here in a few days because Dad called them back to work so suddenly. Dad says he can finish W with just Su-bong, but Su-bong says he was actually on his way to his hometown, having decided to quit drawing because he's not sure why manhwa work should require that he put his life in danger. He says he's tried church and temple, and even put a talisman on his computer, heh.
Dad ignores Su-bong's entire speech and says they're going to finish W by giving it a happy ending, one where Kang Chul catches the killer and punishes him, thereby ridding them of No-Face for good. Su-bong asks if they're really going to kill the killer, and Dad has zero qualms about killing a man who murdered three people in the real world and tried to kill Yeon-joo. "Even if he's a murderer, I gave birth to him, so I have to take care of him by my hand," Dad says.
Dad thinks back to Kang Chul's letter, where he'd outlined the ways to get rid of No-Face once and for all: Chul instructed Dad to give No-Face an identity, so that he'd stop being a phantom and become a flesh-and-blood person that Chul could catch. He included on the flash drive all of the case files from his crime show W, and said that Dad had to find the killer's identity outside of the suspects in these files, so that Chul could accept it logically.
In the present, Dad plops the stack of case files on Su-bong's desk and tells him to read every page, because they have to be meticulous about framing their killer in order to avoid raising Kang Chul's suspicion that this is being retconned. Dad: "If Kang Chul suspects, it starts again… that damned curse."
Su-bong asks how they're supposed to trap a killer when they've created his crimes to be perfect, without creating plot holes in the process. This is so funny, this meta discussion. Dad says that plot holes are inevitable, which is why they have to give the killer an identity that Kang Chul will accept despite any logic flaws.
Dad says he's decided on the killer's face, and throws his sketchbook on the desk. He says that this is the only person that Kang Chul would accept as the culprit, and Su-bong's jaw drops when he opens the book.
In the manhwa world, Chul gets an excited call from Ajusshi, who says they've finally caught a lead on the killer, who showed up on the black-box camera of a delivery truck that happened to be parked at the hotel as the killer was leaving.
As Chul rushes to the station, we cut to the killer's dumpy apartment, where he's got his black hooded assassin outfit hanging up, and an old wedding photo on the wall. He's in the shower, but we can't see his face because of the foggy mirror.
Chul waits on pins and needles as Ajusshi cues up the black-box footage, and then he stops the video as a man in a hoodie skulks outside the hotel lobby. OMO, it's Dad!!
Cut to: The killer's apartment, where he slowly and creepily wipes his hand across the bathroom mirror, revealing his face. It's really really Dad.
Back in the real world, Su-bong stammers incoherently, while Dad confirms that he gave the killer his own face, because it's the only one that Kang Chul wouldn't question. He thinks back to the moment he stabbed Chul on the roof, and says that he's the only suspect Chul has laid eyes on.
Chul confirms that this is the man who stabbed him on the roof, though he wonders how the killer avoided all the other CCTV cameras and happened to be caught here. Do-yoon says they should just be grateful they found this camera, and Ajusshi says they should broadcast the killer's face on TV tonight.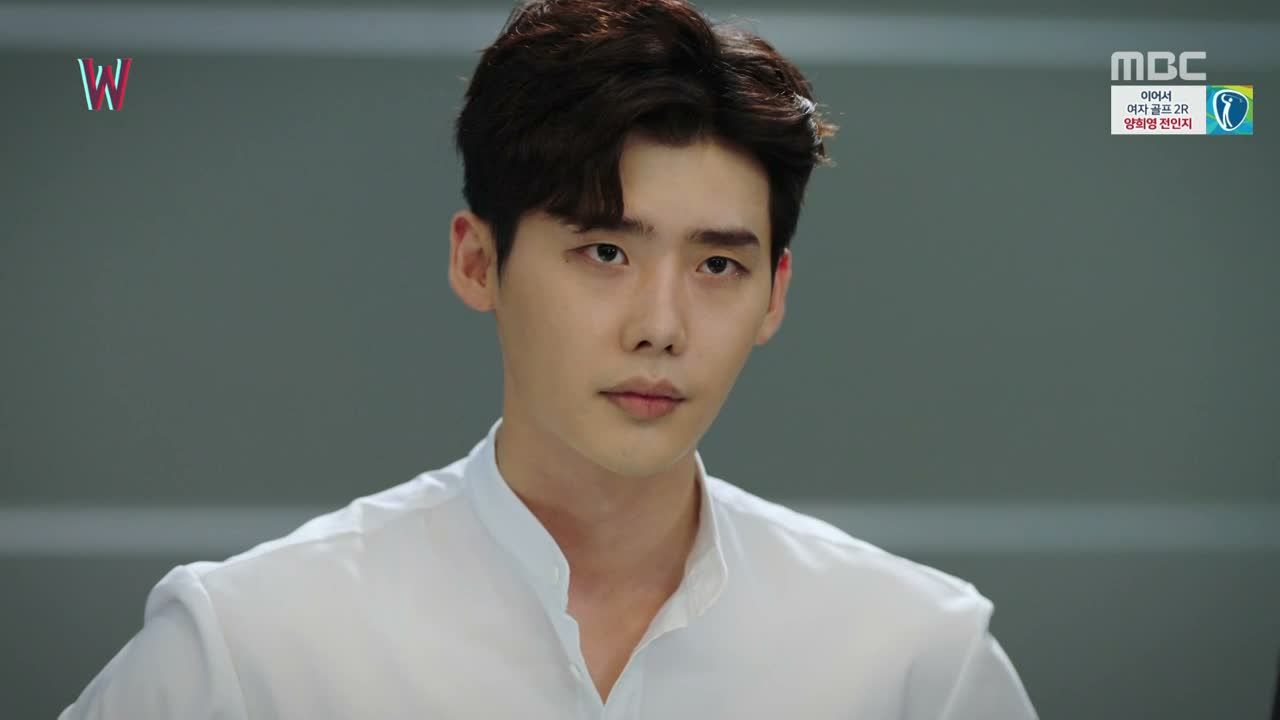 In Yeon-joo's world, Crazy Dog skips down the hall and bursts into her office to declare the return of Oh Sung-moo the Great. He says that W is back to its original glory, ever since the end of that ridiculous, childish, stupid loveline with Oh Yeon-joo. HA.
Crazy Dog gets all choked up as he talks about how it broke his heart to see W fall apart in recent months, but he says that Yeon-joo's father has finally seen the light and made everything right again by turning it into a dream.
He pumps his fists wildly in the air and says that Kang Chul can catch the killer and get together with So-hee, and Yeon-joo just smiles weakly. To rub salt in the wound, Crazy Dog does a little cheer on his way out: "Kang Chul likes Yoon So-hee and hates Oh Yeon-joo!"
He turns back to ask why the killer looks like Yeon-joo's dad, which is news to her. Crazy Dog decides that it's probably her father's Hitchcockian stamp to put himself in the manhwa, and nearly pees his pants having a fanboy squee about it, complete with W-shaped hand-sign.
Yeon-joo goes straight to her computer to read the webtoon, and calls Su-bong to ask about Dad. Su-bong tells her that Dad is planning to give W a happy ending over the course of four episodes, and the plan is to have the killer caught using Chul's crime show.
We see it play out as Su-bong describes how it'll go, with Killer-Dad's face broadcast on TV in Chul's world, and caught by the police soon after. They've decided that the killer's name is Han Sang-hoon, and he was Chul's father's teammate back in their sports shooting days. He has a complex about Chul's father and a lot of psychological issues, and the police find mountains of evidence in his apartment, from guns, to knives, to bloody clothes. Isn't this too easy? This isn't going to sit well with Kang Chul.
The detective lets Chul speak to the killer in person, and Killer-Dad says that he only intended to murder Chul's father, but he ended up killing the whole family just because they were there. He says he expected to be caught right away, and was so tired of waiting for Kang Chul to find him that he called him to the roof that night to stab him.
Chul's face twitches in rage, and he charges at Killer-Dad and throws him on the ground, punching him him over and over until Do-yoon runs in to stop them.
Su-bong says that isn't the end though, because Dad said that the killer would have to be killed inside the manhwa world to be gone for good. He knew that Kang Chul couldn't kill him, since revenge-murder isn't a happy ending, so Dad had decided that evil should kill evil.
Back in the manhwa world, Assemblyman Han has a conniption over the killer being caught, because he was so sure that Kang Chul was guilty all this time. Assemblyman Han was being groomed to become the next president, but because of losing against Kang Chul over this case, he's told to step down from the race and just accept defeat.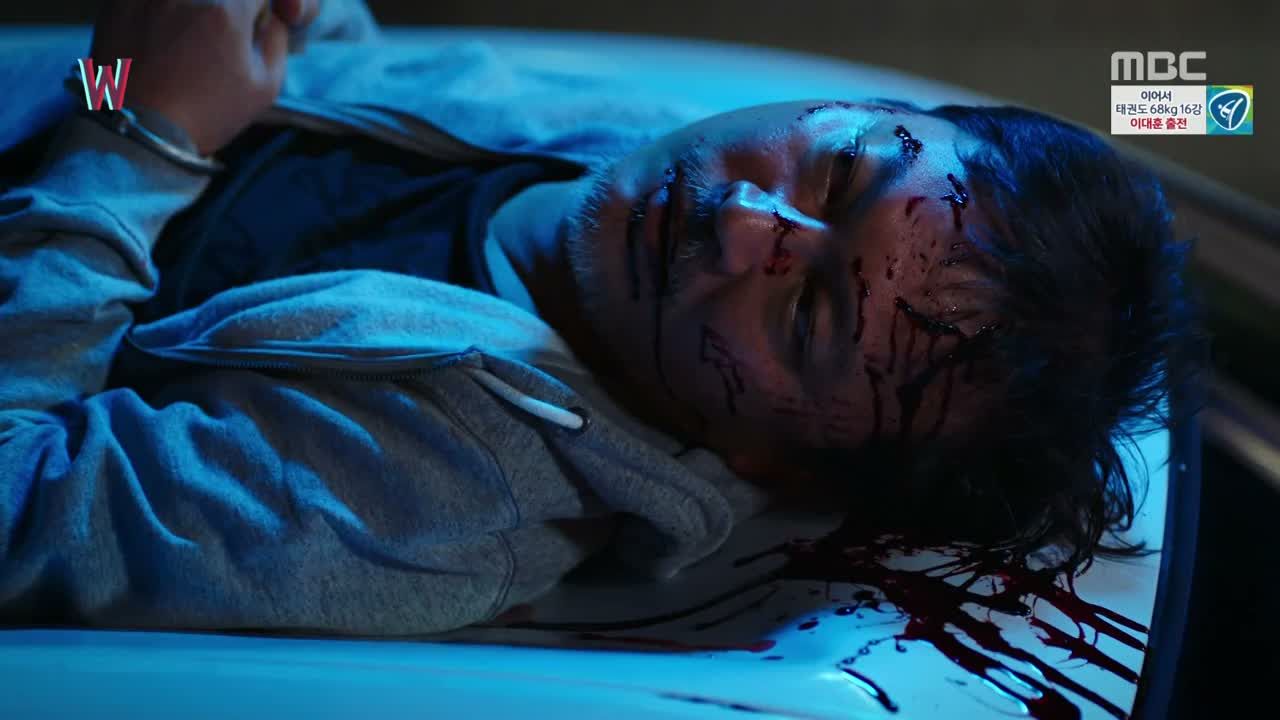 He won't, of course, and devises a plan to kill Killer-Dad by pushing him out of a police station window to make it look like a suicide. Killer-Dad meets his bloody end that way, and the detectives find a planted suicide note in his hand, claiming to have made a false confession under Kang Chul's coercion.
But all that scheming backfires on Assemblyman Han, because his henchman is caught by Chul's crime show crew, and he's named on national television as the mastermind. He's arrested and thrown in jail, giving everyone the ending they wanted.
Su-bong asks what Yeon-joo thinks of it, and she says that people will be happy. She hesitates and then asks how the very last scene will go, and Su-bong says gingerly that the loveline will have to be resolved. Yeon-joo asks if Chul is going to marry So-hee, and Su-bong says no, it won't go that far.
The planned ending plays out in Chul's world: With the killer dead and Assemblyman Han behind bars, the case is put to rest and Chul finds a letter on his desk from So-hee, congratulating him and telling him how happy she is, as his longtime friend who's been cheering him on.
Chul calls to find out where So-hee is and runs to her in the street. They meet in the middle of a crosswalk, just like a drama ending, and he reaches over to pet her on the head (noooo, that's his move for Yeon-joo!). They exchange sweet smiles, and Su-bong says that it'll end like that, with the general feeling that things will work out for them.
Yeon-joo listens quietly and finally lets out a long sigh, and Su-bong chides her for taking too long to answer because he thought she poofed away again. She admits to feeling empty, because no one in that world remembers her, and no one in her world knows what she went through. She regrets not having taken a single photograph, and tells Su-bong that she did something about it last night.
Yeon-joo flashes back to the night before, when she'd stopped in front of a bookstore window that was plastered with Kang Chul's face. She bought the issues of W that included her storyline, and at home she cut out all of the big moments in her love story with Chul, from the kisses to the big revelations, to the sweet everyday romance that they shared.
One by one she taped them to her window, and gazed at the only pictures she had to remember him by. Mom came in and nagged her for doing something so childish and told her to replace them with photos of a real boyfriend, and Yeon-joo cried quietly by herself.
Back in the present, she tamps down her emotions and goes to her bunk with a volume of W in hand. She stares at the cover—of Kang Chul bleeding on the rooftop—and talks to Chul as if he's there.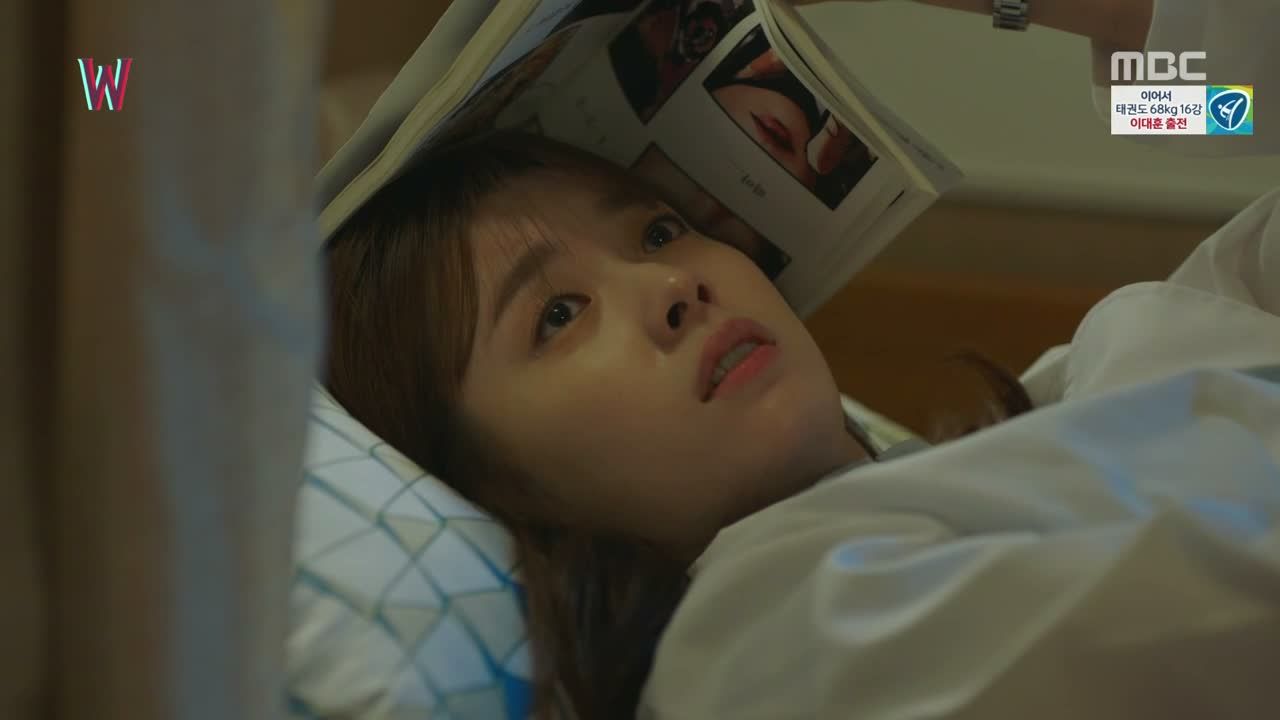 She asks how he's doing lately, and admits that she's not so great. The tears are just about to come when Seok-bum interrupts to ask about dinner, and Yeon-joo covers her face with the book like she wants to sleep, but under the pages, the tears trickle down her chin.
Suddenly the PA system calls all doctors on hand to deal with an emergency, and as Yeon-joo leaves her office, she doesn't seem to notice that all the signs say Hankook Sungjin Hospital—the one in the manhwa world.
She rides the elevator down with a group of doctors who say there was mass-shooting at a broadcast station, and she's shocked to see So-hee and Do-yoon running past her. Yeon-joo realizes she's back in Chul's world, and she stops in front of a TV, where a reporter says that there was a shooting on the stage of crime show W, and Kang Chul is among the victims. This is not the planned ending!
Yeon-joo runs into the emergency room, which is a madhouse of activity. She walks around in a daze looking for Kang Chul, when someone grabs her arm and whirls her around. It's Chul! Oh phew, he's fine.
Chul pulls her over to a woman who's been shot in the leg, but all Yeon-joo can do is stare at him numbly. He looks at the name on her lab coat and calls her Oh Yeon-joo, finally yelling just to snap her out of it so she'll treat the bleeding lady.
Yeon-joo checks the bullet wound and says she'll need surgery but she'll be okay, and Chul apologizes for yelling at her earlier. She asks if he isn't hurt, mentioning the news report, and he says they were mistaken.
He looks at the ring that she's now wearing on a chain around her neck, and says he remembers her. Yeon-joo's eyes widen at that, but he meant from the other day, when she ran into him while chasing her runaway ring.
She looks at him so longingly that he asks her why she keeps looking at him that way, and Yeon-joo sniffles back tears and says, "Because I don't know why I'm here." Chul is pulled away when So-hee runs over to tell him that Ajusshi has gone into surgery.
Su-bong comes back to the workshop with groceries, and knocks on Dad's door to call him to dinner. Dad is hunched over at his desk and doesn't respond at all. Crap, he's not… dead, is he?
Su-bong tries again, but this time a chyron appears above Dad along with a voiceover in No-Face's voice: "Is that Su-bong…?" Dad lifts his head, and AAACK—HE HAS NO FACE!
OH SHIT. That scared my pants off. Su-bong rubs his eyes thinking he's hallucinating, but Dad keeps speaking to him via chyron: "Su-bong, it's me. Su-bong-ah, my face is gone." Ohmygod, ohmygod. Su-bong falls over, screaming.
Dad's face looks like his eyes, nose, and mouth have been burned and scarred over, and it's not really helping that he's ambling over towards Su-bong like a zombie.
Su-bong screeaaams bloody murder, but it seems like it's really Dad, because he keeps asking for Su-bong to save him: "He took my face. Where is my face?" But Su-bong actually faints from fear before Dad can get another word in. Holy crap.
Suddenly Dad's tablet lights up, and this is so twisted—his own voice orders him to sit down at his desk.
Rewind to one hour ago: In the manhwa world, crime show W revealed the killer's face on national television, just like Dad and Su-bong had planned. But what followed was a deviation…
As soon as the show host described the killer's physical features, he went down with a gunshot to the forehead. More shots were fired and most of the crew was gunned down, including Ajusshi. Chul and Do-yoon were watching from the editing bay, and they watched in horror as Killer-Dad stepped onto the stage and took a microphone before calling out, "Kang Chul!"
Killer-Dad said he came to show Kang Chul his face, because he'd been waiting a long time and had no way to reveal himself before this. He stretched his arms out wide and said, "This is me! How do you like my face? I'm pleased with it." He cackled and suggested they meet often and shot the cameras one by one.
And then when he was ready to escape, a webtoon portal just rendered itself in his path, and Killer-Dad stepped right into it and vanished into thin air. Is that how he's been teleporting?
In the present, Yeon-joo sees her father's face on the killer laughing maniacally into the camera, and realizes that things are very, very wrong.

COMMENTS
Well that's going to give me nightmares for a week. This is the consequence of giving No-Face a face? He takes it from you? I really think that should've been in the fine print, because what in the hell is Dad going to do now, with the killer wearing his face and no means to draw himself out of this? (And it only occurred to me when I saw Dad that No-Face had to speak via chyron before because he had no mouth! And here I was thinking he was just being extra creepy.) Did the killer take Dad's face as revenge for his ten years of amorphous existence, or was this an inevitable consequence of Dad choosing to draw the killer in his image?
There's just something so dysfunctional about the creator-god making his creation in his image in order to kill it, only to have the creation steal his identity and take control. Is that Dad's fault for being a thoughtless writer and creating a monster? Or is it the monster's fault if he's become sentient? Also, so much for making him a normal human by giving him a face, because he's still teleporting and self-aware and rewriting the manhwa! And now we've handicapped the only hero who could stop him by re-rewriting the manhwa, because he forgot he had the power to do that! We are all in such deep water right now.
But what this story turn points to is the fact that Kang Chul can't be the proper hero without his free will. He thought that giving up his self-awareness and falling in line with his predetermined fate was the right way to continue being the hero of his story, but that's actually impossible if the villain of his world has free will. Because then the bad guy will rewrite the story however he pleases, and Chul will be useless against him if he doesn't know that he's a manhwa character who can manipulate his own reality. I don't know why the killer survived the reset with his self-awareness intact when Kang Chul didn't, but it certainly worked to make me feel completely defenseless and backed into a corner, I'll give them that.
On the upside, this is Yeon-joo's turn to be the hero, because right now she's the only one who can draw the manhwa differently, or get Chul to break the fourth wall again. Is it too late to undo the reset? Could she maybe give Kang Chul some superpowers to even the score with the teleporting face-thief? Ooh, maybe she's back to being invincible in the manhwa world if she's no longer a main character? I doubt it, but that would come in handy right about now.
And I love the angst that we're getting in their love story, but it's kind of killing me the way she gets yanked back in by his subconscious thoughts while he has no idea that he's torturing her with his pleasant-but-impersonal stares. I know, it's the emotional crux of their separation for her to carry that burden alone, but when I saw her taping up manhwa pages to serve as the only mementos she had of their relationship, I wanted her to go back to the manhwa world and put everything back the way it was, even if meant the total destruction of everything. Maybe we're just supposed to burn that world to the ground and save your love, huh? Did you ever think of that?

RELATED POSTS
Tags: Episode 9, featured, Han Hyo-joo, Kim Eui-sung, Lee Jong-seok, Lee Shi-un, W–Two Worlds