W–Two Worlds: Episode 13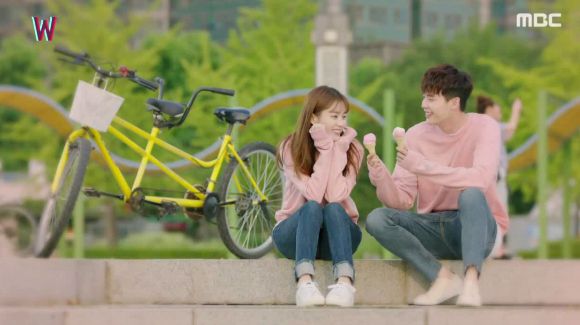 I hope you were really in the mood to have your heart served to you on a platter today, because that's pretty much the only thing on the menu. You can order it bloody, filleted, or burnt to a crisp. Because who needs a heart anyway? It just gets in the way of things, like plotting the total destruction of all your enemies with mind-bullets. For starters.

EPISODE 13 RECAP
So it looks like the manhwa world is no longer frozen, even when Kang Chul is outside of it. As Assemblyman Han mulls over his new problem—namely New-Face Killer getting caught by the police—we go back a few days to Kang Chul reading the latest episode of the webtoon out in the real world. Chul saw that the two villains had made contact, and realized he could make something of this. Now we're talkin'.
The lead prosecutor dealing with Corpse Kang Chul called Assemblyman Han with the news that even in death, Kang Chul was coming after Assemblyman Han: He left a dying letter behind, in which he told the authorities to look into the assemblyman's phone records.
In the letter to Do-yoon, Chul listed all the things that didn't make sense, like a murder without context, a mass shooting without motive, a fabricated audio recording. He wrote that he was dying in vain without context, and asked Do-yoon to look into a recent call between New-Face and Assemblyman Han.
Chul wrote for Do-yoon to find the connection between those two men and shed a light on the truth, because he was falsely accused. Assemblyman Han was rattled as he read a copy of the letter, which the prosecutor told him would have to be admitted into evidence despite its ridiculous claims. In the present, Assemblyman Han erases the incriminating audio recording he made of his call with New-Face.
Yeon-joo wondered if Assemblyman Han would kill New-Face over something like that, and Chul said that was how the character was written by her father—a simple-minded, typical villain—and he'd react accordingly, unless a new variable came into play. Well, now you've gone and jinxed it.
In the present, New-Face fumes impotently in the police interrogation room, and demands to speak to Assemblyman Han. He threatens to spill everything if anyone tries to kill him in here, and tells them to start looking for Kang Chul, because he's not dead.
The message reaches the top brass in Assemblyman Han's political party instantly, though he quickly denies any association with the killer. But Assemblyman Han knows he's trapped now, because New-Face wasn't just some random crazy guy. He wonders if he should get rid of New-Face, and calls an old acquaintance on the phone. An assassin, perhaps?
The image morphs into a drawing on Yeon-joo's computer screen as she reads the latest episode of the webtoon, and she smiles to see that Assemblyman Han is doing exactly as they'd hoped.
Yeon-joo calls Su-bong, who says with a broad smile that the story is all going according to plan. She wants him to check on Dad, and even though he just checked on him ten minutes ago, Su-bong complies and pokes his head in (with a hand over his eyes, ha). Still no face, and Su-bong winces to have to see it again.
Yeon-joo wonders where Chul is, but he calls her first because he's near the hospital to pick her up after work. She beams and primps in the mirror before running out to meet him.
As Yeon-joo walks down the street, she narrates that hope has made her imagine again, and we see her fantasy version of a happy ending play out: Dad miraculously regains his face, and the true ending of W begins, with Assemblyman Han hiring gangsters to kill New-Face in prison.
Then Do-yoon makes all of Assemblyman Han's misdeeds public and he's prosecuted for his crimes. The people regret not having faith in Kang Chul, and though he remains dead in the manhwa world, his honor is restored and people grieve him, and his is no longer at risk of disappearing because he's a hero.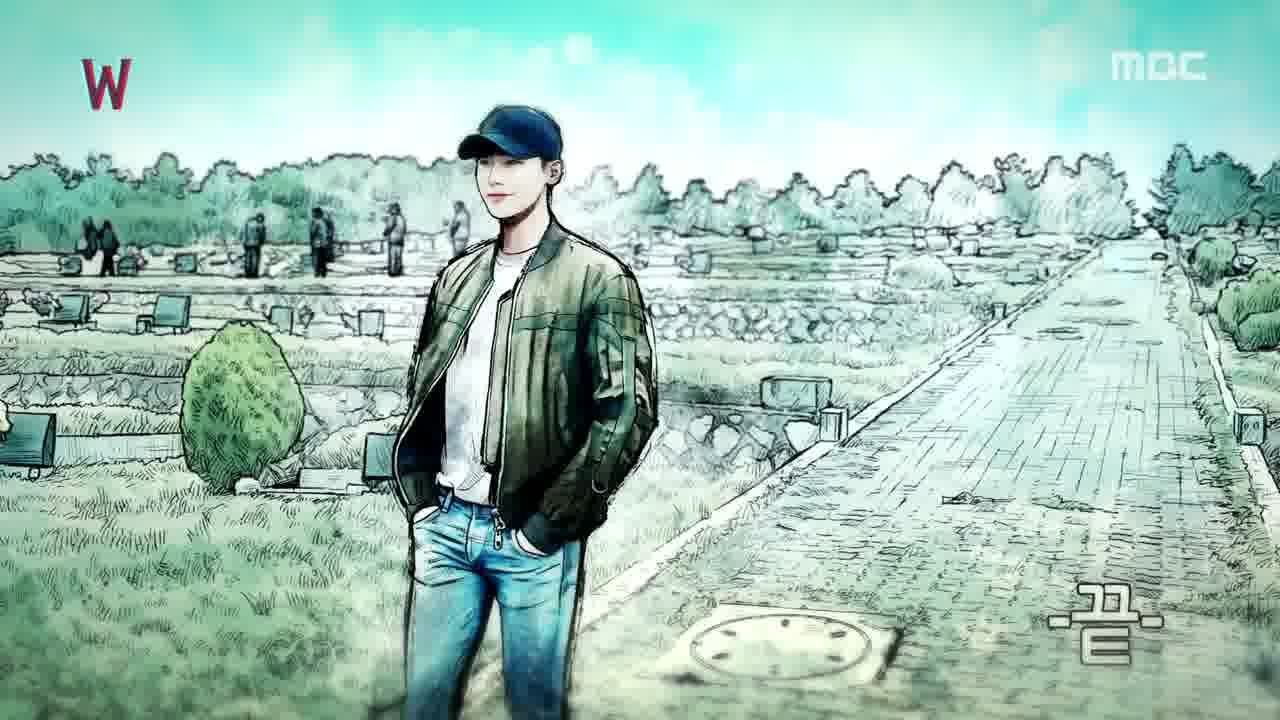 Chul walks away from his own grave with a smile on his face, and that becomes the final frame of the manhwa. Yeon-joo narrates that Kang Chul then returns to her, and W concludes with a happy ending.
Kang Chul is no longer the protagonist of a manhwa, and no longer bound by the predetermined settings or the fate that comes along with that: "He is just a special person who comes and goes between two worlds."
Yeon-joo meets Chul outside Dad's house, and they brace themselves for the big introduction. She leads Chul inside to the kitchen, where Dad lifts his head and just gapes with his mouth full of food.
They smile at Dad awkwardly, and she tries to explain that Chul is going to live in their world now. Dad looks extra annoyed when Chul asks to join them for dinner, and when Su-bong fawns over Kang hyung and sits him down, Dad takes it out on Su-bong and yells at him for chewing too loudly. (I love that Dad is this grouchy, even in Yeon-joo's fantasy.)
Yeon-joo narrates that there's no way that Dad would just accept Kang Chul, but she says that someday, he'd eventually understand. Dad drives himself crazy trying to wrap his head around it: "He's a person. A person. I didn't draw him…" But everywhere he looks, the manhwa is there as a reminder of the opposite.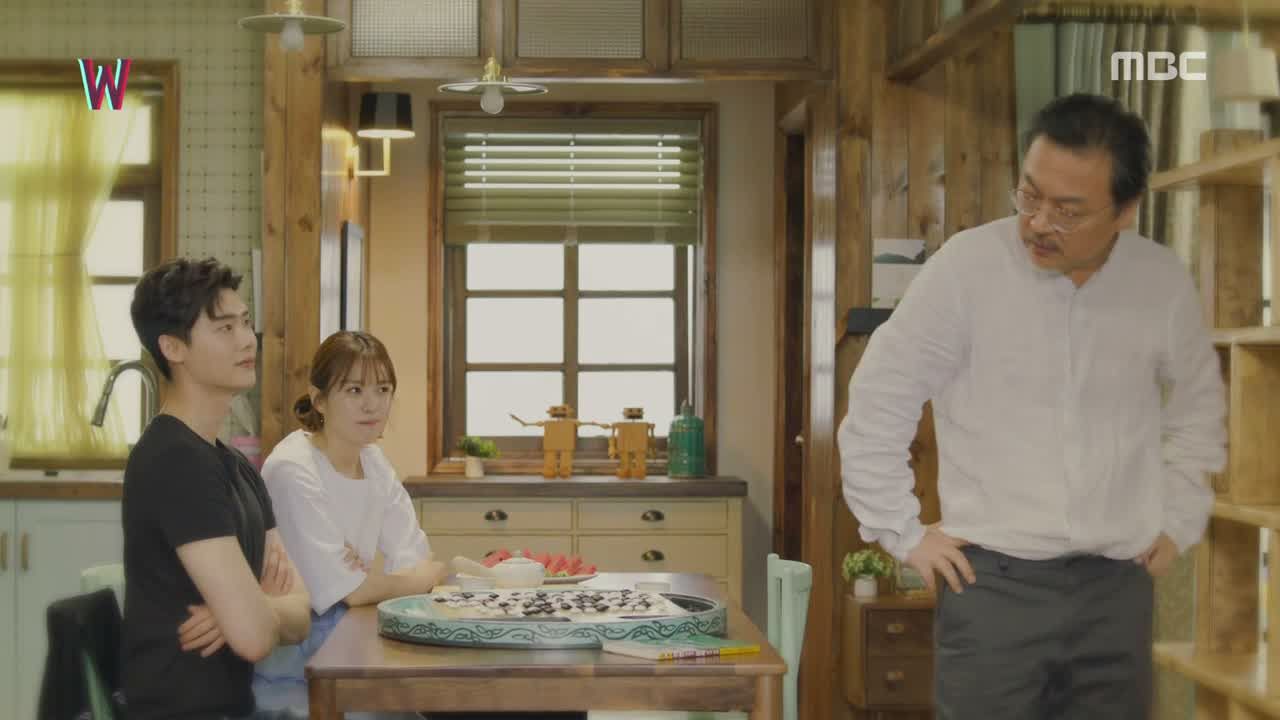 Still, Chul wears Dad down in his own way, by suggesting a game of baduk (with the world's most awkward smile, which only skeeves Dad out more). Of course it backfires when Chul beats him at the game, and Yeon-joo cringes at Chul behind Dad's back. You didn't let him win?
Chul manages to woo Dad into another game, and Yeon-joo narrates that time and patience would slowly take care of things.
Then she introduces Chul to Mom and Aunt, and though Mom is cold and standoffish, Aunt fawns over Kang Chul's looks, squealing that he looks like he could be a manhwa character. Yeon-joo narrates that Mom will be hard to win over, but Aunt will help her out because she's all about handsome men.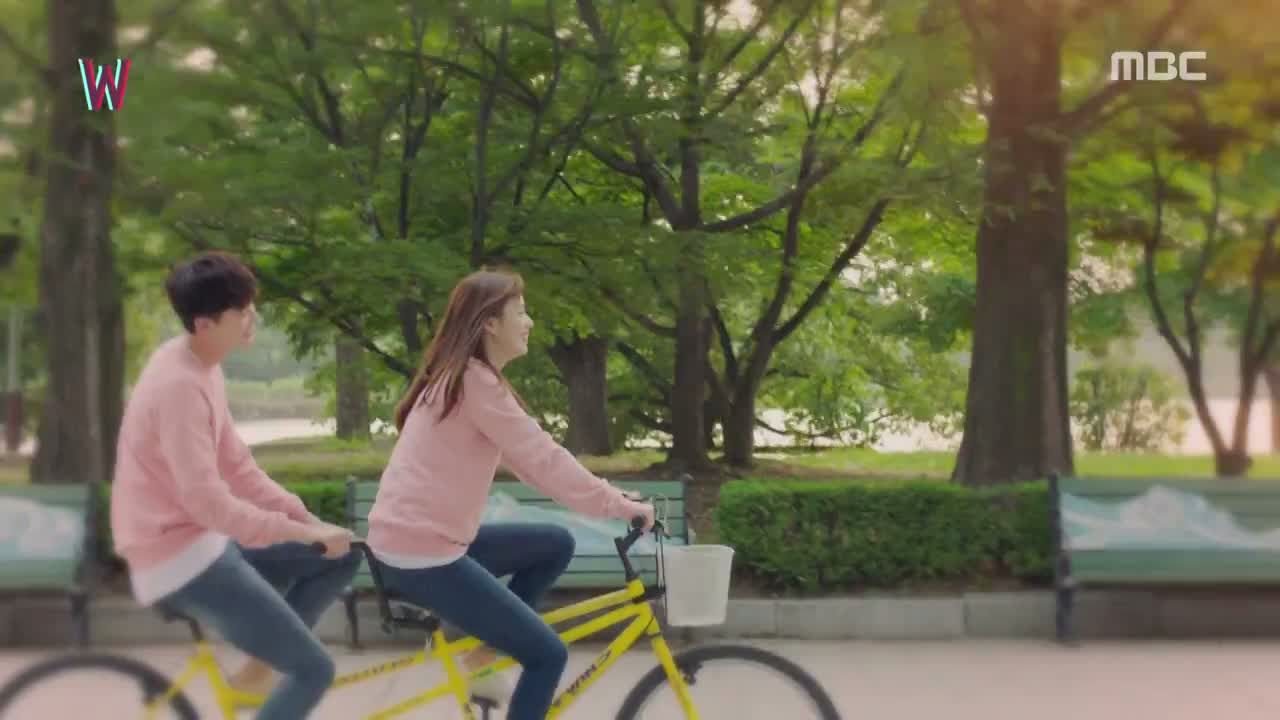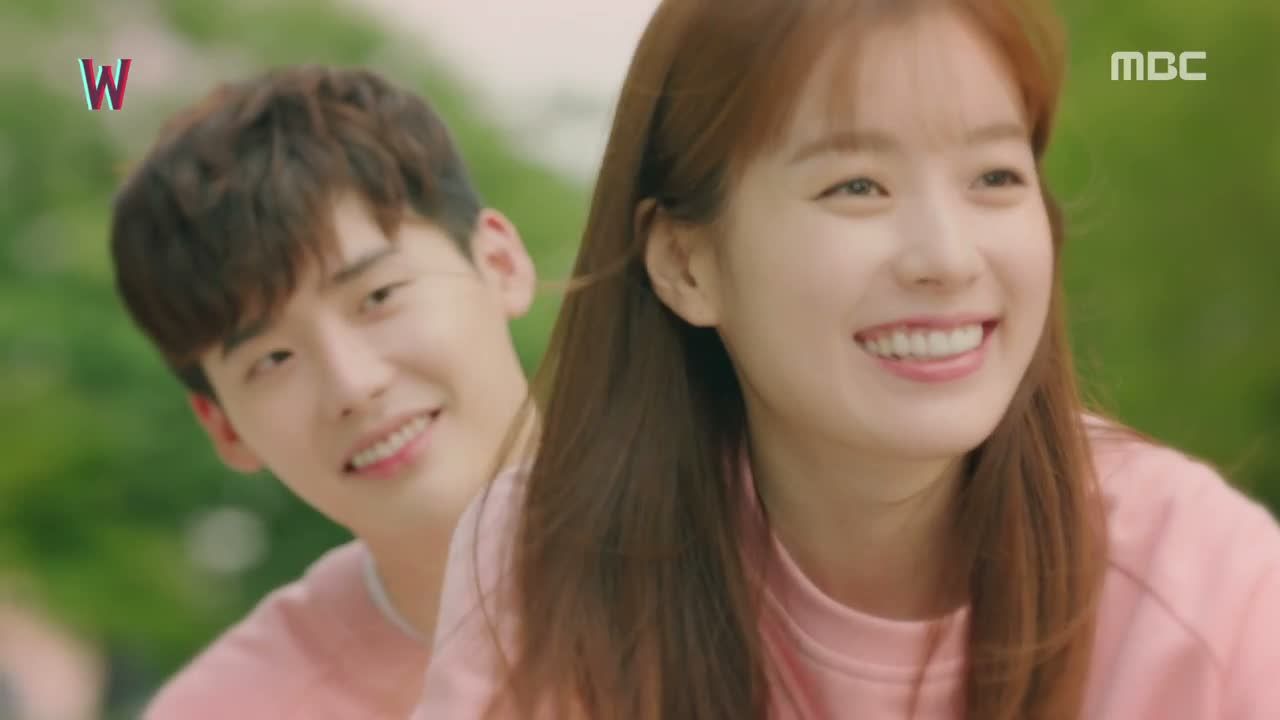 They get to enjoy their sweet, everyday romance on leisurely street dates (where Kang Chul uses his Olympian sharpshooter skills at the arcade, lol), and bicycle rides along the river in matching couple outfits. Kang Chul brings her ice cream and they snuggle as they watch the sunset blissfully.
Crap. That was WAY too good to ever come true. What the hell are we going to do now?!
Back in real life, Yeon-joo arrives to meet Chul for coffee and says she was planning to buy. He argues that he should at least pay for coffee since his wife is currently supporting both of them, and says he might not have money, but he has a conscience.
He's planning to take a trip to the manhwa world, which worries Yeon-joo. He says he's curious about how things are going, plus he needs to meet with Do-yoon and take care of his assets, which he's planning to turn into a foundation devoted to criminal investigation.
Chul says it's not like he can bring his money here, and when Yeon-joo just nods unenthusiastically, he asks if she has regrets about the money, and teases her for marrying him for his bank account.
He hands her a notebook of the last few things Yeon-joo needs to draw for him, after which he says her work will be done. Among them is an audio recording that they'll plant in Assemblyman Han's office, to ensure that he gets sent to prison. Chul thinks that Dad's face will return tonight, as long as there are no new variables. Yeah, but when has there ever NOT been a new variable?
They're interrupted when Professor Crazy Dog sees Yeon-joo across the coffee shop and stomps over to declare the big news that as of today, he has gone from W fan to anti-fan. With fists flailing in the air, Crazy Dog wails about the return of poopyhead Oh Yeon-joo in the manhwa, and Kang Chul glances over at Yeon-joo as if to say, I know you said Crazy Dog, but this guy is CRAZY.
Crazy Dog rants that he's figured it out: "The only person stupider than Oh Yeon-joo is Kang Chul, and the only person stupider than him is ME, who keeps reading this stupid manhwa!" Hahaha.
He declares with vigor that he has thus abandoned W, because it is no longer a work of art, but a piece of garbage. Crazy Dog tells Yeon-joo to go ahead and tell her father every word, and says proudly that he's not planning to be one of those anonymous, lily-livered antis—no, he's going to leave a hundred comments, all under the username Professor Park.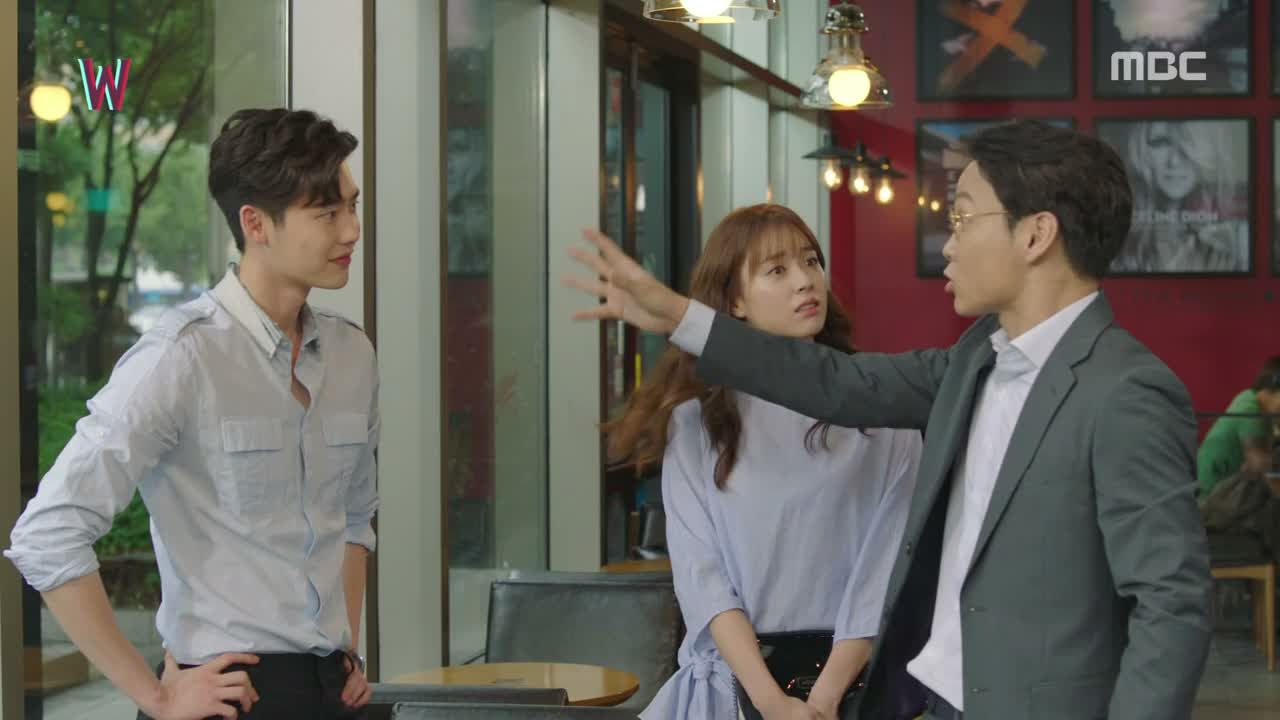 Kang Chul finally turns to him and asks if it's really that bad, because Oh Yeon-joo seems okay to him. Crazy Dog says he doesn't know anyone named Oh Yeon-joo, real or drawn, whom he'd consider an acceptable woman. He says that this Oh Yeon-joo standing next to them is particularly bad, because she's the whole crazy-poopy combo.
Yeon-joo tries to drag Crazy Dog away with the promise of coffee before this conversation gets any worse, but then he suddenly turns back to take a good look at Yeon-joo's "friend," and asks if they've met before because he looks so familiar. Uh-oh.
Chul beats him to the punch and says that he often gets told that he looks like Kang Chul from the manhwa, and Crazy Dog flips out, saying that the resemblance is uncanny. Crazy Dog suggests that he play Kang Chul in the movie adaptation and asks what he does for a living.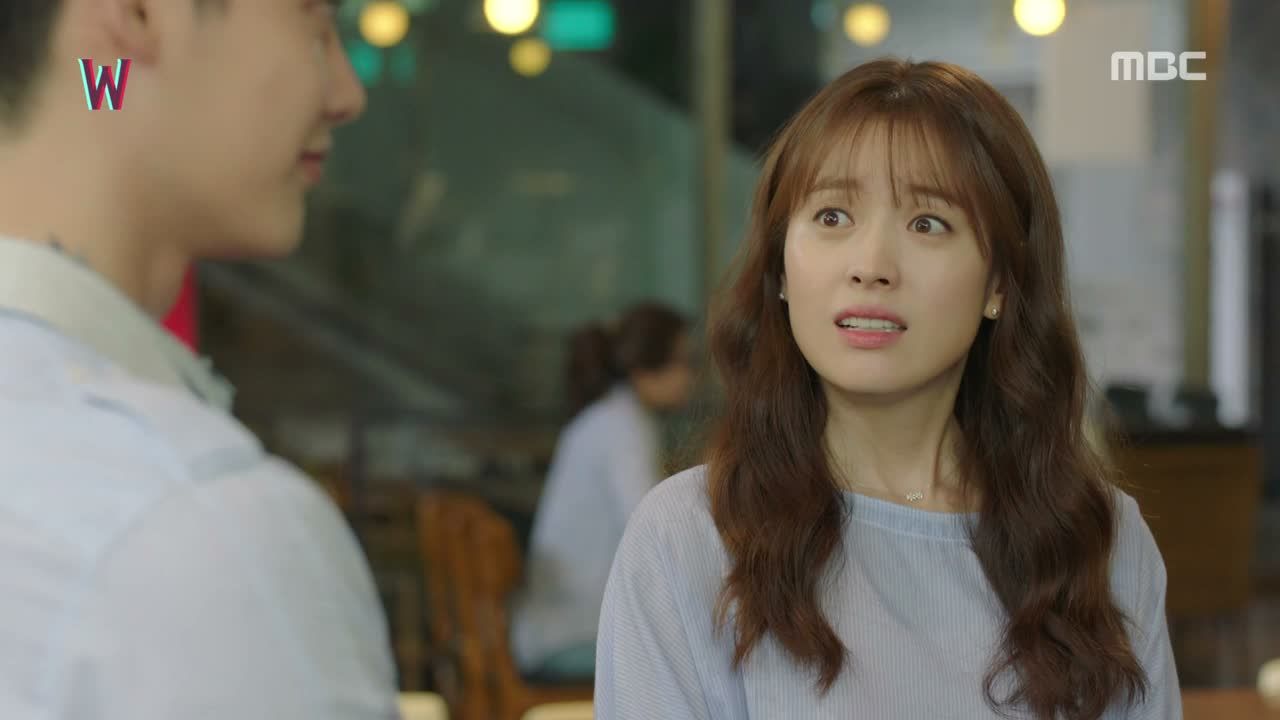 Chul hands him a business card… from the manhwa… and then laughs it off like it's a prank because so many people tell him that he looks like Kang Chul. Thankfully Crazy Dog finds this amusing, and he's so taken with Chul that Yeon-joo has to pry them apart. She flashes Chul a WTF-face, and he just winks at her.
As Yeon-joo sees Chul off, she tells him to be careful. She makes sure that he's not going to do anything dangerous on this trip, and he reminds her that he can come and go freely between the two worlds now. She promises to head to the workshop and draw him the things he asked for, and he pets her on the head sweetly before driving off.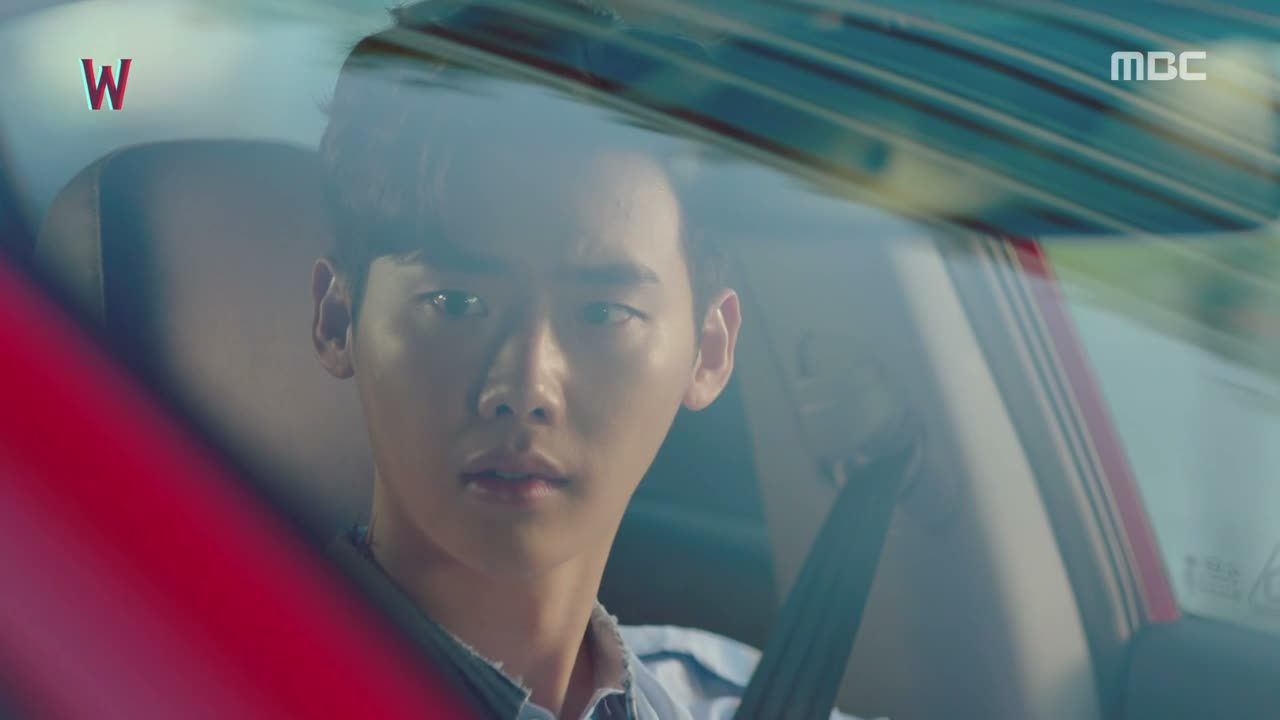 Chul drives to the real-world counterpart of the manhwa hotel he lives in, but when he pulls into the driveway, he sees So-hee standing outside on the curb. What the…? She sees him too, and their eyes meet for a brief second.
He keeps driving past her, and they both look utterly shocked. He glances in his rearview mirror and sees her still standing there, so he gets out of the car. But then she's gone. What, is he in the manhwa world or not?
Kang Chul is thrown and he calls Yeon-joo to confirm that he's still in the real world. She asks how they'd be talking if he were in the manhwa right now, and he wonders what that was, with So-hee. She asks what's going on, but he says he doesn't know and hangs up for now.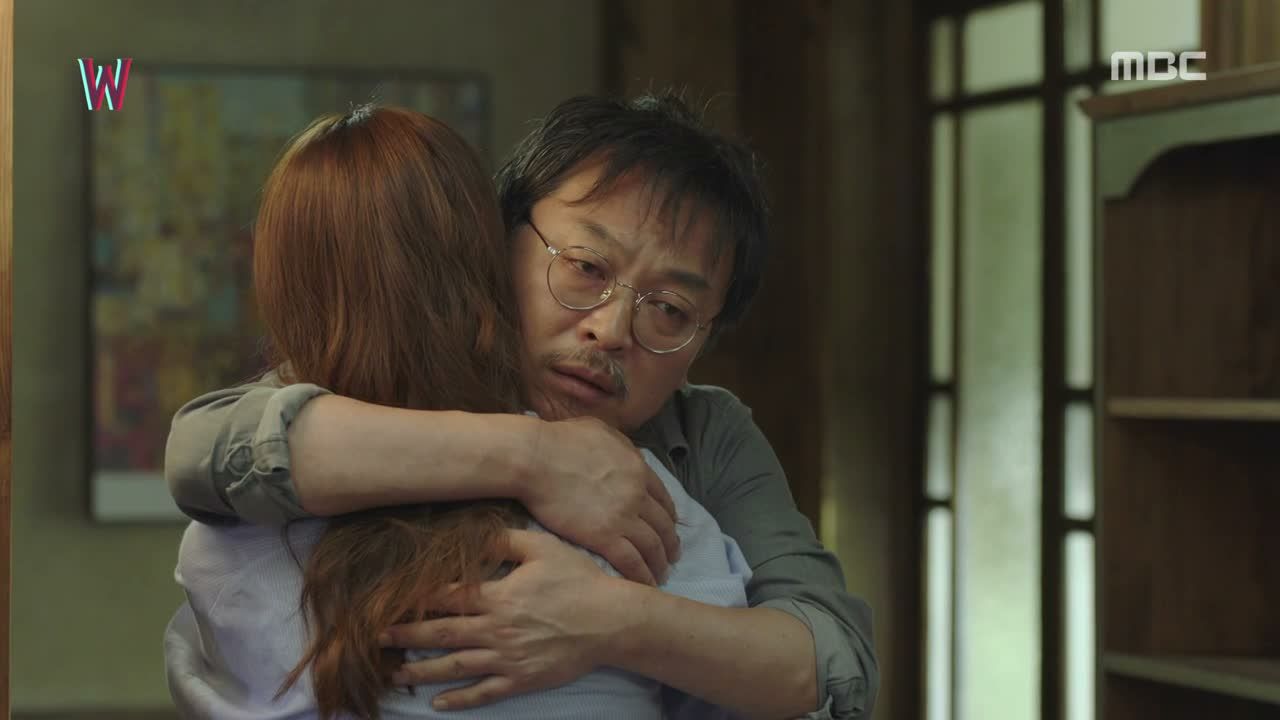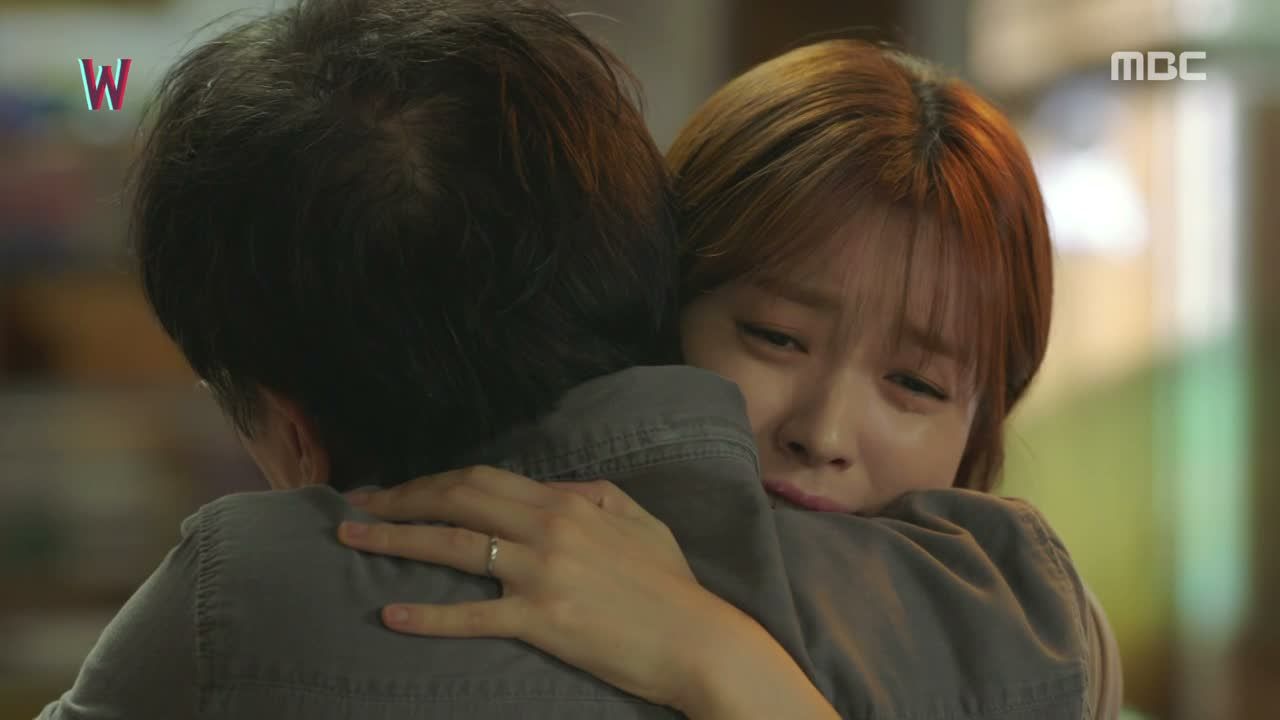 Yeon-joo returns to Dad's workshop and checks on him, and gasps to find her bedroom door unlocked. Aack! Dad is gone, and she calls Su-bong, who swears he locked the door last time. She says she'll start searching, when suddenly Dad calls out to her as he comes out of his office.
He… has his face? Dad looks normal again, and Yeon-joo greets him with a tearful hug. Oh no, something is very, very wrong.
Meanwhile in the manhwa world, Chul waits up in the penthouse for Do-yoon to arrive, and he instructs Do-yoon to keep this suite so that he has a place to stay whenever he comes back here. Do-yoon asks where he came from, and Chul points upward and says, "From another star?" Ha.
Do-yoon complains about the jokes and says he had to hold Chul's funeral yesterday, and grouses at having to handle more paperwork as Chul signs over all his assets and leaves him in charge of the foundation. Chul says that Do-yoon is the only person he trusts, but he's welcome to hire someone else if he wants to retire.
Chul stops cold when Do-yoon asks if he saw So-hee today, and Do-yoon recounts what So-hee told him just downstairs in the lobby. Do-yoon told her that she must be mistaken, but So-hee said she saw Kang Chul drive up, and then the car just disappeared. She said that it was suddenly midday when she saw him, and then it was night again when he was gone.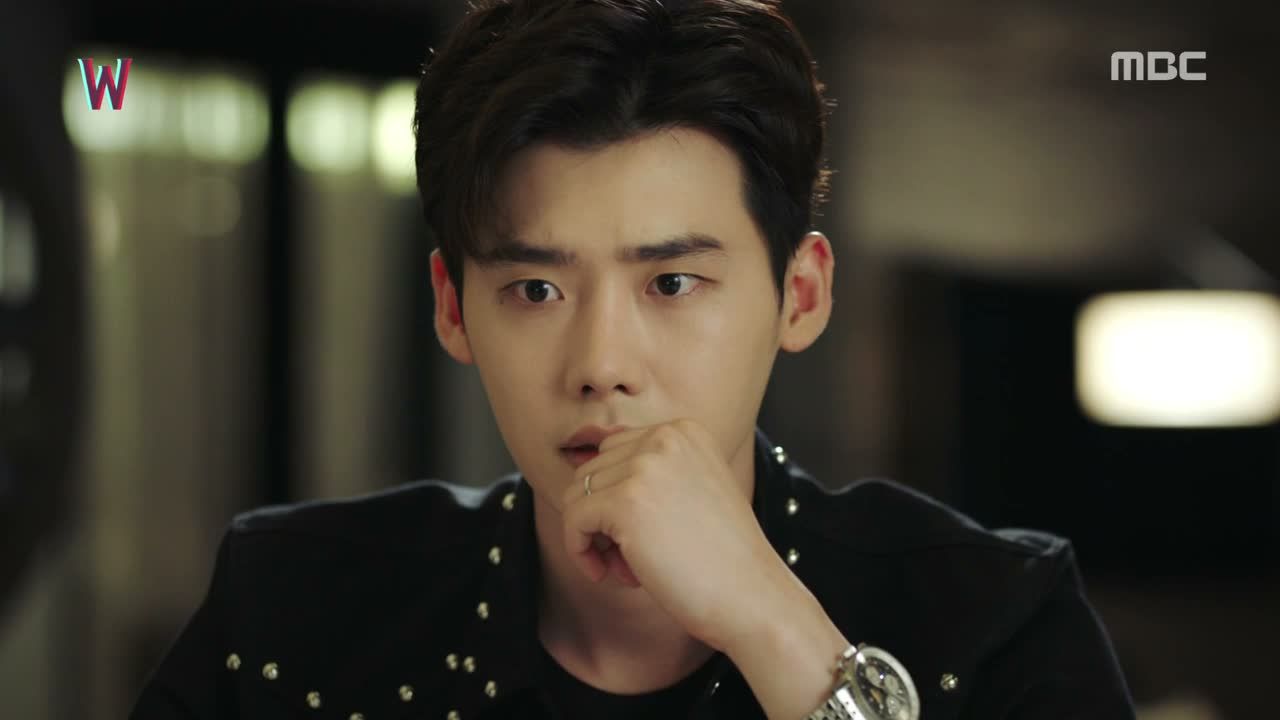 Chul wonders to himself what this new variable is, and then realizes that as he was pulling up to the hotel, seeing the building made him think of So-hee. At the same time, So-hee happened to be stepping out of the hotel in the manhwa world, and as she went through the revolving door, night turned into day, and she was summoned into the real world.
A new realization settles in and Chul thinks in voiceover, "I am the main character, and I am living in the real world. Therefore, Hypothesis Three: If I think of a main character, a person from the manhwa can be summoned in reverse… into the real world?" He immediately recognizes the problem with this, and wonders aloud, "Is it possible… that I've summoned someone without knowing it?" Shitshitshitshit.
Back in the real world, Yeon-joo helps Dad into the kitchen. Aaaah, get away from him! He's (possibly, probably, almost certainly) NOT YOUR FATHER!
She suggests going to the hospital just to make sure that Dad is really okay, and when he asks what's happened, she tells him that Kang Chul is living in their world now, and everything in the manhwa is going according to plan, to have Assemblyman Han kill New-Face so that Dad could get his face back.
Dad doesn't remember anything from the last few days, and Yeon-joo tells him to get some rest first. He asks where Kang Chul is now, and she says that he went to the manhwa world to take care of a few things, and make sure that New-Face was dead. She remembers to call Su-bong and grabs her phone to call with the good news, saying that this whole business with Dad has given him a heart condition. Poor buddy.
But then suddenly Dad's voice changes as he notes with disappointment that Kang Chul isn't here. Eeeeeek. The color actually drains out of the shot as Yeon-joo slowly turns around… and New-Face drops the nice Dad act and says he was hoping to kill two birds with one stone here.
Yeon-joo still isn't sure what's going on and asks hesitantly, "Dad?" But New-Face pulls off Dad's glasses and mocks, "Dad? Why am I your dad?" Yeon-joo realizes who it is and staggers backwards, terrified.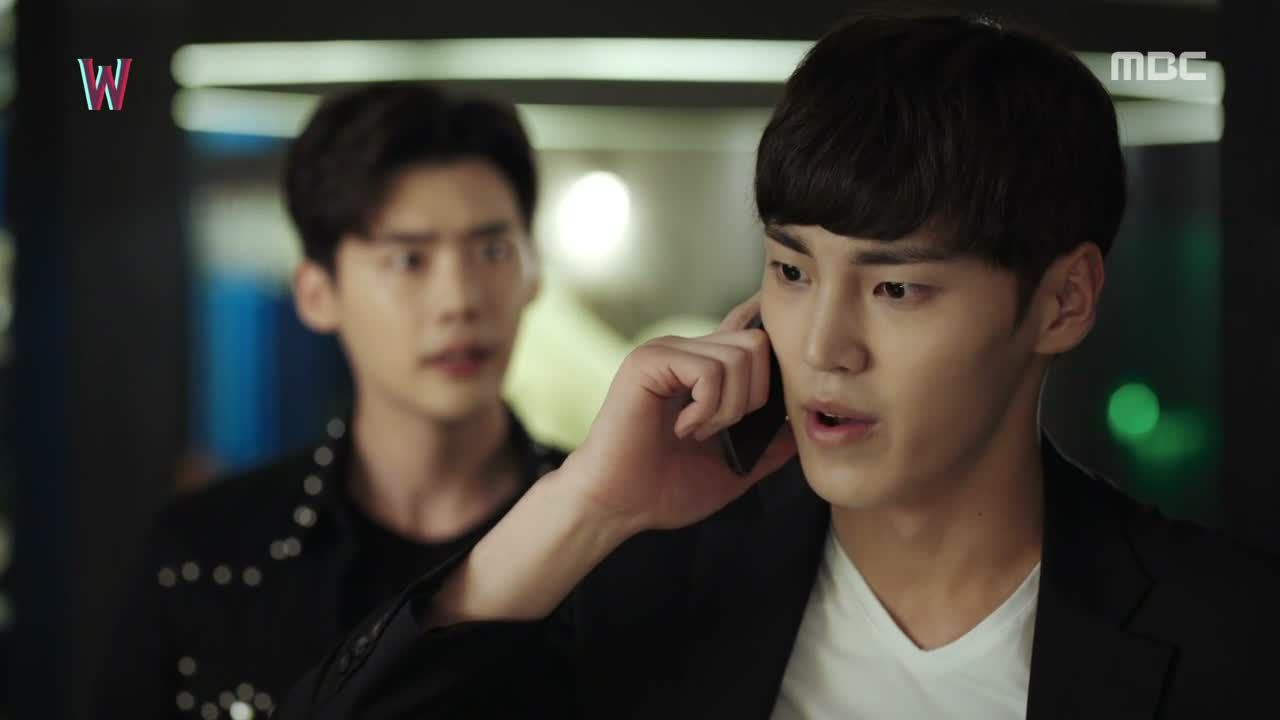 Chul gets a terrible feeling and runs out to Do-yoon, who's at that very moment getting a call from the detective about New-Face. Chul asks if he died, but Do-yoon says incredulously that he escaped.
Flashback to New-Face's interrogation: He was screaming and clamoring for Assemblyman Han, saying that he needed protection because someone was going to try and kill him in there. The detective got tired of the ranting and went to go shut him up, when suddenly New-Face vanished into thin air.
He reappeared outside the police station in the real world, laughing maniacally at this stroke of luck. He waited in the back of a police car for someone to get in, and strangled an officer to death in order to make his getaway.
Su-bong left the workshop to go consult a doctor about his heart problems, which is when New-Face arrived outside in a policeman's uniform. He went straight for Dad's tablet and turned the power on, and immediately Dad sat up in bed, like a siren call.
New-Face found the locked room and kicked the door open, and ordered Dad to come out now. Poor zombie faceless Dad just followed on command, and soon after, New-Face was wearing Dad's clothes and smiling at his reflection in the mirror. So. Creepy.
Back in the present, New-Face drops the act and says in a chilling voice, "It's been a long time, Oh Yeon-joo." He takes out a gun and waves it at her wildly, declaring that she was the problem all along—if it weren't for her meddling, Kang Chul would be dead and this manhwa would've ended ages ago, instead of dragging on senselessly.
He scratches his temple with the butt of his gun and says that he's read all the recent episodes, and knows how Kang Chul is getting in and out of the manhwa now. He says it's not really that hard if you just realize the concept, and figures that he could do it too. He yanks Yeon-joo's head back to look up at him, and asks, "Shall we go together? To find your husband?"
Chul runs out of the penthouse in a panic without explanation, and Do-yoon chases after him, catching the elevator just before the doors close. But Chul has already summoned himself back to the real world, and Do-yoon stands there staring at the empty elevator in shock.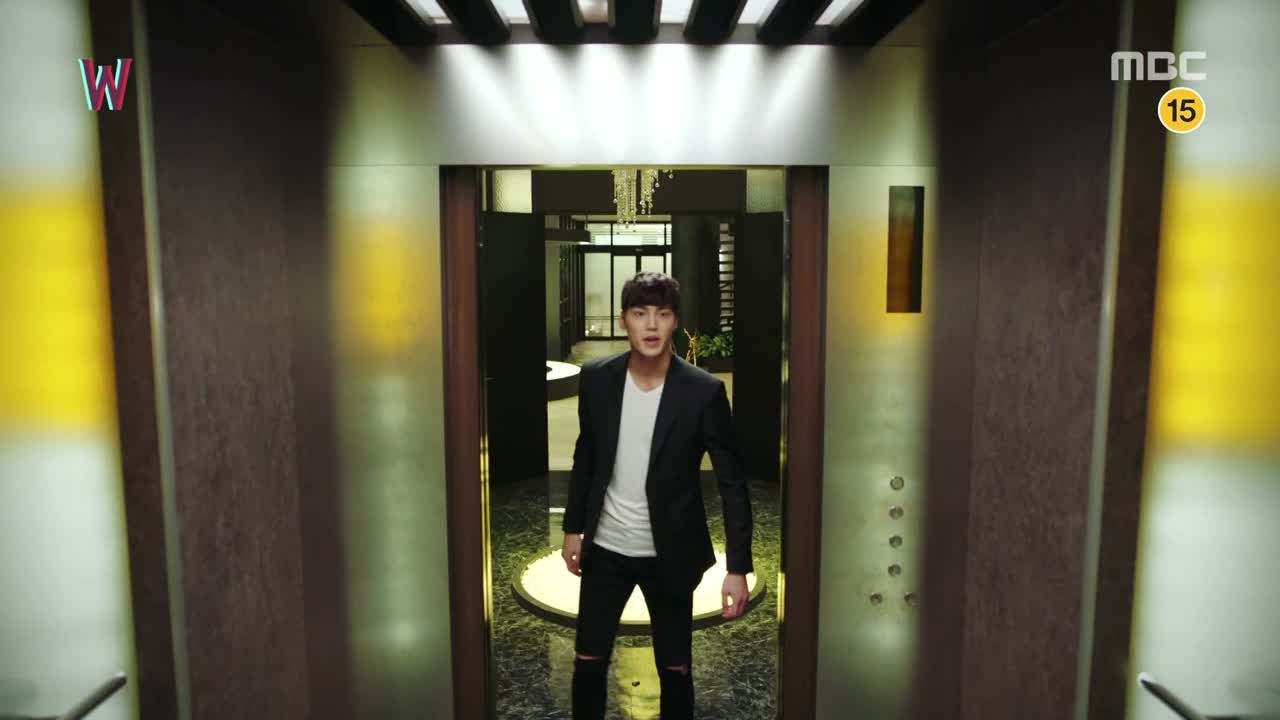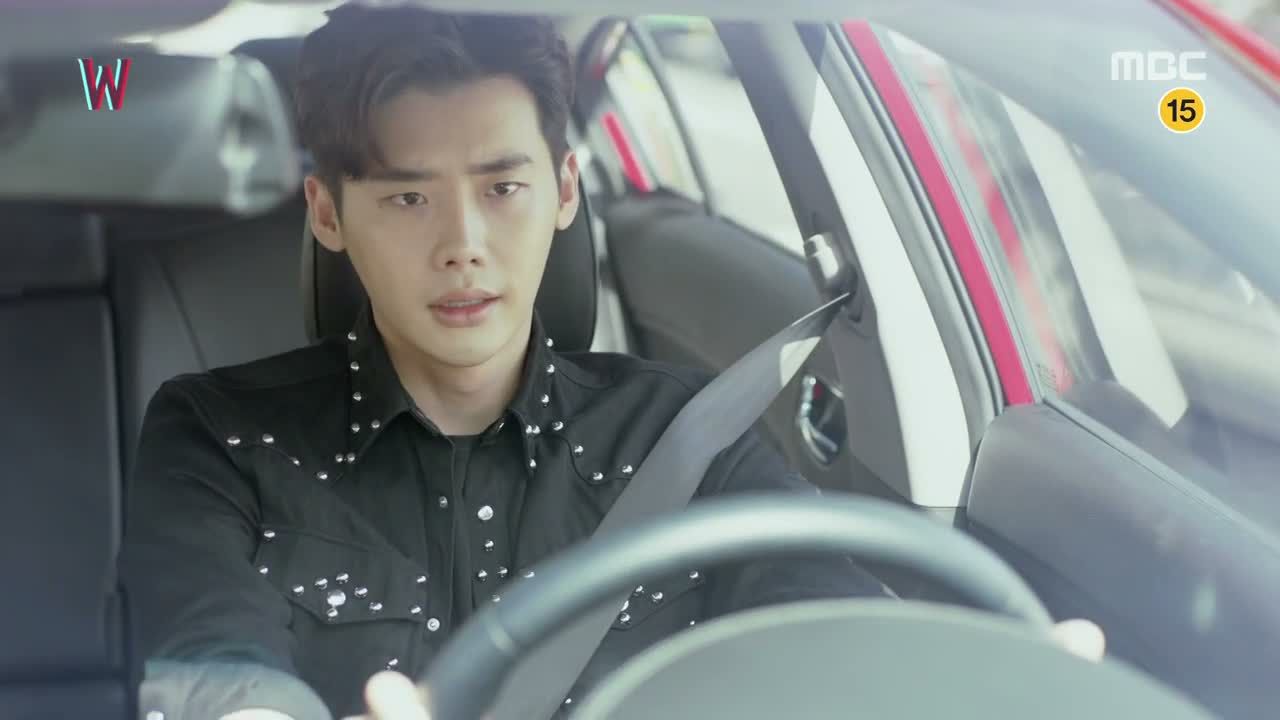 Back in the real world, Chul calls Yeon-joo repeatedly while he drives, but there's no answer. Dad is seated at his tablet, and at New-Face's command, he draws a car and a cell phone, which appear in the manhwa.
Meanwhile, Assemblyman Han gets the call from his henchmen, who report that the killer escaped prison before they could get to him. He seethes, but then New-Face calls to yell at him for the attempted hit.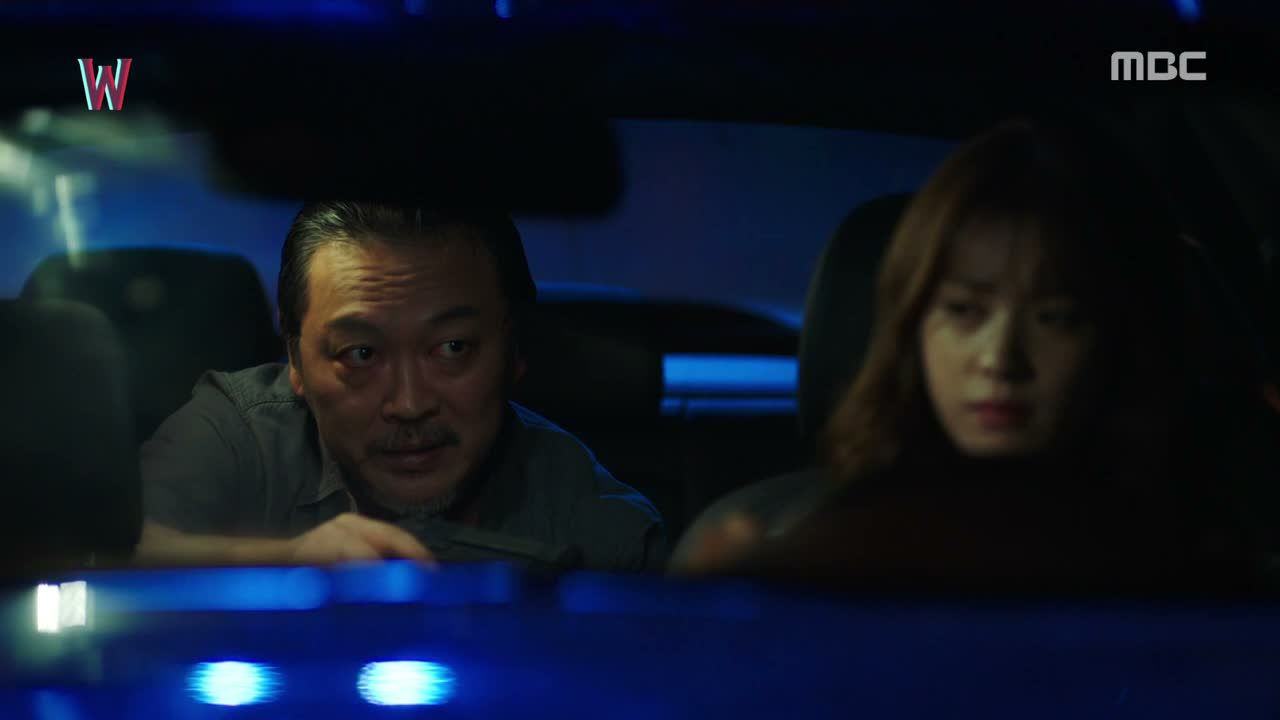 New-Face tells Assemblyman Han that they're on the same side now, and that Kang Chul is still alive. New-Face demands a hideout to use if Assemblyman Han wants to catch Kang Chul, and then tells Yeon-joo to drive there.
New-Face tells Dad up in the real world to do one more thing: Destroy the tablet, because they won't be needing it anymore. Noooo! But with no one to stop him, Dad takes a sledgehammer to the tablet over and over, until it's in pieces.
Su-bong returns from the hospital and nearly has another heart attack when Kang Chul skids to stop in front of him and gets out of the car holding a gun. Chul warns him to stay out here because it might be dangerous, and runs inside.
Yeon-joo's purse and phone are lying there in the middle of the room, and her bedroom is empty. Chul makes his way into Dad's office and trains the gun on him. But Dad is just sitting there helplessly at his desk, the tablet already beaten to smithereens.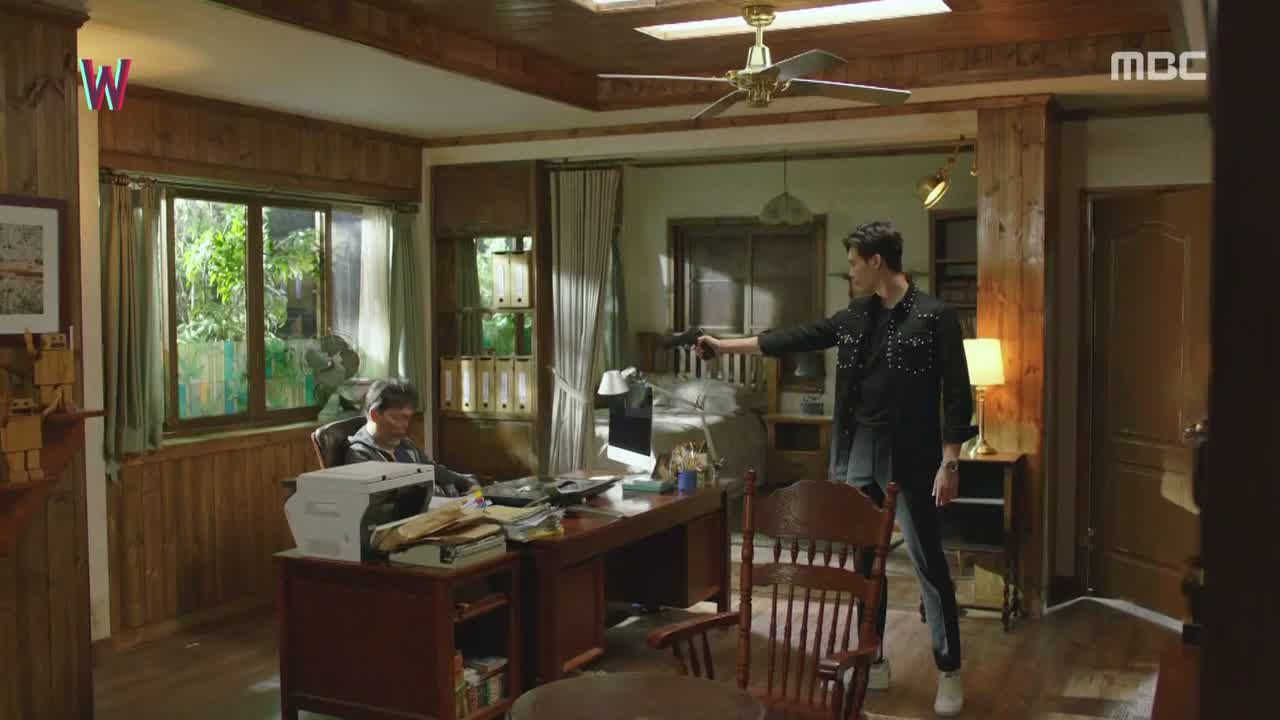 Chul runs back out and tells Su-bong to go elsewhere, and that New-Face has kidnapped Yeon-joo. That's all he says before driving off, leaving Su-bong screaming after him, at first calling him hyung, and then "Kang Chul-ah!" Ha.
Chul doesn't waste time trying to stay hidden and summons himself right into Assemblyman Han's office, as the assemblyman is ordering his henchmen to watch New-Face but not kill him yet. He's understandably startled to see Chul back from the dead, but Chul wastes no time and just attacks him and sticks a gun in his face, demanding New-Face's location.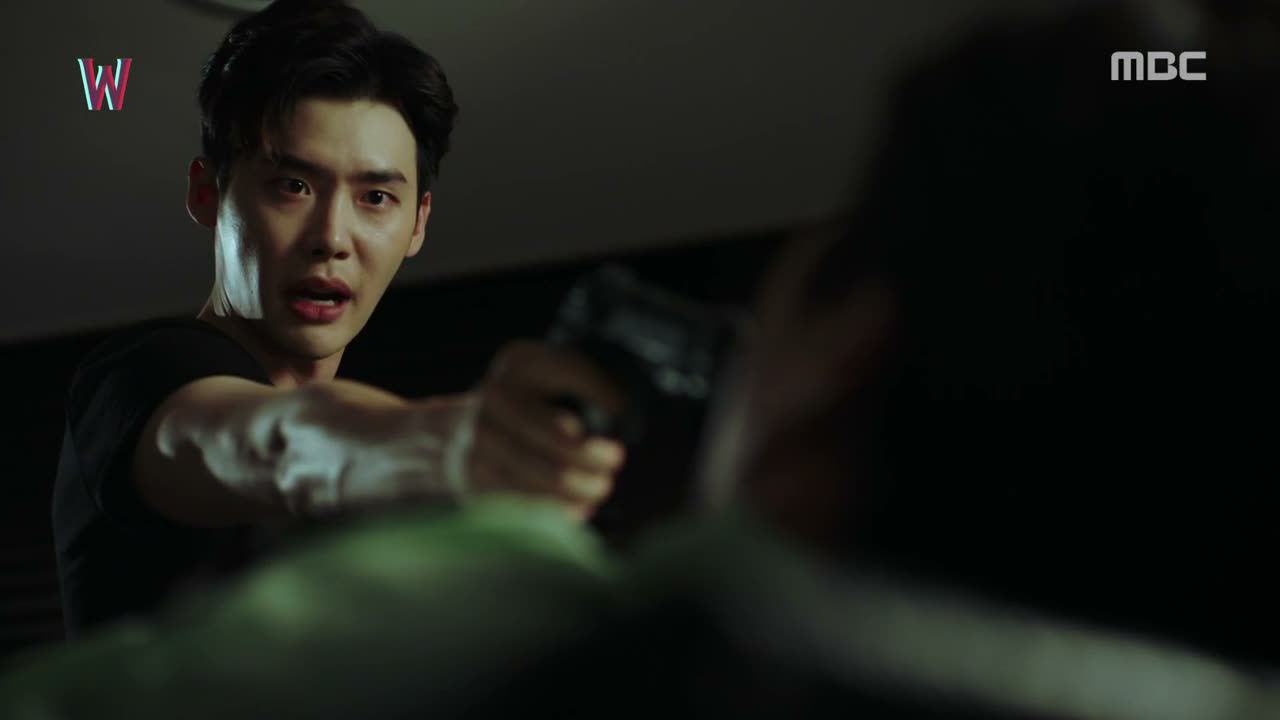 Assemblyman Han's assistants are startled to see Kang Chul walk out of there, though they assume he's just a lookalike. It's only Assemblyman Han who's positive that Chul is alive, and he suspects that there's something else going on between Kang Chul, New-Face, and Yeon-joo that he's not aware of.
New-Face and Yeon-joo arrive at a warehouse, where he puts a silencer on his gun and says regretfully that he was hoping to shoot her in front of Kang Chul. But this will have to do, he says, since it's the only way to get Chul here.
He argues that he waited a really long time for Kang Chul to remember her, because it would've been meaningless to shoot her when Chul didn't know she was his wife. But he says that now it'll be worthwhile, and cocks his gun.
Yeon-joo trembles with fear and begs him to let her live. He pauses at her tears, but he says it's no use—killing Kang Chul's family is his reason for existing, and he points out that it's not like HE told her to put on that wedding band and become the heroine. He asks if she really thought that would go well for her. He raises the gun again…
Chul speeds down the road on his way to Yeon-joo, when suddenly the "To be continued" chyron starts rendering in the distance. He sees it happening, but before he can even react, Kang Chul vanishes into thin air. Nooooooo! Goddamn cliffhangers! Aaargh!
The car gets left behind and Chul reappears in the real world in the middle of the street, and narrowly misses being run over. He checks the webtoon's newest episode and sees New-Face pointing his gun at Yeon-joo.
At the warehouse, New-Face is distracted by the arrival of Assemblyman Han's henchmen, and Yeon-joo starts to back away from him slowly. She makes a break for it, but New-Face whirls around and pulls the trigger… and she goes down, shot in the back. Holy crap.
The henchmen bust in and get gunned down for their trouble, and Yeon-joo uses all of her strength to crawl away, leaving a trail of blood behind her. She doesn't make it very far though, and she collapses to the ground, one last tear escaping as she loses consciousness.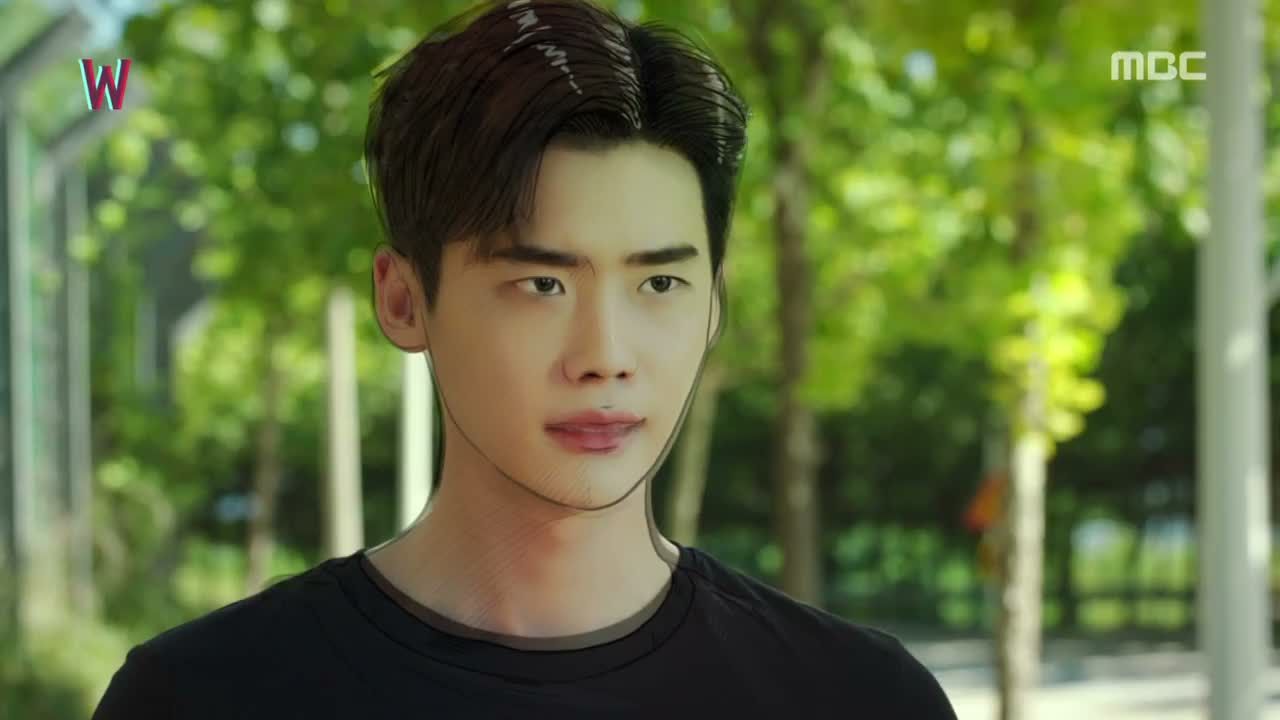 That's the last frame of the webtoon episode, and Chul trembles with anger to see it. He summons himself back into the manhwa immediately, and gets back in the car right where he left it.
New-Face is waiting for him to arrive, and when Chul sees him sitting in the car up ahead, he floors it and drives forward, toward a head-on collision. New-Face does the same, and the game of chicken ends with a crash as the cars come to a dead stop.
They both whip out their guns and start shooting furiously. Chul takes a hit in the arm, but keeps shooting as he presses the accelerator, pushing the other car as he unleashes a seemingly endless stream of bullets (seriously, where are they coming from?).
New-Face is no match for Kang Chul's rage, and the villain goes down, riddled with bullets. It's an ending befitting a hero-villain showdown. A tear rolls down Kang Chul's cheek as he finally lets himself breathe, and then he runs inside looking for Yeon-joo.
All he finds are the three henchmen and the trail of blood left behind where Yeon-joo crawled away, and Chul nods to himself. Oh, did you summon her back to the real world? But was it in time?
Chul materializes in the warehouse in the real world, where a construction worker is giving a police report about the random bleeding woman he just discovered. Chul is beside himself when he hears that she was barely alive when the man found her, and asks what hospital she was taken to.
The cops take him there and ask if he's okay because he looks wounded too. Blood trickles down his arm, staining his wedding band. When they ask what his relationship is to the victim, Chul's voice chokes up with emotion as he answers, "I'm her husband."
He runs into the emergency room and finds a team of doctors and nurses trying to resuscitate Yeon-joo. They shock her twice with the defibrillator, and Chul begins to cry when he sees her lying there, unresponsive, with blood on her wedding ring.

COMMENTS
She's dead, isn't she? I KNEW it was too good to be true! That fantasy was just too easy and perfect and sweet. It was a death note, is what that was. What are they going to do now? Can they reverse it all? But does that give us Kang Chul 3.0?? Because I don't know if I can handle that. And does doing that save Yeon-joo, when she's a person in the real world? I have a feeling that there's a loophole in the fact that she's also the heroine of the manhwa, which means that a reset of some sort will include her. I'm trying to wrap my head around it, but I think this must be the upside of losing her creator-invincibility—she can be hurt in the manhwa world because she's a main character, but then she should also be able to be brought back in a reset/dream, like any of the other characters. RIGHT? Well this is the hope I'll be clinging to for the next week, anyway. Because Yeon-joo can't just stay dead, okay?! That's enough character-building for one hero, I say.
I'm worried that the problem is genre, actually, because no matter how much Kang Chul and Yeon-joo keep trying to rewrite their story as a romance, events flow naturally into revenge-thriller, and always end up there. Like Crazy Dog always likes to point out, romance is unnatural to W's world. It's like a predetermined setting of the world, not the people, and right now they're not doing enough to manipulate the manhwa on a meta level, to beat it at its own game. The cliffhanger beat was clever on the writer's part, and it reminded me that Kang Chul was still a slave to narrative rules, no matter how strong his will has become.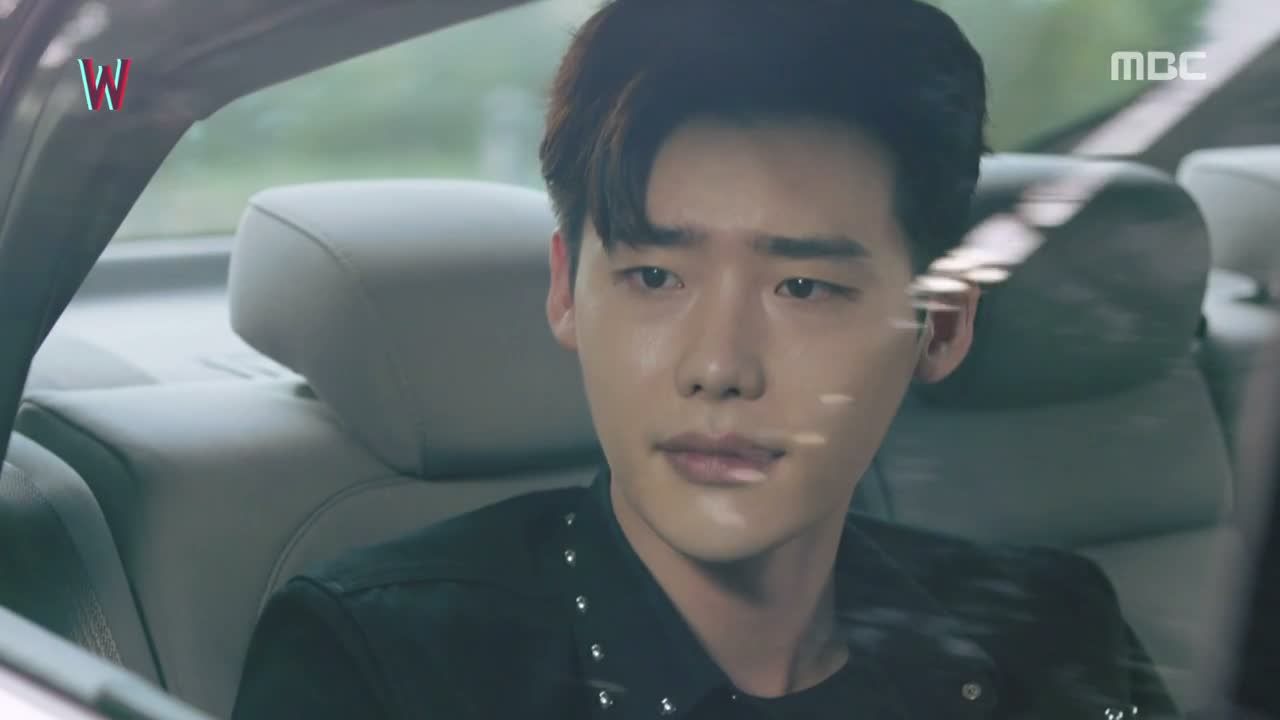 He may be able to cross worlds at will, but he is still in every way bound by story logic, character arcs, and even act breaks, which makes me really question whether or not he can become a real boy, like Yeon-joo hoped. Yes, he is flesh and blood, which does make him real in a metaphysical sense. But will he ever be fully autonomous and free of the manhwa framework? I honestly don't know. Does it matter or not, if Kang Chul has to live the rest of his life fulfilling episodic missions to satisfy his universe's rules of dramatic tension? I'm starting the get the sense that W is fighting back in order to keep existing, like it's got a mind of its own. I just have to hold on to the hope that Chul's way out of this is still self-awareness and free will, and that there IS a way to do it right that doesn't end with one of our protagonists dead, frozen, or not remembering the other.
My real fear is that there is no way for these two characters to get their romantic happily-ever-after, because every time they fight for their love and get closer to that reality, the consequences get worse and worse. Their matching bloody wedding rings at the end left me with a sinking feeling in the pit of my stomach. Does being together defy the laws of nature and is Fate just dead-set against them? I wouldn't be this nervous if they hadn't given us such a long, involved fantasy happy ending, but when they went so far as to get Dad's approval for their marriage in cute ways, I was convinced everything was going to hell. THIS IS WHY WE CAN'T HAVE NICE THINGS.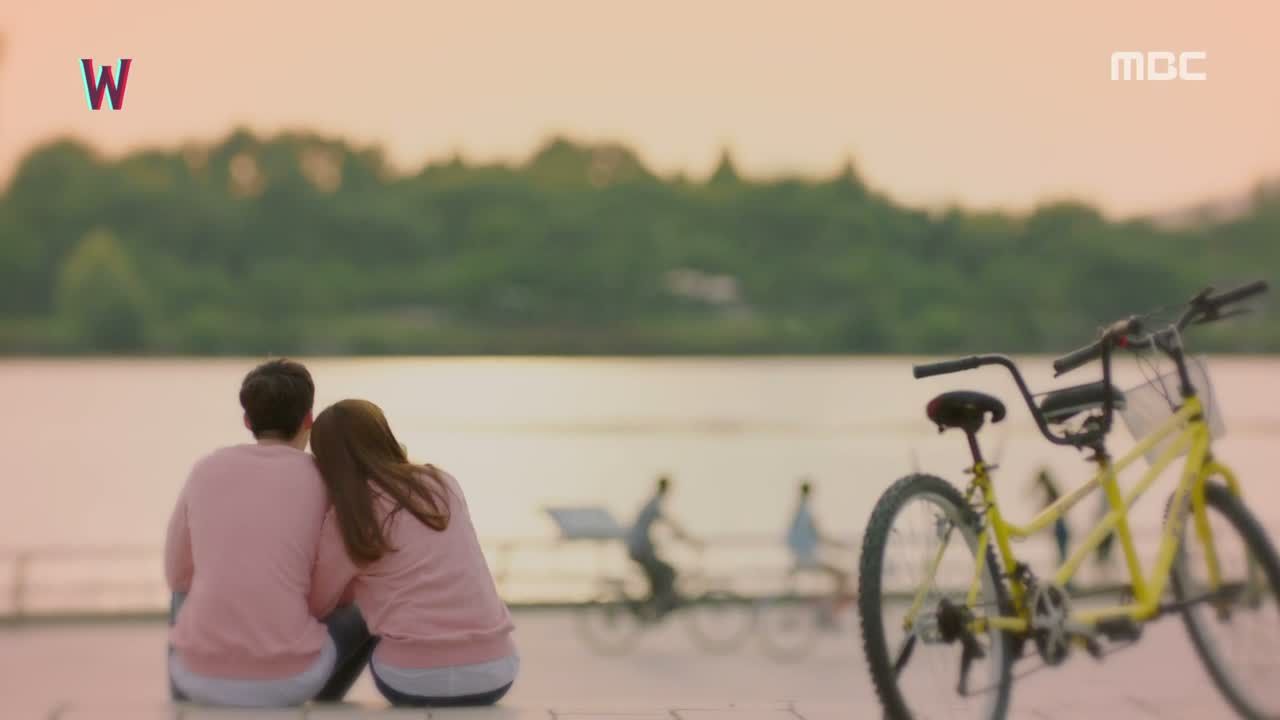 RELATED POSTS
Tags: Episode 13, featured, Han Hyo-joo, Kim Eui-sung, Lee Jong-seok, Lee Shi-un, W–Two Worlds