W–Two Worlds: Episode 15
It's the beginning of the end, for W the manhwa and the show, and I'm suddenly starting to get very nervous about how our characters are going to write themselves out of this labyrinth of a parallel universe filled with narrative booby-traps. Half of me is dying with curiosity to know how it all ends, and half of me is content to leave that door closed and enjoy denial land, where hope springs eternal and nobody loses an arm for not being a goddamned hero.

EPISODE 15 RECAP
After getting the all-powerful presto magic tablet stolen from him, Assemblyman Han licks his wounds back in the manhwa world. His secretary says that he was in the hospital one minute and not the next, and then reappeared passed out on the floor. The henchmen have lost Kang Chul as well, he reports, and they're claiming that he just vanished before their eyes.
Chul, meanwhile, is brought out to the curb by the factory workers who discovered him in the real world. He asks for a cab to get to Yeon-joo, but while they step away, he's suddenly transported back to the manhwa world. And of course that's when Assemblyman Han pulls up to the curb, returning to his kidnapping lair.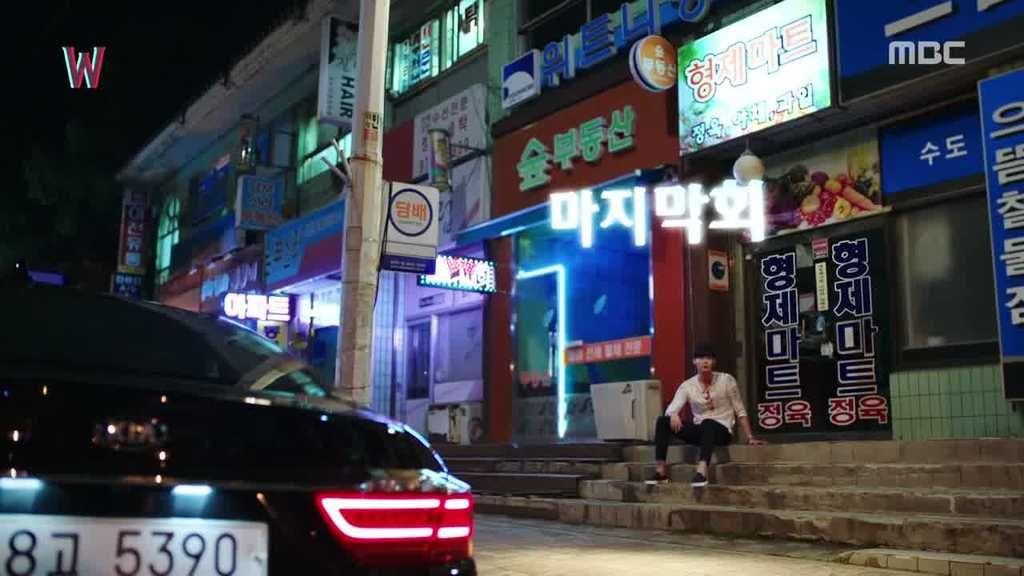 Kang Chul doesn't even notice him at first, because he's in for an even bigger shock: A chyron suddenly appears overhead, reading, "Final Episode." And then Assemblyman Han steps up to him with a chuckle to reclaim his hostage.
In the real world, Dad spends all night refreshing his own webtoon, and finally sees the new episode uploaded. He confirms that Yeon-joo is alive, and runs out of the workshop immediately. He hails a cab to get to the hotel, but before he can get in, the cab disappears.
Then he sees it too: "Final Episode." Uh-oh, Dad's been sucked back into the manhwa with them? But… in this world he's the killer!
Yeon-joo sees the same chyron overhead outside the hotel and goes to the front desk to ask what day it is. She's told it's August 15, which she finds odd since it was September the last time she checked. Then it dawns on her that it's 2017, and a full year has passed in the manhwa world. Yikes.
She's at a loss for where to begin, but then she spots So-hee on her way out of the hotel, and decides to approach her. So-hee thinks Yeon-joo looks familiar, and then remembers her as the woman who went on the run with Kang Chul after he shot Ajusshi.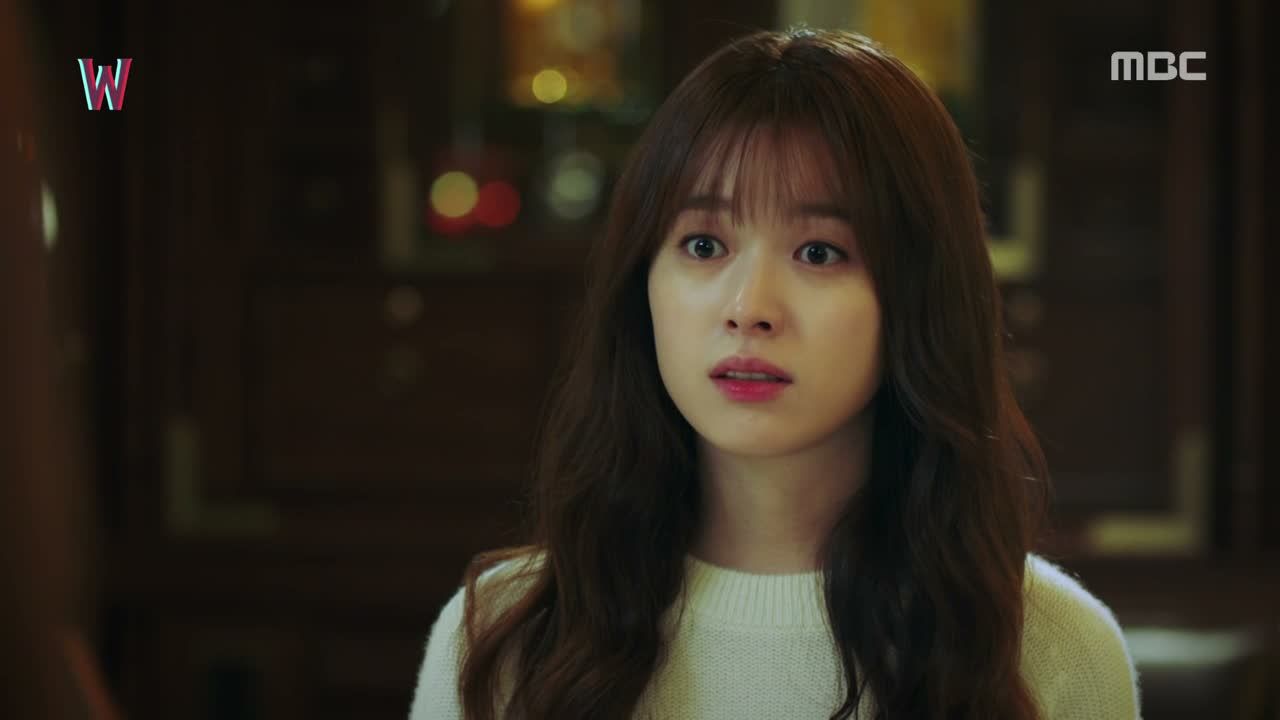 So-hee says that she quit her job a year ago, but offers to contact someone at Kang Chul's company for Yeon-joo. She says that Chul was captured by the police last September, and in flashback we see Assemblyman Han finally give up after torturing Chul to a bloody pulp. He dropped Chul off outside the hospital, knowing that they would call the police.
So-hee says that Chul has been in prison for the past year for murder, evading capture, and faking his own death, and was given the death penalty in March. She tells Yeon-joo to go to court tomorrow if she wants to see Chul, because his appeal trial is about to begin.
Yeon-joo wonders why So-hee isn't going herself, but So-hee seems to be living a whole new life now, and she says she's on her way to the airport for a business trip, but she'll be hoping that everything works out. Well at least someone found a happy ending in this world.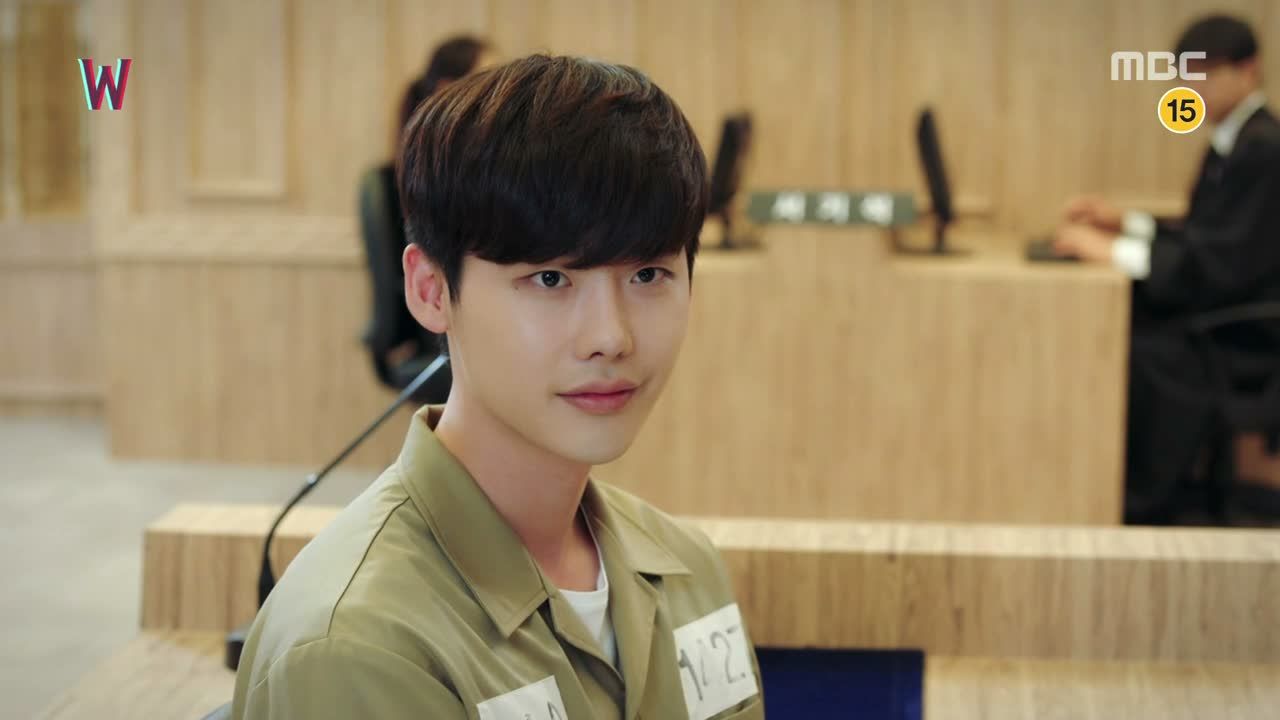 So Yeon-joo goes to the courthouse in the morning, and walks slowly down the aisle towards Chul, who's sitting with his back to her. She's so fixated on him that it seems she might just walk right up to him in the middle of the trial, but Do-yoon notices her first and calls out her name in surprise.
That brings the trial to a screeching halt and Chul turns around slowly to face her. She's on the verge of tears, but he just studies her face and then breaks into a smile.
She smiles back at him despite her tears. The judge resumes reading the charges, and Chul just takes a quiet moment to smile to himself in relief.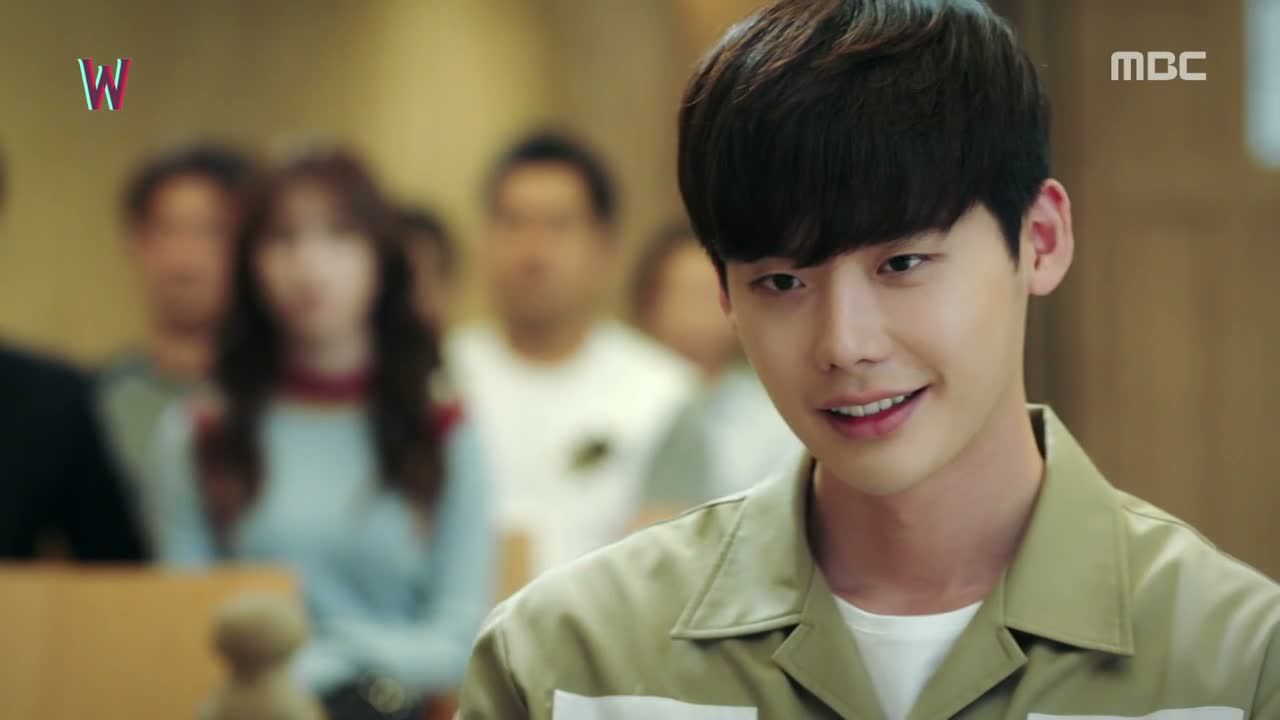 Do-yoon is shocked that Yeon-joo is really alive, half-convinced he hallucinated her resurrection. She's not even listening to him though, and just wipes at her tears without taking her eyes off of Chul, who ignores the judge and steals peeks at Yeon-joo, smiling at her in reassurance.
The happiness at their reunion is short-lived though, because the judge rejects the appeal. Yeon-joo is blocked from approaching Kang Chul by the bailiffs, but he asks for just a moment with her before being taken away, and asks why she came only now.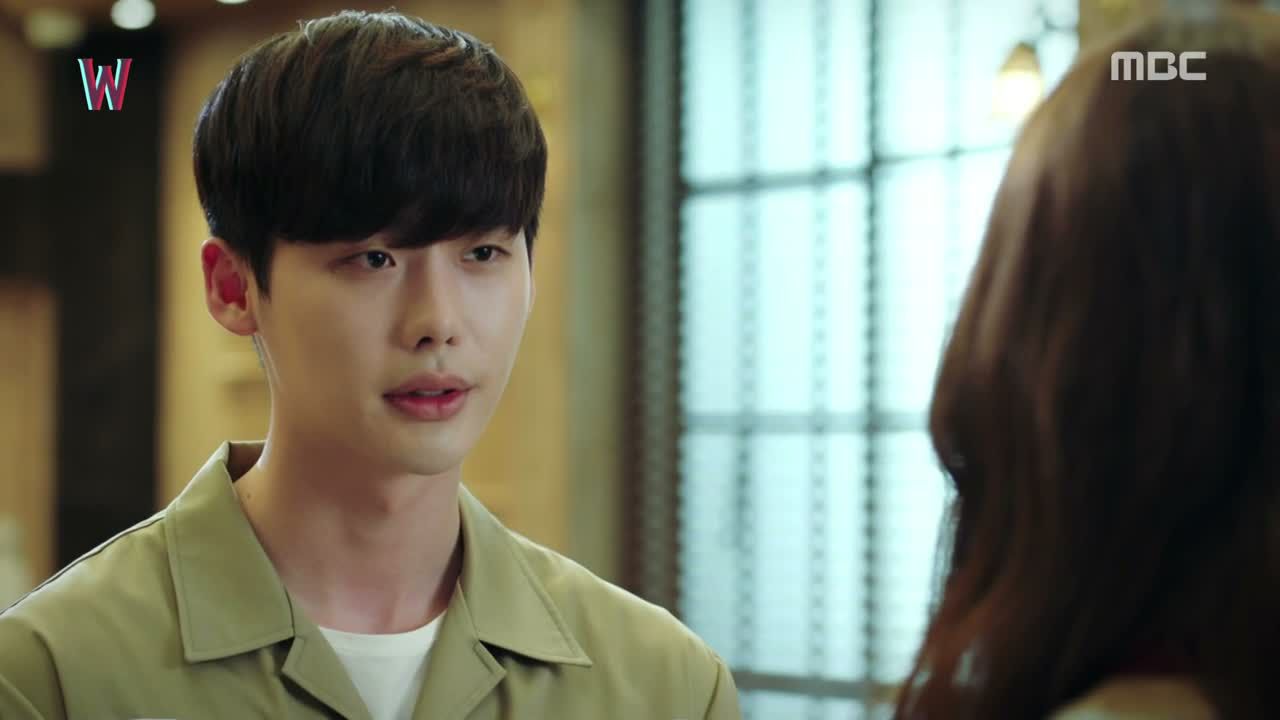 Yeon-joo says through tears that she came as soon as she woke up, but a year had passed. That's not the answer Chul expected, and he scoffs in disbelief that he spent a year pining alone, wondering why she didn't come when Do-yoon said he saw her wake up.
He admits to thinking all sorts of things, like did she have a change of heart and meet another man? He wondered if maybe she read the manhwa and freaked out because she didn't want to deal with a murder trial and him being on death row, since that's not exactly the life she expected when marrying a chaebol.
Yeon-joo can't believe he's making jokes at a time like this (though I don't think he's joking, heh), and Chul says to the bailiffs, "This is my wife whom I haven't seen in a year. Just another moment."
She asks why he didn't leave, but Chul says he couldn't. In flashback, we see him try to summon himself back to the real world at every turn—while being tortured, before being captured.
He explains that he's tried countless times over the past year, but he can't leave, and he thinks it's because this is the last episode. As the bailiffs drag him away from her, he says over his shoulder, "Do you know? That this is the final episode of W?"
Do-yoon tells Yeon-joo to come with him, and to stay strong because the trial isn't over yet. She lingers in the empty courtroom for a while.
Yeon-joo narrates that Kang Chul had this thought, back in that moment when he was sitting outside on the curb after being tortured, when he was feeling so weary: "Ah, I wish it would end. I want to stop being the hero of this manhwa." And in that instant, the "Final Episode" chyron appeared and the end really began. Ohhhhhhh.
She continues narrating that this is now the final episode, so they're trapped here until the ending, "whether happy or sad."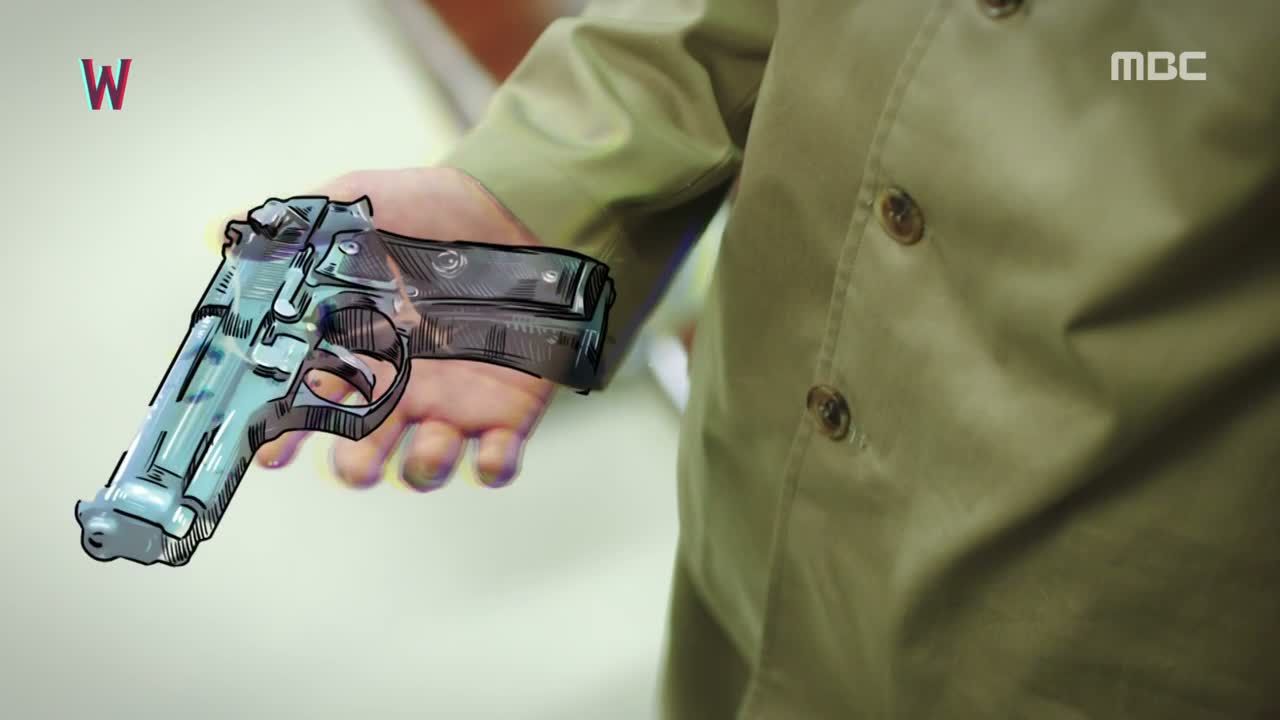 Chul waits to be taken back to prison following the trial, when suddenly a drawing of a key appears in his handcuffs, and materializes into a real key. YESSS! Was that Dad, or Su-bong?
Chul glances furtively at the guards before un-cuffing himself, and as soon as he does, a gun gets drawn into his hand. Oh, it's on.
In the past year, Assemblyman Han has become the frontrunner in the presidential race, and he's now busy campaigning full-time. He gets an update following Chul's trial expecting the verdict, but he's shocked to hear that Chul escaped.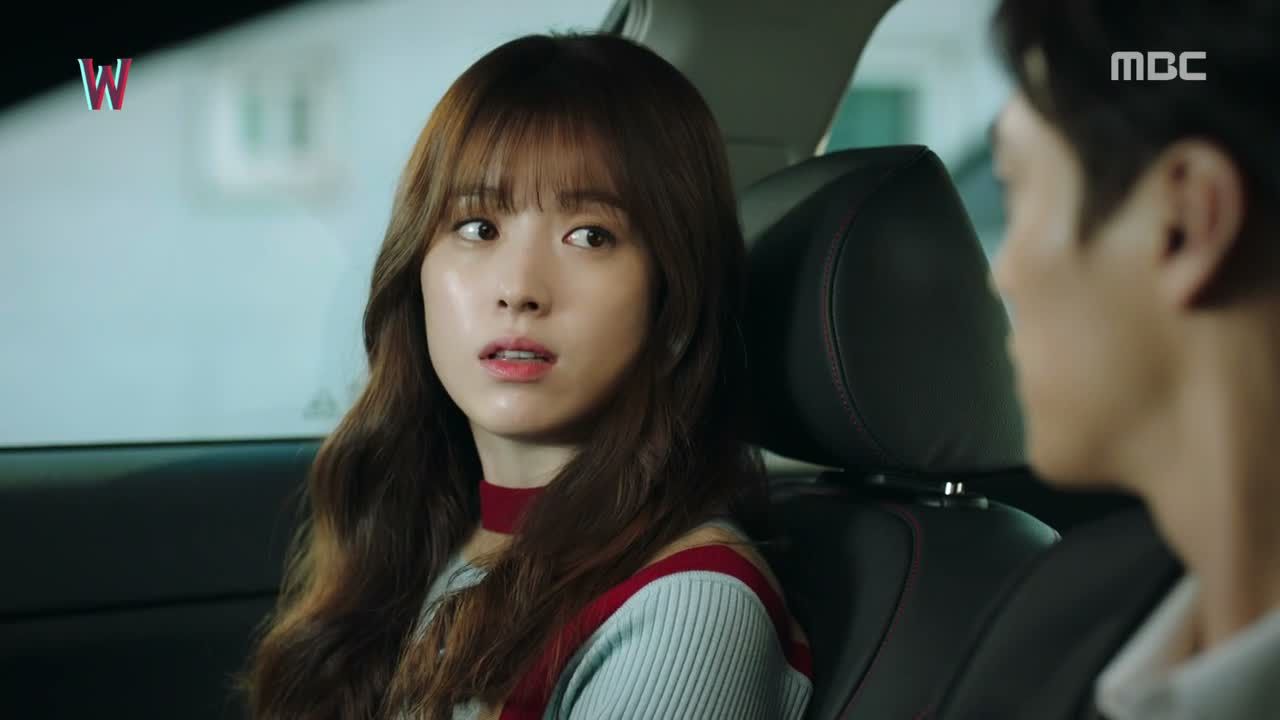 Do-yoon is driving Yeon-joo back to the penthouse when he hears the same news, and he wonders how in the hell Chul un-cuffed himself and got a gun. Yeon-joo asks to be let out before Do-yoon goes back to the courthouse, and she asks him to just tell Chul where she is.
Do-yoon stops to ask her one thing, and says that Chul told him once that there's another world out there that's exactly like theirs, and that Yeon-joo is from there. He asks if it's true, and Yeon-joo hesitates a beat before confirming it.
Assemblyman Han can tell right away that Chul's escape involves that magic tablet, especially after hearing from his secretary that Yeon-joo has reappeared alive and well. He wonders if Kang Chul has the tablet in his possession, and he clutches at his neck in paranoid fear, remembering the syringe he once stuck in Chul's neck.
Yeon-joo waits and waits at the coffee shop, and Chul finally pulls up outside, rolling down his window with a smile, in what has now become their custom greeting. He's all jokes as usual, pointing out that she's finally adjusted to being the heroine of a thriller.
Yeon-joo asks why he's suddenly a fugitive again, worried that breaking more laws will make a happy ending impossible. Chul takes it in stride though, and says their original plan for a happy ending failed the moment he was captured by the police. They have to write a new happy ending, he says, starting now.
He turns her face towards him, wanting to get a good look at her, and jokes that this isn't the face he remembers. He sighs that maybe it's been too long, because when he was imagining her every night in jail for the past year, she was absolutely beautiful. He revises his opinion now, calling her only a little beautiful.
Yeon-joo counters in a sad tone that Chul is really showing his age, and rubs it in that he aged a year and she didn't. She insists that it's true, so he comes back with: "Then call me oppa. I'm a year older than you now. Try it: O-ppa." That's just adorable.
Yeon-joo asks if Dad drew him the key and gun, and Chul confirms that it was Dad. He drew Chul the car and these clothes too, and Yeon-joo is surprised to learn that Dad's been trapped inside the manhwa world for the past year as well.
When Kang Chul first escaped from the courthouse, he'd been driving away when a post-it appeared on the dashboard with an address on it. He went there to find an exact replica of Dad's workshop here in the manhwa world (the house number doesn't match, but that's a continuity error—I triple-checked, thinking I was going mad).
The gate was open, and Chul searched the house with his gun at the ready. To his surprise, Dad's tablet and computer were at his desk in the office, and Dad was there too—tied up in a chair and wearing a hospital gown. What?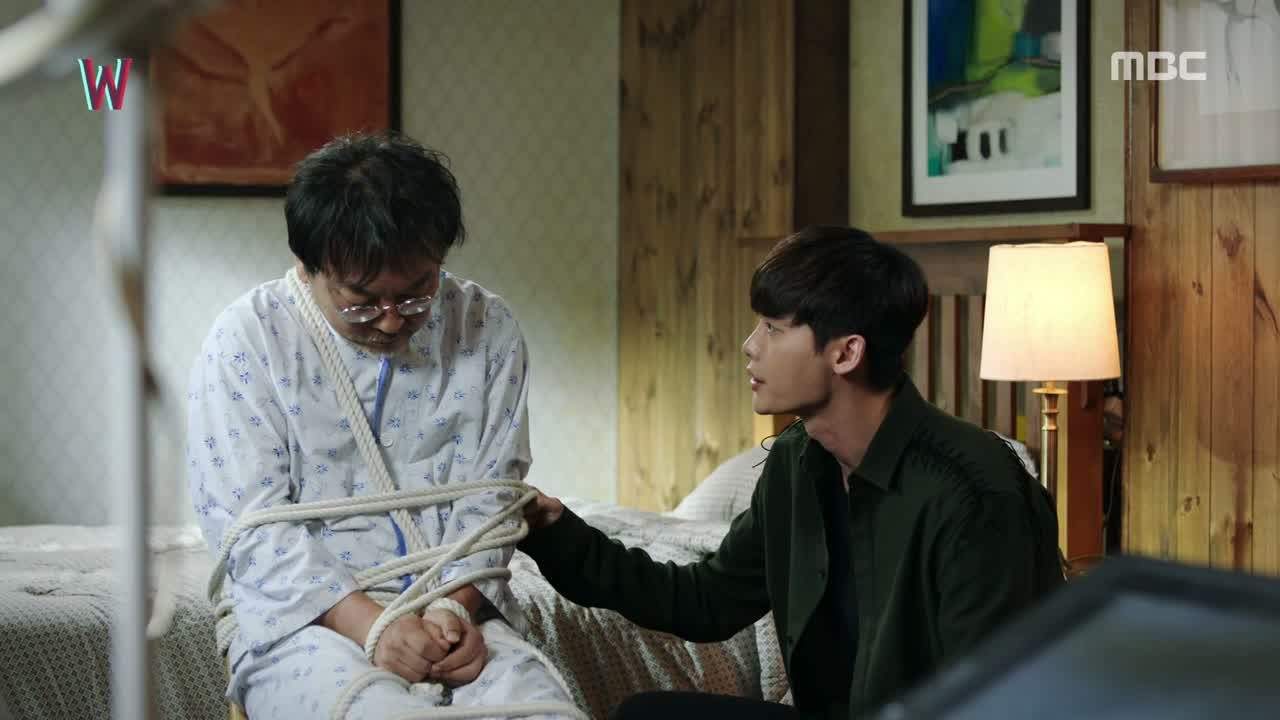 Dad was trembling, and Chul ran over to him asking what happened and who tied him up like this. Dad: "Me. I tied myself up." *shudder*
Dad said it'd been a year and he still didn't know if Yeon-joo was alive. Chul reassured him that she was, and Dad began to cry. Chul asked why Dad didn't contact him somehow, and how the tablet was here (yeah seriously, what's that doing here?), and Dad said that he'd been locked up.
In a flashback (within a flashback), Dad grabbed a taxi as soon as he came to the manhwa world, and was headed to the hotel when he started to have more flashes of New-Face's memories, and his hand began to flicker in and out again. The taxi driver noticed his resemblance to that mass-shooter who was already dead in this world, and all of a sudden, Dad snapped and began to strangle the driver. Gack. Is there no divide between Dad and New-Face in this world? This is bad…
His hand was a manhwa drawing at the time, like it had a mind of its own and was acting separate from Dad's will. The taxi driver managed to get away and ran towards police officers nearby, and Dad was shocked to realize what he'd done. At the police station, Dad gave his real name when questioned and asked to speak to Kang Chul. But Chul was thought to be dead at the time, and Dad was terrified, thinking that both Chul and Yeon-joo were dead.
The sight of the officer's gun was making him twitch like it somehow ignited New-Face's killer instincts inside of him (I like how the color always drains out of the screen whenever he's New-Face), and he made a grab for it, screaming that he'd shoot everyone like a lunatic. The officers overtook him, and right away Dad was locked up in a mental hospital for thinking he was New-Face.
He spent a year like that, going stark raving mad, alternating between Dad and New-Face like he had multiple personalities. He was at once tortured by the thought that he'd killed Yeon-joo, and then raging in anger at the thought that he hadn't succeeded in finishing her off.
Back in the present, Chul tells Yeon-joo that all of New-Face's thoughts and memories remain intact here, and in the manhwa world, Dad can't suppress them. Well that's terrifying.
Chul warns her that he's in bad shape, and explains that Dad escaped from the mental hospital this morning to go find the tablet. In flashback, we see that in the real world, Dad had felt nervous about the tablet being a copy, and had drawn another duplicate and hidden it in the manhwa world.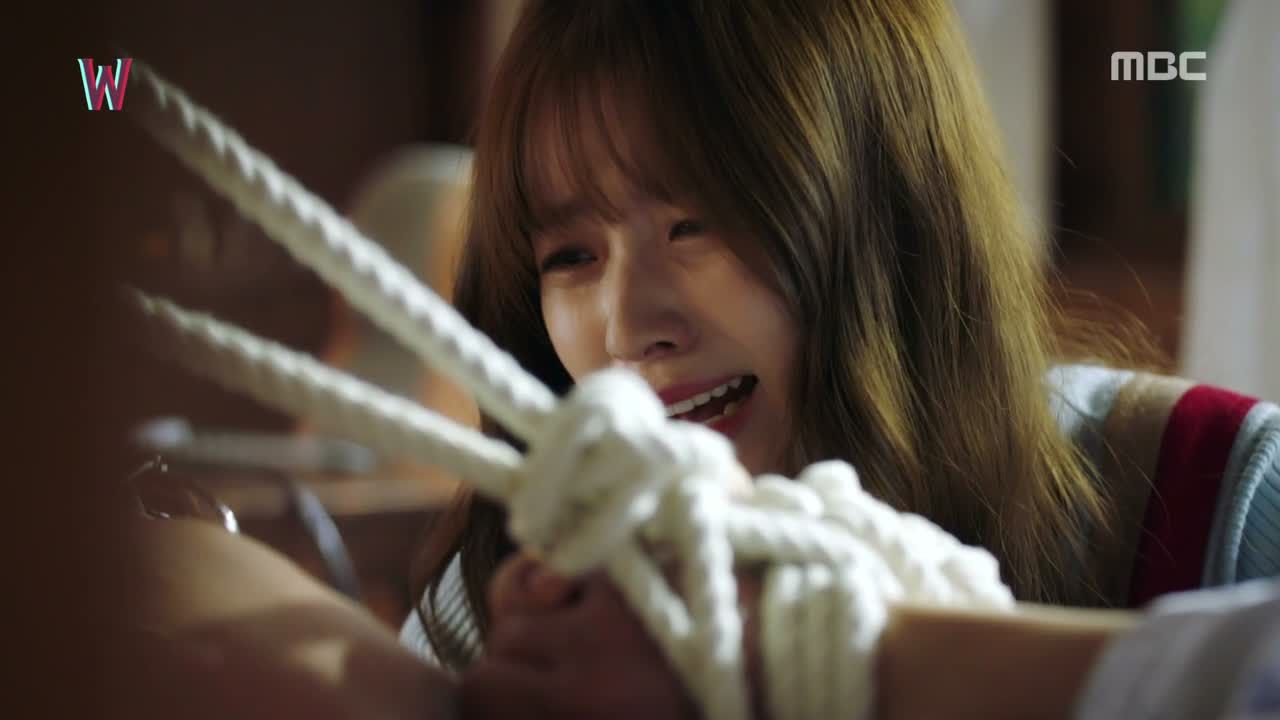 It took Dad a whole year to get here, Chul says, but he finally got it together and found the tablet where he'd hidden it, and drew the key and gun for Chul to escape. Chul and Yeon-joo arrive at Dad's workshop, which exists as an empty house in this world after Dad used it as the model for a hideout in an earlier episode.
Yeon-joo runs inside and rushes to Dad's room in tears. She asks Chul why he's tied up, and he says Dad asked him to, because he can't control himself. Her sobs finally wake Dad up, and he breaks down, just saying over and over, "You're alive? You're alive?" It breaks her heart to see Dad tied up like this, and she just cries at his side for a while.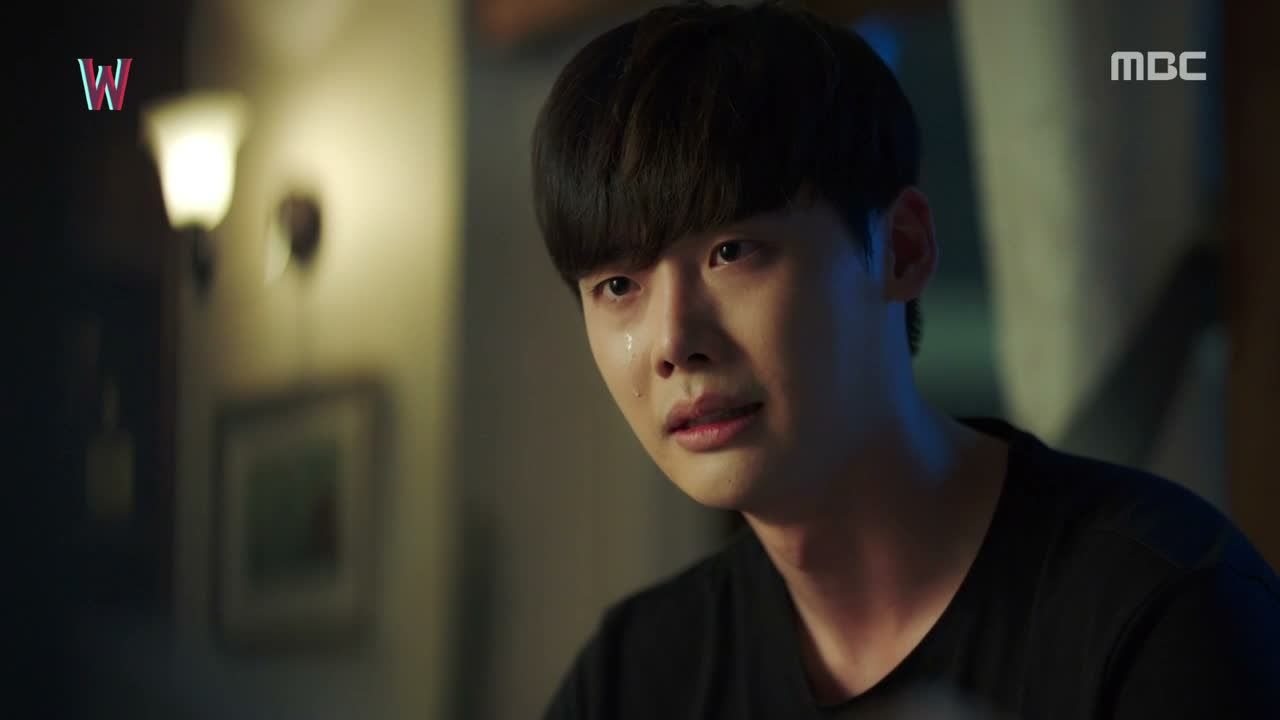 While Yeon-joo makes dinner that night, Chul and Dad have a chat, and whatever was said has them both in tears. They argue back and forth, with Chul refusing to do what Dad asked of him, and Dad insisting that he do it. Chul says that's not something that can happen, and that he's going to pretend like he never heard the request.
Yeon-joo interrupts with porridge for Dad, and then later she and Chul sit down to eat too. He tastes the stew and fakes a reaction like it's delicious, pointing out that it's the first time he's tasted her cooking.
She can tell he doesn't really mean it but says it feels good anyway when he praises her, because he's so picky. She asks for more compliments while he's at it, so he thinks (a little too long, heh) and just starts listing her physical traits, like her long hair, her taller-than-average height, and her ears being attached to her head. Pfft, you suck at this.
She can't believe he thinks that qualifies as a compliment, and he teases that if she called him oppa just once, he'd give her all sorts of praise in return. She asks if aging a year is something to be proud of, and he says in banmal, "Yup. I'm extremely proud. Oppa is thirty-one, Yeon-joo-ya. And you're only thirty." Keh.
He smiles to finally see her laughing, but then she asks what he was talking about with Dad earlier, and he gets quiet and avoidy.
After dinner, Yeon-joo tucks Dad in and touches his face tenderly as he sleeps. Um… is it okay that he's not tied up anymore? As Chul washes dishes, he sighs as his thoughts drift to his conversation with Dad:
Dad said that ultimately he and Kang Chul couldn't be together in the end: "If you have a happy ending, I get a sad ending. If I'm happy, you're sad." He lifts his hand and shows Chul how perfectly fine it looks now, and he says there's a reason for that: "I killed a person. This morning." Whoa.
Dad flashes back to strangling the nurse in the mental hospital earlier today in order to escape. After the murder, his flickering hand had solidified. Dad explained that there was no going back for him, because now that he's here, he disappears when he stops doing bad things.
He said that even if he were to go back, he can't live when he's killed so many people, as New-Face, and now even as himself. He couldn't bear the thought of looking Yeon-joo in the eye, and going on with his life.
Dad said his life already ended a year ago, and he reached his hand out for Chul to hold. Dad begged him with tears in his eyes for Chul to help him die in the manhwa world before the happy ending. "Bury me in the manhwa," he pleaded. Chul refused to do any such thing, and that was the argument Yeon-joo had walked in on.
In the present, Assemblyman Han heads down to his torture lair, where a man sits tied to a chair, covered in blood. Wait, what? He yanks the hostage's head up, and it's Do-yoon. Oh, I was totally freaking out, thinking there was another Kang Chul!
Do-yoon won't talk, so Assemblyman Han sends Chul a message. Chul heads out to make the call from somewhere else, worried about his phone being traced. Do-yoon answers when he calls, but then Chul cringes to hear Assemblyman Han take over.
Chul asks what the hell he's doing, taking hostages like a gangster when he's supposedly running for president, and Assemblyman Han counters that Chul is a death-row inmate running around on the streets. He says he took a hostage knowing that Chul's revenge was inevitable, and he wants to live.
Assemblyman Han says it was his mistake, assuming that Chul didn't have the tablet anymore; he orders Chul to come back to the last place they met within the hour, so that he can finally get all his questions answered and trade the tablet for Do-yoon.
Things go from bad to worse when Chul spots a police officer canvassing the area with wanted posters of Dad, warning civilians to be on the lookout for the crazy murderer on the loose.
Back at the hideout, Yeon-joo decides to draw a few things into the tablet, and Dad stirs awake. She explains that she's going back and drawing in a CCTV camera in Assemblyman Han's torture lair, so that they can leak a video of him torturing Kang Chul and get him arrested. Smart. Can you be in charge always?
She figures that it'll help speed things along towards a happy ending, and says that she wants to get out of here as soon as humanly possible: "This place is hell, Dad." She busily redraws the scene, not noticing when Dad's expression hardens and he suddenly sits up in bed. Shiiiiiiit. Ruuuun!
Chul returns to the hideout, and he notices that his hand has started disappearing on him again. He locks the gate, looking nervous, and then comes inside to the sound of Yeon-joo screaming.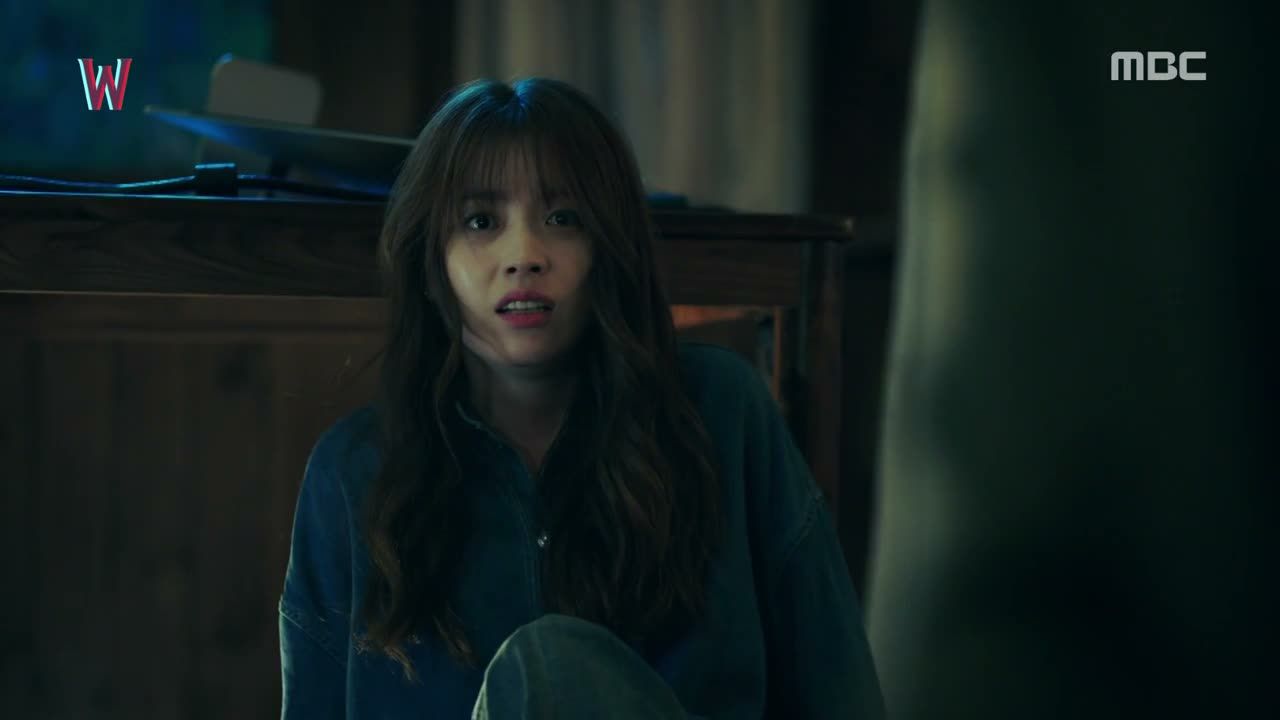 In the room, Dad is strangling her and ranting like a psycho that he shot her already and doesn't know why she's not dead. Chul hurriedly pries Dad off of her and pins him to the ground. He checks on Yeon-joo, who's huddled by the desk clutching her throat in terror.
Dad has returned to his own persona by the time they tie him back up in bed, and Yeon-joo cries to see him this broken. Dad whimpers and asks if he's done something, but Yeon-joo lies and says that nothing happened.
He can see the red marks all over her neck though, and Dad cries to Chul, "I told you, I'm a monster. Do what I asked, please!"
Yeon-joo is alarmed to see Dad's hand threaten to vanish, and then moments later, she sees Chul's hand do the same. She asks why it's happening again when he said his hand was fine while he was in prison, and Chul says it's because he escaped and left his friend to die.
He tells her about Assemblyman Han kidnapping Do-yoon, and the forty minutes he has left to go trade the tablet for Do-yoon's life. He hesitates to tell her the next part, and says that her father killed someone, and it's only a matter of time before the cops find them here.
Yeon-joo suggests reporting Assemblyman Han with the CCTV footage and saving Do-yoon that way, but Chul stops her and says that if they achieve a happy ending now, her father will disappear. He says that right now, there's no way for both Dad and Chul to remain by her side when this is all over, because one or the other will either die or disappear forever.
Do-yoon finally tells Assemblyman Han about the two worlds, which is the first theory he's heard that aligns with what happened to him in the hospital. Do-yoon doesn't know any more though, since he heard it secondhand.
The police discover Chul's getaway car parked outside the house where they suspect Dad to be hiding, and wait for backup. At the same time, the windows and doors suddenly get erased on the house, turning it into a fortress from the inside.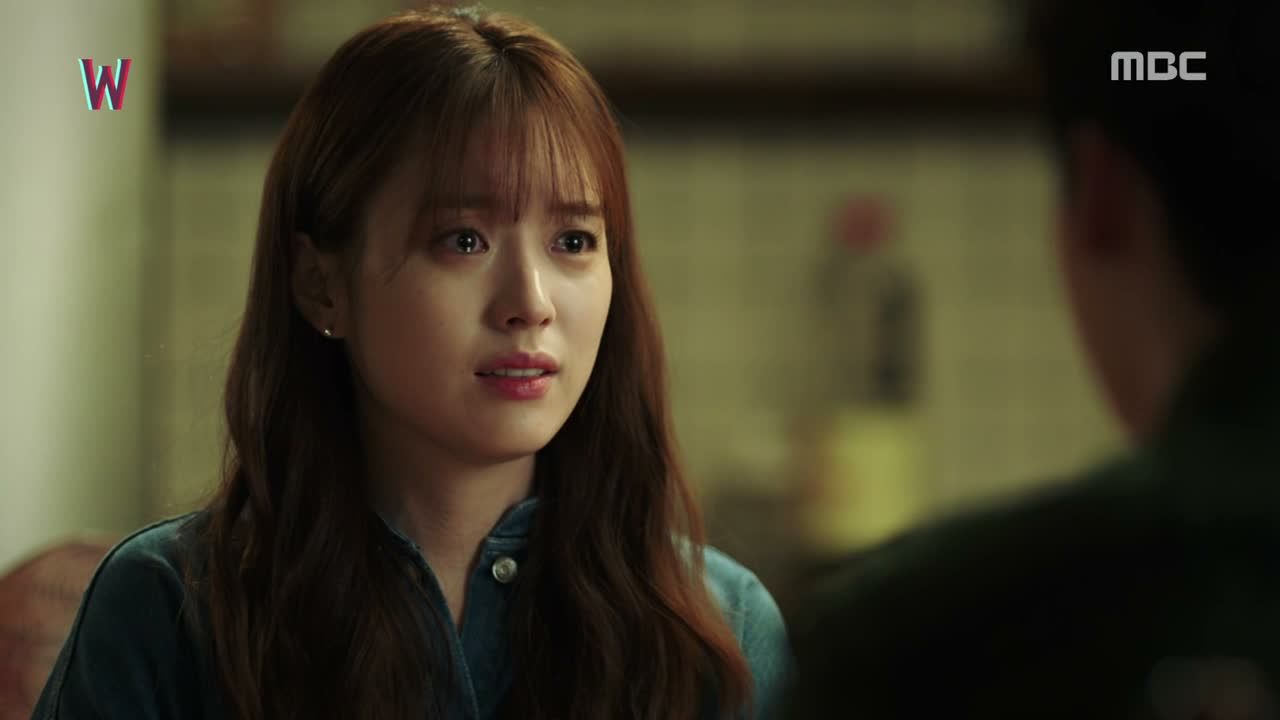 Yeon-joo hurriedly finishes erasing all the windows on the tablet and Chul sits her down, saying they won't have much time since the cops will find a way in eventually, and Do-yoon only has thirty minutes left to live. He holds her hand and says it's time to decide what kind of ending they'll get.
She asks how, and then with his flickering hand, he slides the wedding band off of her finger. Noooooooo, why are you doing that?
He takes his ring off too, and puts it down on the table next to hers. She looks up at him and asks in a shaky voice why he's doing this. Chul says softly that it's too cruel to have a father disappear unless he kills his own daughter—he can't have that.
Chul says he'll erase her from his family registry, and now she's free, regardless of the ending. Then he tells her that it's up to her to decide how it all ends, and he'll follow her decision. They look across the table, gazing into each other's eyes…
Back in the real world, Professor Crazy Dog gets into the elevator at work on an especially harried morning. His colleague tells him that the final episode of W just went online this morning, and he starts to say, "But the ending…"
Crazy Dog violently covers his mouth to keep him from blurting it out, and literally runs away going, "Lalalalalala, I can't hear youuuuu!" LOL.
The colleague just shouts after him, "You'll be surprised by the ending!" Crazy Dog runs to the safety of his office and mutters, "What kind of petty bastard spoils the final episode?!" Man after my own heart. Spoilers are the devil!
Crazy Dog turns on his computer and prepares himself for the end, complete with meditative prayer, his W hand-sign, and a full-body W for good measure. Heart fully braced, he grabs his coffee and clicks on the final episode…

COMMENTS
AGH, you ended it there?! So cruel! It is a nice button to end on though, with Crazy Dog as our avatar in the drama, going through the same whirlwind of emotions that we go through as viewers in anticipation of the finale. I really do feel like he's me right now, half-afraid and half-excited, and willing to add a prayer or two if it helps the writer get this right. I really do think that the show's earlier mind-blowing episodes set my expectations too high for the finale we're actually going to get, but I have a week to prepare myself, and at this point I'll just be happy if the ending is logical. AND HAPPY. Oh, and it had better include Su-bong too, because otherwise it doesn't count! Strangely, the fact that the episode ends with everyone about to be killed, arrested, divorced, and without family reassures me, and makes me think that a happy ending reversal might actually be in the cards.
At this point, all of my faith in that happy ending is riding on Yeon-joo, because I'm convinced that Kang Chul and Dad will just compete to throw themselves off of ledges in order to give the other one a happy ending with her. She has to insist that she won't settle for half-assed happy with only one of them by her side. I mean, I totally understand Kang Chul's decision, even if it pains me—a hero wouldn't be a hero if he just went, "Okay, you die and I'll live happily ever after with your daughter." Chul is right to think that this is no happy ending for Yeon-joo if they just choose to leave Dad to die a monster in the manhwa. I do think there's room for Dad to redeem himself with a sacrifice though, because he has a lot to atone for, especially now that he can't control his murderous impulses even as himself. I can't believe how badly things went awry with that one decision to give the killer his face, but as far as conflict goes, it's nice to have the scary villain back in the game. And I think it's a great final dilemma to pit hero against villain, not in the ultimate showdown, but linked by fate and choice.
The fact that Kang Chul summoned the final episode into existence by simply thinking that he wanted to quit being the protagonist of this story was a nice reminder that his will was always the driving force of change. At the start, it was his will to live that overwrote the manhwa and changed the course of his story, and it was the variable that essentially broke down the barrier between worlds and allowed inter-world travel. If his will can start the end, then I have to believe that it can break the stupid rules that govern this world too. Dad is right that in a conventional narrative, hero and villain are inextricably tied in a seesaw relationship. It's even poetic, and I can't even feel that bad for Dad when he made allllll of the decisions to land himself in this position. But I also don't think it's satisfying enough for Kang Chul to just follow the rules and make the ultimate sacrifice, because it's in his nature to defy fate and break through the very framework of his existence. He made himself into a real boy, for crying out loud—so finding a way to end this godforsaken manhwa happily has to be possible, right?
I really enjoyed the surprisingly restrained reunion in the courtroom today, because I wasn't expecting Chul to be the jilted boyfriend, wondering why it took her so long to get to him and thinking that she'd left him. I feel bad for him and Dad spending a year in hell, but I kind of like that Chul had a chance to wait for Yeon-joo and pine away, like she had to do when he forgot her. It gives Kang Chul 2.0 a chance to catch up to her in their relationship too, even if it wasn't in the competitive kiss-for-kiss way he envisioned. But now his feelings for her aren't new, and he's not fixated on figuring out what the other Kang Chul felt for her. He just missed her, all on his own, and that makes me really happy to know that. And I can't help but think that he triggered the last episode of the manhwa because he's weary of being the hero and wants to live a normal life with Yeon-joo, which is worlds apart from the first timeline, when he was weary of existing altogether and just jumped off a bridge. She's his reason to keep living rather than give up like he did before, so I have to believe that his will to be with her is all the magic they'll need. *deep breath* Ommmmmmm.

RELATED POSTS
Tags: Episode 15, featured, Han Hyo-joo, Kim Eui-sung, Lee Jong-seok, Lee Shi-un, W–Two Worlds