[Drama-induced Shopping] You're a beautiful plushie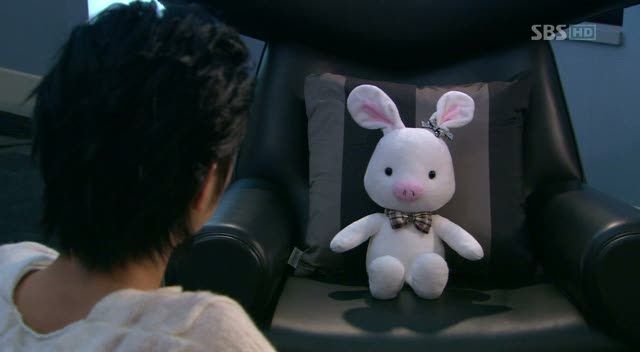 You're Beautiful
By @Alyn
I love plushies; I loved them when I was a kid, and I love them even more as an adult. Currently, my couches are covered in plushies. My roommate complains about the lack of available seating, but each plushie makes me happy. And so when I began watching dramas several years ago, I was immediately drawn to the adorable plushies the main characters would often have. Like the giant cat plushie Tae Gong-shil had in Master's Sun. Or the enormous sloth Kang Joo-eun used as pillow/bed in Oh My Venus.

Oh My Venus
But before those dramas, the first drama plushie I really wanted to buy was the pig-rabbit from You're Beautiful. Not only was this one of the cutest plushies I had ever seen, it was also a focal part of the storyline.
In case you haven't watched the drama (go watch it, crazy person!), the heroine, Go Mi-nam, is always making a pig nose at the hero, Hwang Tae-kyung. The reason she does so is because her manager told Mi-nam that there was a pressure point at the tip of her nose that would help alleviate her feelings (lol).

You're Beautiful
As Tae-kyung had no idea what Mi-nam's actions meant, he would become very annoyed with her whenever she did it. When he does find out why, the scene is so adorable and heart-stopping! Tae-kyung can't find just the right plush in A.N.JELL's mountain of plushies for him to give Mi-nam, so he does surgery to create the perfect gift, which is one of the funniest moments of the drama, right behind the pig chasing scene (more pigs!) and the fan fiction scene.
Throughout the drama, this pig-rabbit is used as a sort of surrogate of the other character. Mi-nam would often talk to her pig-rabbit plushie and when Tae-kyung was upset with Mi-nam, he often took it out on the poor plushie. So for me, I wanted to buy the pig-rabbit not just because it was freaking cute, but also because I wanted it as a sort of memory of the drama and my experience watching it. I wanted to be able to hold the pig-rabbit in my arms as I rewatched You're Beautiful or to be able to talk to it about my feelings like Mi-nam (I swear I am a normal person, peeps). But alas, I was a poor college student and so I could not afford it.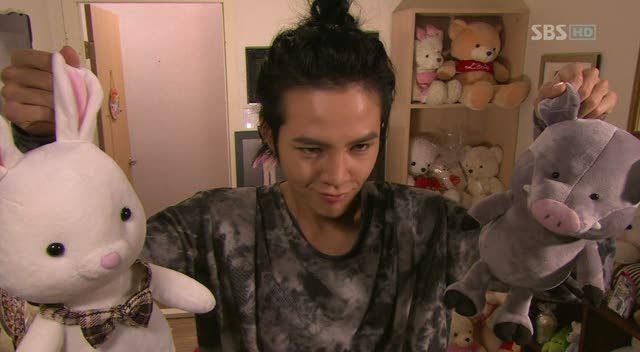 You're Beautiful
So my first drama-induced purchase did not come until very recently. I was watching a drama called Hwayugi. I was watching it live, which I never do because I pretty much exclusively watch dramas with happy endings. But I could resist Lee Seung-gi for only so long. As the drama went on, I began to see the impending doom of a non-happily-ever-after ending. Every week was a nail-biter as I stressed about the ending of a show that I was really loving. I would glance through javabeans and girlfriday's recaps while I was waiting for subs because I had to know what was happening.
And then the end came. I had just finished watching Episode 15 when Episode 19 had aired the day before in South Korea. I was absolutely desperate to know what had happened! Would there be glimpses of a possible happy ending or just plain old despair? But the recap hadn't yet posted on Dramabeans (because you know, this stuff takes time). So I googled, just looking for anything, even just a few comments.
I found a blog (I can't remember the name of it) and that blog had a link to the plush monkey from Hwayugi. I, of course, clicked on the link because I love plushies and all things cute. I stared at the little cranky monkey, and I saw my hopes for the drama, the sadness of the drama, my experience watching it, and its cute little face. And so, I clicked buy.

Hwayugi
A couple of weeks later, my own Yook-gong arrived to join the army of plushies on my couch. While I am not 100 percent happy with the ending of Hwayugi, I do not regret buying Yook-gong. It reminds me of my experience watching Hwayugi as I fell in love with the characters, became invested in their relationships, and rooted for them as they fought against their future.
I am sure that down the line, I will make more drama-induced purchases, especially plushies. But I don't feel that these are frivolous (well, not entirely) as they are representations of my memories and experiences. Now excuse me while I go purchase a pig-rabbit. I am a poor college girl no more!

You're Beautiful

RELATED POSTS
Tags: Theme of the Month