[Happily never after] Till death do us part, prematurely
Editor's note: This post contains spoilers.
When this month's theme came out, the most obvious conclusion would have been to write about couples who couldn't be together. But what about those who did get together, but not forever? Yes, I'm talking about the Age of Youth series' Song-Sung couple.
The series followed the lives of a group of five girls living in a shared house as they learned to adjust to each other accept themselves, flaws and all. This is one of the few series that I've watched where the focus is on friendship rather than love. The drama dealt with the pains of growing up and the harsh realities of facing adulthood. But it had a hopeful message–as long as you're capable and surrounded by the right people, you can get through anything. We saw this as we watched each of the girls navigate through their lives and their own problems. Some of the issues they faced were truly terrifying, like Ye-eun's kidnapping by her ex, or Kang unni's and Eun-jae's past.
While each girl had her time in the limelight, Ji-won was mostly in the background. She was always there, but her story was never explored. Ji-won was comic relief or a source of distraction whenever things got too serious and overwhelming. She was a good friend; willing to help mediate situations or break, but at the same time she also an attention seeker who loved to gossip and didn't mind lying on a regular basis if it meant she got attention.
It was in the second season that her story was finally explored and we got to learn about Ji-won's background. It turned out that her behavior stemmed from trauma she endured at a very young age, having witnessed the molestation of her friend by a teacher. That's when she had a complete personality shift and it wasn't until much later that her memories seemed to return. By the time she figured things out, her friend had already taken her own life and the criminal was about to enjoy a peaceful retirement after an illustrious career. But Ji-won, being the determined girl she was, finally decided to speak up and prepared to fight the long fight to expose the truth.
All through this, she had the support of Sung-min, her colleague from the journalist club. He was her reluctant partner in crime as they had all sorts of ridiculous investigative adventures and he proved to be a steadfast friend. While they had a bickering relationship where Sung-min seemed almost perpetually fed up with her antics, he always gave in to Ji-won. It was such a pleasure to watch him cringing and getting flustered by her (of course, he gave back as good as he got).
While romantic relationships were never the focus of this show, as each girl got her guy (or broke up), most of us viewers got frustrated and started wishing for more between Ji-won and Sung-min. How could we not? They complimented each other perfectly: he was reserved and grounded, she was extroverted and bubbly. Whenever she put up a facade, he could see right through it and he was so sweetly protective of her, whether it was at the club or to confront her friend's very dangerous partner. I kept my hopes up till the last minutes of the last episode. But all we got was Sung-min's confession to his hoobae and Ji-won's hesitation in answering her friends. Way to dash our hopes right?
Wrong! Because one of the series' epilogues showed a young girl visiting the Belle Epoque with her father–who sounded suspiciously like Sung-min–asking her if her mother lived here. Now I don't (or rather won't) believe that Sung-min married with another woman. So the only logical explanation was that he and Ji-won finally got together sometime in the future. Yay for their happily ever after, right?
Wrong! Again. Because in yet another one of the epilogues we see the girls' tombstones, one of them having died prematurely in 2025. Our worst fears were confirmed by both Park Eun-bin and the writer, that the grave was Ji-won's. She died while fighting against injustice, having been an investigative reporter. The little girl was Ji-won and Sung-min's daughter.
Of course, I was heartbroken (as was pretty much everyone who watched). We didn't even see them get together. I could've lived with that. But to kill her? Seriously?! It was How I Met Your Mother all over again. (I know, vastly different shows, and we do see them together, but still!)
Given the real life circumstances, it's too much to expect another season. All I can hope for is that they bickered their way into a relationship and were happy, even if not forever. After all, true love never dies.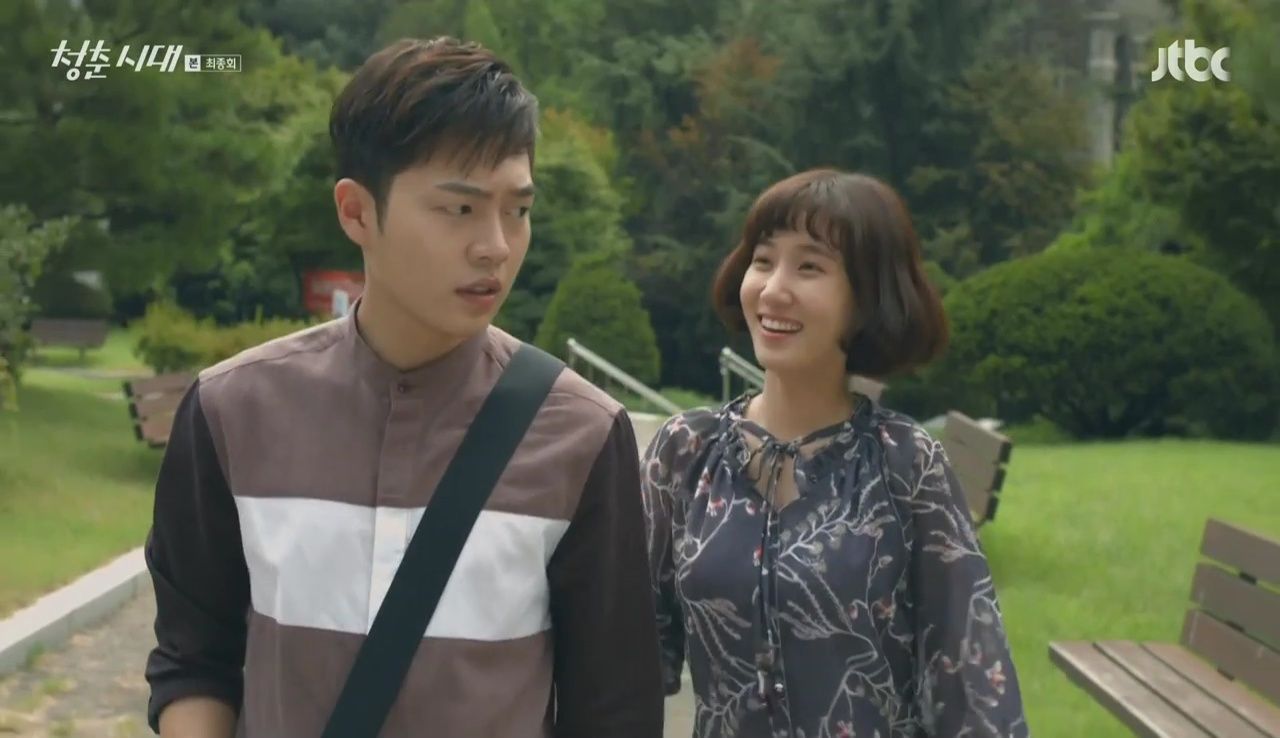 RELATED POSTS
Tags: Theme of the Month