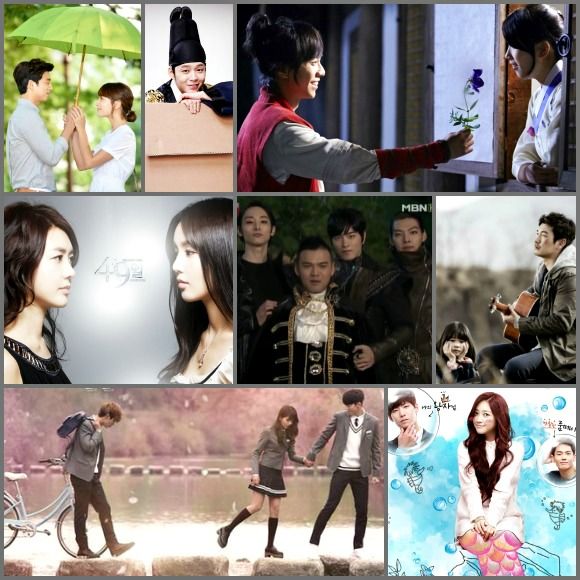 javabeans: Sooooo, we've been wanting to bring back the "If You Like…" series of reviews, where we take a theme or motif and recommend other shows like it. We really liked the idea when we first brought it out…
girlfriday: But then we got tired. Mostly, it was just daunting because we wanted so much to be all-encompassing, and never leave out a drama.
javabeans: And as many shows as we've seen, there's just no way we would be able to write about every single workplace romance drama, or makjang tearfest drama, or drama about heroes with good eyeliner.
girlfriday: Wait, I might still want to do the one about eyeliner.
javabeans: But then it occurred to us that we could cap our lists, instead of trying to name every single applicable title ever made.
girlfriday: Hence, the birth of Dramabeans Top 10. Because ten is a number we can handle.
javabeans: Plus, it sparked a wave of fun future list ideas to tackle, so we'll roll those out in due course. We promise! I'm pretty sure we said that about If You Like, but we mean it this time! I feel good about this. Because Top 10 means Not Top 100.
girlfriday: For our first Top 10, we decided to start at the end—or more specifically, with endings.
javabeans: And for better or for worse (mostly just worse), drama endings have lacked a little something recently. I still haven't seen the finale of Yong-pal, for instance. I know all about it, and I just can't bring myself to sit through that.
girlfriday: I think you're better off skipping it.
javabeans: But I have to finish it! I invested 17 whole hours already, and even loved 6 of them! I can't NOT see the last one!
girlfriday: … And therein lies the perpetual problem that we face, time and again. To finish, or not to finish… that is the question.
javabeans: Would you rather preserve a pleasant memory despite harboring a gaping hole about the ending, or would you rather tarnish the whole experience so as to save your curiosity from expiring?
girlfriday: We're here to help out! If you choose the gaping hole, feel free to stop reading here.
javabeans: However, if you choose the red pill, we've got a whole list for you below, so you can read up on the ending but not waste your hour.
girlfriday: Oh, and SPOILER ALERT, because of the obvious.
javabeans: These are in no particular order, if only because how do you measure the weight of one heartbreak against another? *sob*