Dal Ja's Spring: Episode 3
Episode 3: "A Romantic Inquiry Into a Fateful Encounter"
Dal Ja and Tae Bong have just escaped from strange men who are chasing Tae Bong for an undisclosed reason. Stopped in an alley to catch their breaths, Tae Bong teases Dal Ja about giving her a free practice kissing session when a stranger interrupts, believing Tae Bong to be accosting Dal Ja…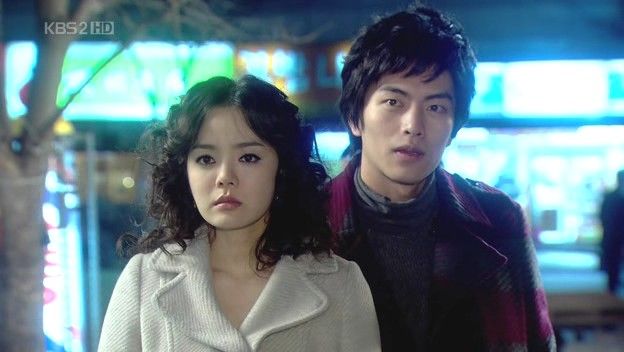 With his perfect timing and dashing looks, Dal Ja wonders if this could be destiny working to bring them together. She doesn't correct the stranger's assumption that Tae Bong is bothering her, and gratefully accepts his "help" in brushing off Tae Bong's unwanted advances.
However, minutes later, when her Man of Destiny returns to give her his card and sees her talking with Tae Bong, he rescinds his offer — clearly Dal Ja didn't need his help after all. Dal Ja's embarrassed and chagrined to have lost out on this opportunity.
Dal Ja tells Soon Ae (her unni co-worker) about her Man of Destiny and his perfect qualifications. He has a fancy car, good looks, and is capable and obviously well employed. She bemoans her lost chance, but Go Soon Ae contradicts her. What good are qualifications over natural feelings and impulses? People would be a lot happier if they weren't always measuring the other person's qualities and adding up their skills. The brain is complicated; the body is simple. But she figures Dal Ja wouldn't know what she's saying, since she's never made a relationship decision based on sexual attraction. Dal Ja uncomfortably remembers her fantasy about Tae Bong, while their conversation is overheard with a mix of curiosity and shock.
Meanwhile, Sae Do (Dal Ja's playboy ex) gets dumped by Seon Joo, who's grown bored. It's a shock to his ego but surprisingly, to his heart as well, as he's developed feelings for her. But Seon Joo coolly moves on, rejecting his appeals to continue dating.
He mopes to Dal Ja, who awkwardly tries to comfort him, only to be seen in yet another compromising position by none other than her Man of Destiny, aka Eom Ki Joong. This is getting to be an embarrassing pattern.
Eom Ki Joong is a newly arrived brand representative for the home shopping channel. Dal Ja is nervous working around him — she fears that whatever interest he may have had in her has been crushed because he's got the wrong idea about her. Her fears are right on, as Eom Ki Joong treats her with disdain and coldness. He remarks that she's got quite a lot of men around her, which Dal Ja attempts to refute. But it looks like that ship has sailed.
Still meeting with Tae Bong for relationship advice, Dal Ja gets a few tips on how to behave. Tae Bong doesn't think Eom Ki Joong is very interested in her, but if she wants to give it a shot, Dal Ja should try a little harder. She should also restrain from believing in things like Prince Charmings and destiny. "There's no such thing as a man of destiny in this world."
At a company launch event showcasing a new line of lingerie, Dal Ja and Go Soon Ae look on as she pines for Eom Ki Joong. Dal Ja works up her courage to approach him…
But unfortunately for her, Sae Do's been drowning his sorrows in cocktails.
Embarrassed and smelly, Dal Ja hides out in the bathroom, with only a flimsy slip to change into while she waits for Tae Bong to bring her a change of clothing.
Tae Bong hurries over, but is intercepted by the same men who were pursuing him in Episode 2. He's taken by force…
After freezing all night waiting in the bathroom, Dal Ja realizes what Tae Bong had told her is right: "There's no such thing as a Man of Destiny. There's no Prince Charming who'll run to rescue me. I can only count on myself."
So rather than waiting, she decides to walk out, in her slip and all.
As she leaves, she stumbles into Eom Ki Joong. She apologizes for not acting professionally and staying to supervise the event, having locked herself in a bathroom stall all night. She's about to walk away when he stops her and offers her his coat. He also asks her out to dinner sometime. And while it should warm the hackles of her romantic heart, she wonders why she isn't more touched by the gesture, although she is thankful for his help.
Tae Bong finds a way to escape his captors and rushes to find Dal Ja, only to arrive too late; the event has closed for the night.
But he manages to find Dal Ja at the subway station, where he gives her the clothes he'd bought.
And leaves with a wave.
Tags: Chae Rim, Dal Ja's Spring, Lee Min-ki