Dal Ja's Spring, Episode 13
(Note regarding Dal Ja's Spring recaps: I posted summaries for Episodes 1 through 6, but am skipping ahead to 13. The reason is, I'd already recapped Eps. 13-18 on soompi and am filling in the previous episodes slowly, when I have the time.)
Episode 13: "Happy Valentine's Day To You!"
Dal Ja is feeling giddy and happy over the memory of Tae Bong telling her, at the end of episode 12, "You're so adorable!" (Another translation: "You're so pretty I could die!") He'd hugged her so hard she could barely breathe.
The thought makes her happy, but when Tae Bong touches her, she feels sparks (literally), which makes her feel awkward around him. With her limited experience, she's not sure what she's feeling, and wonders if she's sick.
Sae Do tells her it's just her body's instincts naturally responding to Tae Bong. She should progress their relationship, and throw herself at him.
Eom Ki Joong's (crazy but entertaining) wife comes to see Dal Ja at the office, while Tae Bong's mother eavesdrops on their conversation. (How many crazies can we fit in one scene? This show is doing a pretty good job so far.) Crazy Wife is looking for an occupation to support herself, and brings Dal Ja more pies. She wants Dal Ja to help her sell them on the home shopping network, but Dal Ja says she can't help her; Crazy Wife would need the appropriate business licenses, etc., to get her business running first before attempting to sell on TV. Crazy Wife gets upset: "Can't you do this much? You're the woman who had an affair with my husband. Don't you feel some responsibility?"
Tae Bong's mother is appalled to hear that Dal Ja had an affair with a married man. Kang Team Leader comes out and recognizes Tae Bong's mother, who's trying to hide her face. She asks: "Sister-in-law?" Tae Bong's father is Kang Team Leader's brother.
Meanwhile, something's going on with Go Soon Ae. She's working late every night, despite being 7 months pregnant, and seems to be suffering pains/contractions. At the same time, Seon Joo is dealing with a pregnancy, which she keeps a secret.
Dal Ja happily imagines spending a romantic Valentine's Day with Tae Bong. But at home, she tries to avoid him because being so close to him makes her uncomfortable. Tae Bong feels something's up, and calls her on her weird behavior, which Dal Ja denies. When he tries to touch her, Dal Ja yells out reflexively, "Don't touch me!" Tae Bong is hurt and tells her, "I understand. From now on, I won't touch you. I'll be careful not to come too close to you either." He walks off, and doesn't let Dal Ja explain further.
Sae Do tells her she was foolish. Dal Ja wonders how to fix it, and Sae Do says the only way is to talk it out. Men are simple beings, and don't know what a woman's really thinking unless she tells him. Honesty is the best policy. She should try it with Tae Bong.
So Dal Ja tries to smooth things over, acting overly friendly, preparing food for him, etc. But Tae Bong just ignores her, going straight into his room without talking. Dal Ja's determined to have a face-to-face talk with Tae Bong, but he keeps avoiding her and acting distant. He makes a point not to touch her at any time.
Seon Joo goes to the doctor to confirm her pregnancy. She's 5 weeks pregnant. She asks for surgery (abortion).
Meanwhile, in probably the BEST scene this episode, Dal Ja goes to Go Soon Ae, who's fallen asleep working late. Dal Ja knows something's up and asks if she fought with her husband. Soon Ae denies it, saying she's just sensitive from her pregnancy.
Dal Ja gives Soon Ae a box of chocolates for a Valentine's Day: "It's the day you give chocolate to someone you love. You know I love you lots and lots, right? Or you can give these to your husband if you haven't bought him any yet."
Soon Ae starts crying. Her husband left the house. He resigned from his job and disappeared somewhere, and she can't get a hold of him. Now she's working late every night, now that she's got to feed her mother and daughter alone. Plus she's pregnant with her second baby.
She eats the chocolate, saying thanks to Dal Ja. "It's really delicious. Chocolates are really good. I'm not crying because I'm sad. It's because the chocolates are so delicious. Actually, I've been craving chocolate for a while. Dal Ja, you're the best. Thanks!"
AT THE RESTAURANT, Grandma asks Tae Bong if they've set a date for their (forced) wedding, and how far he got with Dal Ja. Tae Bong is embarrassed, but answers that they haven't gotten very far, since Dal Ja finds it uncomfortable just to be near him. Grandma says that it makes sense — Dal Ja's father passed away when she was young, and she grew up only with women around. She went to a girls' high school and girls' university, so it's natural that she finds it uncomfortable being around men. Grandma advises Tae Bong to go slowly with Dal Ja and understand her. "One step at a time, do you understand what I'm saying?"
Eom Ki Joong makes dinner for Dal Ja that night. He sits next to her and takes her hand, and says that when he was dating his wife, she always took his hand first and held him first — his wife was always way ahead of his feelings. So he can understand how Dal Ja feels now, since Ki Joong is ahead of her feelings; she probably feels confused and embarrassed. But now he understands how his wife must have felt: always careful, and afraid of pushing.
Dal Ja starts crying, and explains that it's not him — she's had a hard day. She feels grateful to Eom Ki Joong, and sorry. She starts to reject him, but he says, "You don't have to explain. I understand what you're saying. So those difficult words… you don't have to say them. I've known it to an extent for a while, that I was playing a losing game. But I didn't want to acknowledge it."
When Dal Ja gets up to leave, Eom Ki Joong hugs her from the back, and says: "I wish time would stop like this." And the Candy comic panel shows that he's replicating a scene from the book! HAHAHAHAHHA. It's hysterical. It's so not the appropriate saying for the occasion, but that's what happens when you learn dating tips from a comic!

("I wish time would stop just like this!!")

Dal Ja rushes the hell out of there (a teeny bit creeped out, I think), and to the office for an emergency. The chocolates for delivery for Valentine's Day haven't arrived.
Kang Team Leader wants to get all of the customer service reps together to call the customers and apologize, and give refunds. But Soon Ae objects, that Valentine's chocolates aren't just chocolates; they're an expression of love. Dal Ja steps in and asks if there's no way to get those chocolates delivered. Kang Team Leader hands responsibility for the situation to the Dal Ja.
So, the team works all night at the chocolate factory, wrapping boxes of chocolates. (I can't be the only one who thought of that classic I Love Lucy episode in the chocolate factory when I saw this scene, right?)
Tae Bong waits up for her, and because he's worried, he finally looks for her at the office where her co-workers are all passed out in exhaustion. He finds Dal Ja sleeping on the couch. She wakes up and he tells her he was worried.
She says she didn't act that way with him because she didn't want to touch him, or because she dislikes him. She's just unused to it: "Understand me, okay?"
Tae Bong says he didn't respond that way because he was angry, or because she hurt his feelings. He didn't know what to do when a woman reacts like that: "Understand me, okay?" Dal Ja jokes, "Copycat." Tae Bong: "Maybe it just means our hearts are on the same wavelength."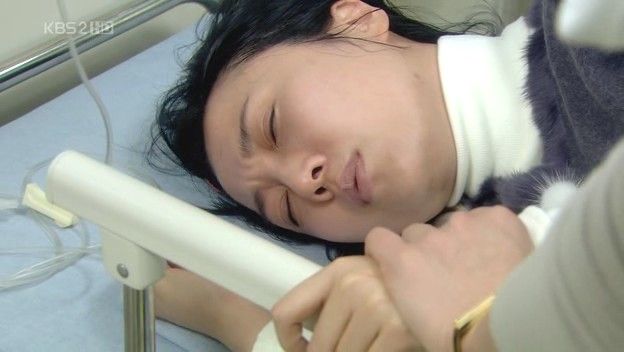 Go Soon Ae collapses from stomach pains and gets taken into the hospital. Soon Ae says she can't lose her child, and begs the doctor to save the baby.
Meanwhile, Seon Joo arrives for her abortion. When the doctor asks if she has an emergency contact or the father of the baby, Seon Joo says she has no one; she's all alone. She runs into Dal Ja in the hall just as the nurse asks if she's completed the surgery forms.
Dal Ja wonders what Seon Joo could be there for, and puts two and two together: "Oh. My. God."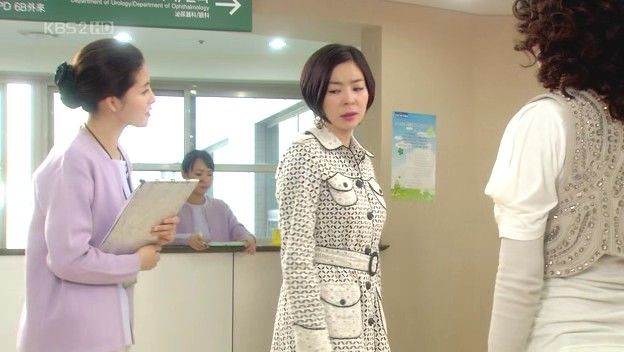 Tags: Chae Rim, Dal Ja's Spring, Lee Min-ki