Wherein I self-critique
I like seeing how other people translate, for a few reasons. For one, it helps me improve my own translations, seeing how others express a phrase, plus I'm curious at how I'd do things differently. Lily over at the now-defunct jlandsubs.com used to write posts analyzing her translations, comparing hers to other translations of the same thing, and I found them endlessly fascinating. Looking back at all the things I've worked on, I figured I'd give it a try as well.
(Unfortunately, it was easier for Lily because j-dramas often are subbed by multiple groups, while kdramas aren't, so I don't have much to compare against. If I analyze translations in the future, I'm thinking of comparing some of my summary work with translations other people have done, unless there are objections — I absolutely don't mean to put the other work down; I only want something to compare with, to illustrate my point. If anyone doesn't like the idea, let me know and I'll reconsider. So for this post, I'm just going to pick at my own past translations — what I liked, what I didn't like, what I'd do differently now.)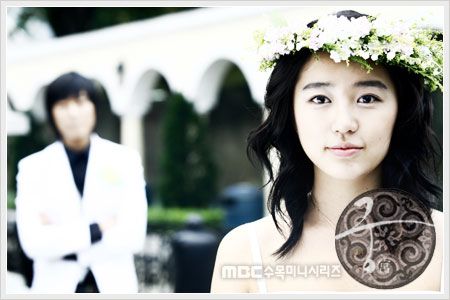 So. That's why I've been skimming through some GOONG episodes, now that it's airing on cable channel IATV (Imaginasian), and I have to say the series has got one of the better subtitles I've seen. (I didn't work on Goong, although I have already seen the series prior to this.) In contrast, I really disliked the translations of Que Sera Sera that I saw on television. And although AZN's version of Fantasy Couple was fine, they drove me nuts with their abuse… of ellipses… at the end… and beginning… of every… single… sentence…
Generally, subs for televised kdramas are decent, but I'm annoyingly picky so I tend to find fault with many of them. I know I should be more open-minded, because I'm sure I totally make mistakes too, but I can't help but cringe when I see something badly worded or off-the-mark. I find that the difficulty with subbing isn't the Korean part; it's the English part. If your translator is completely fluent in Korean but isn't able to convey their intent clearly to an English speaker, their excellent Korean skills have gone to waste.
What is good about the IATV version of Goong's subtitles is, on top of merely conveying meaning, the translation attempts to get across a lot more nuance and subtext in its word choice. Goong is particularly difficult because the drama actually utilizes the language to emphasize story points, and covers a wide range of the Korean-language spectrum.
First, it has normal, everyday Korean speech. Contrasting with the "regular" talk, it also uses formal palace terminology, mixed in with antiquated Korean, and sometimes even poetic, ancient Chinese (translated into Korean) terms. On top of that, the younger characters use a lot of slang, more than you'll find in normal kdramas. If translated straight, the non-Korean-speaking viewer isn't made aware of these differences.


For instance, Yul has recently returned to Korea after spending most of his life in England, and is therefore unfamiliar with a lot of slang Korean, which Chae Kyung ends up explaining to him. In order to make his confusion apparent, the English translation needs to use similarly strange or slangy terms to show that they're unusual word choices.
In one episode, Chae Kyung suggests to her classmates to speak normally with Yul even if he's a prince. She says they should all act like friends, which was translated to "keep it real." The translation isn't literal, and it's a little out of vogue (it's not really hip American vernacular), but it's a good choice because Yul misinterprets the phrase (it can literally mean "eat a friend").
In the episode that's airing now, her friends mumble about "gobbledegook" — and again, that isn't the literal translation, or all that elegant-sounding in English, but the point is that it's a word Yul doesn't understand. (Imagine if the line were translated directly — "Sounds like a foreign language to me!" — and Yul didn't understand what that meant. He'd seem dumb.)
I also try to avoid words like "wanna" and "gonna" unless it really fits the scene, but it works in Goong, which uses colloquial wording to differentiate Chae Kyung's commonness from the strictures of palace life. The IATV translation is a little loose (I don't love that they have Chae Kyung using "freakin" constantly in the palace, because I think the word expresses stronger connotations than is intended — Chae Kyung is being slangy, but not disrespectful, and "freakin" is pretty disrespectful when spoken to royalty), but overall, it gets the tone across very well.
I'm looking forward to how THE STORY OF HYANG DAN will be translated, because there's a similar mix of ancient and modern. A lot of the funny comes from the mixing of the two — the characters glide smoothly from one to the other without batting an eyelash, which makes it cheeky and fun.
GOONG S has similar challenges, because of the mix of formal and antiquated Korean with the modern. Goong S is a series I spent some time working on, so I can speak directly to its translation frustrations.

For the same reason that I'm watching Goong now, I tried catching a few episodes of Goong S when it aired on LA18, just to see how it was done. My personal bias may be showing, because I don't love LA18's translations, but that could be leftover annoyance at how the station chops up the drama and discards about a quarter to a third of the contents to fit it in its programming schedule (which is bloated with an irritating excess of commercials anyway. That's why I avoid LA18. I understand the need to edit for time, but the resulting hack work can be pretty atrocious. It's worse when the shows in question are as subtle and dependent on small moments as Que Sera Sera and Flowers For My Life — cutting huge chunks out of the show results in horribly awkward, confusing episodes.)
But anyway.
Looking back at Goong S, there are a few things I'm still dissatisfied with… For instance, the palace terminology was something we had to come up with that would be both accurate and easily understandable. The difficulty is that these words are derived from terms used in bygone Korean times, but aren't in use anymore — but since the series takes place in the present, certain things require updating. I disliked some of LA18's choices — for instance, they called the Queen's secretary/attendant "chamberlain." I'm not totally satisfied with "aide" or "attendant," which is what we used, but chamberlain sounds so… stuffy. And British. (Redundant? I kid, I kid!)

Then, there were the female palace servants, which we translated as "palace maid." If I could go back, I wish I could've picked a better word — and yet, I still can't think of one I'd prefer. I think the subs on TV may have used "court lady" or something of that sort, which isn't wrong — but I remember specifically not choosing "lady" because that connoted a higher status than they actually had. But conversely, "palace maid" makes them seem lower than they are. It's a respectable position — they're not merely there to clean — and yet, it's not like they're nobility either.
Soon Yi (pictured) may be in a dignified position for a commoner, but she's distinctively lower in status than Sae Ryung (Park Shin Hye), who's the equivalent of nobility. Prince Hoo can marry Sae Ryung; it's out of the question for him to consider marrying Soon Yi.
As for the royalty, we chose to stick with the Korean words, like "Young Sung Gong" to refer to Prince Hoo (Seven), "Pye-ha" to represent the queen (Myung Se Bin), "Hwang Tae-hu" to represent the older queen… The TV subs translated those terms to their Western counterparts, referring to Joon's father, the Hyo-jang Dae-gong, as "Grand Archduke" or something of that sort. When we worked on the series, we didn't go that route because I felt that although Hyo-Jang Dae-gong is an unwieldy term, calling him a duke or archduke applied a certain Westernness to the monarchy that Goong S doesn't actually carry. I was a little looser with the terms prince and queen, because those words are more recognizable and less "borrowed." If I could go back, I might prefer to convert "Mama" to "highness"… although I'm torn on that one.
Then, there's COFFEE PRINCE STORE #1, which was really interesting because I had the chance to go back after translating my portion of the Special Episode, after it was timed, to then edit what I'd originally translated. I know fansubs aren't held to a professional standard, and they're more often driven by speed than perfection, but ideally, it would be wonderful if every translator could go back to edit their own subs after they've been timed to the video.

You might translate a line faithfully, and then see it flash onscreen in a jumble of unreadable words and realize that the average viewer can't get all that info in the brief two seconds the words display onscreen. That's when I'd go back and cut all those unnecessary words to streamline the dialogue — because as much as I want something to be as close to the complete meaning as possible, the sub has to be usable.
For instance, in the first round, I'd translated this long sentence about the set design thusly:
(1) "The key point, more than renovating it magnificently into something new,"
"but as explained in the script, was that"
"the Princes used their own strength and efforts to make it themselves."
"We tried hard to express that intent."
After reading that onscreen, I realized it was way too complicated and confusing. Plus, by the time you got to the end of the sentence, it was possible you'd lose track of the sentence and forget what the point was. So I went back and changed it to:
(2) "The key point was,"
"more than renovating it magnificently into something new,"
"but as the script explains,"
"the Princes used their own strength and efforts to make it themselves."
Not much difference, but I like to think the second version was cleaner and therefore easier to read.
There's also a tendency in subtitles to stick too closely to what is said exactly. (For instance, a lot of times, the "um"s and "ah"s are left in — and my philosophy is, the non-Korean-speaker understands "um" and "ah." No need for screen clutter.) The same goes for word repetition. Again, in the Coffee Prince special, the art director talks about Han Gyul's apartment, and I'd translated it:
"The rooftop, or you could call it a penthouse."
"Isn't it the kind of place youngsters have a desire to live in?"
(1) "Wanting to live at the very top, closest to the sky,"
"living in the highest place, a spacious place."
I didn't like that on the second pass, and cut the last two lines to:
(2) "Wanting to live at the very top,"
"closest to the sky, in a spacious place."

I've learned by now that a strict literal translation isn't always best. For instance, this line in the Special
(1) "As the place where Han Sung and his longtime girlfriend Yu Ju met and broke up,"
"this house is also the place where their love recovered."
is really the more accurate, literal translation. And if it had been short enough to display in one line, it could have been fine to use as is. But because the sentence is too long and needs to be broken into two lines, I chose to go for a slightly-less-literal phrasing:
(2) "This is where Han Sung and his longtime girlfriend Yoo Ju met and broke up."
"It's also the place where their love recovered."
Not much difference in meaning, but easier to follow, ja? The same guideline applied for the following line, because I found my original translation confusing and long:
(1) "The Coffee Prince cafe, an essential location in the drama,"
"the setting for Han Gyul and Eun Chan's sweet love story,"
"was really an oven whose intense heat they had to fight against."
If you're going by sentence syntax and structure, the above is what he's really saying. But that got simplified to:
(2) "The Coffee Prince cafe was an essential location in the drama."
"This setting for Han Kyul and Eun Chan's sweet love story"
"was really an oven whose intense heat they had to battle."
I think the second is smoother and much more readable. And less likely to give the watcher a headache trying to follow the point of the sentence.
Ah, I had more to say, but this is longer than I intended, so I'll end this here. I wonder if this is interesting for anyone — I know most of it is extreme nit-picking, but there have got to be language-lovers out there who dig, yeah?

RELATED POSTS
Tags: Coffee Prince, fansubbing, Goong, Goong S