Auction House: Lot 2
Auction House&rsqup;s Episode 2 (or, as they call it, Lot 2) was a lot better than its first episode, but still feels like it's missing something. As with Air City, despite its slick production and competent execution, I feel like the show is just a couple steps away from being something really interesting.
Still, enough things were well-done that Episode 2 kept me tuned in, and it definitely helped that the story was much more compelling than its first installment. The mystery nature of the plot (who stole the valuable painting?) was satisfyingly complex-but-not-TOO-complex.
And, if you're an art buff, perhaps the brief discussions about the paintings in Auction House will engage you. I'm not too knowledgeable about art, but I find the all-too-short analyses about the various artworks pretty interesting.

LOT 2: "Disappeared Paradise"
Episode 2 starts off just a few moments before a prominent, highly valued painting called "Paradise" (the green one up top) disappears from the highly guarded and secured auction vault. Yeon Soo is settling into her new job, and the painting, the work of a posthumously famous (fictional) Korean artist, is expected to fetch at least $3 million at Will Auction House's upcoming auction, for which "Paradise" is the featured exhibit. Before it mysteriously goes missing, that is…
We then jump back to the day before, when the painting was on proud display in a preview exhibit showcasing the artworks that will be sold at the auction. In attendance are two rich older prospective buyers, one nosy reporter, random members of the public, and the auction house specialists providing assistance, minus Yoon Jae. (He's off taking a nap instead — because he is too cool to care, you see! Which would sound like a condemnation if it weren't also true. He's self-assured and insolent, but in a cheeky sort of way. He's also a good actor — and perhaps more importantly, a charismatic one — in a sea of middling talent; the only other actor holding her own is Kim Hye-ri, playing Director Min.)
After the exhibit, the paintings had been taken aside to the lab to be cleaned of the chocolate that was smudged on them during the show (from the careless exhibit-viewers). And then "Paradise" was gone.
Without signs of forced entry, and no apparent breach of security, the painting has quite simply vanished into nothingness — and the auction is just a day away. All that remains in the frame is a postcard of the Mona Lisa.
The only thing to be done is to call in the police, although that would be disastrous for the auction house — losing such a valuable piece right before an auction is a terrible blow for seller (and buyer) confidence. Who would entrust them with their precious commodities after this?
Yoon Jae speaks up, stating the very obvious but seemingly impossible solution: Just find the damn painting. If it's found before the 5 pm auction (eight hours away), there'll be no problem. The others protest — what if they can't find it? — but Yoon Jae says if they can't find it, waiting a few hours to announce the painting's disappearance won't damage them any further. Might as well try to find it.
The Mona Lisa postcard triggers a thought for Yeon Soo, who remembers reading about a special art-themed Mona Lisa Tearoom. They theorize that there's something significant about the thief leaving the card behind — he could have just stolen the painting without leaving a mark. Although it might be a stretch, the tearoom might be a step in the right direction.
And so, racing along to beat the 24-esque ticking clock, Yeon Soo and Yoon Jae take off after their first clue.
They get a second clue while en route; Yeon Soo feels something sticky on her hands after handling the postcard. The card is sent to the lab for analysis.
At the tearoom, Yeon Soo looks up at the copies of famous artwork lining the walls — all famous European painters like Millet, Chagall, Picasso. And right in their midst is a copy of "Paradise." It strikes her as strange — the others are all Western artists. What's the significance of "Paradise"?
A waitress overhears, and comments: Actually, the wall had only showcased Western painters, but an insistent customer had pleaded, so "Paradise" went up recently. The painting formerly in that spot was Millet's "Angelus (Evening Prayer)." They ask who the customer was, and seeing that he just left the cafe, they take off in pursuit.
The suspect flees, and after a brief chase, he manages to escape in a small alley. He drops the copy of the "Angelus" painting, and Yeon Soo and Yoon Jae wonder at the significance.
When Yeon Soo comments that the two people in the painting look sad, Yoon Jae notes that she's obviously been studying more about art. He tells her that X-ray examination of Millet's original showed that the basket in the picture had originally been painted as a baby-sized coffin, then been painted over. If the people appear sad to Yeon Soo, it's because she'd picked up on what was probably Millet's original intent.
Meanwhile, back at the auction house, the others go about their work, anxious for updates from their colleagues. Their antsy mutterings pique the interest of the visiting reporter, who smells a juicy story and starts poking around. Director Min does an admirable job covering up and making smooth explanations, but the tenacious reporter won't let it go.
Seemingly without any leads, Yeon Soo and Yoon Jae wonder at the thief's identity and motives. They don't even have any leads with the deceased painter's family — after he committed suicide (just after painting "Paradise"), the family was forced to sell his works for money. Afterward, they had no further contact with the current owner.
Lab results for the Mona Lisa postcard come in — it's a particular type of paint — and leads them to a specialty art store. The heat-sensitive paint (like the kind that changes colors on a cold beer label, for instance) was only delivered to one person recently — but without an address. That leads them to speculate that the store's delivery guy ordered the paint (because he wouldn't need his own address to deliver the order). And, coincidentally, the paint delivery guy was also the same delivery guy who was in the auction house vault the day the painting disappeared.
Making their way to the deliveryman's (empty) residence, they find lots of paintings, art supplies, and a suspicious wall o' weird: newspaper clippings, all incriminatingly marked with red pen, all about the upcoming sale of "Paradise." Bingo!
And suddenly, Yoon Jae figures out how everything happened.
Yoon Jae calls the auction house to tell (wine specialist) Do Young they're on their way — do NOT let anyone leave with any paintings! Stall! "Paradise" is hidden somewhere in the auction house, and they cannot let anyone leave without securing it.
Driving madly back to the auction house, Yoon Jae explains to Yeon Soo how it was carried out: The thief actually hid "Paradise" with another painting. First, he painted a forgery with the heat-sensitive paint. Then, at the preview exhibit, he smudged a handful of paintings, including "Paradise," with chocolate so that they'd be sent to the lab for cleaning.
The delivery guy could get inside the lab to quickly remove "Paradise" from the frame; then, he hid it behind another painting. He put the forged "Paradise" in its place — and because nothing was missing, nobody knew anything was wrong. Since the delivery guy left empty-handed, there was no reason to suspect anything had occurred.
As he left, the delivery guy turned up the thermostat, and the rising temperature caused the paint to disappear, leaving only the Mona Lisa postcard behind.
Then, at the auction, the delivery guy would buy the much cheaper painting and walk out with his legally bought purchase — with "Paradise" hidden underneath it.
Thus the painting and the perpetrator are both in attendance at the auction, although they have yet to determine who he is, and which painting holds the hidden "Paradise." All they know is that until they can inspect the paintings firsthand, they have to prevent anyone from walking out with anything.
Yeon Soo tries to frantically remember which paintings were smeared with chocolate, and Yoon Jae gives up on trying to fight bumper-to-bumper auto traffic, ditching his SUV for a passerby's scooter.
At the auction house, a nervous Do Young attempts to hold back three particularly impatient buyers as they all angrily demand that the process be hurried. He stalls for as long as he can, but finally has to relinquish the paintings — just as Yeon Soo and Yoon Jae rush in. One guy's painting is clearly not one of the suspected paintings, and he's free to go.
Yeon Soo detains the remaining two men, but has to make a judgment call on which one she can afford to accost — she knows she's treading on thin ice and probably won't be able to detain both men with a flimsy excuse. But she recalls a distinguishing characteristic of the delivery man — a scarred hand — and they're able to regain their lost "Paradise."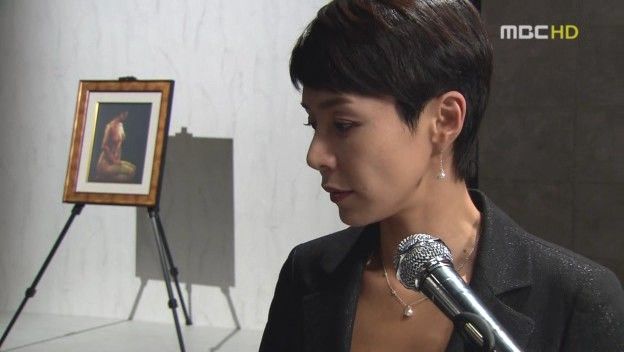 And without a moment to spare. Director Min has been doing her best to draw out the auction without seeming suspicious. Nosy Reporter Chick and Rich Old Fogey Buyers sense something is wrong, and gleefully anticipate the impending disaster as it's finally time to unveil the main item. Seeing that "Paradise" isn't ready for display, Director Min knows the jig is up, and gets ready to make the announcement that it's disappeared…
But Yoon Jae is able to recover the painting in the nick of time, and all is well. Nosy Reporter and Rich Fogeys have to settle for an uneventful end to the auction — if you call a $4 million sale uneventful.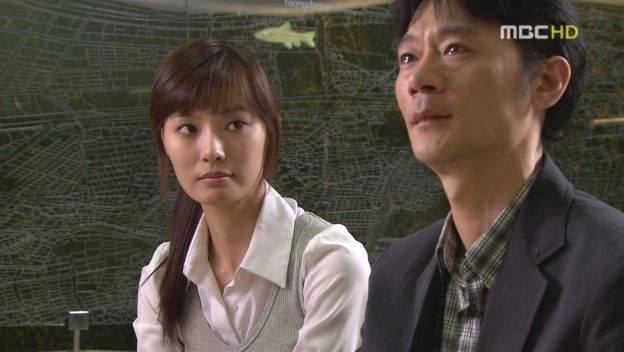 Yeon Soo asks the quiet, unassuming would-be thief why he did it. With resigned bitterness, the man explains that he'd promised his mother he would recover the painting, no matter what. He's the deceased painter's second son, and it broke their hearts to have to sell his father's paintings. He'd always believed he'd be able to get it back — he had to — but over the years, despite scrimping and saving, they'd been unable to buy it back. To all those rich people inside the auction hall, it's just an expensive painting, but to his family, it's so much more.
Yeon Soo listens with pity, and it's at this point that I realize what's missing (at least partially) from Auction House — emotion. This man's quiet pain brings a jolt of emotion to this episode, and makes for a surprisingly satisfying end to the story, which otherwise feels hollow. The theft is cleverly planned but empty of meaning, which is what the rest of this drama has felt like so far. If they could give character depth to our main cast, Auction House would be a lot more interesting — moving, even. It's not fair that the only emotionally interesting moment was with a minor guest character who neither had many lines nor will be returning.
Anyway. Yeon Soo feels moved by the man's circumstances, and asks Yoon Jae what to do. Yoon Jae sees no reason to turn the guy in, and so they let him go. No harm, no foul, right?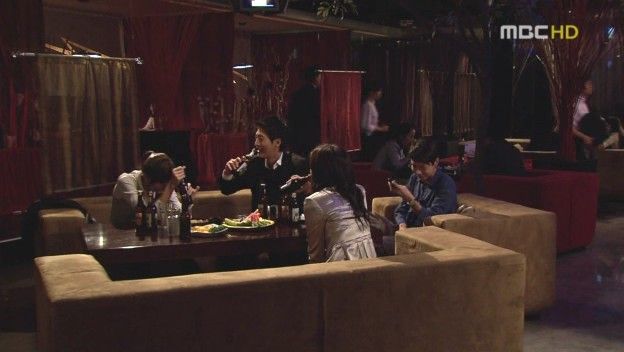 That night, the auction specialists go out to relax after a very long day, and toast a mystery solved. Plus, one last loose end is solved — why the forgery was painted with disappearing ink. He could have just used regular paint and nobody would've ever suspected a thing. But Yeon Soo explains that the man didn't want the forgery floating around bearing his father's name — and thus the fake was painted to disappear after it served its purpose.
Right in the middle of this burgeoning camaraderie, Yoon Jae bolts up from his seat and exits — because he's just remembered what he did with his car. From earlier that day. When they were stuck in traffic, and had to ditch the car for the scooter to make it to the auction in time…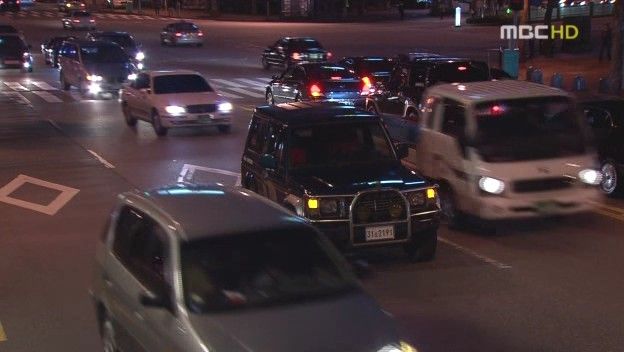 HAHAHAHAHAHA.
Kudos for this point, because this feels like the kind of loose end that normally never gets tied up properly. But instead, they've turned it into an unexpected comic moment. Ha!
But there's one last wrench thrown into the works before this episode wraps, and trust Annoying Nosy Reporter Chick to do the throwing. In her "research," she's uncovered one interesting fact, which she calls in to Director Min.
A newspaper clipping identifies the source of her tip: Yeon Soo's own father, who's now a fisherman, was also wanted for medium-scale art forgery! Dun dun dun!
So the next day, Director Min calls in Yeon Soo to her office, and tells her she'll have to let her go.

RELATED POSTS
Tags: Auction House, Jung Chan, Yoon So-yi