Poll results for the curious
Since a few of you were curious about poll results, here they are (the rest beyond the jump), arranged in descending order of votes cast.
I expected Coffee Prince to lead the pack, but I was still a bit surprised at the extent of its lead. Therefore I find it more interesting to see not only who won but how all the OTHER dramas fared in relation to one another.
No surprises here! But I'm glad to see that other couples held their own against Gong Yoo and Yoon Eun Hye's strong lead — Chae Rim and Lee Minki in Dal Ja's Spring and Su Ae and Lee Jung Jin in Bottom of the 9th, for instance. The same trend held for favorite trendy dramas.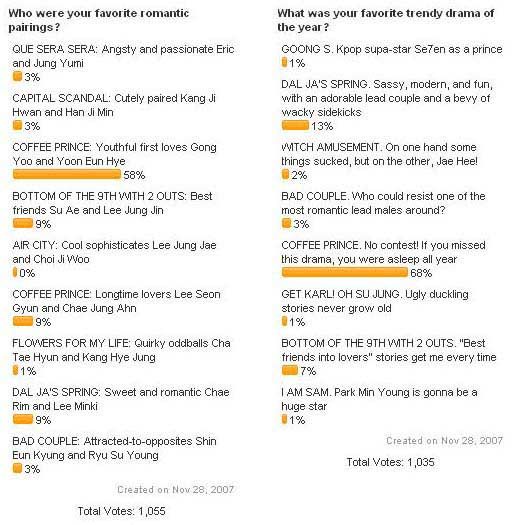 Putting Coffee Prince ASIDE, Dal Ja's Spring was a solid contender for funniest drama, and Mixed-up Investigative Agency had a respectable showing. As for favorite Hallyu star heading for military service (from a prior post), Gong Yoo will be missed when he heads off on January 14. But Chun Jung Myung goes first, on January 2. Poor guy — he's so underrated.

Even split for letdowns with Witch Amusement and Goong S almost level, and Hello Miss in third with a decent number of disappointed fans. You also thought I should watch Thank You (the episodes are accumulating in the Tivo, thanks to AZN, or is it IATV?), but I think I just might enjoy Devil more. And I really want to make time to see Conspiracy in the Court because I hear it's great but nobody's seen it!

Thrillers: TODAW with a clear lead, but closely followed by Devil. And I'm happy to see that both Flowers and Mixed-up, while underrepresented in the ratings, were recognized for their quality.

And finally, the lesser-watched categories were clear by the numbers — historicals, daily dramas, and soaps (click to enlarge).
RELATED POSTS
Tags: bloggy