Drama leading ladies, oh how you've changed

Kim Sun Ah as Samsoon
Anyone's who's been watching kdramas for a number of years has probably, at some point, noted the same thing as the following article. Early Hallyu kicked off the hallmarks of The Korean Melodrama (And Boy Do I Mean Drama!), and I think more recent offerings are unfortunately still colored (dare I say tainted?) by the tropes established in the early stuff. For instance, the impoverished but virtuous female, the Prince Charming who rescues her, the evil and jealous second female lead who'd do anything to sabotage the main romance, the second male lead who never had a shot, the cancer, the tears, the angst. Consider: Autumn Fairy Tale, Winter Sonata, Stairway to Heaven, Star In My Heart, Glass Slippers, All About Eve…
Judging from those early dramas alone, I wouldn't blame people outside the culture for thinking, "Boy those Koreans sure have a lot of young rich studs and poor beautiful damsels in distress. Imagine how productive the country would be if everyone stopped trying to futz around with each other's love lives and just got their act together."
Anyway, many dramas these days still play on the old stereotypes, but the tenor has changed. The stage is gradually shifting, perhaps most notably in the female roles:
Female Characters, Boundless Transformations

Where's the end to actresses' transformations? Nowadays, female characters in every kind of drama and film are evolving. In particular, with the success of projects depending less on plot than character, actresses are taking "meaningful risks" in going for a different image or acting that evokes audience sympathy.

TV miniseries in the '80s and '90s employed the "Cinderella story" formula in search of success, and brought about a general trend following the "Candy"-esque [the manhwa] philosophy: "Though I'm loney, though I'm sad, I don't cry."

In these stories, a kind and obedient female would overcome all sorts of adversities to realize her success in the form of love with a successful man. As a result, popular actresses cultivated innocent images that would elicit a protective instinct. Typical examples include Shin Aera of Love In Your Arms [Sarang eul gudae eui poom ahn ae] and Choi Jin Shil of Star in My Heart.
SONG OF THE DAY
My Name Is Kim Sam Soon OST – "She Is" by Clazziquai. This song makes me totally nostalgic every time I hear it. [ zShare download ]
Audio clip: Adobe Flash Player (version 9 or above) is required to play this audio clip. Download the latest version here. You also need to have JavaScript enabled in your browser.

"Star In My Heart," starring Ahn Jae Wook, Choi Jin Shil, and Cha In Pyo

"Love In Your Arms," starring now-married Cha In Pyo and Shin Aera, left two
'80s and '90s: Innocent images evoke protective feelings

Starting from the early 2000s, there was a boom in female characters who put an emphasis on their sense of identity and self. At the top of the list were films like Singles (2003) and dramas like My Name Is Kim Sam Soon (2005), which starred female characters who worried about choosing between love and their career. As a result, there were frequent instances of single women characters in their thirties who'd yet to marry. It was also around this time that popularity caught on for fresh-faced [no makeup] actresses and unkempt, unruly characters.

However, in recent popular culture, female characters are becoming more diverse, and undergoing overall transformation. There are single mothers who face the world without shrinking back, women who carve out their own lives after divorce without timidity. Last year, even the villainous "adulteress" role met with success in the SBS drama My Man's Woman.

This year, it looks as though we'll see these characters continue in the form of single mom and divorcee roles unhampered by age or circumstance.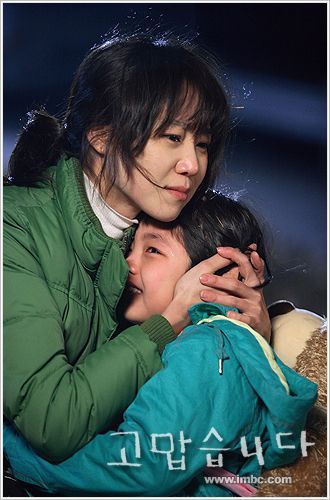 Hyun Bin and Kim Sun Ah, "My Name Is Kim Sam Soon";
Gong Hyo Jin and Seo Shin Ae, "Thank You"
Kim Sam Soon's "Love or work?" dilemma

In the SBS drama currently airing, Bulhandang [Robbers, Con Man], Lee Da Hae gives a performance as a twenty-six-year-old single mother, Jin Dallae, who doggedly keeps at her middling job. In the drama that started February 2, MBC's weekend series Beautiful Park Jung Geum, Bae Jong Wook in the title role plays a divorced detective who's both talkative and boldly forward.

In the movie released January 17, I Like It Hot, Lee Misook took on the role of a fortysomething single mother who looks at both her work and her younger boyfriend with a positive attitude. In the film set to begin shooting this month, Sohn Yejin plays an ill-mannered woman who leaves her husband and remarries, in My Wife Has Married. The fact that roles have evolved into these diverse parts, when twentysomething females have been largely limited in drama and film roles as single women characters, reflects a change in society as well. Divorce rates are climbing and unmarried moms raising children on their own are increasing in number. Furthermore, these types of women characters are no longer seen in a depressing light, or portrayed as women clinging to their pasts. Instead, they reclaim themselves, and are depicted as approaching love and work straightforwardly.

Jang Hyuk and Lee Da Hae, "Bulhandang" (Con Man)
Reclaiming one's life, facing the world proudly

This trend change toward actresses attempting more uncommon characters is in keeping with their own desires to develop. In the past, one likely reason for twentysomething actresses avoiding roles like divorcees and single mothers is because of the negative opinions of others.

But these roles, which cover a wide range of the character spectrum, may just emphasize the sincerity of the acting because they are true to life. Actress Kim Tae Hee, perpetually criticized for her acting skills, took on the challenge of transforming herself with an extreme character as a divorced woman in her second film, Fight. Another example is Gong Hyo Jin as a single mother in last year's Thank You, who earned both widespread recognition and popularity for her acting.

A section chief at Namoo Actors, which manages actors including Kim Tae Hee, Moon Geun Young, Kim Min Jung, and Kim Ji Soo, said, "As reflected in the scripts, the times have changed, and unlike in the past, the masses don't equate actors with the roles they play. Furthermore, actresses may feel some burden in taking on roles depicting experiences they haven't encountered themselves, but I think they enjoy acting out new experiences and emotions."
Tags: Bulhandang/Robbers, Gong Hyo-jin, Kim Sun-ah, Lee Da-hae, My Name Is Kim Sam-soon, old-school, Thank You