Kim Sun Ah leads her Girl Scouts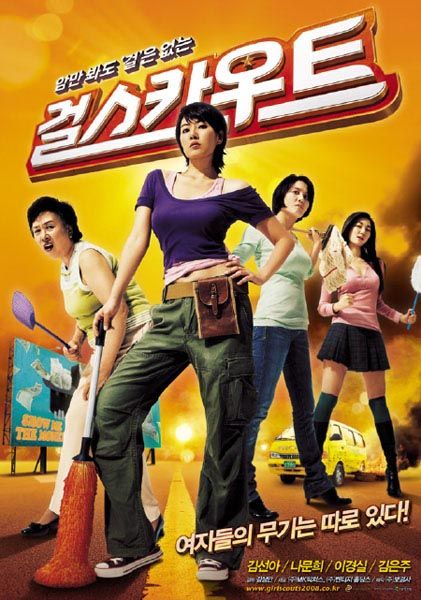 Check out the newly released promo poster for Kim Sun Ah's (long-awaited) comeback project, the caper comedy Girl Scouts. She's had a lot of hold-ups in the three years following her notable role as Samsoon in My Name Is Kim Samsoon, and the article draws our attention to her "perfect S-line" (as though we'd miss it!), having regained her slim curves after gaining anywhere from fifteen to twenty pounds to play overweight Samsoon (who soooo wasn't even overweight).
Girl Scouts is described as a comedy that unfolds when the four lead women take off to recover the money stolen by the head of their organization, and plans to release in April. It seems like a fun, throwaway film, and it's got to chafe that in the midst of her legal issues, Kim Sun Ah had for one reason or another given up roles in such hits as the sleeper romantic-comedy 200 Pound Beauty, legal thriller Seven Days (formerly titled Thursday's Child), and currently popular sports movie The Best Moment of Our Lives.
Here's a Girl Scouts trailer with (admittedly subpar) English subtitling and narration (by Kim herself):
Hear Kim Sun Ah speak Japanese in the Japanese subbed trailer here (bottom clip). (I think her Japanese is a lot better than her English.)
From the film:
Via Newsen
RELATED POSTS
Tags: Kim Sun-ah