Historical inaccuracy, or dramatization?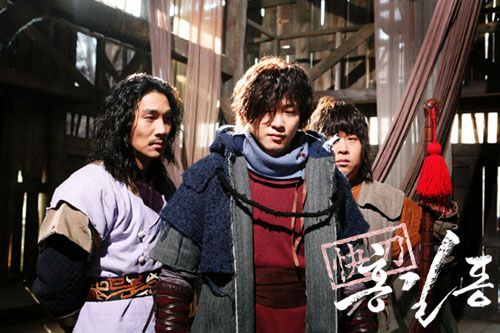 The following is interesting to me because I don't know much of the Chosun background during which Hong Gil Dong takes place, and because I had this exact conversation with my parents in discussing the drama's historical accuracy. On a separate level, there's also the question of how many liberties one can take when dramatizing factual events, which is probably something that'll never be answered to satisfaction.
Personally, I vacillate on how much I care about historical purity in terms of a fictionalized bit of entertainment. On one hand, I'm perfectly fine with new takes on history I'm familiar with (i.e., Western history) because I know enough of the factual version to be able to distinguish the differences in the fictionalized version. On the other hand, I'm a little leery when concerning histories I'm less versed in, because I have little way of knowing how much is poetic license and therefore a contradiction of verified fact.
In any case, my parents (who've only seen a few scenes here and there of Hong Gil Dong) voiced the same issues with the series' departure from history, and in particular the portrayal of Kwang Whe, who's based on the king Kwanghaegun (1574-1641). My mother's more forgiving, although she had issues with the disparity between truth and drama, while my father haaaates it, citing Kwanghaegun's widely recognized brilliance and political pragmatism. The Crazy Kwang Whe routine has gotten old for me too, and I don't even have the same kind of knowledge base to offend; I can only imagine how grating it would be for those who disagree with the portrayal.
I hope I've managed the translation decently; I did a lot of researching and cross-checking to make sure the facts and names aligned. As always, corrections for mistakes are welcome.
Hong Gil Dong criticized for distorting Kwanghaegun's history

KBS2 Television's Wednesday-Thursday fusion sageuk drama Hong Gil Dong, which has risen to the #1 rating position, is gathering criticism for distorting history. …

SONG OF THE DAY
Cloud Cuckoo Land – "휴식" (rest) [ zShare download ]
Audio clip: Adobe Flash Player (version 9 or above) is required to play this audio clip. Download the latest version here. You also need to have JavaScript enabled in your browser.
While parodying many examples from classic literature and casting an ironic twist on issues of contemporary society, the buzz around Hong Gil Dong is steadily growing. But by the same token, a certain faction of viewers is also growing: those who react to the depiction in the drama of King Kwanghaegun as a tyrant.

Hong Gil Dong has modeled Kwanghaegun into a despot. Even Yeonsan-gun [the king depicted in Dae Jang Geum and The King and the Clown, in a generally negative light] would be astonished to see the way he indulges in his sex- and alcohol-fueled reign of terror. Furthermore, the king is shown as ruling in madness born of a guilty conscience after killing his younger and older brothers.

On one hand, some viewers are heaping praise on the actor portraying this version of Kwanghaegun, Jo Hee Bong, but on the other, the character's suspicious nature never relents. Some netizens offer strong words of reproof, saying, "Hong Gil Dong is distorting history and [the image of] Kwanghaegun."

Others say, "I can let go of the negative portrayal of Kwanghaegun killing his brothers and incarcerating the dowager queen, but he [the real king] has been recognized for opening diplomatic relations, for implementing the Uniform Land Tax Law, and is well-regarded as being a king of reform." Also, "The drama version of Kwanghaegun is different from the historical figure. Entertainment is fine, but they're twisting his image."
At the time of the Japanese invasion [1592], Kwanghaegun was made the crown prince, and was lauded by the populace. In addition, his diplomatic policy with Ming China and Japan was considered one of his highest achievements. He set in motion efforts to reclaim farmland that had been impoverished by war, and exerted much energy into enforcing a Uniform Land Tax Law in order to bring his subjects out of poverty. In addition, the Oriental medical reference book [written by famous doctor of Eastern medicine Heo Jun] "Donguibogam" was also published with Kwanghaegun's full backing.

In contrast to these, there were also flaws in Kwanghaegun's character. In order to protect his royal authority, he killed his older brother Prince Imhae and younger brother Prince Yeongchang. His banishment of his stepmother the dowager Queen Inmok to the Seogung palace, and a scandal with court lady Kim Kae Shi [who, via their amorous relationship, upset the politics of the court with her interference], were big reasons for his expulsion from the throne, but his renovation of the Kyungbuk palace also met with strong opposition.
Via Newsen
RELATED POSTS
Tags: drama production, Hong Gil Dong, netizens