Rivals (KBS)
Rivals isn't necessarily a bad show… but there's something about it that smacks of the ridiculous. Chae Rim is pretty good and so is the subtler Lee Jong Hyuk; they have good chemistry despite a really obvious setup. But there's something that reminds me really strongly of Air City, and it's not just the Lee Jin Wook connection — and those of you who suffered through that series alongside me will know that's not a good thing in my book. It's over-the-top and tries really, really hard — and while it hits the mark half the time, that means it misses the other half.
I will say, though, that if it does prove to be bad, at least Rivals shows signs of being the fun-bad type. I laughed a lot in the first two episodes — although probably in all the wrong places. Rivals is funny partly because it takes itself so seriously, but it should really let itself in on the joke.
SONG OF THE DAY
Oriental Funk Stew – "날아" (Fly) [ zShare download ]
Audio clip: Adobe Flash Player (version 9 or above) is required to play this audio clip. Download the latest version here. You also need to have JavaScript enabled in your browser.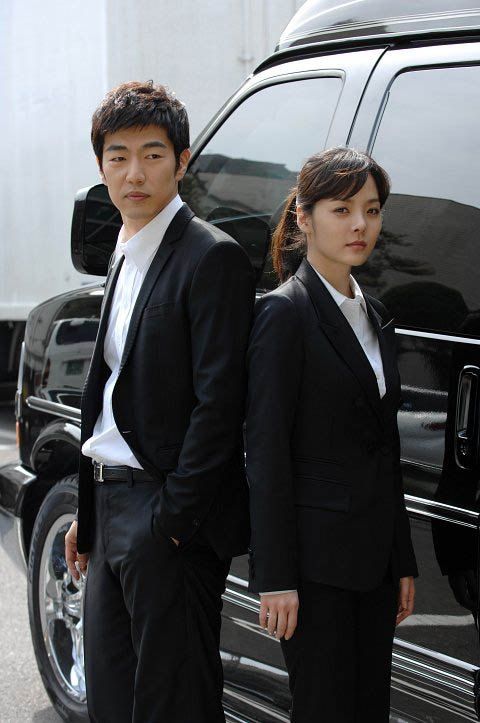 SETUP
Premise: The lives and loves of the bodyguards who protect the president and his family in the Blue House, centering on two new recruits — the series' eponymous rivals — who are teamed together despite always being at each other's throats. The pair of constantly fighting bodyguards (one hot-headed female, one cold-hearted male) are assigned to the president's hellion son, who's made embarrassing acts of rebellion his specialty. Naturally a love triangle ensues.

CHARACTERS and STORY
YOUNG JIN (Chae Rim) has a love-hate relationship with her family — kid brother, father, grandfather — three generations of reckless males always getting into trouble. All her life she's had to bail them out of jail and clean up their messes, and she's sick of it. She moved out and never looked back; when she visits, she's cold and irritable. The three treat her warmly and welcomingly, but it doesn't sway Young Jin, who's too used to their troublesome ways. (When she moves back home to wait for a vacancy to open up in the on-site residences, they're thrilled, while Young Jin maintains her distance.)
All throughout training school, she's been one of the top trainees, and she's damn proud of it — but even though she can usually gain the upper hand, she can't manipulate or defeat KWAN PIL (Lee Jong Hyuk), and that infuriates her. She's hot-headed and impulsive; pride will definitely be her downfall.
Kwan Pil, on the other hand, is coolly competent, self-assured, distant, and might possibly see some potential in her but would never say so. Perhaps that's why he agrees to help her train despite seeming to find her distasteful and annoying. Young Jin puts up with his assholery because she figures they'll part ways soon and never have to see each other again. She's obviously never seen a drama.
SU HO (Lee Jin Wook) is the president's black-sheep son. You know he's a badass because he listens to Linkin Park (omg so hardcore!) and rides a motorcycle. And he boxes in illegal underground matches and doesn't care that he gets beat up so badly he ends up in the hospital.
At the end of training, Young Jin and Kwan Pil test the highest and are assigned to their new posts and discover — horrors! — that they're working together. And even worse, they're assigned to Su Ho. Unfortunately for Kwan Pil, he's probably the cause of Su Ho's current self-destructive behavior; a flashback shows that the two boys grew up together and the once-cheerful Su Ho looked up to the older Kwan Pil, who'd been taken in by the family. Whatever injury Kwan Pil inflicted upon Su Ho, it was A Big Deal and left lasting scars. The president treats Kwan Pil with courtesy, but Su Ho's mother and older sister are still bitter, blaming Kwan Pil for The Big Deal.
Young Jin also has history with Su Ho, but hers is much more recent — while running late for work to meet Su Ho for the first time, she runs into him, only he's dressed in disguise as a high school student. Under constant monitoring at the hospital, Su Ho has tried multiple ways to escape, and finally succeeds in trading clothing with a student, and slips away. Despite being late, Young Jin thinks of her own young brother on his way to juvenile delinquency and takes Su Ho to task for skipping school. She forces him to call his parents (or she'll take him to the police station and deal with him through those means), and Su Ho decides it might be fun to see how this plays out. He dials the president, whom Young Jin scolds for his lax parenting.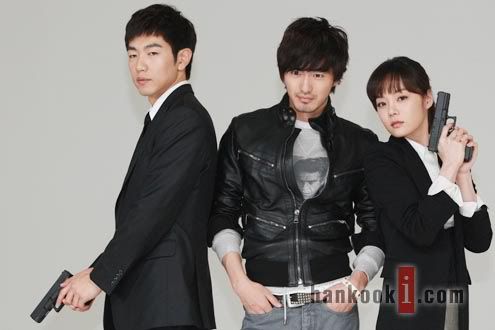 As she leaves, satisfied she's done a good job, she drops her identification, which Su Ho looks at with interest. He looks at her with even more interest when she reports for duty, and they recognize each other. Not only that, but the president recognizes her through something she said on the phone. Worst first impression ever.
Because of the aforementioned Big Deal, Su Ho is, shall we say, less than pleased to see that Kwan Pil is assigned to him. Kwan Pil maintains his professional demeanor, treating Su Ho as he ought to treat his employer and president's son, but Su Ho's reaction is similar to that of a spoiled, petulant, wronged teenager. (He is, however, not at all displeased at the other half of his security team, having already been impressed with the way she handled him when she thought he was a truant student.)
So he strikes a deal with the two: IF they can handle him for one week, he'll accept them as his bodyguards, and stop resisting. But that's IF they can manage, which he obviously doesn't think they can. Young Jin initially thinks one week will be easy, but she doesn't anticipate him sneaking off to his motorcycle and charging headlong into her car just moments after striking the deal…

THE GOOD and THE BAD
First, I like Chae Rim, but I find her character kind of problematic. She's supposed to be so skilled and competent, and yet all we ever see is her messing up and needing Kwan Pil's help. How are we to buy that she and Kwan Pil are equal rivals when he's clearly so superior? Her hot-headedness makes her seem foolish and she's all talk but no walk. I'm supposed to believe she's truly the best person for this job, but they're making it hard for me to buy it. Kwan Pil, on the other hand, is like a robot — precise and level-headed and always right. One of these days I'd dearly love to see a drama where the woman wasn't shown to be so much less capable and in need of manly assistance than the guy.
Chae Rim and Lee Jong Hyuk's chemistry falls into both categories (good and bad) — on one hand, even one episode in, it's obvious they've got the "I hate you but that means I really love you" vibe running in heavy doses. But it feels like they're doing whatever they can to engineer such instances without trying to work them in naturally, so it feels artificial. Like they're just looking for an excuse to get him on top of her (judo match) or slamming her against a locker (she struck out first). Of course, they are just looking for an excuse, but it's so obvious; they could try a little harder to make the conflict relevant. So far it's mostly Kwan Pil besting Young Jin, and Young Jin lashing out impulsively like a child, "How dare you beat me! Take that! Ehn!"
That's not such a bad thing since the two DO have chemistry and it's entertaining to watch, but that same artificiality comes through in the rest of the drama as well, and it IS an issue there.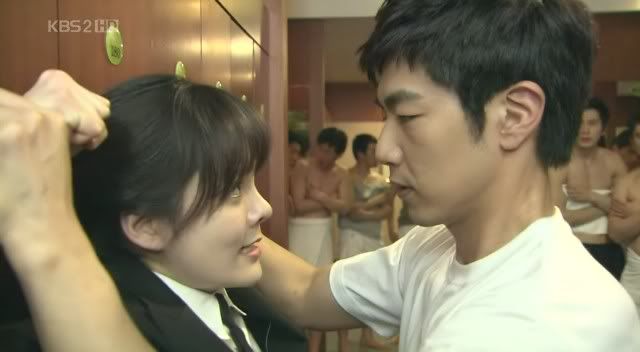 Frankly I think the Blue House scenes are alternately boring and silly, and the manufactured drama between Kwan Pil and the president's family is ham-handed as well. Let's just say that with this amount of Sturm und Drang about the mysterious Big Deal, it had better be one heck of a doozy. Like Kwan Pil killed Su Ho's puppy or something. And ate it.
The training exercise in the first part of Episode 2 had me in stitches at the absurdity. I know it's a training run and not real life (as you're supposed to think at first), but it's like everyone watched Mission Impossible on endless repeat and somehow thought that's how a real terrorist situation unfolds. Yep, with terrorists hanging upside-down and scaling down a building's walls, the works. Dude, even 24 has more subtlety than that.
I have a soft spot for Lee Jin Wook, but sometimes I think that if he weren't good-looking, he would've made a decent comedian ("gag man") with his exaggerated expressions and tendency to mug for the camera. It's funny when he's being ironic or self-aware, but when he's playing a moment straight (adopting his badass swagger, for instance), it's so laughable. A cute little boy thinking he's James Dean.
All said, though, don't let me convince you against Rivals. I did have fun watching it. I can't say it's a bad show (although I don't think it's going to be one to write Mom about). And you might enjoy it for some mindless escapism.
RELATED POSTS
Tags: Chae Rim, first episodes, Lee Jin-wook, Lee Jong-hyuk, Rivals