The Sweet Life with Lee Dong Wook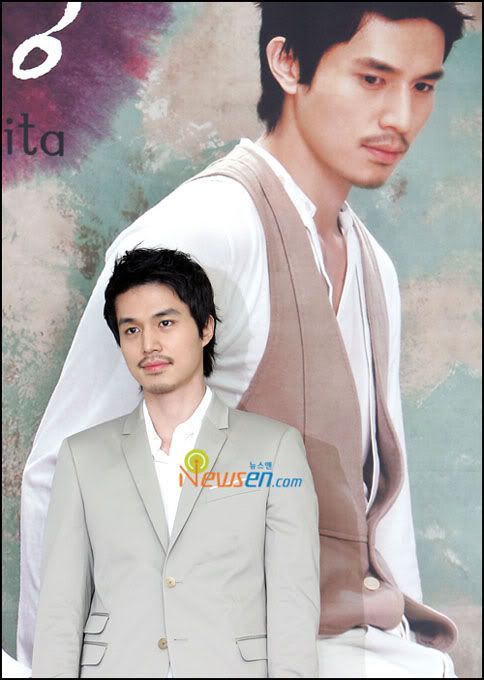 Finally, Lee Dong Wook fans can see him back on television! After rising to stardom in the romantic comedy series My Girl, he's focused mostly on films and kept a relatively low profile; this will be his first television project in more than two years — and he appears with another My Girl co-star (although probably not the one fans most would like to see him with again), Park Shi Yeon.
The upcoming weekend drama The Sweet Life takes the place of MBC's just-wrapped Last Scandal of My Life, and held its press conference on the 29th. In the drama, Oh Yeon Soo and Jung Bo Seok are a married couple whose lives become complicated in mystery and drama with the appearance of the Lee Dong Wook–Park Shi Yeon couple. Lee Dong Wook's character goes to Japan on a trip and chances to meet Oh Yeon Soo's housewife character; the two "fall in passionate love."
While filming in the snowy mountains of Hokkaido in February, he'd experienced temporary paralysis of the limbs and had difficulty breathing. "I saw white lights and thought, 'I'm going to die like this,'" he added. It was the result of filming for eight hours in subzero temperature — 16 degrees below zero, Celsius — at an elevation of above 3,000 meters, and sent Lee Dong Wook to the hospital.
Reuniting with his My Girl onscreen girlfriend after two years, Lee Dong Wook explained that it was comfortable having a familiar face around (ooh, holding back a face joke here), particularly at first because the other two leads were older and new acquaintances.
(A note on the title: I've seen this translated as "Bittersweet Life," which may be because its Korean name shares a title with the Lee Byung Heon movie which was translated as "bittersweet," probably in an ironic twist on the literal meaning. But it actually means "sweet," and the promo poster bears the subtitle "La Dolce Vita," so I think "The Sweet Life" may be more appropriate. Even though they may be using irony here too. In any case, the main website uses "sweet" over "bittersweet.")
The Sweet Life films under the direction of PD Kim Jin Min of Shin Don and writer Jung Ha Yeon of Shin Don, Wife, Queen Myeongseong. It premieres this weekend on MBC.
Via OSEN
Official drama site: http://www.imbc.com/broad/tv/drama/sweet/index.html
SONG OF THE DAY
Fanny Fink – "Sweet" [ Download ]
Audio clip: Adobe Flash Player (version 9 or above) is required to play this audio clip. Download the latest version here. You also need to have JavaScript enabled in your browser.
Tags: La Dolce Vita, Lee Dong-wook, Oh Yeon-soo, Park Shi-yeon