When Boy Meets Boy
I admit the first thing that struck me about Kim Hye Sung was his adorable baby face. But although he's part of the newest generation of good-looking, trendy young stars, he seems to be slowly differentiating himself from his peers and taking some personal care (and risks) into his acting choices. He's one I've got my eye on for the future.

"Kim Hye Sung's transformation from pretty boy to hot-tempered youth to gay lover"

By the time 2003's hot uljjang trend had blown over, some new stars had appeared on the scene: uljjangs. [What's an uljjang?] The first-generation ulljangs included Park Han Byul, Gu Hye Sun, Nam Sang Mi. Second-generation ulljangs: Kim Ok Bin, Bae Seul Gi, Lee Yeon Hee. And also Kim Hye Sung and Kang Eun Bi.

They rose to fame not via television or movies, but through the internet, causing a shake-up of the currently existing star-making system. Uljjang stars weren't discovered through television station tests, new-actor auditions, talent agencies, or streetside castings; they were made into stars by audiences and consumers themselves.

Five years later. …
SONG OF THE DAY
Deb – "Dopamine" [ Download ]
Audio clip: Adobe Flash Player (version 9 or above) is required to play this audio clip. Download the latest version here. You also need to have JavaScript enabled in your browser.
Boys and girls in their teens are now youths in their twenties. During these years, those who'd ventured into television and films have all encountered some criticism of their acting abilities, almost like a rite of passage. Although many following these stars have attempted to knock on the doors of the entertainment world, the newcomers haven't been able to gain interest from the public.

Even before Kim Hye Sung had made his screen debut, he already had a fan cafe as an uljjang star with a membership exceeding 100,000. He debuted in the film Jenny, Juno after moving to Seoul from Busan in 2004. It was considered an obvious choice to have an uljjang star appear in a movie that wrapped everything in pretty packaging. But his next film was the hard-boiled action film Gangster High.

There, he'd held in his hand an axe dripping with blood. And now, after becoming known to viewers through MBC's sitcom Unstoppable High Kick, he's in the midst of filming Boy Meets Boy, a short film about homosexual love directed by Kim Jo Kwang Su [also starring Yeh Jiwon, last seen in Mixed-up Investigative Agency].

From hard-boiled action to homosexual relationships, he's not just a cute-faced uljjang star, but widening his acting scope little by little in an effort to become a "real actor." I met with Kim Hye Sung on March 29 at a cafe in Seoul's Cheongdamdong neighborhood.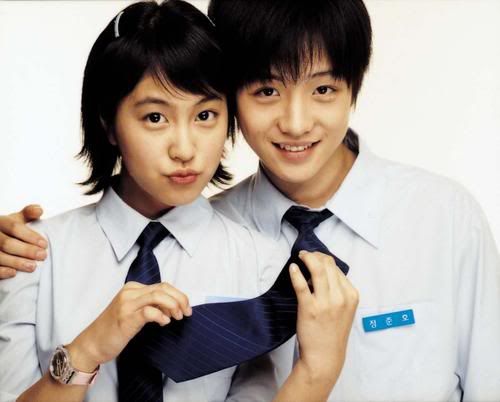 How do you feel about the label of 'uljjang star'?

"Because the uljjang title has given me the opportunity to act, I don't think of it in a negative light. It's just a little disappointing to be looked at as Pretty-Faced Kim Hye Sung rather than Actor Kim Hye Sung. But that's something I'll have to conquer on my own."

It was a surprise that you took a role in the hard-boiled action movie Gangster High.

"I wanted to cast off the child-actor image of Jenny, Juno. It was at that point that I read the screenplay for Gangster High, and without hesitation, I sought out director Park Ki Hyung for an audition. I was once satisfied with the title of being an uljjang, but after Gangster High, the thought came to me many times that I wanted to become a good actor."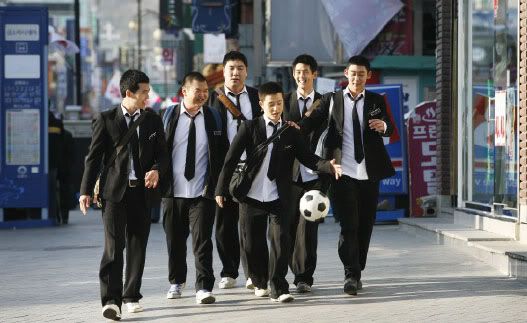 Your face became known through Unstoppable High Kick, a role that's the direct opposite of that in Gangster High.

"Actually, my personality is closer to that of Jung Il Woo's Yunho character than my Minho character, but that's not important. What's important is that whatever the role, I do my best. Filming every day for close to a year, I could feel my acting improve gradually."

Boy Meets Boy is a short film about the topic of gay love. Did you find it burdensome?

"It's difficult acting without a single line of dialogue, acting solely through looks and facial expressions. However, I think it's an opportunity for me to grow as an actor, and so I took the role without hesitation. Actually, director Kim Jo Kwang Su said he thought I wouldn't take the part. Because there was no pay. [Laughs]"

What kind of actor do you want to be?

"Right now, I'm only concerned with being a good actor. To an actor, the acting is the most important thing. That's how I can become known to more people, and give them more laughs, more tears. These days, I'm happy acting."
Via DongA.com

RELATED POSTS
Tags: Kim Hye-sung, netizens, uljjangs, Unstoppable High Kick