Who Are You: Episode 13
I'm pleased with the pacing, given that (unfortunately) many to most of other kdramas start lagging in the home stretch — even the good ones. It's not that they get bad, but a lot of times it's like you can feel the fatigue of the production team start setting in. (Mixed-up Investigative Agency is one of only a few other recent dramas that I feel got better with every episode.) But Who Are You? seems to be winding up for the big finish — hopefully a strong one. (Please!) *Knock on wood*
SONG OF THE DAY
3rd Coast – "Can't Stop Loving You." Heh. This song was in my to-be-posted folder, and whaddaya know, they played it in one of the scenes tonight. So here it is. [ Download ]
Audio clip: Adobe Flash Player (version 9 or above) is required to play this audio clip. Download the latest version here. You also need to have JavaScript enabled in your browser.
EPISODE 13 RECAP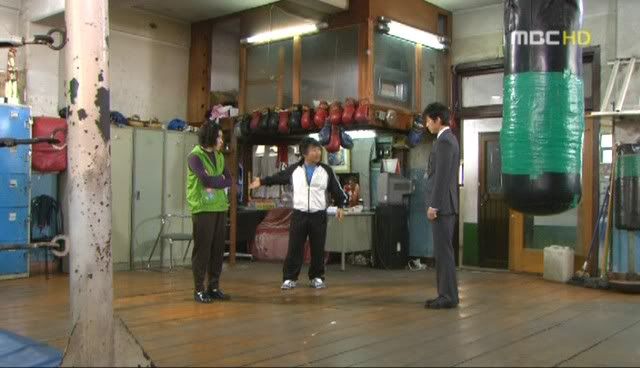 Ho Joong recognizes Seung Hyo as the brother he's just been informed he has. He bitterly tells Seung Hyo to go on and greet his father, then leaves. His mother calls after him, and Seung Hyo realizes Ho Joong (whose name was on his father's file) is his brother.
His father (Choi Chul Soo) is eager to greet Seung Hyo, offering him refreshment and welcoming him nervously, but Seung Hyo remains distant and tells him the DNA test came back positive. He keeps his purpose short and simple:
"I will recognize that you're my blood father. But that's the extent of our relationship. Not more, not less."
He advises his father to desist in loitering around his workplace, shocking his father and stepmother with his cold attitude. His father says he'll do anything to make things right with him, but Seung Hyo's not interested:
Seung Hyo: "I'm sorry, but I haven't paid you much thought all my life, so I have no interest in smoothing things over with you. I'm not just saying this, it's the truth. I've never waited for you, so if your mind is burdened, please let it go."
The stepmother mocks her husband for his foolishness, and asks why he yells at her and hits Ho Joong, but talks so prettily to Seung Hyo: "Is it because he's a rich son? Is it that he's so successful that you're so polite, groveling pitifully even as he disregards you?" She then tells Seung Hyo he shouldn't be so rude or think he's so much better than them: "Are you afraid we'll stick to you like leeches?"
Seung Hyo answers matter-of-factly:
"I can't say I'm not. I'm warning you in advance not to cling like leeches. I hate leeches."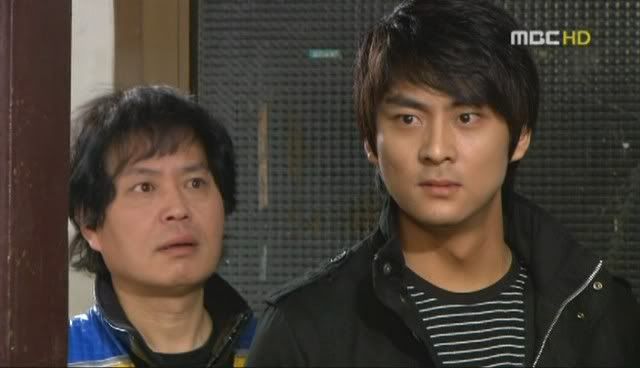 That's pretty cold, and Ho Joong in particular, who's returned to hear it, is insulted. Even Il Gun, who knows how unfeeling Seung Hyo can be, is taken aback.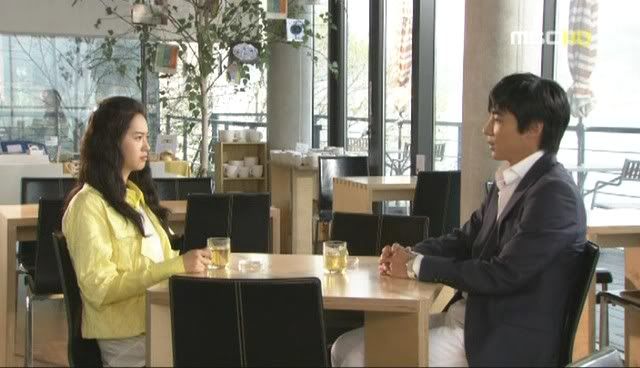 At the gallery, Young In asks Jae Ha about her father's paintings. Without betraying what she's recently learned, she asks if the paintings he's looking for actually belong to U Gallery. Jae Ha breathes a sigh of relief that she'd deduced the matter before he had to break it to her — he'd been worried about how to broach the topic (because it paints her father in a negative light).
Jae Ha tells her what I think is mostly truth, although he may be tweaking the details. Ten years ago, her father made a contract with the gallery, selling his paintings for a low sum. They didn't sell well, and sometime halfway through the contract, he'd told the gallery that he'd stopped painting. However, it seemed he held back some artwork and continued painting, and at one point was shopping them around to other galleries for a better price, even though he was contracted to U Gallery.
Young In says that's unlike her father, and Jae Ha agrees that he'd been surprised when he met Il Gun to find him to be a decent man. He understands — Il Gun's paintings are worth much more now than their contract price, and it's natural he'd want the higher price. (Either Jae Ha's embellishing the last part about Il Gun reneging on his contract, since Il Gun hadn't known his paintings were increasing in value because U Gallery purposely kept the Sotheby's auction news from him. Or, this is the truth and Il Gun was desperate enough to hold the paintings back for Young In's sake.)
Jae Ha informs Young In that a documentary about her father is being made; this new interest in his work will make him posthumously famous.
Afterward, Jae Ha insists on driving Young In home — but pauses, feeling self-reproach at his duplicity. Feeling ashamed of himself, he changes his mind and tells Young In he won't be able to take her home.
On Seung Hyo's drive back from his father's gym, Il Gun drops a bomb: Ho Joong is the guy who attacked Seung Hyo and stole the cigarette evidence.
Il Gun: "Then the one who killed me, Cha Seung Hyo, was your brother?"
That night, Jae Ha drinks alone gloomily, singing to himself the song he'd performed for Young In in episode 3 (video clip posted there). Ha Young comes by and offers to listen to his worries; the load will lighten. Jae Ha admits he scares himself, and dislikes himself.
Jae Ha: "I thought being a bad guy was something you were born with. But it turns out you can become a bad guy in one moment. I'd thought I was a decent guy. But that's not true."
Ha Young: "Is this about artist Sohn?"
Jae Ha: "A painting that wouldn't even sell for $500 — no, $50 — has become worth $500,000. In five or ten years, it'll turn into a million… then that becomes $100 million. If it were you, could you give up that money?"
Ha Young: "What in the world are you feeling guilty about?"
Jae Ha: "I can't look at that girl's face. I can't look her in the eyes. Why is that so hard?"
It's nice to see Young In thawing toward Young Ae — reluctantly, yes, but the sting has gone out of her attitude. She asks if her father ever mentioned a contract about his art, but Young Ae doesn't know anything about it.
Young In worries that her father's actions weren't right, even if he did everything in order to give her the paintings. If he acted against the law, should she return the paintings? Young Ae: "I don't know. He must have had a reason. If I were you, I think I would respect your father's wishes and not worry about the rest."
Young Ae asks if she'd like to see something her father drew for her. Young In excitedly says yes, then deflates to see the subject of the drawing.
But it's not hate for Young Ae so much as it's disappointment, and Young Ae even smiles at Young In's grumbling.
Young In: "Of all the things to draw in the world, why'd he draw this? I don't know who she is, but she sure is ugly. He didn't draw a single thing of his daughter, but he drew his girlfriend. How annoying, Dad."
It's a drinky kind of night all around: Seung Hyo also sits around brooding while Il Gun muses over what is to be done. He asks Seung Hyo to continue with the investigation into his death — for Young In's sake, he has to figure out what happened.
Il Gun: "I'm sorry to ask this, knowing how hard things are for you, but think of my parental concern. If your brother is the one who killed me, Young In won't be able to cope with it. If you're concerned even a little over the shock and pain that will bring her, stop approaching her. If she approaches you, turn her away."
Seung Hyo: "Aren't you going to see your daughter today?"
Il Gun: "It's not that I'm not going, it's that I can't, kiddo. I'm worried she'll fall for you even more."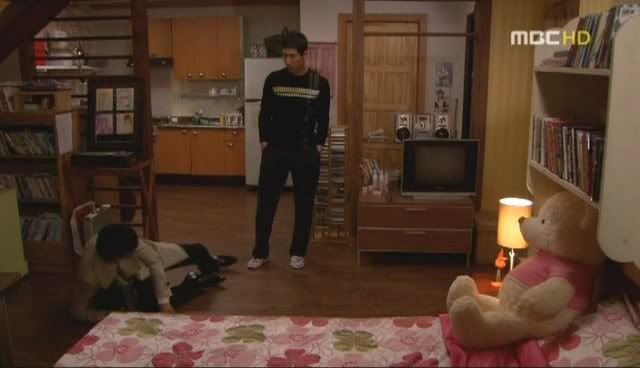 So is it any surprise that Seung Hyo's next move is to arrive at Young In's place, totally drunk?
His interactions with Deok make me laugh: Deok would love to be rude to him and speak banmal (which he shouldn't, since Seung Hyo is older) — but he just barely brings himself to tack on the polite "yo" to the end of his sentences. Deok doesn't know where Young In is or when she'll be back… but some time later they're BOTH drunk and now Deok's calling Seung Hyo "hyungnim."
Deok offers to convey Seung Hyo's message to Young In when she gets home, so Seung Hyo says:
Seung Hyo: "Tell her it won't work. No matter how I think about it, it won't work. Tell her I like turtles better than people. Say that even if I make a hundred concessions, I prefer turtles to Sohn Young In."
Deok balks, telling him, "How can you prefer turtles? You're not a person, you're not a man!" Then he allows that he's relieved, because he'd worried about their age gap and thought she was wasted on him. Seung Hyo asks why he's talking like that (all proprietary over her).
Seung Hyo: "Why would you feel it's unfair?"
Deok: "Young In is my first love! You might've fallen for her at 31, but I did in our last year of middle school."
Seung Hyo: "Is she only your first love? She's mine too!"
(I love how Seung Hyo stares at her in this scene.)
Young In comes home to find them both drunk, confused but amused to hear Seung Hyo called "hyungnim." Suddenly, Seung Hyo's mood turns serious, and he tells her not to laugh.
Seung Hyo: "Don't laugh in front of me. Don't cry when I'm watching, either. Don't look at me like that. Don't do anything. Don't say anything."
Young In: "Why not?"
Deok: "He says he likes turtles better than you."
Seung Hyo: "You heard, right? I came to tell you that. Since I've said it, and you've heard, I'll go."
Seung Hyo stumbles to leave, but falls just in front of the door.
Young In tries to persuade him to get up and sleep in the bed, not on the floor, when Seung Hyo opens his eyes for a moment:
Seung Hyo: "Hey, Soccer Ball. Play soccer with me."
Young In says she's been kicked enough today — and Seung Hyo slides over and falls asleep on her shoulder.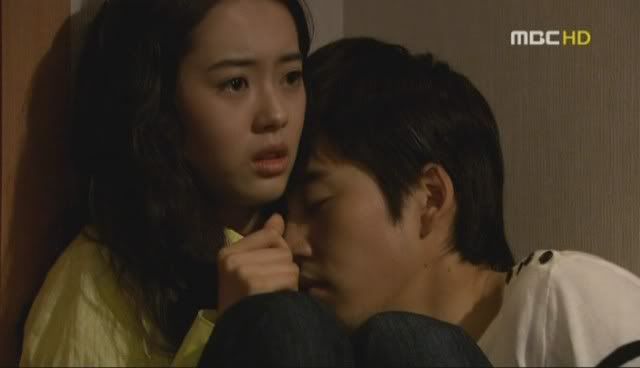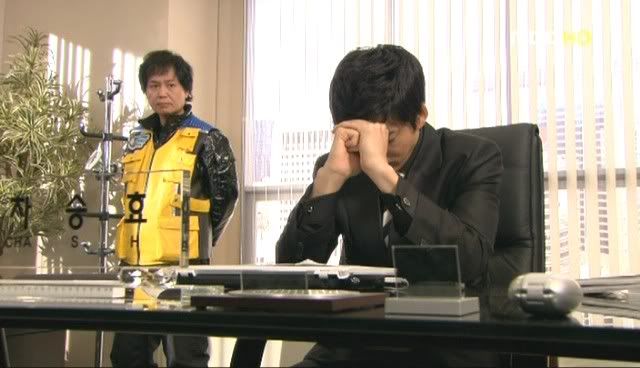 Mr. Yoon is unhappy with Seung Hyo's preoccupation with the dead guy and his daughter. Seung Hyo tells Mr. Yoon to prepare for the worst, because he recognizes he's caused problems for the company. Mr. Yoon counters that he's made the company huge amounts of money, but Seung Hyo knows that people "are more sensitive to what they've lost than what they've gained." He's prepared to walk away from his job, but worries more for Mr. Yoon, who may lose his job for having the bad fortune to be paired with the wrong boss.
Still, he's more worried over Il Gun's case (and his brother's probable culpability) than business affairs. To that end, he arranges to have the paintings moved (which Jae Ha finds out through a bug he left in the orphanage director's office) and gets the DNA evidence from the cigarette stub.
Ho Joong drops by Seung Hyo's office. He saunters in with a cavalier attitude, curious to see what's so great about Seung Hyo to have won his father's devotion, and catches himself when Seung Hyo asks for a cigarette. He lies that he's out of cigarettes.
Ho Joong boldly demands to be paid off. Maintaining his cool demeanor, Seung Hyo asks what Ho Joong and his father's price is — and is his mother to be included in this? At mention of his mother, Ho Joong's anger instantly flares: "Are you so superior? Are you so great? How dare you insult my mother. Why bring up my pitiful mother, you bastard? 'Don't cling like leeches,' you said? I'll make you pay."
Ha Young apprises Jae Ha (playing racquetball, of course, since that's what rich people do!) of the documentary team's progress. She'd slyly mentioned Young In to the producers, who liked the idea of incorporating the poor daughter into the story, despite Jae Ha's opposition. (She'd also shown Il Gun's contract with the gallery, which is either changed from its original version or fabricated completely — it makes the gallery look generous and good.) Now, she tells Jae Ha that the producers "somehow" found out about Young In and want to include her; Jae Ha angrily puts his foot down.
The producers stake out Young In's neighborhood and ambush her on her way to work. Bewildered, as soon as the producers tell her they're making a documentary about her father, she politely turns them down and says she can't help them.
They follow her, growing more persistent. Jae Ha arrives and puts a stop to it, telling the producers that the gallery made it clear the daughter was not to be bothered. The producers tell him they'd never received that notice; in fact, it was Ha Young herself who'd brought up the daughter.
Young In assures Jae Ha that she's fine, and thanks him for helping her out. By this point, Jae Ha is filled with self-disgust at his actions, and concern over Young In's difficult life. Although she approaches her new job like a good sport, saying she'd always wanted to work in a convenience store, that just makes him feel worse.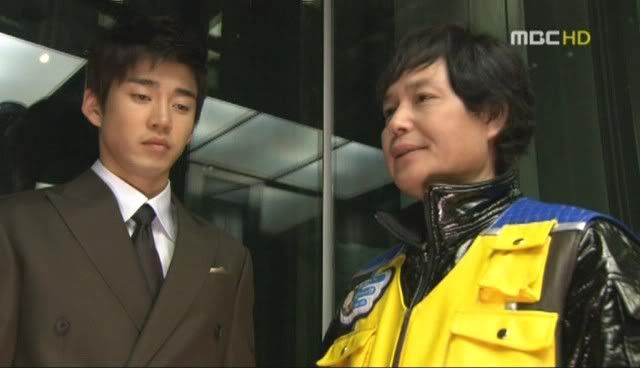 And now, one of my favorite scenes this episode, even though it's not romantic and/or action-oriented. It's a nice small moment.
At the end of the workday, an employee hesitantly bids Seung Hyo good evening, but Seung Hyo doesn't crack his stern expression. Il Gun chides him to accept the gesture graciously; his demeanor is why his employees don't like him. So Seung Hyo calls out to the man, "You worked hard. I'll see you tomorrow." Much encouraged by his boss's comment, the man puffs up in pride, smiles and bows, "You worked hard too, sir. I'll see you tomorrow."
Il Gun then broaches the question carefully — since Seung Hyo's done for the day, can he use his body now? "Right now, your head's about to burst. You've been agonizing all day, and your brain needs a rest too. Take a break for three hours, okay?"
We don't see Seung Hyo's response, but we can pretty much assume that he gave his consent, and it's gratifying to see how far this body-possession relationship has come.
Hilariously, SeungHyoDad practices acting like the real Seung Hyo — it's Seung Hyo's body acting like Il Gun acting like Seung Hyo. Mind-bendy, no? But so funny. Yoon Kye Sang even manages to differentiate this Il Gun affecting a Seung Hyo impersonation from his playing of the real Seung Hyo. And his SeungHyoDad.
In any case, he calls Young In and finds out her new workplace, then berates himself for not thinking of bringing her some dinner. He purposely loosens his tie and musses his hair before going in to see her — at first I wasn't sure what he was doing, but I'm thinking Il Gun is trying to make Seung Hyo appear less attractive to Young In. Cute.
SeungHyoDad walks into the store and sees Jae Ha helping her stock shelves, and I believe it's worth noting that this must be the first time in the drama that Il Gun has actually seen Jae Ha. He recognizes him right away and stiffens in outrage.
Young In brightens to see SeungHyoDad, but he ignores her and heads straight for Jae Ha — and clocks him one across the face.
Jae Ha promptly punches SeungHyoDad right back, and the two men engage in a stare-down.

Additionally…
Poor Ho Joong. He never had a chance with such parents, did he? Don't get me wrong, he's certainly an adult and responsible for his own bad decisions and criminal activity. But it must be hard growing up with a father who seemed to hate you for being you and not your brother. Plus, at least the guy loves his momma (and with her bitterness and bilious personality, she's not an easy one to love).
Also, if Jae Ha is the one at the accident site where Il Gun died, as the last scene suggests, that means Ho Joong is not guilty of murder, which frees our couple to get together without lingering guilt issues for Seung Hyo (whereas if Seung Hyo were the brother of Il Gun's killer, that… might get in the way).
Conversely, I don't feel sorry for Jae Ha at all, but I do feel satisfaction at his growing self-recrimination. I don't know if he'll be redeemed — he probably deserves full punishment for everything — but at least he's enduring some kind of mental anguish. If a bad guy is going to get what's coming to him, it's much more gratifying if he first learns to hate himself for it, isn't it? The unrepentant bad guy getting punished is still satisfying on one level, but this, imo, is much better.

RELATED POSTS
Tags: Go Ara, Who Are You? (MBC), Yoon Kye-sang