Who Are You: Episode 14
As much as I like the romantic moments between Seung Hyo and Young In (and the gradual, measured way that's progressed), my favorite moments are becoming more and more the scenes between Seung Hyo and Il Gun. It's their give-and-take: Seung Hyo is slowly coming to enjoy life through Young In's and Il Gun's prodding, and Il Gun (aside from the weirdness of having actually inhabited the body of his prospective son-in-law) actually couldn't have wished for a better outcome — a man who understands Il Gun's fatherly love for his daughter, to whom he can safely entrust Young In after he leaves permanently.
There are also a lot of good conversations in this episode.
SONG OF THE DAY
Green Cheese – "또 우울해" (Depressed again) [ Download ]
Audio clip: Adobe Flash Player (version 9 or above) is required to play this audio clip. Download the latest version here. You also need to have JavaScript enabled in your browser.
EPISODE 14 RECAP
There's a bit of filming inconsistency when we resume the exchange of punches between SeungHyoDad and Jae Ha (their bloodied lips), but I'll overlook that. SeungHyoDad shouts at Jae Ha to leave and shoves him to the ground. Jae Ha leaves angrily, telling Young In she's better off without Seung Hyo and to find someone more pleasant.
Turns out Il Gun's fury isn't because he recognized Jae Ha from the accident; rather, he's angry that the predatory older male is taking advantage of his trusting daughter to get his paintings/money.
SeungHyoDad apologizes, saying that the moment he saw Jae Ha with her, he went crazy and hit without thinking. Young In is mollified, thinking he's acting out of jealousy (which he denies, to her disappointment). She comments on his erratic behavior, kicking her aside yesterday and being jealous today. He perks up at her criticism and encourages it, telling her he really doesn't like her. But because it's so obvious that he's making excuses so she'll hate Seung Hyo, it's more cute than mean, and Young In doesn't believe him. When she asks why he doesn't like her, SeungHyoDad fumbles, "Huh? Um. Because you're pretty. You're too pretty, so I dislike you. Also, you're too young, and you're nice too. How can it be okay for me to like you?"
Il Gun's rationale has the opposite of its intended effect, and Young In just tells him, "You're a coward" (as in, he's running away from his feelings). SeungHyoDad jumps on that: "You're right. I'm a coward." But he annoys her again by bringing up their difference in IQ.
A few hours later, still parked in front of the convenience store, Il Gun fills Seung Hyo in on the events of the evening. Seung Hyo grows upset at Il Gun for continuing to mess with his life, but at least this time Il Gun is properly abashed for his actions. As it starts raining, Il Gun asks him to drive Young In home after work. Not to encourage the relationship, but just to give her a ride home.
Seeing Seung Hyo parked outside, Young In acts irritated but clearly likes it; she tells her co-worker on her way out, "My boyfriend will take me home." She steps outside and pauses, expecting Seung Hyo to step out and greet her… but Seung Hyo is actually waiting outside, across the street. He watches, amused, as Young In (who thinks he's in the car) acts like she's going to walk home in the rain, then stops, dismayed that Seung Hyo isn't offering her a ride.
When he does appear, Young In is pleased, but first wants to take him to task for his behavior earlier. Assuming a frown, she tells him she's still upset: "Please just go on tonight. The way I feel right now, I don't have the smallest inclination to walk under that umbrella or ride in that car with you."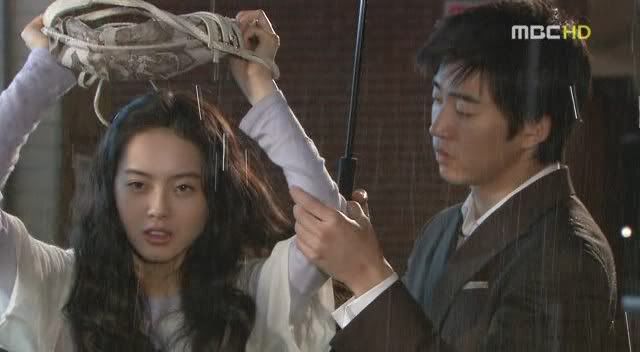 With that, she turns to walk away — and just as she hoped, he stops her from leaving. But to her surprise, he hands her his umbrella, tells her to use it, and goes back to his car.
Young In can't believe he's going to let her go alone, and Seung Hyo laughs to himself because he knows she was bluffing.
He does, however, follow her as she walks home, driving slowly behind her the entire way. Young In repeatedly looks back at him, happy that he didn't ditch her.
When they arrive, she approaches the car to talk to him.
Young In: "I do feel grateful, but next time, insist I ride in the car even if I say I don't want to. How can you be so oblivious to a woman's feelings? Did you act this strangely to your previous girlfriends?"
Seung Hyo: "No."
Young In: "Then are you only like this with me?"
Seung Hyo: "Yeah."
Young In: "Why? Because I'm young?"
Seung Hyo: "I don't know why I'm like this with you."
Young In: "Still, I was glad because you waited for me the whole time. And because you brought me home like this."
Seung Hyo watches Young In walk inside, staring out after her. Regretfully, he asks Il Gun, sitting beside him:
Seung Hyo: "I can't go after her, can I?"
Il Gun sees that Seung Hyo wants to go after her, but since he doesn't want him to, he makes no response.
At home, Deok mentions how weird it is for a guy to have met his first love at age 31, and Young In laughs at the idea. But Deok tells her that Seung Hyo called Young In his first love, which startles her. Feeling uplifted, Young In calls Seung Hyo to check that he got home safely. His taciturn answers are reflective of his sober mood as he answers that he got home fine. But when we see his side of the conversation, he's still sitting in his car, parked in her neighborhood.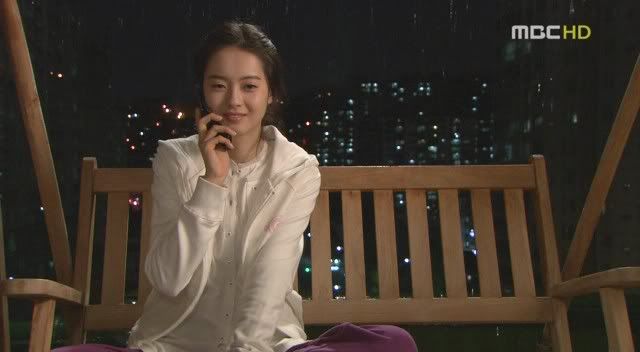 (Btw, I love the pacing of this conversation — quiet and thoughtful.) After a pause, she asks if he's seen the movie Leon (The Professional); he hasn't ("I don't like movies where they just shoot guns with no reason"). She answers that it's actually a love story, and recites a few lines.
Young In: "'I'm already grown up. I just grow older.' That's what Mathilda says."
Seung Hyo: "How old is she?"
Young In: "Twelve, I think."
Seung Hyo: "How worldly. So then?"
Young In: "Then Leon answers, 'I'm the opposite. I've aged enough years, but I'm still young."
Seung Hyo: "How old's Leon?"
Young In: "Late thirties, forties? In any case, he's a lot older than you."
Seung Hyo: "What is it you want to say?"
Young In: "Just… that they loved each other."
Seung Hyo: "Is it… a happy ending?"
Young In: "No, one dies."
Seung Hyo: "Who?"
Young In: "Leon."
Young In can feel how that might not be the most promising sign, so she says:
Young In: "But we'll have a happy ending. We have to. Okay?"
They hang up, and Young In sighs at Seung Hyo's lack of response, grumbling that at her words, he's supposed to tell her he misses her and come rushing to her through the rain —
And she gets her wish.
Ho Joong simmers in hatred for Seung Hyo, recalling his insults to his family. He's so angry that he proposes to Jae Ha that they "take care of" Seung Hyo so he can't make trouble for them again. He promises that he'll do all the dirty work, and asks what Seung Hyo's weakness is — an Achilles heel they can use to bring him to his knees.
(Ho Joong also — finally! — clears up my confusion about the actual accident. He was the driver following Il Gun when Il Gun crashed, but claims he never laid a finger on the body. He saw that the man was already dying and didn't get involved, therefore he's innocent of any crime. Jae Ha counters that Ho Joong was following him dangerously, but Ho Joong reminds him that Jae Ha had instructed him to follow the man and recover the paintings at any cost.)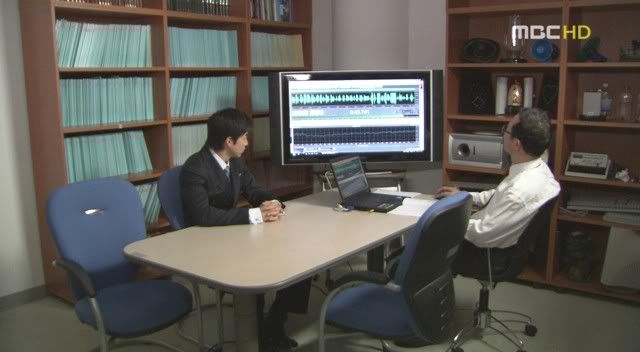 Seung Hyo confirms this as well, comparing the voice of the emergency phone call to Ho Joong's voice, which he recorded at their last meeting. The technician confirms that it's almost certain that the voice on both tapes belongs to the same man.
Seung Hyo's father loiters around the office again, and this time Seung Hyo invites him up to talk. He reminds his father of his warning to stay away from his workplace, although this time he's not so mean about it, just matter-of-fact. He answers honestly when his father asks what there is between him and Ho Joong, why Ho Joong searched his car, and why Seung Hyo had him investigated: "There's a woman I have feelings for. I think your son killed her father." Seung Hyo asks his father for one of Ho Joong's discarded cigarettes as evidence.
In an effort to find out more about Seung Hyo's habits and whereabouts, Ho Joong continues his flirtation with Secretary Yeo, charming her with compliments and lovey-dovey affectionate gestures. She loves the attention and answers his questions about Seung Hyo's schedule without suspicion.
Jae Ha visits Young In with an air of quiet finality, sensing that things are going to change soon.
Jae Ha: "Later on, in ten or twenty years, if I were to run into you in the street, I don't want to tell you, 'To be honest, I liked you back then.' I don't want to say something stupid like that in my old age so I'll say it now. You're pretty in my eyes. You make my heart ache. If I don't tell you now, they'll become useless words, things I won't be able to tell you tomorrow. I intended to stay quiet forever but it felt too unfair, like it would turn into lies, so I'm telling you. Take care. This is goodbye."
Young In watches him leave, confused and startled by his confession but not chasing after him.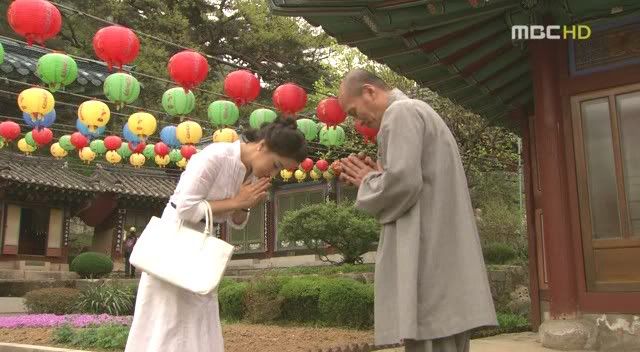 Young Ae visits the temple to pray, and on her way out runs into the same monk from before, who asks if she'd found the one she'd been searching for. The monk tells her, somewhat cryptically, that her time to say goodbye has come, that humans are mortals, that meetings end with partings, that life ends with death. Now her prayers must be for her loved one to find his way to heaven safely. Young Ae stammers that she's not ready to say goodbye, and the monk tells her to prepare herself.
Mentally and physically fatigued from the strain of everything, Seung Hyo stumbles down the staircase of his office building.
Seung Hyo: "I'm truly sorry. I don't know how to apologize… what to say…"
Il Gun: "Why? Why would you apologize?"
Seung Hyo: "I don't know. I don't know that, I don't know anything."
Il Gun: "Let's sit for a moment."
Seung Hyo: "Here? On the office lobby staircase, where the employees can see? You might be okay because you're a spirit, but they see me. They all see me. They can see my fear, and my anger, and my despair. They can see my longing. The CEO cannot let others see those things. He can't let them see anything."
Il Gun: "You'll be fired soon, won't you? If your legs are tired, you stop. If you can't walk, you sit down. If you sit down, someone might come to hold you up. That's how we live."
Seung Hyo sits beside Il Gun. Il Gun asks if it's better than he'd thought, and Seung Hyo nods.
Il Gun: "After I died, I found death isn't as bad as I thought. How great is it that I don't have to die anymore? Once I died, I became certain of what was the most important thing in my life. Aside from Young In, everything just fell away. In one moment, I could cast away everything I'd struggled for in life. I found that there's nothing I would think of besides Young In. Your difficulties now become nothing once you're dead. Your head aches enough to burst right now, but after you die, that becomes nothing. Buck up."
Seung Hyo relaxes and sits back, taking in the view, not even bothered when employees shoot him curious glances.
When Seung Hyo shows up at Young In's place in the morning, she teases him about their "soccer match" relationship, asking him to kick very lightly today.
But Seung Hyo is in a serious mood; he tells her he's going to move her father's paintings today. He promises, "I'll make sure you see them. I'll bring them safely into your hands." Young In senses his troubled mind, and asks what's wrong; Seung Hyo merely says he doesn't think he can play soccer. (Note: It could be interpreted that he means he can't play anymore; in the context, it seems — to me — that he's saying he's just temporarily out of the game. We'll see soon enough.)
Ho Joong arrives outside Young In's place to see Seung Hyo's car parked outside. It looks like he's found Seung Hyo's Achilles heel.
Jae Ha leads the documentary team to the orphanage for filming, anxious to retrieve the paintings. The docu concept is the search for the disappeared paintings — upon hearing this, the orphanage director nervously texts Seung Hyo, and puts the clues together, linking the documentary, Jae Ha, U Gallery, and the debt collector thugs together.
Jae Ha's nervous and paranoid, and rushes to check on the warehouse where the paintings were hidden — only to find them gone. He runs out and sees a truck leaving the grounds, and sets off in a chase.
Jae Ha and the documentary crew chase the truck and arrive in front of the Blue Star building, where they see who it was that outmaneuvered them:

Additionally…
For me, Who Are You? is really being carried by Yoon Kye Sang. Not in the fangirly, "omg he's hot" sort of way but in the way he's taking on his character(s). In fact, the fangirly response was something of an afterthought for me; I didn't really think he was all that good-looking till this drama, and his appeal isn't based on his looks. (It's the opposite, actually; he's been seeming more and more good-looking because I like his acting.) He's not the only good thing about the drama (the writing has been consistent; I wouldn't be able to bear a show otherwise, no matter how much I liked the acting), but he's the standout, both the character and actor.
I think Go Ara is scraping by reasonably — she hasn't had many shining moments, but at least she doesn't (usually) make me cringe. I accept her character because she's the object of Seung Hyo's affections, but I don't find Young In remarkable on her own. I don't hate her; I'm just kinda indifferent. I'm enjoying the drama enough to not be too bothered by that, although who knows how much more addicting it could have been with a stronger actress in the role.

RELATED POSTS
Tags: Go Ara, Who Are You? (MBC), Yoon Kye-sang