Who Are You: Episode 15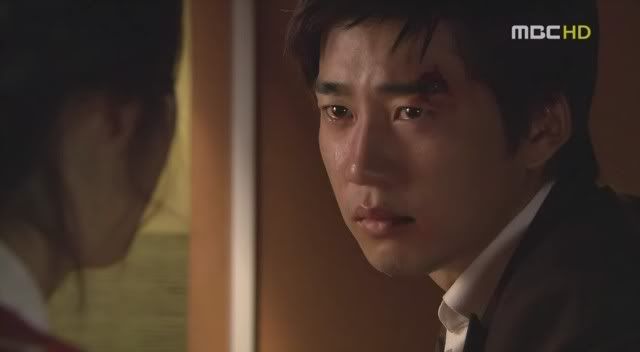 (I just love the look on Yoon Kye Sang's face here.)
This episode was chock-full of moving moments as things start wrapping up (or readying for the final wrap-up). I'm a little nervous that the extension could mess with the pacing of the finale, but I think the producers must have had decent notice, so I hope it won't pose a problem.
After a somewhat dramatic episode, the ending of this episode KILLED ME, it was so unexpectedly funny (you are forewarned, in case you want to keep the surprise intact for yourself).
SONG OF THE DAY
Hwang Bora – "별이 되어" (Become a Star), the voice of indie band Adult Child (어른아이).
[ Download ]
Audio clip: Adobe Flash Player (version 9 or above) is required to play this audio clip. Download the latest version here. You also need to have JavaScript enabled in your browser.
EPISODE 15 RECAP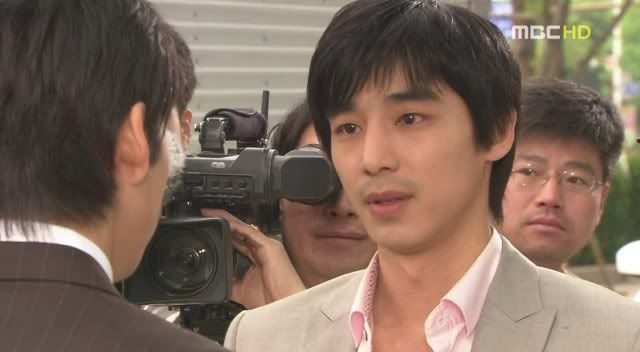 The documentary crew asks if the paintings are in the van, and why Seung Hyo would be in possession of them. With self-satisfaction, Jae Ha tells them to ask the man himself, and the crew rushes to Seung Hyo, who shouts for them to get out of here.
Jae Ha challenges him, threatening to call the police to retrieve the paintings. The tables turn as it's time for Seung Hyo to smirk — sure, he'll show them the truck's contents. The crew films expectantly while the doors are opened to reveal… nothing! It's totally empty. Jae Ha's completely stunned; he was so sure of himself. I wonder if this is how Geraldo felt when he opened Al Capone's vault.
The real paintings were taken away on the school bus (the decoy truck was, by Seung Hyo's explanation, merely dropping off books at the orphanage), and I dig this plan because I'd been hoping it was a trick. (I was thinking it would be cool if the truck led Jae Ha astray while the real paintings were retrieved, so yay.)
The paintings are delivered to Young In at Seung Hyo's home, under the watch of a team of security guards. Young In is left to her privacy while she looks at her father's art. But Ho Joong has been keeping an eye on Seung Hyo's Achilles heel, and creates a diversion by setting off the house alarm.
Most of the security guards rush to attend to the alarm, leaving Ho Joong free to knock out the remaining guard, then Young In, using a drugged cloth. I hope the guy's getting bulk discounts on his chloroform.
Back at the office, Jae Ha demands the paintings back, which legally belong to U Gallery. But Seung Hyo would rather talk about Jae Ha's role in Il Gun's death. And the stolen evidence, and the debt collectors ransacking the orphanage, and the 119 emergency call. Jae Ha's uneasily realizes he's been found out. (And yes, Seung Hyo found the bugging device Jae Ha left in his office and used it against its owner.)
Seung Hyo wants to know what happened to Il Gun; Jae Ha tells him to ask his brother: "Don't act so high and mighty, Cha Seung Hyo. Neither you nor I can look Young In in the eye anymore." Sure, if you equate being accessory to murder with being biologically related to a murderer whom you'd never met nor had any idea existed till a few weeks ago. Totally the same thing. But I suppose Jae Ha has a (small) point about Seung Hyo's relationship to Young In being tainted, even if it's not on a criminal level.
They're interrupted by a photo sent to Seung Hyo from Young In's cell phone — showing her unconscious in the bus — followed by a call from Ho Joong.
Seung Hyo meets Ho Joong, who notes just how speedily Seung Hyo raced to save the girl — as far as weaknesses go, she's a big one for him. Blows are exchanged. (This music in this scene's a little overly tragic for my taste, which this drama has been good about avoiding, but it's just once so I'll let it slide.)
Seung Hyo demands her return; Ho Joong first wants an apology for Seung Hyo's insults toward his mother ("You might cherish that girl of yours, but for me it's my mother"). Seung Hyo immediately concedes, saying he was out of line, but he enrages Ho Joong further by asking, "If you think so highly of your mother, why do you live like that?" If Ho Joong continues his reckless living, in thirty years he'll be just like his father. Ho Joong snaps that Seung Hyo has no idea how his father has lived and no right to talk. Seung Hyo asks, why can't they just leave him alone?
Ho Joong tells Seung Hyo that he can have the girl if he gives up the paintings (and should stop the investigation). If he doesn't, Ho Joong won't hand Young In over.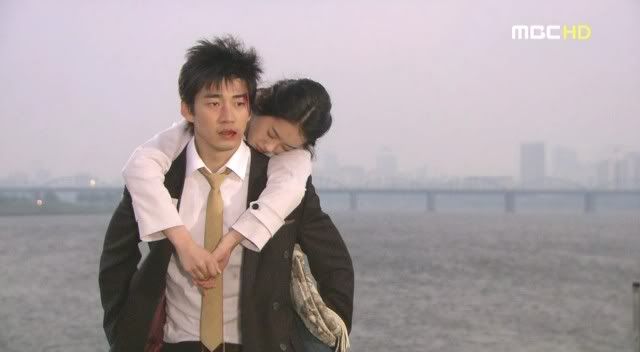 So Seung Hyo gives up the paintings to get Young In back.
Il Gun watches over his unconscious daughter, lamenting his inability to do anything for her. He comes out to talk to Seung Hyo, who's feeling defeated.
Il Gun: "Go in. I can't do anything for her. I can't hold her hand, or push away a stray hair. She can't even see me. When she wakes up, won't she be more afraid if nobody's there? Be by her side, in my place."
So Seung Hyo watches Young In sleep, holding her hand:
Seung Hyo: "Look here, my soccer ball. Wake up and play soccer with me. I won't kick you away today, so open your eyes, okay?"
Seung Hyo's voiceover: "It's… difficult for me to hold you. I'm scared to let go of you. I don't know — I really don't know anything."
Young In stirs. Worried to see his injured face, she asks what happened to him. At his tear-filled gaze, she asks, "Are you crying?"
By luck or design, his timing his perfect, and just as he asks, "Why would I cr—" a tear falls.
Young In: "But it's nice to cry together. It's not lonely."
Il Gun confronts the Reaper, asking why he let him come back if things were going to end up the same — no, worse — than before. If he'd known things would turn out this way, the Reaper should have stopped Il Gun and told him this would just cause more pain. He'd thought things would be great, "because Cha Seung Hyo was rich, because he was powerful. I thought I could become him every day, do everything for her and then leave."
The Reaper says Il Gun was the one who'd ignored his warnings — why get so fixated on things he couldn't do for Young In instead of thinking of what he COULD do? "What do you think your daughter wants? Nice clothes, nice food? Her father's paintings worth 200 hundred million won?" The paintings may only seem like money to others, but to his daughter they're reminders of her father's love and the time they spent together.
Reaper: "Give up the idea of doing everything for her and think of spending time with her. Share your time, your words, your thoughts, and your heart. There are so many things you've been unable to do together. There are so many things for you to do together."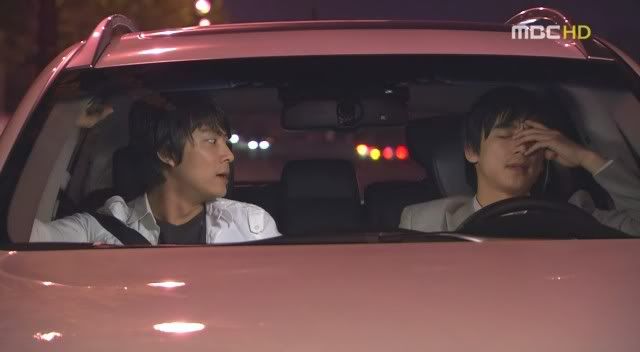 Jae Ha, initially ecstatic when Ho Joong delivered the paintings, now grows angry to hear he resorted to kidnapping. Ho Joong doesn't understand why everyone's so worked up over that girl — didn't he restore the paintings that are worth millions? Jae Ha warns Ho Joong that Seung Hyo knows all about the accident and their involvement in it.
Young In and Seung Hyo argue over the right to tend to Seung Hyo's face (cute). Young In wins out: "Why ask why? I want to because it's my boyfriend's face." (Typically, Seung Hyo responds unromantically and kills the mood.)
She asks about today's events, and her father's paintings: "Please tell me. I should know." And when he tells her everything, her first reaction is denial — she half-believes the truth, but can't fully accept that Jae Ha could be so calculating
Seung Hyo starts to tell Young In one last thing that she needs to know about him (presumably that his brother killed her father) — but stops himself, saying he'll tell her later. He can't seem to bring himself to say it now.
In a nice bit of symbolism, Seung Hyo retreats to his turtle tank, like he's preparing himself to return to solitude once Young In discovers the truth of her father's death. But Young In joins him, and tries to lighten the mood by asking if he's named his turtles. He hasn't, and she prods him to name them now.
She suggests "Seung Hyo" and "Young In," at which Seung Hyo balks — she's just looking for an excuse to call out, "Hey Seung Hyo," isn't she? (The nature of their relationship is such that she doesn't call him by name unless she's saying his formal title.) She suggests Leon and Mathilda, but rejects it because Leon dies in the movie, and she doesn't want to burden the poor turtle with a tragic fate.
Young In:"Then let's call this one Soccer Ball, and that one Miracle. So that they can have a long-lasting happy ending, like us."
At that, Seung Hyo looks at her so intently that it unnerves her.
Young In: "Can you please not look at me that way? When you look at me like that, my heart drops, and it makes me uneasy — I'd rather you glared instead. I'm more familiar and comfortable with that."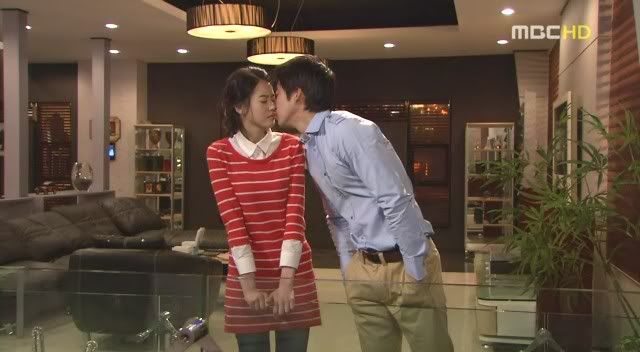 Young In goes to see Jae Ha, who has both prepared for and dreaded this moment. She asks if he really did everything because of her father's paintings — Is that why he was nice to her, took her to the hospital when she was sick, gave her a place to stay when she had nowhere to turn? At his silence, Young In asks him to speak up, to deny it.
Jae Ha starts to make an explanation, then stops himself and answers simply, "Yes. I did."
Collapsing to the floor, Young In continues brokenly:
Young In: "I don't need that kind of money, so you can take it all. Take my father's paintings, and return my father to me. Bring him back to life. I want to see my dad, not his paintings. I don't need that money, so bring my poor father back. There are things I wasn't able to tell him, things I couldn't do for him. There are so many things I want to do with him, but I can't now. I can't do any of it now."
(I really like this scene — it's quiet and simple, and not overly dramatic. But really strongly done for its simplicity.)
Seung Hyo's father comes with the cigarette stub Seung Hyo had asked for (to prove Ho Joong's guilt). Having given the evidence, his father asks for conversation:
"What should we talk about? There's a woman you like? What does she do? How old is she? Is she pretty? I thought you would have married. I thought you'd be living well, with your own household. That you'd have met a nice woman, be eating warm food, watching your baby's antics. I thought you'd be living a common, warm life. You poor guy. Why are you still alone? That makes my heart hurt. It brings tears to my eyes."
He tells him the cigarette he's just handed over was smoked by himself. Since he shares DNA with his son, he'll take the fall for Ho Joong.
Seung Hyo tells Il Gun he'll do his best to return the paintings to Young In. But Il Gun answers that he doesn't have to — Seung Hyo has done as much as anyone could expect of him.
Jae Ha drops by to make a deal. Well, not so much a deal as to appeal to Seung Hyo to drop the reinvestigation to minimize damage — not just for both of them but for Young In. If Seung Hyo takes everything the legal and public route, things get messy for everyone, including himself. Although Jae Ha's suggestion is made for his own preservation, he has a point: "The pain and betrayal Young In feels from me is plenty — if she can be kept in the dark, that would be better… I couldn't protect her, but I think you still have the chance."
Seung Hyo's making progress — this time he sits by Il Gun on the steps without any prodding, surprising even Il Gun.
Il Gun admits that he's regretting coming back — he's only made things difficult for everyone, and couldn't solve anything. Il Gun feels so bad he wants to die, and Seung Hyo cracks the rare (deadpan) joke: "Well, you're already dead, so you can rest easy on that score."
Seung Hyo: "I'm glad you came. I'm happy I got to meet you."
Il Gun: "Do you mean it?"
Seung Hyo nods.
Seung Hyo: "I got to meet Sohn Young In, didn't I? Thanks to you."
There's a funny moment when Seung Hyo warns his driver he's about to start talking to himself, and that he shouldn't be alarmed. Then he turns to Il Gun.
Seung Hyo asks why he hadn't told Young In he was back, and Il Gun answers that he didn't want to give her more pain by leaving again. He also tells Seung Hyo to carefully consider what Jae Ha proposed (meaning, it might be best to keep the truth of Il Gun's death from Young In).
Il Gun: "I'll think it over carefully too, whether it's better to leave you with my daughter, or chase you far away. Without my permission, don't move one step closer, or leave her either."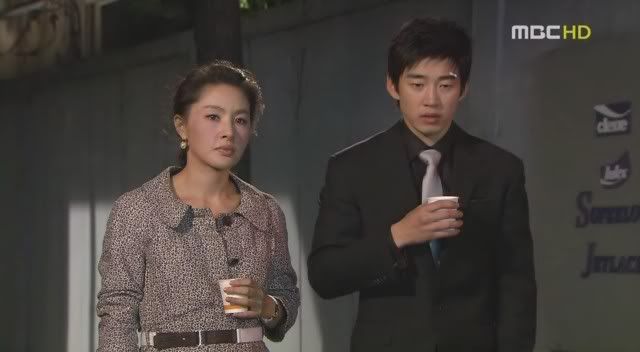 They arrive at Young In's convenience-store job, where Young Ae catches up to Seung Hyo just as Il Gun jumps inside the body. She'd seen him leaving the office, and fearing that her time with Il Gun is elapsing quickly, followed him there.
Young Ae knows it's Il Gun, and asks how much longer he'll be here — she can't let him go without notice like last time, and wants to prepare herself for his departure. She heard something about 49 days, and he adds that it's not completely clear: "I hear my time is dependent on Cha Seung Hyo."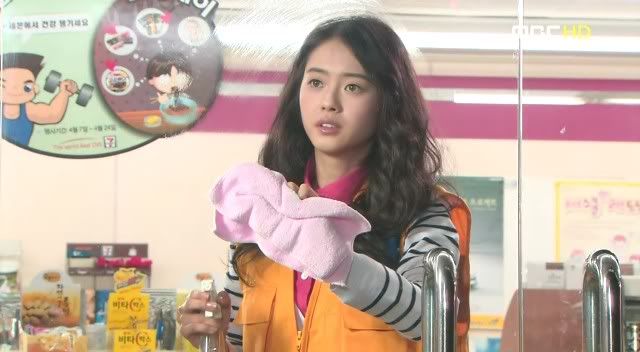 Young In spots the two chatting outside comfortably, immediately jealous to see Young Ae with him. Knowing that Young Ae believes Seung Hyo is her father, Young In mutters at him for encouraging the woman's attentions.
So when he comes inside to greet her, she acts out of pique: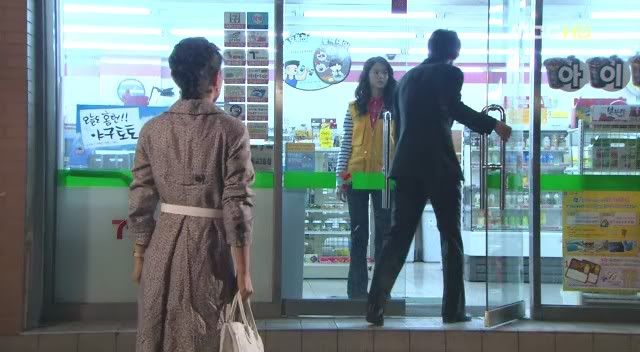 Additionally…
BWAHAHA! The ending caught me totally off-guard, particularly since the tone of the episode had been thoughtful and rather low-key. After fifteen episodes, I'd thought we'd safely made it out of the zone of evoking uncomfortable Freudian issues, but count on a k-drama to spring it on us in the home stretch. I love it.
(As for the first kiss scene, I know some people might have wanted a close-up, but I kinda really like how they kept us at a distance. Feels like we're giving them a little privacy, heh. I don't know why, but it feels like a more intimate moment that way.)

RELATED POSTS
Tags: Go Ara, Who Are You? (MBC), Yoon Kye-sang